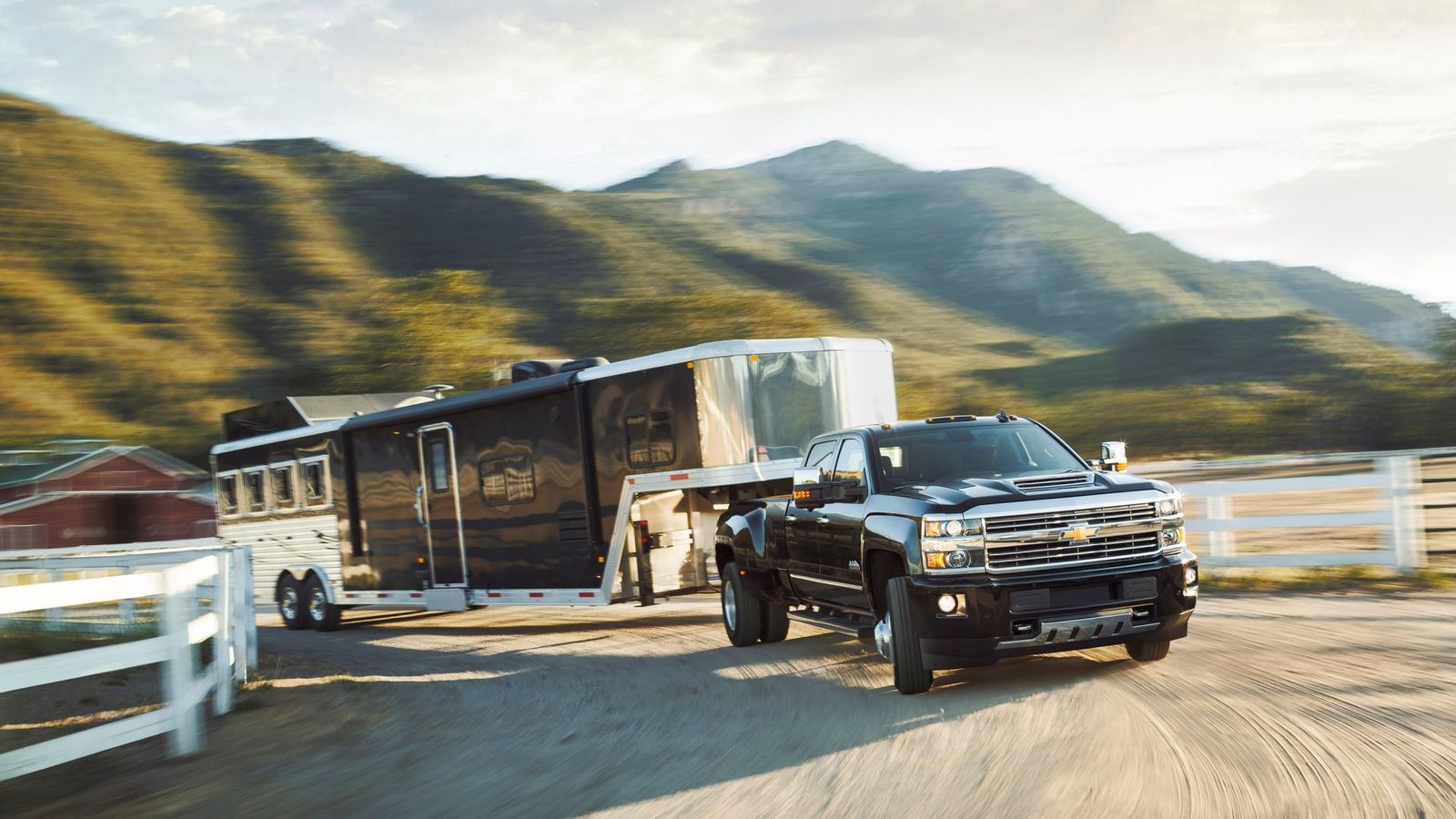 Chevy's heavy-duty exponent, the Silverado HD will take towing and luxury to the highest achievable level in this league — a lesson thoroughly learned from its platform sibling, the highly-appraised GMC Sierra Denali.
---
PROS & CONS
Pros
Strong Points
Immense Hauling And Towing Capabilities
The Impressively Powerful Diesel Engine
Offers Decent Amounts Of Ride Quality, In Terms Of Noise And Refinement
Recommended Versions
6.0L 4Wd Double Cab, Standard Box Lt
6.6L 4Wd 4Wd Crew Cab, Standard Box Lt Single Rear Wheel
6.6L 4Wd 4Wd Crew Cab, Standard Box Lt Single Rear Wheel
---
Cons
Weak Points
The Diesel Engine Is Not Easily Accessible, Money-Wise
Stay Away From
Overloading It With Optional Extras, And Accessories, As It Can Get Horribly Expensive
---
Attention
Known Problems & Recalls
---
CAR DETAILS
Drive
Powertrain
If you've come here, then you must be looking for the diesel engine — the 1500 range doesn't have one. The Silverado HD has two powertrain options to offer: a 360 hp, 380 lb-ft 6.0-liter V8 gas engine, and a redesigned 6.6-liter Duramax V8 diesel packing 445 hp and 910 lb-ft of torque. Both are mated to a six-speed automatic transmission that can distribute the power to the rear axle, or to all four wheels, depending on the drivetrain setup.
Handling
The new digital steering assist featured on the Silverado HD range tries to minimize the displeasure of finding yourself in confined (parking) spaces, and also to keep the heavy-duty truck stable at high speeds. All the electronics keep things in order, and the suspension does a good job at keeping the car stable when encountering mid-corner bumps, but you ought to bear in mind this 7,700-pounder is no driver's car.
Safety
Unlike the 1500 series, the Silverado HD offers only front (driver and passenger) airbags as standard, the side and curtain ones coming as no extra only in the range-topping High Country guise. The OnStar service comes on all trims without paying extra, except the entry-level WT. In the NHTSA crash tests, the HD achieved a four-star rating (out of five).
---
Interior
Comfort
Considering that it features a leaf-spring rear suspension, the Silverado HD does an excellent job providing comfort for its driver and passengers. It's not as comfy as the Ram, for example, but it's not much worse either. The rear seats are very welcoming, providing coziness even for long rides while the driver's seat might be found a bit rigid for some tastes.
Quality
The cabin can be ornamented with all sorts of quality materials, which adds up to the impression that you have it all here — especially if you go for the upper (if not the topmost) trims. Regarding the finish, there might be some disappointments here and there, but overall the Silverado HD's interior feels well-built.
Practicality
With a 76.3-ft box cargo volume, and a maximum towing capacity exceeding 23,000 pounds, the Silverado HD is the ultimate workhorse in Chevrolet's stable. Besides the obvious, there are also a bunch of storage spaces inside the cabin for trinkets. Worth mentioning is that the getting in/getting out part is easier with the optional running boards, and the visibility might suffer if you opt for the bigger mirrors.
Infotainment
In the entry-level WT guise, the Silverado is modest regarding infotainment, but once you climb the trims ladder, you get all kinds of goodies, such as an 8-inch touch screen, 4G LTE Wi-Fi, Android Auto and Apple CarPlay connectivity features, a 6-speaker Bose surround sound system, and HD radio.
---
Budget
Efficiency
Having ventured into the heavy-duty universe, you probably won't be surprised that these massive workhorses don't prioritize the fuel efficiency so much. Before the 2017 update, the mighty 6.6-liter diesel returned about 13 mpg; the gas V8's fuel consumption ratings revolved around the same figure as the diesel's.
Equipment
The Silverado HD's accessories list gets you as near as possible to an 18-wheeler driver's life: it's massive, to say the least, but this also comes at a price. Speaking of cost, if you're getting distracted while building your heavy-duty Silverado, you might end up with a $70,000 leather-cladded, chrome-tastic truck. Stick with an LT-level 2500 HD, and you'll be getting all the goodies, without feeling guilty for exaggerating.
Acquisition
Being at the top end in Chevy's truck lineup, the HD offers more, but it also asks for more. An entry-level 2500HD 4×2 WT asks for only $34,505, which is decent, but if you take a look at the opposite end of the offers list, you'll find the 3500HD 4×4 High Country diesel at $68,000. It's a lot of money, but not the most you can pay in this class: Ford's F-450 Platinum has a price tag exceeding $78,000. From a specific point of view, the Silverado can be a bargain.