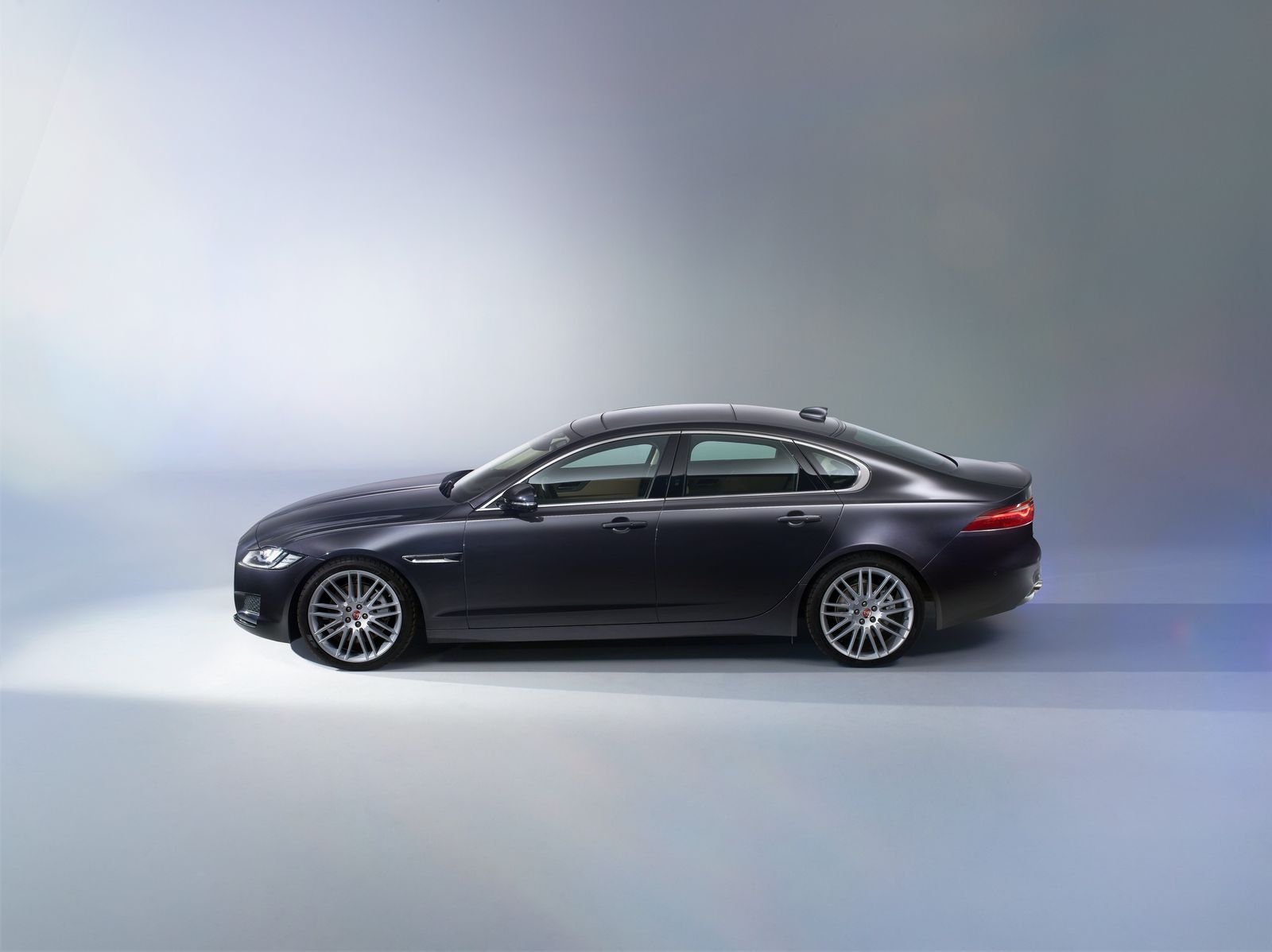 The all-new XF shows Jaguar is becoming rather good at playing the range evolution game. This is the approach that has brought the German establishment so much appreciation (and premium market share) that it was bound to gain additional fans.
Looking at the XF, you immediately finger it for a Jag and not only that, if you're somewhat familiar with the scene, you may even be able to tell it's a new XF.
In-keeping with the German evolutionary approach, Jaguar has made an all-new model look like it belongs with the one it replaces. It was a blank slate for them and they could have taken it in any direction they pleased, yet they chose to stick with the now-established XF formula and spruce that up.
---
PROS & CONS
Pros
Strong Points
Stylish, Understated Look
Very Spacious Back Seat
Great Blend Of Sportiness And Comfort
Clunky Standard Infotainment
Noticeable Perceived Quality Improvement Over Predecessor
Recommended Versions
Xf Prestige 2.0D 180 Ps Awd
Xf S 3.0 V6 380 Ps
Xf S 3.0 V6 380 Ps
---
Cons
Weak Points
Limited Engine Choices For Us Market
Stay Away From
---
Attention
Known Problems & Recalls
---
CAR DETAILS
Drive
Powertrain
The XF has the same range of engines as the smaller (higher and more nimble XE) yet it's a bigger car with more mass to lug around. This means the engines will have a harder time moving the body and will be marginally slower and less efficient as a result.
Only the top of the range engines are changed. The top gas is still the same 3.0-liter supercharged V6 unit and there's also a V6 diesel on offer which deliver 300 PS and 700 Nm of torque.
Power for the top gas engine is upped from 340 to 380 PS, yet the lesser-powered variant is still made available in the second-most exclusive trim (R-Sport) with a less aggressive body kit.
The higher-powered 20d and the 340 PS V6 also comes with optional all-wheel drive.
Handling
If you've driven the smaller car prior, you will notice the more pronounced body roll and extra weight it has. The steering is just as pure and pleasant to use, though.
The extra roll doesn't necessarily make it worse through the bends, but it's just something you have to get used to in the car.
The back of the new XE can be made to easily step out by disabling the traction and stability control and getting a bit carried away with the throttle on corner exit. It's never scary, though, and with the systems enabled you'll hardly feel the car countering it.
Safety
Like the smaller XE that debuted before it, the XF makes extensive use of aluminum in its construction. It's used throughout its structure as well as its body, although various high-strength steels are used as well.
It recently went through Euro NCAP's battery of tests and came out the other side with a full five-star rating. When it comes to airbags, they're everywhere you'd expect them to be in a large executive sedan, yet a now fairly commonplace knee airbag is not offered; the less common side airbag for pelvis protection is also not present on the option list.
The XF gets a full assortment of active and passive safety features including the usual stability (and traction) control plus the newer AEB (that works both in town and on the highway) as well as a lane keep assist function with lane departure warning.
---
Interior
Comfort
The XF has a softer ride than its smaller brethren, or at least it feels that way – hence the extra aforementioned roll. This, coupled with the vast expanse of interior space (especially in the back) grants it a very different, statelier feel.
It's definitely more comfort-oriented than the XE and seems to address a more mature executive audience.
Rear occupants will really get a near-limo experience from riding in the back, as it's apparently best-in-class in this area.
Quality
The interior of the XF is well designed with a clear (and rather trendy nowadays) minimalistic approach in mind. There are no superfluous lines to speak of and everything has a solid, monolithic vibe about it.
This is built upon by the very sturdy-feeling build and smart use of materials. The design may look similar to that of the smaller XE, but the quality is not – the XF feels more expensive and better screwed together, more like the German cars it's trying to woo you away from buying.
Practicality
There's nothing out of the ordinary when it comes to practicality, where the XF is neither excellent nor terrible. It has some cubbies spaces, the most useful of which is the small covered one behind the gear selector knob.
There's also room to store your smartphone and key(s) in the recess located under the curving center stack; the side door bins are decently cavernous too, for both front and rear occupants – they can take a 2L bottle at a squeeze.
Trunk capacity is also noteworthy; at 540 liters it beats one key rival, the BMW 5-Series.
Infotainment
The system Jaguar uses in the XF for information and entertainment is the firm's latest one called InControl. It can be operated through the standard 8-inch touchscreen or it can be upgraded to a larger 10.5-inch unit called InControl Touch Pro; it also adds some more features.
We tried out the standard setup and found the touch screen can ignore your prods and there's also the occasional hint of lag in its operation. The bigger screen may perform better.
---
Budget
Efficiency
One of the core philosophies backing up the engineering and design work that went into the new XF focused on making it frugal and green.
You can negate that very quickly if you opt for the V6 gas engine (with all-wheel drive), yet if you choose any of the diesels you should get very good fuel returns.
The base 163 PS diesel (which isn't offered in the States) promises a claimed 4 l/100km/58.8 mpg US on the combined cycle, but don't buy into that. You're more likely to be at least 30 percent off that figure in real-world driving conditions.
Equipment
The XF is offered in five trim levels, kicking off with Pure or SE as it's called in the UK. Base cars get 17-inch alloys (or 18-inch one on V6 cars), piano black interior trim, dual-zone climate control and cloth upholstery; the steering wheel is wrapped in leather, though.
If you want Xenon headlights and leather, you'll have to plump for the next trim up, Prestige, which aside from those also adds mood lighting, soft grain leather steering wheel and a rear armrest complete with cupholders.
Electric seats come with Portfolio trim, two up from base. It completes the equipment list with a leather-clad instrument binnacle topper and actual ebony wood veneer.
The top S trim, only available with the 380 PS engine, adds an unique exterior body kit, red brake calipers, metal kickplates and Suede or Taurus leather sports seats.
Acquisition
The XF is a powerful enough nameplate now for us not to necessarily have to compare it with its rivals. It builds upon the old car's character, but improves and updates it to meet current demands.
You will definitely love it if you appreciate the outgoing model and value a sporty ride above outright comfort. The XE makes a stronger case for itself than before, when it was afflicted with quality/durability issues that never really allowed it to shine.
This new one adds tech, style, space, and efficiency and wraps all of it in a body that clearly looks like an evolution of the old one. It's a cunning way to keep loyal customers and make them even more loyal, while at the same time attracting more but without drastically altering the formula in order to do so.