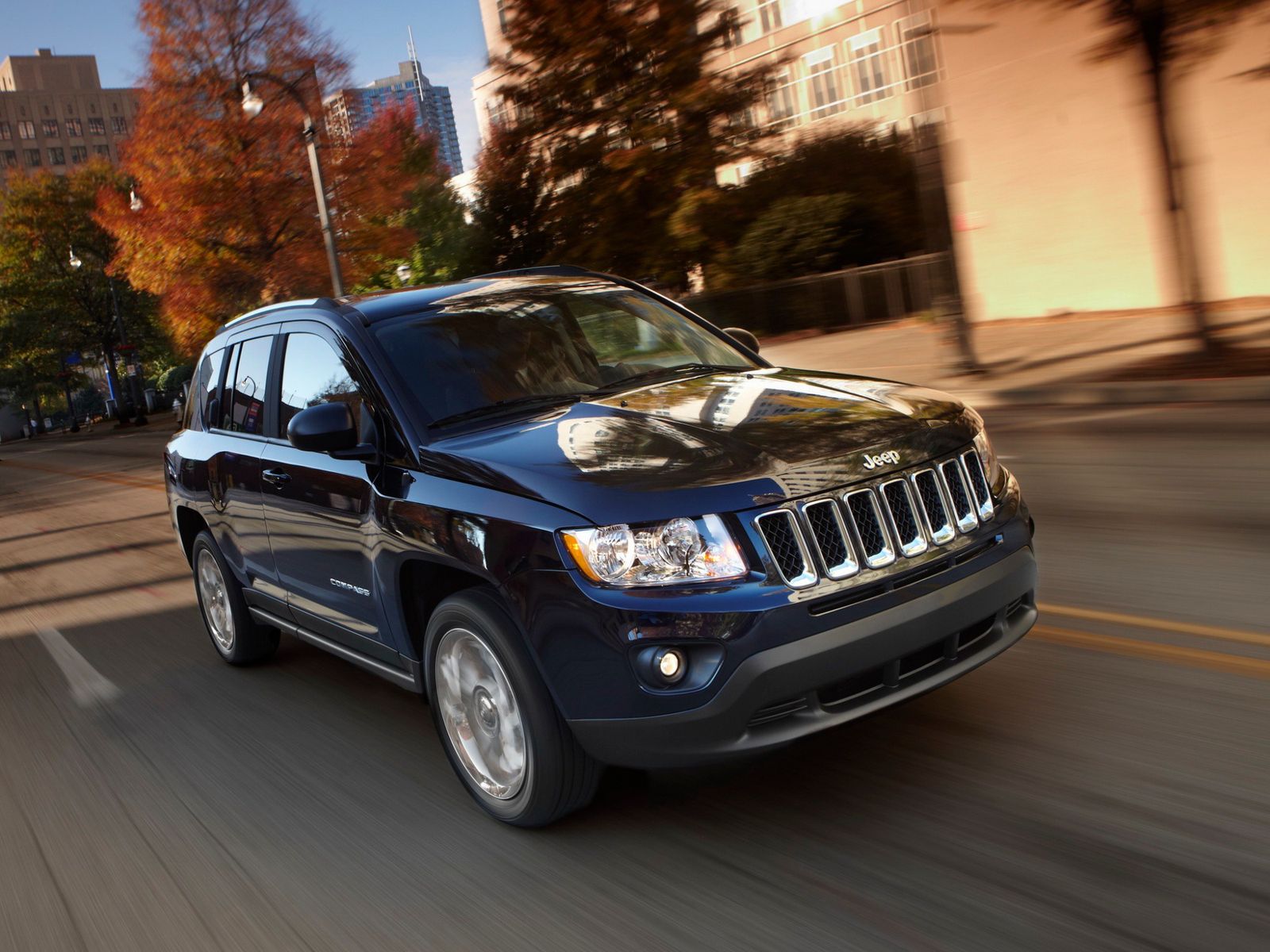 The Compass is one of Jeep's first attempts at building a crossover, and it shows. Introduced in 2006 as a 2007 model, the Compass is plainly a mediocre vehicle. Sharing the Chrysler MK platform with the Jeep Patriot and the Dodge Caliber, the Compass trails behind its competitors in most areas – except pricing, for reasons one needs not explain. Apart from its above-average off-road capability with the optional Freedom Drive II all-wheel drive package, the Compass is bested by rivals in most areas. Road manners, engine refinement, cabin quality, cargo space, crash-test scores – you name it. While a facelift for the 2011 model year marginally solved some of these problems, our recommendation is to look elsewhere if you're in the market for a compact crossover. A replacement model is long overdue.
---
PROS & CONS
Pros
Strong Points
Low Pricing
Above-Average Off-Road Capability With Freedom Drive Ii
Comfortable Front Seats
Recommended Versions
If You Must, Go For A Model Built From 2011 Onwards
---
Cons
Weak Points
Coarse, Slow 2.0-Liter Gasoline Engine
Cvt Unpleasant To Use
Poor Ride Quality
Cheap-Looking Cabin
Noisy 2.2-Liter Diesel Engine (Europe)
Stay Away From
---
Attention
Known Problems & Recalls
Jeep Recalled Certain 2015 Model Year Compass Vehicles In December 2015 To Inspect The Return Power Steering Hose Clamp And Reposition It As Necessary To Prevent The Detachment Of The Low Pressure Return Hose
Some 2014 Model Year Jeep Compass Crossovers Were Recalled In November 2013 To Replace The Engine Balance Shaft Module To Prevent Loss Of Engine Oil Pressure That Could Have Resulted In An Engine Stall Or Engine Failure
The Automaker Recalled Certain 2010-2012 Compass Vehicles In June 2013 To Correct A Software Error That Could Cause A Delayed Deployment Or Non-Deployment Of The Seatbelt Pre-Tensioners And/Or Side Airbags
Jeep Recalled Some 2012 Compass Vehicles In April 2013 To Replace The Fuel Tank Because Of A Damaged Roll-Over Valve. Simultaneously, The Automaker Recalled Certain 2012 Compass Vehicles To Replace The Fuel Tank Transfer Tube To Prevent Engine Stalling
Some 2011 Jeep Compass Crossovers Were Recalled In June 2011 To Repair The Steering Column Pivot
Jeep Recalled Certain 2009 Model Year Compass Vehicles In October 2008 To Replace The Powertrain Control Module (Pcm) To Prevent Engine Stalling
Certain 2007 Model Year Jeep Compass Vehicles Were Recalled In June 2010 To Inspect And Replace Accelerator Pedal Assemblies In Order To Prevent The Pedal From Binding Or Sticking During Use
The Carmaker Recalled Some 2007 Compass Crossovers In December 2006 To Reprogram The Abs Control Unit To Avoid The Locking Up Of The Rear Brakes Under Certain Conditions
Jeep Recalled Certain 2007 Model Year Compass Vehicles Fitted With Rear Disc Brakes In May 2007 To Replace The Rear Wheel Hub Mounting Bolts And Repair The Park Brake
---
CAR DETAILS
Drive
Powertrain
In the United States, base front-wheel drive models are equipped with a 2.0-liter four-cylinder gasoline engine rated at 158 hp and 141 lb-ft (191 Nm) of torque, with a 2.4-liter four-cylinder unit rated at 172 hp and 165 lb-ft (223 Nm) offered as an option on higher trims. Four-wheel drive models only get the larger engine, which is the one to have as the base unit is underpowered and coarse. The standard transmission for both units is a five-speed manual, but higher grades get an awful CVT or a six-speed auto (only for the 4WD model). In Europe, early models featured a VW-sourced 138 hp 2.0-liter unit that was replaced in 2011 by a 161 hp 2.2-liter from Mercedes-Benz. We recommend the latter, as it packs more punch and is more refined.
Handling
Although it was thought as a crossover, the Compass is not in its element on the road. There's a lot of body roll in corners, and the ride is bouncy and harsh over rougher surfaces – not a good combination. The steering is vague in corners, but the brakes perform their duties well. Models equipped with the Freedom Drive II off-road package are more capable than the average crossover when the asphalt ends, so make sure you tick that option box if you're planning to drive your Compass on rough terrains. These rugged models only come with the unpleasant CVT, unfortunately.
Safety
The Jeep Compass' crashworthiness is disturbing. In NHTSA testing, the crossover only got three stars out of five for frontal impact crash safety. Protection in a rollover scenario was rated with four stars, though. While the IIHS did not assess the Compass, in Europe the vehicle was tested by Euro NCAP in 2012 and the results were more shocking than NHTSA's. The Compass only scored two stars out of five, with a 61 percent rating for adult occupant protection, 76 percent for child occupant, 23 percent for pedestrian, and 43 percent for safety assist systems.
---
Interior
Comfort
The bouncy ride is not the only complaint the Compass receives when it comes to comfort. While the front seats are comfortable, and the rear seats can accommodate two adults reasonably well (three's a crowd, though) the interior is quite spartan in base Sport trim. It lacks basic features such as height adjuster for the driver's seat and telescoping steering wheel, making it hard to find a comfortable driving position. The standard model also lacks automatic door locks and power windows! You might want to pay attention to the equipment when buying a Compass.
Quality
There are no surprises here either, meaning that the build quality and materials used in the cabin are cheap. Even models made after 2014 that received an interior upgrade are disappointing from a quality point of view. Industrial-grade plastics abound, and the cloth seating material is as basic as it gets. The optional leather upholstery is good quality, though, with nice stitching on the seats and door panels. The buttons and switches won't give you any tactile pleasure, but the good thing is they're well-placed and intuitive to use.
Practicality
The Jeep Compass has five seats, but the rear seating area can become too crowded with three adults, particularly for long trips. That's because rear legroom is rather tight for this class and headroom for the passenger sitting in the middle isn't great either. Front passengers have enough room, with the seats offering good support for longer drives. However, the seatback cushions are quite narrow for larger adults. With all seats in place, the cargo capacity of 22.7 cu-ft is small compared to rivals while the maximum loading area of 53.6 cu-ft is downright disappointing.
Infotainment
The Compass shows its age when it comes to the infotainment system as well, with the optional 6.5-inch touchscreen being outdated and less user-friendly than the 8.4-inch UConnect interface found in newer models. The optional speakers that drop down from the tailgate to blast music outside are an interesting feature for outdoor parties. Standard infotainment features for the base Sport model only include a four-speaker sound system with CD player, satellite radio, auxiliary audio jack, and Bluetooth.
---
Budget
Efficiency
Apart from diesel-powered models sold in Europe, fuel economy figures are quite disappointing. Both the 2.0- and 2.4-liter gasoline engines return below-average values. The most fuel-efficient model is the standard front-wheel drive Compass with manual transmission, which returns 26 mpg combined (23 mpg city/30 mpg highway). With the same gearbox and traction, the larger engine is only marginally thirstier, with 25 mpg combined (23 mpg city/29 mpg highway). In comparison, the Compass 2.2 CRD 4×4 sold in Europe has a claimed average fuel consumption of 6.6 l/100 km (equivalent to 35.6 mpg US).
Equipment
The 2016 Jeep Compass is available in two primary trim levels (Sport and Latitude) and two better-equipped sub-trims (Sport SE and High Altitude Edition). The base Sport trim comes with a fair amount of standard features. These include air conditioning, cruise control, 60/40-split folding rear seat backs, 16-inch alloy wheels, roof rails, fog lights, a four-speaker sound system, and manual accessories (windows, mirrors, and locks), 60/40-split folding rear seat backs, and a four-speaker sound system.
Acquisition
The 2016 Jeep Compass Sport 4×2 is priced from $19,695 (excluding destination), making it one of the most affordable crossovers in its class. There are quite a few reasons for that, though, as we have already pointed out. Not to mention that the Compass faces stiff competition from Jeep's backyard, as the Cherokee and Renegade are much better in all areas. We don't recommend buying the Compass unless you get an unbelievable deal – and don't even think about getting a pre-2011 model year vehicle. That's pre-2014 for those of you who care about interior quality.