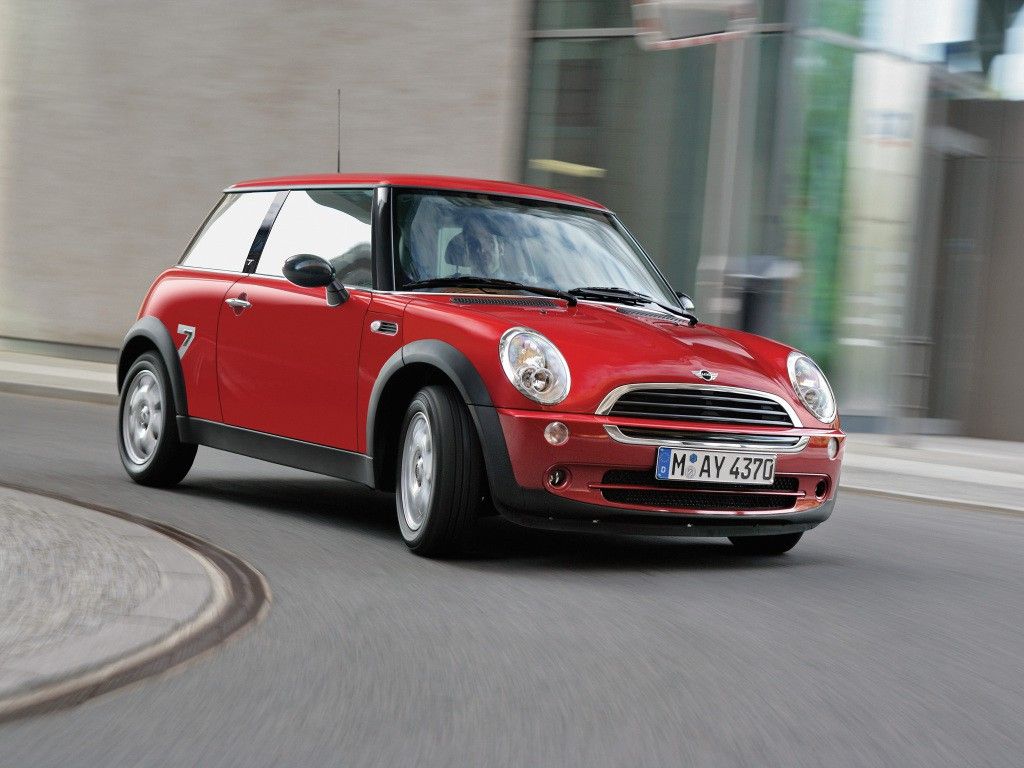 Late 2000 marked the debut of the first generation Mini hatch after the original Mini brand was dissolved in earlier that year. Codenamed R50/53, it quickly became a favorite for those who spent most of their driving time around the city because of its fun-to-drive personality and retro but stylish looks. Although reliability wasn't one of its strongest points, the first reborn Mini was cheap to run, a trait that substantially amplified its appeal.
---
PROS & CONS
Pros
Strong Points
Stylish Looks
Great Handling
Fun To Drive
Funky Cabin
Recommended Versions
1.6-Liter Gasoline In The Cooper
---
Cons
Weak Points
Lack Of Space
Restricted Rear Seat Access
Lethargic Diesel Engine
Tiny Boot
Stay Away From
Avoid The Sluggish 1.4-Liter Diesel Engine
---
Attention
Known Problems & Recalls
– Paint Durability Is Not That Great, And Some Of The Plastic Wheel Arches Have Been Known To Lose Their Color Over Time
– Engines And Gearboxes Were Replaced On Early Batches Of Cars, But The Issues Have Been Fixed
– Also, Some Electrical Problems Were Displayed By The First Models, Including A Faulty Audio Setup That Would Eventually Deplete The Car's Battery
---
CAR DETAILS
Drive
Powertrain
In the gasoline department, the first-generation Mini used a 1.6-liter unit derived in two power versions. Mini One had to make do with 90 hp while the more potent Mini Cooper version received 115 hp. They are not the most powerful engines out there but provide an adequate amount of pull – especially the 115-horsepower unit in the Cooper – while lacking refinement.
The diesel sector is represented by a 1.4-liter diesel mill good for 75 hp. Mini upgraded the unit to 88 hp in 2005, but it remained noisy, lazy and rather unrefined. Otherwise, the diesel offers a quick response at low revs, ideal for city cruising, therefore, it could be a proper choice if you can get over its rugged nature and lethargic behavior outside the city.
Handling
There's one thing you can't take away from a Mini: its fun-to-drive factor. Sharp steering, superb cornering ability, and smart electronics took the Mini to a whole new level. Every model comes with ABS, brake assist, and traction control. In other words, you'll have more fun in a much safe manner.
Of course, there are some drawbacks. The suspension setup falls on the firm side which makes a hassle out of traveling on rough surfaces and portions of asphalt plagued by potholes.
Safety
The first-generation Mini Hatchback wears four out of five stars as awarded by the Euro NCAP body after the car went through the mandatory set of crash tests. For a car this size, we're looking at a good rating, boosted by the smart airbags for the driver and passenger that deploy according to the impact's severity. Among the safety systems mentioned in the Handling section, Mini offers run-flat tires as optional equipment.
---
Interior
Comfort
While those sitting up front will find a decent amount of space and comfort – the seats are nicely profiled and offer sufficient back support as long as you keep your trips limited to urban areas. Rear space is almost inexistent so you'll most likely fill it with shopping bags or any other type of small luggage.
The driving position is another strong feature. In fact, the Mini's interior is oriented more towards the driver. You sit close to the ground in an upright, almost karting-like position – which is great because it allows you a better assessment of the car's response in those fun-inducing moments. However, visibility could have been better.
Quality
Overall build quality is good, but it requires a lot of attention to remain in that state. Expect a fair share of squeaky plastics inside and if we ignore the solved gearbox and electrical issues, the first-gen Mini offers a good level of reliability as long as proper servicing is carried out.
Practicality
The boot offers 150 liters of cargo space, way below the likes of Toyota Yaris (205 liters) or Ford Ka (186 liters) so you'll have to supplement that using the space available in the rear seats. A funky cabin is not always the most practical and the first-gen Mini only offers a small glovebox and two cupholders as additional storing solutions.
Infotainment
A six-speaker radio cassette system was available as standard equipment on every Mini One but as of 2004, the company switched to a more modern setup: a CD player unit, available for all models.
---
Budget
Efficiency
In terms of frugality, the 1.4-liter diesel engine is the most prolific performer as it returns, on an average, 43 mpg. However, if you're looking for more refinement, the 1.6-liter gasoline options might be what you need, but fuel consumption is a bit higher, standing at around 31 mpg.
Equipment
Every Mini Hatchback comes with ABS, cornering brake control, and electronic brakeforce distribution but the features list doesn't end here. On every Mini One model, you'll find 15-inch steel wheels, height-adjustable steering column, power steering, 50/50 split folding rear seats, frameless electric front windows, and tire sensors.
Mini Cooper tops the above-mentioned features with 15-inch alloy rims, chrome trim for the grille, tailpipe and door handles as well as a rev counter and a CD player.
Acquisition
There's still very high demand for the first-gen Mini Hatchback because depreciation was mild with this particular model. However, keep in mind that you'll want to buy a car fitted with the optional air-con system and, possibly, with the CD player unit that was only available from 2004 onwards.