Top 10 Best Summer Performance Tires to Fit Your Car in 2017
Know your tires this season with our guide
Summer tires - as the name clearly suggests - are designed to provide grip and traction in mild weather conditions, with temperatures of 7 degrees Celsius and above, on both wet and dry surfaces.
Naturally, a summer tire's efficiency during winter, in around- or below-freezing temperatures, on snow or ice, varies from very lessened to inexistent.
That's because the rubber compounds and soft, grippy thread are developed for maximum comfort and control in a particular combo of factors which happen to appear in the warmer months of the year. For the same reasons, the compound will harden in temperatures near and below freezing, thus losing its properties and jeopardizing safety.
Now that you know why summer tires are just important as winter tires, here's our top 10 best choices on the market.
Passenger cars
1. Continental ExtremeContact Sport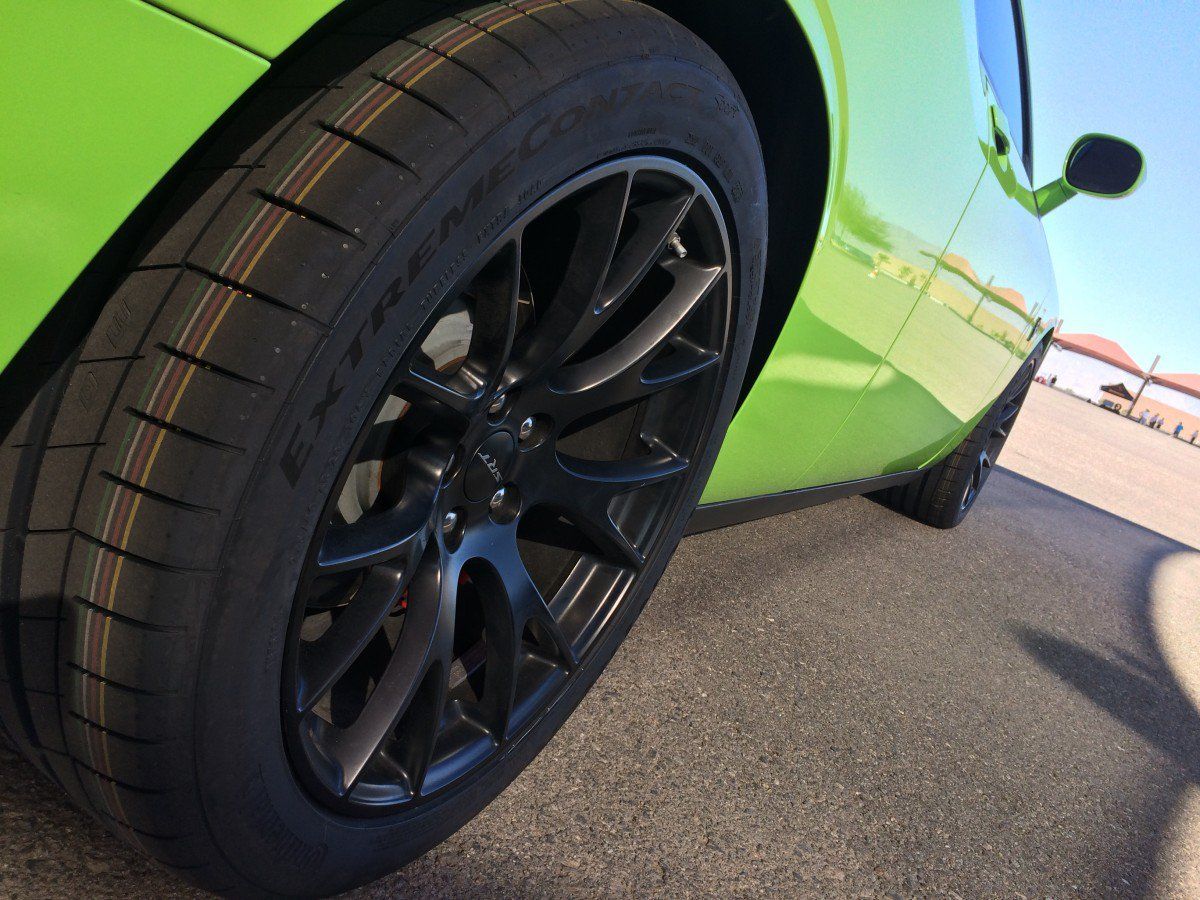 A genuine all-rounder, with excellent grip levels in both wet and dry conditions, without compromising on comfort. Add sufficient treadwear resistance and your looking at a winner. Price: $92 to $385.
2. Michelin Pilot Sport 4S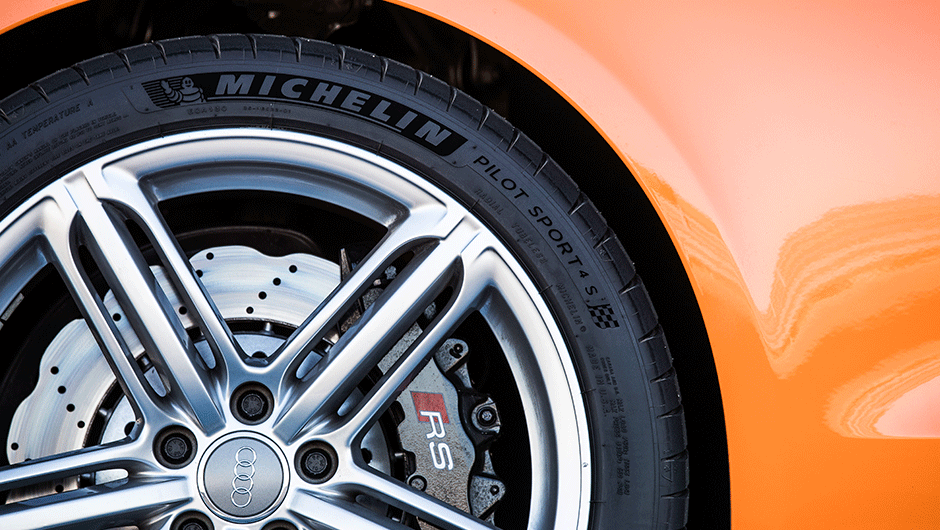 With an emphasis on control on wet and dry asphalt, but also comfort and lessened treadwear, this tire is one of the top performers in the league, and the price tag reflects just that. Price: $201 to $533.
3. Pirelli P Zero (PZ4)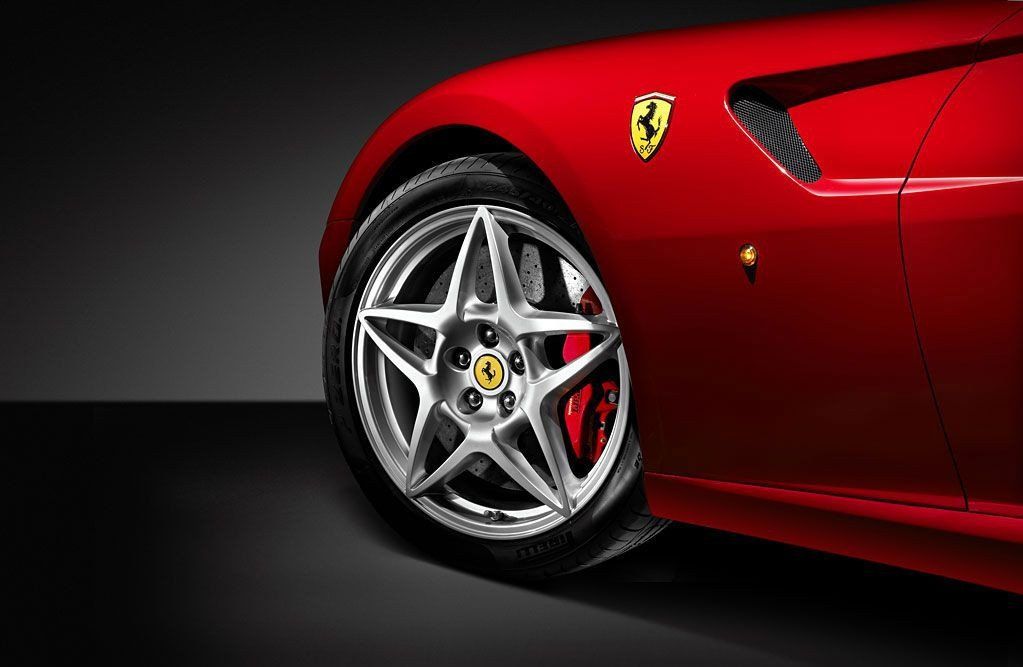 Another versatile tire closes the top 3 thanks to outstanding efficiency when it comes to these key aspects: grip and control in all conditions plus comfort. Price: $133 to $960.
4. Michelin Pilot Super Sport
The number four spot is taken by another Michelin tire, this time the Pilot Super Sport. Equally adept in wet and dry conditions, it loses some points when it comes to comfort and treadwear endurance. Price: $132 to $500.
5. Bridgestone Potenza S-04 Pole Position
Top-shelf grip levels on wet and dry asphalt are a guarantee for this tire, yet it falls a tad behind when it comes to comfort and treadwear resistance. Price: $113 to $274.
6. Michelin Pilot Sport PS2
Its traction in wet conditions could have been better, yet this tire handles dry asphalt like a pro. It also delivers above-average comfort and treadwear protection. Price: $170 to $484.
7. Continental ExtremeContact DW
Although affordable compared to the tire choices above it, Continental's ExtremeContact DW tire offers good value for money in the grip department but drops a few steps behind in the comfort rating. Price: $81 to $311.
8. Michelin Pilot Sport 3
If you can live with decent comfort levels and a high treadwear rate but otherwise top notch grip levels, then go for the Michelin Pilot Sport 3 tire. Price: $112 to $276.
9. Dunlop SP Sport Maxx GT
For a decent price, this tire has better-than-average ratings in all departments. Price: $165 to $640.
10. Continental ContiSportContact 5P
A major drawback for this tire is its low treadwear resistance, but the grip potential is on par with the other tires in the segment, together with comfort. Price: $113 to $410.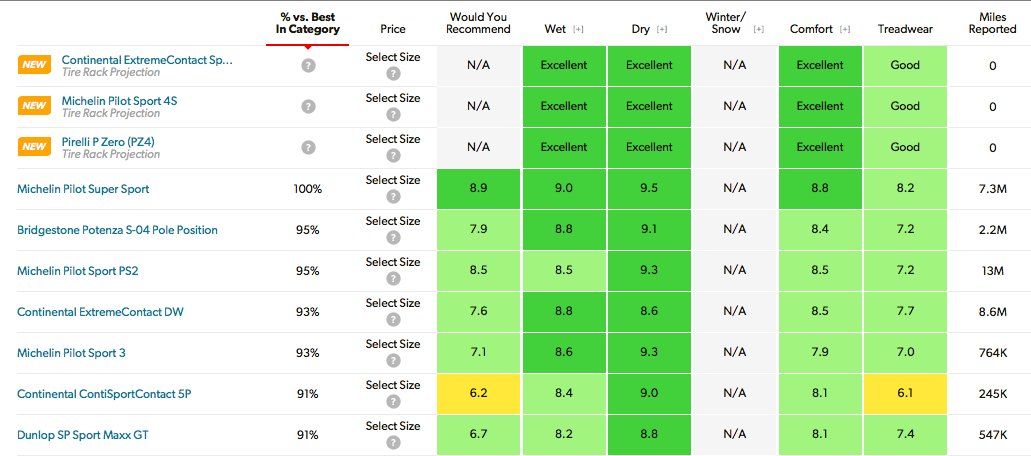 Data sourced from TireRack.com.