Audi's new A7 Sportback debuts with Prologue concept and A8 saloon styling cues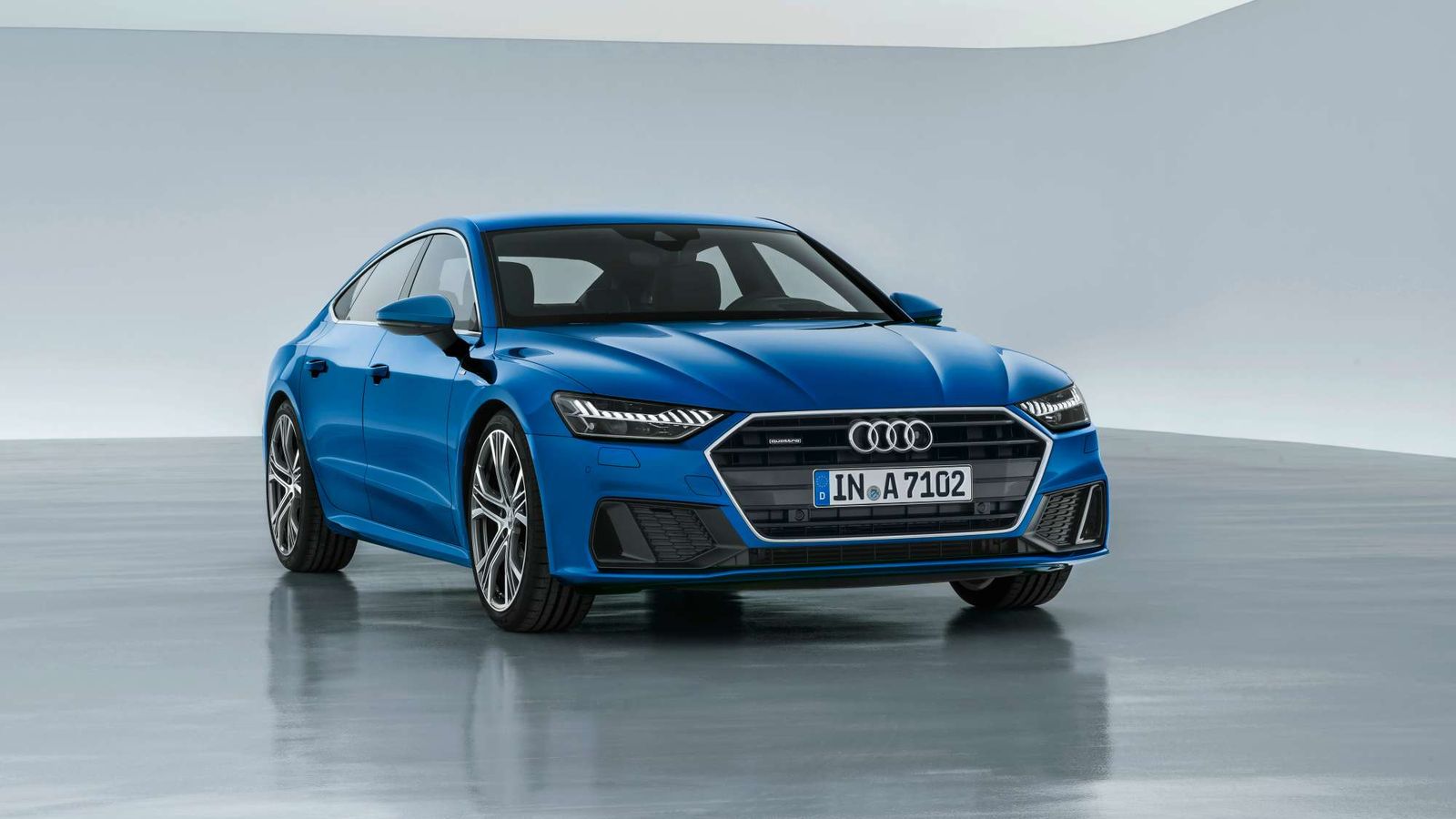 Following an extended psychedelic video presentation, Audi finally broke the lock on the new 2018 A7.
"Inspiring design" and "progressive technology" were the terms used to describe the new 2018 Audi A7. Here's what you really need to know about it.
Coming to do battle against the likes of Porsche Panamera – its group arch-rival, if you wish – and the Mercedes-Benz CLS, the new 2018 Audi A7 also takes after the new 2017 A8 limousine.
Design
Audi kept the Singleframe grille which debuted on the A8 but lowered it for the new A7 and it is now flanked by a 12-segment headlight configuration. Range-toppers get Audi's HD Matrix LED headlights with laser light.
As far as rear lights are concerned, the setup is an inverted version of what we saw earlier this year on the new A8, with the taillights being made of 13 smaller light clusters and joined by a Bugatti Chiron-like light strip.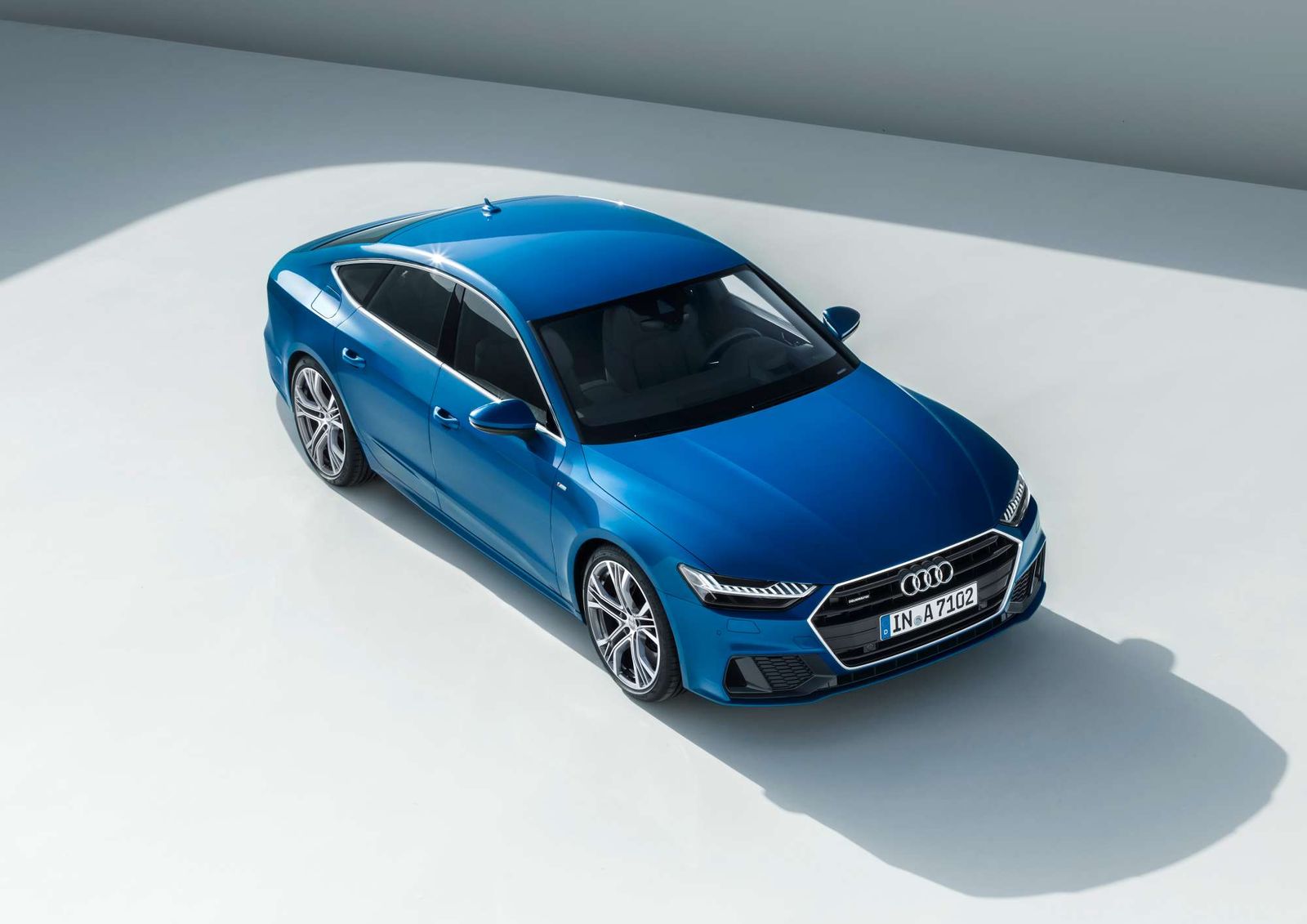 Proportion-wise, the new Audi A7 is 4,969 mm (16.3 ft.) long, 1,908 mm (6.3 ft.) wide and 1,422 (4.7 ft.) mm high. The wheelbase stretches to 2,926 (9.6 ft.) mm and the whole car can sit on 21-inch wheels.
The luggage compartment lid finishes with an integrated active spoiler that comes out of hiding at speeds of over 120 km/h (74 mph).
Inside
Audi says the new A7 Sportback combines elements from the brand's other body styles – Avant, Saloon and Coupé. What's more, Ingolstadt says interior length went up by 21 mm (0.8 in) from the previous model. The boot offers 535 liters worth of cargo volume extendable to 1,390 liters by folding down the rear seats.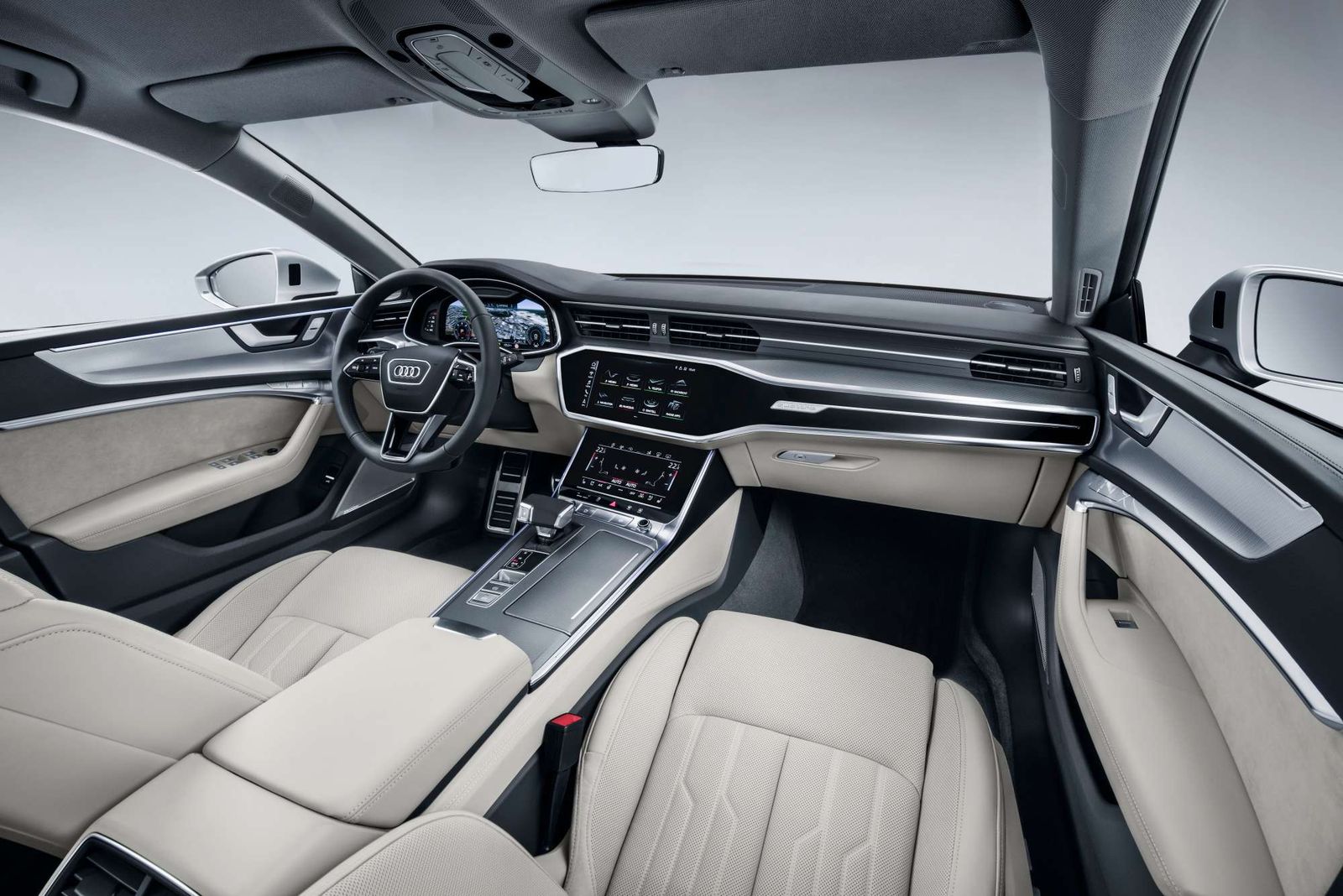 Up front, the ergonomics revolve around two contour seats (featuring ventilation and massage functions) while at the back the new A7 offers a three-seat bench arrangement – 2+1 if you wish, offered standard in the UK but optional on other markets. Those who don't want the extra seat in the back can go for the standard individual seat configuration.
Powertrain and drivetrain
Just like it's the case with the new Audi A8, every A7 model relies on a mild hybrid system (MHEV) courtesy of a 48-volt "primary electrical system."
The setup revolves around a belt alternator starter connected to a Li-ion battery that can recover up to 12 kW during braking. In real life, this is the equivalent of 0.7 l/100 km lopped off from the new A7's average consumption. Speaking of which, the entry level Audi A7 55 TFSI is said to burn just 6.8 l of fuel/100 km (34.6 US mpg) and emit 154 grams of CO2/km (247.8 grams of CO2/mile).
For now, the new A7 is only available with Audi's 3-liter V6 TFSI unit churning out 250 kW (340 hp) and 550 Nm (368.8 lb-ft) of torque. These numbers allow the new A7 to dart from 0 to 100 km/h (62 mph) in 5.3 and continue the sprint to a top speed of 250 km/h (155.3 mph). These performances are also brought to you by the seven-speed S tronic automatic transmission working together with the powerplant.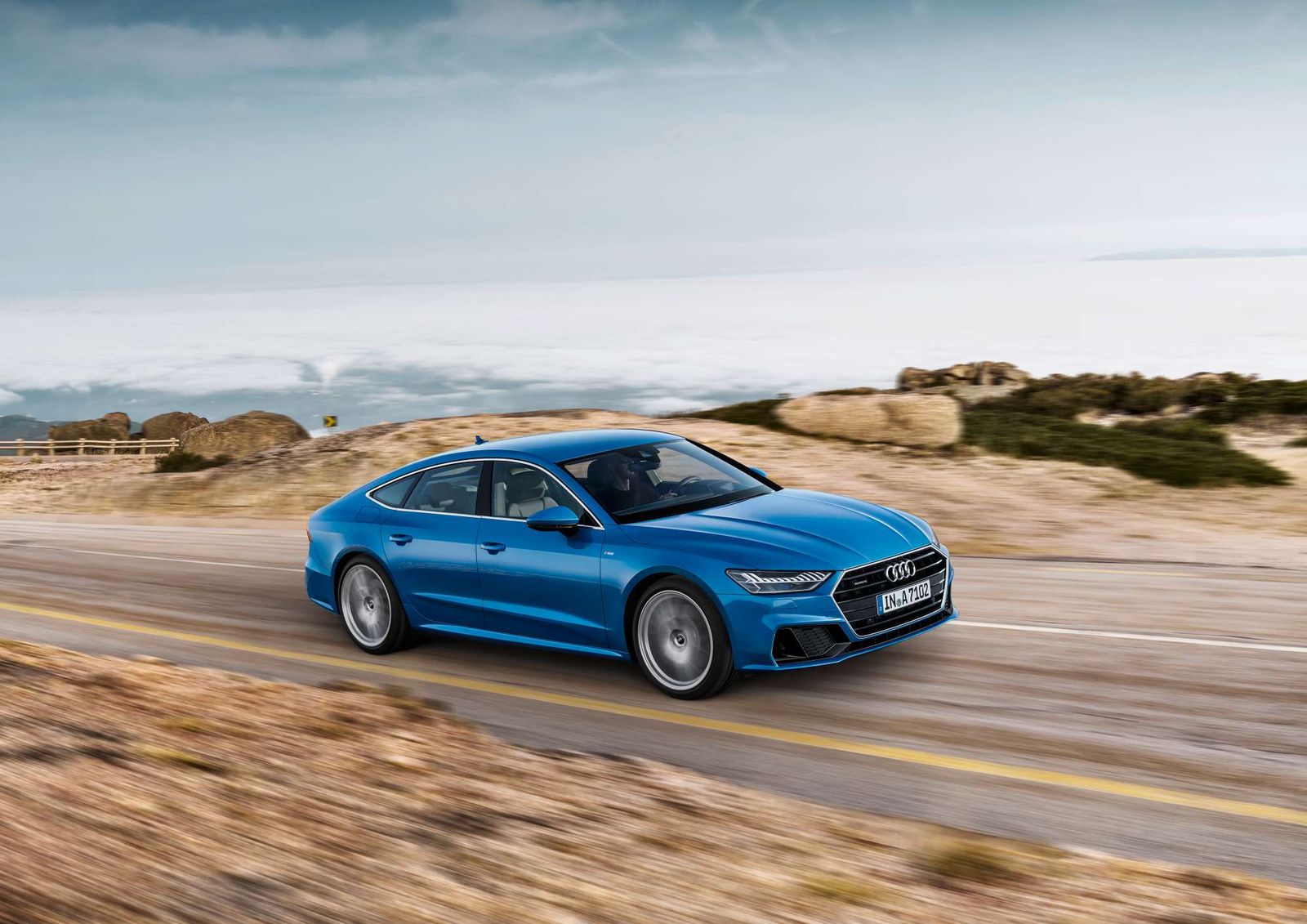 Audi's quattro all-wheel-drive setup is also present and it can activate rear-wheel drive when needed. According to Audi, more six- and four-cylinder gasoline and diesel mills are on the way.
Another novelty for the A7 is the all-wheel steering setup (offered as optional feature) and four suspension setups available for customers: steel spring suspension, sports suspension that can be lowered by 10 mm (0.4 in), an electronically-controlled damping setup and the self-leveling air suspension.
Technology
Every Audi A7 features 10.1-inch display sitting above the center console as it follows the steps of its A8 sibling. What's more, the rotary control is now replaced by Audi's MMI tactile interface and there's another 8.6-inch central display (positioned lower on the console) that's used for accessing clime control, comfort and text input functions.
As an option, customers can get a 12.3-inch infotainment display and Audi's virtual cockpit plus a head-up display that project information directly on the windshield.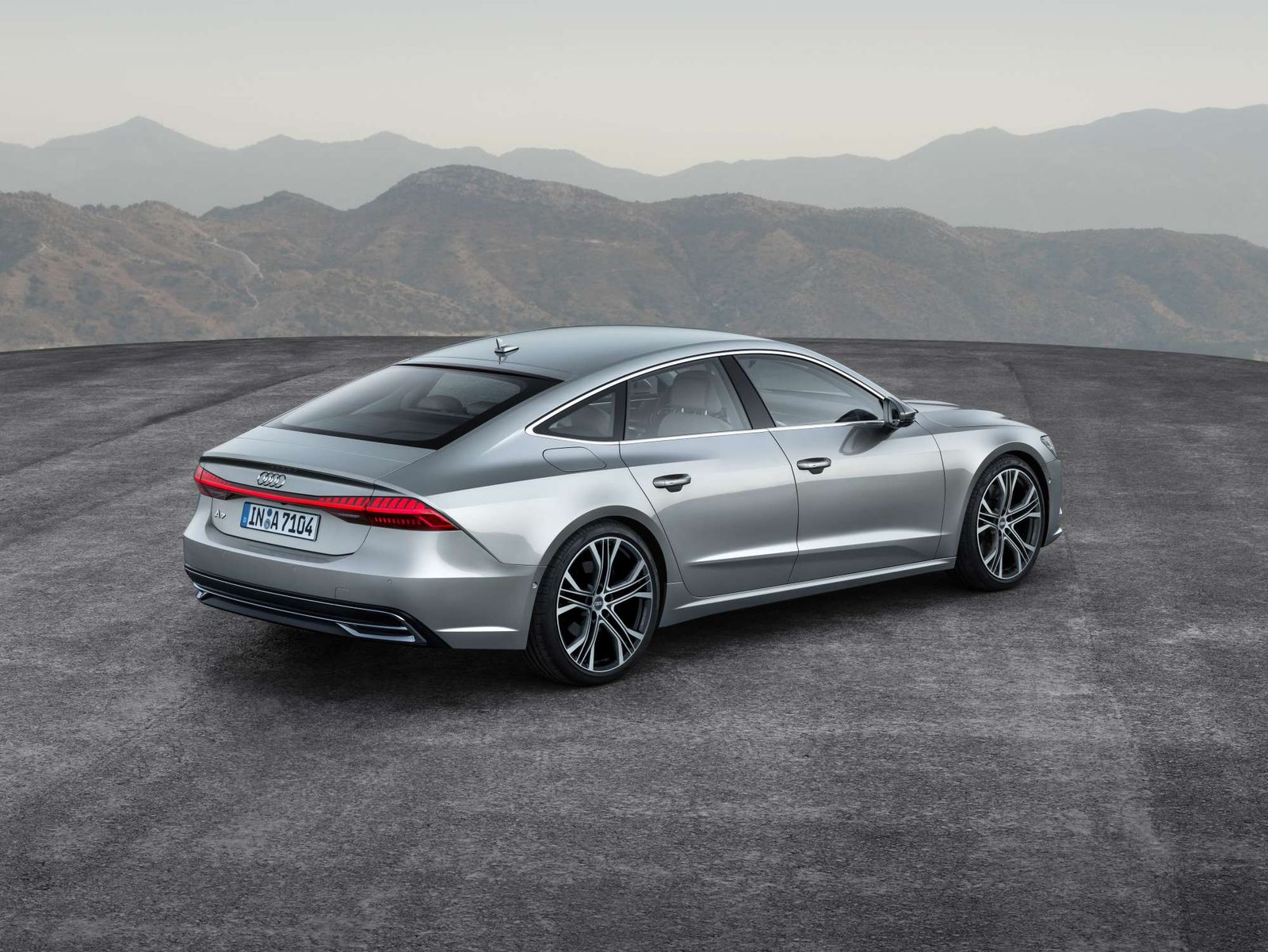 Last but not least, Audi trumpets that its new 2018 A7 Sportback features no less than 39 safety assistance systems divided into three packages – Audi AI parking, City assist and Tour assist.
Audi builds the new A7 at its Neckarsulm plant. The model's market launch in Germany is scheduled for late February 2018 at a starting price of €67,800 for the 55 TFSI quattro S tronic version.
Also, we don't want you to get confused by Audi's new model naming scheme, so here's an article we hope will clear the air.