Mercedes-Benz's new compact segment soldier balances regular car traits with super-connected digital tool features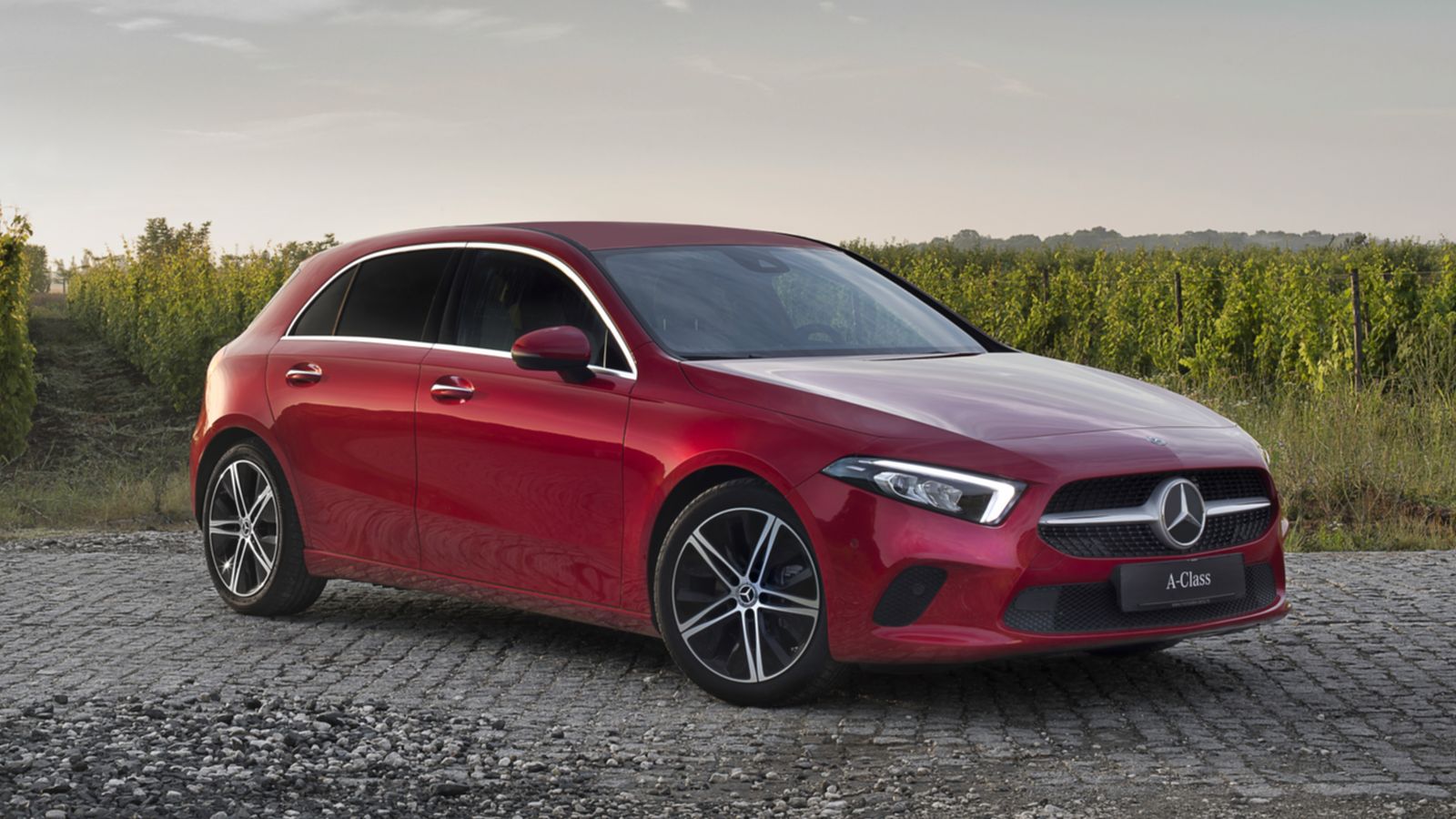 We are living in interesting times when phones are on many occasions smarter than the users they serve. We are constantly being bombed to over-saturation with connectivity offers, mobile internet plans, larger displays, slicker graphics, optimized operating systems, apps and features of all sorts, all in the name of comfort.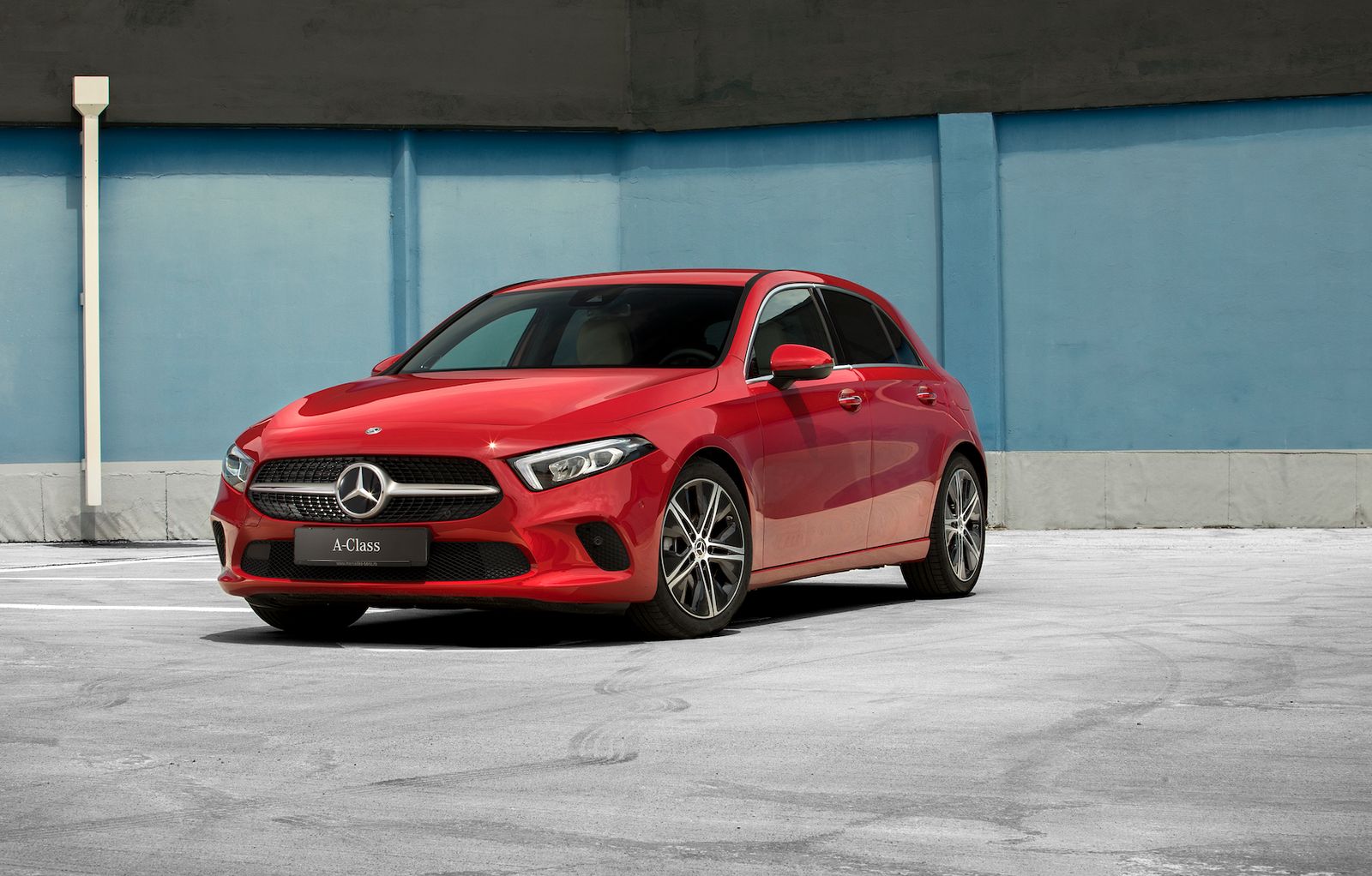 Now, unprecedently, the vehicles we drive are more computers than cars and this race is not slowing down. In fact, with the new 2018 A-Class, Mercedes-Benz added the spark that ushers in a new era: the super-connected compact car. But is there any room left for the driver to enjoy the good old experience behind the wheel? For the time being, yes.
The basic car stuff
Breaking down the A-Class works best if we look at it as part car, part computer. In this first section, I will be dealing with the former. About the latter you'll read more in the next passage.
So, is the A-Class a proper Mercedes-Benz? The answer is yes. It is. Regardless of your vantage point. I personally dig the new design language on the A and although it's easy to confuse it with the new Mercedes-Benz CLS while looking at it from the front, Stuttgart's designers got the looks right, should my two cents be required.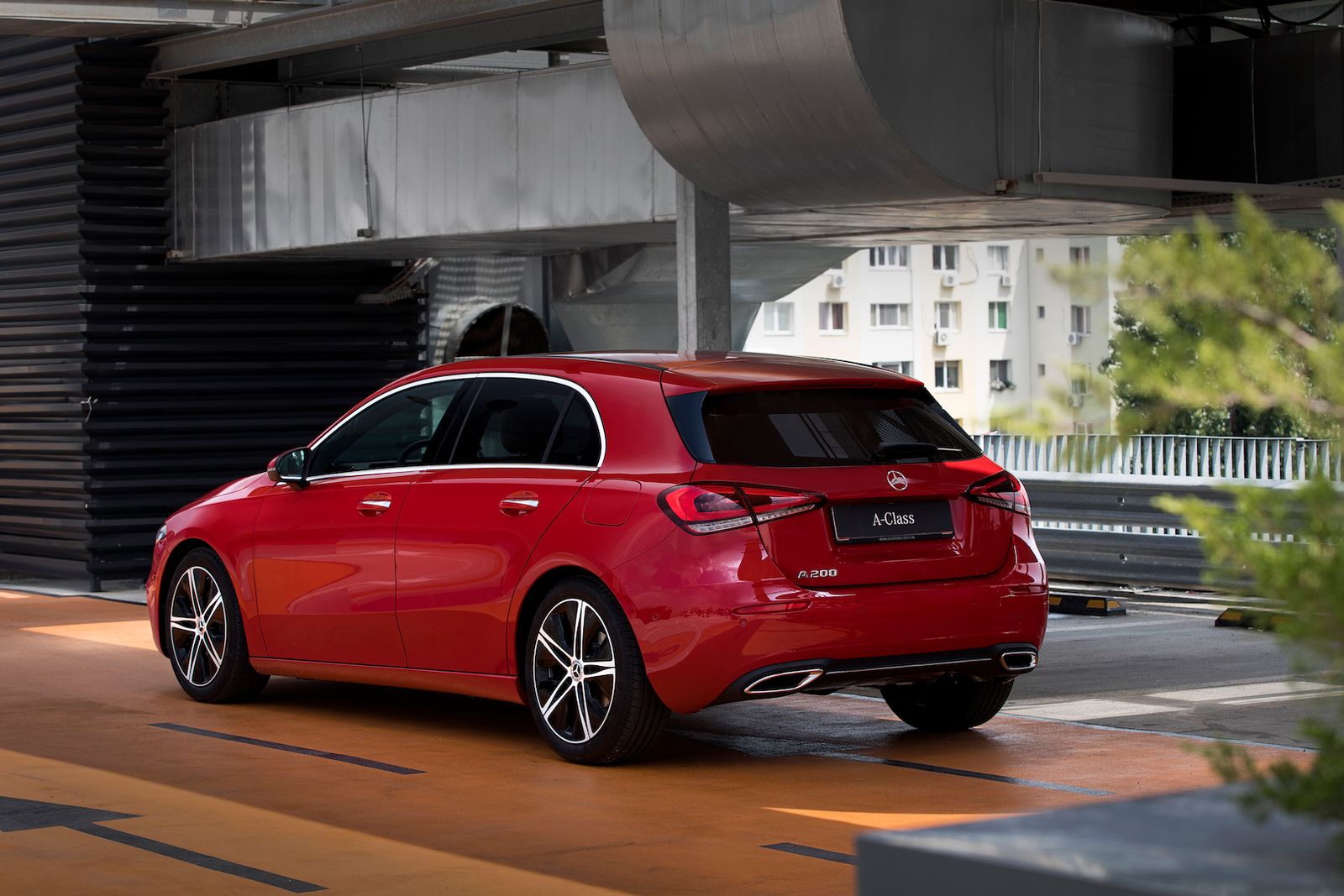 Once inside, you're surrounded by one of the most lavish interiors a supermini has even seen. If not THE most.
In all fairness, the cars we drove were fitted with a long list of optional equipment so it was hard not to feel like a spoon-fed toddler. However, as far as materials – be it leather or plastic – go, the new A-Class is top shelf quality, from the turbine-like air vents to the inviting steering wheel.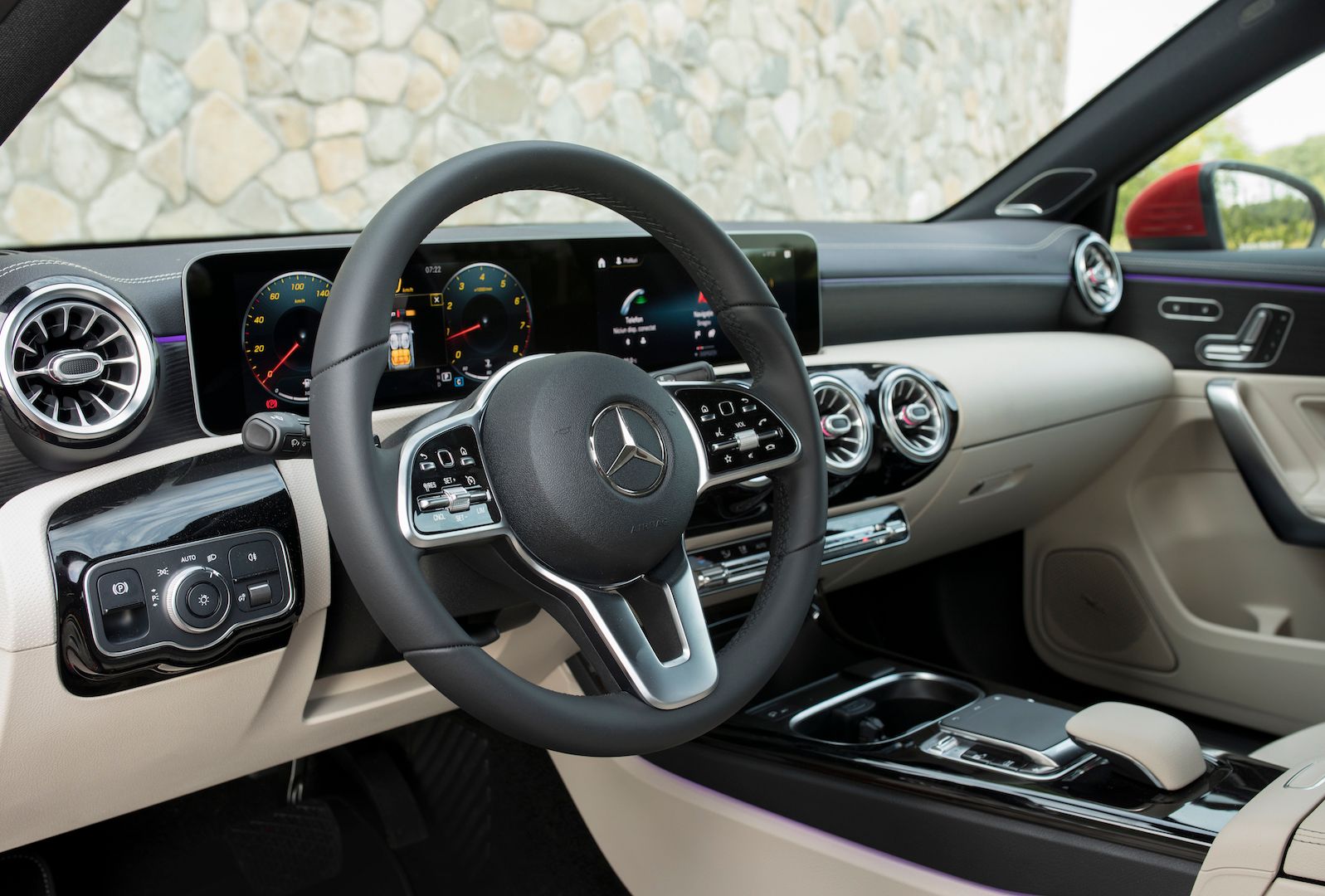 The same can be said about comfort, not just cabin topography. Up front, you sit in a rather low driving position and if there's anything more I would've asked from the seats, it'd be lateral support. But this can't really overshadow how good the seats are in fighting off back fatigue even when your trip takes more than four hours to complete, with no intermediary breaks whatsoever.
Space's a bit tight on the back seats, though, and passengers won't get the amount of legroom they're expecting, yet, all in all, the first sensation is of more room than inside the previous generation, which could be down to the fact that the new A-Class grew by 120 mm in lenght to 4,419 mm and by 16 mm in width to 1,796 mm, while adding 30 mm to its – wheelbase which now stretches to 2,729 mm.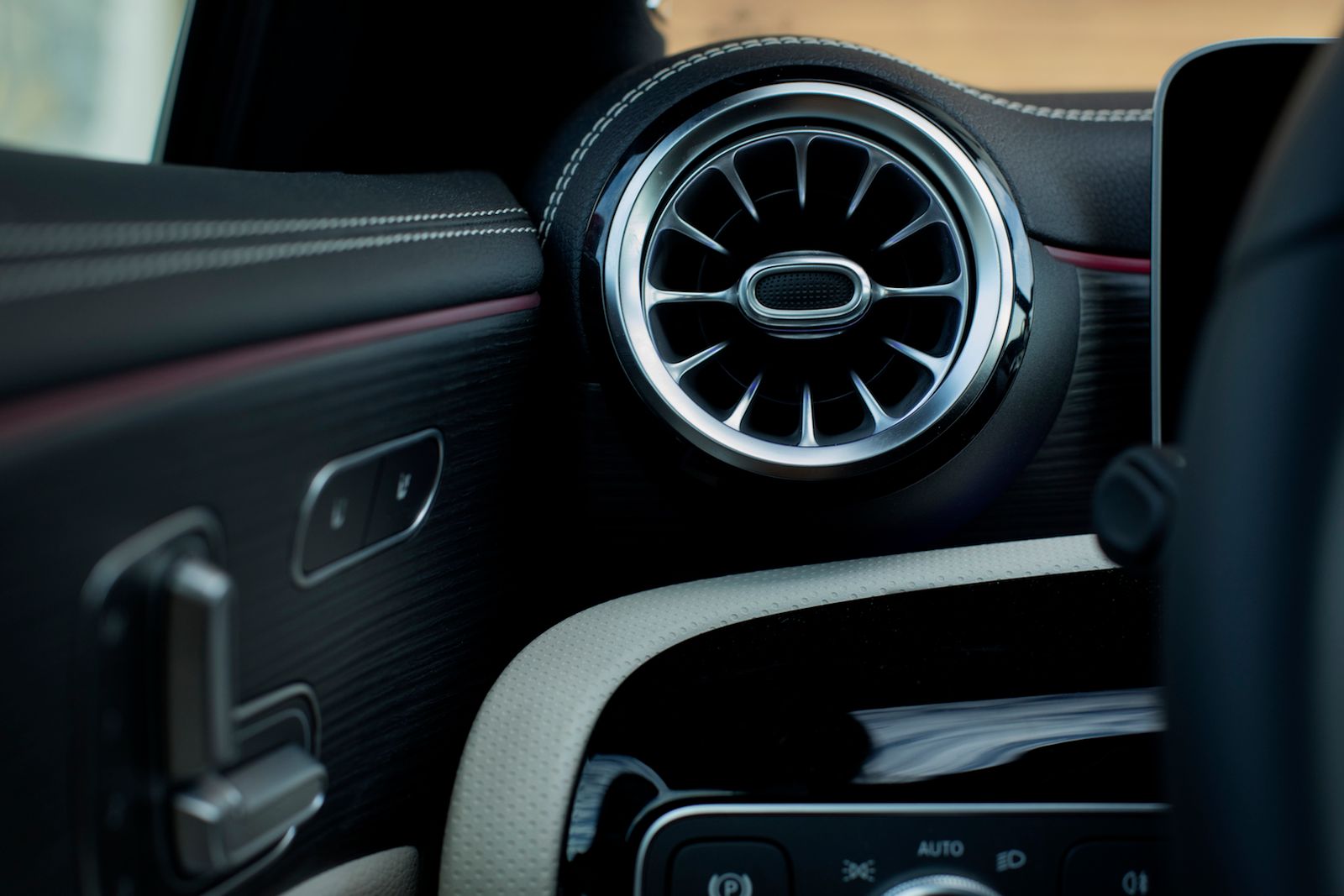 Boot space now stands at 370 liters, 29 liters over its predecessor, but it will still test your smart packing skills. And since this is Mercedes we're talking, the comfort-inducing traits of the new A-Class also involve the eradication of wind noise.
If I am to strictly refer to how quiet the cabin is, then the A in the car's nameplate could be easily replaced by C, E, and even S. How's that, you're asking? The new A-Class graduates with honors from its class as far as air-cutting prowess is concerned: its aerodynamic coefficient (Cd) holds a noise-abolishing 0.25 value.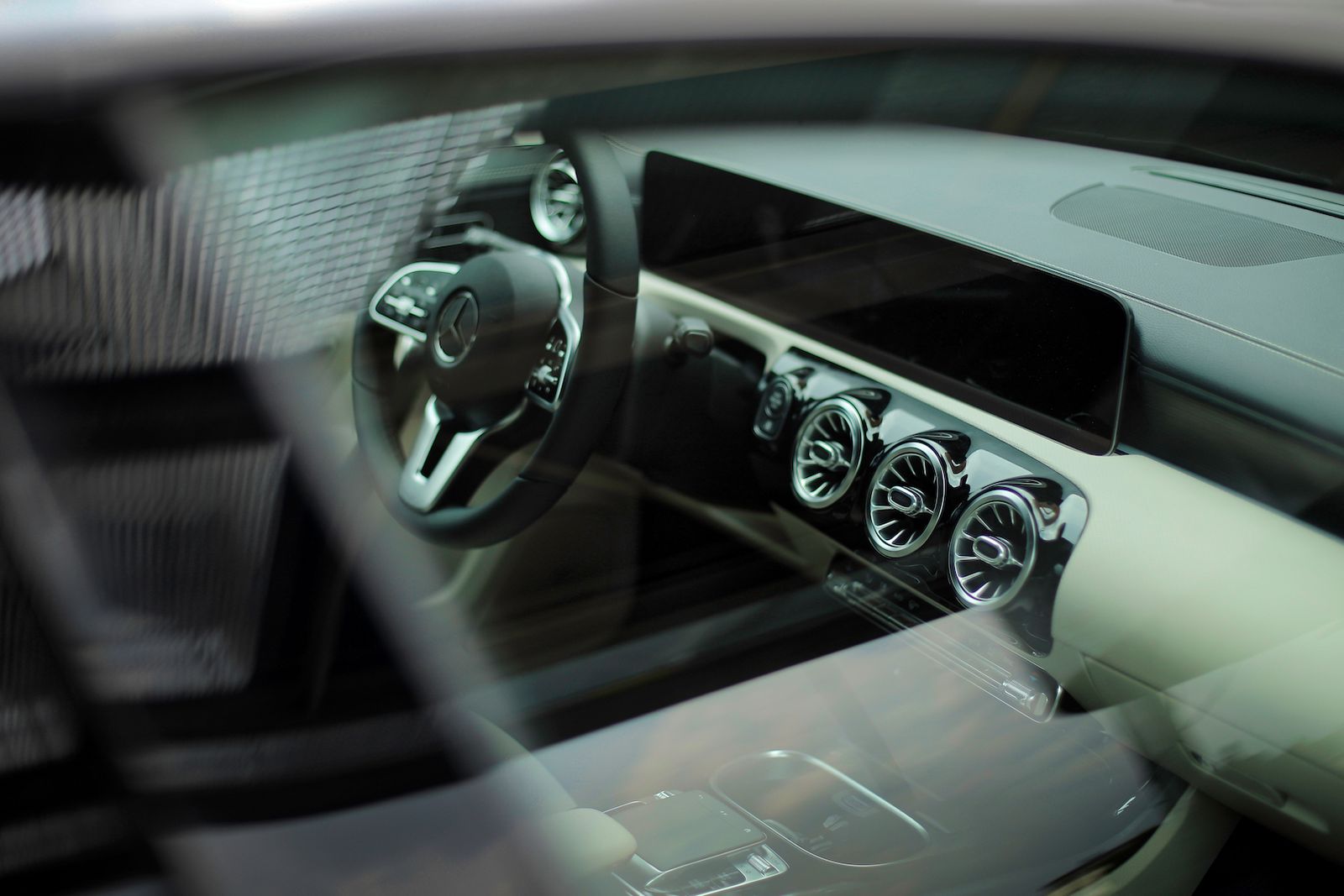 The models Mercedes-Benz offered for the test drive were fitted with the 7G-DCT dual-clutch transmission but we could choose either the A 200 or the diesel-powered A 180 d. I drove both and I must say it's the petrol version that made an impression on me, so I'll start with this one.
A 200 translates into a four-cylinder, 1.33-liter petrol engine – sourced from Renault and tweaked by Mercedes, or so they say, making 120 kW (161 hp, 163 PS) and 250 Nm of torque. It's possible to connect it to a manual gearbox too, but the dual-clutch transmission is a suitable choice for extracting every drop of this engine's juice so it justifies the extra cash you'll have to pay.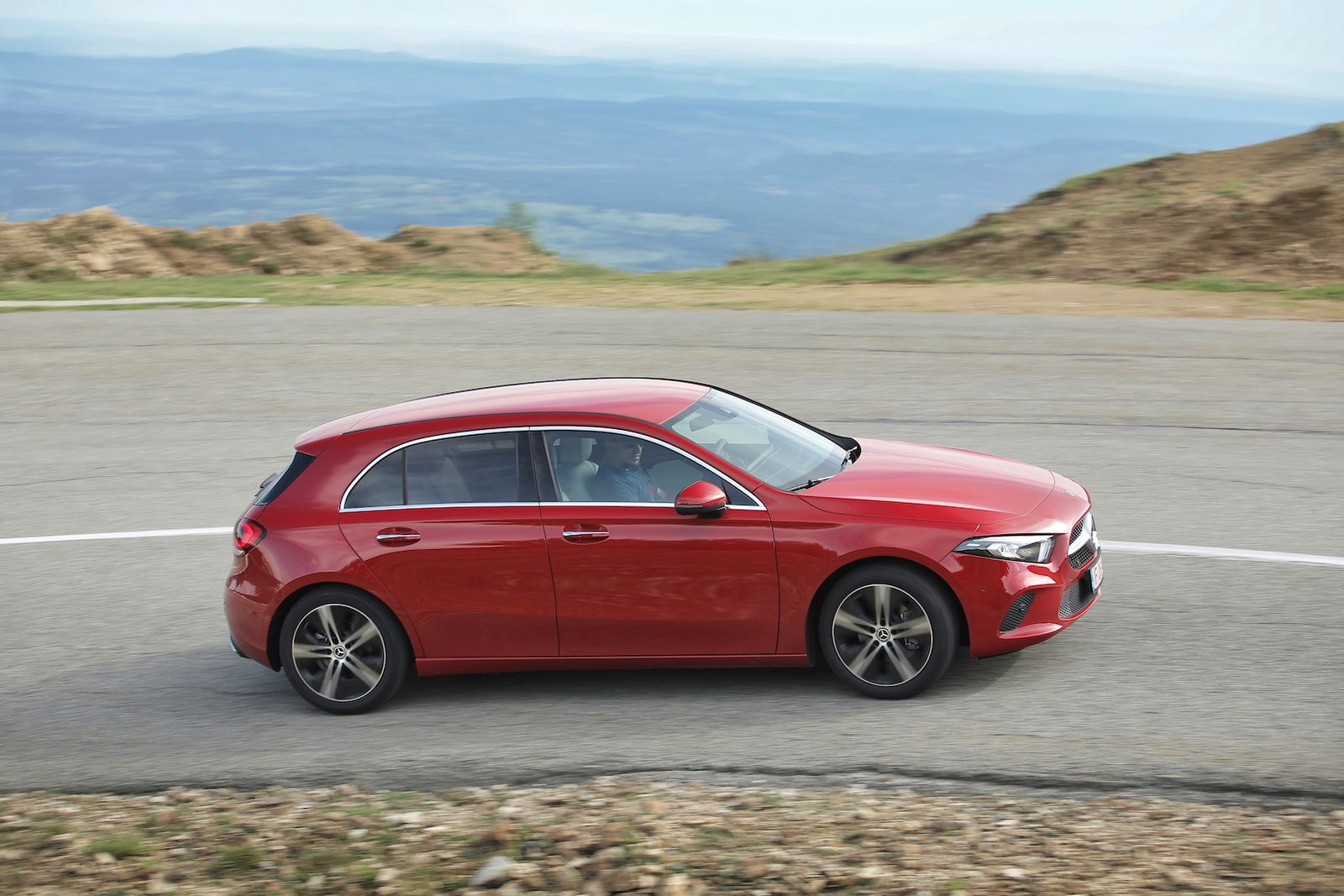 Gearshifts are smooth and the powerplant is happy to give you what you're asking for in nippy fashion, of course, within its limits. It's also very quiet and refined, although the turbocharger whirl sound makes itself felt at times without bothering your ears at all, I'd say.
Behind the A-Class A 180 d lies a 1.5-liter turbodiesel unit – again, with Renault roots – good for 85 kW (114 hp, 116 PS) and 260 Nm of torque. I reckon this will be the top choice for customers that place a high price on frugality. Thing is, its relationship with the seven-speed dual-clutch gearbox is not as polished as in the petrol engine's case. Throttle response is a bit laggy and when you really need the engine's resources, the gearbox hesitates for a couple of seconds before noisily delivering what you demanded of it. And that's why I enjoyed the A 200 most.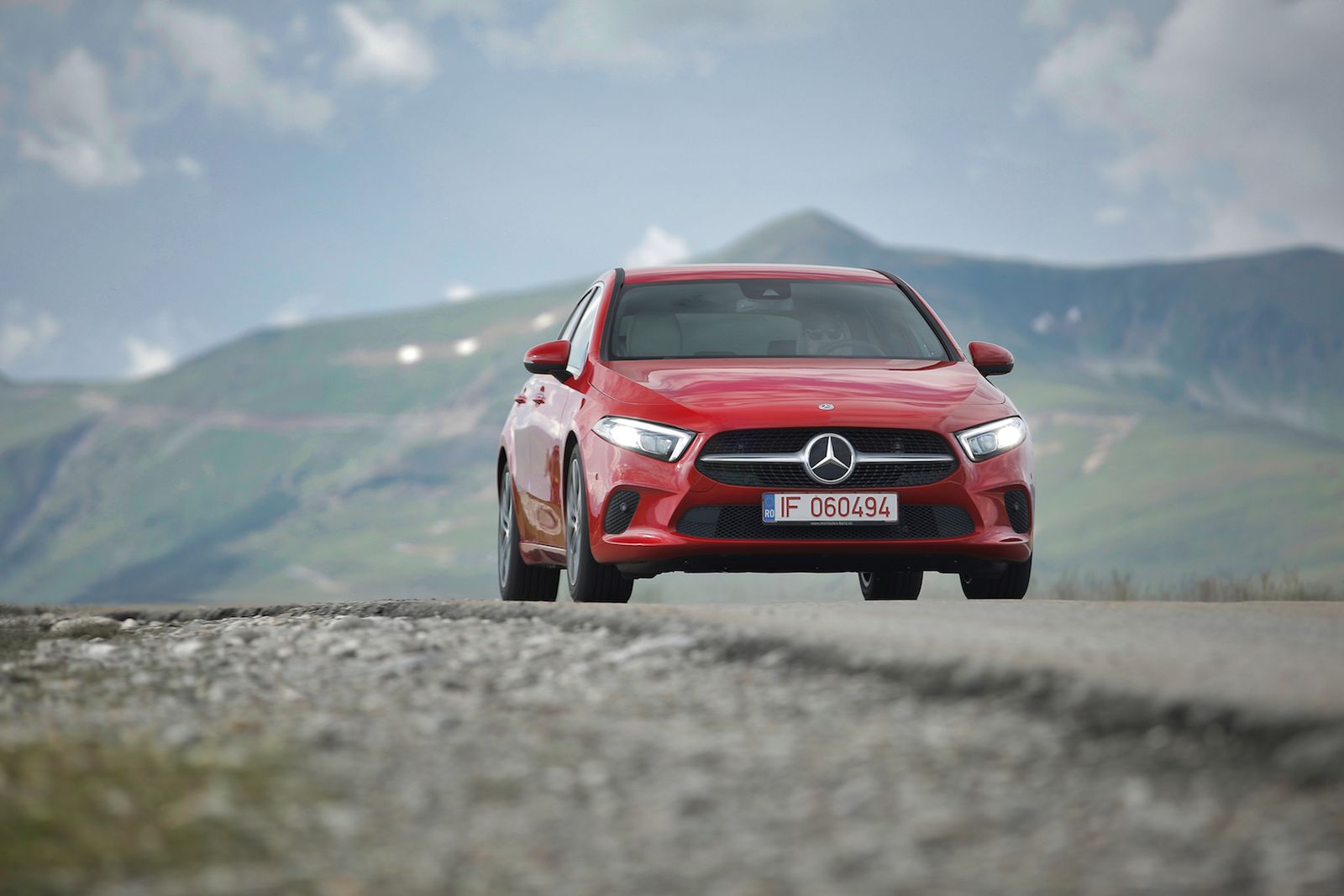 Mercedes is also offering the A 250 which mixes a 2-liter petrol engine married to the same seven-speed dual-clutch gearbox and churning out 165 kW (221 hp, 224 PS) and 350 Nm. This version wasn't included in the test drive lineup, though.
For both driven versions, however, the suspension setup is superbly mixing adequate body control and bump-soaking abilities. The new A also feels nimbler on the road, which adds in as a side effect of the weight loss regimen it underwent: the new model tips the scales at 1,375 kg, 20 kg less than the model it replaces.
As for steering, well, I would have liked a more talkative setup but the lack of feedback is compensated nicely by how easy it is to steer the new A-Class into a corner or in/out of a parking space.
For every other feeling that has to do with sportiness, you can either wait for the hotter Mercedes-AMG A45 or head down to Munich where the various iterations of the BMW 1 Series will satisfy your need for more driving involvement.
The technology galore
Right, MBUX it is then. From the off, the whole two-screen setup looks impressive and rather imposing perhaps because the A's interior space isn't of the same grandeur as what the E-Class and S-Class offer.
Mind you, it can prove a bit confusing during the first couple of interactions but by the third or so you'll know exactly where to go and what button to press to get what you need from the infotainment system. It's also intuitively customizable so you can bring what's important to you on the home screen using shortcuts. Moreover, MBUX learns your choices and brings them forward under a Suggestions tab.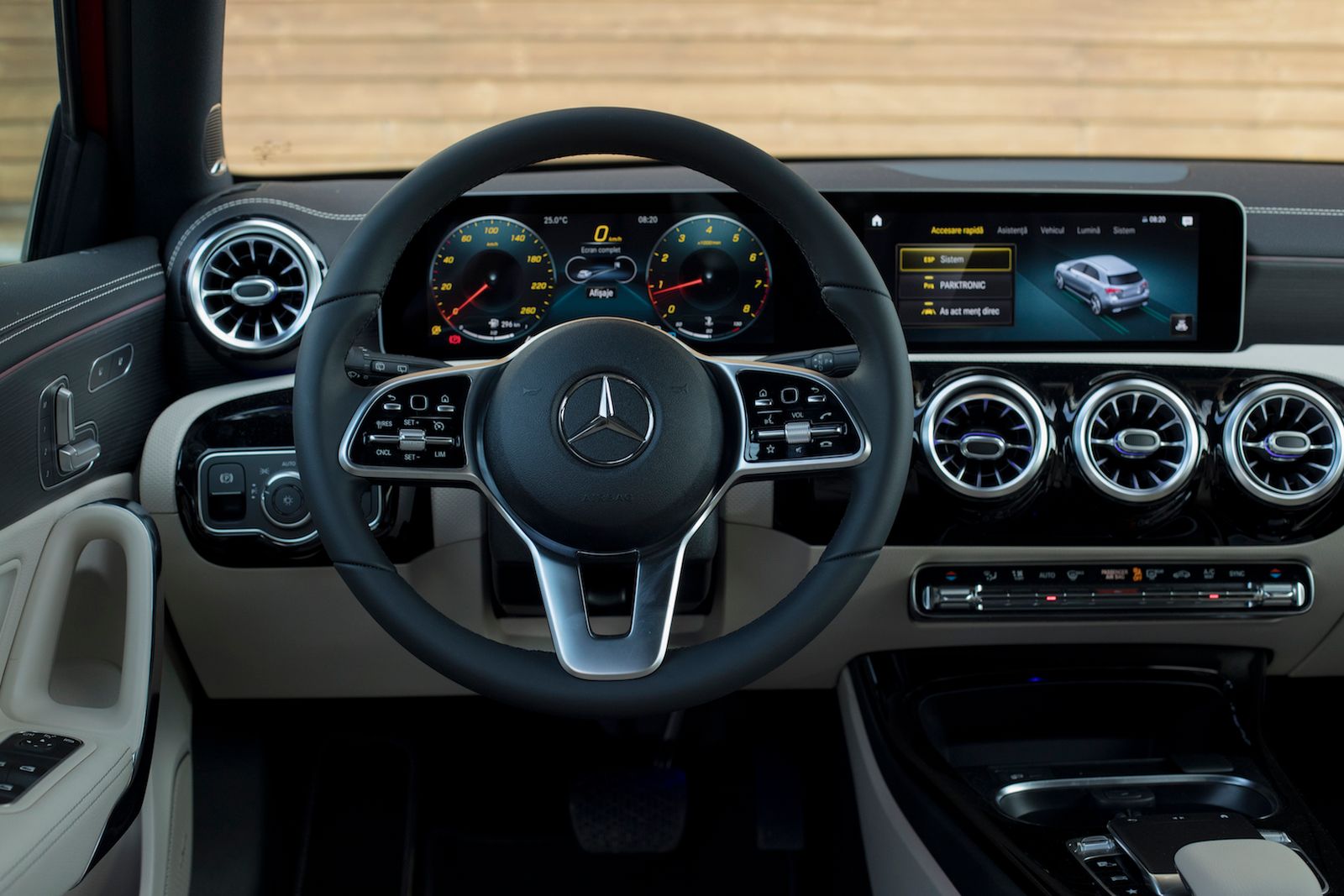 Mercedes allows three configuration choices when it comes to the free-standing displays: two 7-inch displays, one 7-inch display and a 10.25-inch one, and two 10.25-inch screens. Needless to say, it's the latter combo that brings the most digital spoils.
On the graphics front there's not much to criticize, really, if anything. Every menu, font and graphical depiction is crisp and, most importantly, visible. One drawback is the screens' fingerprint-magnet ability, which becomes strikingly obvious after a few uses.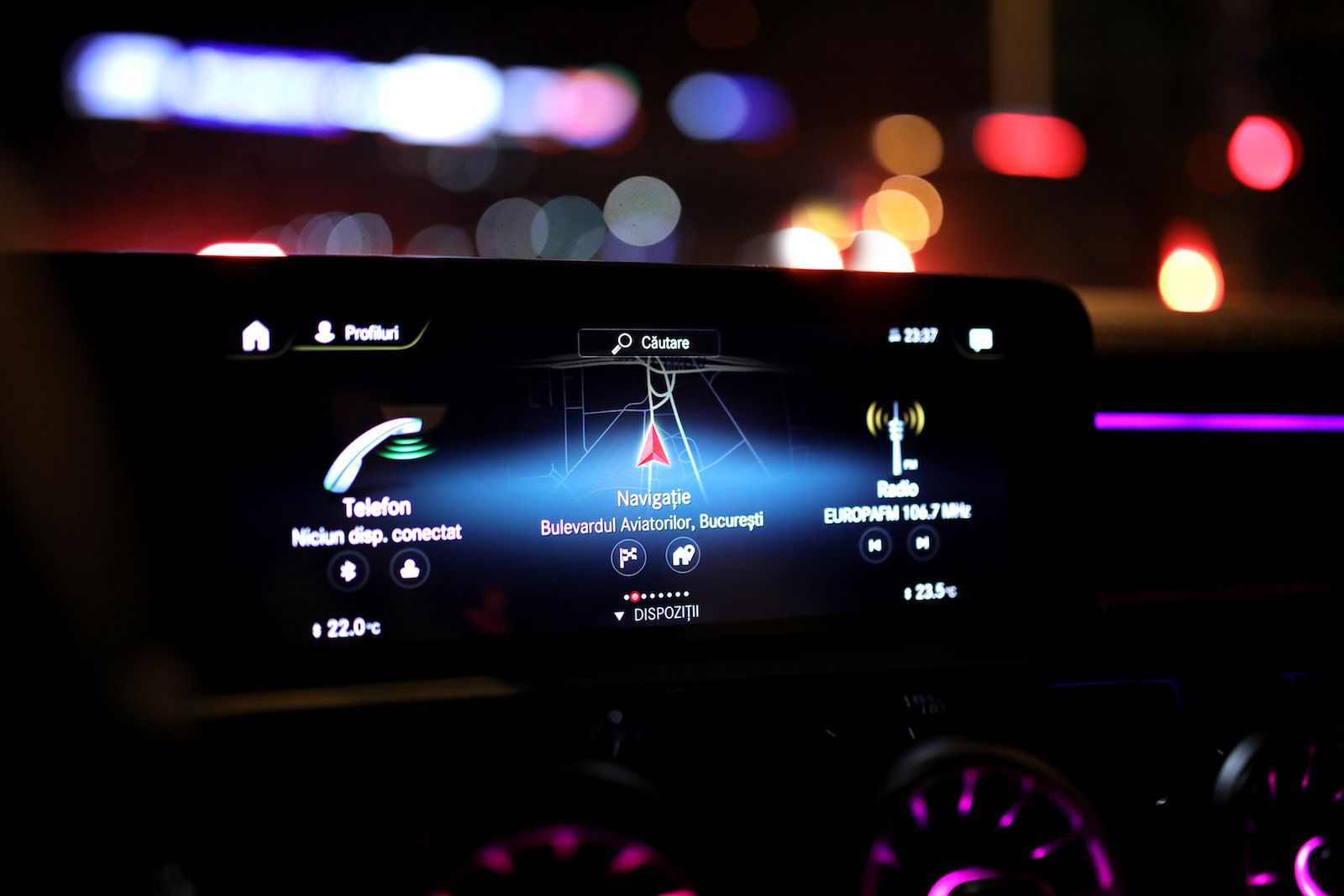 But there's a solution to that. Two, in fact, in the form of the touchpad positioned on the center console – this one has its own wrist pad, a neat and elegant ergonomy-oriented solution – and the touch control buttons on the steering wheel – a feature borrowed from the E-Class.
The package really brings a lot of stuff at once: a head-up display, augmented reality navigation, and voice control with natural speech recognition you can activate by just saying 'Hey Mercedes.'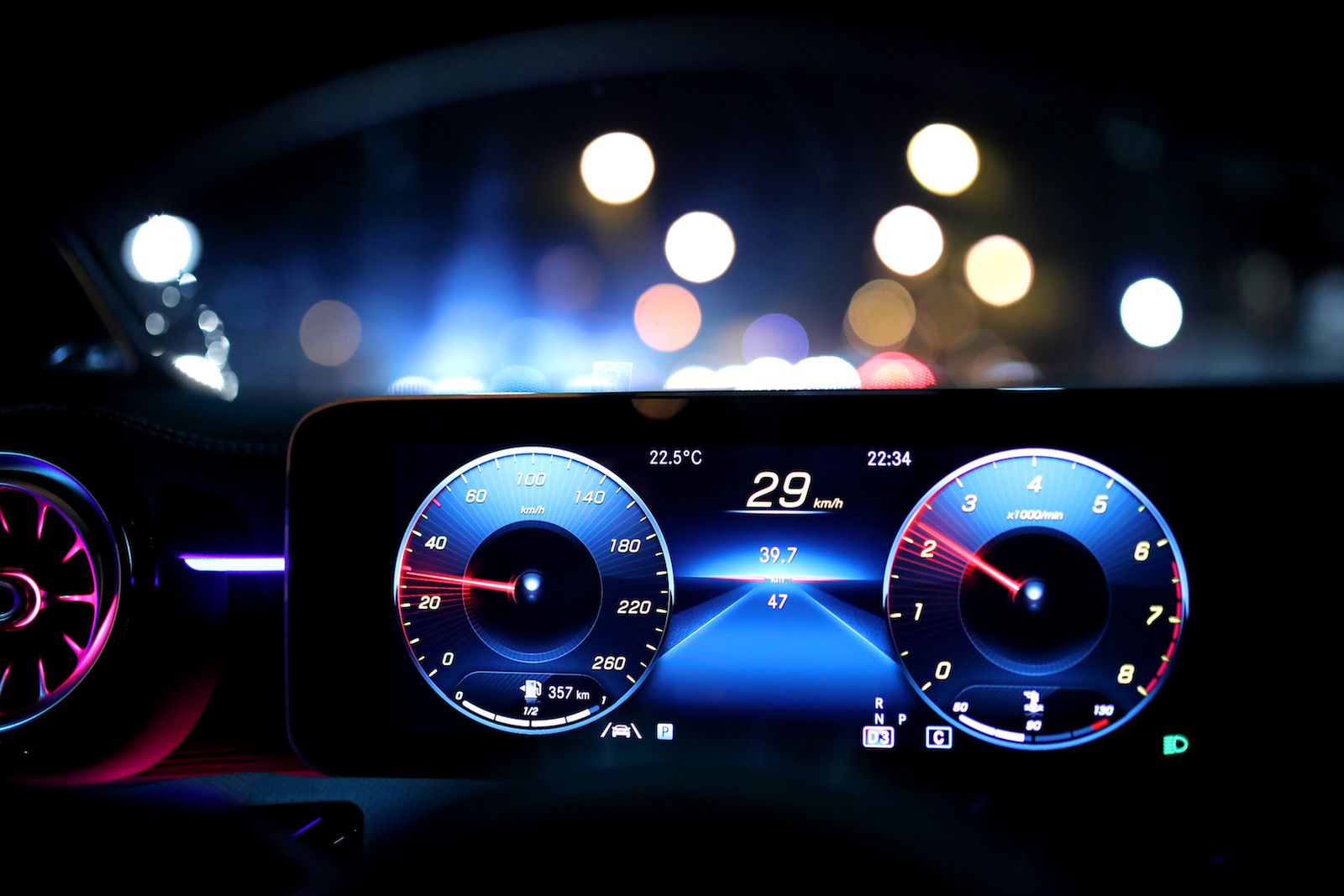 Furthermore, Mercedes-Benz provides the Mercedes me app for Android and iOS which can be used to lock/unlock the car and access info like tire pressure, remaining range, fuel level, mileage and time left until the next service visit. What it essentially does is turn your smartphone into a smart and complex car key.
The best advice I can give you? Head to your local dealer and have a go at both the car and its stunning new infotainment system. Subjectively, I liked the A 200 better, but it's up to you and ultimately your own needs (also budget) when it comes down to the buying decision.
READ MORE: 2018 Mercedes-Benz CLS 400 d 4Matic review