2019 Porsche Cayenne is here! Official info and specs
Bigger, better, faster. But is it worth the upgrade?
New engines, new chassis, an innovative control concept, and increased connectivity are the main talking points about the third-generation Cayenne.
The all-new 2019 Cayenne (2018 MY for Europe) looks not that different than the previous generation, but there are many changes, especially when it comes to technology. The car does look more athletic and refined than the second generation, though, and borrows some design cues from the 2017 Panamera. However, most changes lie beneath the aluminum body.
The 2019 Porsche Cayenne - what's new
The wheelbase remains unchanged at 114 inches (2,895 mm), while overall length increases slightly to 194 inches (4,918 mm) and width (with side mirrors folded) is 78 inches (1,983 mm). Cargo volume with the rear seats raised is grows by 15 percent to 27.19 cubic feet (770 liters - 100 liters more).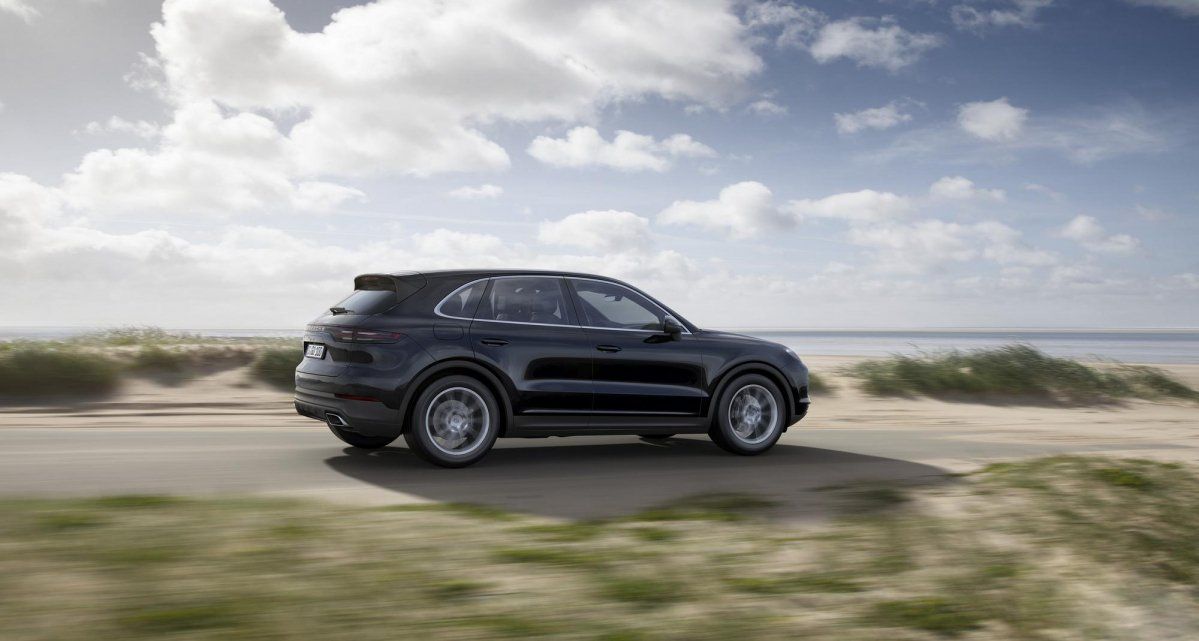 The new LED main headlights with matrix beam including PDLS Plus offer fully variable light distribution and intensity through 84 individually activated light-emitting diodes. This means that the Cayenne can offer new functions such as a high beam that does not glare opposing traffic, as well as adaptive sign glare control.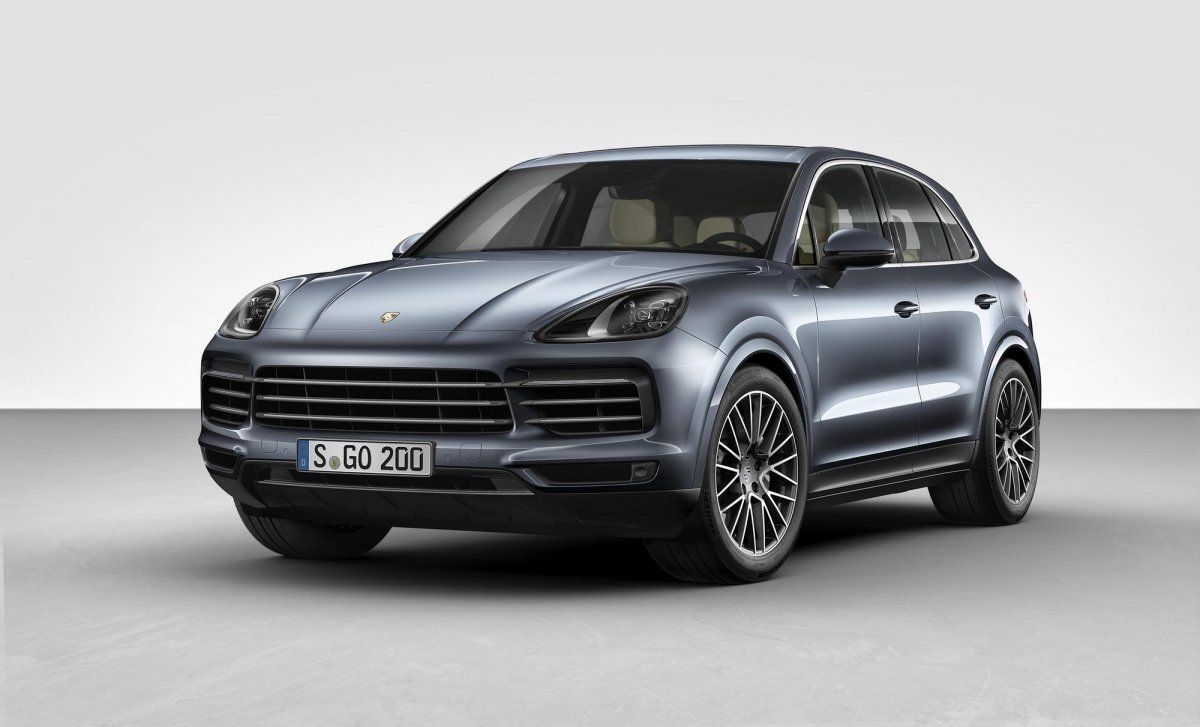 Rear-axle steering is now available as an option. It reduces the turning radius at low speeds for easier maneuverability by turning the rear wheels in the opposite direction of the front axle. At high speeds, the wheels turn in the same direction, providing a virtual lengthening of the wheelbase and improving handling and directional control.
All-wheel drive and turbocharged engines are now standard, and drivers can also opt for Porsche Surface Coated Brakes (PSCB), for greater stopping power and reduced brake wear.
The third-generation Cayenne has a newly-developed lighter weight chassis that contributes to overall weight savings of up to 143 lbs (65 kg) versus the previous generation, even with extensively increased standard equipment. Extensive use of aluminum was made for its exterior body, floorpan assembly, front section and almost all the chassis components. It also has a new lithium-ion polymer starter battery, which alone accounts for a weight saving of 22 lbs (10 kg).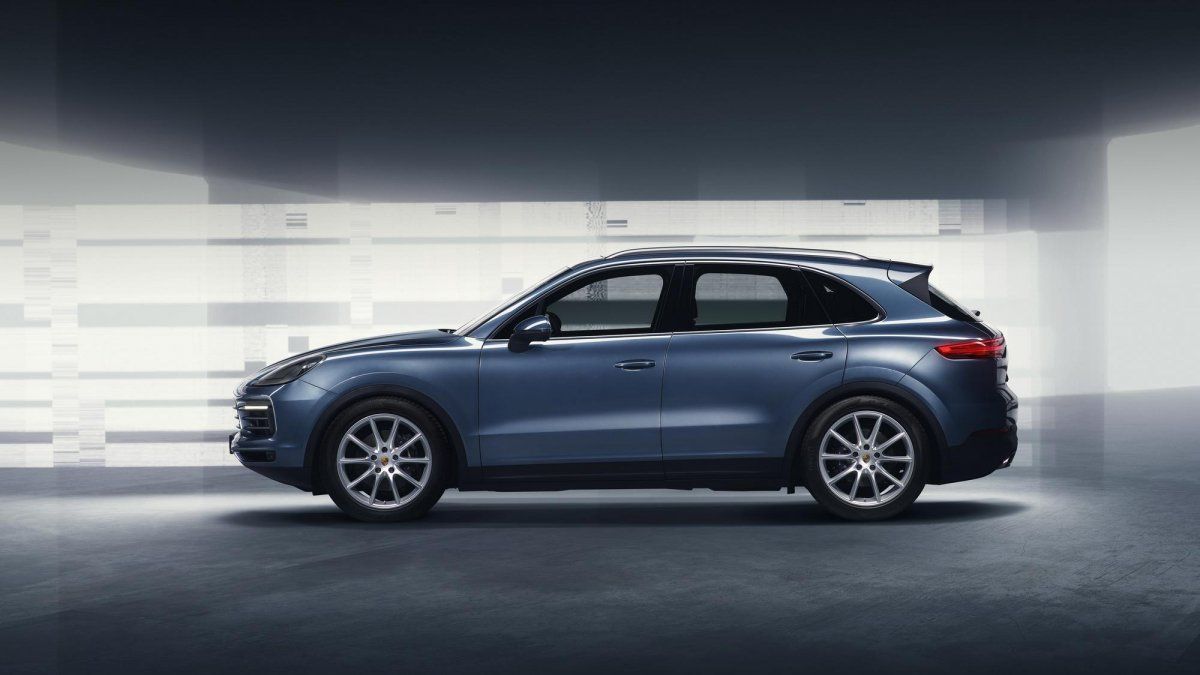 Different-size front and rear tire sizes ranging in diameter from 19 to 21 inches help improve driveability. Porsche Active Suspension Management (PASM) will be standard equipment on the Cayenne S and can include, as an option, a new three-chamber air suspension increases air volume versus the previous system and offers a finer degree of specific comfort calibration through the addition of a third air chamber.
The optional Porsche Dynamic Chassis Control (PDCC) adds stabilizer bars that are now controlled via a 48-electrical system for greatly improved responsiveness versus hydraulic management.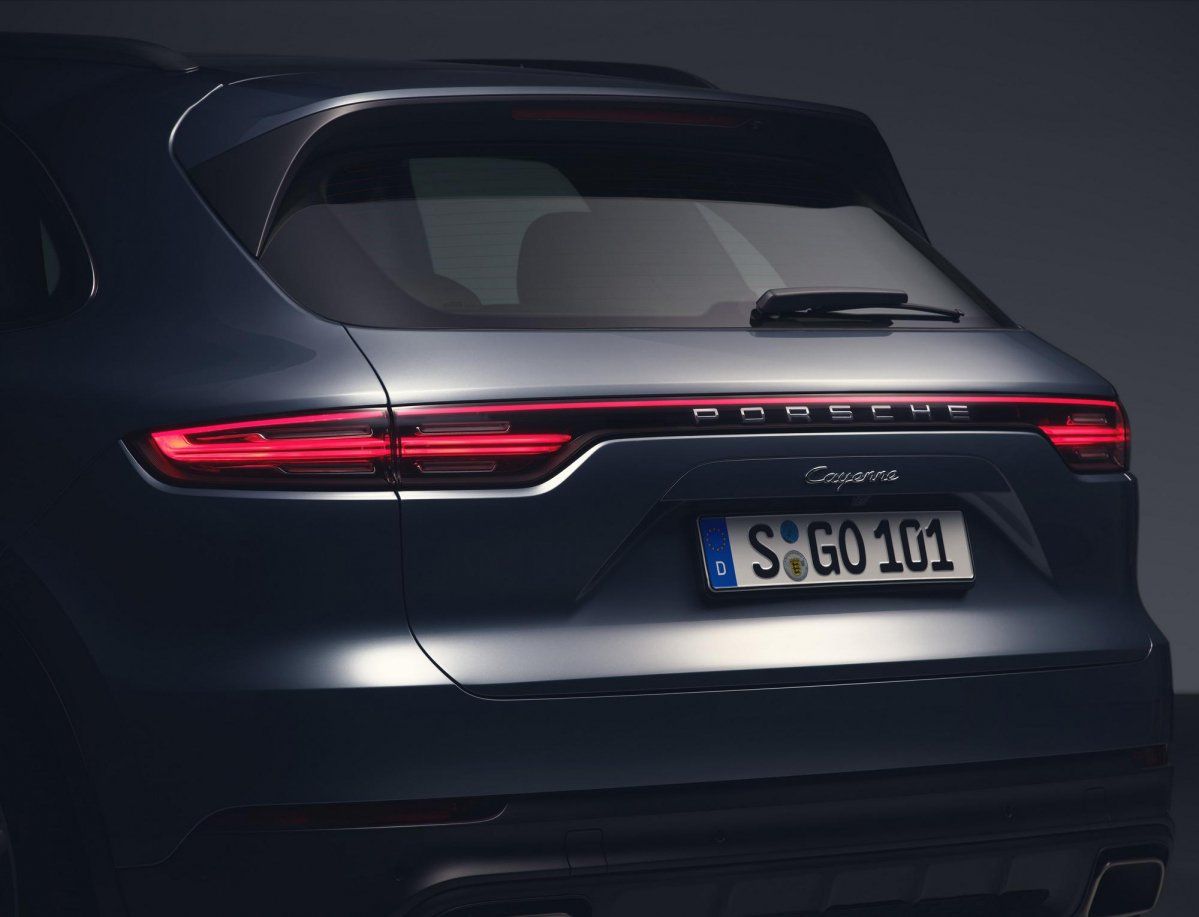 Finally, a newly-developed eight-speed Tiptronic S transmission is standard across the Cayenne line. It offers improved comfort and quicker response times in its lower gear range for improved performance both on- and off-road. Meanwhile, an intentionally long eighth gear allows for relaxed cruising.
2019 Porsche Cayenne: launch models
Porsche will offer two models at launch: the Cayenne and Cayenne S. Both are powered by turbocharged six-cylinder engines. The Cayenne's 3.0 turbo engine delivers 29 kW (40 hp) more than the previous model. The 2.9-litre V6 biturbo engine in the Cayenne S had its power increased with 15 kW (20 hp).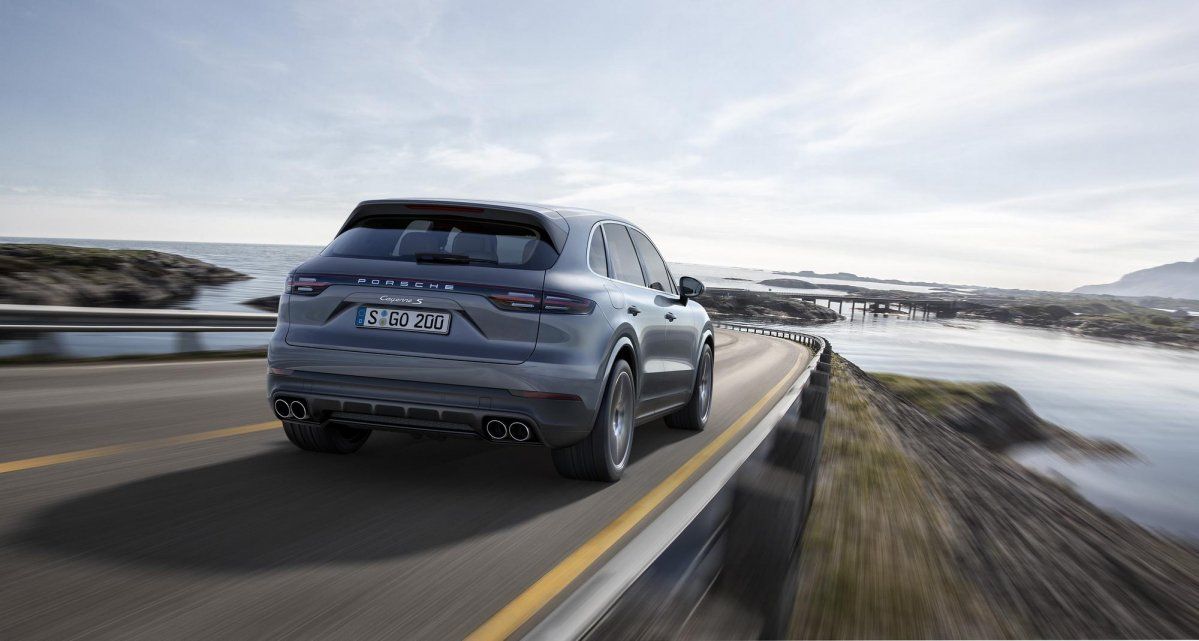 The Cayenne uses a 3.0-liter single-turbo V6 making 340 horsepower and 332 lb-ft (450 Nm) of torque, enabling it to accelerate from zero to 60 mph in 5.9 seconds (or 5.6 seconds with the optional Sport Chrono package). 0-100 km/h takes 6.2 seconds (5.9 seconds with SC pack).
The new Cayenne is also capable of running the quarter-mile in 14.4 seconds or 14.2 seconds with the Sport Chrono package, and can reach a top track speed of 152 mph (245 km/h).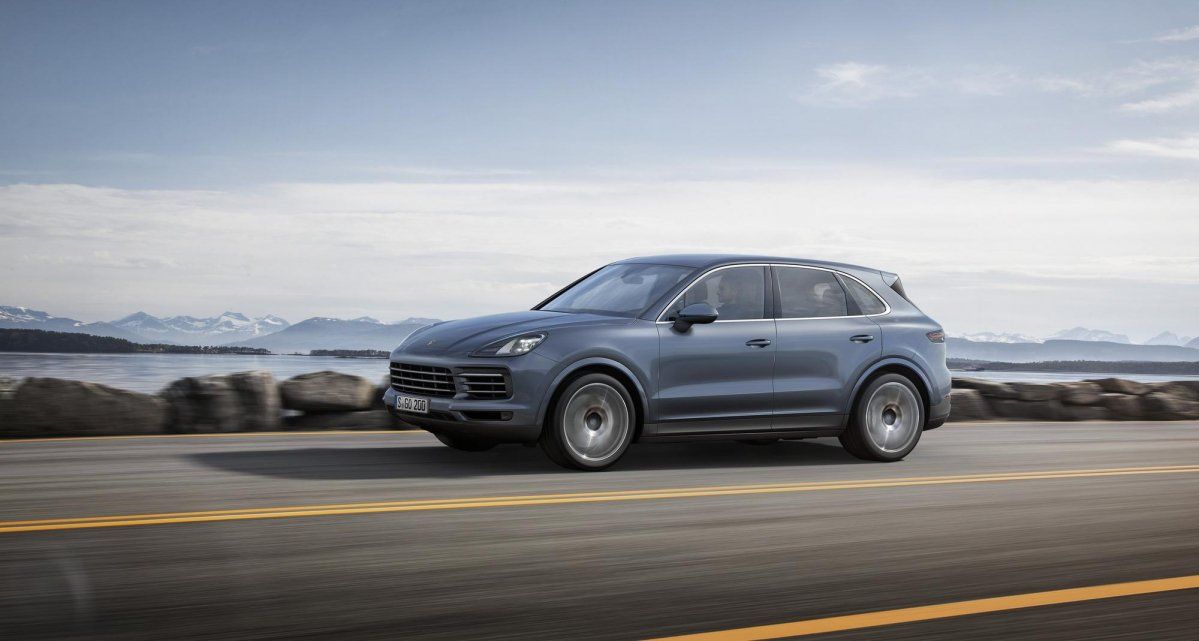 The Cayenne S uses a 2.9-liter twin-turbo V6 that makes 440 horsepower and 406 lb-ft (550 Nm) of torque. It can accelerate to 60 mph from a standstill in 4.9 seconds (or 4.6 seconds with the optional Sport Chrono package). 0-100 km/h times are 5.2 seconds / 4.9 seconds with SC pack. The Cayenne S will reach a top track speed of 164 mph (265 km/h). Its quarter mile times drop to 13.3 seconds (or 13.2 seconds with the Sport Chrono package).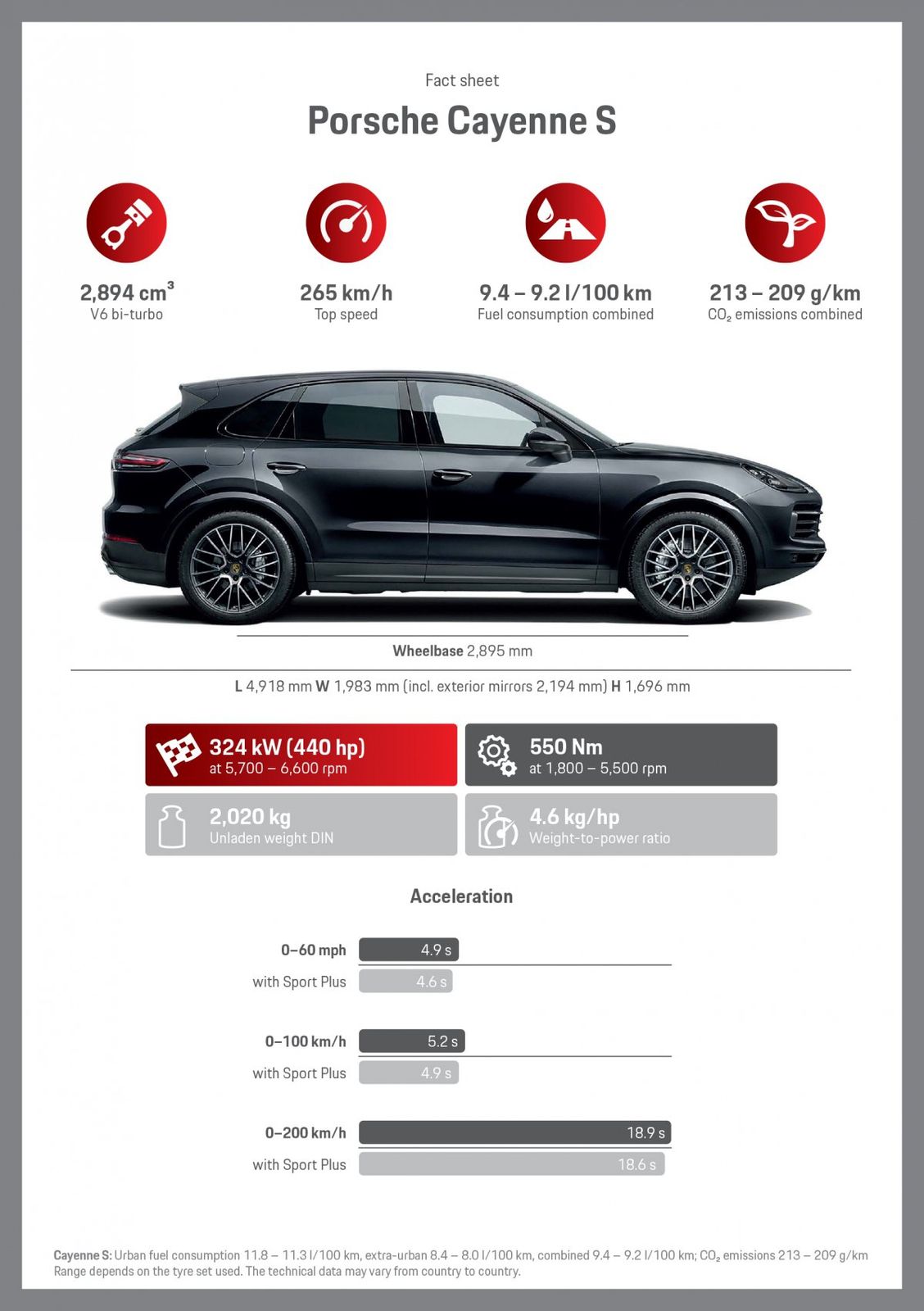 Five programmable driving modes activate the conditioning for mild off-road terrain: On-Road, Mud, Gravel, Sand, or Rocks. The drive mode, chassis settings, and differential locks can be selected to adapt to the relevant scenario. Fully variable Porsche Traction Management (PTM) all-wheel drive is standard on all Cayenne models.
2019 Porsche Cayenne - interior and tech
The newest version of Porsche Communication Management (PCM) makes its way into the new Cayenne, centered around a 12.3-inch full-HD touch screen, launched last year with the new Panamera.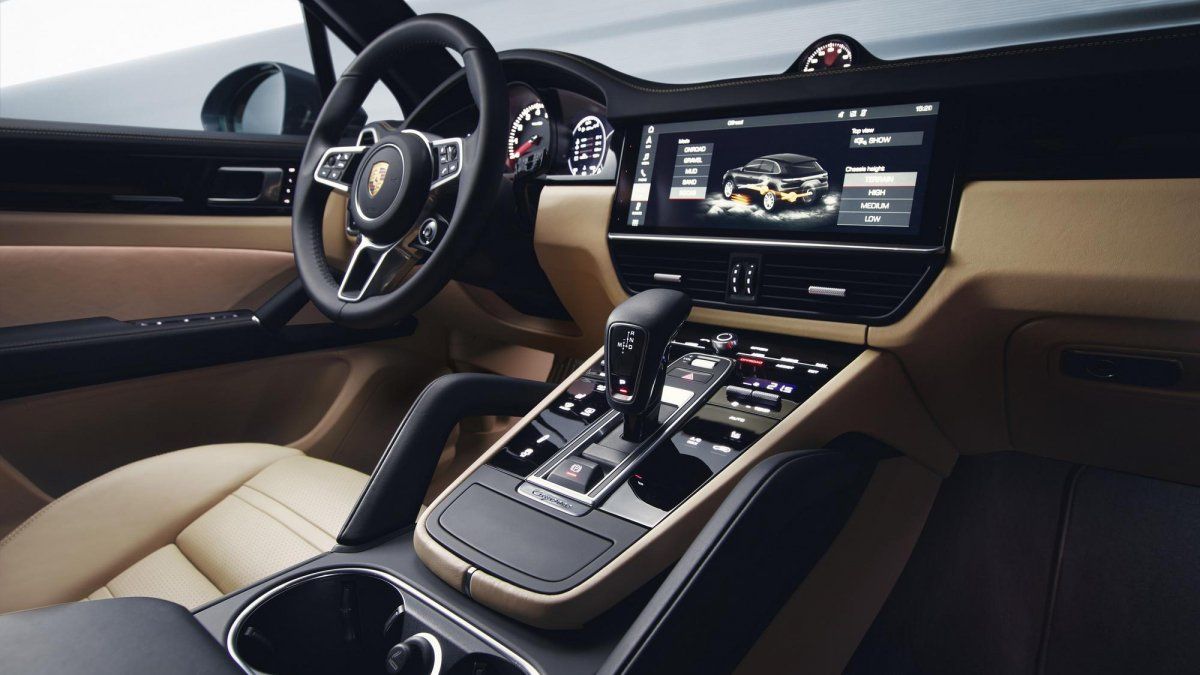 Porsche didn't go the way of Tesla with the annoying trend of putting all controls on the digital screen. Instead, logical analog controls on the new center console focus on the main functions of the car, while secondary controls are integrated into the digital screen with acoustic and haptic feedback.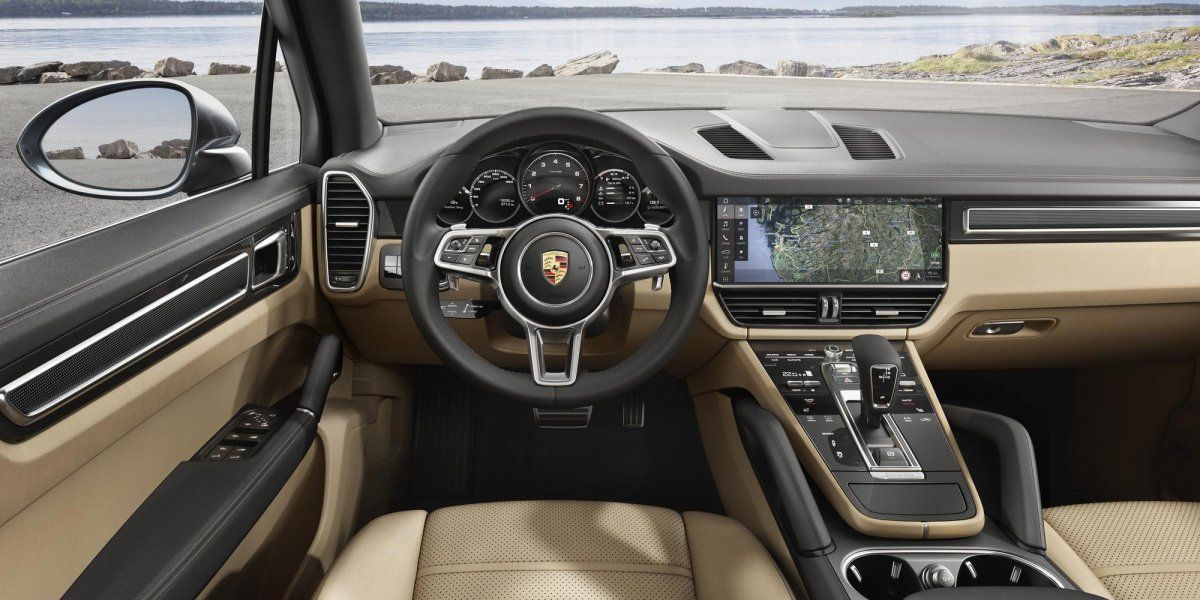 The central analog tachometer is flanked by two 7-inch full-HD displays showing relevant driving data that can be selected and changed using the multi-function steering wheel. Cayenne customers may specify a variety of available assistance systems as well that include Night Vision Assist, which uses a thermal imaging camera to detect pedestrians and animals before they are visible to the naked eye. Lane Change Assist, Lane Keep Assist including traffic sign recognition, traffic jam assist, ParkAssist including Surround View, and Porsche InnoDrive including adaptive cruise control are also available.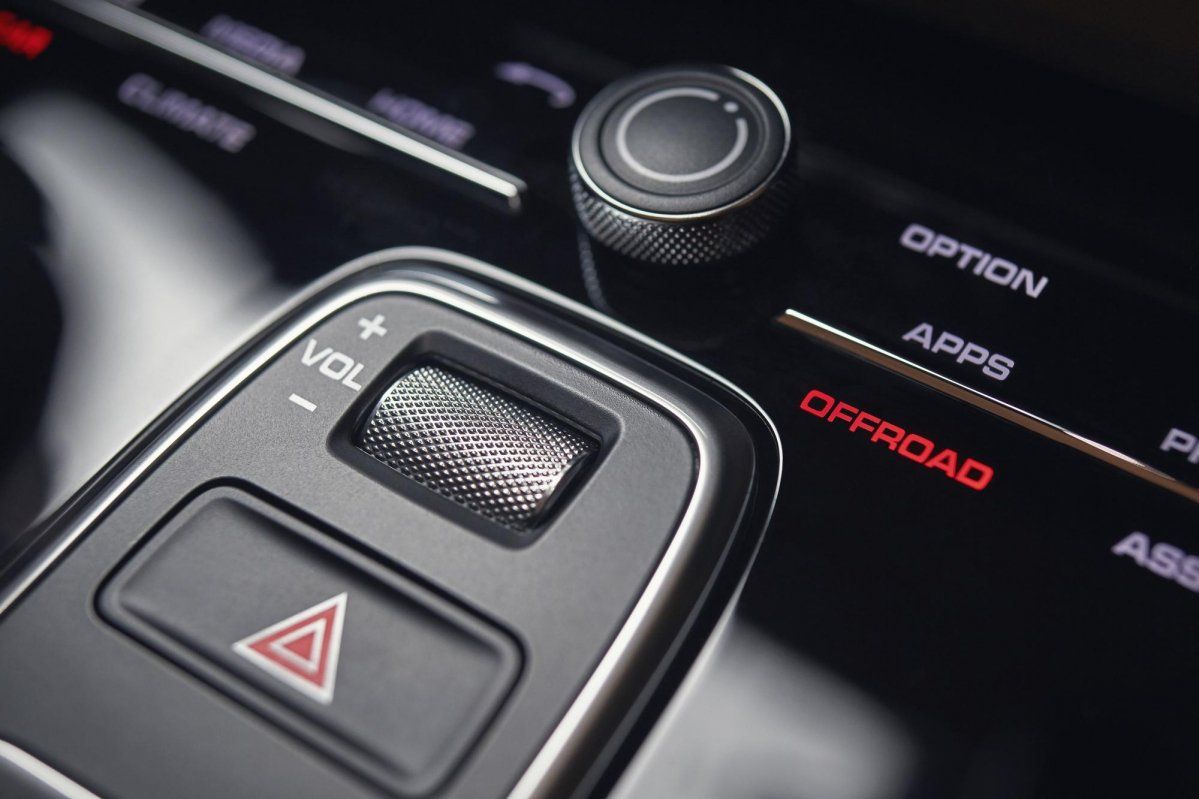 The driver can save up to six individual profiles for the PCM. In addition to a large number of interior settings, a profile is used to store specifications for lights, driving programs, and assistance systems. Depending on the equipment, each driver can also apply his or her own settings to the new sound systems from Bose and Burmester.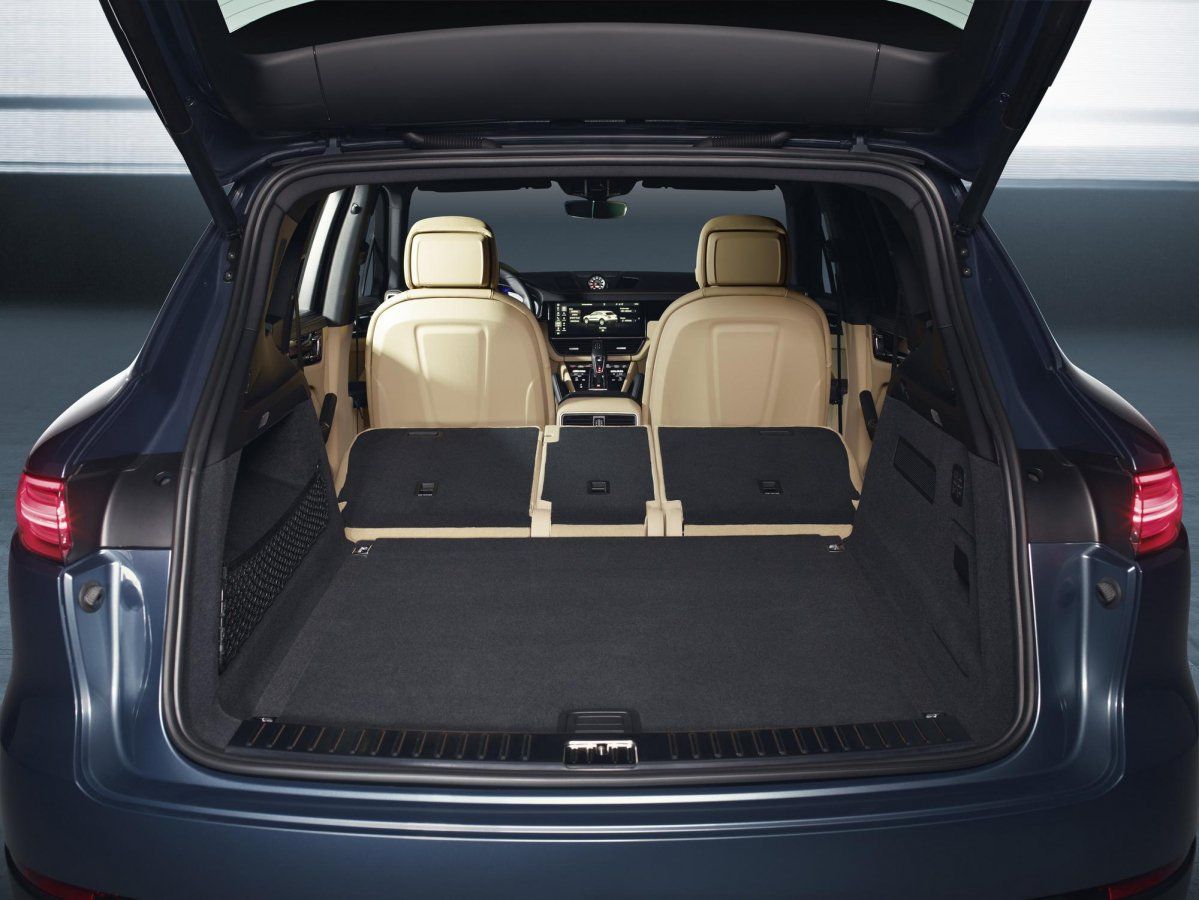 A new Off-road Precision App, specially developed for the Porsche Cayenne, is now also available as part of Connect Plus. It allows rough-terrain drives to be documented in detail, helping the driver to improve her or his own skills using video recordings.
2019 Porsche Cayenne prices in the US and Europe
In the US, the 2019 Cayenne and Cayenne S models are available to order with a base MSRP of $65,700 and $82,900 respectively, excluding the $1,050 delivery, processing, and handling fees. They will reach U.S. dealers midway through 2018.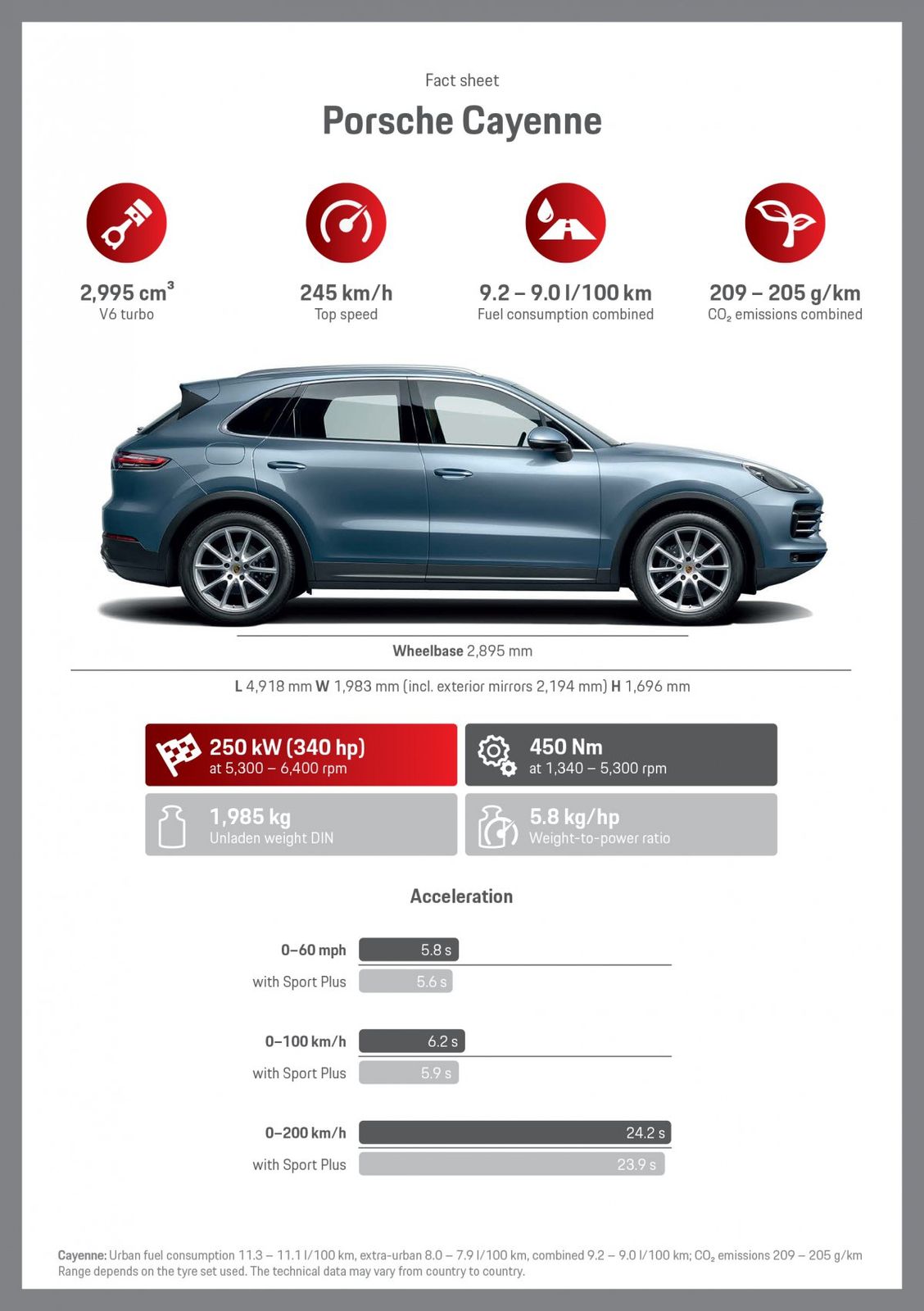 The Cayenne is available in Germany from €74,828. Prices for the Cayenne S begin at €91,964 – each including VAT and country-specific features.