The fourth-generation Jimny has all it takes to become the most successful one ever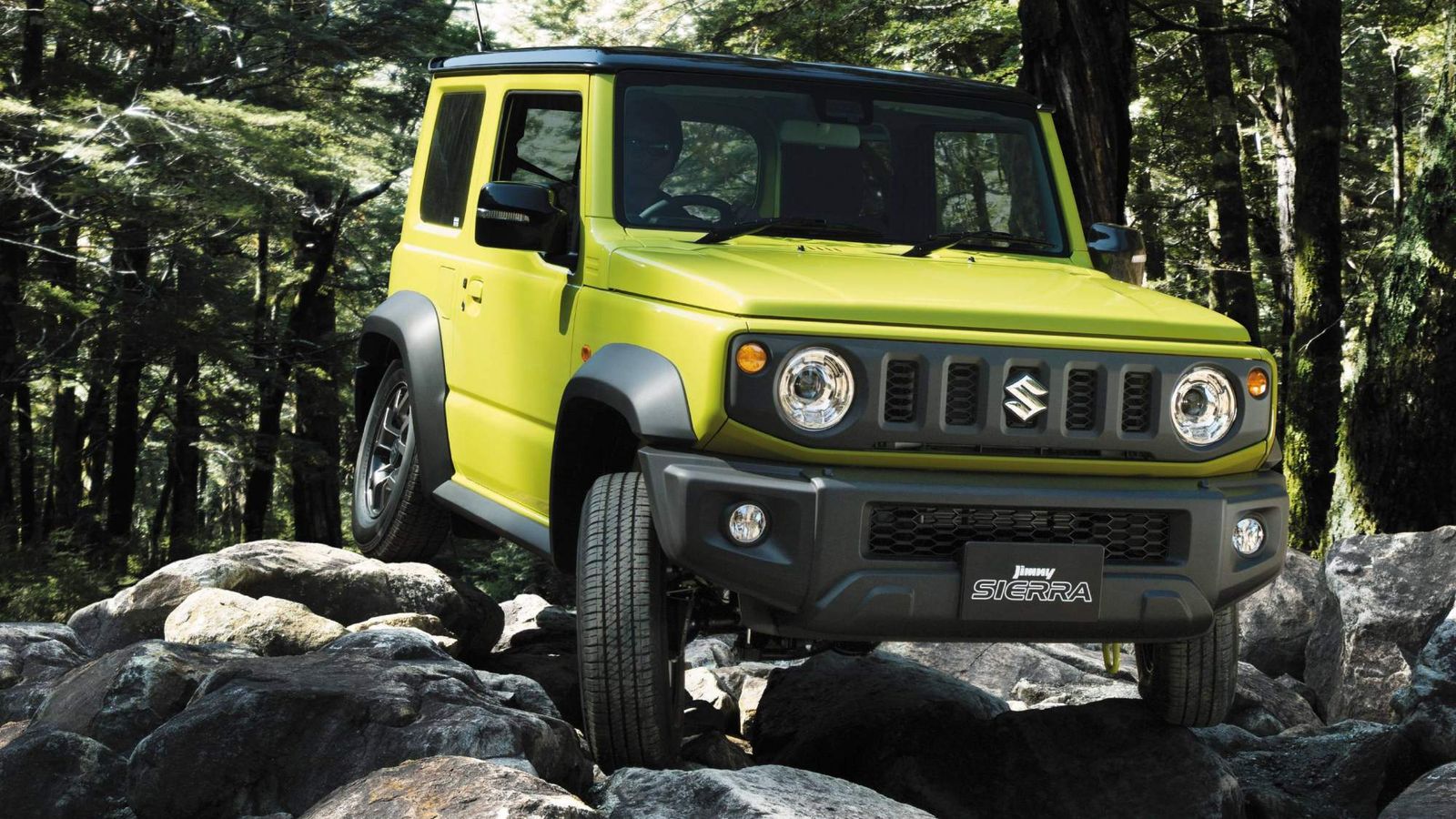 Following an official preview last month, Suzuki has dropped full information on its fourth-generation Jimny off-roader, including the much-anticipated specifications.
As with the previous-generation model, the 2019 Jimny comes in two flavors: the mini car (sold exclusively in Japan as the Jimny), and the compact car (sold as the Jimny Sierra in Japan).
[NativeAd]
The main difference between them is that the former features a 0.66-liter R06A three-cylinder turbocharged gasoline engine while the latter comes with a newly-developed 1.5-liter K15B naturally aspirated four-cylinder unit.
More power and torque, better fuel economy
The global Jimny interests us the most, and the big change is a 1.5-liter engine replacing the former model's 1.3-liter unit. It delivers 102 metric horsepower (100 bhp) at 6,000 rpm and 130 Nm (96 lb-ft) of torque at 4,000 rpm. Those are healthy increases of 17 hp and 20 Nm over the outgoing model, with Suzuki saying the driver now has more torque at all rpm. The top speed remains quite modest at 145 km/h (90 mph), however.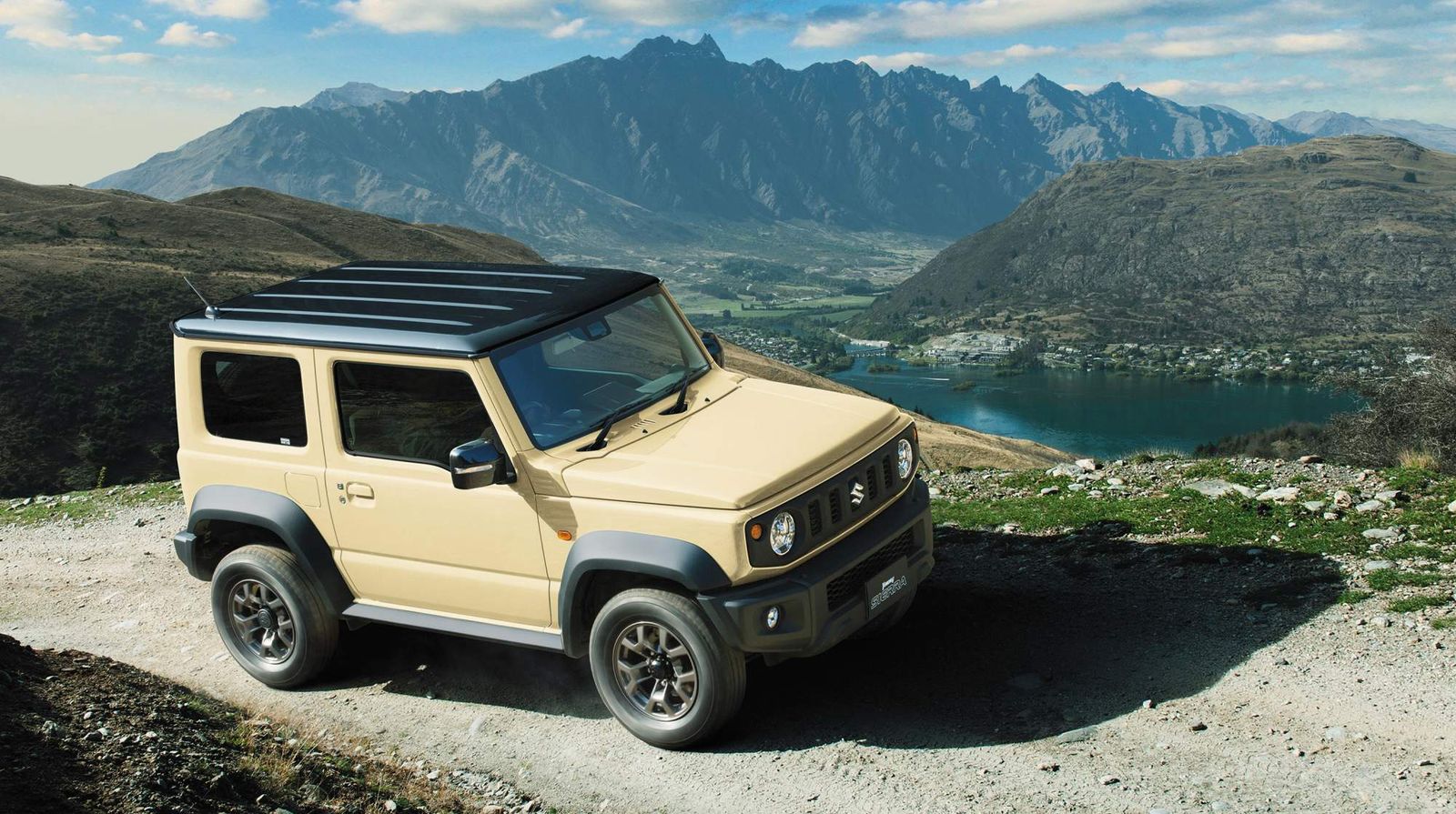 Despite being bigger, the new engine has smaller overall dimensions than its predecessor and is 15-percent lighter, contributing to enhanced fuel efficiency. Speaking of which, the 2019 Jimny comes as standard with a five-speed manual transmission and a part-time 4WD system for an NEDC-rated average fuel economy of 6.8 l/100 km (154 g/km CO2).
There's also an optional four-speed automatic transmission hooked to the same 4WD system that is rated at 7.5 l/100 km and 170 g/km CO2. Suzuki claims the new manual offers optimized gear ratios for the new engine and features a redesigned shift lever to reduce vibration. As for the automatic, it has also been redesigned to offer less friction and better fuel economy.
Better off-road, better on-road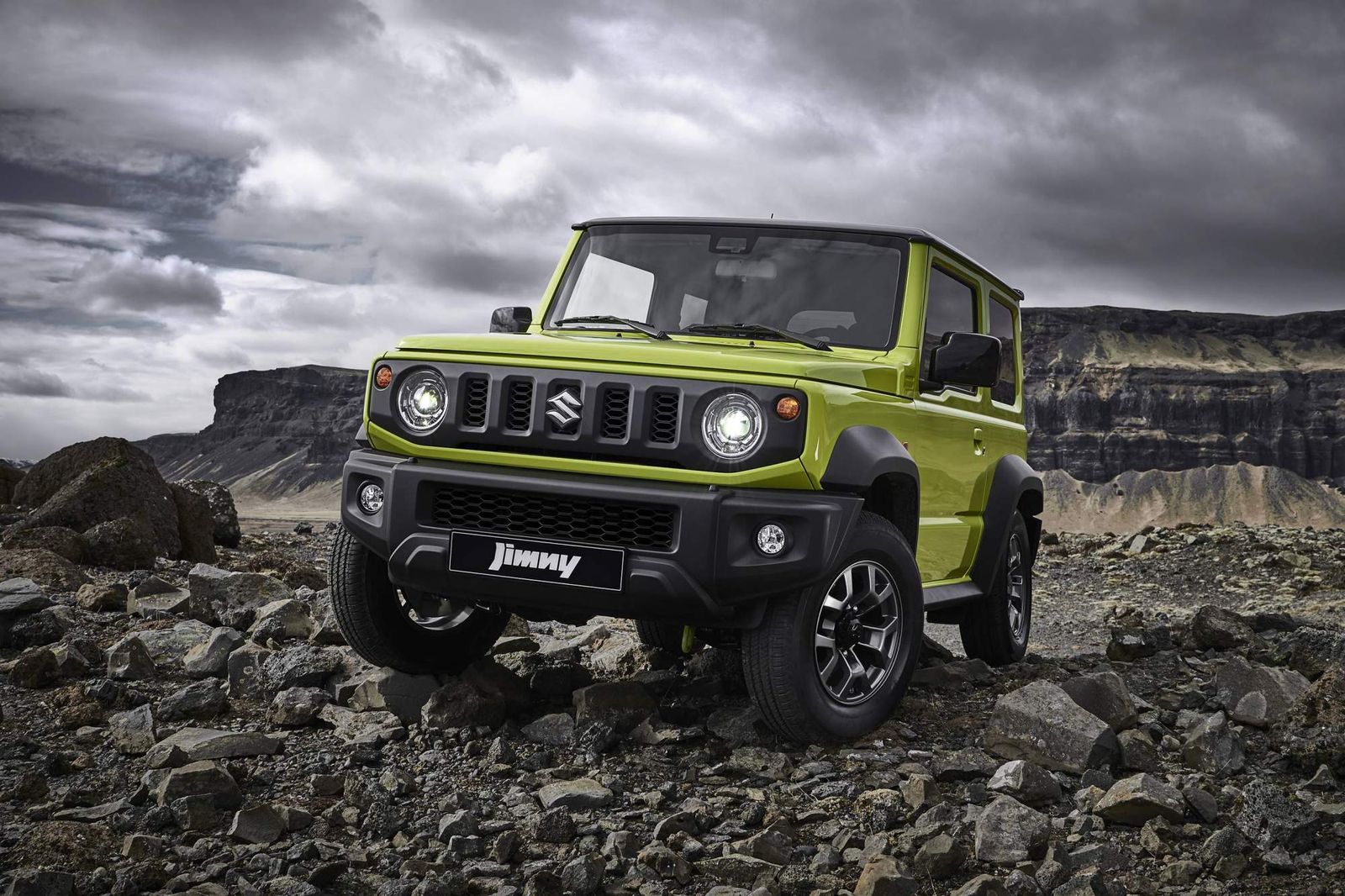 The redesigned Suzuki Jimny stays true to its predecessors' rugged character, featuring a ladder frame, 3-link rigid axle suspension with coil spring, and part-time four-wheel-drive with low range transfer gear (Allgrip Pro). Despite all that gear, it's still ridiculously light, with a curb weight of 1,090 kg (2,403 lb) for the base model — 1,135 kg (2,502 lb) with full options.
It's an authentic off-roader that boasts a minimum ground clearance of 210 mm, an ample approach angle of 37 degrees, a ramp breakover angle of 28 degrees, and a departure angle of 49 degrees. Needless to say, these figures allow the Jimny to climb over obstacles and steep hills "without scraping its bumpers or underbody."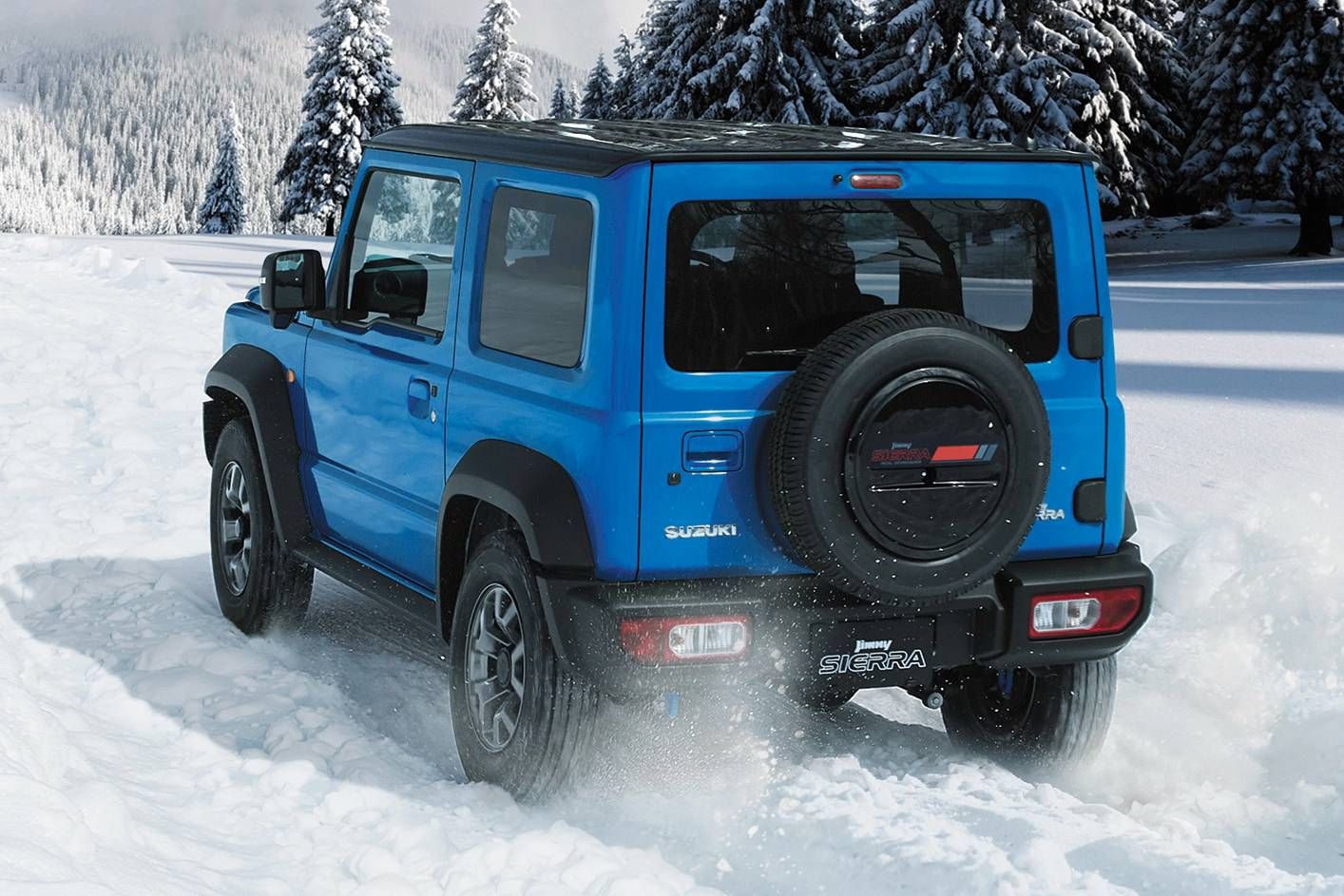 The part-time 4WD system with low range transfer gear can be easily switched from 2H (2WD-high gear), 4H (4WD-high gear) and 4L (4WD-low gear) modes by a shift lever directly connected to the transfer gear. The Jimny also features a standard brake LSD traction control that comes in handy when two wheels diagonal from each other lose traction by automatically braking the slipping wheels to redistribute torque to the other side and gain traction.
The Jimny's famed off-road capabilities haven't compromised its on-road ability, as Suzuki claims the higher torsional rigidity of the ladder frame allows for a more comfortable and solid ride on the road. Furthermore, a new steering damper on the front suspension is said to minimize steering wheel vibration and kickback.
Still small on the outside, but roomier inside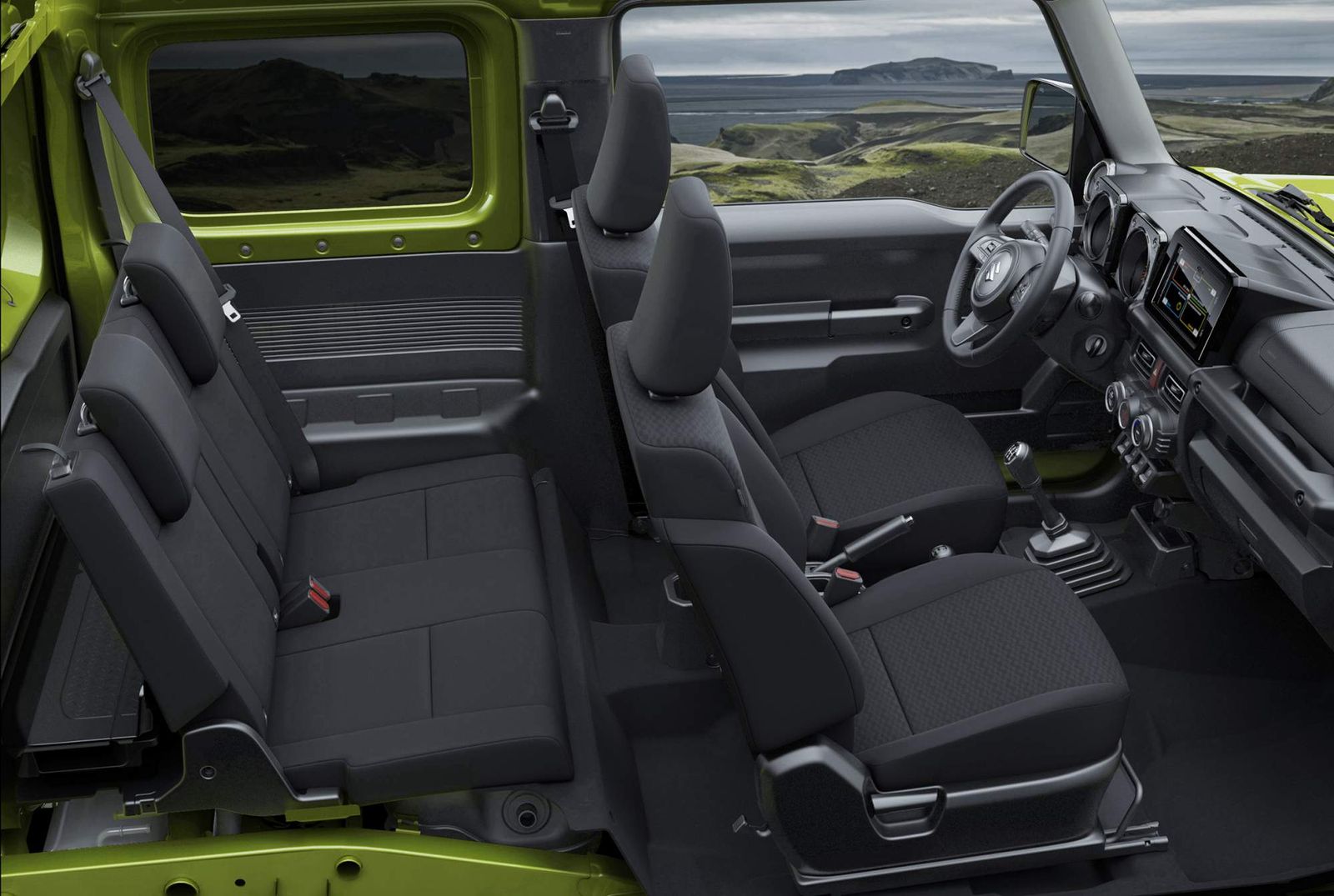 The Japanese off-roader is still a tiny car (3,480-mm long, 1,645-mm wide, 1,725-mm high), but it now boasts 377 liters of luggage space (VDA method) with the rear seats folded down — 53 liters more than its predecessor. When all four seats are occupied, the capacity gets reduced to 85 liters, though. For easy dirt/stain removal, the backs of the rear seats and the boot floor are now coated with plastic.
Suzuki Safety Support as standard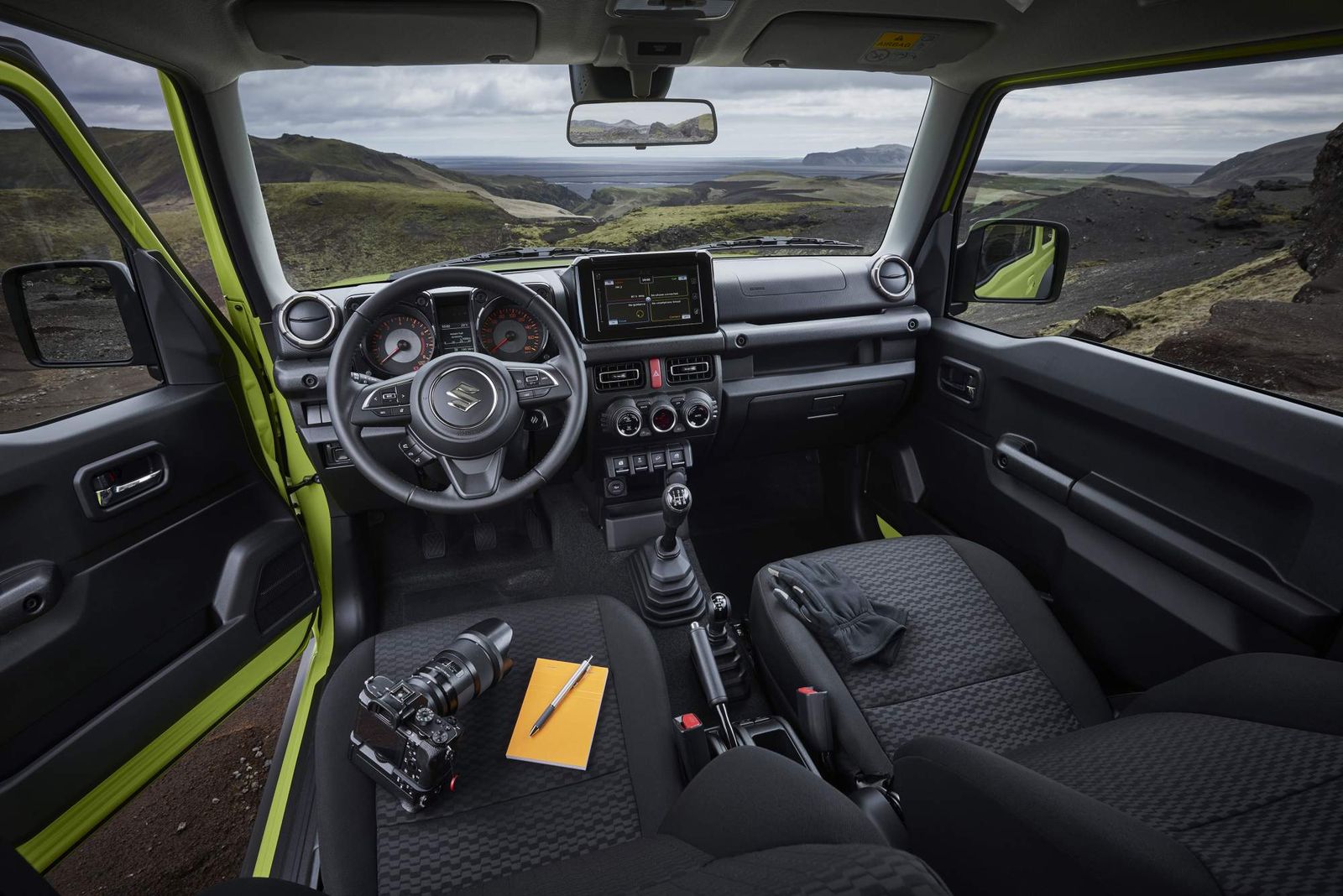 All Jimny models come equipped with the Suzuki Safety Support bundle of driving assist systems which include Dual Sensor Brake Support (DSBS), lane departure warning and weaving alert function, high-beam assist, and traffic sign recognition. Other safety technologies include hill hold control, hill descent control, tyre pressure monitoring and more.
READ MORE: Our in-depth review of the 2017 Suzuki Ignis 1.2 Dualjet Allgrip