6 most beautiful post-WW2 American woodies ever built
Sure, wood is not carbon fiber but these cars are pure art on wheels
Woodies were born out of a logistic necessity. In other words, they were the country's workhorses and solely satisfied utilitarian tasks. Yet a spark ignited along the way and these vehicles became a favorite of the affluent population.
As the 20th century was dawning, the term woodie didn't even exist. In fact, such cars were the invention of furniture companies that used to buy body-less cars and come up with their own body – made of wood, of course. The end result was called a "depot hack" – because back in the day when horses were the only means of propulsion, "hack" was another word for "wagon," according to The History of Woodie (Woody) Station Wagons by Charlie Crowell. Initially, they looked like buses and were used to haul guests to and from railroad depots.
At some point, the wealthy began to appreciate these contraptions, so they went upscale to satisfy the customers' posh desires. Who were the customers? At first, the so-called "country gentlemen" – people who owned a lot of land and the adjacent rural farm, mansion or inn - took an interest.
Carmakers quickly sniffed out this interest and began offering their own woodies, straight off the production line. Henry Ford, for example, bought 400,000 acres of the Iron Mountain forest in Michigan. That way, his company would benefit from an almost unlimited amount of wood supply. Other car manufacturers joined the bandwagon: Chevrolet, Nash, Mercury, Pontiac and Dodge, among others.
But building and selling woodies wasn't a profitable affair. Each car required many hours of work mostly because the wood panels (birch, mahogany and ash wood were the most popular materials of choice) had to be assembled by hand. Couple that with the demanding running and maintaining experience and the explanation for this car genre's short life is quite obvious.
By the late 1940s, wood changed its structural status and was used for beautification purposes. After the Second World War was over, carmakers simply used existing woodie designs but went for wood panels what would enhance the exterior look.
However, with the global conflict rapidly turning into a thing of the past and the baby boom taking over, car companies looked elsewhere: steel was becoming available again and many began retooling their plants to include steel in the assembly process. Woodies started sliding down the slope of extinction.
A ray of hope came, unexpectedly, in the early '60s from surfers, who started buying them for two reasons: practicality and low price. So, by owning one, they actually saved them from decay and increased their life span. Sure, no restoration works were included, but at least some woodies were kept in a running state.
Below you'll find what we think are the most exquisite post-war American woodies to ever hit the road.
Chrysler Town & Country Convertible
Although woodies became en vogue during the 1930s, Chrysler's offering only arrived in 1941: enter the Chrysler Town & Country, a wood-bodied station wagon with four doors. It is estimated that just 2,000 units were built between 1941 and 1942, before World War II broke out.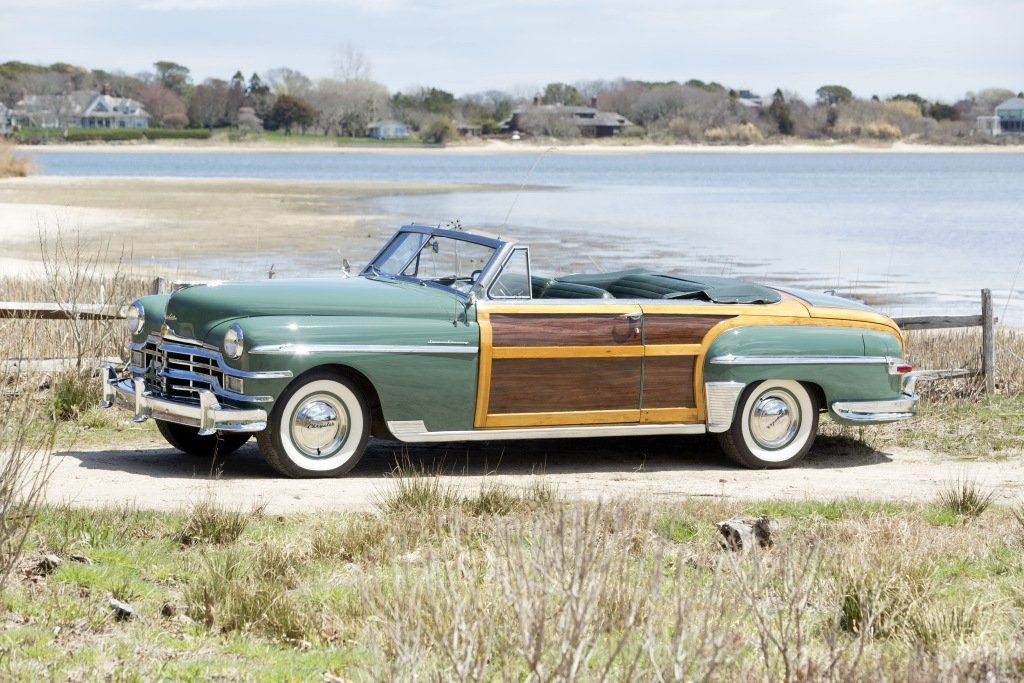 Luckily, once the war was over, Chrysler came up with further plans for five new body styles that included two-door and four-door sedans, as well as a roadster and both hardtop and soft-top convertibles.
Eventually, just two versions materialized: the four-door sedan and the soft-top cabriolet, which is considered one of the last true woodies. Well-equipped models featured a dashboard clock, the Presto-Matic transmission, AM radio and wide-whitewall tires.
Photo credits: Bonhams, Chrysler
Buick Roadmaster Estate Wagon
Since just 653 models were built by Buick, the Roadmaster Estate Wagon was a very rare bird. Arch Brown once described the Buick Roadmaster Estate as "literally in a class by itself in 1948," and he wasn't a tiny bit wrong.
Priced at $3,734, the 1949 model was more expensive than the fancy Riviera, which could be purchased for $3,203.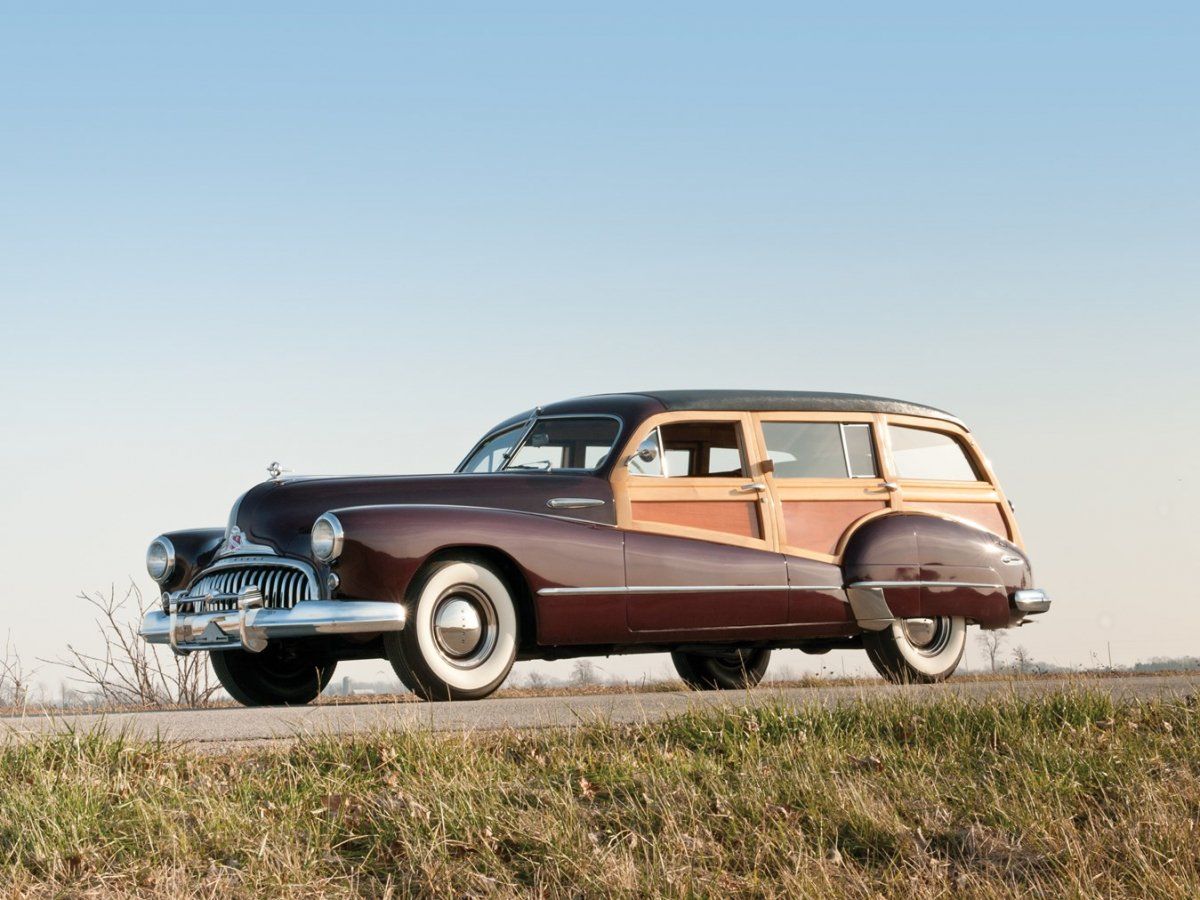 Naturally, the Roadmaster Estate was a heavy car - it tipped the scales 4,490 lb - yet Buick's ads praised its cruising abilities offered by the "four coil-springed wheels and honest heft that levels the miles with majestic smoothness." Every Roadmaster Estate was underpinned by GM's C-body architecture and had fenders skirts, a neat detail what further enhanced the overall elegant styling.
1949 models also got the famous VentiPorts on the front fenders, quickly nicknamed "mouse holes" by the public. Courtesy of all these features, the Buick Roadmaster Estate earned the status of one of the most respected post-war American woodies ever to be built.
Photo credits: RM Sotheby's
Packard Series 22 Custom 8 Station Sedan
The 1948 Packard Woody Custom 8 Station Sedan wasn't special just through its looks and limited numbers. Unlike other woodies, Packard turned to wood as a load-bearing structural body part only for the car's rear quarter, which was cut out of a standard 2201 Packard sedan. The tailgate was also built entirely out of wood.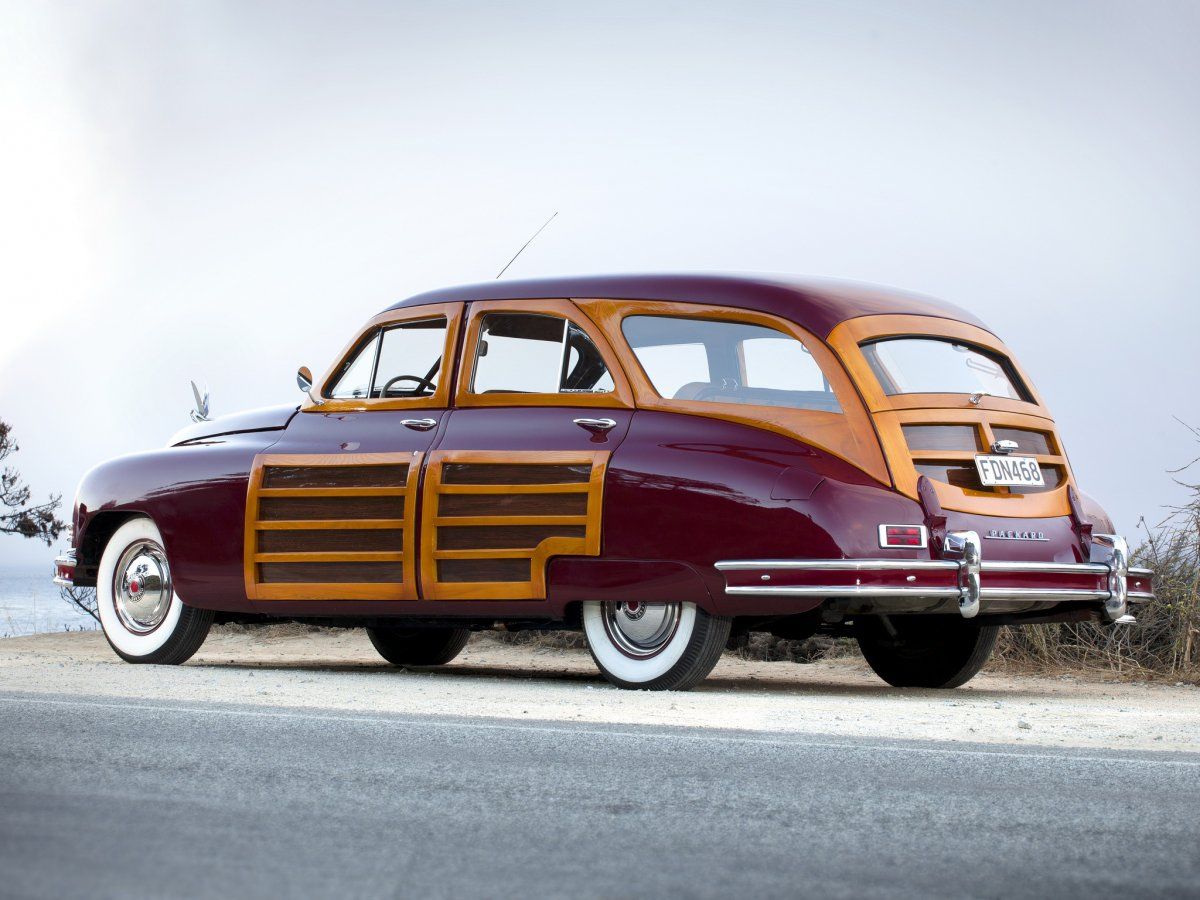 Owning one was first and foremost a statement of wealth. A Station Sedan woodie sold for $1,200 more than the regular Sedan and it moved its passengers around courtesy of a straight-eight engine managed by a three-speed manual gearbox.
Nash Ambassador Suburban
World War II wasn't kind to Nash Motors, as it wasn't to America's other carmakers. After the conflict ended, carmakers were facing a tricky situation: although sales were gaining the pre-war momentum, the competition for the customer's dollar was merciless.
In fact, the rivalry between car brands was so acute that drawing people inside your showroom was as vital as selling cars. But while other manufacturers were re-igniting the early 1940s design fire, Nash went in the opposite direction and built the Ambassador Suburban woodie.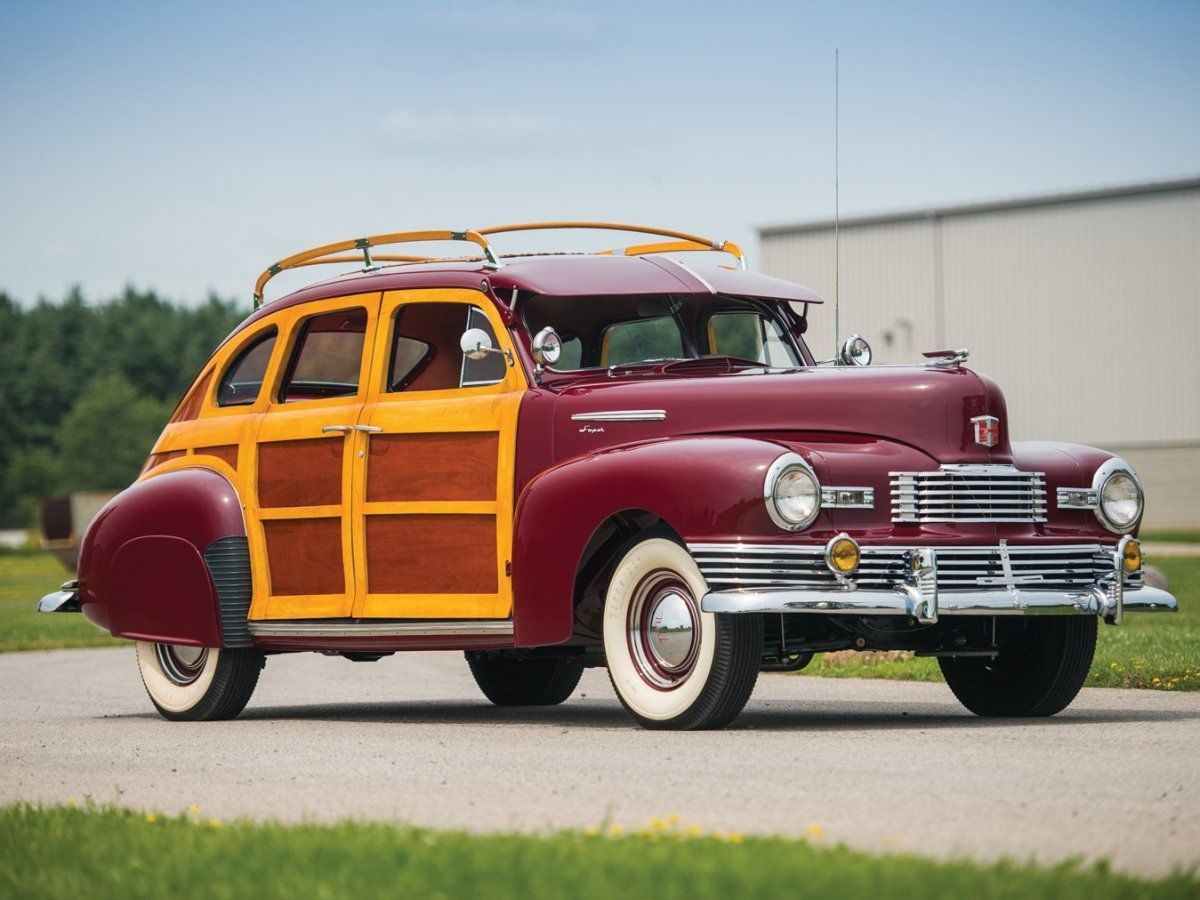 It was the brand's most expensive and rarest offering by far, and although exact figures are hard to pin down, it is said that Nash produced less than 1,000 Ambassador Suburban units between 1947 and 1949. The rarest model is, however, the 1948 Ambassador Suburban, with only 130 cars said to have been assembled.
Amenities included a rear seat that folded into a bed, amber driving lights, the elegant metal sun visor positioned on the outside, just above the windscreen and, of course, Nash Motors' ground-breaking Weather Eye fresh-air cooling, heating and ventilation system.
Pontiac Streamliner Wagon
In line with the production trends among American carmakers in the post-WW2 era, Pontiac resumed production based on two pre-war model designs penned in 1942: Torpedo and Streamliner. Oh, and here's a fun fact: the 1942 Streamliner station wagon was the longest Pontiac ever built, before it was eventually robbed off that status in 1959 by Pontiac's Star Chief and Bonneville.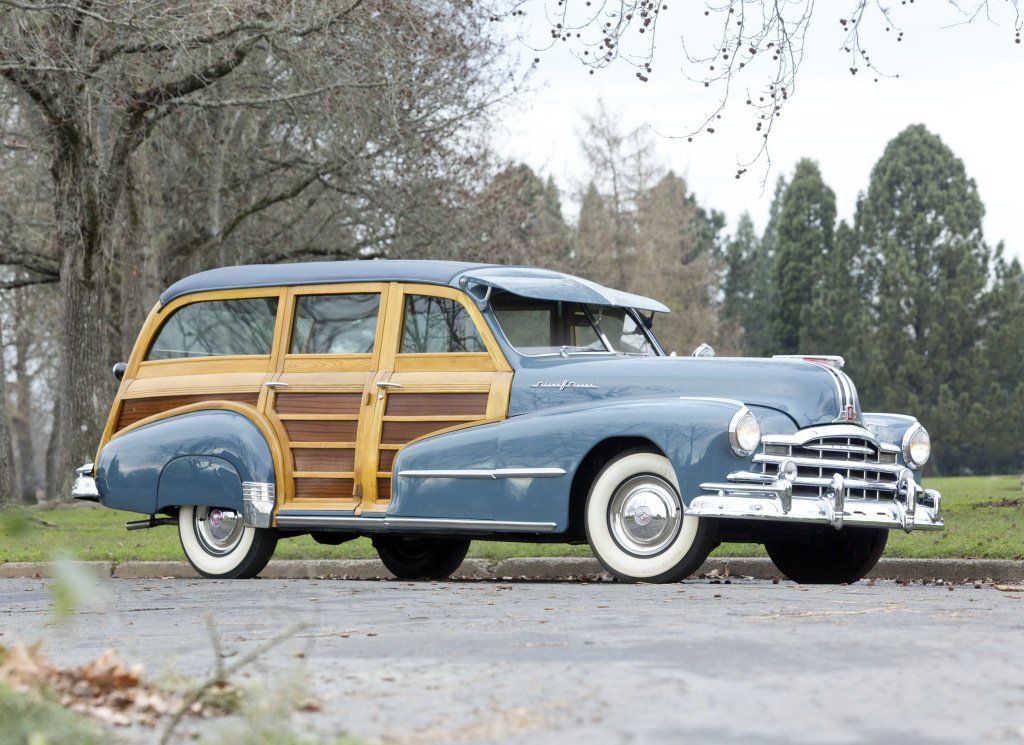 The eight-cylinder 1948 Streamliner Woodie station wagon became the company's top gun product in terms of luxury but also price – one unit sold for 40% more than Pontiac's coupés and cabriolets. Each model was assembled in Michigan and some of the optional features offered included a windshield visor, radio and a safety spotlight.
Power – around 104 bhp - came from a flathead inline engine fitted with a Carter two-barrel carburetor and was harnessed by a Hydra-Matic automatic transmission. Stopping power purposes were served by drum brakes on all four corners while the front suspension was independent.
Photo credits: Bonhams
Chevrolet Fleetmaster
Although Chevy wasn't aiming for exclusivity and limited numbers with the Fleetmaster Woodie station wagon – having built north of 10,000 units (10,171, according to the National Woodie Club) – maintaining one such car's weather-sensitive wood panel frame was a demanding, complex and often avoided task, therefore it is believed less than 1% survived to this day.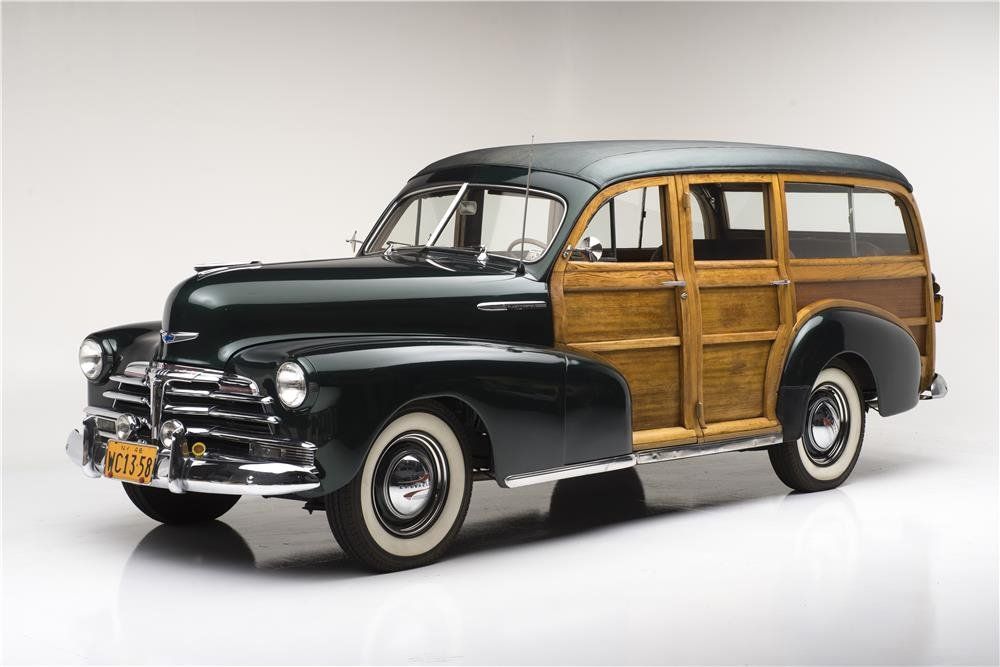 The Fleetmaster had three rows of benches - the first and the third could accommodate three passengers each, while the middle row was built for two people – its shorter length allowed passenger access to the third row.
Power came from an inline six-cylinder engine making 90 hp sent to the rear wheels by a 3-speed manual gearbox.
Photo credits: Barret-Jackson