Even the camouflage foil featured a Spider-Man design
The widely anticipated all-new 2018 Audi A8 made its first public appearance at the world premiere of "Spider-Man: Homecoming" at LA's TCL Chinese Theatre.
The luxury sedan brought actor Tom Holland (who plays Peter Parker / Spider-Man in the movie) to the red carpet, while Robert Downey Jr. and Jon Favreau arrived together in a black Audi R8 Spyder.
Especially for this event, the all-new A8 featured a new camouflage foil with a Spider-Man design: look closely, and you'll see that the traditional swirl design has been modified to incorporate spider webs on the vehicle doors and within the signature rings.
Arriving in movie theaters worldwide in July, the "Spider-Man: Homecoming" movie allows spectators to see more of the Audi A8, with parts of the front and side designs shown in the film. Moviegoers will also get to see Audi AI Traffic Jam Pilot in action when Happy Hogan drives Peter Parker and removes his hands from the wheel for a few moments. As you probably know by now, the Audi A8 can take over the task of driving and move autonomously when the Audi AI Traffic Jam Pilot is activated.
Audi will officially reveal the new A8 to the public on July 11 at the Audi Summit in Barcelona, followed by a formal world debut at the Frankfurt Motor Show in September.
The 2018 Audi A8 will feature a plethora of new technologies, including a 48-volt electrical system, an all-wheel steering mechanism, and an active suspension that uses four electric motors (one for each wheel) and a front camera to adjust the amount of travel in milliseconds to adapt to the incoming road.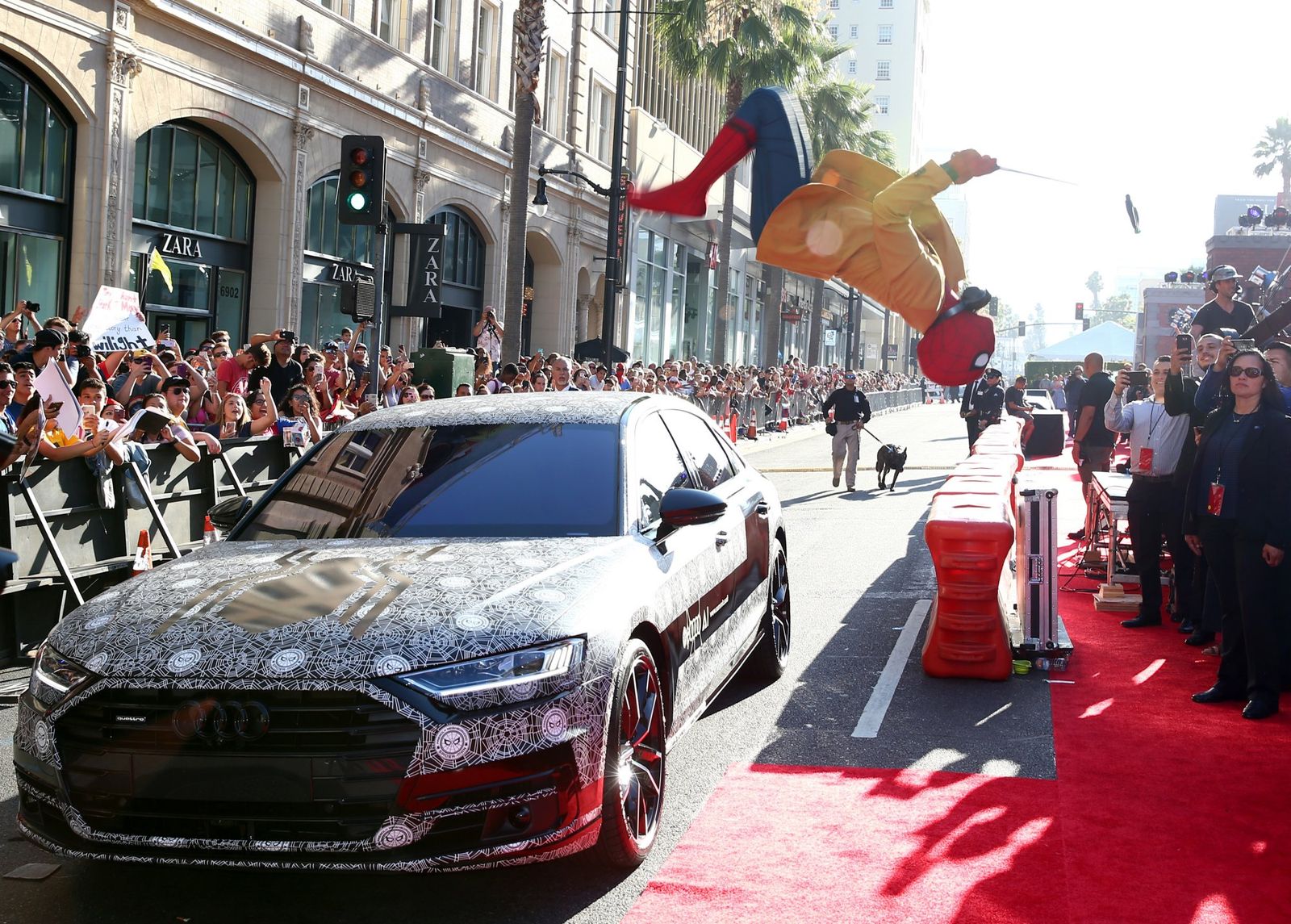 As with the Q7 SUV, the upcoming A8 will use the MLB architecture, which means it will get V6 and V8 units (gasoline and diesel), and a range-topping W12 gasoline engine.