All-new 2018 VW Touareg debuts as brand's most technologically advanced model yet
The third generation of VW's flagship SUV is bigger, more powerful, and more sophisticated than ever
Following the Audi Q7, Bentley Bentayga, Porsche Cayenne, and Lamborghini Urus, the third-generation VW Touareg is the latest recipient of Volkswagen Group's MLB platform.
Unveiled in Beijing during a special event, the 2018 Touareg is Volkswagen's brand most technologically advanced model ever made. That's quite a bold statement from a marque that has also given the world the Phaeton luxury sedan.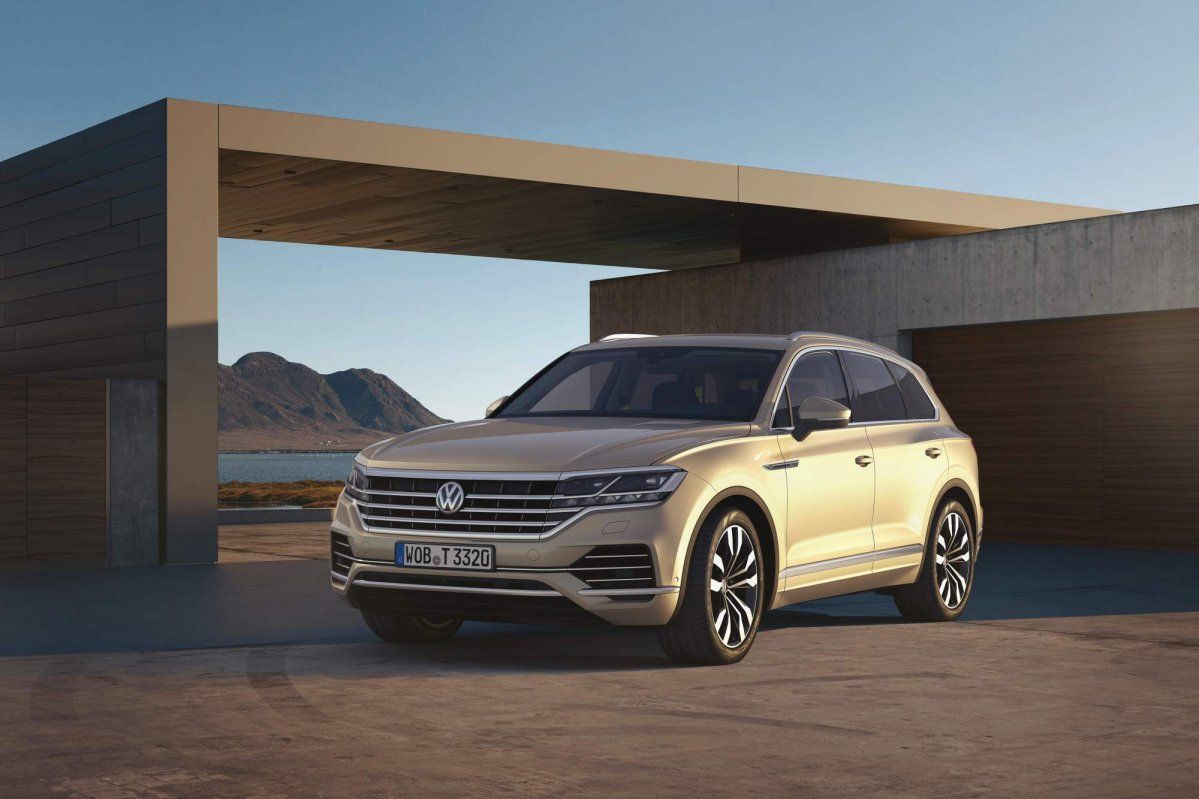 It's also bigger: 77-mm longer, 44-mm wider, and marginally lower (7 mm) than the outgoing Touareg for a more dynamic appearance. Given the larger footprint, the 2018 Touareg adds 113 liters of cargo volume for a total of 810 liters with the rear seats in place.
Despite the growth in size, VW has managed to reduce the Touareg's weight by 106 kg thanks to the extensive use of lightweight aluminum and high-strength steels in its construction. Naturally, that has a positive effect on the SUV's performance and fuel economy.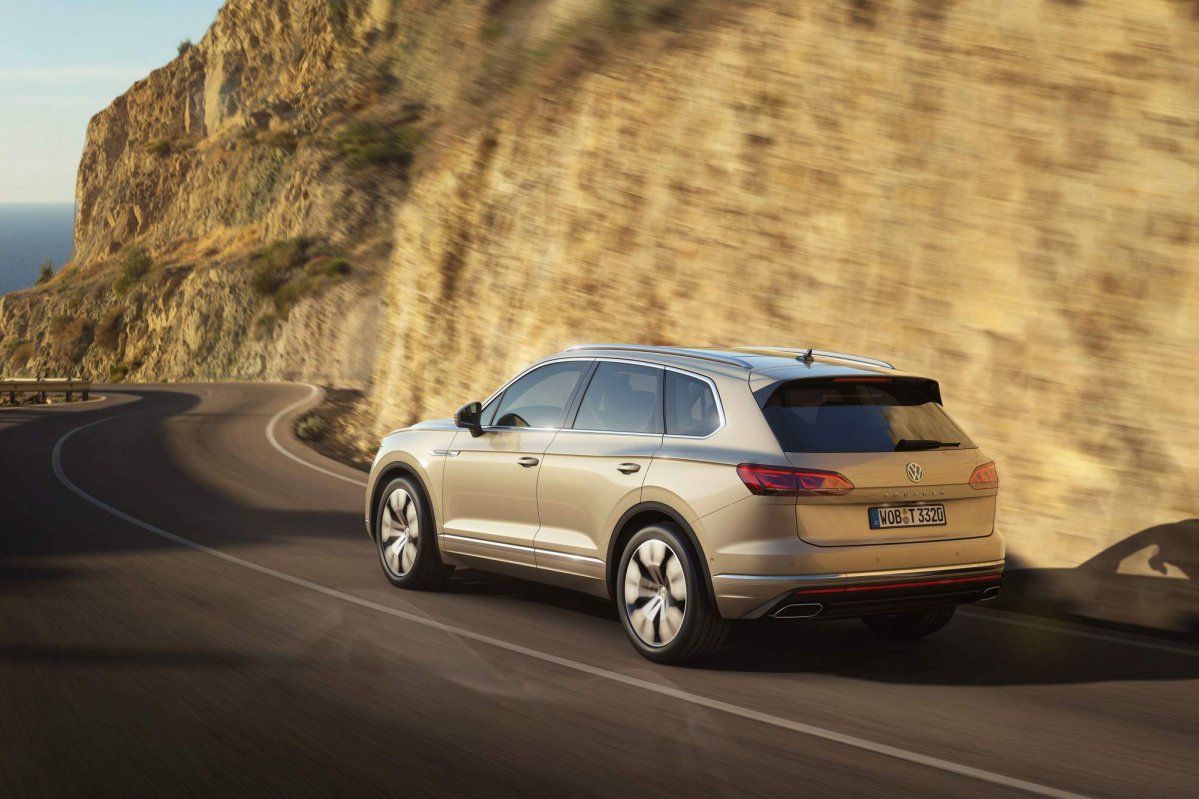 At launch, the engine lineup will consist of two 3.0-liter V6 turbodiesels that make 286 hp (282 bhp) and 231 hp (228 bhp), both linked to an eight-speed automatic gearbox that sends torque to all four wheels via the 4Motion all-wheel-drive system. In select markets, a 340-hp (336-bhp) 3.0-liter turbocharged V6 gasoline unit and a 421-hp (417-bhp) 4.0-liter V8 turbodiesel will also be available. In China, VW will introduce a 367-hp (362-bhp) plug-in hybrid Touareg, but this particular model's launch date in Europe remains unknown. There's no official word on the 2018 Touareg's availability in the United States, and that likely means it won't be offered there anymore.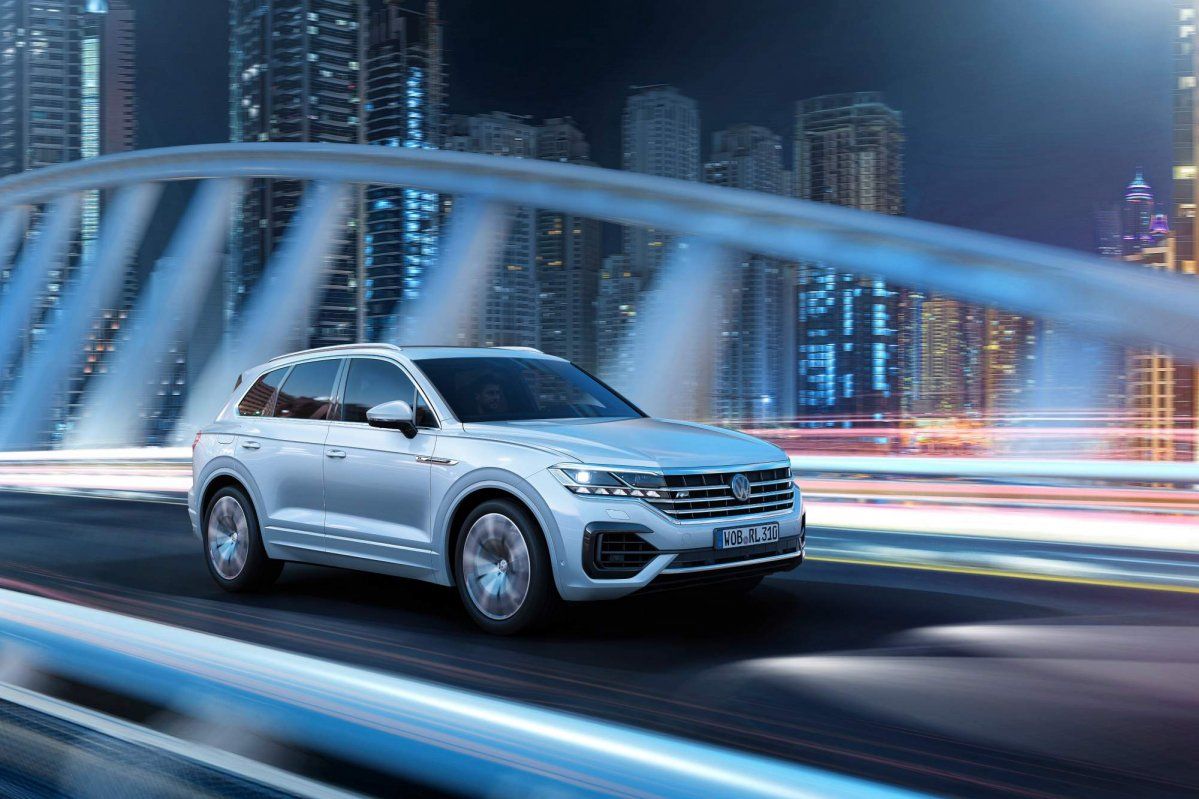 The sophisticated technology we mentioned at the beginning of this article will include things like rear-wheel steering for better maneuverability at low speed and stability at high speed, air suspension that increases ride height by 70 mm, as well as a new off-road pack that adds extra driving modes, underbody protection, and a larger fuel tank. Speaking of off-road capabilities, the 2018 Touareg's maximum wading depth increases by 80 mm to 570 mm.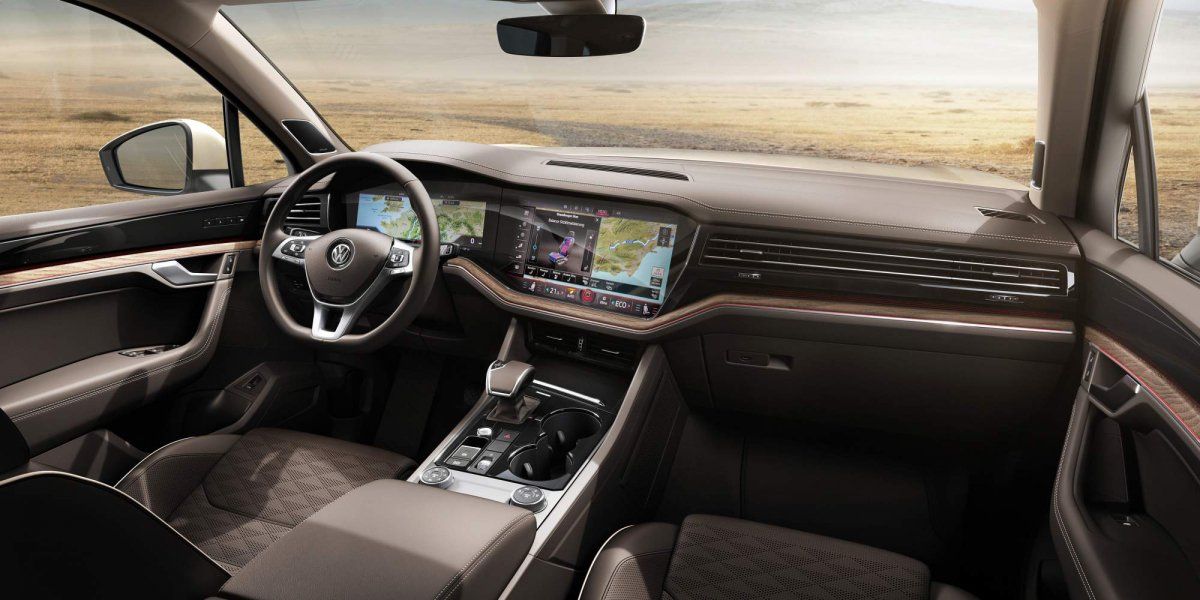 Inside, the big news is the debut of the latest Innovision Cockpit infotainment system that combines the 12-inch digital instrument panel with a new 15-inch central touchscreen display. The two big screens create a fully customizable, complete digital control interface.
The Innovision Cockpit replaces almost all physical buttons on the dashboard, controling all of the Touareg's main functions. It's also compatible with Android Auto and Apple CarPlay, and comes with a WiFi hotspot allowing up to eight devices to be connected simultaneously. A head-up display is offered as an option.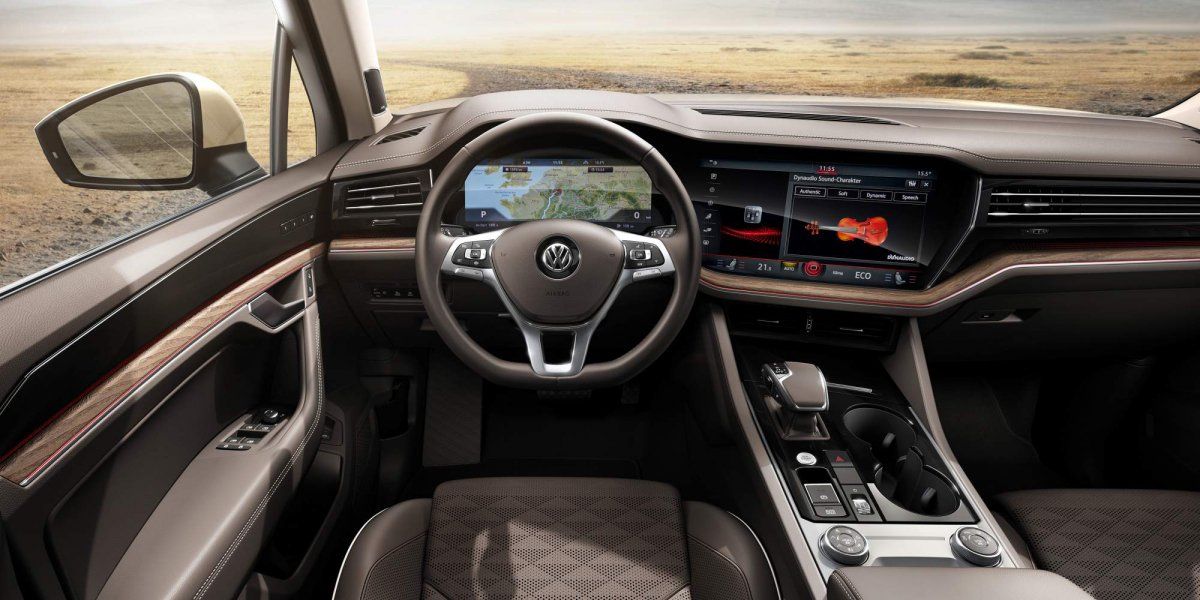 Styling-wise, the all-new Touareg brings no big surprises, as it uses design cues from the T-Prime GTE Concept from 2016. Highlights include the big chrome grille and new LED Matrix headlights, each with 128 individual LEDs. Overall, it looks like an evolution of the current model.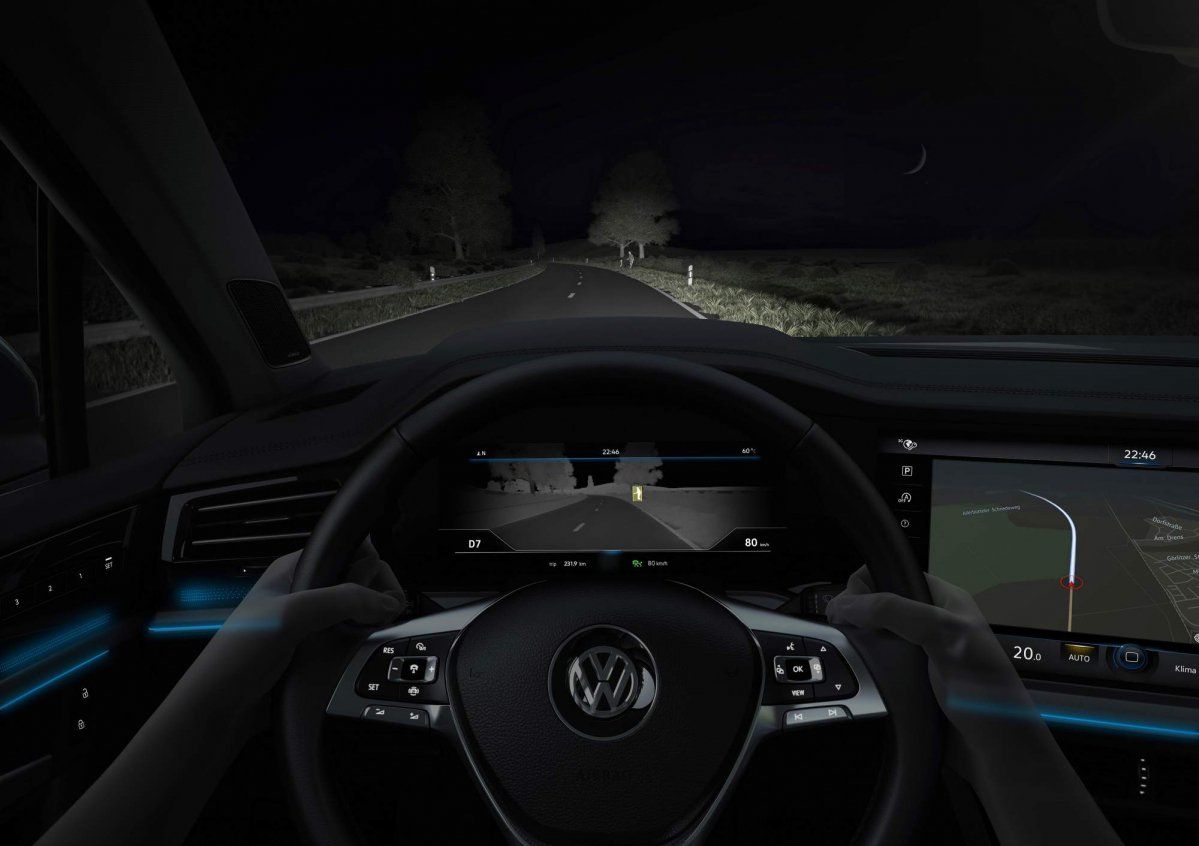 The new Touareg also brings an array of assistance, handling and comfort systems to the table. Those include technologies such as Night Vision (detects people and animals in darkness via a thermal imaging camera), Roadwork Lane Assist (semi-automated steering and lane keeping, accelerating and braking up to 60 km/h), Front Cross Traffic Assist, and new roll stabilisation with electromechanically controlled anti-roll bars.
READ MORE: Our review of the mechanically-related Audi Q7 3.0 TDI quattro