The upcoming G30 5 Series looks like an evolution of the current model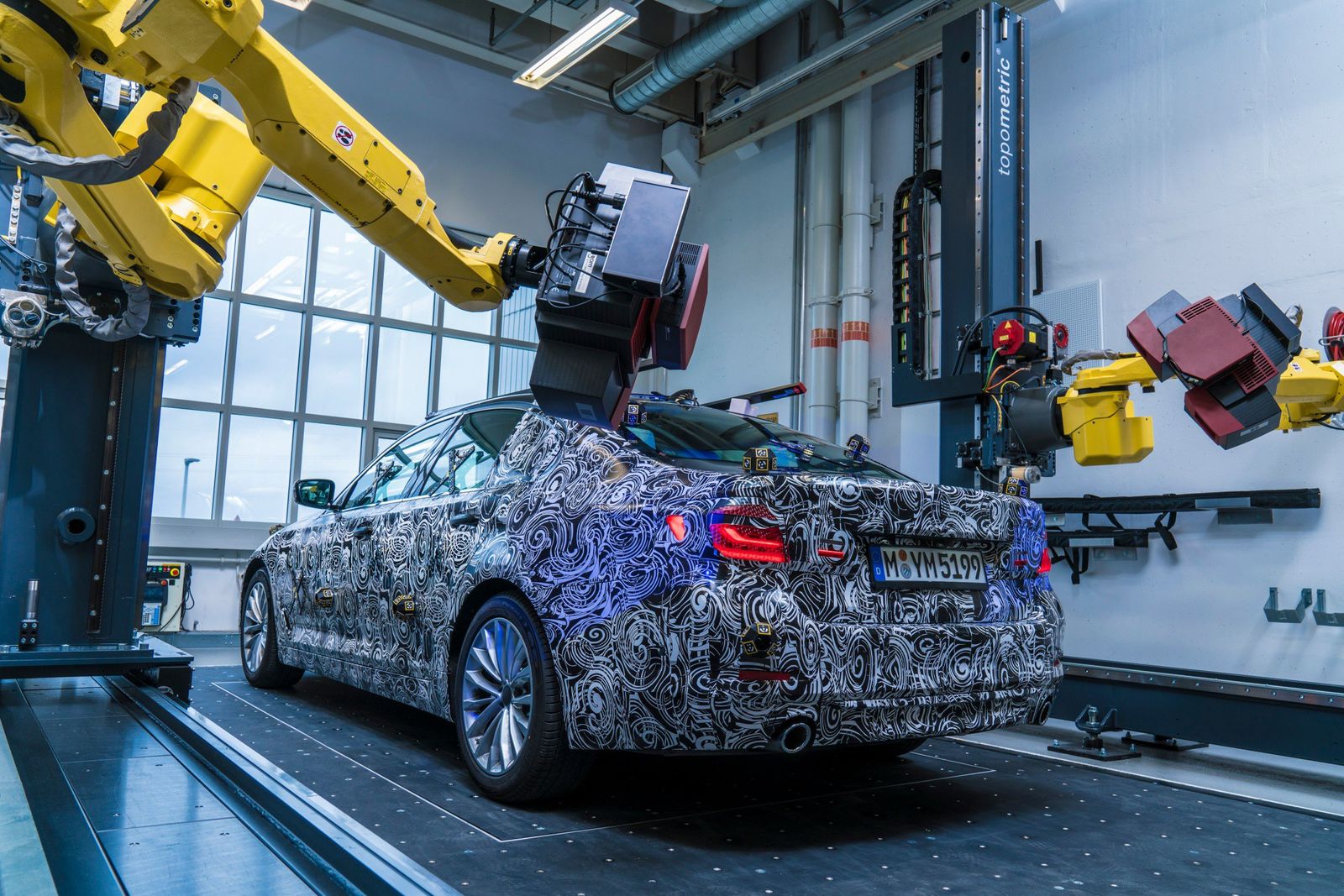 The launch of the all-new BMW 5 Series is approaching and the automaker is making sure we know that by releasing the first set of official photos of its upcoming executive sedan.
Don't expect to see the car in all its glory, though, because the 5 Series wears camouflage in all the photos. Actually, the excuse BMW found to show us these shots is the debut of a fully automated, optical measuring cell at its pilot plant in Munich.
BMW is proud to be the first automobile manufacturer to introduce this technology. Basically, the freely moving robot arms you see in the photos use sensors to create a three-dimensional image of the entire vehicle. The system then generates a 3D data model that has an accuracy of less than 100 microns (that's about 0.1 millimeters).
BMW says this allows "barely visible deviations to be identified at an early stage." The new technology will save time as a single measurement provides a 3D data model of the total vehicle, also enhancing quality at the start of series production.
As for the all-new BMW 5 Series, not much official information is available for now. We do know that it will have the G30 codename and that it will be slightly bigger in size. Despite that, it will reportedly shed up to 100 kg (220 lbs), thanks to the use of carbon and aluminum in the body structure and the new CLAR platform (short for Cluster Architecture).
This platform will use high-strength steel, aluminum and carbon fiber for increased rigidity and lower weight. On the technology front, the upcoming 5 Series should borrow new gizmos from the 7 Series in order to keep up with the tech-laden Mercedes-Benz E-Class.
Styling-wise, the G30 5 Series doesn't look like a big departure from the current model and will probably feature design cues from the latest 7 Series as well. Expect a similar engine lineup too.
The seventh-generation BMW 5 Series may have its world debut at one of the upcoming major auto shows, Paris (October 2016) or Detroit (January 2017), with sales following early next year.