They are German, they are expensive, yet they are different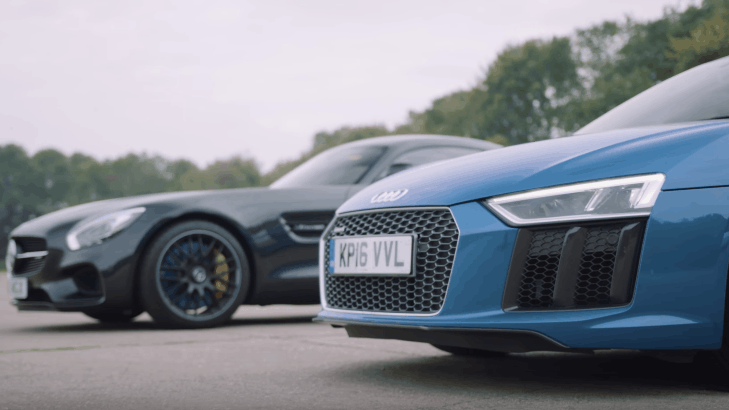 There's nothing more instantly rewarding than a supercar drag race: revved, loud engines, super-quick launches, high speeds, all in just several intense seconds. Oh, not to mention the suspense of not knowing who's going to win! Although this it's not the case here. Firstly, let's run throgugh the numbers.
Audi's 5.2-liter V10 gem-of-an-engine delivers 533 hp and 398 lb-ft to all four wheels, courtesy of the quattro all-wheel-drive system and a seven-speed dual-clutch transmission.
AMG's 4.0-liter twin-turbo V8 is good for 503 hp and 479 lb-ft. The power runs through a seven-speed automatic transmission to the rear wheels only. And then there's the weight.
The R8 tips the scale at 3,516 pounds (1,595 kg) while the Mercedes' GT weighs 3,626 lb (1,645 kg). Now we'll let you decide which one of these two has more chances of winning a drag race.
There's (a bit of) logic to this race though: from a selling price point of view, both the R8 and the GT S are in the same league. As the clip shows, the Mercedes is more expensive.
So the more expensive car loses a drag race to a less expensive one. Bentley Conti GT, where are you hiding?