Weight saving, performance and style go hand in hand with this one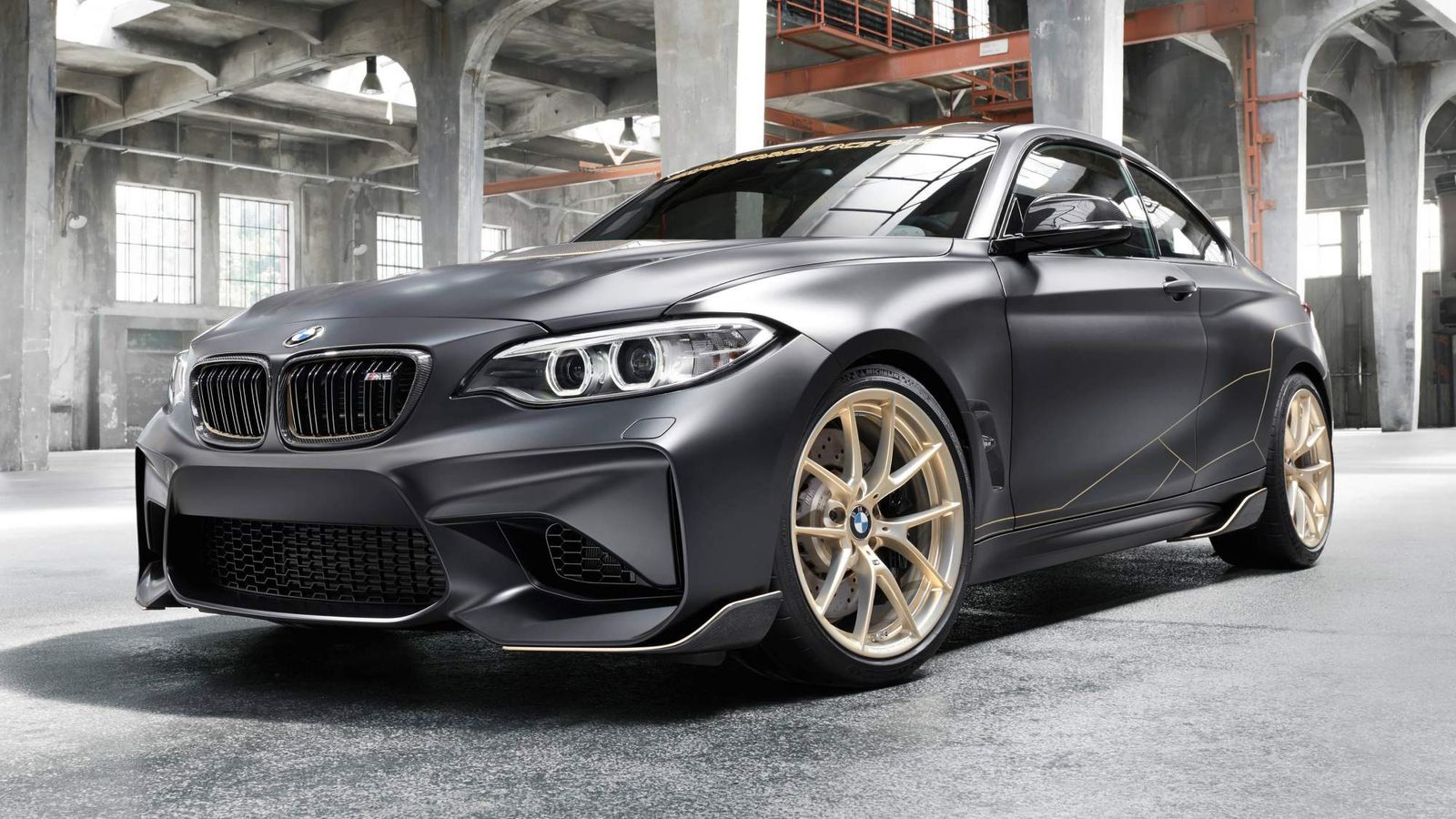 BMW M is showcasing how far modifications can go in transforming the M2 Competition into a lighter, more focused, and more attractive car through the exclusive use of M Performance Parts.
Dubbed the M Performance Parts Concept, the heavily modified M2 Competition will be unveiled at the Goodwood Festival of Speed as a motorsport-inspired creation that sheds more than 60 kg (132 lb) compared to the standard car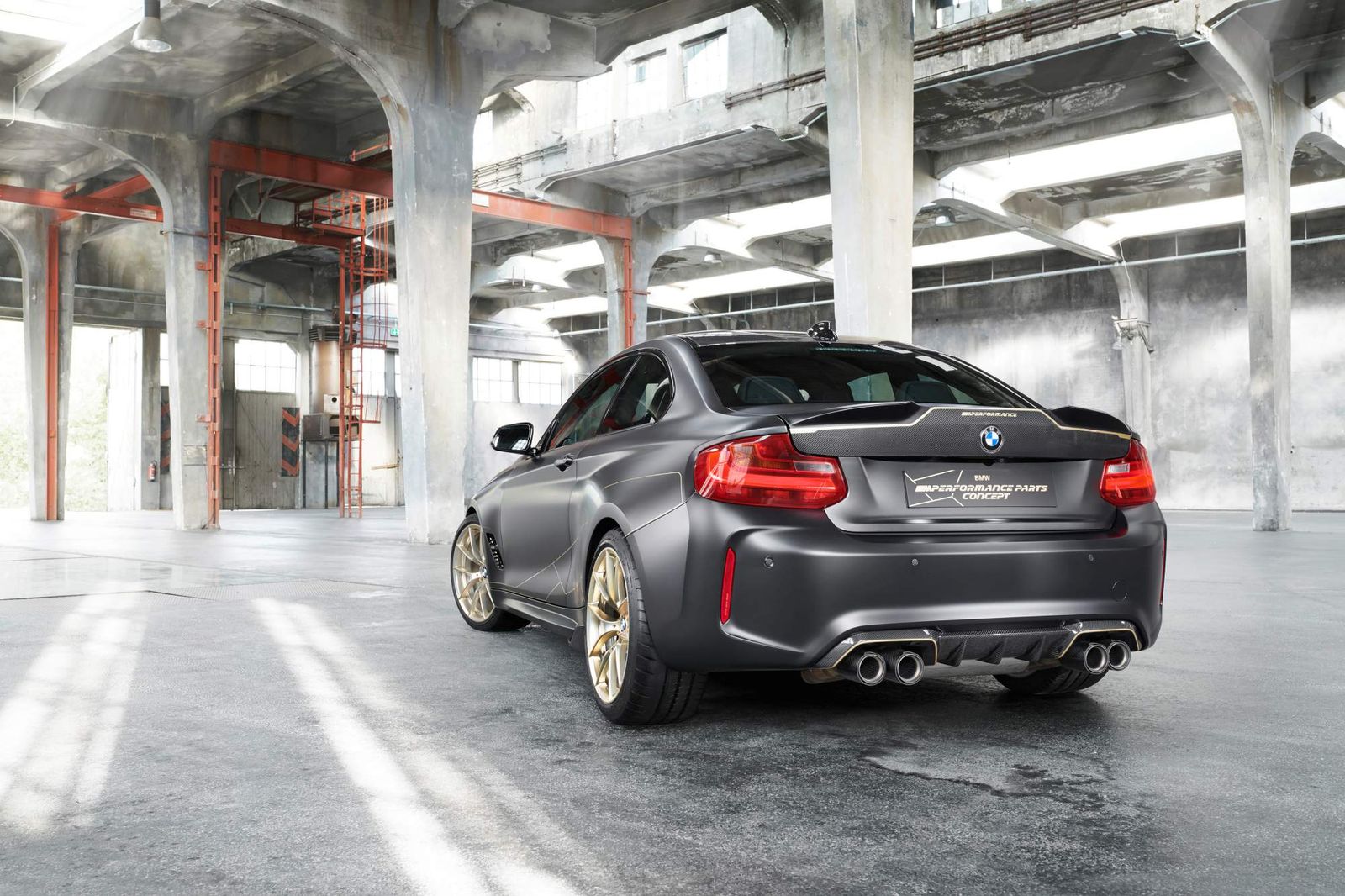 Styling-wise, the study features a Frozen Black exterior paint with M Performance wrapping in gold and rides on 19-inch M Performance forged wheels in Frozen Gold shod with semi-slicks. The wheels not only look spectacular but also help save 6 kg over the standard rims, thereby reducing unsprung masses to improve driving dynamics and steering response.
[NativeAd]
The heavily modified M2 Competition combines M Performance Parts that are already available to buy with exclusive concept features, resulting in a lower weight and enhanced driving dynamics. Most of the exterior parts are made of carbon fiber, with highlights including the front radiator grille with a gold accent, bonnet that sheds 8 kg over the standard component, front side panels (3 kg), roof that reduces the car's weight by another 6 kg as well as lowering the center of gravity, and tailgate (5 kg).
Other exterior tweaks include the carbon fiber front winglets and side sill winglets, as well as the carbon fiber rear diffuser (0.5 kilograms lighter than the standard component).
Significant changes have been made to the interior as well. Carbon fiber, Alcantara, and golden accents define the cabin. The carbon fiber sport seats with Alcantara seating surfaces and golden contrast seam save 9 kg compared to the standard sports seats, while the lightweight rear seats (also covered in Alcantara) further reduce weight by 13 kg.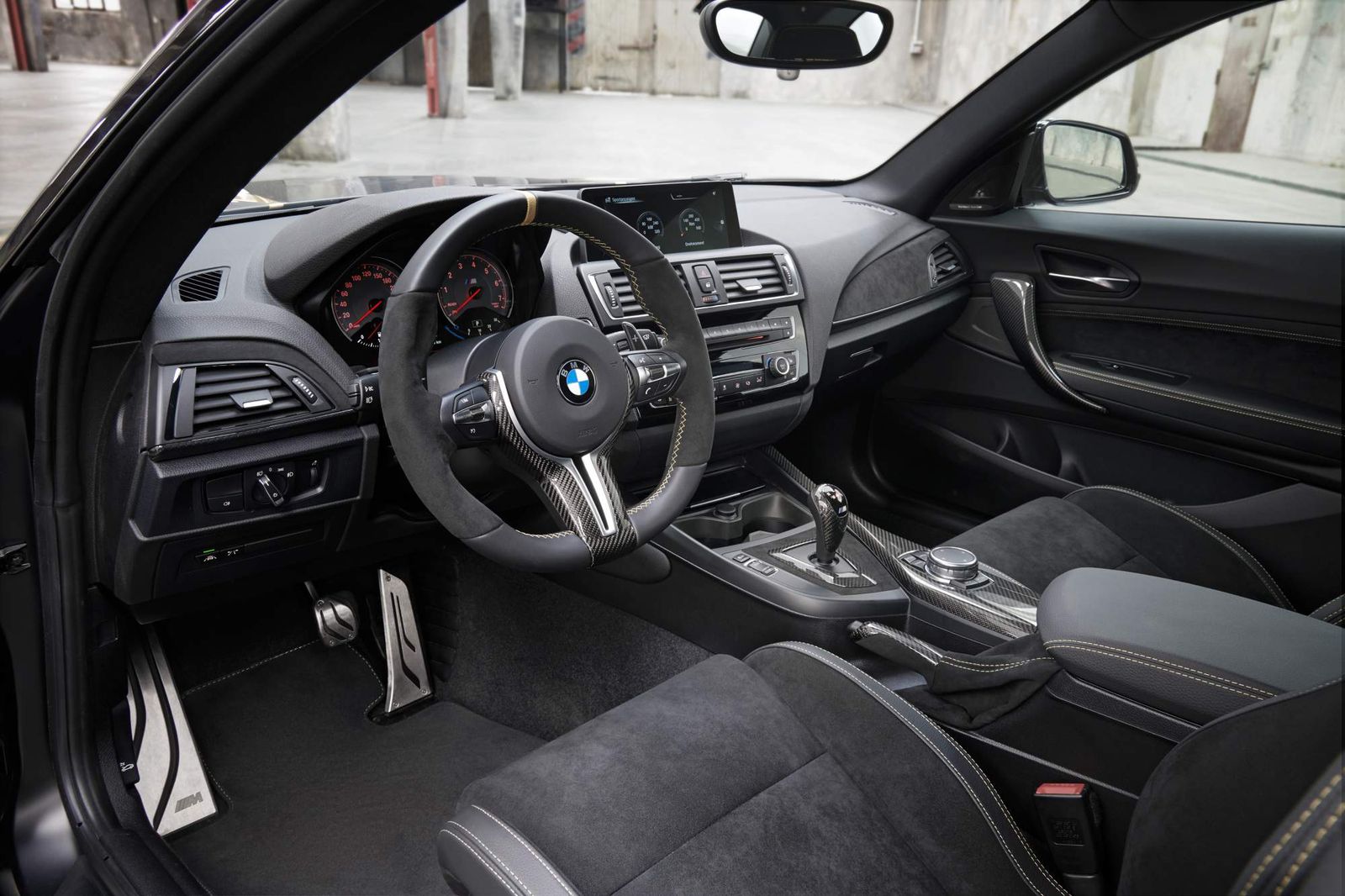 Other upgrades include the steering wheel Pro with leather-covered upper and lower section and Alcantara in the handling section, carbon fiber handbrake with Alcantara gaiter, and velour floor mats.
As for the performance part, the M2 Competition-based concept gains an M Performance suspension with adjustable compression and rebound stage. The coil-over setup enables a lowering of up to 20 mm, and the damping technology is independently adjustable to 12 different compression stages and 16 different rebound stages.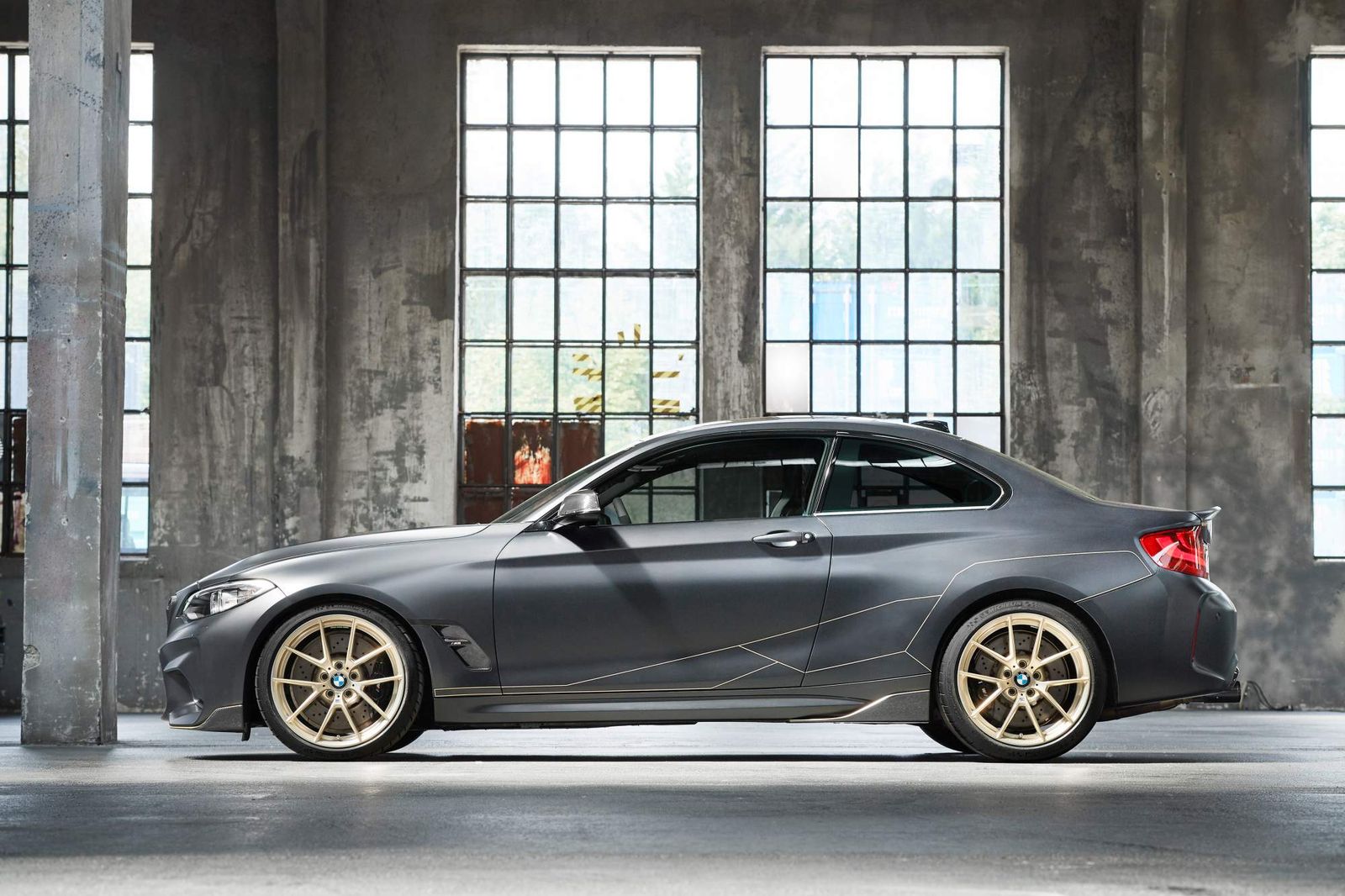 BMW says the suspension offers "a very neutral driving response with much reduced rolling movement." Interestingly, the springs and calipers of the 18-inch brakes are finished in black to match the body color. Finally, a lighter BMW battery reduces the car's weight by another 14 kg.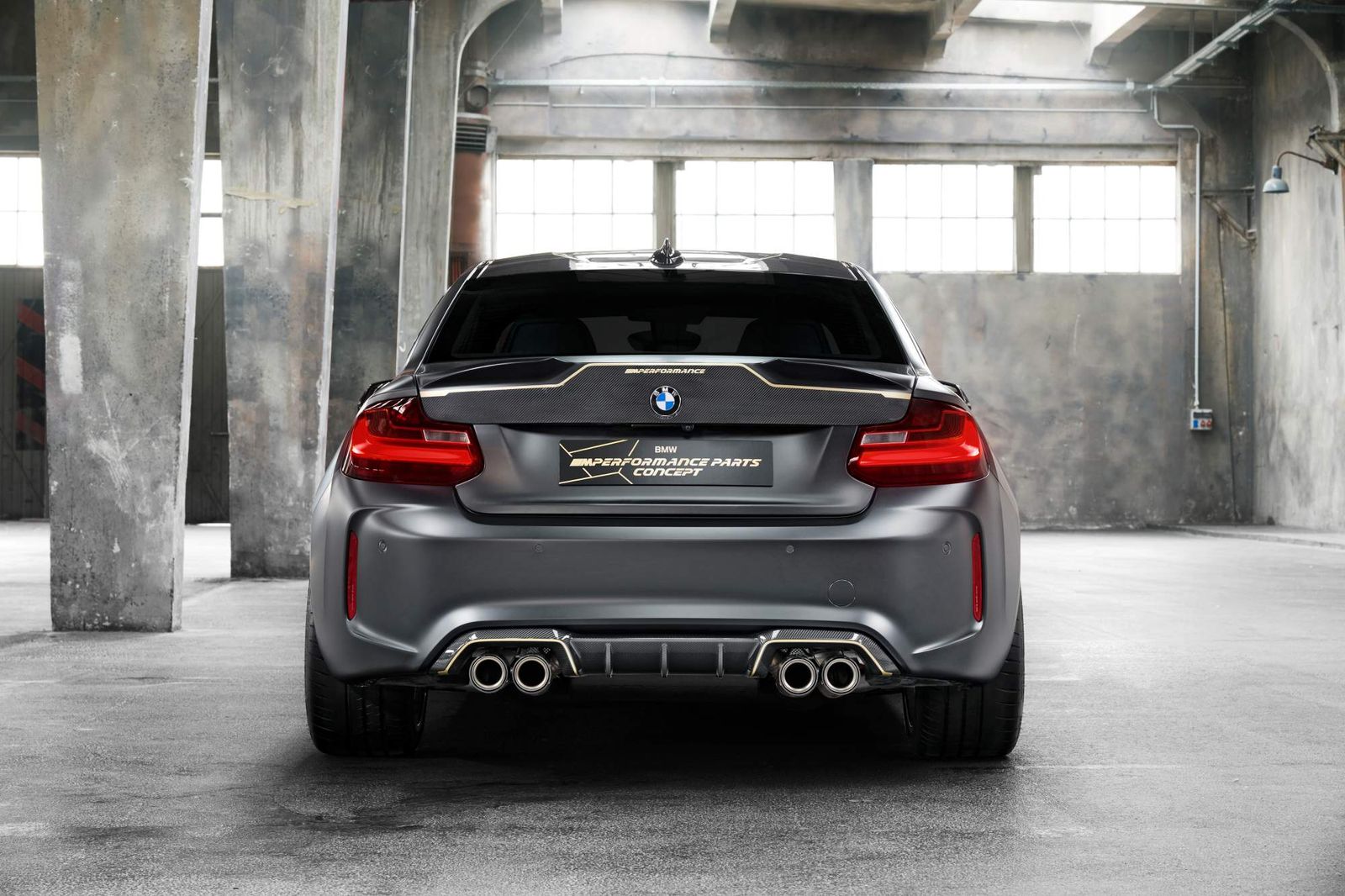 READ MORE: Here's another BMW M2 Competition spiced up with M Performance Parts