We were wondering when would it report for duty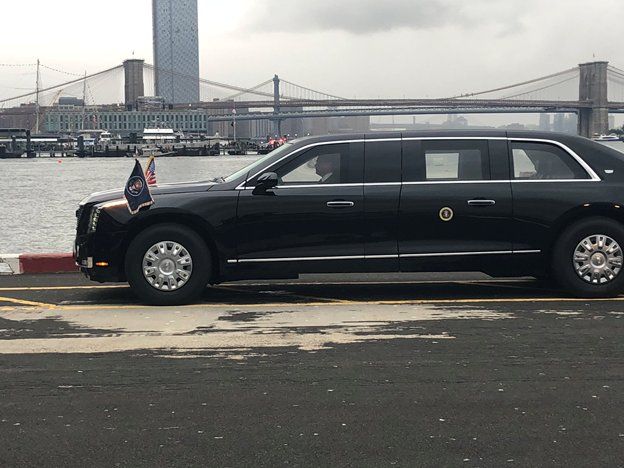 Despite of their tank-y appearance, presidential limos to get old and just like normal cars, they need a revamp. Or a complete new platform, that is.
Now, news about Donald Trump's new presidential limo, dubbed either "Cadillac One" or "Beast," first started flying on the internet in January, 2017.
Back then, reports suggested that interior-wise, the new limo will carry on for Obama's armored ride which debuted in 2009. The exterior, however, would wear design cues borrowed from the Cadillac Escalade.
That aside, the truly enticing bit of info came from The New York Post, via a report that claimed Trump's limo will feature the likes of tear gas cannons and a shotgun, as well as several flasks containing POTUS' blood.
Fast forward to present day and we're witnessing the first appearance of Donald Trump's presidential limo in New York, caught on video and posted to YouTube by THEMAJESTIRIUM1. By the way, you can actually see the two limos at 3:08.
New model presidential limo noticed awaiting Pres Trump at Wall Street heliport. Photo by @stevebruskCNN pic.twitter.com/lEytRcJ9rt

— Mark Knoller (@markknoller) 23 September 2018
Furthermore, Mark Knoller (CBS News White House Correspondent) tweeted a photo of what looks like the presidential limo waiting for Donald Trump at the Wall Street heliport, crediting @stevebruskCNN.
Unfortunately, little details are known about Trump's limo at this point, but this shy public appearance should appease our curiosity for now.
SEE MORE: 2019 Aurus Senat: up close and personal with Russia's presidential car