The Aston locks the brakes after overcooking a corner, slides straight into the tire barrier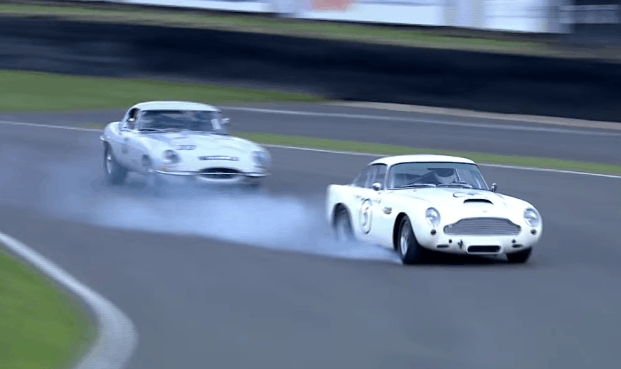 If you were wondering what a sports car race must have looked like in the mid-1960s, and what duels among cars from the era were like then check out the series of videos we've posted here from Goodwood Revival.
In the first and arguably most spectacular of the videos, the stars are a glorious Aston Martin DB4 GT that's trying to pass a very evenly-matched Jaguar E-Type. This is a dogfight that definitely happened back in the day, as these cars were direct rivals.
Cars like this are definitely slower than their modern day counterparts, yet seeing them hooned at full bore makes for a much more enjoyable spectacle. In the end, the Aston driver pushes too hard into a right-hander, brakes violently and locks the wheels, veering off course and into the tire barrier.
The car took the crash surprisingly well, and despite having a misshapen rear end was able to get back into the race with a spectacular burnout.
The incident wasn't the only bit of spectacular retro racing action from that weekend, so check out the other videos as well.