New car registrations increased by almost 10% in Europe's five big markets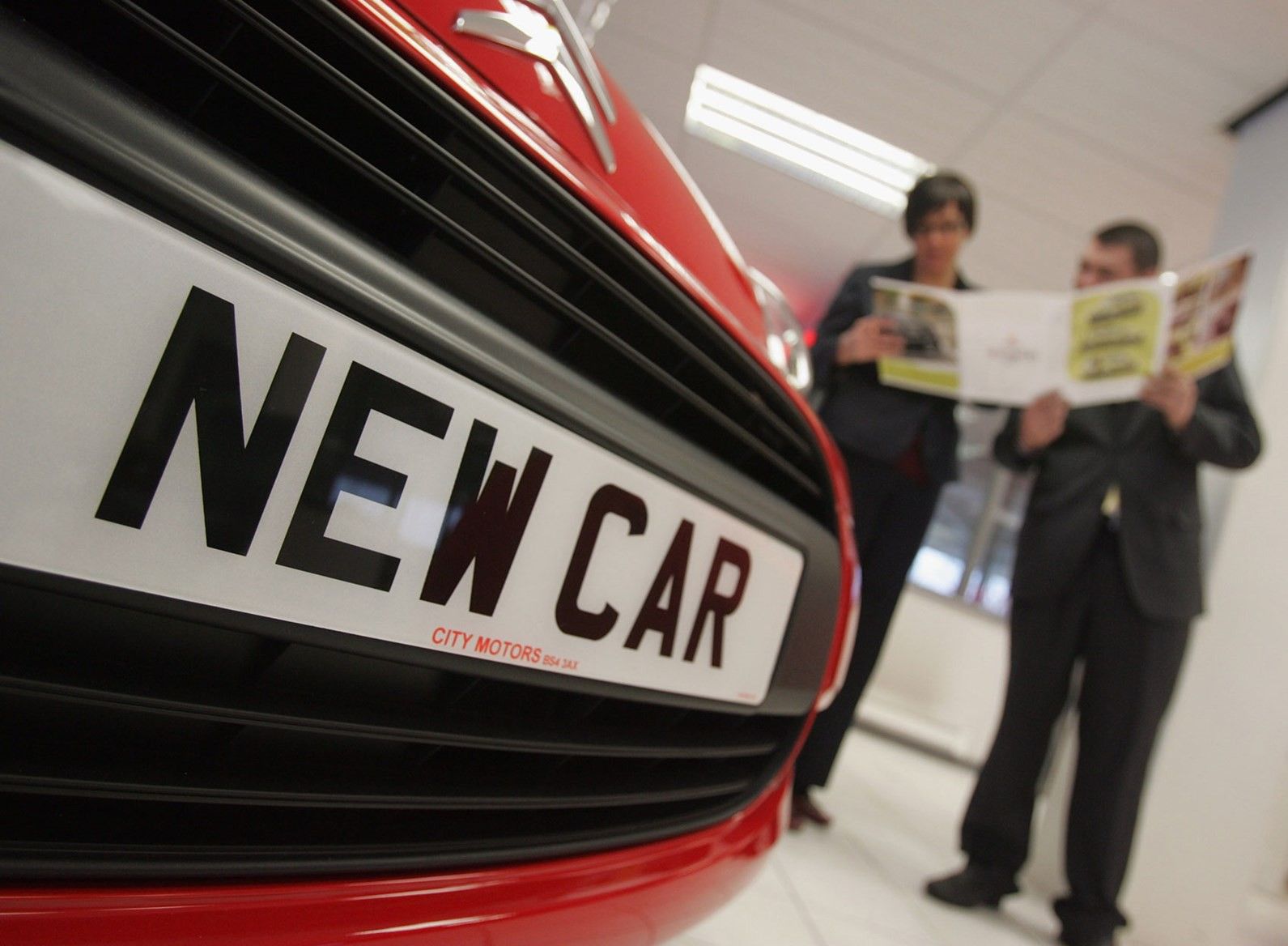 Registrations in Europe's 'Big 5' markets saw a healthy increase of 9.3% in August, as market conditions improved following the 2% decline seen in July. Overall, registrations for August totaled 562,046 units, up from 514,428 in August 2015. Registrations YTD totaled 7.33 million units which is a 7.6% increase on the same period in 2015, SAAR figures came in at 10.92 million units.
While all five markets posted positive growth, Italy was the leader, posting its best August results since 2009 with a 20.2% increase on the same month last year, going from 60,065 units in August 2015 to 72,179 units in the same period this year, in part due to an additional working day. The Spanish market grew by 14.3% compared to the same period last year, largely due to record tourist numbers resulting in a 48% increase in rental car registrations.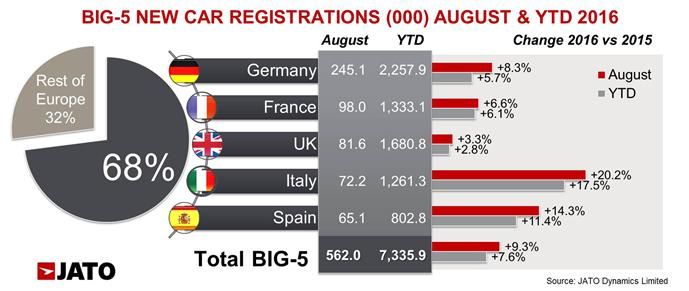 Europe's largest market, Germany, posted an 8.3% increase, compared to the same period last year. This was driven by growth in private registrations which were up 19% on last year due to positive economic development, a healthy level of employment, and two additional working days in August. Both France and the UK posted a modest growth of 6.6% and 3.3% respectively.
Volkswagen Group remained Europe's largest car maker, posting a 5.8% increase on last year, having registered 143,324 units in August 2016 compared to 135,483 units in August 2015. However, overall, the German group lost market share, recording the biggest market share drop of all the car makers analyzed, going from 26.3% in August 2015 to 25.5% in 2016 as double-digit growth in Germany was offset by falls in the UK and France.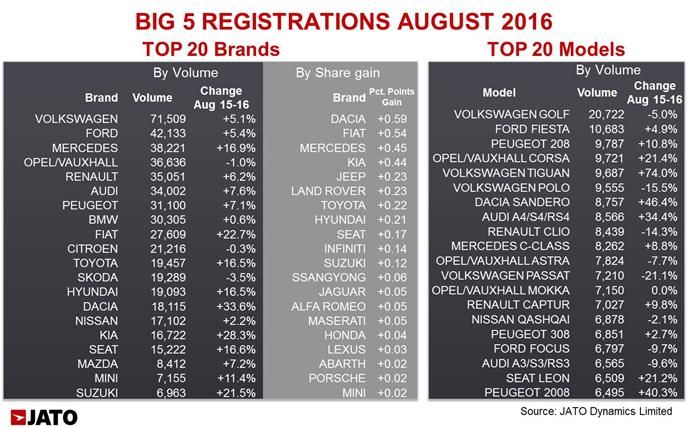 In contrast, Renault-Nissan alliance registrations grew by 12.2%, taking its overall market share to 12.7%, compared to 12.4% last year. The group saw strong growth of 27.3% and 32.7% in Italy and the UK respectively, which was particularly boosted by a 33.6% increase posted by Dacia, which outsold Nissan in the ranking. PSA and Ford both lost market share, whilst Opel/Vauxhall dropped by 1% and fell one position in the brand ranking.
The big winner of the month was Daimler, with Mercedes posting double-digit gains in all of the five markets and becoming the third best-selling brand of the month. FCA increased its market share by 0.78 percentage points due to the double-digit growth of its Fiat, Jeep, Alfa Romeo and Abarth brands, a 173% increase in sales at Maserati. Hyundai-Kia grew by 21.7%.
"As the market continues to shift and Volkswagen's brands continue to slowdown, other brands continue to improve in the mainstream market, such as Dacia, Fiat and Hyundai-Kia which have all seen strong growth, whilst in the premium market, Mercedes is continuing to perform well," said Felipe Munoz, Global Automotive Analyst at JATO Dynamics.
SUVs continued to boom, accounting for 25.9% of the total market, which is a dramatic increase considering the segment barely outsold subcompact (B-Segment) vehicles in August 2015. The SUV segment's outstanding growth can largely be attributed to midsize and compact SUVs which posted increases of 55.1% and 36.1% respectively. Particularly noteworthy is the new Volkswagen Tiguan, which posted a 74% increase and was the best-selling SUV across the five markets and the fifth best-selling model overall.