We still don't know how quick and powerful it is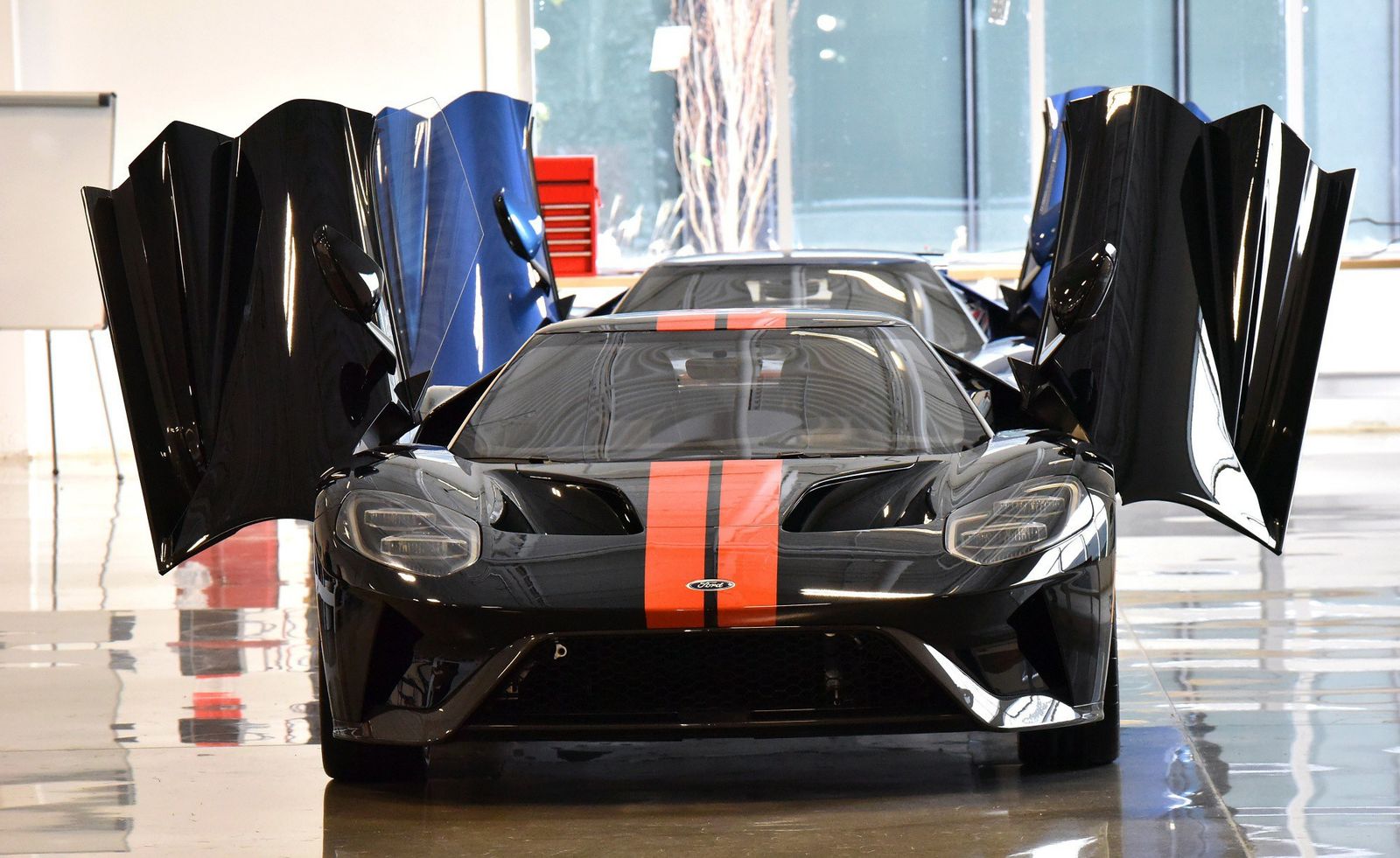 The first road-going example of the all-new 2017 Ford GT has rolled off the assembly line at Multimatic's low-volume facility in Markham, Ontario, Canada.
The maiden production Ford GT was driven off the line by Ford executive vice president Raj Nair. However, we still don't know what the GT is capable of as Ford continues to keep performance figures and exact engine output secret — although it's been almost two years since the GT had its world debut at the 2015 Detroit Auto Show.
"When we kicked off 2016, we had two primary objectives for our Ford GT supercar – to excel at Le Mans, and to start deliveries before year-end. We've achieved both. The all-new Ford GT is a showcase of our strength in innovation and our commitment to delivering more for our customers – especially related to light-weight materials, aerodynamics and EcoBoost® engine technologies."
Raj Nair, Ford executive vice president, global product development, and chief technical officer
All we know about Ford Performance's halo car is that it has a 3.5-liter twin-turbo EcoBoost V6 engine with more than 600 hp, a lightweight body made of carbon fiber, and an extremely aerodynamic shape.
Ford said it would build 250 road-going GTs per year, the first 500 of which have already been sold. The company will not build more than 1,000 examples and will accept orders for the following batch of 500 units in 2018.
As a reminder, the all-new Ford GT supercar drops the supercharged V8 engine of its predecessor for a twin-turbocharged 3.5-liter V6 that will deliver "more than 600 horsepower," according to Ford.
Billed as the most powerful EcoBoost production engine ever the mid-mounted V6 is based on the same race-proven engine architecture from Ford's IMSA Daytona Prototype endurance race car.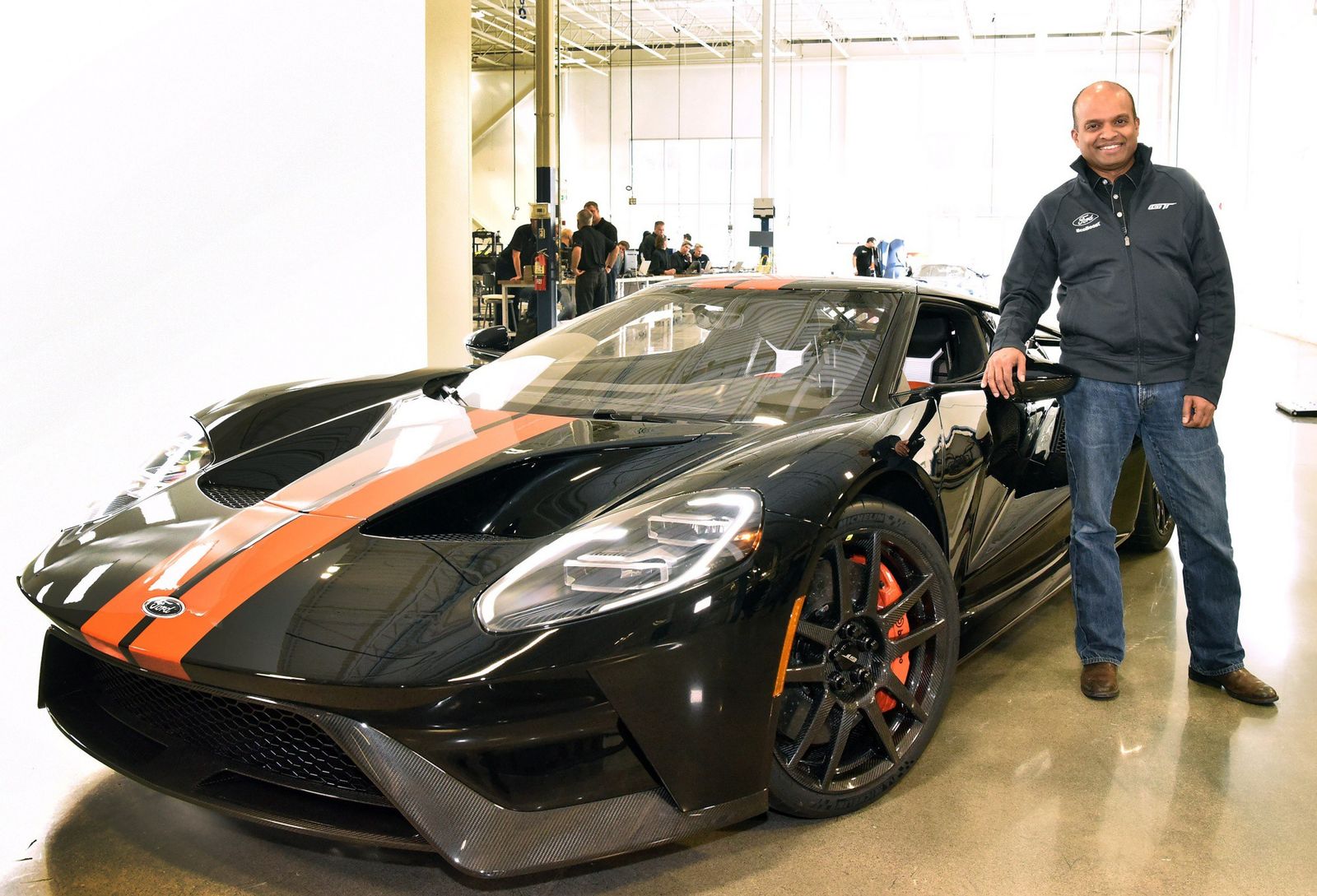 While specific output and torque remain secret, Ford says the V6 has a "wide powerband with impressive time-to-torque characteristics," allowing for "outstanding acceleration and handling." The EcoBoost V6 will be paired with a seven-speed dual-clutch transaxle that promises "near-instantaneous gear changes and exceptional driver control."
Furthermore, the EcoBoost unit is said to deliver "remarkable efficiency," although there are no official numbers to back that claim yet.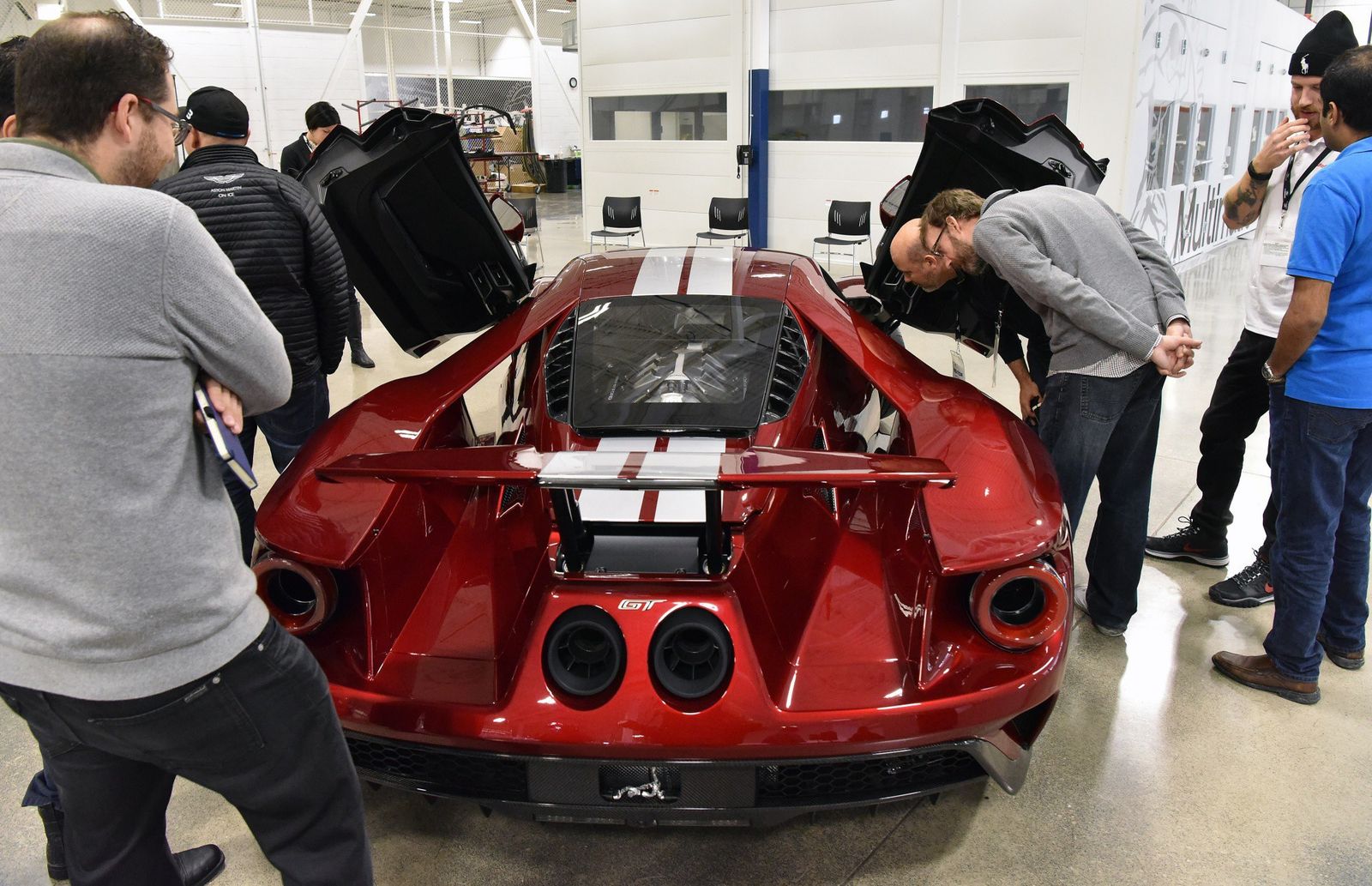 The rear-wheel drive, two-door coupé has a sleek bodywork made from lightweight materials and shaped by aerodynamics. The passenger cell is made from carbon fiber, while the front and rear subframes are built from aluminum. The body panels are also in carbon fiber. Thanks to the use of structural carbon fiber elements, the GT is expected to have "one of the best power-to-weight ratios of any production car," according to Ford.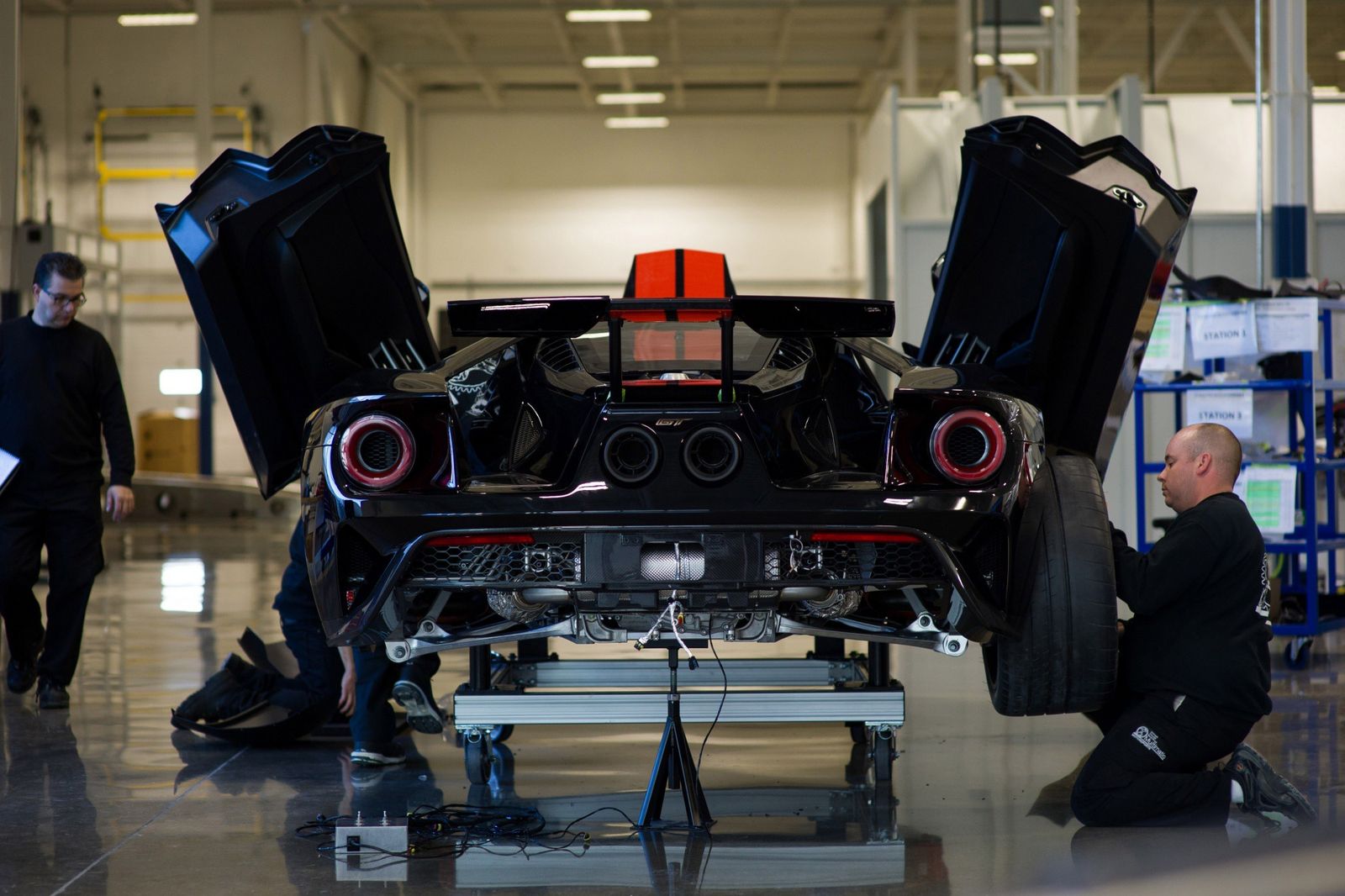 Handling should be top-notch thanks to the pushrod suspension with adjustable ride height, as well as the active racing-style torsion bar. The GT rides on 20-inch wheels shod with Michelin Pilot Super Sport Cup 2 tires designed specifically for the Ford GT. Stopping power comes courtesy of carbon-ceramic brake discs.
The GT benefits from advanced active aerodynamics that actively reduces drag while aiding downforce and stability. The active rear spoiler deploys and adjusts its height and pitch angle depending on conditions.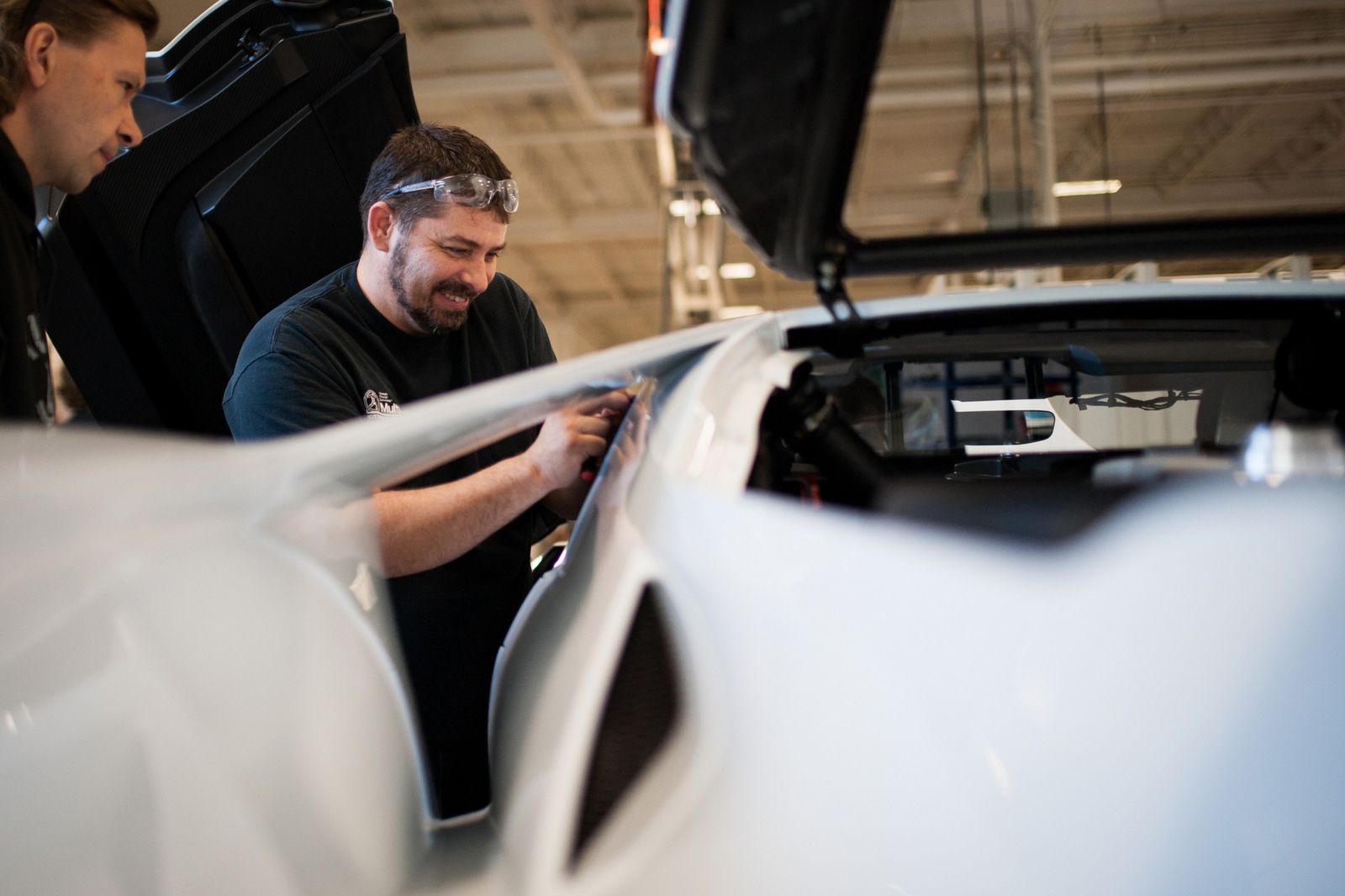 Design highlights include the tear-drop shape, aircraft-inspired fuselage, curved windshield, and upward-swinging doors. The two seats are integrated directly into the carbon fiber passenger cell, for a direct connection to the chassis. The fixed seating combines with adjustable pedals and steering column.
The driver controls the car via an F1-style steering wheel that integrates all necessary driver controls, including the paddle shifters. A fully digital and configurable instrument cluster displays all necessary information.