With a total of 50 vehicles from the Blue Oval at the show, they may as well call it Ford Tuning Fest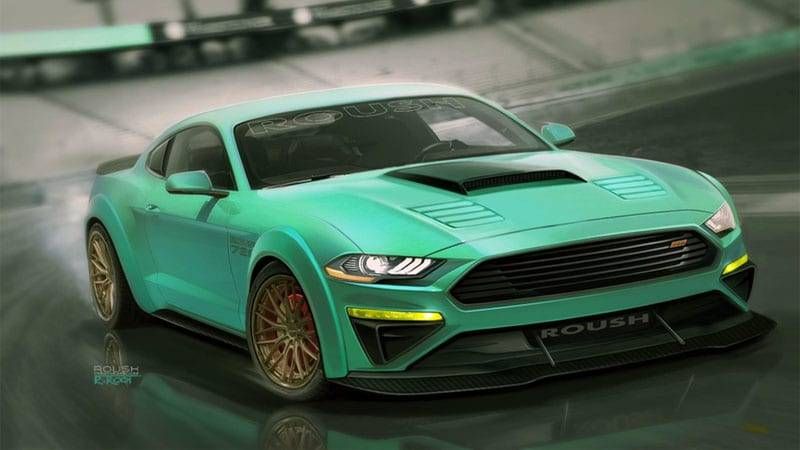 With Ford introducing the facelifted 2018 Mustang earlier this year, the tuning scene had to acknowledge that and start delivering custom projects based on the refreshed pony car.
And what better place to showcase them than the SEMA Show (October 31-November 3)? The Ford stand will host no fewer than seven Mustang builds in Las Vegas, and they will be part of more than 50 vehicles the Blue Oval will bring to the show.
Here are the seven souped-up Mustangs endorsed by Ford.
2018 Ford Mustang EcoBoost Convertible by MAD Industries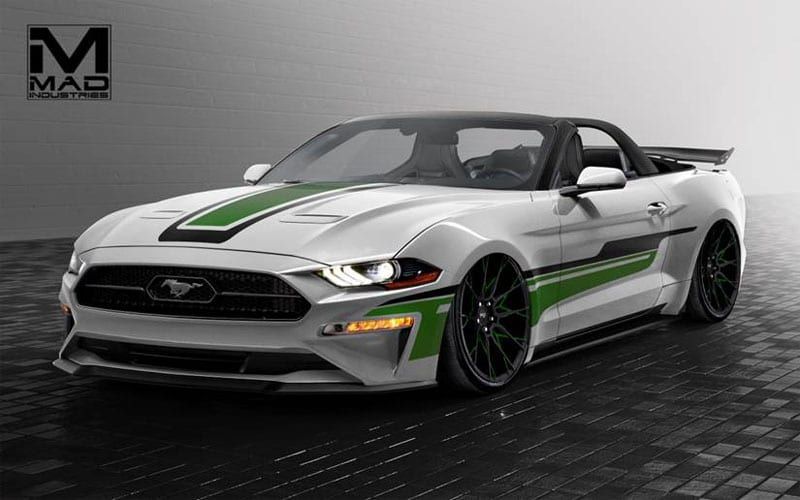 This project explores the aggressive side of the drop-top Mustang, featuring staggered 20-inch Niche Staccato Wheels, APR Carbon Fiber Drag Wing, and a custom paint job. Performance upgrades include a re-tuned 2.3-liter EcoBoost engine with Ford Performance intake and exhaust enhance power, Eibach adjustable suspension, Willwood Aerolite brakes, and more.
2018 Ford Mustang GT 729 Wide-Body "TriAthlete" by Roush Performance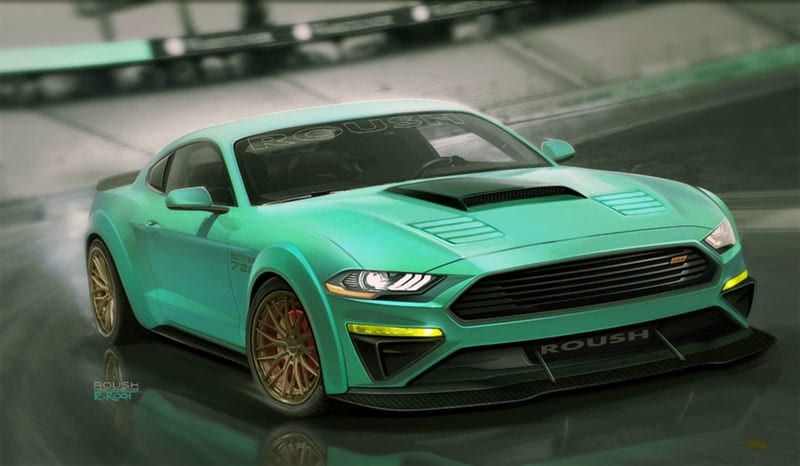 Renowned tuner Roush Performance has given the 2018 Mustang GT Fastback the wide-body treatment assorted with styling cues from the classic 1970 Boss 429. It's called the Roush 729 Mustang because it packs a 729-hp Roush-supercharged 5.0-liter V8 engine. The list of performance upgrades is extensive and includes custom exhaust tips, Roush Performance 3-way adjustable suspension, Brembo GT-series brakes, and Vossen RVS forged wheels, to name but a few.
2018 Ford Mustang Fastback by Tucci Hot Rods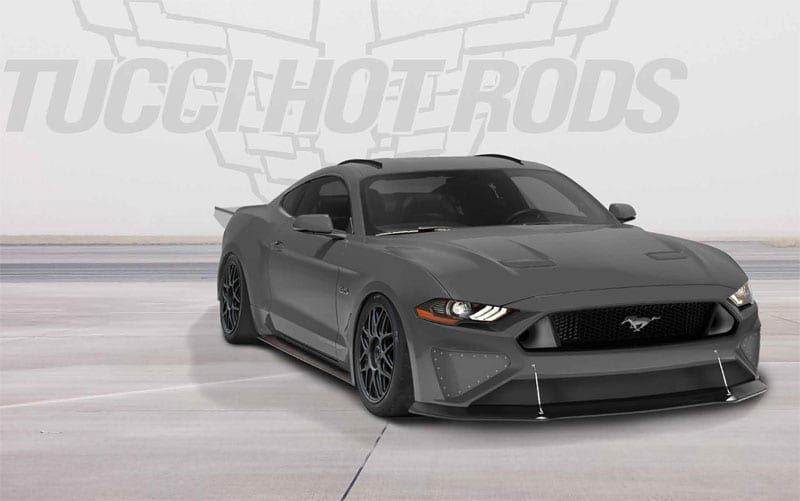 The builders had a precise goal for this car: to make it able to reach 200 mph (322 km/h). Starting from a 2018 Mustang GT Fastback, the team from Tucci Hot Rods improved the aerodynamics by reducing drag and gave it more power in the goal to reach 200 mph. A Hellion twin turbo kit is responsible for the unspecified power bump, with the car also featuring G-Force driveshaft and rear axles, a Borla exhaust, RideTech triple adjustable air ride suspension, Wilwood Aero brakes, and more.
2018 Ford Mustang GT Convertible by Speedkore Performance Group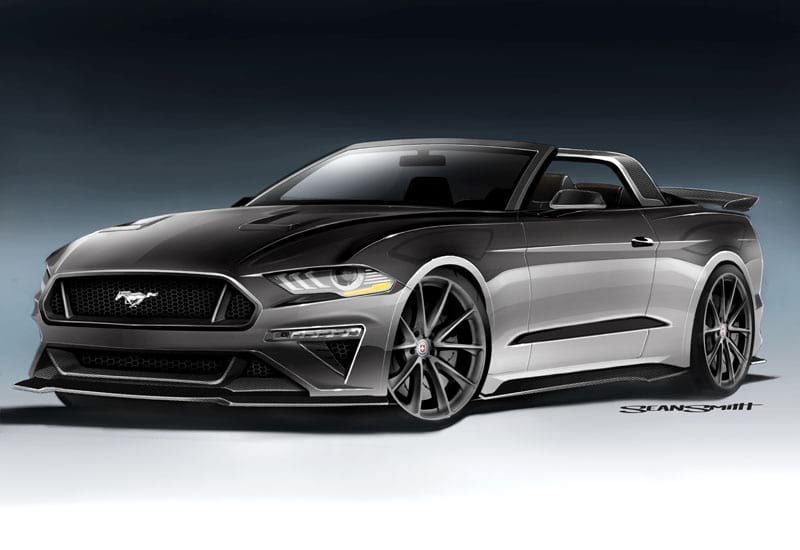 Starting off as a 2018 Mustang GT Convertible, this project by Speedkore brings a classic roadster look thanks to the handmade trim, brushed aluminum accents, the all-leather Bomber Brown interior, tonneau cover, and the carbon fiber roll bar with aluminum trim. Modern touches include a carbon fiber aero kit, an updated Eibach suspension, a Roush-supercharged V8, and Brembo brakes, among other things.
2018 Ford Mustang GT Fastback by DeBerti Design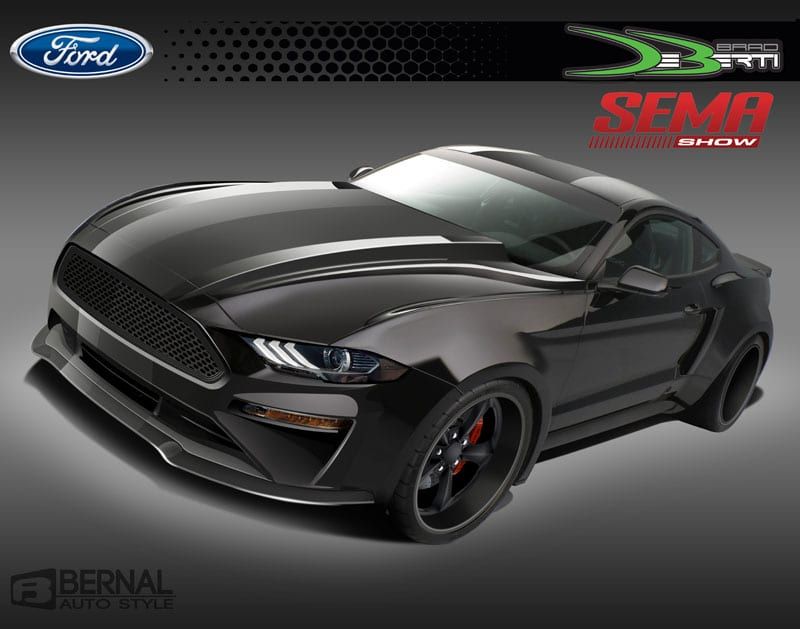 This build is all about muscle. It packs a Roush supercharger, Borla exhaust, adjustable suspension, Ford Performance brakes, and a broader body needed to accommodate Mickey Thompson 18-inch wide (!) rear tires that shod the Forgiato 20-inch rims. The custom Mustang also features classic cues such as the Bullseye Retro custom headlights and taillights, Sherwin Williams interior paint, and more.
2018 Ford Mustang Fastback by Air Design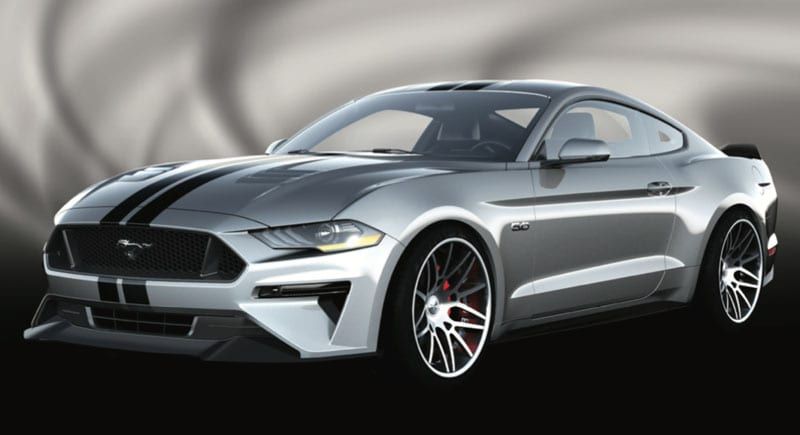 Of all seven custom projects, this one looks closest to a stock Mustang. But looks can be deceiving, because Air Design has given it a full body kit including a front bumper replacement, side skirts, a lower skirt at the rear, fender vents, and aggressive rear wing. The coupé also features Ford Licensed Accessories such as the hood, window, and side scoops. The modified pony car rides on 21-inch Forgiato Fratello ECL rims shod with Pirelli P Zero tires.
2018 Ford Mustang Fastback by DRAGG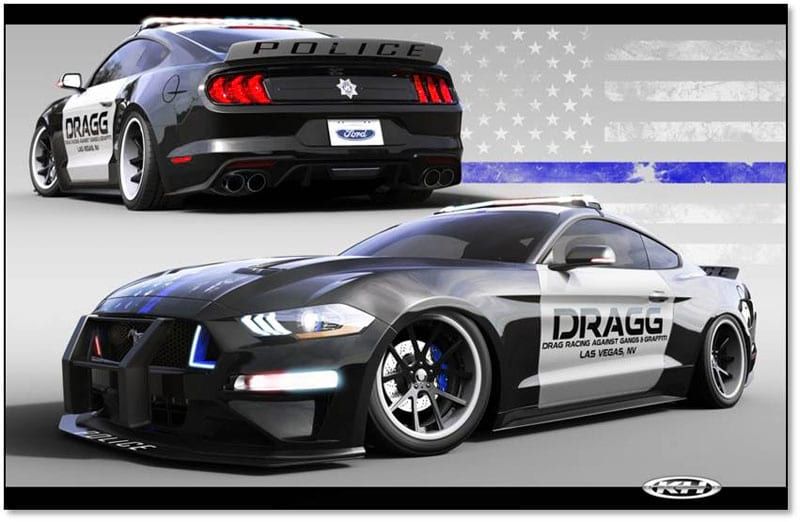 Ever wondered what the 2018 Mustang Fastback would look like as a police car? Well, wonder no more, because an automotive after-school program called DRAGG (Drag Racing Against Gangs and Graffiti) has transformed that thought into reality. The custom Guardian-themed police vehicle is based on a 2018 Mustang EcoBoost and features Siren police livery, Federal Signal emergency lighting by West Coast Lights, Metalhaus Inc. police push bar, as well as a lower suspension, Borla exhaust, and Wilwood brakes.
For all of you Mustang fans out there, here's a video that talks you through all the changes the iconic pony car has seen during more than 50 years of existence.