IIHS conducts passenger-side small-overlap crash test on 7 small SUVs
Five out of seven rated "Good"
The Insurance Institute for Highway Safety (IIHS) last year introduced a new crash test which is a variation of one they were already doing and one which seriously challenged vehicles at first: the small overlap crash test which is now being conducted for the passenger side, as well.
Now all new vehicles have to go through this test which revealed that some cars performed worse on the passenger's side than they did on the driver's side. For instance, the Ford Escape did get extra strength on the left side, as that was the side that the test was being conducted on, but its right side did without it.
That's why when its passenger side was subjected to the small overlap test, it crumpled like cars from before the test was introduced used to do. It's actually alarming how much buckling occurred on the right compared to the reinforced left side.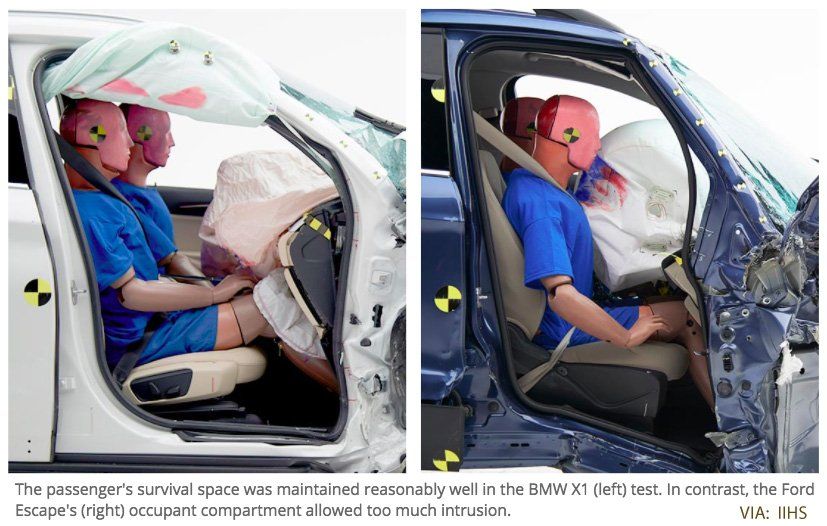 Therefore the IIHS is justified in adding this passenger side small overlap crash to its battery of tests. It recently put seven small SUVs through the new test and while there were poor performers, like the Ford Escape and marginal performers like the Mitsubishi Outlander Sport, most proved just as safe on both sides, showing that manufacturers didn't just do the changes to get good results, but actually showed more concern for actual occupant safety than the rating itself.
The BMW X1, Mitsubishi Outlander, Chevy Equinox, GMC Terrain and Jeep Compass all fared very well in this instance.
CHECK OUT: More crash testing