It's called the Enfield 8000 and it originally had 8 hp, and the plan to turn it into the world's fastest EV belongs to former Fifth Gear presenter Johnny Smith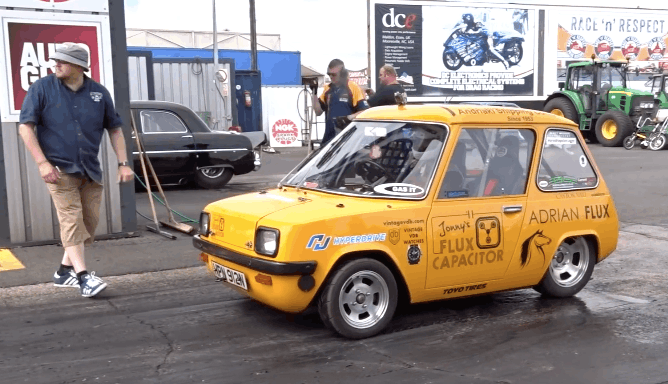 The Enfiend 8000, built between 1973 and 1979, is an all-electric vehicle from the UK of which only 120 examples were made. This particular one, however, is far-far more powerful than the puny 8 hp of the original.
This Enfield 8000, now known as the Flux Capacitor 74 Enfield, recently broke the world record for the quickest accelerating all-electric vehicle with number plates. It cracked the quarter mile at the Santa Pod Raceway in a blistering 9.86 seconds, crossing the line at 121.73 mph or 195.86 km/h.
How did such a ridiculously small vehicle manage such a feat? Well, it's obviously been heavily modified, featuring twin 9' DC motors that pump out a slightly scary 800 hp and 1200 lb-ft, which in Nm is around 1626.
The idea for the vehicle comes from the most amusing side of Fifth Gear's cast of presenters, Johnny Smith. He explains that he wants to "bring a left-field perspective" using his "car perversion. Like setting the record in the world's fastest street legal car, building a double-decker Smart car, competing in a Norwegian drift contest with one day's training or creating an armoured tank out of an ex wedding Rolls Royce."