Kia's world debut at the 2016 Detroit Motor Show is the Telluride, a design study that may preview a large premium SUV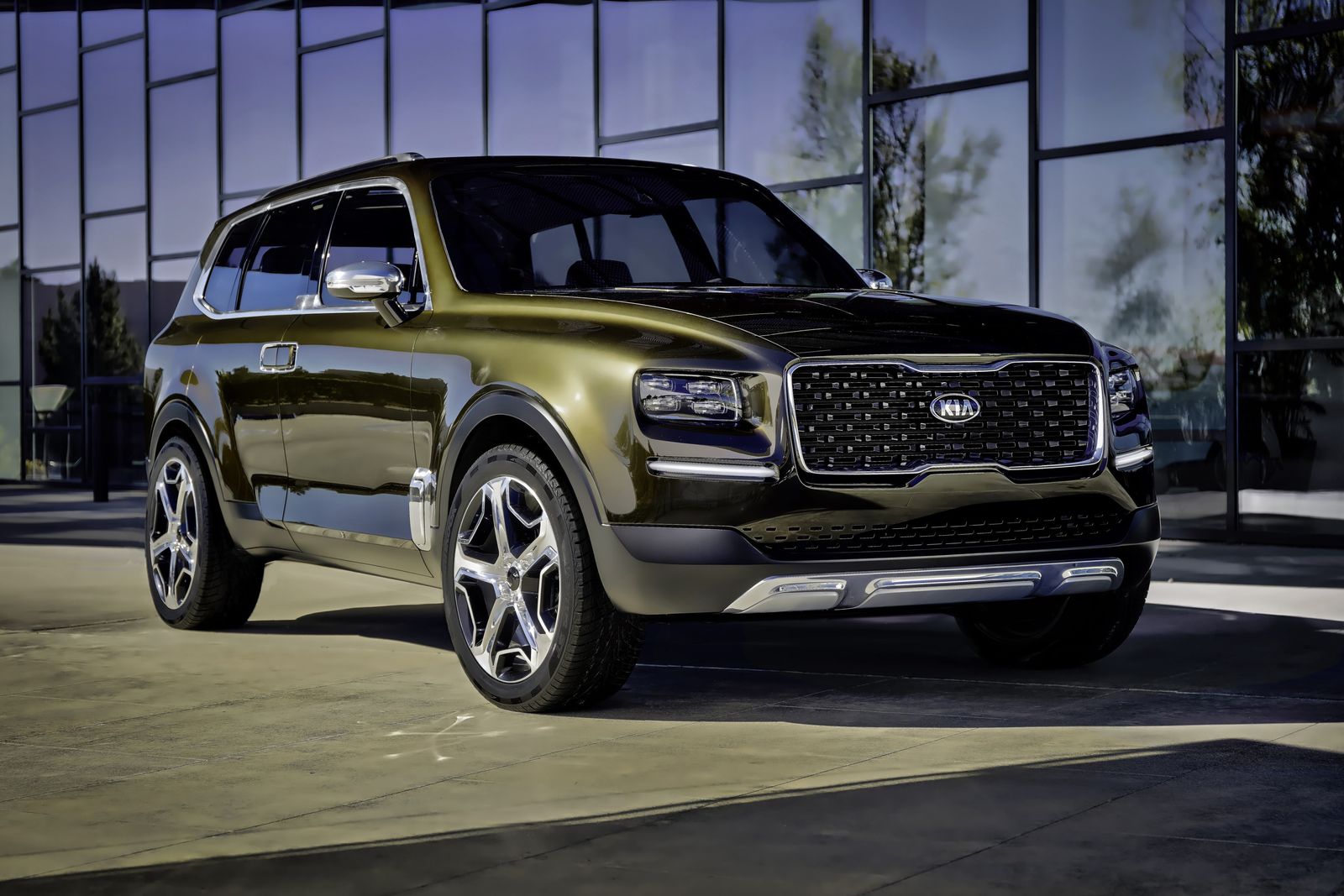 Kia says the full-size SUV takes the brand's design language in a bold new direction and "pushes the boundaries of technology with unique in-cabin health-and-wellness technology and luxury."
Telluride is a three-row, seven-passenger luxury SUV concept that could spawn a premium model positioned above the Sorento. At 70.9-inches tall, 79.1-inches wide and 196.9-inches long, Telluride is 4.4-inches taller, 4.7-inches wider, and 9.5-inches longer than the current Sorento. The massive SUV rides on a modified Sorento chassis with a wheelbase stretched 11.9 inches to 121.3 inches.
Designed by California-based Kia Design Center America (KDCA), the concept has an upright shape and muscular stance, with highlights including suicide doors that swing open 90 degrees in opposing directions, creating a generous space for ingress and egress. Other striking features are the Dark Pyrite green paint, 22-inch five-spoke wheels, and Kia's massive signature tiger nose grille. The recessed quad-LED headlights and thin vertical LED taillights add further drama to the exterior.
Inside, the Telluride features four black leather captain's seats that appear to float in front of a folded third-row bench. The middle seats can recline nearly flat while large fold-away footrests improve comfort. Interestingly, all four seats have embedded Smart Sensors that capture a passenger's vital health information.
These vitals are then displayed on the interior door panel screens, which then systematically synchronize with a Light Emitted Rejuvenation (LER) system. What LER does is utilize a big, wing-shaped LED panel mounted beneath the sunroof that displays "a pattern of therapeutic light to treat desynchronosis." That's jet lag, for those less familiar with medical terms. The light is also said to improve the passengers' energy levels.
Another unique technology introduced in Telluride is called Swipe Command, which allows rear-seat passengers to scroll and select desired media by swiping their hand on a thin, touch-sensitive interactive band mounted to the second-row center console. The concept features a seven-speaker premium Harman Kardon audio system as well as a set of portable headphones that wirelessly charge when placed in the console. The Telluride also has a compartment in the front center stack that allows for wireless cell phone charging.

So what's under the hood, you ask? A plug-in hybrid powertrain pairing a 3.5-liter gasoline direct injected (GDI) V6 engine with an electric motor and battery pack. The transverse-mounted powertrain has a system power of 400 hp (270 hp from the V6 and 130 hp from the electric motor), which is directed to all four wheels via an advanced all-wheel drive system. Kia estimates the Telluride could achieve more than 30 mpg on the highway.