Watch our series of short but detailed videos from the motor show floor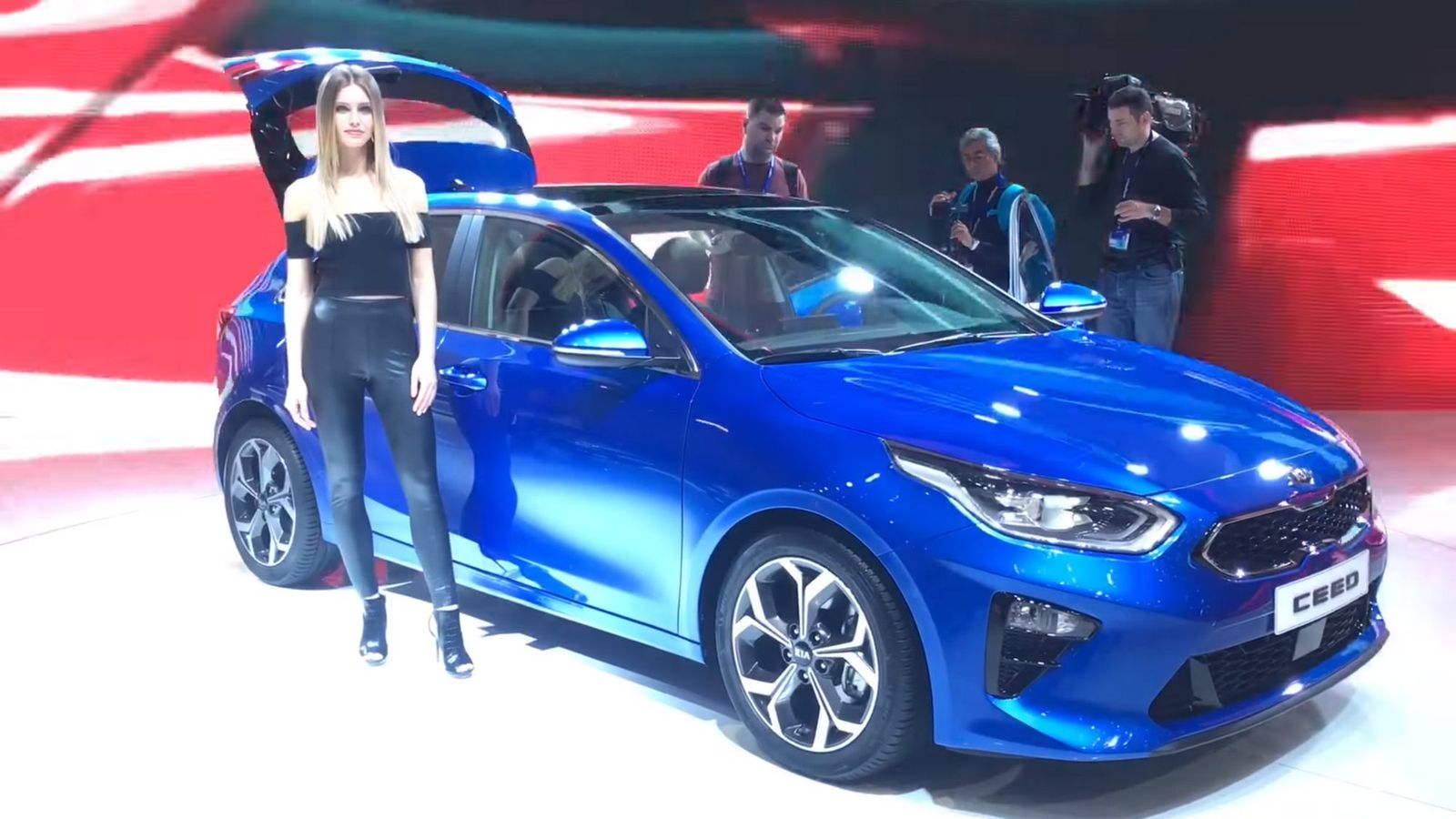 The 2018 Geneva Motor Show is in full swing, and our team works around the clock to film and review the newly-launched cars. Here's a live video feed that is constantly updated with new material during the day
This was the year of hybrids and electric vehicles at Geneva, and we could say it's one of the last motor shows in which petrol or diesel-powered cars were still a majority. Everybody jumped on the electric bandwagon, be it Mercedes-Benz, Hyundai or even Aston Martin. However, there's so much more happening at the Geneva Motor Show than just launching batteries on wheels.
Stunning autonomous concepts, spectacular super and hypercars, or just gorgeous special editions, there's something for everybody. Here's our list of the most important cars presented at the show. Make sure to return during the day and subscribe to our YouTube video channel, as we will constantly update the list with new entries!
[NativeAd]
Volkswagen ID Vizzion Concept is ready for a self-driving, electric future
One of the most important concepts presented this year is the ID Vizzion from VW because it shows what the German brand has in mind for the next decade: an intelligent, connected, learning self-driving electric car able to find its own way within the city and beyond. It's rather big, Phaeton-sized, and the huge interior space isn't spoiled by the presence of a steering wheel: the car will do everything by itself. Read more about it in our original article and take a peek at the future. Is it nice or not?
Aston Martin Valkyrie AMR Pro has over 1,100 hp and looks ready to fly
One of the craziest cars at the Geneva Motor Show is the Aston Marting Valkyrie AMR Pro hypercar, a track-only weapon able to reach 362 km/h (225 mph) and generate 3Gs worth of lateral acceleration. It also has a huge rear wing and one of the best aerodynamics ever, as you can read in our dedicated article. Here's the car in all its splendor:
Subaru Viziv Tourer Concept is a car that should enter production TODAY
Here's a concept we'd like to see as soon as possible transformed into a road car, just to show a tourer makes much more sense than an SUV, yes, even in 2018. Expect to see a car derived from it on the 2020 horizon, and let us hope Subaru will keep these aggressive and massive lines on the production version, too.
New 2018 Mercedes-Benz CLS is an exercise in style
The all-new Mercedes-Benz CLS four-door coupe is cleaner and more elegant than the former gen, with a high-quality interior almost identical with the one found on the E-Class and some really punchy engines. Mercedes-Benz really manages to up the ante in the luxury segment, and the CLS might very well be the new benchmark. Take a look and decide for yourself (we're in love!):
2018 Mercedes-Benz A-Class first look
The new A-Class is a gorgeous premium compact car, and our first impression is rather good: sexy exterior and sturdy, but stylish interior. It's really roomier for all passengers, it has a wider boot, and the perceived quality improved a lot, while its price remained almost the same, at least in Germany. Also, check out the new MBUX user interface! Here's our take on it:
2018 Audi A6 first look and walkaround
The all-new Audi A6 is one of the last of its kind: a premium sedan sporting powerful petrol and diesel engines, on the brink of total hybridization. Our first review is positive: the shrunk A8 is probably the best in class right now. It breathes quality, and the luxury feeling once inside is overwhelming, at least in the top trims. Here's how it looks:
2018 Concept BMW M8 Grand Coupe – sharknado
Stealing the show, this shark-like BMW concept is basically an M8 in concept guise. Expect the final car to look very close to this monster, and come with unlimited power and incredible handling. Read more about it here or just click on the video below to see it.
2018 Volvo V60 – the all-new premium family wagon
Volvo somehow managed to make its medium-sized wagon look sensual, and this is true both in pictures and in real life. The new V60 is also no doubt one of the safest cars out there, with a host of driving-assist functions. It comes with two plug-in hybrid variants and an optional car subscription service. Here's how it looked on the Geneva Motor Show floor.
2018 Kia Ceed – dropped the apostrophe, improved in every way
Kia managed to impress at Geneva. Cabin quality improved a lot, and one could say it has a premium feeling to it. There are still some things on the low-cost side, and the classic instrument cluster doesn't follow the current digital trend (fortunately), but the new Ceed is really a serious contender in the compact family car market. Here's our first look.
The new four-door Mercedes-AMG GT – is this the most beautiful car at the 2018 Geneva Show?
Taking an obvious design cue from Porsche, the new four-door coupé Mercedes-AMG GT is gorgeous, no matter how you look at it. Yeah, there was a time when coupés had two doors and so on, but it's 2018 and who really cares anymore? Its most powerful 4-liter bi-turbo V8 makes 639 hp and is good enough for a 0-100 km/h (62 mph) sprint of 3.2 seconds. And the car looks like this:
2018 Peugeot 508 steals the show for the masses
It doesn't come with hundreds of horses under the hood but is the most important French car launched at the Geneva Motor Show. It's a German-looking stylish fastback coupé-saloon (yes, Peugeot just invented this), with sharp and powerful lines and a high-tech interior, night vision and massage seats included. Peugeot targets the premium market with the new 508, and they even dared to price the limited First Edition at 49,950 euros in Germany! See for yourself if the car has what it takes:
2018 all-new Hyundai Santa Fe – impressive SUV
From the abundance of Chinese engineers measuring the car in every detail, we can assume the new-gen Santa Fe will be a blast once it comes on the market. While on the outside there's an evolution of the former car's design, inside it's a different story: the design is yet undecided, and the central column is cluttered, but there's more room for everything, and the car has been updated in every respect. Read some more about it or watch our video below to get an idea.
Skoda Vision X Concept SUV – yes, green cars are cool even if they're not eco
With a bi-fuel hybrid powertrain, the Vision X Concept envisions the T-Roc correspondent in Skoda's range. Only 4.2 meters long, but with a 2.64 meters wheelbase, the Vision X will spawn a crossover in the near future, possibly named Polar. It remains to be seen how much of the clean HMI interface will be carried over the production car. Here's our video of the concept.
2018 all-new Jaguar I-Pace is the brand's first electric SUV
Jaguar somehow managed to be the first traditional luxury brand to launch an electric SUV. The I-Pace looks crisp and British enough to differentiate it from its main rival, the Tesla Model X. Yes, the car did borrow some of Tesla's gimmicks (door handles, anyone?), and lacks the falcon wing doors of its competitor, but inside it looks like a proper luxury car, due to Jaguar's extensive experience in the field. It's also faster than some of its Tesla Model X counterparts, so it remains to be seen who will win this first electric crossover/SUV fight.
World premiere of the new BMW X4 – pumped-up and ready to rock and roll
The new X4 is more streamlined than the former generation, 50 kilos lighter and 81 mm longer, with an even lower center of gravity than before. And, in its M40d guise, it looks like a punk. BMW plays the aggressive sportiness card here, skipping the elegant trend of its main rivals and going straight for the kill. Just look at it!
2018 Polestar 1 hybrid coupe by Volvo looks serious, but will it convince customers?
6,000 customers have shown interest in the 600-hp Polestar 1 hybrid, and Polestar themselves say they will be able to produce only 500 per year at first. It's a start for Volvo's electrified brand – two other model will soon follow, and the brand will focus on electric performance cars shortly. Their first effort looks a tad too serious on the outside, but its interior breathes luxury, as you can see in our video.
All-new 2018 Lexus UX crossover has a frontal grille the size of Manhattan
Lexus needed a compact crossover to fight in a crowded premium market, so the new Urban Explorer is just that: a tool to conquer a piece of the ever-growing SUV and crossover pie. Based on a new global platform, the UX looks agile, comes with a lot of tech designed to offer driving thrills and has a luxurious interior that tries to be on par with its competitors. The Audi Q3 and Mercedes-Benz GLA have lots of other weapons in their arsenal, so this will not be an easy job for the all-new UX. We're not convinced by its busy and cluttered dashboard, though the exterior surely has the looks! What do you think?
2018 all-new Toyota Auris looks much better than the car it replaces
It's a longer, wider and lower model than the preceding generation, and it looks really good, which is something rather odd to say about a Toyota. In Hybrid form, it will be driven on its batteries around 50% of the time, which also makes it one of the greenest compact cars in Europe. We couldn't climb inside it, unfortunately, as it was closed. We'll have to wait for its international launch to see more about what the new Auris brings on an extremely crowded market.
Toyota GR Supra Concept is a sign of things to come
Yes, the all-new 2019 Toyota Supra is closer to production and this concept gives us an idea of how the final production car will eventually be. We can only hope the Supra will keep many of the concept's design features, albeit the one presented by Toyota at the Geneva Motor Show is a racing car that could jump from the show's floor right on the track. You have all the details about this car in the preceding link, but take a closer look at it in our video below.
McLaren Senna GTR just steals the show at the 2018 Geneva
This 800 PS (789 hp) supercar is capable of `savage performance`, as its makers say, but expect it to be upgraded at 825 PS (800 hp) as soon as possible. It looks stunning, but it has only one goal: establish the quickest McLaren circuit lap times outside of Formula 1. Only 75 units of the Senna GTR will be made, at $1,35 million a pop, but expect all of them to be sold in an instant. Until then, feast your eyes with its extravagant black-orange-silver livery.
Porsche Mission E Cross Turismo – the 600-hp electric wagon
If you feel the need for an electric wagon, Porsche has a 600-hp proposition for you. For the moment, only in concept form, but expect the road cross utility vehicle to look more or less the same as what was presented at Geneva. The final car will have more than 600 hp, be fully electric and its performances will have nothing to be ashamed of when making the school run: 0-100 km/h in under 3.5 seconds. Read more about it here or just click play on the video below.
SEE MORE: All our videos from the 2018 Geneva Motor Show are here