McLaren F1 Creator Gordon Murray Designs Flat-Pack Truck That Can Be Assembled IKEA-Style
The OX is designed to provide all-terrain mobility for the developing world
Automotive engineer Gordon Murray will forever be remembered as the creator of the McLaren F1, but his current projects are very diverse. The latest includes the world's first "flat-pack" truck — the Global Vehicle Trust OX.
Almost as easy to assemble as an IKEA furniture set, the vehicle is designed to offer affordable mobility to communities in the developing world such as remote parts of Africa.
The OX has been designed specifically for transport challenges and essential daily tasks such as collecting drinking water and transporting grain, fertilizer or building materials. The company that builds it says the OX is unlike any other vehicle and has no direct competitor.
The vision of one man, Sir Torquil Norman, the OX was made a reality by Gordon Murray. Requirements for the vehicle included a high ground clearance, excellent approach and departure angles, big wheel movement, a multi-purpose layout and a three-person cab.
The OX meets all these criteria and adds the flat-pack format, which fundamentally changes the way a vehicle can be bought and transported by reducing production times and overall unit costs.
Far shorter than a large SUV, the 4.2-meter truck can carry a payload of 1,900 kg (4,189 lbs) with a load volume of 7 cubic meters (247.2 cu-ft). That's about twice the capacity of most current pickup trucks. Furthermore, it can transport 13 people or carry three Euro-pallets in its cargo area.
The cabin offers accommodation for three people, with the driver seated centrally — just like in the McLaren F1, but for a different reason. The central driving position was adopted as some developing countries have right-hand traffic while others drive on the other side of the road.
The truck is powered by a 2.2-liter diesel engine delivering 100 PS (98 hp) and 310 Nm (229 lb-ft) of torque that sends power to two wheels via a five-speed manual transmission. And although it's two-wheel drive, the OX is said to have an all-terrain ability that equals or exceeds that of a four-wheeled vehicle.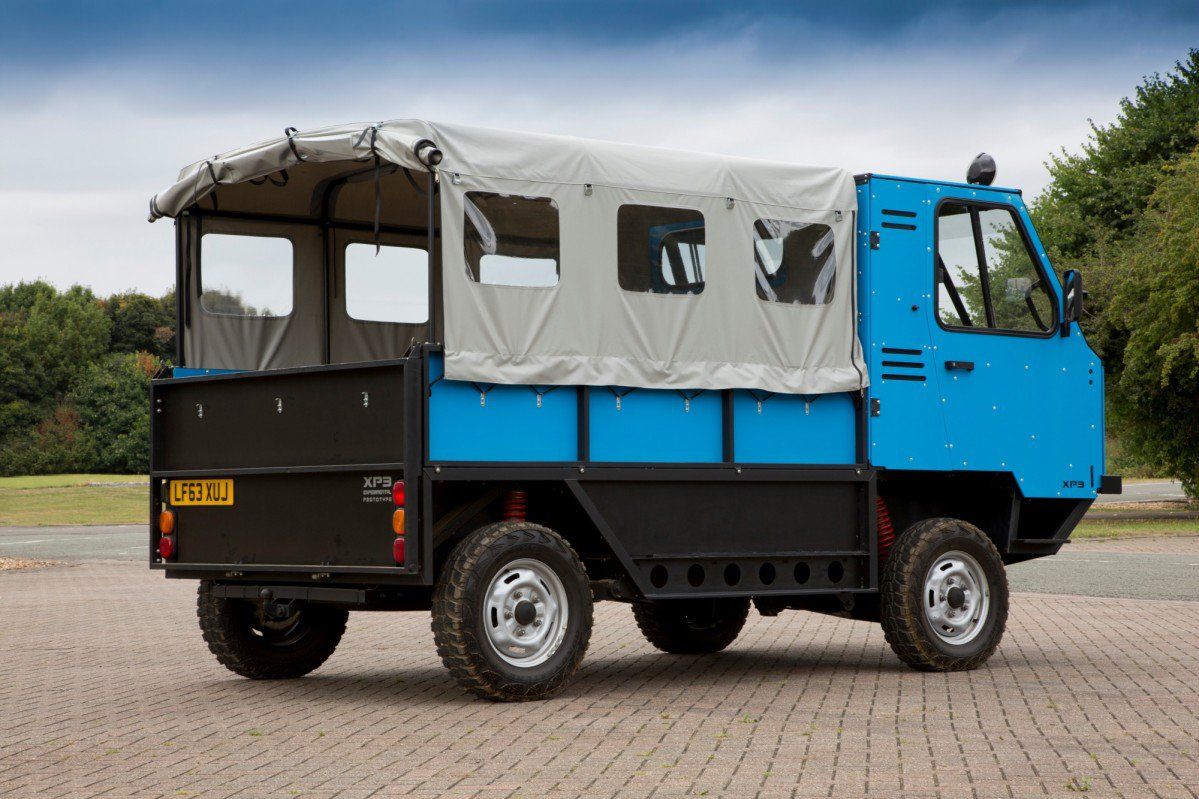 But its main advantage is the flat-pack concept. Three people need less than six hours to create the flat pack in the UK before shipping, with six flat packs fitting into a 40-ft (12.2-meter) high-cube container. After arriving at the destination, three skilled people can assemble the truck in about 12 hours.
Global Vehicle Trust hopes to raise enough money to complete the testing and take the OX project to fruition.