The G-Class returns to its utilitarian roots with the new G 350 d Professional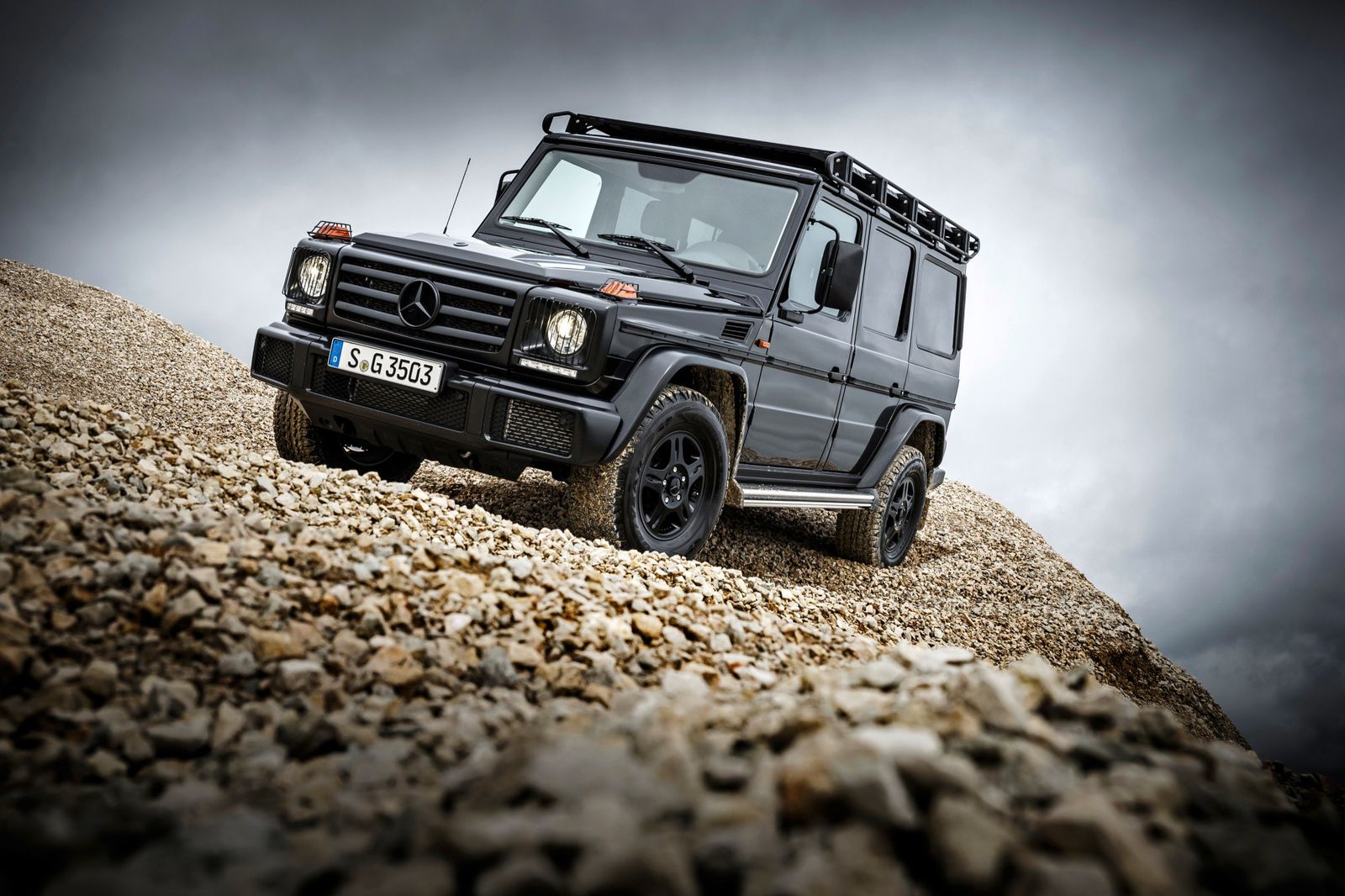 How do you make a Mercedes-Benz G-Class more rugged and off-road capable than it already is? Well, the German automaker shows us how with the new G 350 d Professional, a vehicle destined to spend most of its time in mud and other "shaky" surfaces.
With a more luxurious interior and more comfortable ride than its predecessor (the G 300 CDI Professional), the G 350 d Professional stands out from other G-Class models thanks to its purist design that reflects its mission as a vehicle for challenging off-road use and adventurous expeditions.
The G 350 d Professional can be recognized thanks to the matt black radiator grille, black painted light-alloy wheels in 5‑spoke design shod with all-terrain 265/70 R 16 tires, as well as the raised ground clearance. Mercedes-Benz says the Professional outperforms the regular G 350 d model off the beaten track thanks to the modified suspension that gives it a ground clearance of 245 mm (9.64 in), raised by 10 mm (0.39 in). The model also boasts improved angles of approach/departure of 36 degrees and 39 degrees respectively – compared to 30/30 degrees on the G 350 d.
As with all the other G-Class models, the G 350 d Professional is based on a ladder-type frame body and features permanent all-wheel drive with off-road ratio and three electrically selectable, 100‑percent differential locks.
Power comes from a 3.0-liter turbodiesel V6 engine delivering 245 PS (242 hp) at 3,600 rpm and 600 Nm (442 lb-ft) of torque from 1,600 rpm to 2,400 rpm. Thanks in part to the 7G-Tronic Plus automatic transmission, the G 350 d Professional is both 33 percent more powerful and 15.4 percent more economical than its predecessor. The claimed average fuel consumption is 9.9 l/100 km (equivalent to 23.7 mpg US), with CO2 emissions of 261 g/km.
According to Mercedes-Benz, the vehicle is ideally suited for challenging transport tasks and for towing, thanks to its payload of 592 kg (1,305 lbs) and towing capacity of up to 3,200 kg (7,055 lbs).
But you wouldn't know that by sitting inside the G 350 d Professional. The vehicle features a similar dashboard than regular G-Class models, which means it's fitted with high-quality equipment and appointments. Standard features include a multifunction steering wheel, partially power-adjustable front seats, automatic air conditioning, and more. The only things that give away its practical nature are the floor with anti-slip surface and drain, as well as the "G Professional" badge on top of the center console.
The Mercedes-Benz G 350 d Professional goes on sale on June 1, 2016, in Germany, with deliveries scheduled to begin in September. Prices start from €79,968 (including 19 percent VAT), which is equivalent to $89,256 at the current exchange rates.