New Audi A8 gets dynamic all-wheel steering, fully active suspension
By the looks of it, the tech package on the new Audi A8 will be a hefty one
We already knew Audi's incoming A8 flagship will feature mild-hybrid technology in the shape of a 48-volt electrical system. But Ingolstadt decided to spill the beans once again, so more specs are out of the bag.
When it finally debuts on July 11, the Audi A8 will face stiff competition from the likes of Mercedes-Benz S-Class and BMW 7 Series. That's why Audi wants the luxury sedan to pack as much tech as possible.
One of the A8's attributes will be the active suspension system. It is based on four electric motors (one for each wheel) powered by the 48-volt electrical system we mentioned earlier. Assisted by a front camera tasked with scanning the road surface, the suspension setup can adjust the amount of travel accordingly in a matter of milliseconds.
Furthermore, the active suspension now acts as a safety feature. If the Audi pre sense 360 safety suit detects an imminent collision at more than 25 km/h (16 mph), the car's body is raised by up t0 80 mm (3.1 in) in just half a second.
According to Audi, this exposes stronger areas like the side sills or the floor structure, cutting in half the harmful forces experienced by occupants "compared with a side impact where the body is not raised."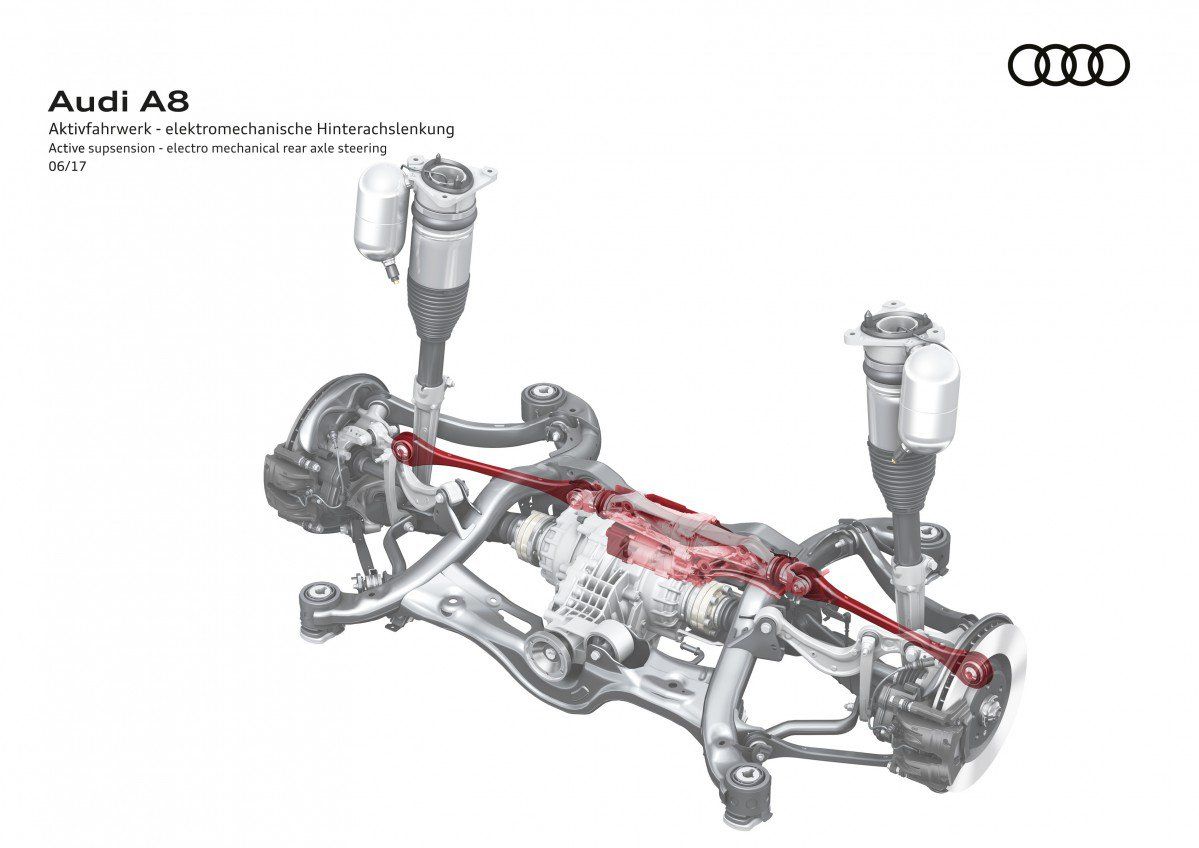 Next in line is an all-wheel steering mechanism that makes the A8's turning circle "smaller than that of an A4," according to Audi's literature. Although Audi doesn't say how much the rear axle turns, the system is not a novelty in the industry, but rather a trend adopted by carmakers like Renault, Porsche, and BMW.