Nissan 370Zki has a hard time deciding whether it's a sports car or a snowmobile
It's a peculiar one-off for the 2018 Chicago Auto Show
The Nissan 370Z and snow have never been good buddies, but that changes now with the 370Zki show car — pronounced 370-Ski. It's a one-off 370Z Roadster that has traded its tires for two front skis and two rear snow tracks. As a result, instead of setting fast laps on a racetrack, it can go where no other 370Z can: on ski slopes and backwoods trails.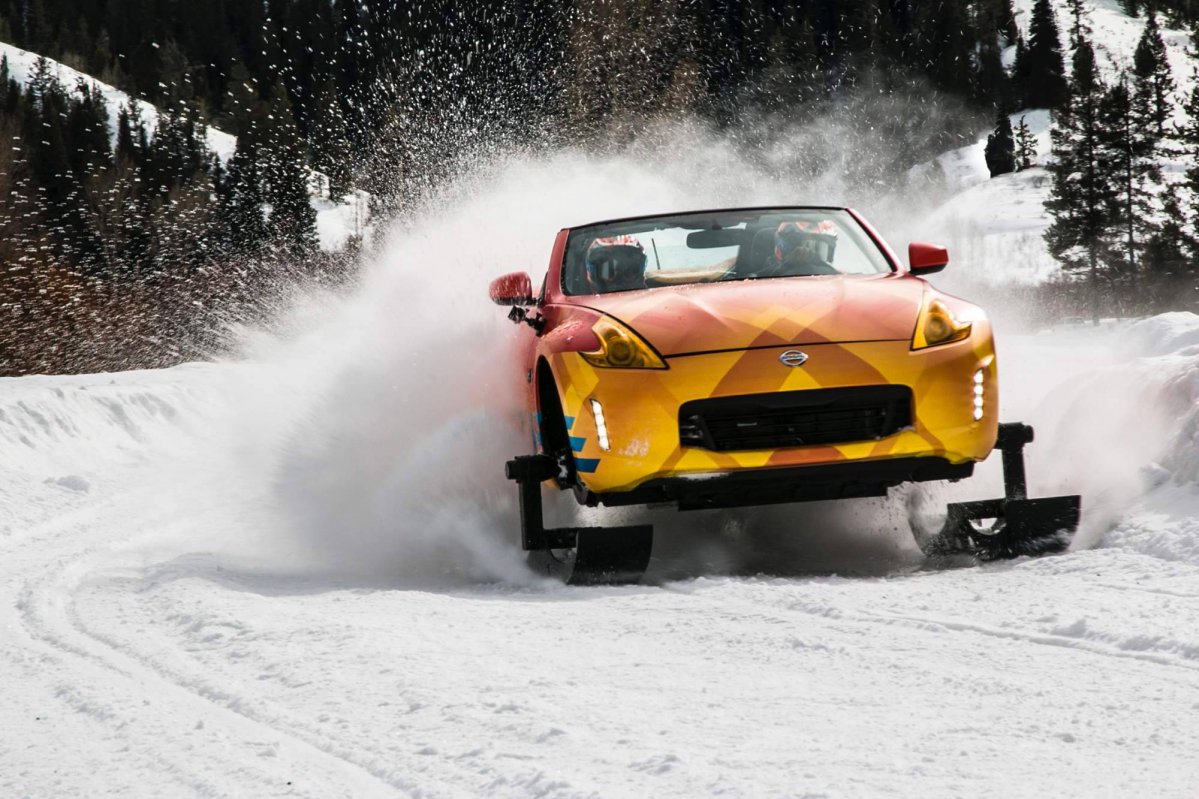 Turning a stock 370Z Roadster into the snow track-carving 370Zki wasn't an easy job, as you can imagine. To fit the rear Dominator Tracks supplied by American Track Truck the entire drivetrain needed to be first removed from the roadster.
After that, a custom lift kit was added, adding three inches to the vehicle's ground clearance. Then the team fitted the custom mountings for the rear suspension springs as well as the three-inch custom spacers needed to attach the snow tracks to the wheel hubs.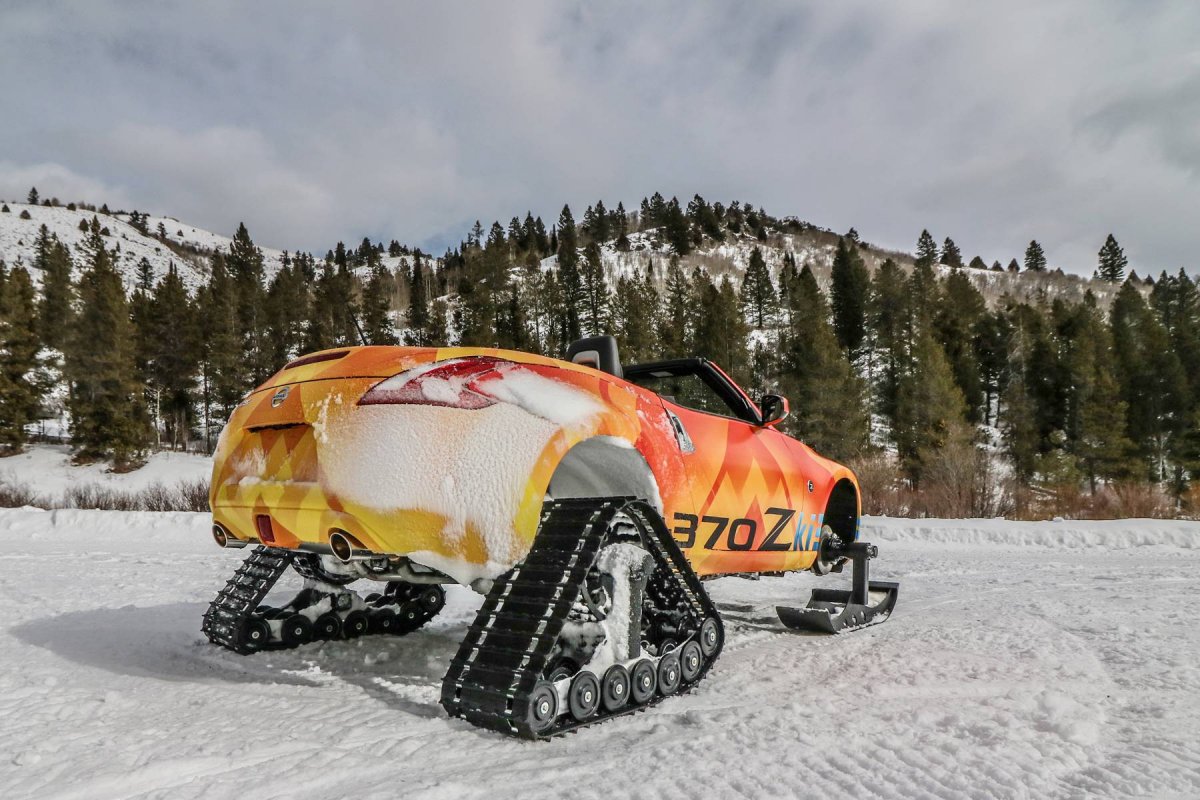 While the factory brakes were retained, the brake lines had to be rerouted, and the exhaust system got modified to fit under the car. The team also enlarged the rear wheel wells to allow enough clearance of the four-foot-long snow tracks.
To fit the front skis (also supplied by American Track Truck) and accommodate the new ride height, the suspension was modified too, while adaptors were made to give the front skis appropriate travel and rotation. The adaptors were mounted with spacers to the stock wheel hubs, with a front skid plate fitted to the car to prevent damage during snow runs.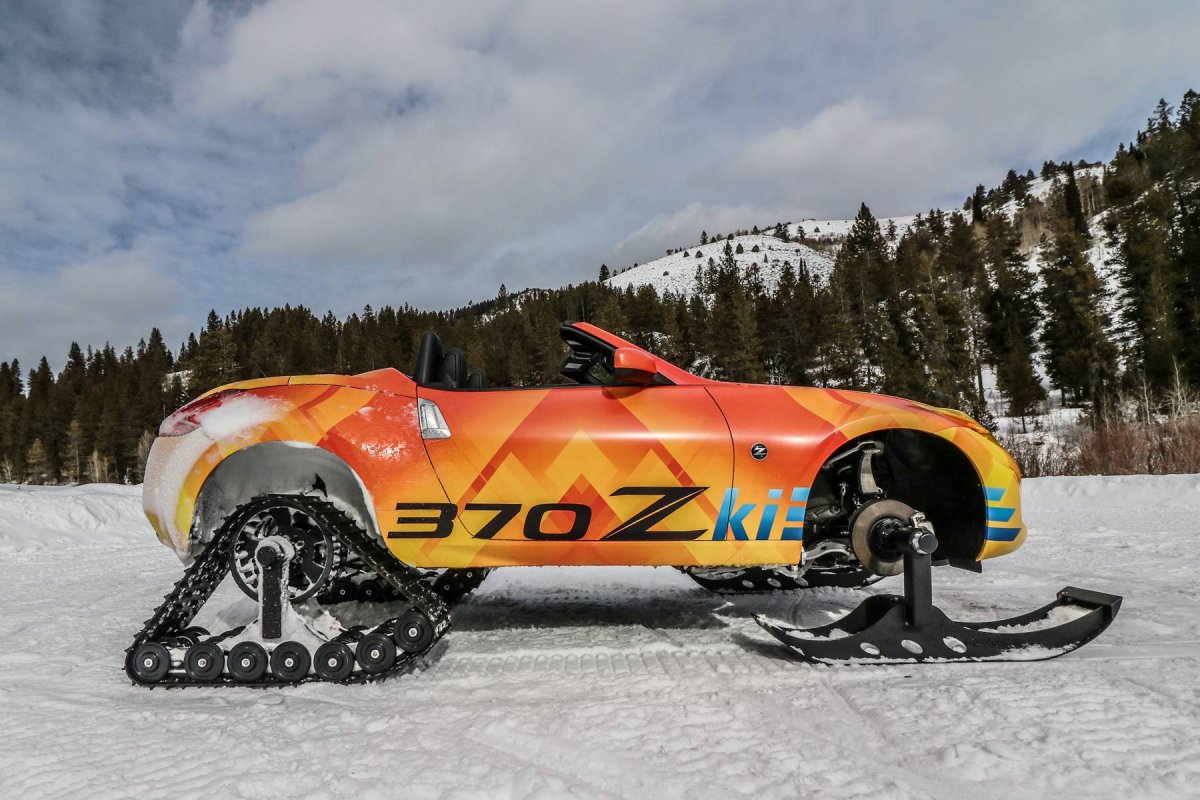 Finally, the engine and transmission had to be custom-mounted as well. Compared with all that, the aesthetic upgrades are minor and limited to a custom body wrap from Icon Image Graphics and yellow-tinted headlights that resemble ski goggles.
No changes were made to the 332-hp 3.7-liter V6 and the 7-speed automatic transmission, which Nissan says are more than adequate for the 370Zki.
Alongside the 370Z-based contraption, Nissan's stand at the 2018 Chicago Auto Show will also include the Armada Snow Patrol, which acts as a towing vehicle for the 370Zki.