On-paper brawl: Audi A6 meets the competition in BMW 5 Series and Mercedes-Benz E-Class
Very thin margins separate these three
The new Audi A6 is the latest name to join the premium large sedan segment, one where German carmakers are the lions claiming their share. But is Ingolstadt's new A6 ready to throw the likes of BMW 5 Series and Mercedes-Benz E-Class off balance?
We set out to answer that question by having a side-to-side look at what Germany's top dogs in the niche have to offer on paper.
We'll be looking at three main aspects: platform and all that comes from it, like size, interior space and practicality, powertrain/drivetrain and technology, something carmakers (not just the premium bunch) seem to enjoy infusing their latest models with.
The current generation Mercedes-Benz E-Class saloon was introduced in back in February 2016 at the Detroit Motor Show, so it already spent two years on the market.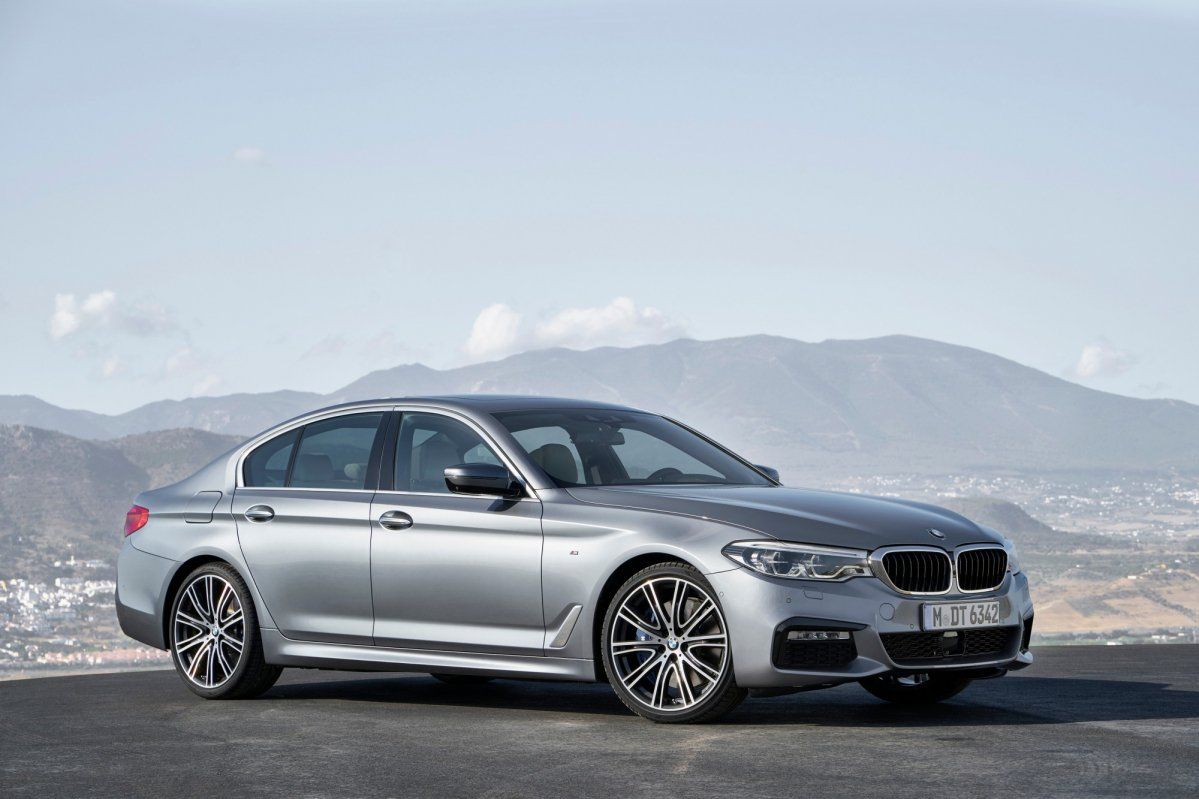 Eight months later, in October 2016, BMW revealed the new 5 Series sedan at the Los Angeles Auto Show. Which means the new Audi A6 is a newcomer that has to make up for Ingolstadt's delayed launch compared to its competitors, as illustrated by last year's sales.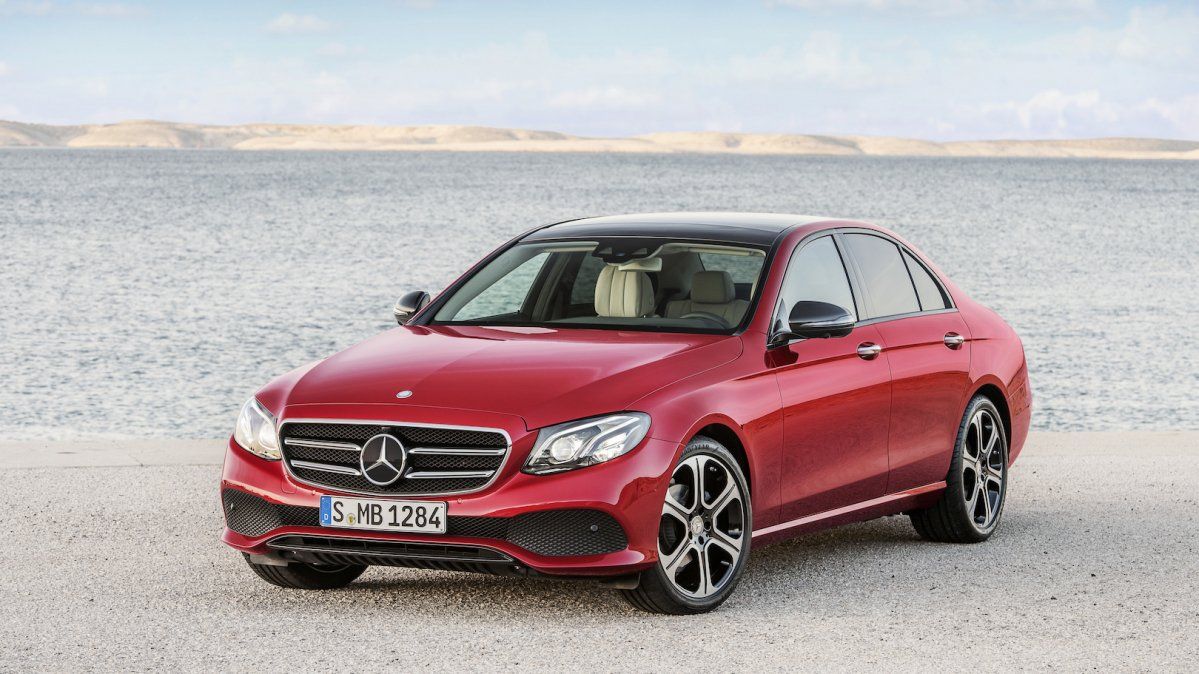 For example, in 2017 alone, premium large sedans saw a sharp rebound after five years of decline, to 400,000 units sold across Europe. 2017's sales champion was the E-Class, after Mercedes pushed 127,638 units (sedans and estates), followed by the BMW 5 Series with 109,953 models, while 78,994 Audi A6 models and derivatives (S6, RS6 and Allroad) reached new customers.
Cleary, that's quite some lost ground to get back, but it's still very early days for Audi and the new A6. So, with statistics out of the way, let's focus on what's what for each of the three. As a mention, we've not included the M5 nor the Mercedes-AMG versions of the E-Class.
Platform
Audi A6
Just like the Audi A8 D5, the new A6 sits on the MLBevo platform you can also found underneath the Lamborghini Urus, Bentley Bentayga, Audi Q5, Audi Q7 and eventually, Audi Q8.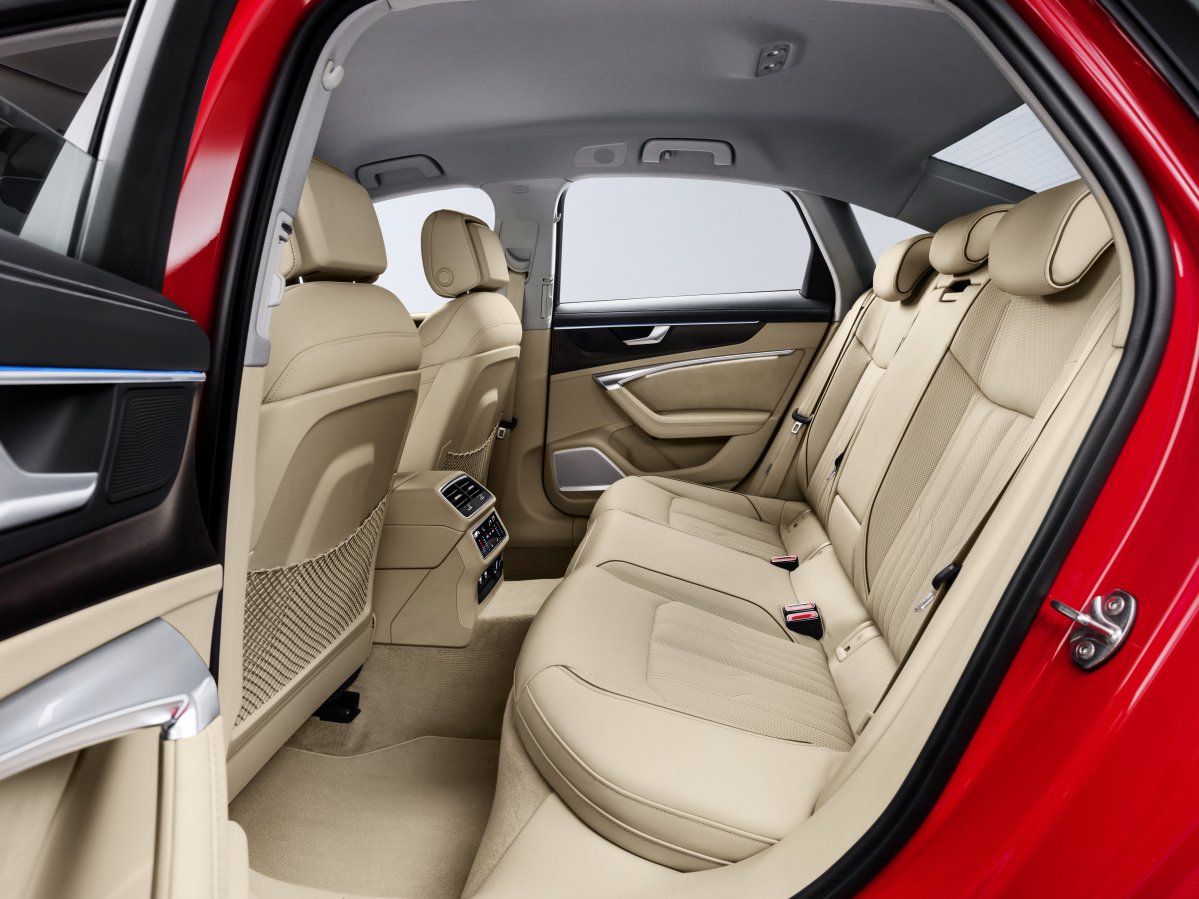 In terms of size, the new Audi A6 stretches to 4,939 mm, which is 7 mm longer than the model it replaces. It is also wider at 1,886 mm, an increase of 12 mm, and taller, at 1,457 mm, 2 mm over its predecessor. According to Audi, boot space stands at 530 liters.
BMW 5 Series
BMW's 5 Series G30 is based on the same BMW CLAR (cluster architecture) modular platform as the current 7 Series (G11), which will also support the incoming BMW X5 and 3 Series.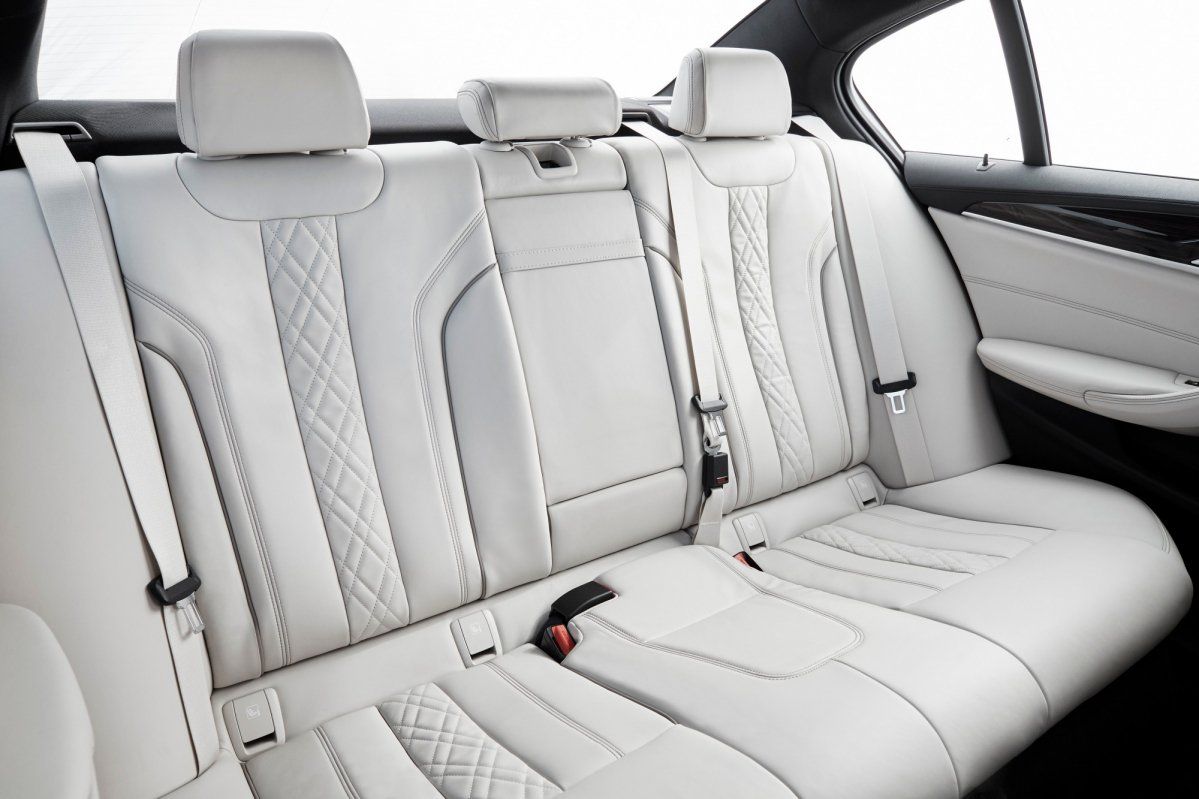 Size-wise, the 5 Series sedan measures 4,935 mm in length, 1,868 mm in width and 1,466 mm in height. Boot space: 530 liters.
Mercedes-Benz E-Class
Stuttgart's entry in the premium large sedan arena - aka the E-Class W213 - sits on Mercedes' MRA (Modular Rear-wheel-drive Architecture) .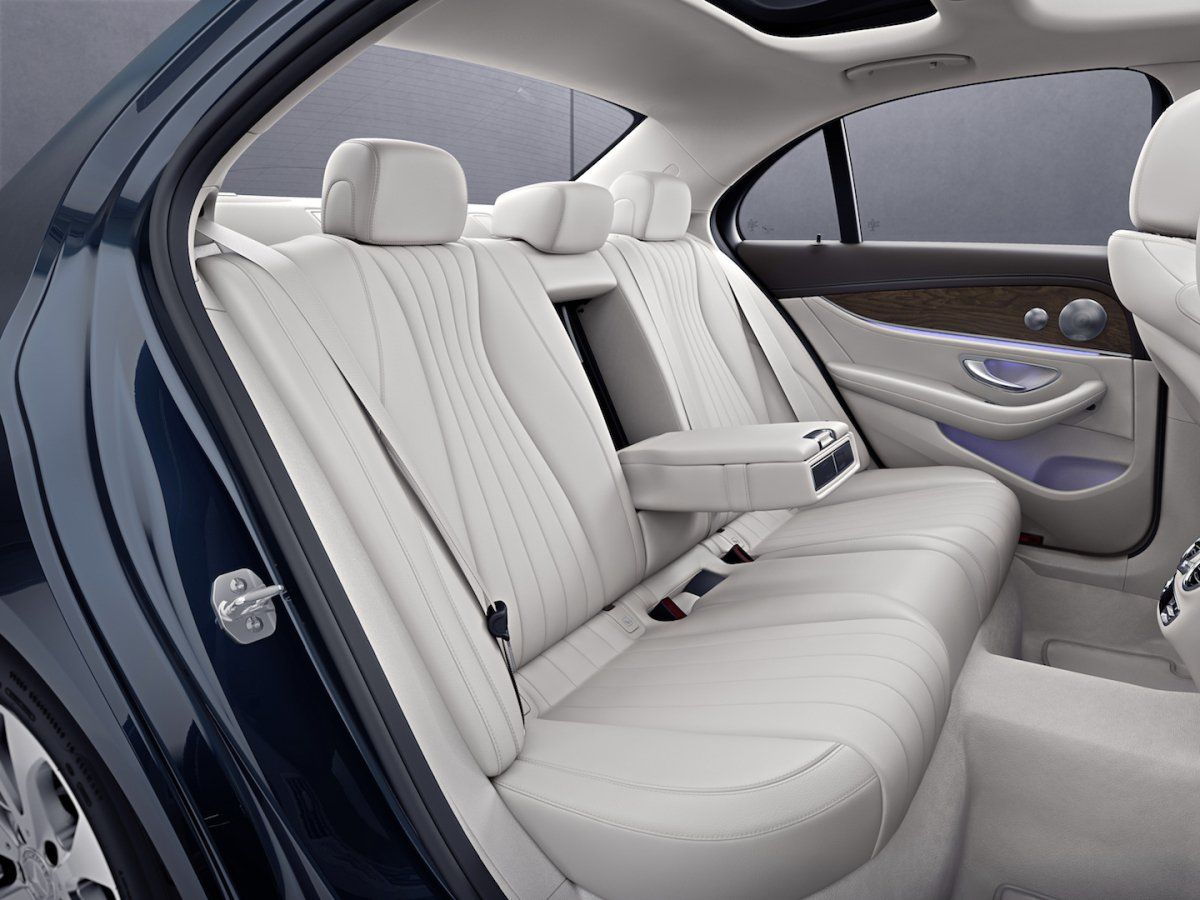 When it comes to size, the E-Class is 4,923 mm long, 1,852 mm wide and 1,468 mm tall, while luggage space amounts to 540 liters.
Powertrain and drivetrain
Audi A6
The new Audi A6 was announced with two engines aimed at European customers, both fitted with mild hybrid technology. Representing the petrol camp is a 3-liter V6 TFSI-badged unit making 340 hp (0-100 km/h: 5.1 seconds). The engine is married to a seven-speed S tronic automatic gearbox.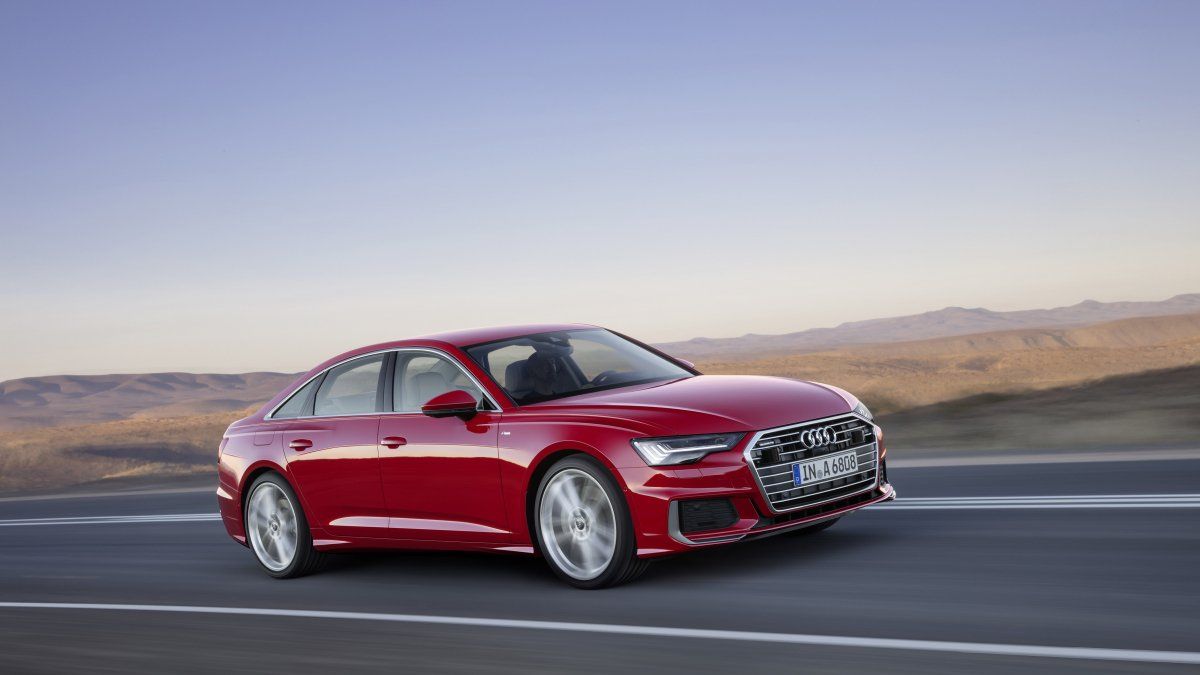 A diesel engine is also on the menu in the form of the 3-liter TDI making 286 hp handled by an eight-speed tiptronic gearbox. Every variant gets the quattro all-wheel drive setup, which varies depending on the gearbox - for example, the tiptronic gets a self-locking center differential.
All-wheel steering, damping control and adaptive air suspension are also on the menu.
BMW 5 Series
Things get more varied in the BMW 5 Series range. The 5er's most basic version is the 520i (2-liter, four-cylinder, 184 hp, 0-100 km/h: 7.8 seconds), fitted with either the eight-speed Steptronic automatic gearbox (also available with paddle shifters) that sends resources to the rear wheels.
One step up the engine pyramid is the 530i (2-liter, four-cylinder, 252 hp, 0-100 km/h: 6.2 seconds or 6 seconds with xDrive), also available with the eight-speed Steptronic automatic transmission. xDrive is optional.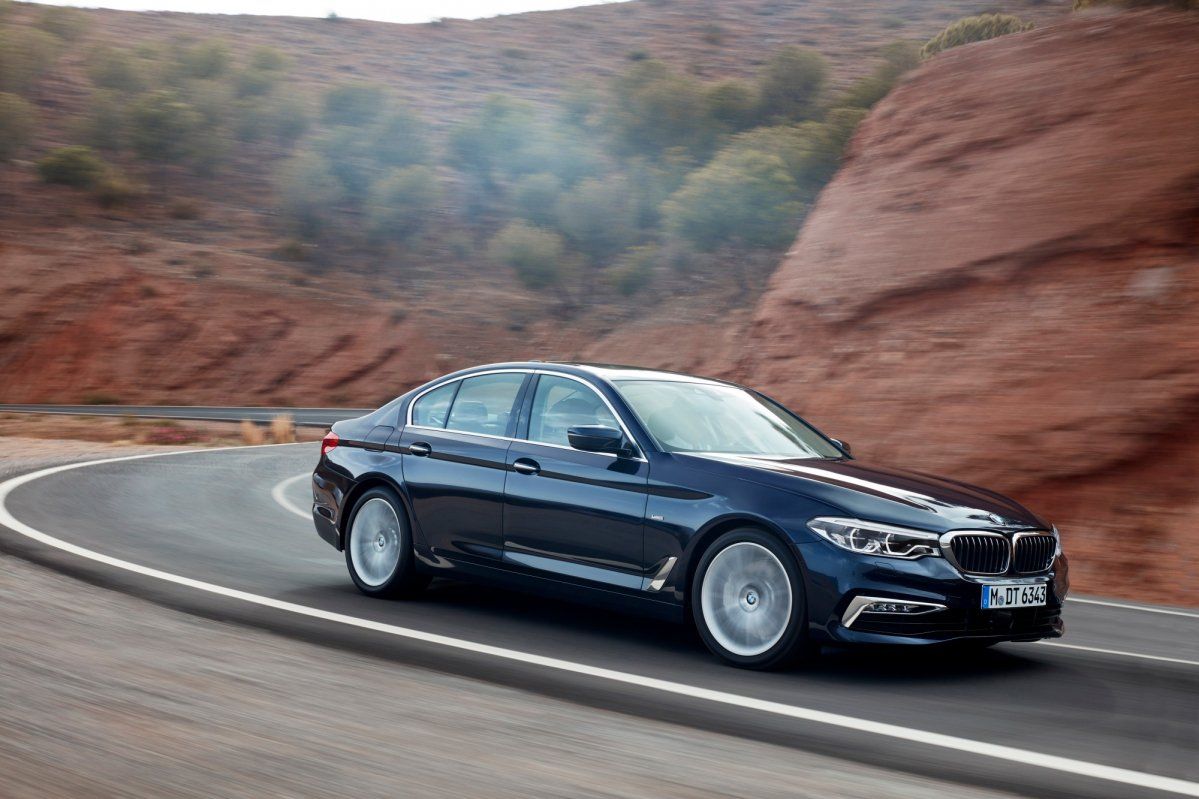 Then there's the 540i (3-liter, six-cylinder, 340 hp, 0-100 km/h: 5.1 seconds or 4.8 seconds with xDrive). Just like the other two, this powerplant is teamed up with the eight-speed Steptronic and xDrive is available as an option.
The petrol range-topper is the M550i (4.4-liter, twin-turbo V8, 462 hp, 0-100 km/h: 4 seconds), available only with xDrive and the eight-speed Steptronic.
In the diesel camp, the entry-level is represented by the 520d ED (Efficient Dynamics) Edition (2-liter, four-cylinder, 190 hp, 0-100 km/h: 7.5 seconds). This one is rear-wheel drive only and comes fitted exclusively with the eight-speed Steptronic.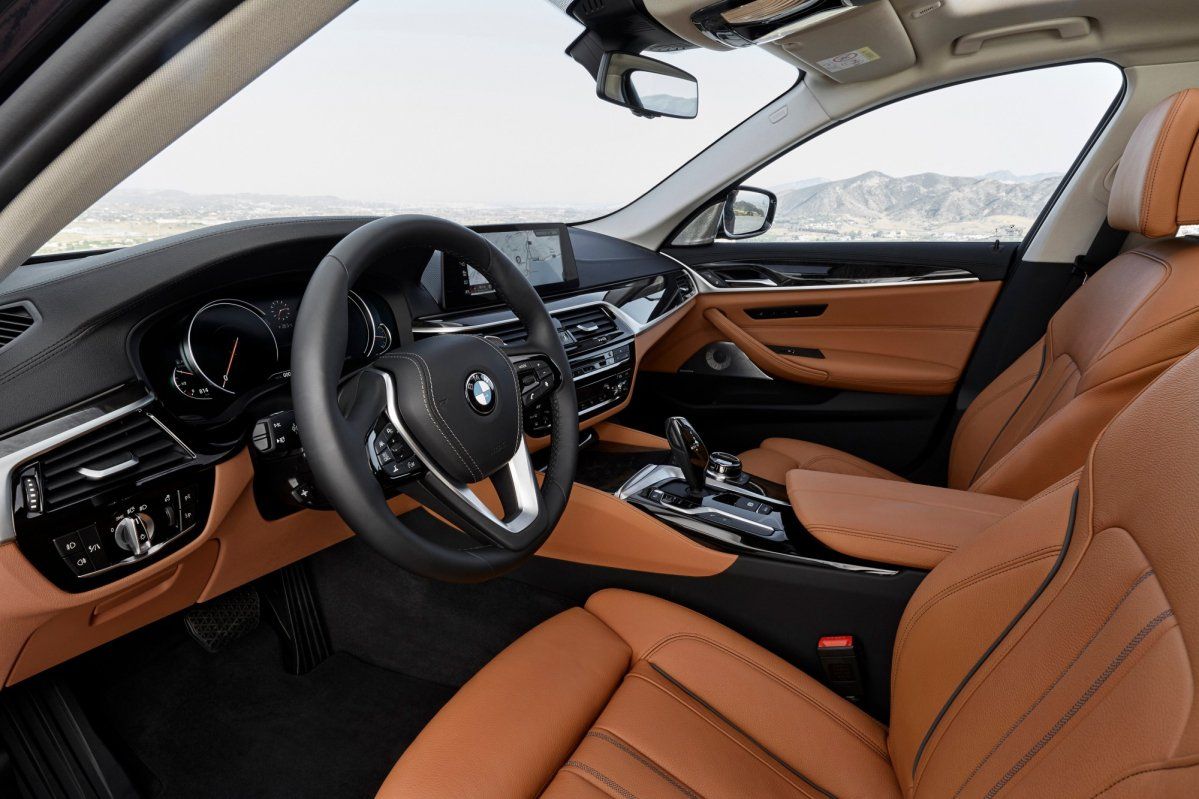 Once step higher sits the 520d with the same power and performance coordinates, but you can have this one with either a manual (0-100 km/h takes longer: 7.7 seconds) or the eight-speed Steptronic. This version is also available with xDrive, but only when the automatic gearbox is specified.
Coming up next is the 525d (2-liter, four-cylinder, 231 hp, 0-100 km/h: 6.6 seconds) available only with rear-wheel drive and the Steptronic gearbox.
Above it sits the 530d variant (rear-wheel drive as standard but xDrive is optional) relying on a 3-liter, six-cylinder engine making 265 hp and clearing the 0-100 km/h interval in 5.7 seconds (5.4 seconds when xDrive is present).
Then there's the 540d version (xDrive only, 3-liter, six-cylinder, 320 hp, 0-100 km/h: 4.7 seconds) coupled with the eight-speed Steptronic.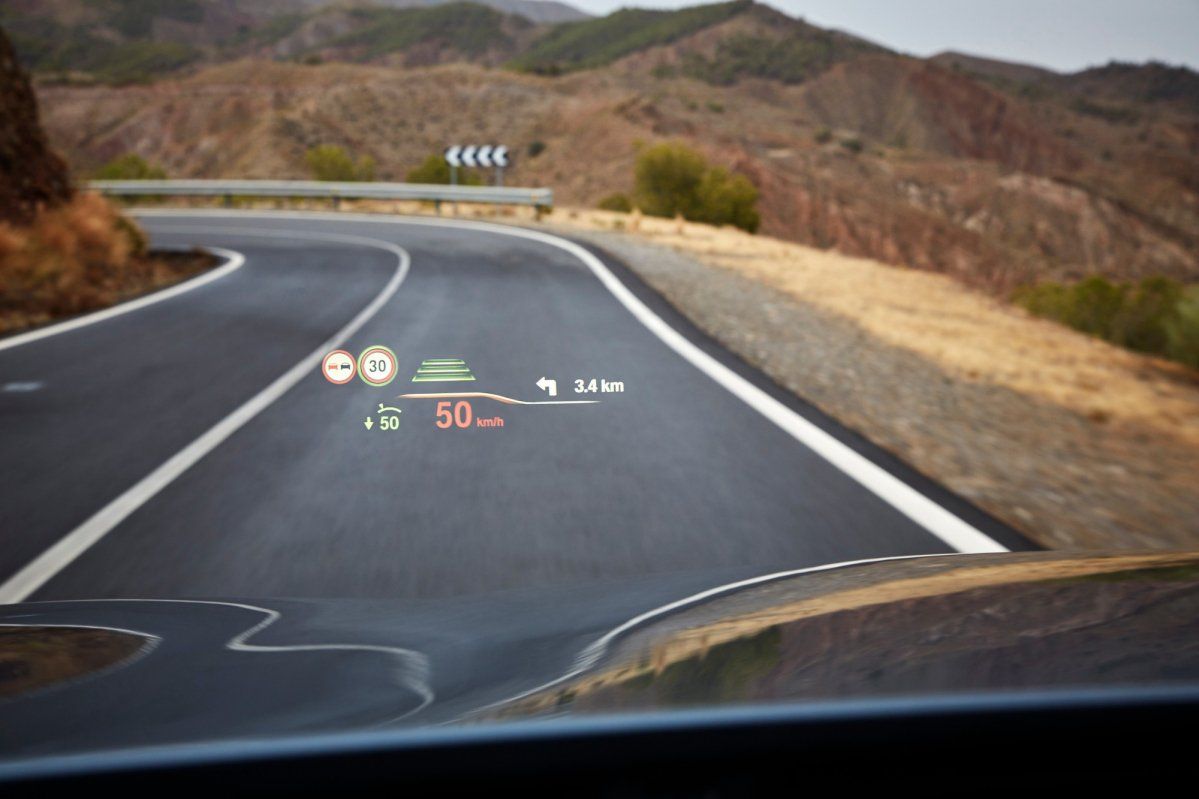 Last but not least, the most powerful diesel-powered 5 Series is the M550d xDrive (3-liter, six-cylinders, 400 hp, 0-100 km/h: 4.4 seconds). As the name suggests, it is only available with xDrive.
There's only one representative in the hybrid section, namely the 530e iPerformance. Its ICE is the 184-hp, 2-liter, four-cylinder engine used by the 520i and a 113 hp electric motor, for an overall power output resides at 252 hp. It is only available in rear-wheel drive flavor, coupled with the eight-speed Steptronic gearbox.
The 5 Series also offers integral active steering. It can also be had together with the xDrive all-wheel-drive system.
Mercedes-Benz E-Class
The same variety applies to the E-Class range. At its very bottom sits the petrol-animated E 200 (2-liter, four-cylinder, 184 hp) which can be had with either a six-speed manual (0-100 km/h: 8.2 seconds) or the nine-speed 9G-Tronic gearbox (0-100 km/h: 7.7 seconds). The E 200 can also support 4Matic, which makes the 0-100 km/h sprint time climb to 7.9 seconds.
Up next: the E 250 (2-liter, four-cylinder, 211 hp, 0-100 km/h: 6.9 seconds) mated to the same 9G-Tronic transmission and available solely with rear-wheel drive.
Above it its the E 300, also a rear-wheel drive version relying on a 2-liter, four-cylinder powerplant making 245 hp. With the 9G-Tronic gearbox, it needs 6.2 seconds to clear the 0-100 km/h bracket.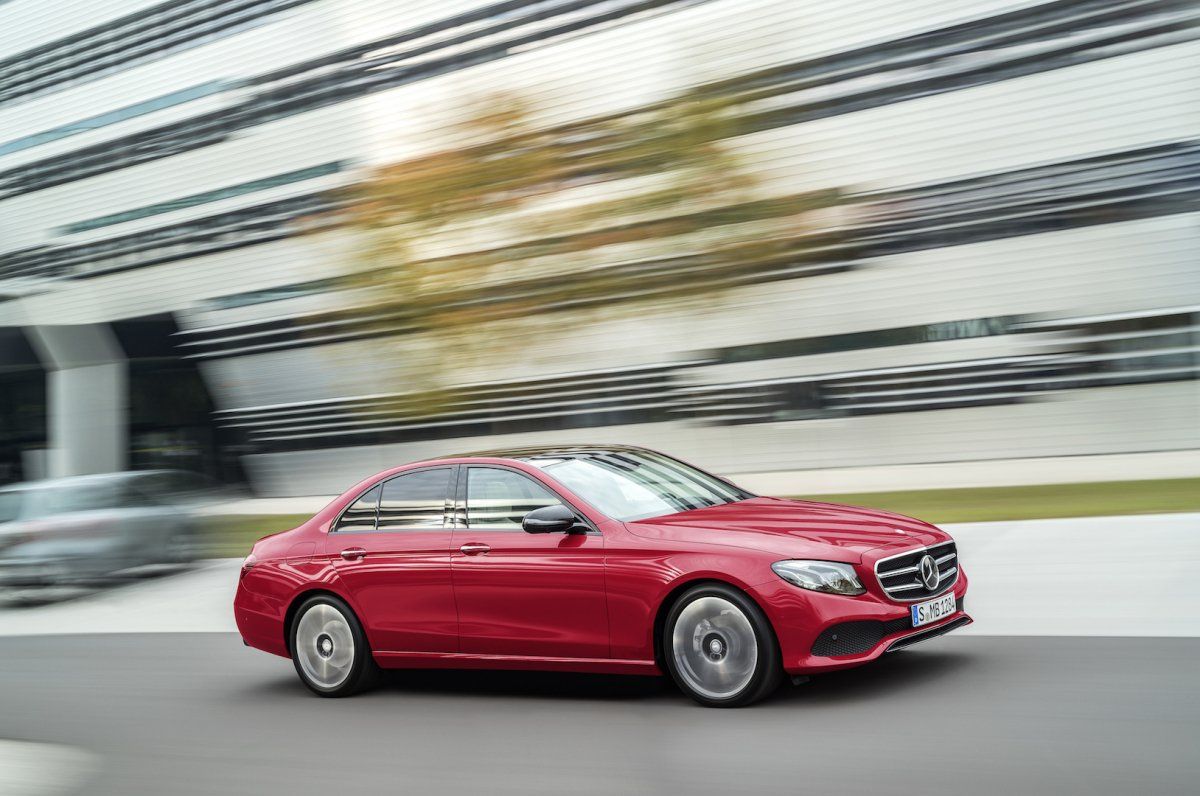 At the border between non-AMG and AMG models is the E 400 (3.5-liter, V6, 333 hp, 0-100 km/h: 5.2 seconds) available only with 4Matic and the same nine-speed gearbox mentioned above.
Diesel-wise, Mercedes offers the E 200 d (2-liter, four-cylinder, 150 hp, 0-100 km/h: 8.4 seconds) married to the 9G-Tronic transmission. This is a rear-wheel-drive-only version.
Above it you'll find the E 220 d (2-liter, four-cylinder, 194 hp, 0-100 km/h: 7.3 seconds) with the 9G-Tronic auto gearbox. The E 220 d is also available with 4Matic, which ups the 0-100 km/h sprint to 7.5 seconds.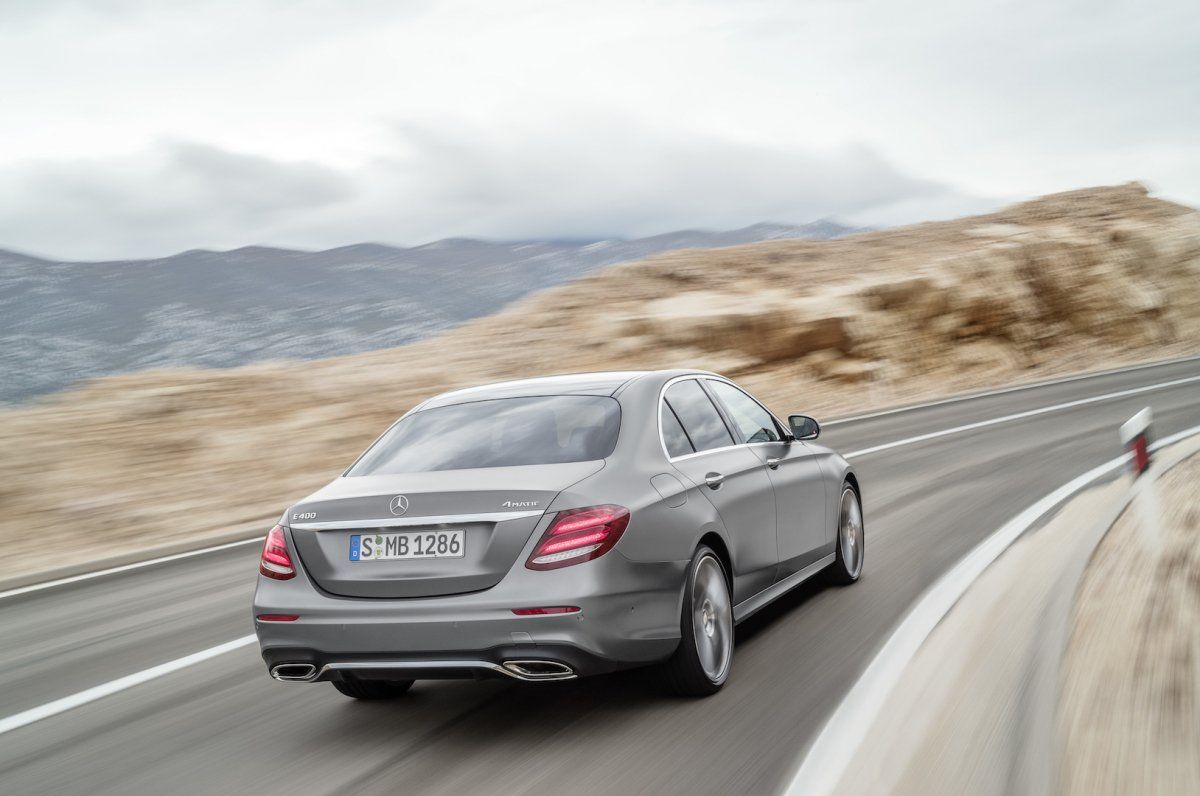 Closing the diesel range are the E 350 d and E 250 d 4Matic, both utilizing a 3-liter V6 making 258 hp coupled with the 9G-Tronic for a 0-100 km/h acceleration completed in 5.9 seconds.
A hybrid version is also currently on sale under the E 350 e nameplate. This one makes 286 hp and can only hold rear-wheel drive. With the 9G-Tronic, it reaches 100 km/h from a standstill in 6.2 seconds.
Technology
Audi A6
The newcomer A6 need Audi's best technology credentials mostly because it arrived late to the party, allowing its two rivals to cover pretty much everything was to be covered.
However, Audi knew what do to and introduced the MMI touch response operating system. Think of it like an OS for cars, since it can basically store profiles for seven drivers (with up to 400 personalization parameters), shortcuts, favorites buttons and communicates with both the data stored onboard the car or in a cloud. Haptic and acoustic features are also included.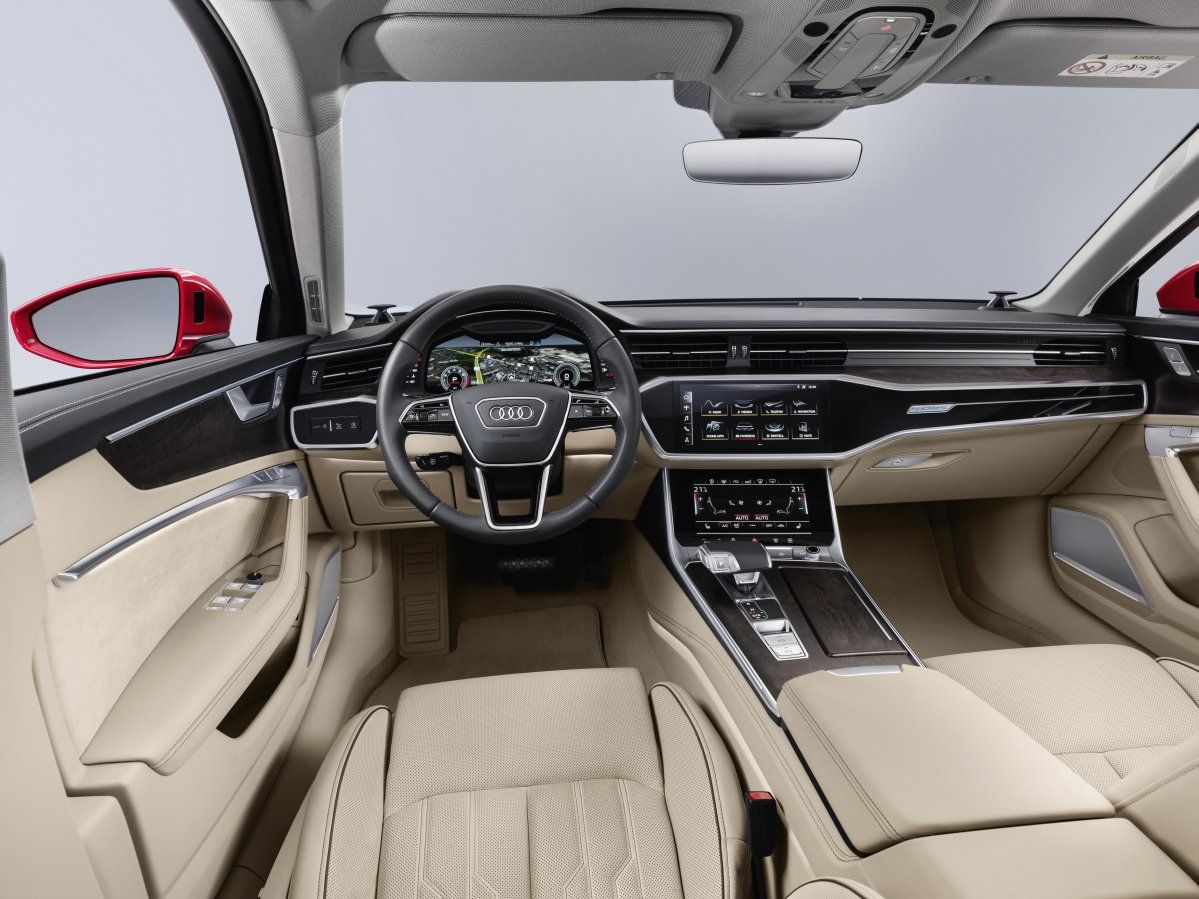 Two displays serve the user on the center console. A 10.1-inch screen handles functions such as navigation and car setup, while a lower-positioned 8.6-inch display is tasked with the likes of climate control, convenience functions and text input. Also present is the Audi virtual cockpit display (12.3-inch) which prompts instrument cluster information in a digitalized manner.
Driver-assist functions are also aplenty and include the parking pilot and garage pilot (autonomously maneuvering the A6 sedan in and out of a parking space/garage), HD Matrix headlights and two interior lighting packages. Three packages define the new A6's safety features: Park Assist (which includes garage and parking pilot), Tour Assist (including adaptive cruise control) and City Assist (featuring the emergency braking and crossing assist systems, among others).
BMW 5 Series
Although the 5er's tech traits are no longer novelty, we'll detail them for the sake of the comparison. The LED headlights and taillights are just the tip of the iceberg as the cabin is where the magic happens for the 5 Series.
The highlight is, undoubtedly, the gesture control feature carried over from the BMW 7 Series, as included in the 10.2-inch infotainment setup. Users can interact with it via the rotary iDrive controller, by touching it directly like they would with a smartphone, by finger movements in front of it or via voice commands in German, English, Chinese, French, Spanish, Italian, Portuguese and Japanese.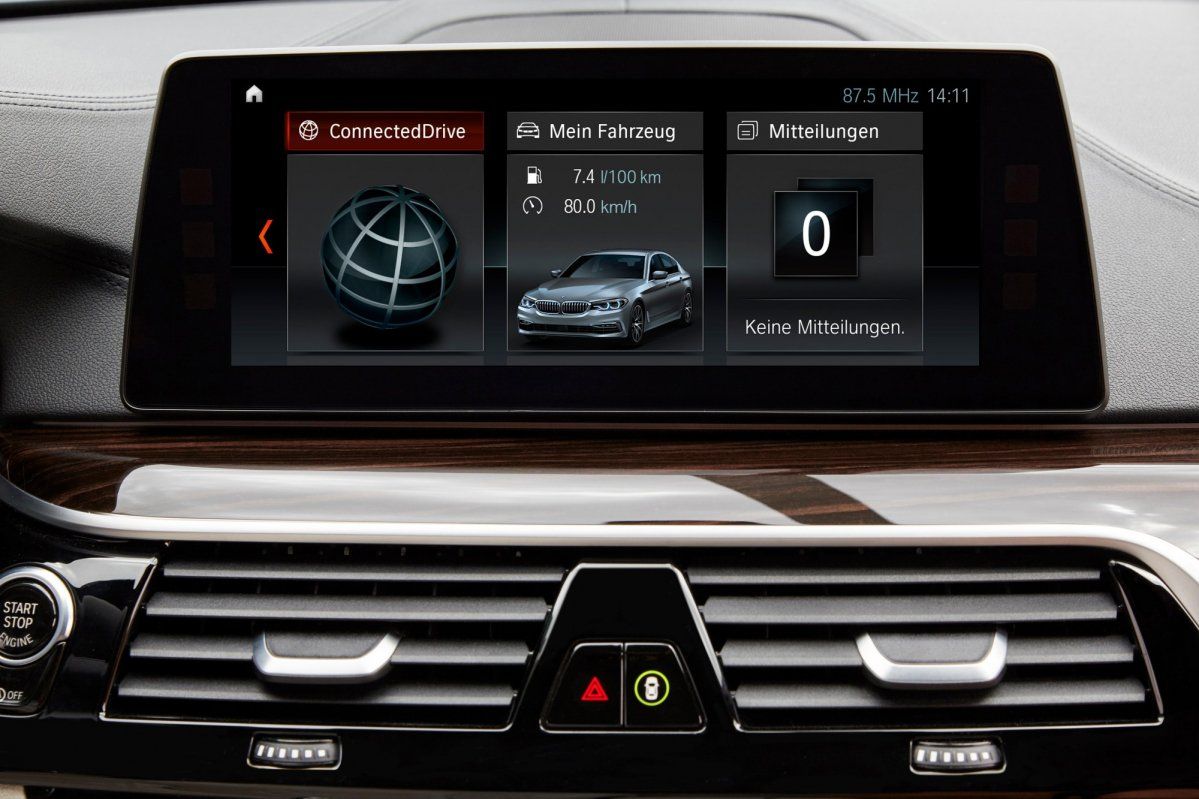 The latest iteration of BMW's trademark HUD (head-up display) is also present in the form of a 800x400 windscreen projection area.
Air ionisation, ambient lighting and a Bowers & Wilkins sound system (a premiere for the 5 Series, featuring a 10-channel amplifier, 16 speakers, 1,400-watt output) round up the 5er's tech baggage, together with the optional 10.2-inch screens (DVD player included) offered by the rear-seat entertainment system.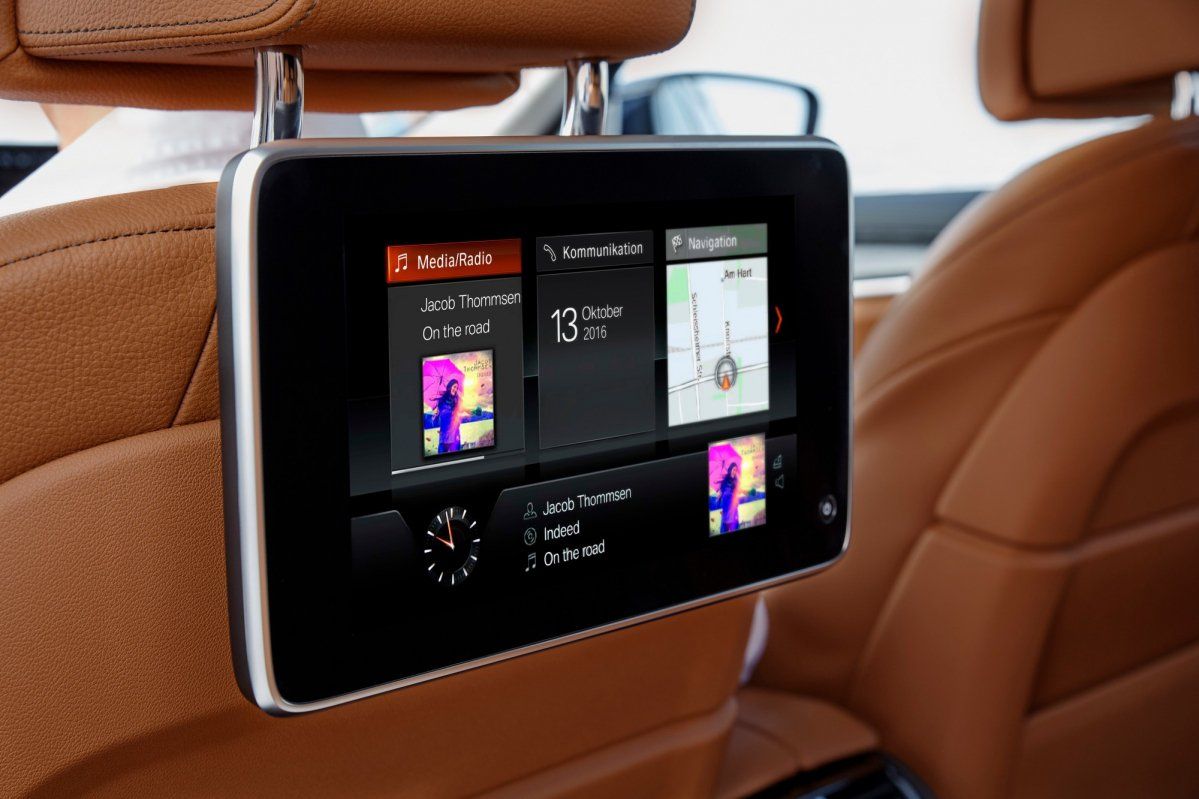 On the safety front, the BMW 5 Series employs functions such as adaptive cruise control, lane-change assistance, side collision protection, evasive steering around obstacles, automatic steering inputs to keep the car in its lane, 3D images of the vehicle's surroundings and live parking information and booking (for now, only available in Germany, Austria and the US).
Mercedes-Benz E-Class
When launched, the E-Class was touted by Mercedes-Benz as the most intelligent business saloon. And it might as well been the case at that time.
The E-Class can be fitted with two 12.3-inch high-res displays - one replaces the traditional instrument cluster while the other serves the infotainment system - a first in the segment and a solution the S-Class facelift adopted recently.
The instrument cluster's graphics are customizable through three settings - Classic, Sport and Progressive - and the steering wheel can host touch-sensitive control buttons (this is the first time such a feature finds it way inside an automobile) which respond to horizontal and vertical swipes.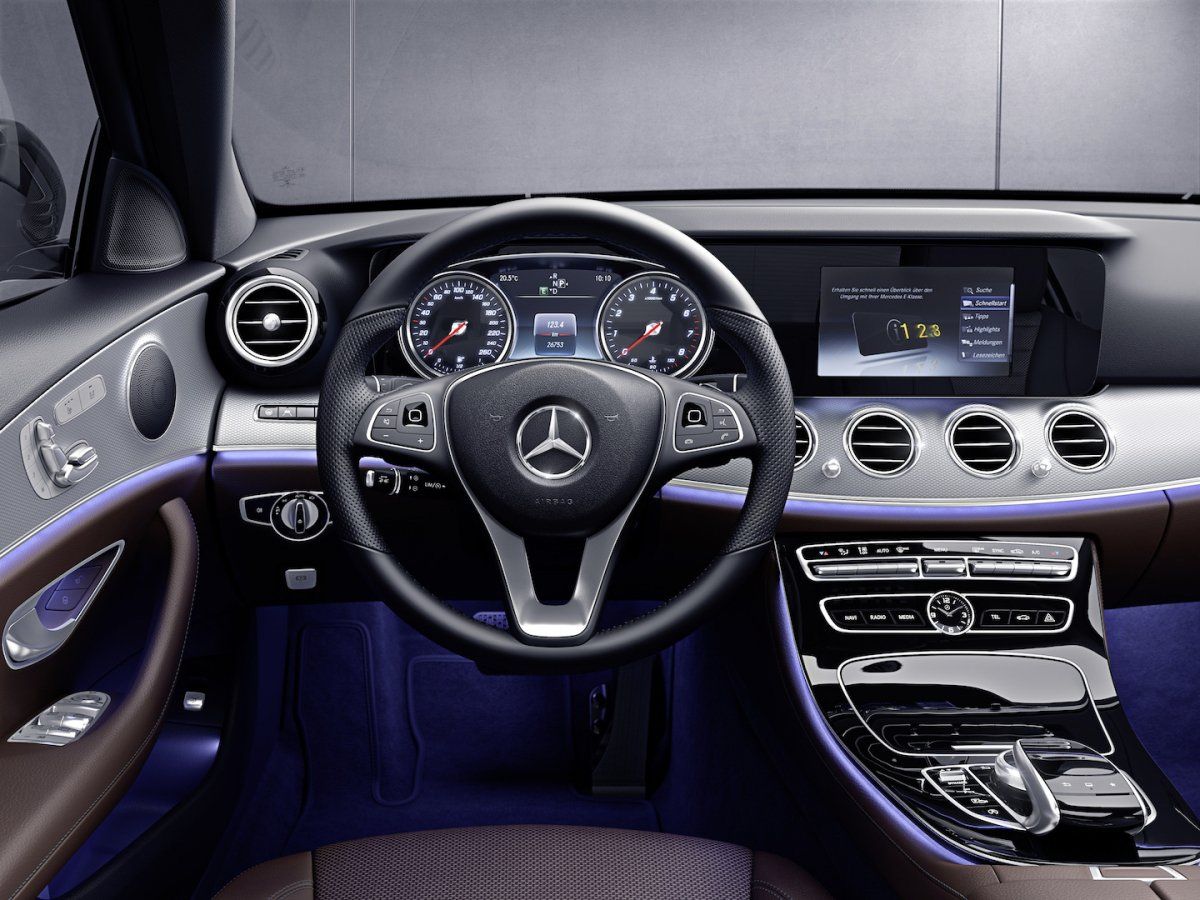 Users can play with the infotainment setup via a handwriting-recognizing tactile pad situated on the center console or thorough the Linguatronic voice control setup. The good old physical buttons are still present for the air conditioning and activation/deactivation of some driver assistance features.
There's also ambient lighting with 64 color choices, a Burmester high-end 3D surround sound system, multi-chamber air suspension on all four corners as part of the Air Body Control pack, electronically controlled dampers and a comprehensive suite of safety systems.
Speaking of which, they include active brake assist and attention assist, but can be supplemented via the Driver Assistance pack.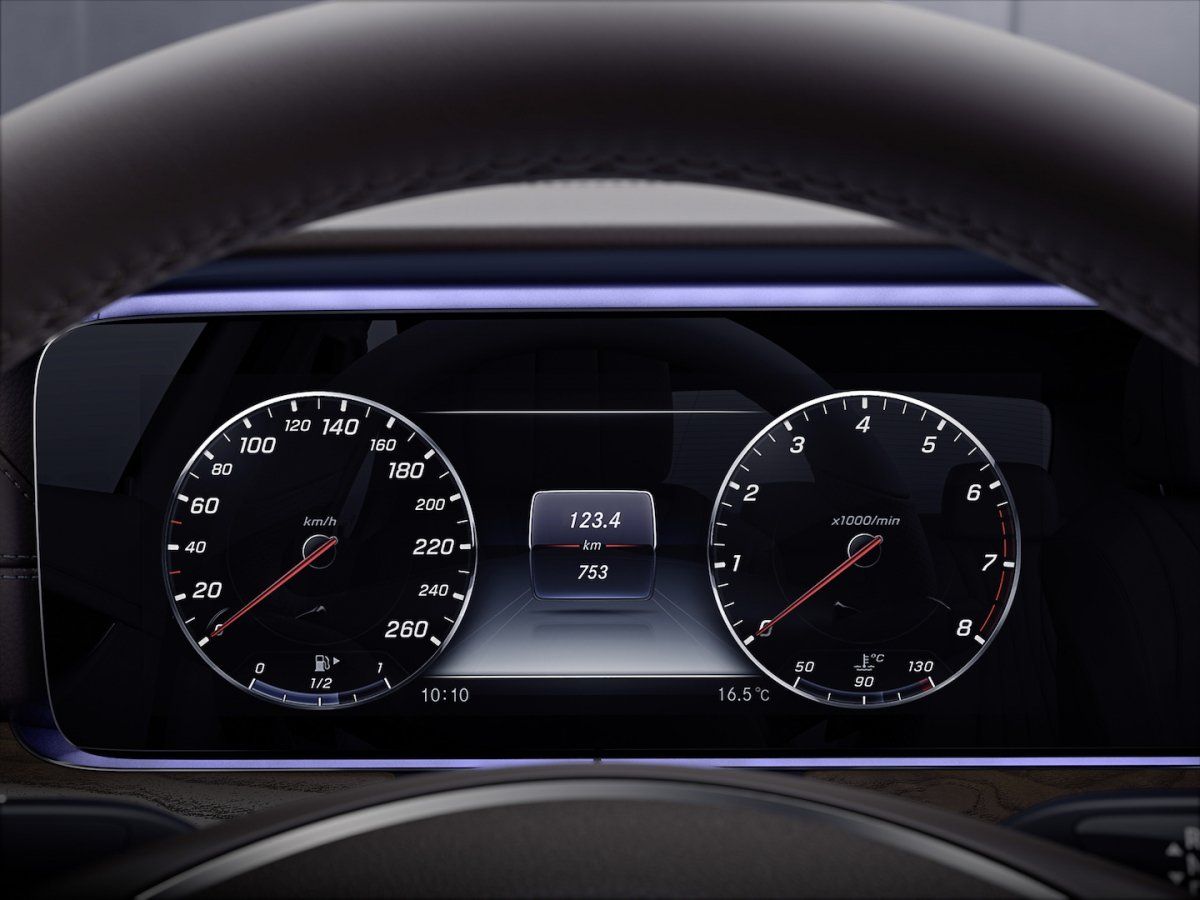 This bundle brings the likes of drive pilot (an advanced sort of adaptive cruise control with stop & go and front car monitoring), steering pilot, speed limit pilot, active brake assist with cross-traffic, evasive steering, lane keep assist and remote parking pilot.
In addition, the E-Class got multi-beam LED headlights (made of 84 individual mini-LEDs).
For a more in-depth side-by-side experience, we highly recommend you to use our comparison tool, by selecting the desired trim levels available for each of the three models.
READ MORE: 2019 Mercedes-Benz C-Class Coupe and Convertible debut new 1.5-liter turbo