Screamer 4x4 retro game review: the best 4x4 simulator from 18 years ago
Queue the childhood memories
Here I was, at the job, on a regular Friday morning, browsing GOG.com – as I'm sure everybody does when they're supposed to work on an important project but the boss is a bit late and there's nobody else in the building.
Anyway, here I am, on this marvelous website, checking out the latest and greatest, when something catches my attention – no, not RollerCoaster Tycoon, although that's a great old game, of course.
It's something else. But can it really be true? Can this be the game that I played for hours on end nearly 20 years ago? So, I click.
It is. This is it. Screamer 4x4. The first game that proved to me it's possible to have a true off-roading simulator for the masses. And this was the year 2000, back when the PlayStation 2 was introduced.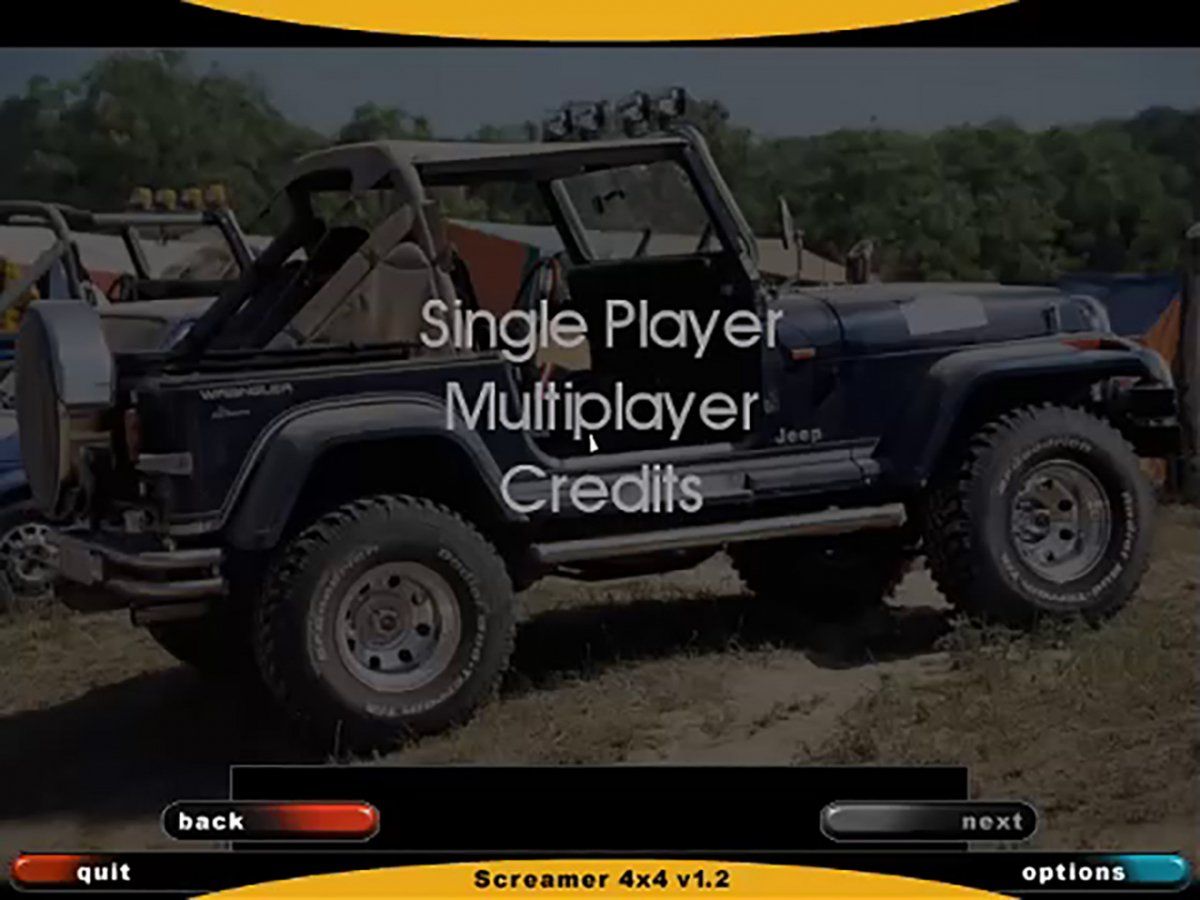 I'm not going to lie: I love this game, and even 18 years after its initial release it's still one of the best 4x4 simulation games out there in my opinion, even though the graphics are antique by today's standards.
So here it is, in all it's glory. You start by creating a team and then move on to compete in all sorts of trials. At first, there are only two cars available – a Land Rover Defender and a Jeep CJ, but in the end, you'll get ten officially licensed cars and trucks – each with its own interior faithfully modeled after the original.
There are all sorts of terrains, and on some stages you get rain, fog, night driving, and even all of these combined.
The objective is to navigate some preset courses and finish in a reasonable amount of time so that you earn enough points to continue. After a few wins, the goodies start to kick in – different tires, differentials, and engines become available to make your car faster and better on the trails.
Once on the course, you have a fairly simple HUD that shows your time, distance, penalty points, a compass, and the car's info along with the damage level.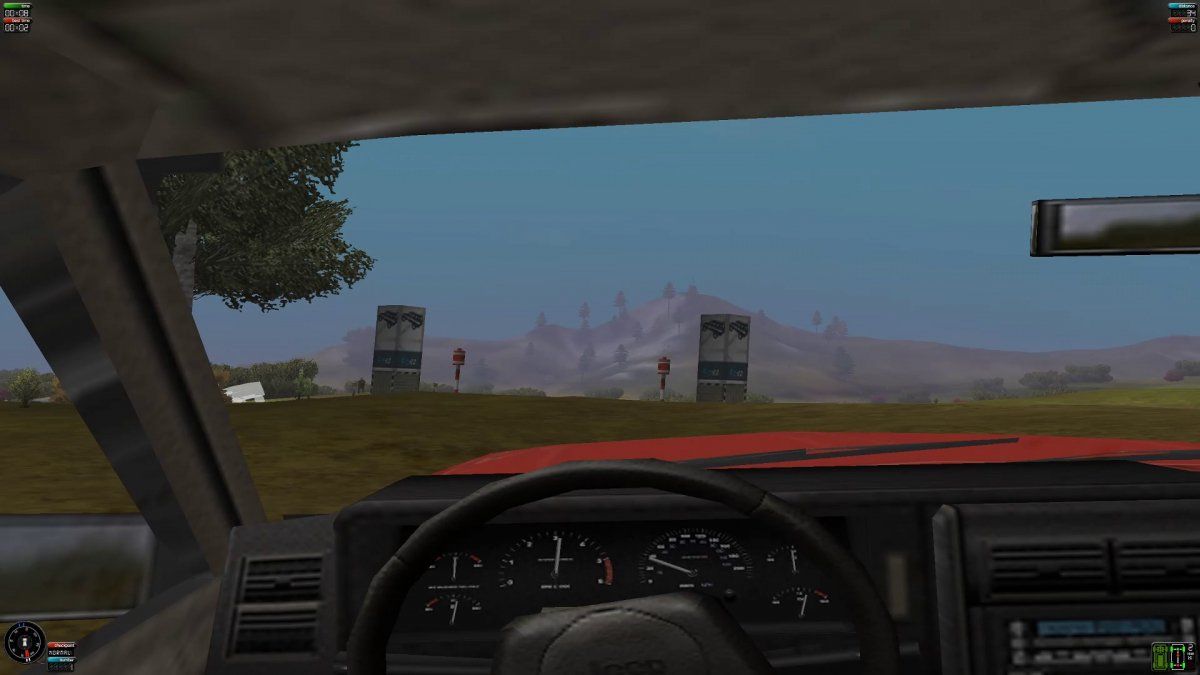 Then there's the question of transmission choice. You can go for the automatic gearbox, but then you're going too fast all the time, or you can choose the manual box, but then you have to smash the keys two or three times to get the damn thing to shift.
Now, I started with the good old Defender and eventually equipped it with a V8, tractor tires and manually lockable differentials – both front and rear. You can, of course, change cars from one track to the other, but there's a catch – you only get upgrades for the vehicle you're currently driving. So at the end of one stage, if you had the Defender, you'll get a better engine just for it. You get the idea.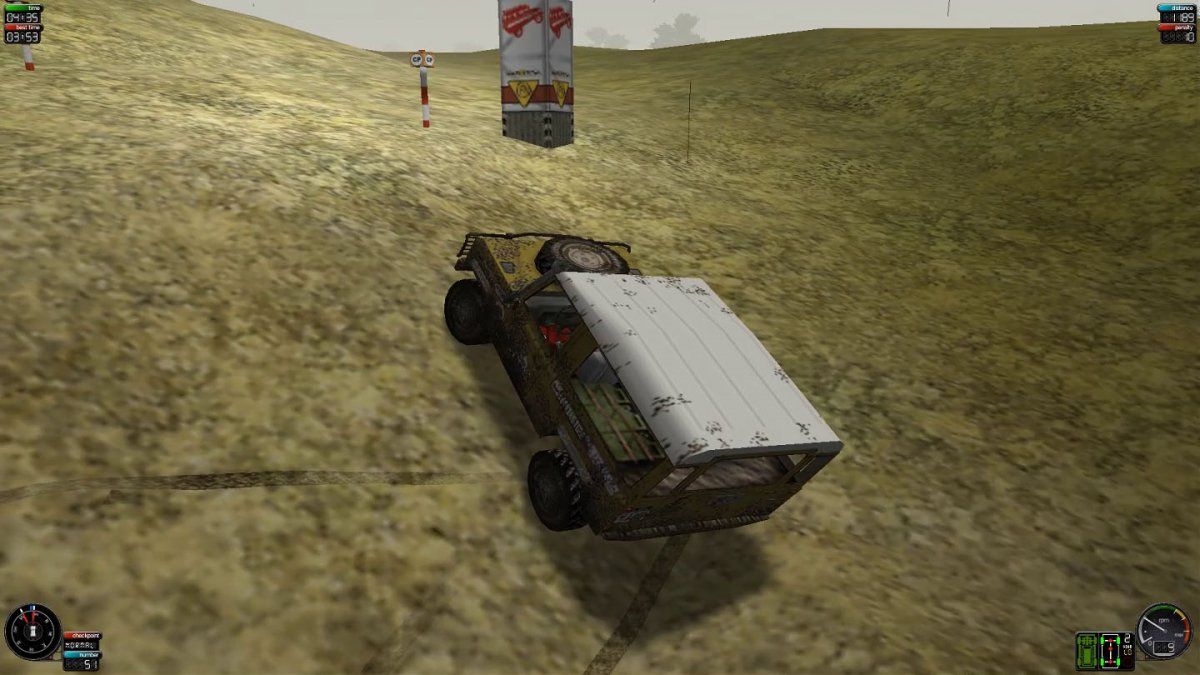 So I stuck with the British 4x4 icon but eventually, I realized that it's not exactly made for high-speed racing. So I rolled, and I rolled, and the car was damaged, and I was penalized for using the recovery feature that puts the car back on its wheels. Even so, the engine was basically stabbed in the heart, and I couldn't really see where I was going because I was riding in a cloud of black smoke. And that's when I became thankful for the invention of low-range gearing, but even this didn't help because I was so slow crossing the finish line that I had to restart the whole Championship to have a chance of getting to the next one.
Yeah. It's frustrating. Oh, and that co-driver – he is one of the most useless copilots in the world because he's just along for the ride and says things that have nothing to do with helping you navigate the course.
Anyway.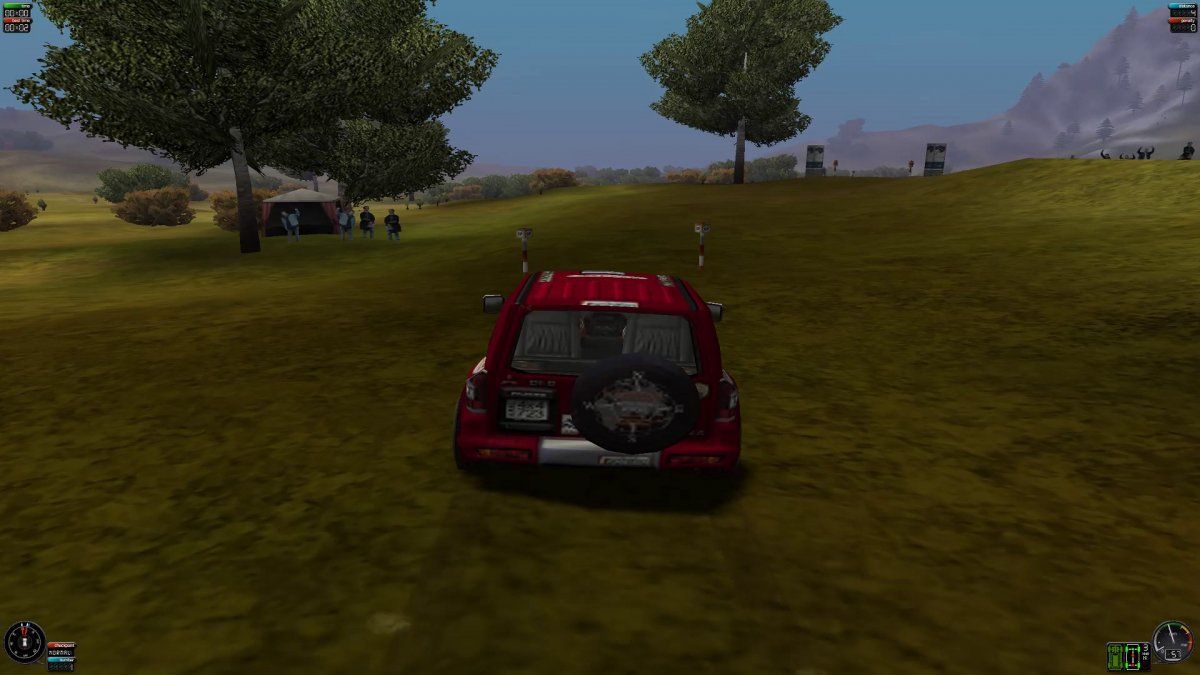 If you get the hang of it, I'm sure you'll love it because it's a lot of fun, but don't get me wrong – this is a hard game, and there is no setting for difficulty, so you either win or you don't. And don't be fooled by the look of the tires – even though they look the same regardless of the type of rubber you select in the settings – they actually make a difference if you go for the more aggressive profile.
There's even a multi-player mode so you can play with your friends over a network.
So there you have it. For less than the price of a decent beer, you can get this piece of gaming nostalgia along with its features and quirks.
READ MORE: The crazy vehicles of Far Cry 5