It's got 204 hp and a 0-100 km/h time that will leave many sports cars in its dust
At this year's Frankfurt Motor Show Brabus has also turned its attention to the tiny Smart Fortwo Electric and decided to give it more of, well, everything.
Built in cooperation with Kreisel Electric, the Brabus Ultimate E Concept adds a lot of fun to the equation. Its electric motor produces 150 kW (204 hp) and 350 Nm (258 lb-ft) of torque, allowing the two-seater to go from 0 to 100 km/h in 4.5 seconds before reaching a top speed of 180 km/h (112 mph).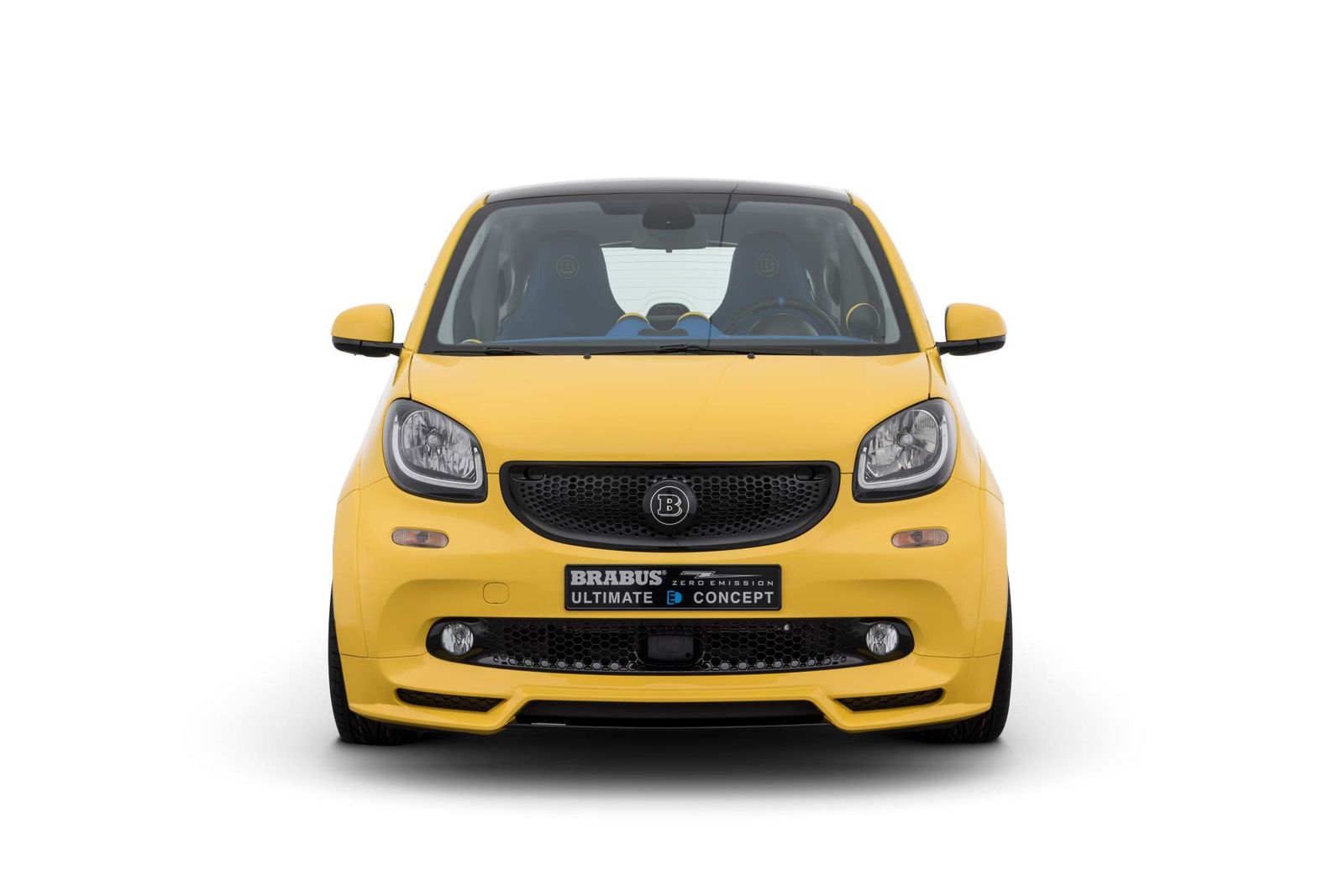 As with all Smart models, the Brabus Zero Emission electric motor is installed behind the rear axle in transverse layout and sends power to the rear wheels via a single-speed transmission.
Electricity comes from a 22 kWh battery pack from Kreisel Electric installed in the vehicle floor, enough to allow the little EV a driving range of 160 km (99 miles) according to NEDC. If you think the range is too small, don't forget this is a city car par excellence. Still, depending on the driving style, Brabus says you can squeeze up to 190 km (118 miles) from the battery.
Thanks in part to the lightweight battery pack, the Brabus Ultimate E Concept has a curb weight of just 1,085 kg (2,392 lb). Another advantage of the battery technology is the short charging time: an 80 percent charge takes just 30 minutes on a wall box charger in the garage at home.
Styling-wise, the Brabus Ultimate E study shows it's not your average Smart Fortwo thanks to updates such as the bright yellow special paint finish, Brabus Widestar wide-body kit, wide 18-inch alloys and tires, as well as unique aero components (front spoiler, rocker panels, and rear diffuser).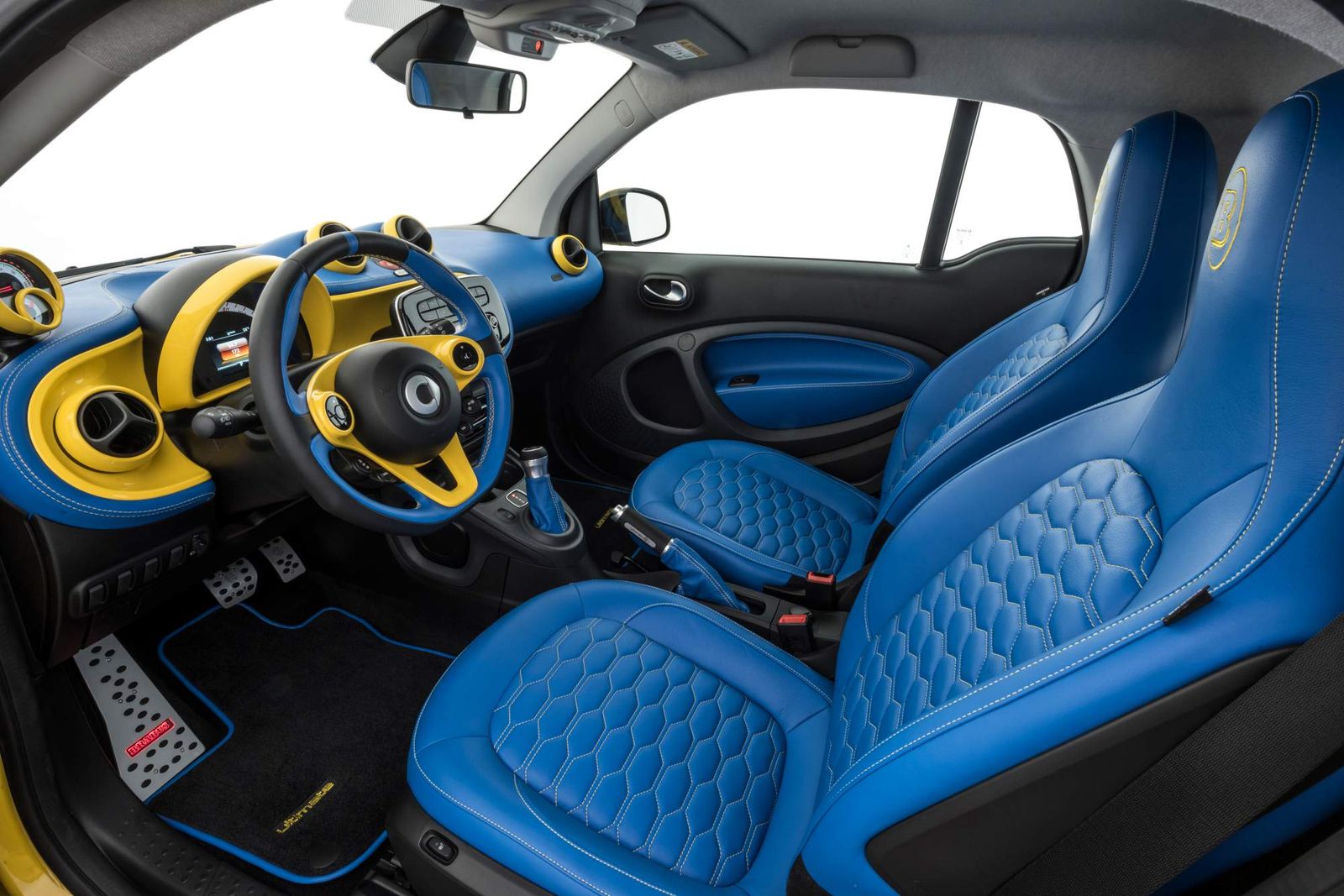 Inside, the concept delights passengers with a blue full-leather interior (including the dashboard), body color interior trim, stainless pedals, and aluminum shift knob and brake lever.
By now, you're probably wondering whether Brabus will bring the Ultimate E into production and the answer is maybe. The tuner says the public will decide whether the concept deserves to enter small-series production. We think it certainly does because in our book it's the ultimate city car.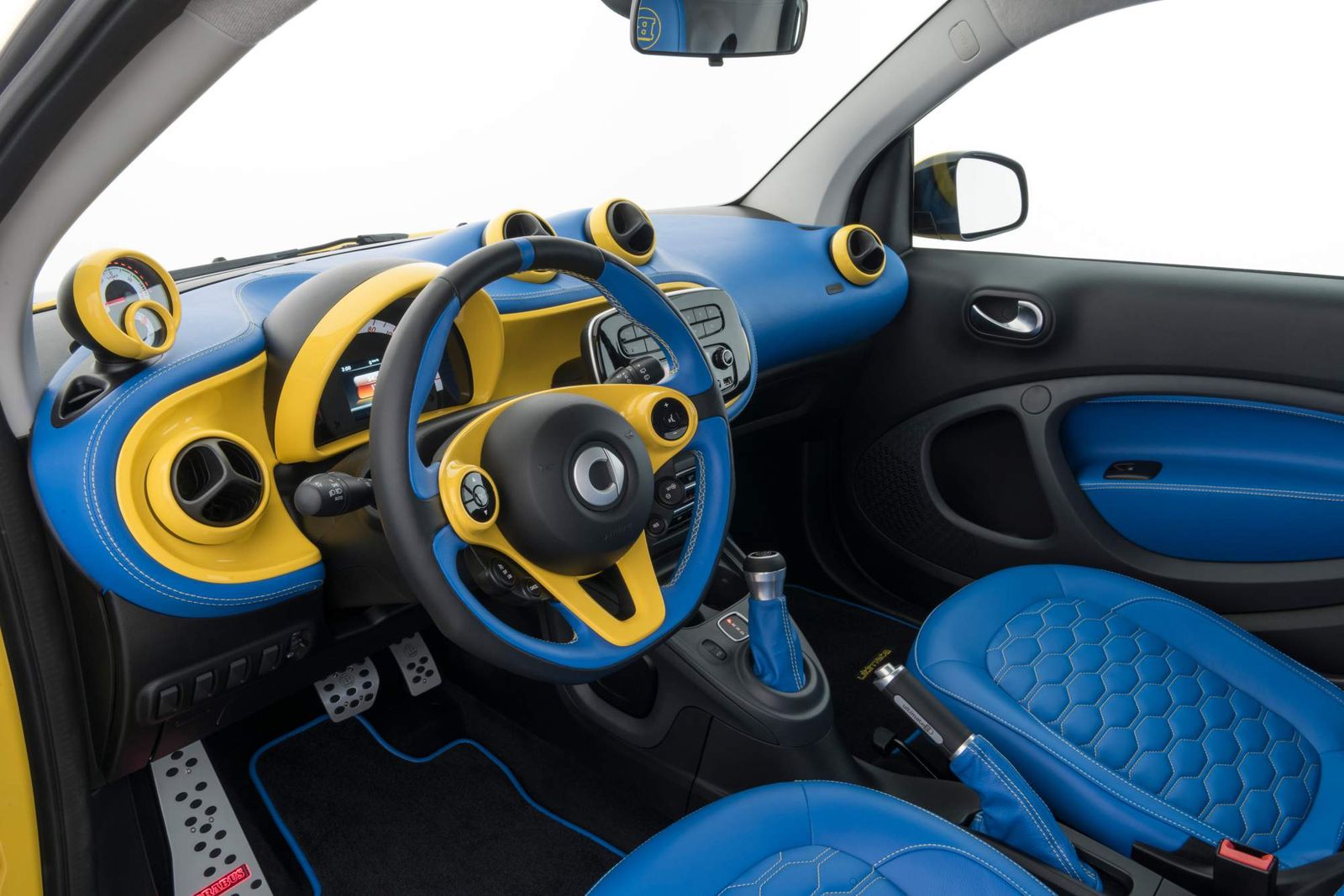 If small and quick EVs are your thing, make sure you give the BMW i3s a look too.