Special youngtimer touring cars head for auction
Three stunning homologation specials head to auction at the Silverstone Classic
Silverstone Auctions will offer three touring car homologation specials from the golden era of touring car racing at the two-day Silverstone Classic Sale on 21st and 22nd July at Silverstone Circuit.
A 1987 Ford Sierra RS500 Cosworth, 1990 BMW E30 M3 Sport Evolution and 1992 Mercedes-Benz 190 E 2.5-16 Evolution II, each in outstanding condition, will offer an incredibly rare opportunity for car collectors at auction, representing the most iconic models of 80's and 90's motorsport.
"These three cars come from a time when touring car racing was at its peak, both in terms of popularity and in the cars produced from the series. These road-going homologation specials are the closest many can get to experiencing the ferocity, power, and speed from the heyday of touring car racing, and we're delighted to be offering all three challengers at our headline sale of the year at Silverstone," says Nick Whale, managing director of Silverstone Auctions.
The first is a UK, right-hand drive 1987 Ford Sierra RS500 Cosworth, production number 38 of the 500 RS500 models produced, of what is today one of the most sought-after modern classics on the current market. Coming from single-family ownership, it has been barn stored for the majority of its life and has covered just 11,000 miles from new. Following an inspection from noted expert of the RS500 registrar of the RS500 Owners Club, Paul Linfoot, it has been described as "one of the most original RS500s I have ever seen", and will be offered at the auction in original, 'barn find' condition, with an estimate at £90,000 to £105,000.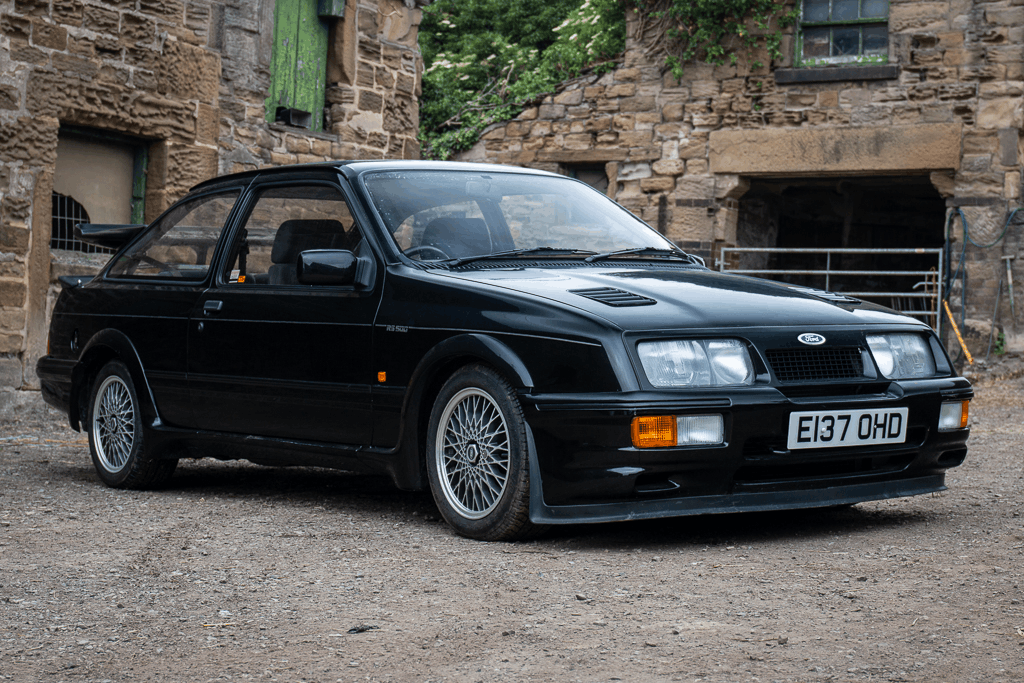 The second is a 1990 BMW E30 M3 Sport Evolution, number 139 of just 600 limited editions produced, presented in outstanding condition throughout. Originally sold in Germany, it was imported to the UK in 1999 and has been thoroughly pampered by its three UK owners. Finished in Jet Black Metallic with Black Nappa leather Recaro sports seats, as well as a suede-trimmed steering wheel, handbrake lever, and gear stick, it comes with a number of performance upgrades and options. Over the years it has covered just 127,765km (equivalent to 79,389 miles) and has been treated to a sympathetic re-commissioning including a bare-metal respray. Offering an incredibly rare opportunity to purchase one of BMW Motorsport's finest creations, it will be offered with an estimate of £85,000 to £95,000 at auction.
Last but not least, a 1992 Mercedes-Benz 190 E 2.5-16 Evolution II joins the auction line-up. Number 167 of the 502 cars produced, it was first purchased in Switzerland and later acquired by the director of one of the leading Mercedes Benz dealerships in Holland, where it became a showroom center-piece. Having arrived in the UK more recently, this incredible example has had just four owners from new and has covered just 34,000 miles, earning it an auction estimate of £130,000 to £150,000.
"These are three, truly rare, perhaps once in a lifetime, opportunities. Based on their motorsport heritage alone it's fantastic to see these three spectacular cars return to the Silverstone Circuit, and it will be exciting to see them compete once again, this time at auction," concludes Nick.
READ MORE: Aston Martin opens new test center at Silverstone