Step by step towards automated driving: facelifted Mercedes S-Class shows interior, safety tech
We'll know more in a week or so
The facelifted S-Class, which Mercedes-Benz calls new, will spearhead the manufacturer's race towards autonomous driving. For that to happen, Stuttgart's flagship receives a broadened suite of assistance features available this autumn.
Besides presenting a quick glance at the facelifted S-Class' interior, the set of pictures is also here to illustrate the model's driving assistance abilities.
The whole technology is based on enhanced radar and camera systems, and a first feature is called Active Distance Assist DISTRONIC.
What it does is keep a safe distance from the vehicle ahead on the highway, in the 0-210 km/h speed interval. Furthermore, the system can predictively reduce speed depending on what route has been selected in the car's navigation system.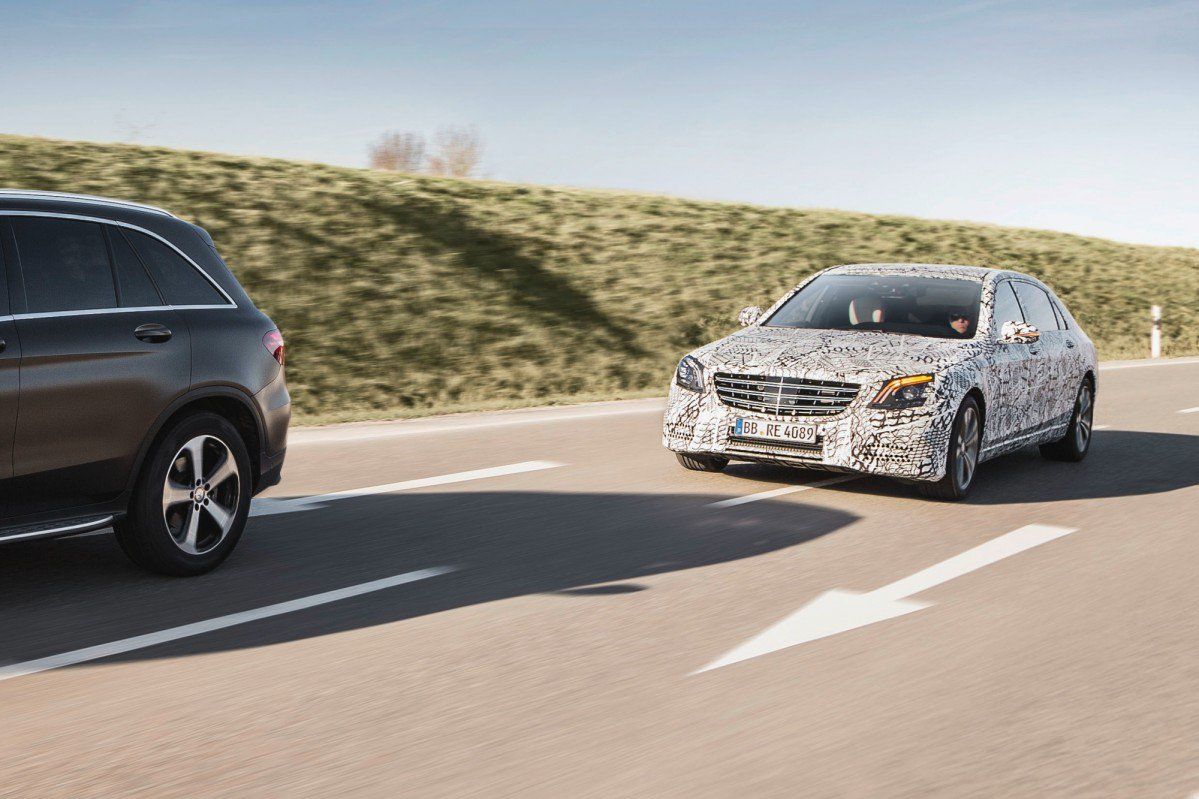 According to Mercedes, this works for junctions, roundabouts or toll booths. Moreover, the vehicle can also decelerate when approaching the desired highway exit if the car travels within the slow lane.
Furthermore, the revised S-Class will be able to move off and follow slow traffic not only on the highway but also on other roads, when trapped in the rush hour, for example.
Next up is the Active Lane Change Assist. It operates at speed between 80 and 180 km/h and just like the name suggests, it aids the driver to safely change lanes provided the road markings are recognized by the navigation system.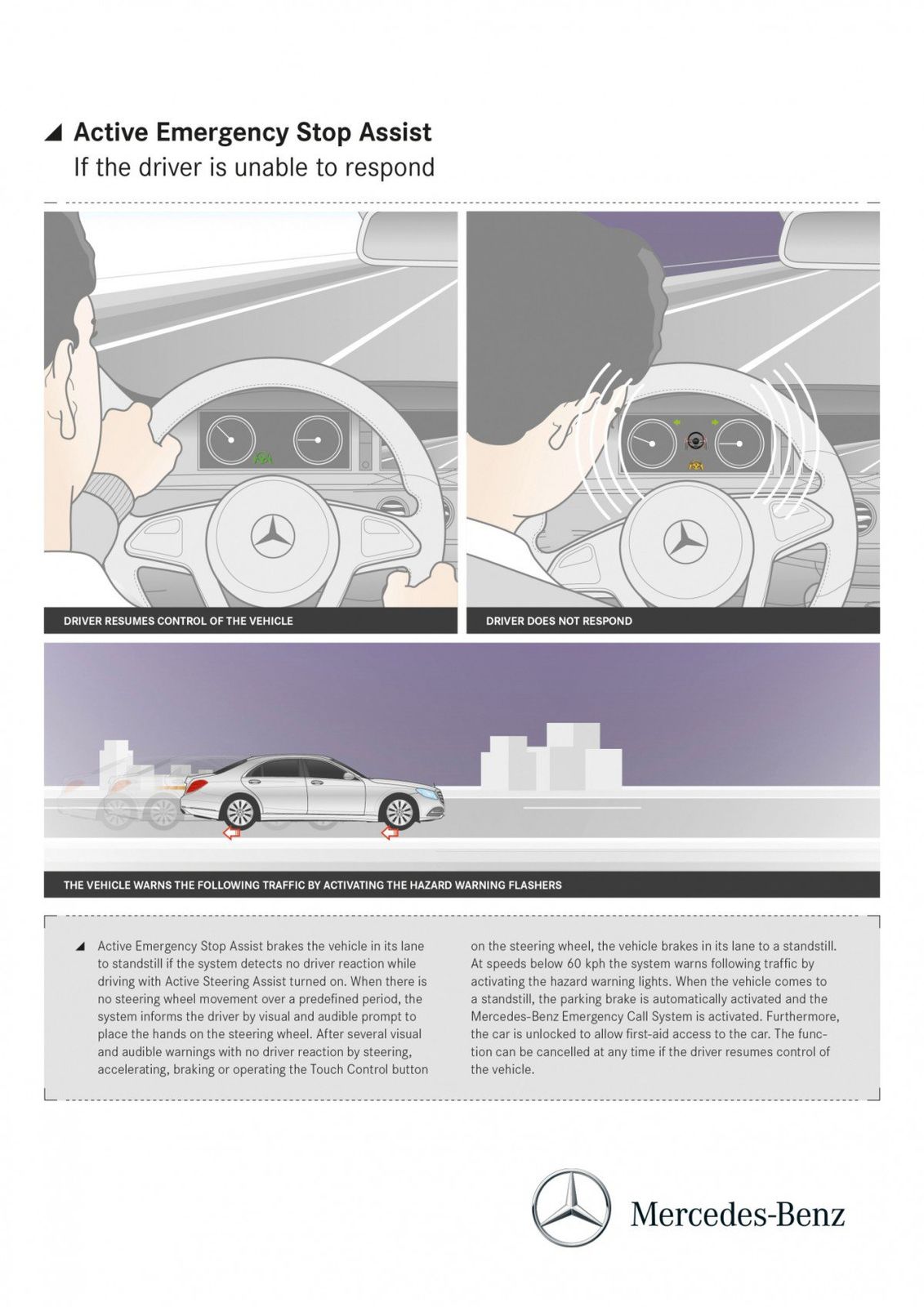 For ten seconds after the driver nudges the indicator stalk, the system continually checks the surroundings and establishes that the road is clear and the lane swap is safe to execute. Needless to say, the driver should also stay sharp and make sure he and the car are in the clear. If no danger is detected, the vehicle will change lanes, with the process being illustrated on the instrument cluster and head-up display.
Other functions include the Active Emergency Stop Assist, Active Brake Assist, and Evasive Steering Assist. These come to complement the by-now-common lane keeping, traffic sign, and active blind spot assistance features.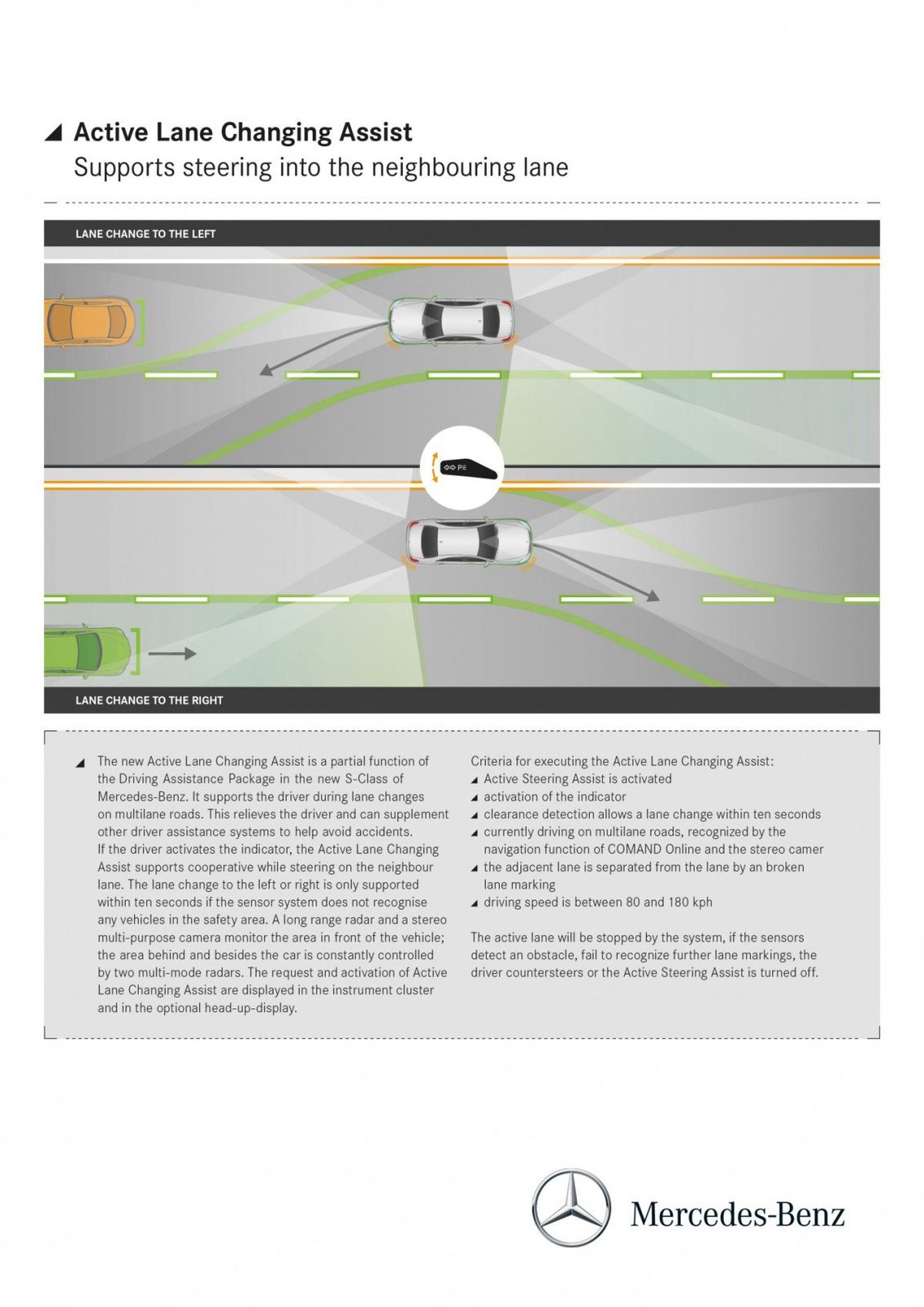 Elsewhere, the facelifted S-Class will spawn a new headlight cluster with three LED bars flowing downwards towards the grille. Their tasks will be to act both as DRLs and turn signals.
Inside, a new three-spoke steering wheel replaces the two-spoke offering, and the two tablets serving as displays were merged into a single, fluid unit.
The updated Mercedes-Benz S-Class is scheduled to take a bow at the 2017 Shanghai Auto Show.