The new 2019 Mercedes-Benz B-Class is more agile and full of high-tech
Everything you need to know about the third generation of the B-Class, W247
Mercedes-Benz makes its B-Class family car a tad more aggressive, putting more sport in its Sports Tourer
In a world full of SUVs and crossovers, it's rather refreshing to see a car maker that makes its family tourer look sportier rather than bulkier. Mercedes-Benz says that the new car is also more agile on the road and more comfortable, with a high-tech A-Class inspired interior and more efficient and cleaner engines.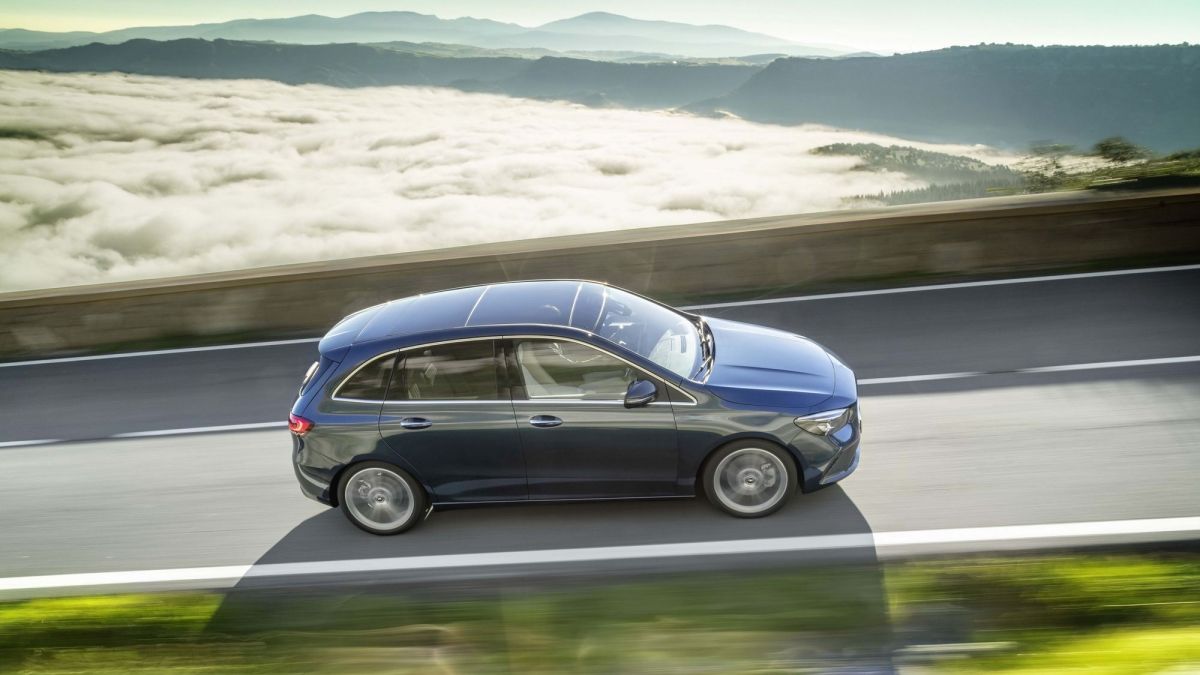 The new B-Class has a rather long wheelbase (2729 mm) with short overhangs, a slightly lowered roofline and larger, 16- to 19-inch wheels that give it a more dynamic look. H7 headlamps and LED daytime running lights are standard, but you can order the car with LED headlamps or the MULTIBEAM LED headlamps for an especially sporty look and a fast, electronically controlled adjustment to suit the traffic conditions.
The aero coefficient value of the new B-Class starts at 0.24 (predecessor: 0.25). The lower roof line further contributes to a best-in-class airflow due to the smaller end face of the car. In addition, the aerodynamics engineers have reduced the wind noise thanks to extensive detail work.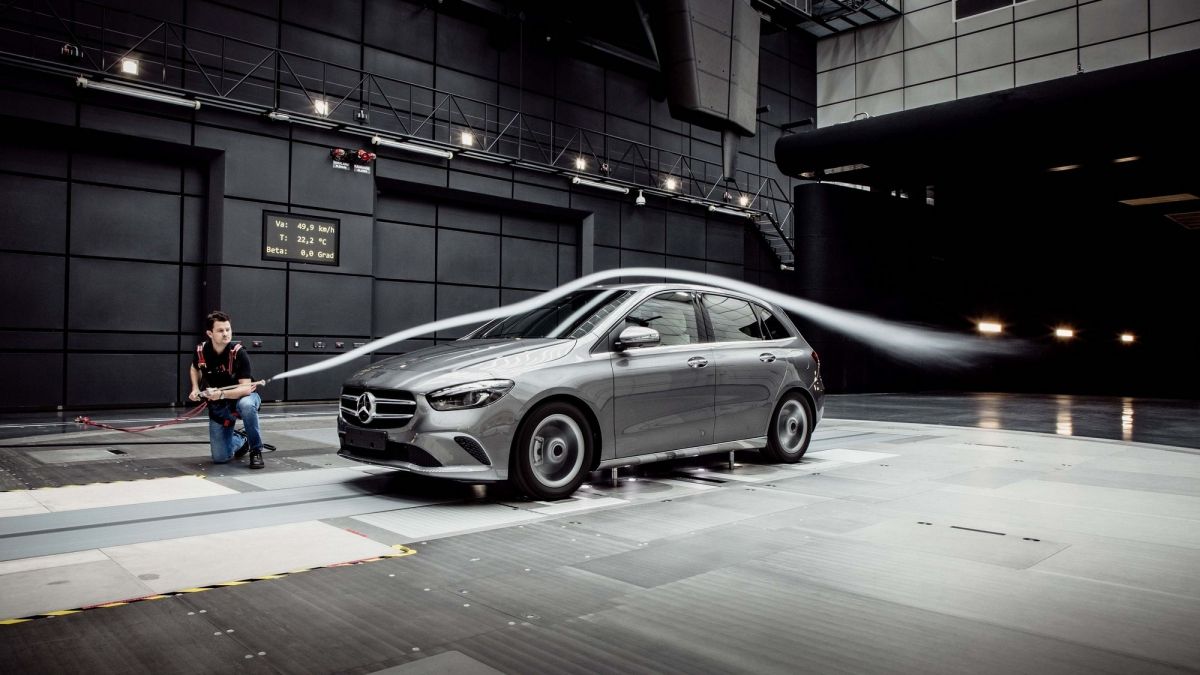 Things have improved inside as well: the driver sits 90 mm higher than in an A-Class, thus enjoying a better all-around view. The seats offer a flatter and, therefore, more comfortable seating position as well as a larger adjustment range, which also increases the maximum headroom. There is also more space in the width: at 1456 mm (plus 33 mm), the front elbow width now has the dimensions of a mid-range vehicle.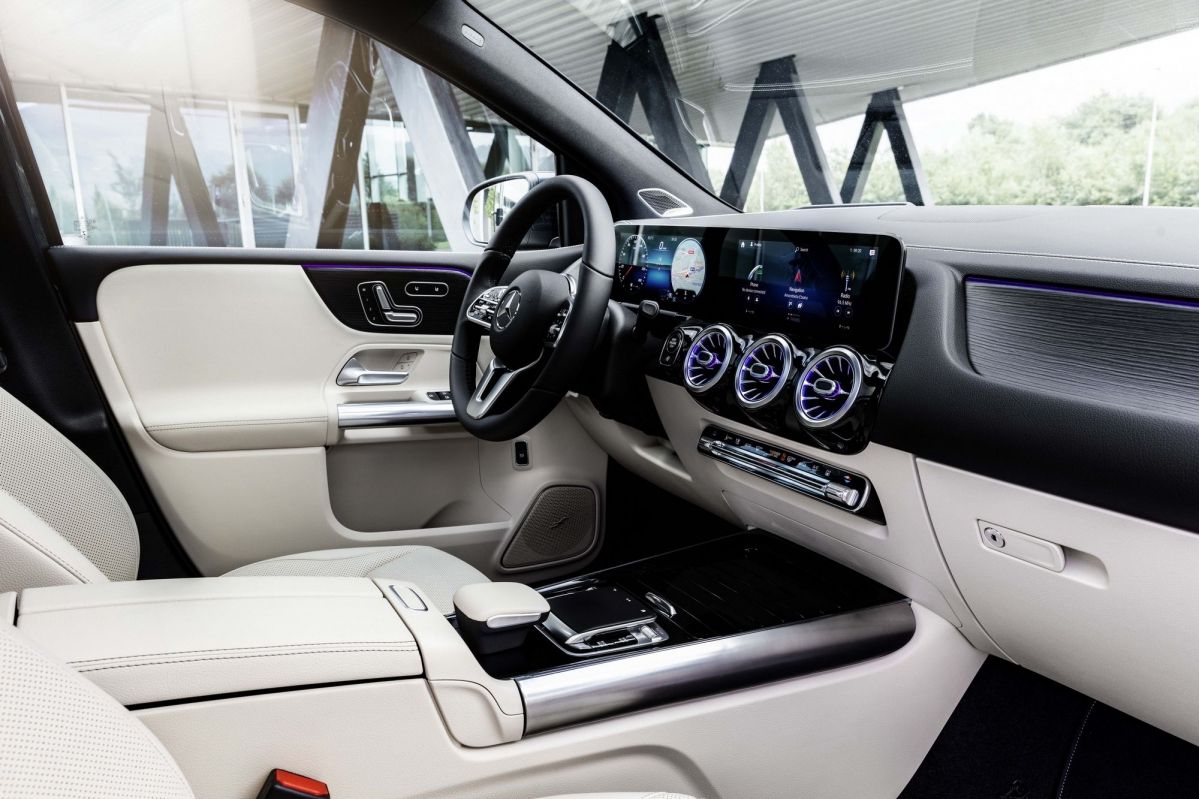 The interior design is inspired from the A-Class but has its own distinctive lines - while the instrument panel of the sister model is split into two horizontal basic bodies, that of the B-Class has a single basic volume, which drops away towards the occupants and has cutouts in the area of the driver and front passenger. The cutout in front of the driver houses the fully free-standing display unit, which comes in three different versions: with two 7-inch displays (17.78 cm), with one 7- and one 10.25-inch display (26 cm) and, in the Widescreen version, with two 10.25-inch displays. A head-up display is optionally available.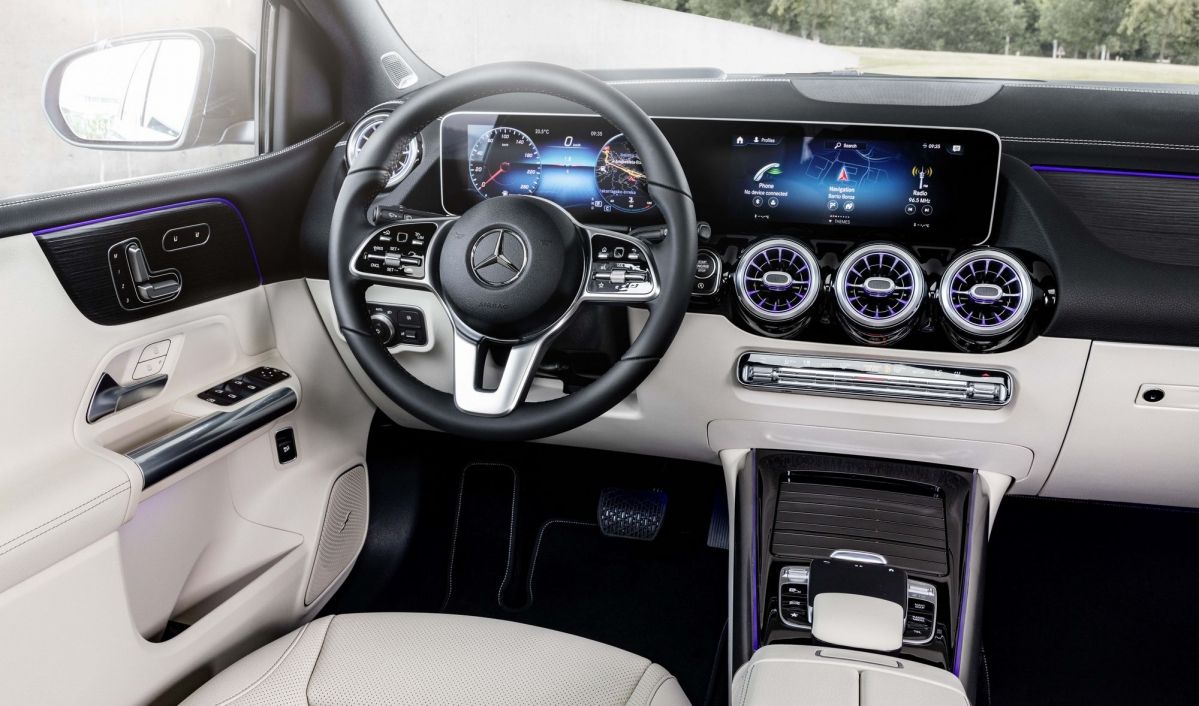 The center console with touch-based control and input system comes with a black panel look similar to the E-Class. There's also ambiance lighting with 64 colors and ten color worlds that adapt to suit your mood.
The new B-Class: lots of volume for a family
The interior has been fine-tuned in many places: the improved entry aperture to the center tunnel in the rear makes for a more accessible middle seat. The rear seat backrest comes as standard with a 40:20:40 split. Depending on the version, from mid-2019 it will be possible for the rear seats to be moved by 14 centimeters and for the backrest to be folded into a steeper position to vary the capacity of the luggage compartment behind the rear seats between 455 and 705 liters. Although the capacity is roughly the same as in the previous model, the luggage compartment can be more efficiently used thanks to the improvements.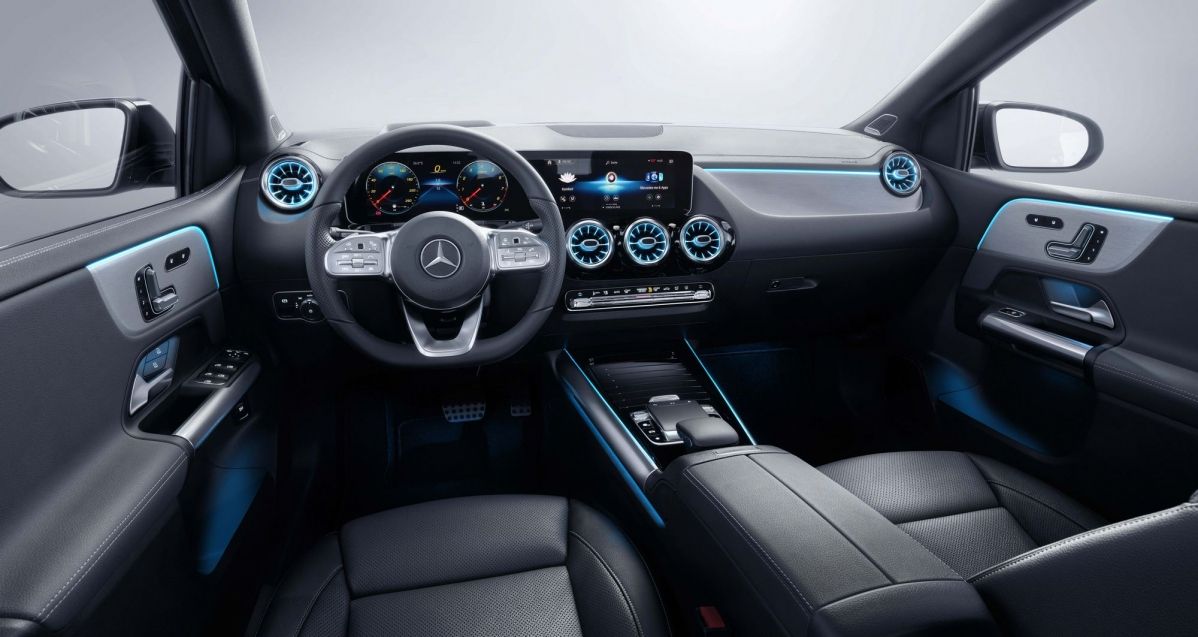 With the rear seat folded down and luggage loaded to the roof, the luggage compartment, which is flat thanks to the adjustable load compartment floor, can accommodate up to 1540 liters behind the front seats. A folding backrest of the front passenger seat (optional extra, expected to be available from mid-2019) makes for an even longer loading length. An EASY-PACK tailgate is optionally available. It can be conveniently opened or closed automatically at the press of a button, even by means of a foot movement in combination with optional HANDS-FREE ACCESS.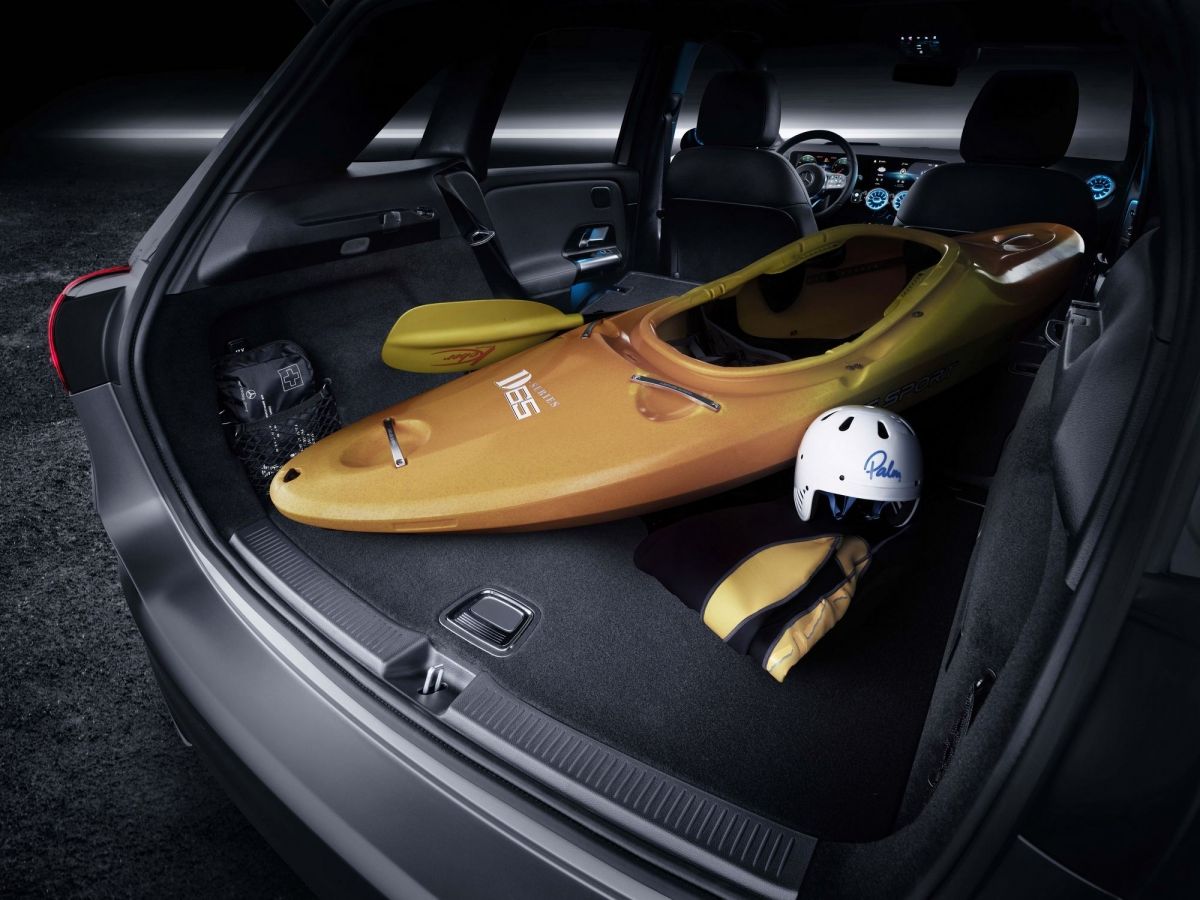 The new 2019 B-Class: high-tech features from the upper classes
With seat climate control and multicontour seats with massage function, the new B-Class is available with optional extras that were previously reserved for vehicles from higher segments. For example, the new ENERGIZING seat will take care of your back. It can support beneficial changes of posture by regularly making minute adjustments to the angle of the seat cushion and backrest. The innovation is available for the front seats in combination with all-electric seat adjustment with memory function.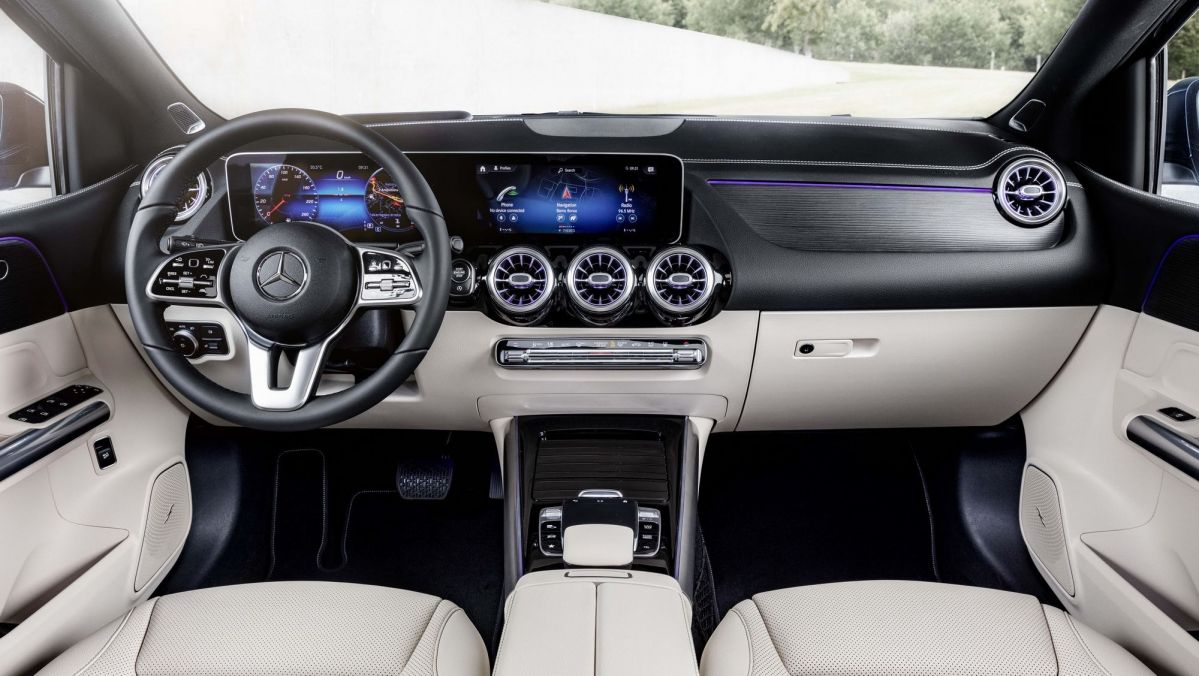 The MBUX (Mercedes-Benz User Experience) multimedia system is also present on the B-Class, providing Artificial Intelligence, a ton of customizing functions and adaptability. Depending on equipment, a high-resolution Widescreen cockpit is available, as well as a navigation display with Augmented Reality technology plus intelligent voice control with natural speech recognition, which is activated by saying "Hey Mercedes". The touch screen is part of the integrated MBUX touch control concept – a trio consisting of touch screen, touchpad on the centre console (optional) and touch controls on the steering wheel. A head-up display is also available.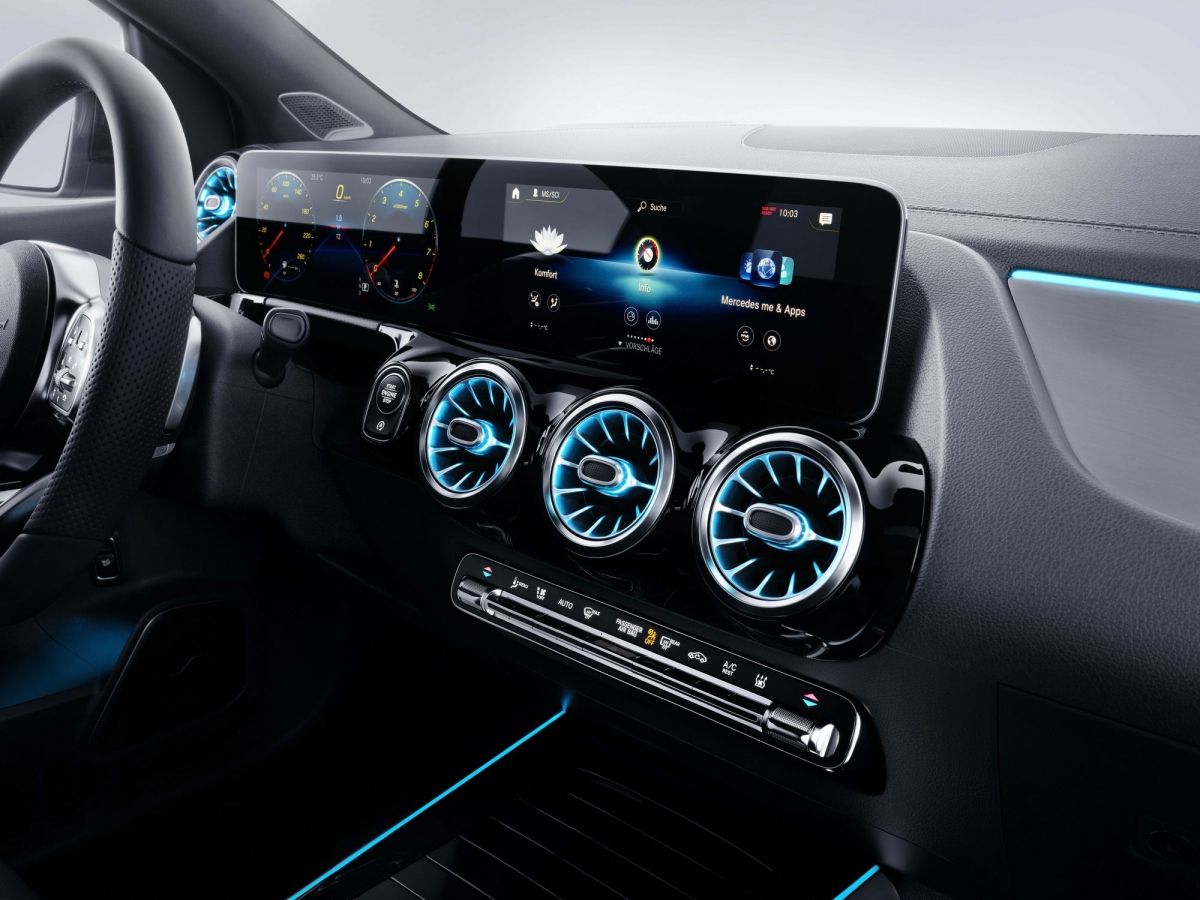 New and improved Mercedes me connect services were launched with the new MBUX infotainment generation. These include navigation functions based on Car-to-X communication and Vehicle Tracking, which makes it easier to find the parked vehicle, as well as a notification function in the event of the parked vehicle being bumped or towed away. The new B-Class is already set up for private car sharing: Mercedes me allows the new compact car to be shared with friends and family members. Operation is simple and secure using the Mercedes me Car Sharing app.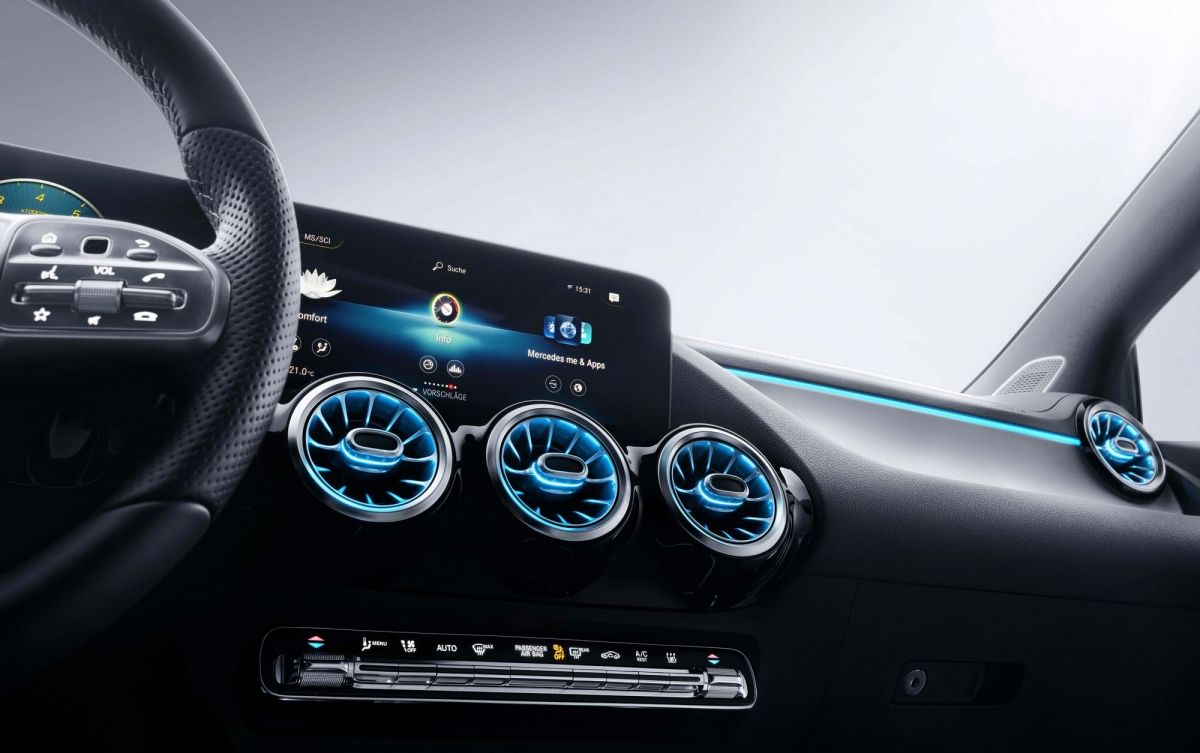 The new Mercedes me connect services On-Street Prediction, Real-Time Information and Off-Street Information can save Mercedes-Benz drivers valuable time and reduce their stress levels while at the same time cutting their fuel consumption and emissions when searching for a parking space. The real-time information is based, among other things, on Mercedes-Benz vehicles that have just left a parking space or driven past potential parking spaces.
Intelligent Drive: functions from the S-Class
For the first time, the B-Class is able to drive semi-autonomously in certain situations, due to improved camera and radar systems that anticipate the traffic up to 500 meters ahead while using map and navigation data for assistance functions. For example, Active Distance Assist DISTRONIC as part of the Driving Assistance package is able to support the driver in many route-specific situations, predictively and conveniently adjusting the speed, e.g. when approaching bends, junctions or roundabouts. Also on board are Active Emergency Stop Assist and intuitively understandable Active Lane Change Assist.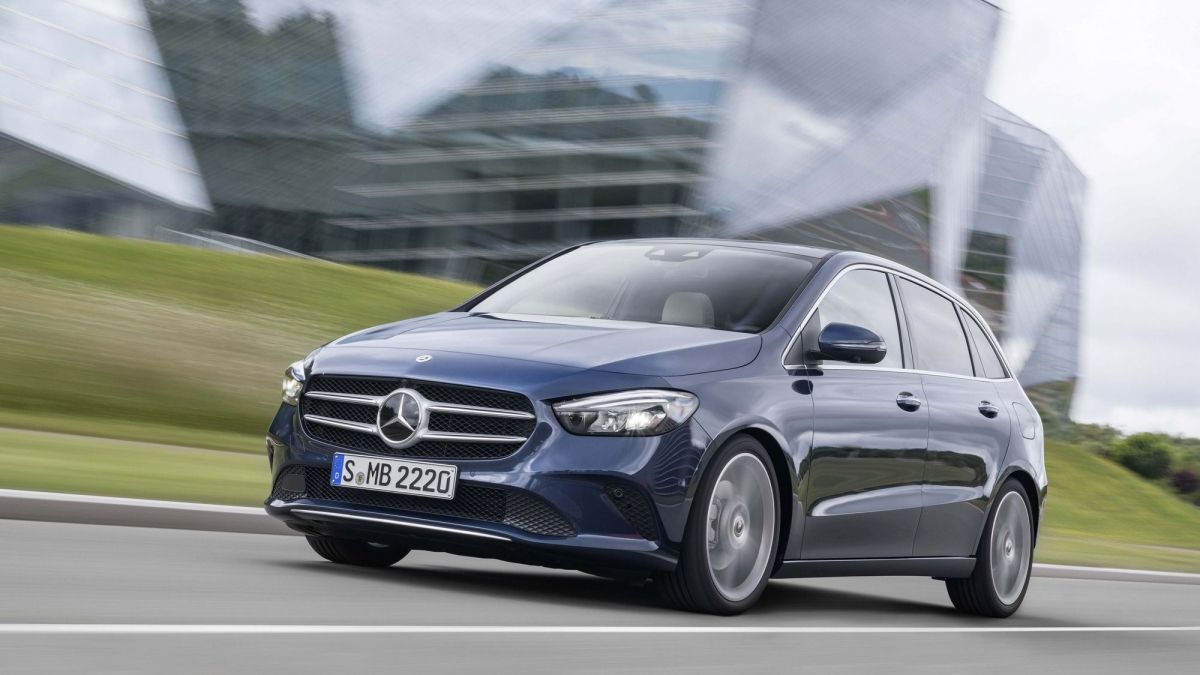 The new B-Class comes as standard with extended Active Brake Assist, which can help mitigate the severity of rear-end collisions with slower-moving, stopping or stationary vehicles ahead – and now even with crossing pedestrians or cyclists – or prevent them altogether. Driver and front passenger are provided with three-point seat belts with pyrotechnic belt tensioners and belt force limitation. In combination with the PRE-SAFE® system (optional extra), the front seats are additionally equipped with electrically reversible belt reel tensioners. Both of the outer rear seats are fitted with a seat belt with reel tensioner and belt force limiter. The new B-Class comes as standard with airbags for driver and front passenger, kneebag for driver and windowbags and sidebags (combined thorax/pelvis bag). Rear sidebags are optionally available.
The new Mercedes-Benz B-Class engines
The new B-Class has new engines that comply with Euro 6d-TEMP rules. Making its debut is a transverse-mounted version of the OM 654 two-liter diesel with 110 kW and 140 kW, featuring an additional underfloor SCR catalyst (on the OM 654q). The large diesel represents an addition to the four-cylinder diesel (OM 608) already known from the A-Class with 1.5-litre displacement, up to 85 kW and up to 260 Nm.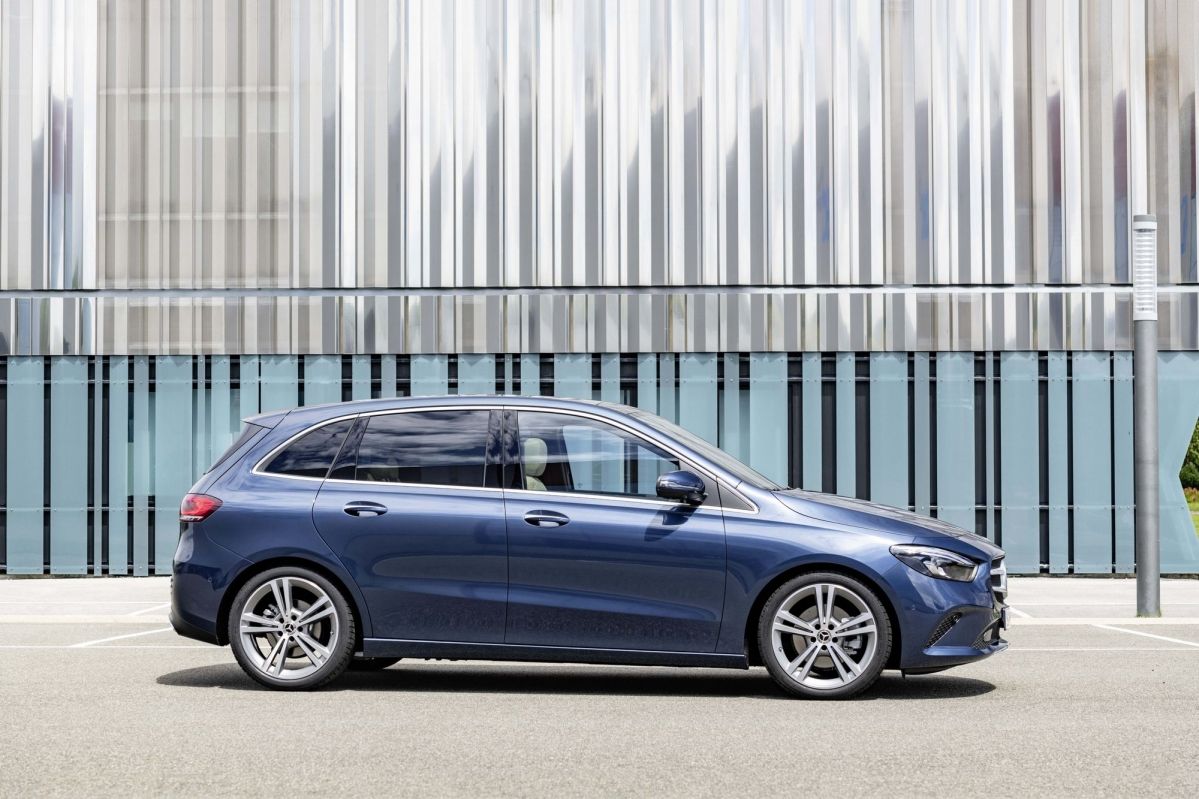 Also available are two four-cylinder petrol engines of the M 282 series with 1.33-litre displacement and 100 kW/120 kW. Innovations include cylinder management (in combination with 7G-DCT transmission), delta shape of the cylinder head and particle filter.
The new B-Class is initially available exclusively with dual-clutch transmissions. New here is the eight-speed 8G-DCT, which is used in combination with the larger diesel engine. Other new engines will follow, as will models with 4MATIC all-wheel drive. A 43-litre tank is installed as standard, while a 51-litre tank is optionally available, depending on the engine.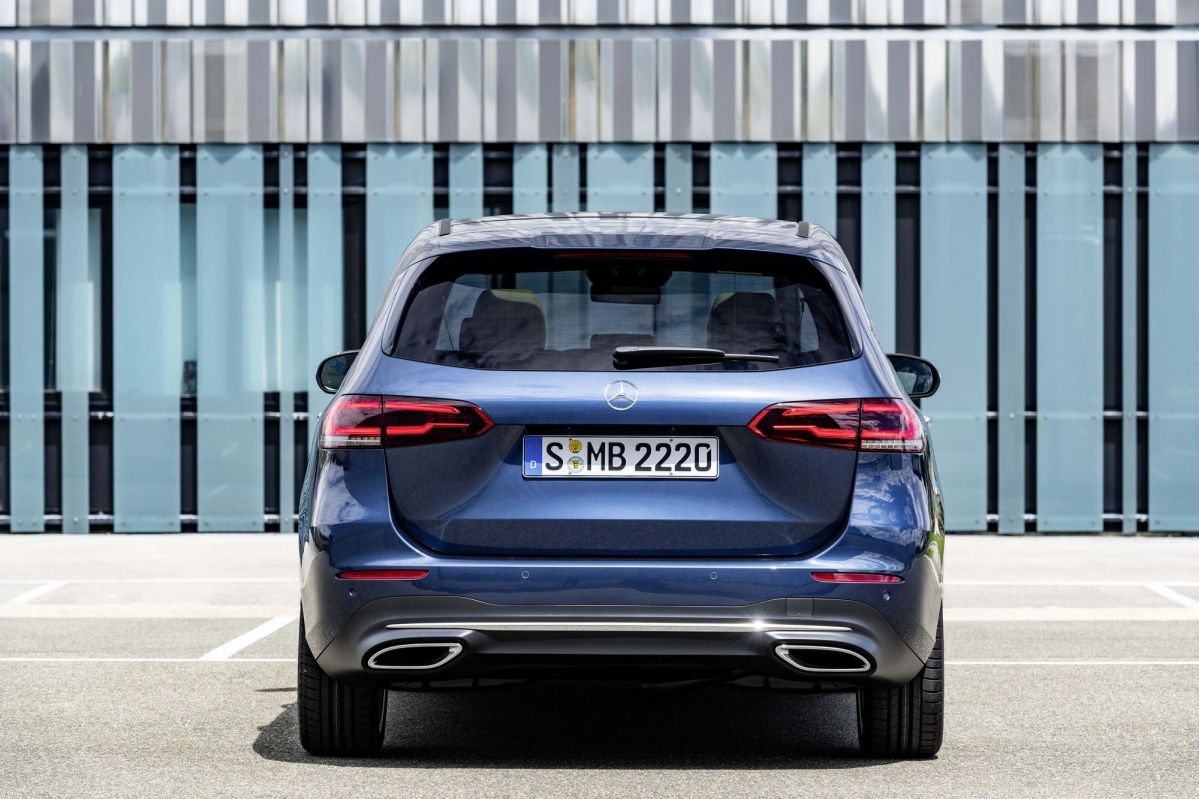 The following five engine variants will be available at the launch of the B-Class:
B 180 (100kW/136 hp, 200 Nm); with 7G-DCT dual-clutch transmission (combined fuel consumption 5.6-5.4 l/100 km, combined CO2 emissions 128-124 g/km)
B 200 (120kW/163 hp, 250 Nm); with 7G-DCT dual-clutch transmission (combined fuel consumption 5.6-5.4 l/100 km, combined CO2 emissions 129-124 g/km)
B 180 d with 7G-DCT dual-clutch transmission (85kW/116 hp), 260 Nm; combined fuel consumption 4.4-4.1 l/100 km, combined CO2 emissions 115-109 g/km)
B 200 d with 8G-DCT dual-clutch transmission (110kW/150 hp), 320 Nm; combined fuel consumption 5.4-4.2 l/100 km, combined CO2 emissions 119-112 g/km)
B 220 d with 8G-DCT dual-clutch transmission (140kW/190 hp), 400 Nm; combined fuel consumption 4.5-4.4 l/100 km, combined CO2 emissions 119-116 g/km).
Depending on the version, several options are available for the basic configuration, including a lowered comfort suspension and a suspension with active adaptive damping, which lets the driver control the damper tuning while driving using DYNAMIC SELECT. The system uses an electronic valve, the control of which additionally analyses the driving state and optimizes the damping rate individually for each wheel.
Start of sales for the new B-Class is 3 December 2018, with delivery due to begin in February 2019.