Minivans don't do it for you? What about a roomy three-row SUV?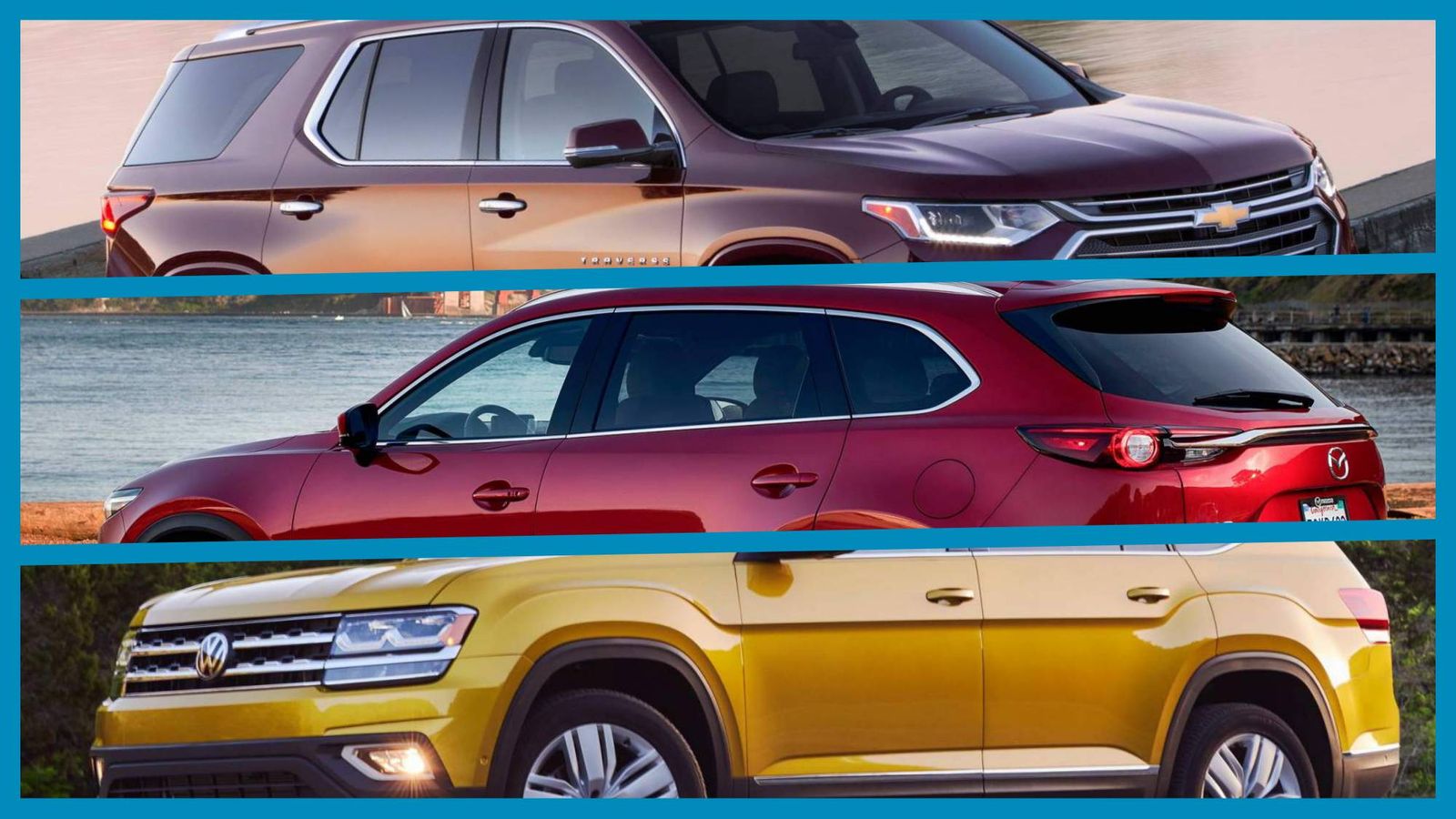 No automaker can expect to survive in the highly-competitive global automotive market nowadays if it doesn't offer SUVs — the more, the better.
Love them or hate them, SUVs and crossovers (the line gets thinner by the day) make up the hottest market segments right now all over the world, as well as being most lucrative vehicle types for automakers. Could that be a coincidence? Well, we'll leave that up to you.
As an SUV market par excellence, the United States is one of the most crowded worldwide when it comes to sports utility vehicles. It can be quite hard to choose from hundreds of models from all market segments, but don't despair — we're here to help.
We've compiled a list of ten 2018 model year family SUVs that you can't go wrong with if you're in the market for such a vehicle. To keep a level playing field and because we believe premium marques deserve a separate list, the following ten family SUVs we've chosen come from mainstream brands only. We've also left out models that are too old or too small because this is a list of SUVs that are supposed to be relevant for 2018 as well as roomy — so you'll only find three-row models here.
Also in the name of fairness, we've left out full-size SUVs like the Chevy Tahoe and Ford Expedition. Without further ado, here are our picks.
#10 2018 Kia Sorento — from $25,900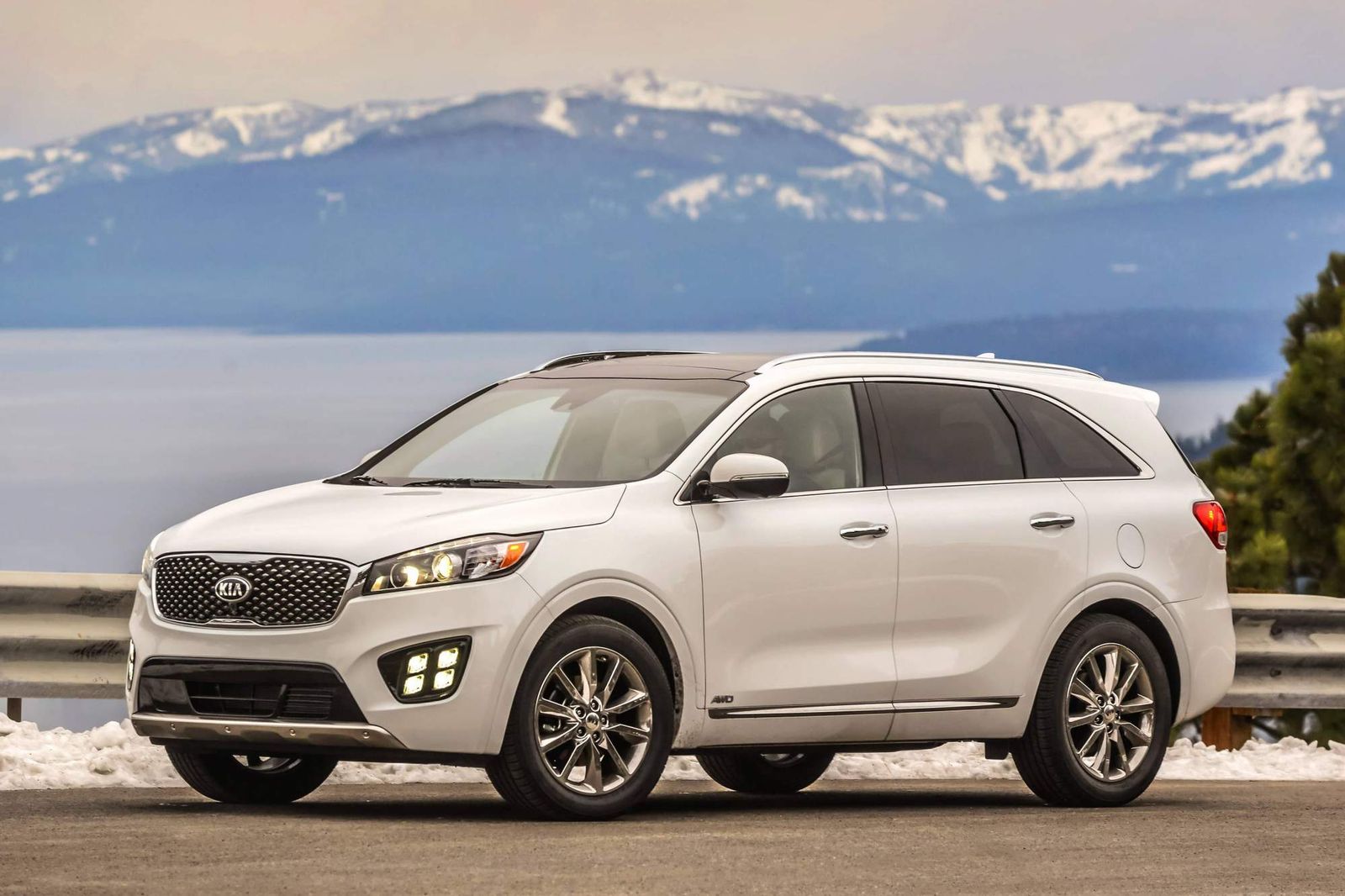 The Sorento is among the smallest models here, but the optional third-row seating (which will become standard for the 2019 model year) turns it into a decent seven-passenger model. The rearmost seats are not that comfortable for adults on longer trips and access to them could be better, but they are great for children.
The 2018 Sorento is roomy and comfortable and offers impressive flexibility as well as an unbeatable 10-year or 100,000-mile powertrain limited warranty. With three engines (including a 290-hp V6), FWD or AWD, and seven trim levels available, there's a Sorento for everyone.
#9 2018 Hyundai Santa Fe — from $29,850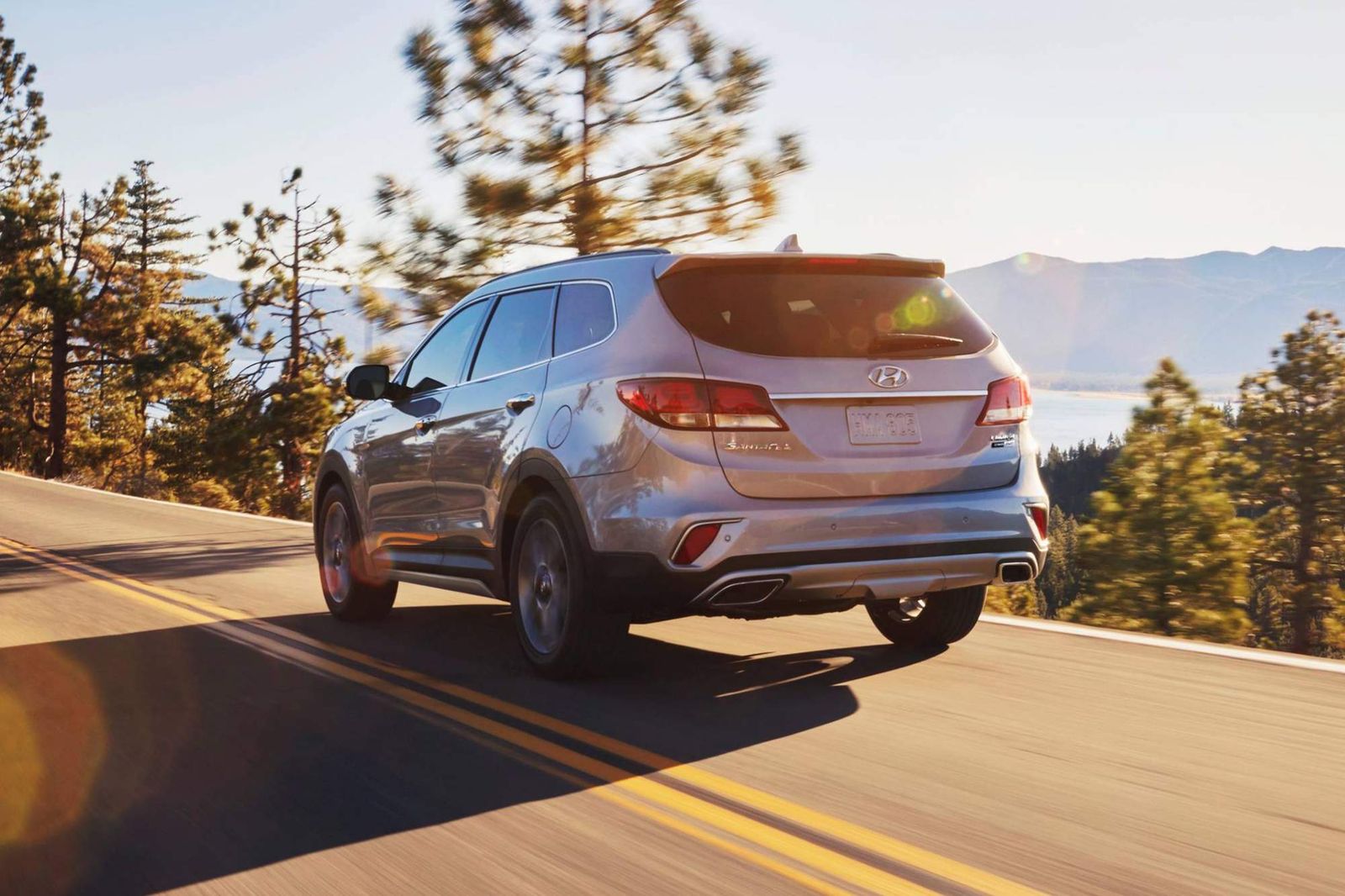 Unlike the mechanically-related Sorento, the Santa Fe offers only three trim levels and a single engine choice — a 290-hp 3.3-liter V6. It comes as standard with front-wheel-drive and seven seats, while all-wheel-drive ($1,750) and a six-passenger layout are optional.
As in most midsize SUVs, the third-row seats offer tight space for adults, but they're good enough for kids. It's a roomy vehicle with a smart interior configuration that can get the job done. It looks elegant too, it offers a cushy ride, and it comes with a 10-year powertrain limited warranty. If only it were more fun to drive.
#8 2018 Nissan Pathfinder — from $31,040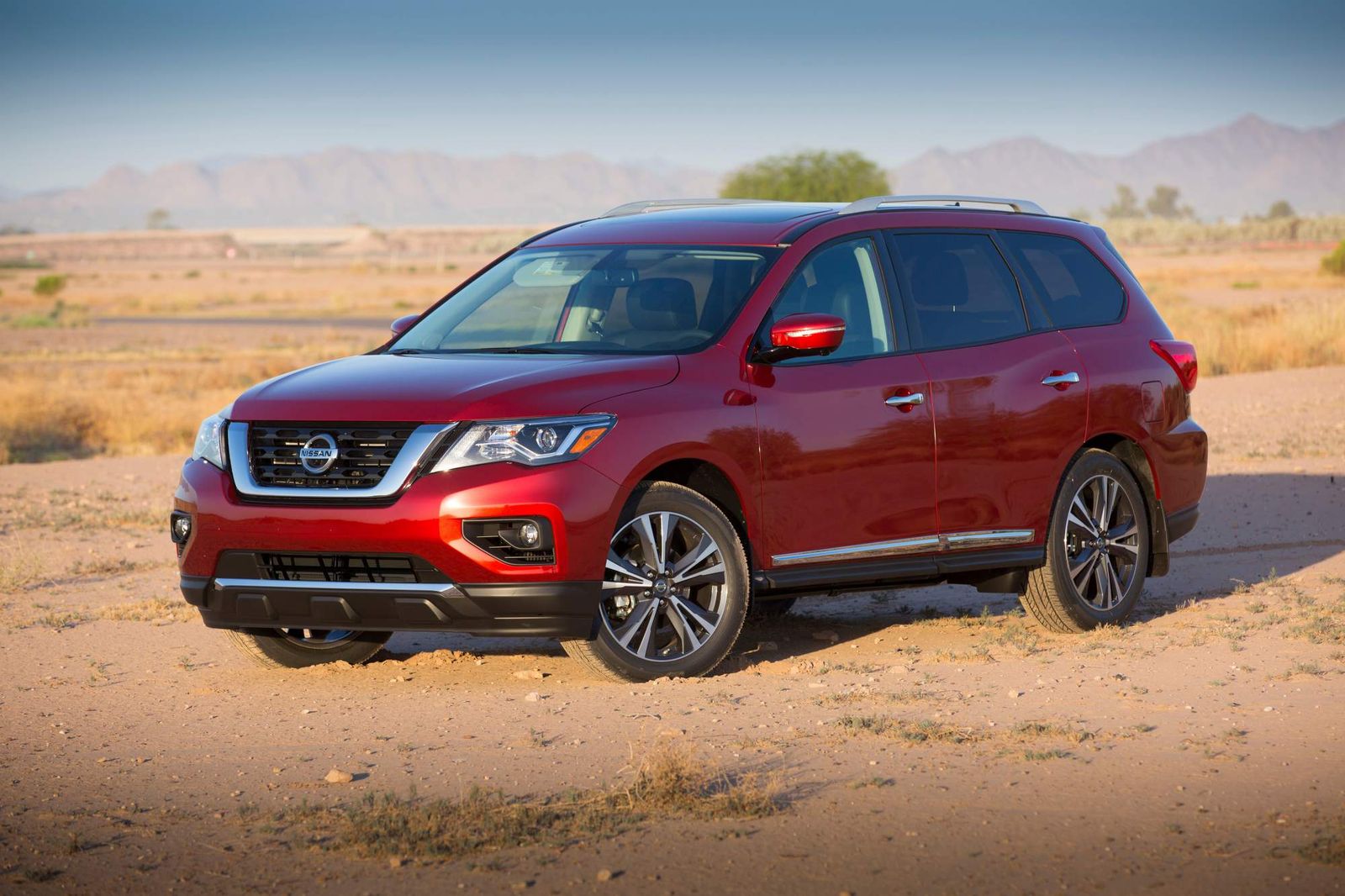 The Nissan Pathfinder is a spacious three-row SUV that can accommodate seven passengers in comfort — including on the third-row seats. Despite the rugged-sounding name, it's no longer a body-on-frame model so don't expect it to be as capable off-road as its predecessor, especially since it has a lower ground clearance as well.
It comes standard with front-wheel-drive (AWD is an option) and a single engine choice, a 284-hp 3.5-liter V6 paired with a CVT. The Pathfinder is quite thirsty, as you can imagine, but it makes up for that with an absolutely cavernous interior. However, it's better you avoid the lower S and SV grades because of the abundance of hard plastics inside. Good value overall, though.
#7 2018 Toyota Highlander — from $31,030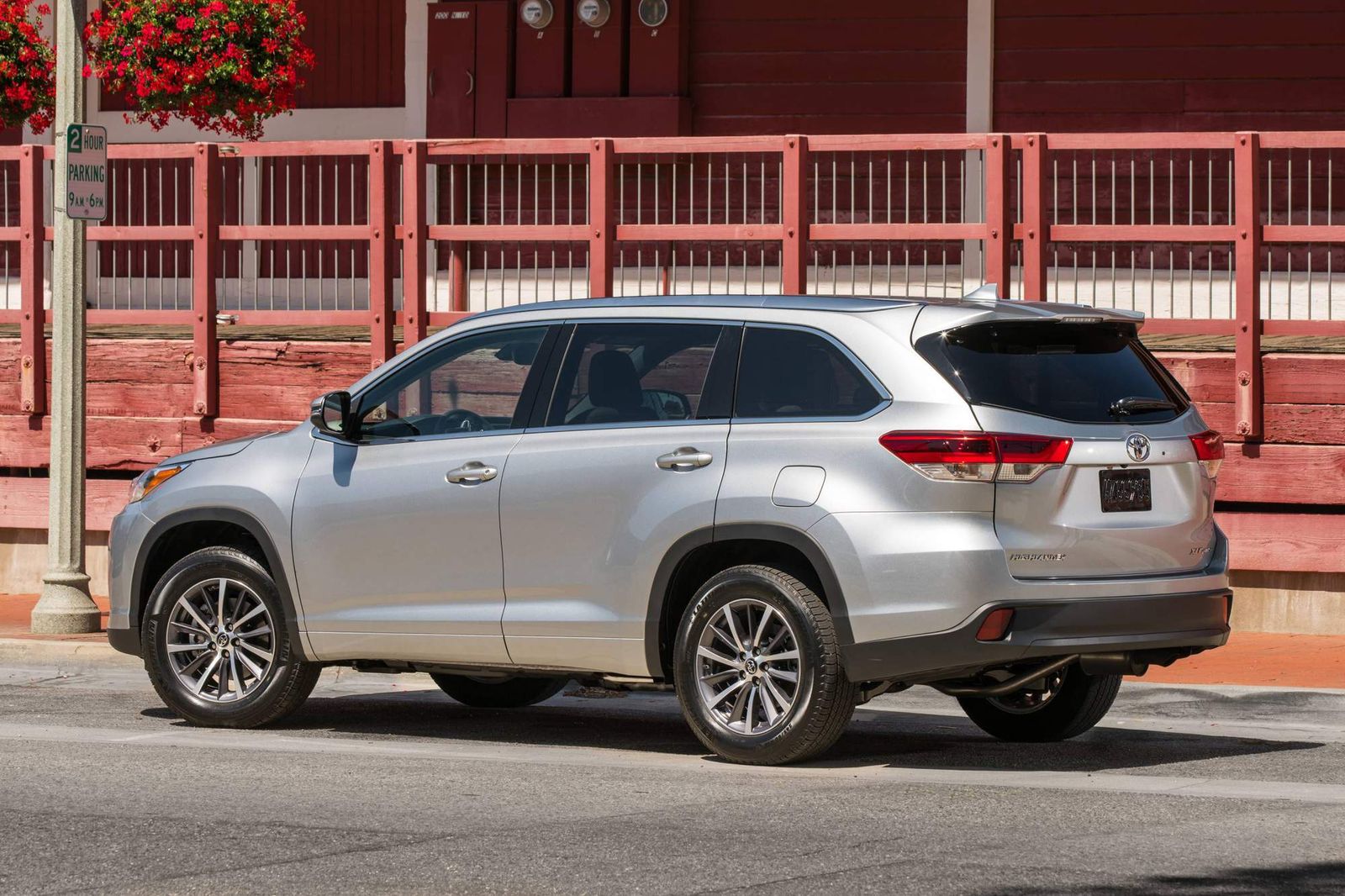 Subtly refreshed for 2017, the Toyota Highlander remains a reliable choice for customers looking for a spacious three-row SUV. Available in eight trim levels, three powertrains (including a hybrid), and front- or all-wheel-drive, the 2018 Highlander lineup's breadth can be matched by few competitors.
Then there's the space. The Highlander has loads of it, offering up to eight seats and versatility thanks to the 40/20/40 split-second-row feature that comes with a removable center seat for unhindered access to the third row. The passengers assigned to the third row would better be children, however, as those seats don't work for adults during longer trips. It's not a fun car to drive, but it's adequate both on and off the beaten track — better than many rivals when the asphalt ends but not an off-roader.
#6 2018 Ford Explorer — from $31,990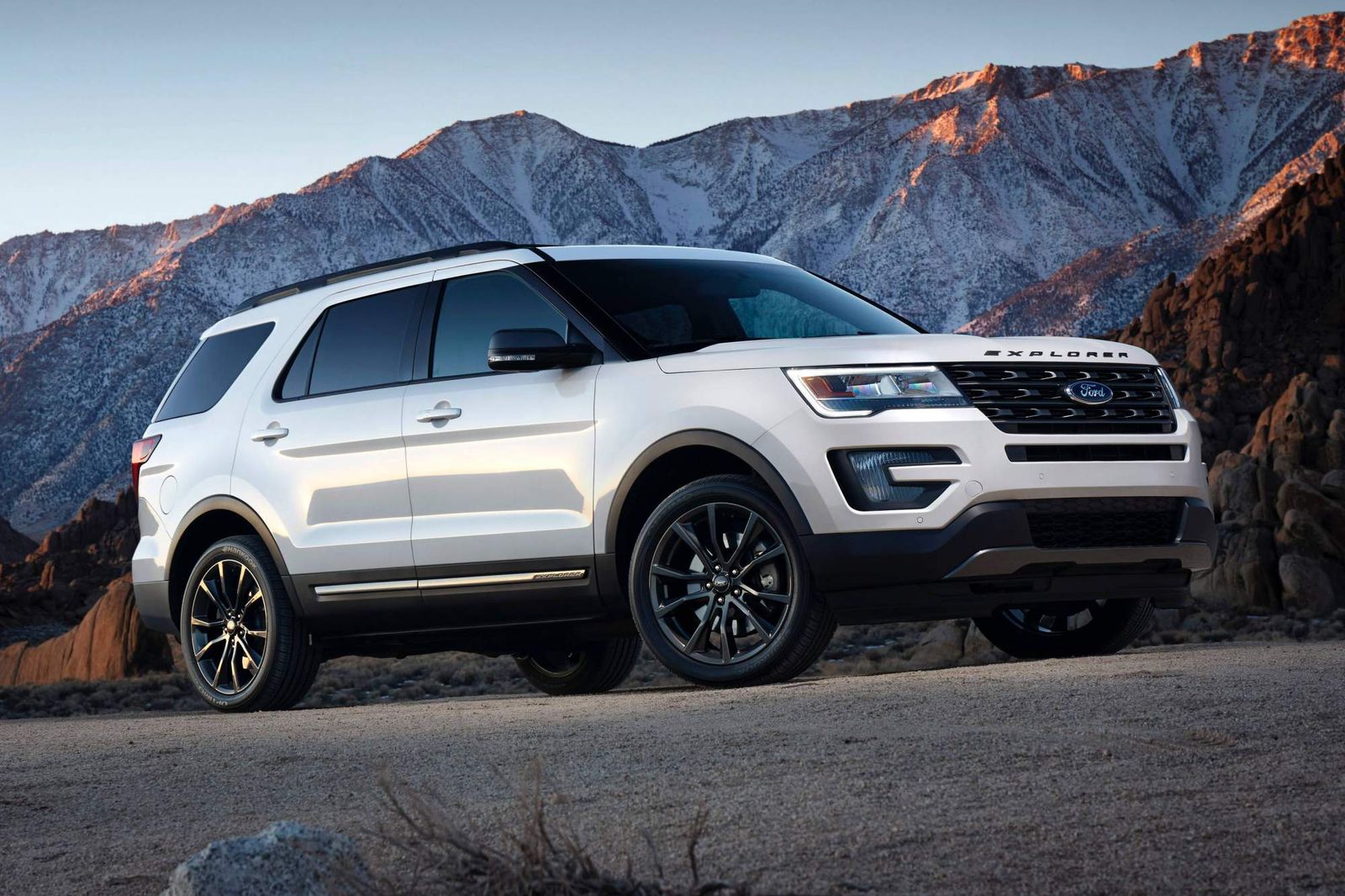 The fifth-generation Explorer debuted as a 2011 model and is still with us today. Significantly updated for 2016 (and then some more for 2018), it remains a strong contender in the midsize SUV segment. Its chief qualities are the spacious cabin with easily-foldable second- and third-row seats (seven seats as standard), the ample cargo volume, and the breadth of the lineup.
Everyone can find the Explorer they need since it's available with five trim levels, front- and all-wheel drive, and three engines — including a 365-hp 3.5-liter EcoBoost V6 and a Mustang-sourced 280-hp 2.3-liter EcoBoost turbo-four. While build quality could be better, the Explorer remains a capable workhorse popular with middle-class buyers.
#5 2018 Dodge Durango — from $29,995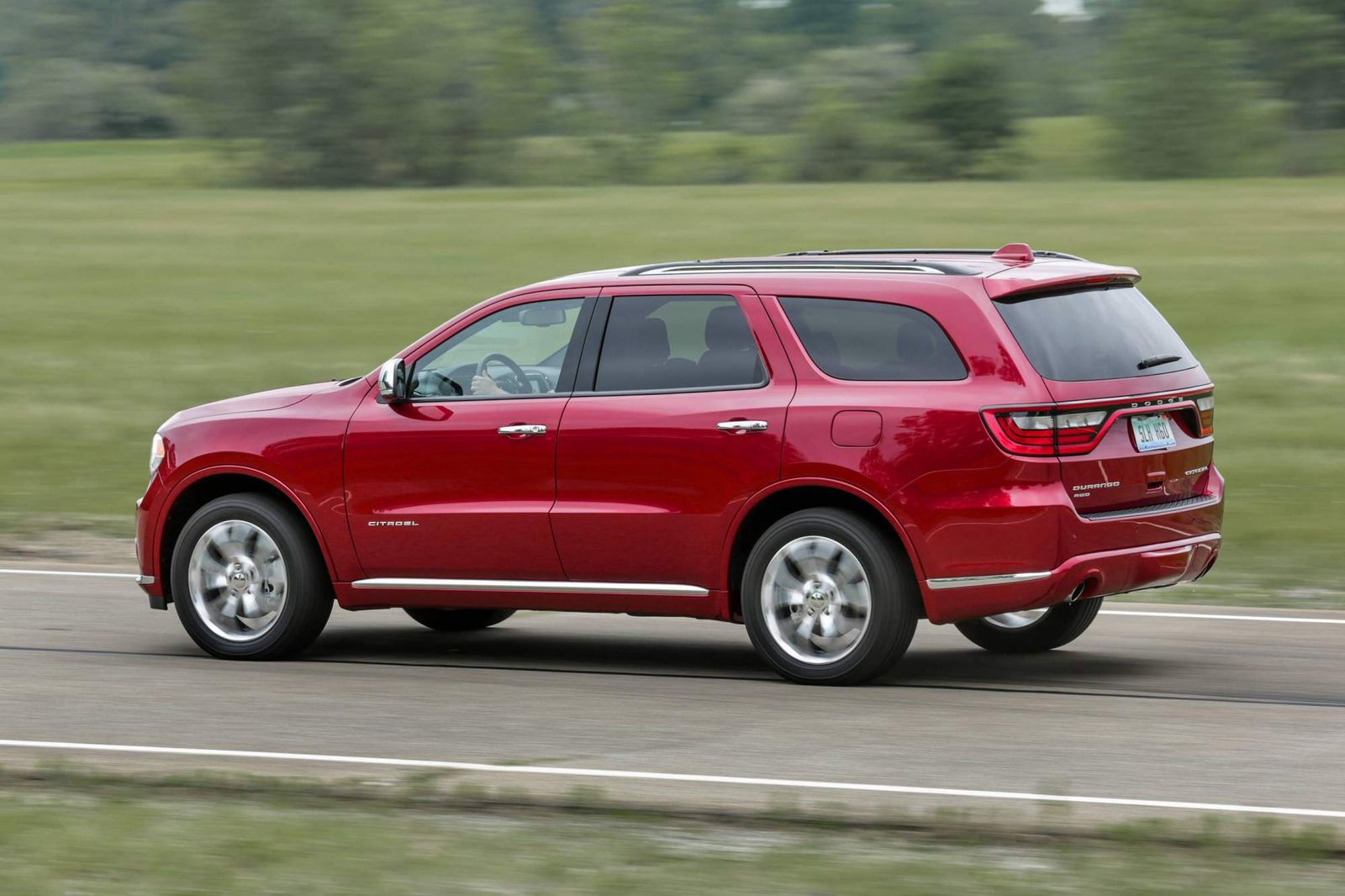 With a massive cabin featuring standard three-row seating and a no-nonsense engine mix including a 293-hp 3.6-liter V6 and a 360-hp 5.7-liter Hemi V8 (not to mention the Durango SRT's 475-hp V8 which makes it a muscle SUV), the Durango is a solid choice in the midsize SUV segment.
It's roomy, comfortable, quiet, and very quick if you opt for the SRT model. Its massive footprint makes it feel heavy in corners, but it's not like its rivals are featherweights either. It's not the most fuel-efficient model, but it has the highest tow ratings among its competitors.
#4 2018 Honda Pilot – from $30,900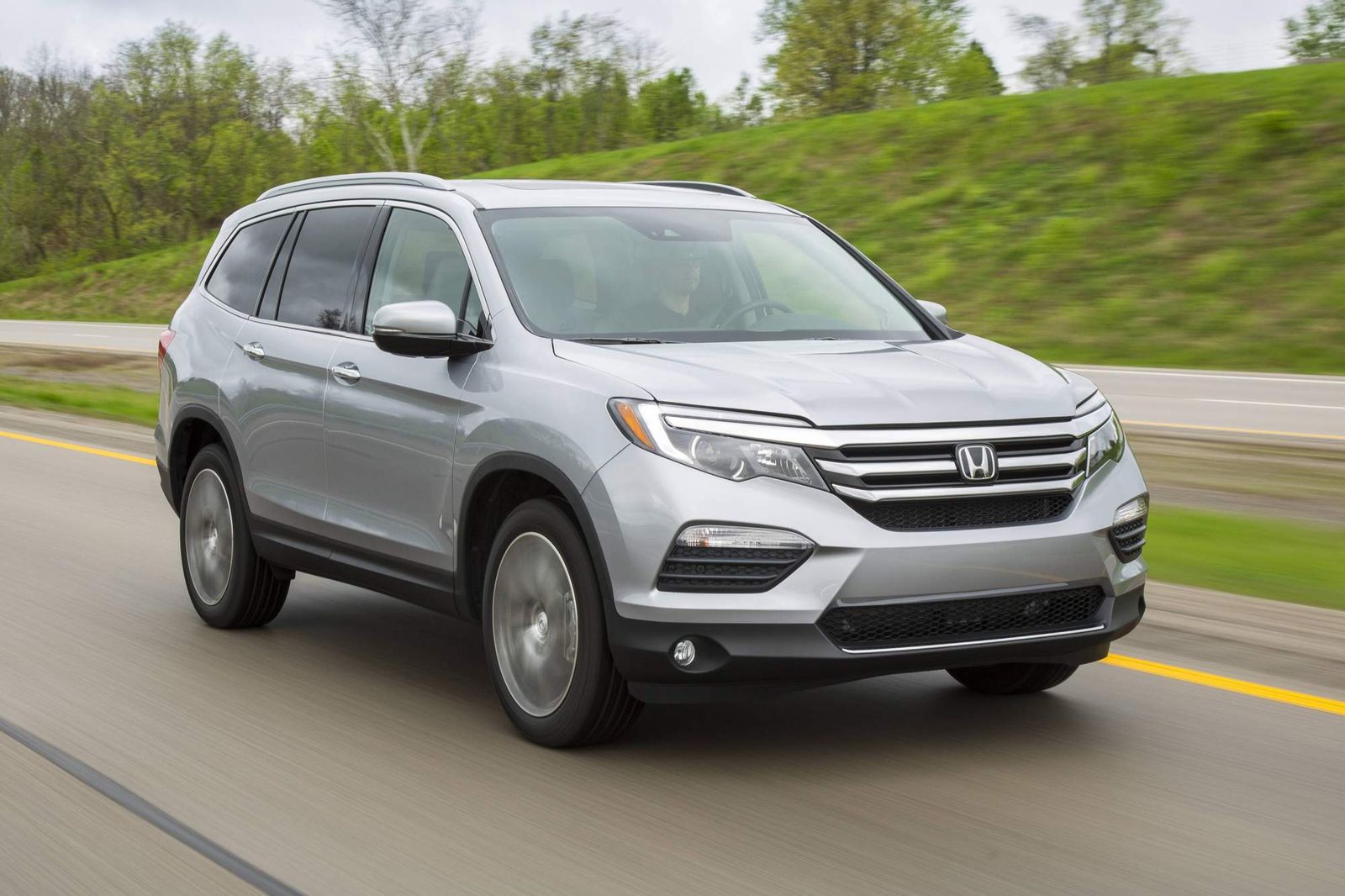 All-new for 2016, the Honda Pilot is the type of car that has everything covered: it looks alright, it's roomy both in the passenger and cargo compartments, and it offers swift acceleration thanks to the 280-hp 3.5-liter V6 (the only engine available). It's tough as well, since it shares many underpinnings with the Ridgeline pickup.
There are five trim levels, FWD and AWD, as well as numerous optional extras to choose from. Lower grades get a six-speed automatic, while the top Touring and Elite models get a newer nine-speed auto. The interior is quiet and spacious, offering up to eight seats, with the Pilot also getting minivan-like features such as one-touch second-row seats, and a cargo area beneath the rear load floor.
#3 2018 Chevrolet Traverse — from $29,930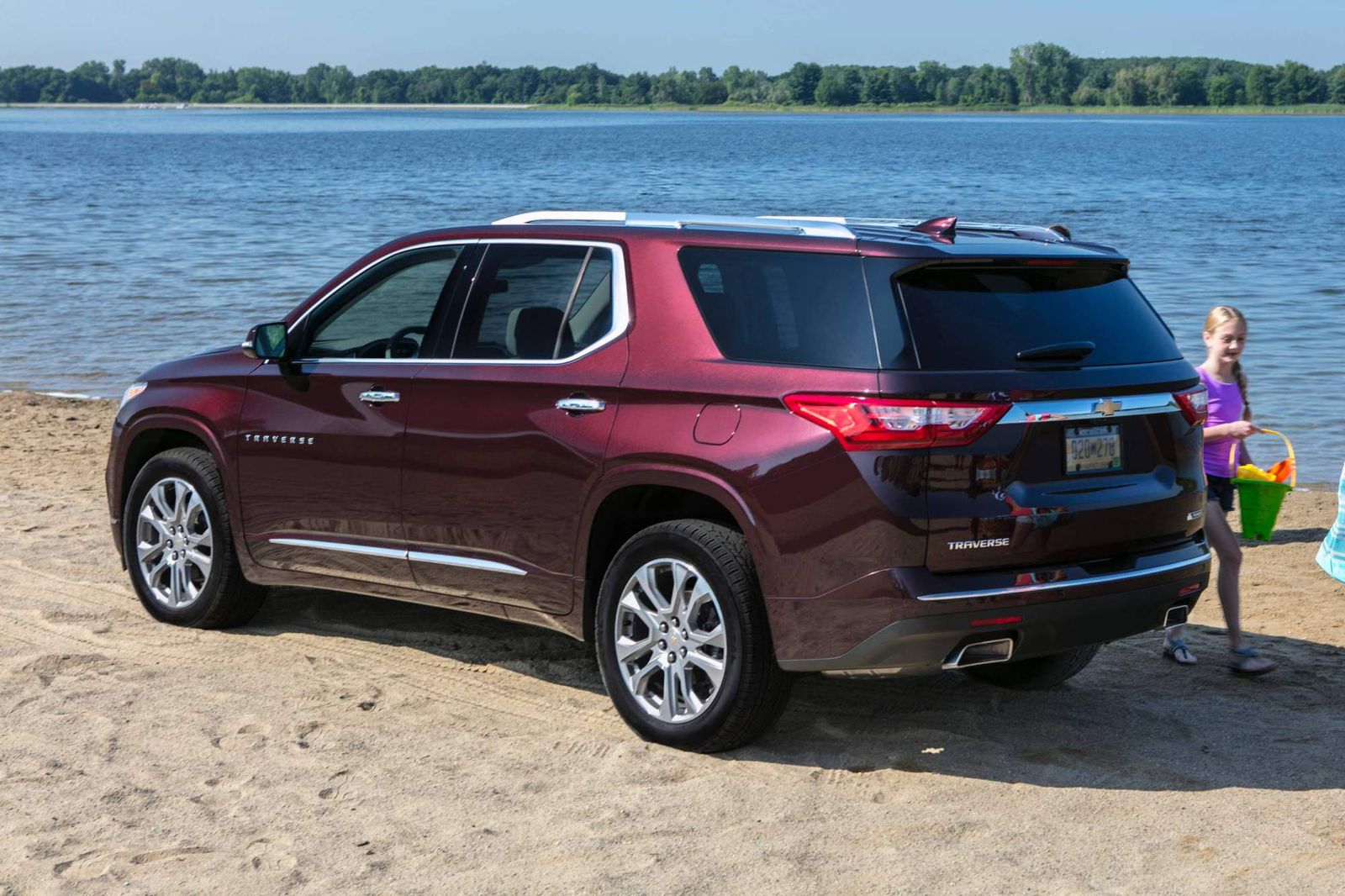 All-new for 2018, the Traverse is not only better than its predecessor, but also one of the best three-row SUVs on the market today. It offers generous interior space (especially for luggage), and seven seats as standard. While the third-row is still cramped for adults, the rest of the seats offer plenty of space and comfort for passengers of all sizes.
Thanks to the all-new platform it uses, the 2018 Traverse handles surprisingly good without any downsides when it comes to ride quality, which remains as smooth as before. There are seven trim levels to choose from, front- or all-wheel drive, and two engines (a standard 255-hp 2.0-liter turbo four and a 310-hp V6).
#2 2018 VW Atlas — from $30,750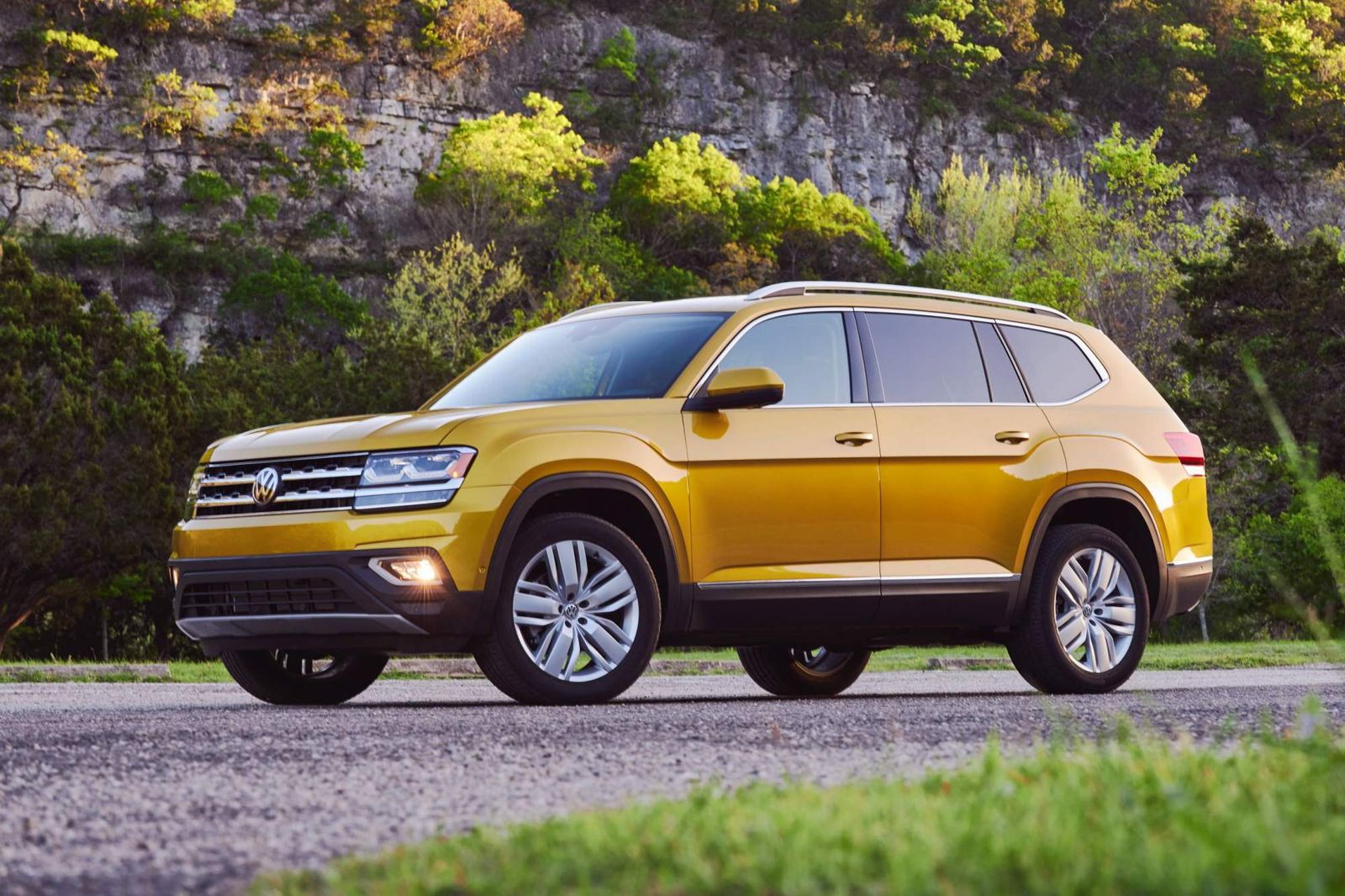 Made in the USA with American buyers in mind, the VW Atlas is one of the roomiest midsize SUVs on sale today: there's enough space for two adults on the third-row, even with a full luggage compartment. The Atlas comes with a standard 235-hp 2.0-liter turbo gasoline engine available exclusively with FWD and an optional 276-hp 3.6-liter VR6 unit that offers available AWD.
Sadly, regardless of the chosen engine, the Atlas is slow — even more so with seven people onboard and their luggage. It exhibits a predictable behavior and the eight-speed automatic transmission is refined, which means the big VW SUV is easy to drive smoothly. The quiet cabin and comfortable ride make it one of the best in the segment.
#1 2018 Mazda CX-9 — from $32,130
We didn't include premium vehicles on this list, but if any of these ten models could pass as a premium car, the CX-9 would be the one. The Japanese model is superbly styled and built, not to mention it's the most enjoyable model to drive. With it, Mazda proves it's possible to have fun behind the wheel of a three-row SUV. There is a downside to that, however: the ride is a bit stiff on poor-quality pavement.
The interior is not only premium-feeling (particularly higher trims), but also spacious, despite the sleek exterior appearance. While the CX-9 may not offer the same cargo volume and three-row space as some of its competitors, it makes up for that in almost every other department. The fact it has a single engine option doesn't bother us because the 250-hp 2.5-liter turbo-four is excellent and is linked to either FWD or RWD via a six-speed automatic transmission.
Honorable mention: 2018 VW Tiguan — from $24,595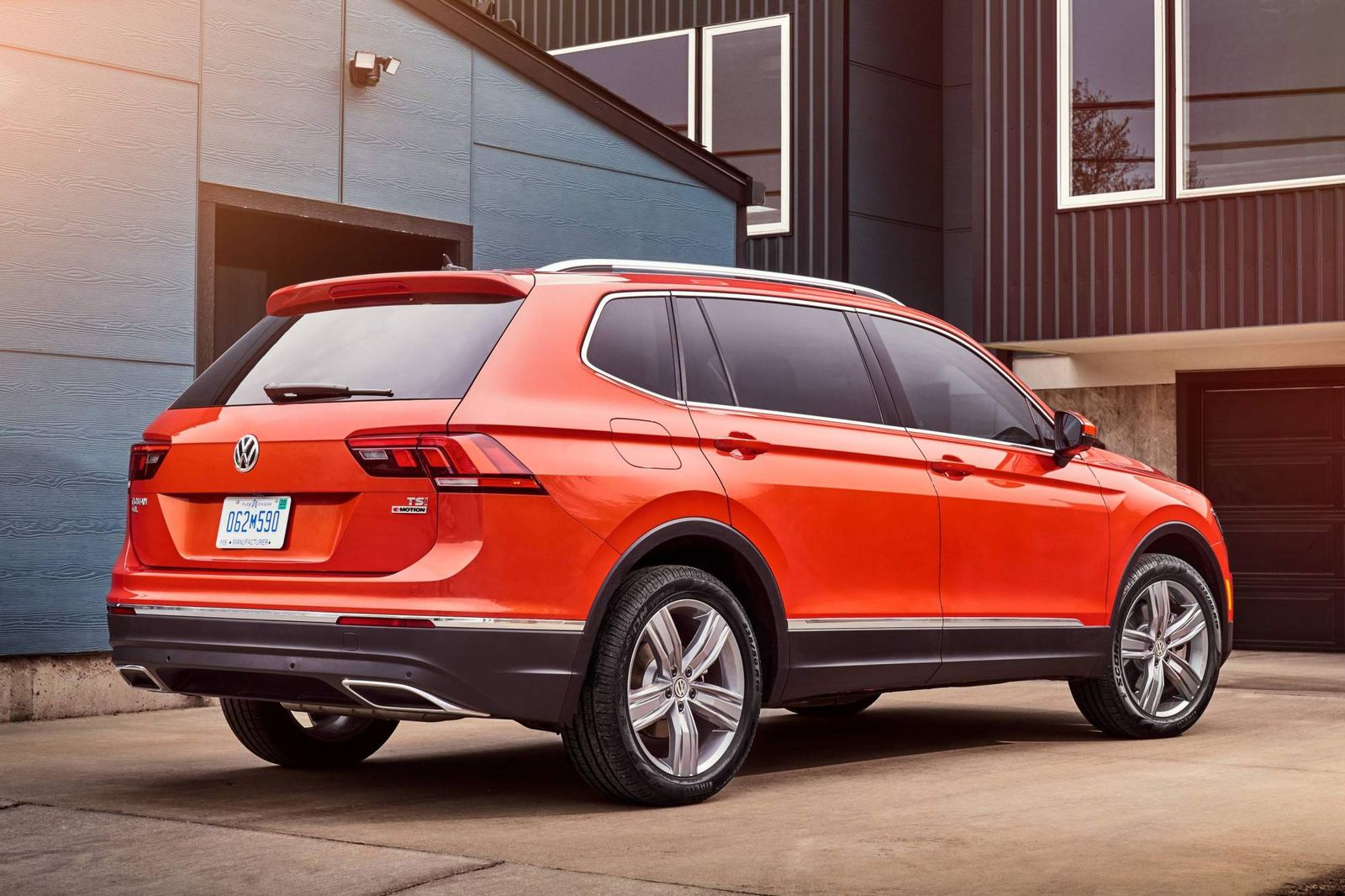 All-new for 2018, the VW Tiguan is 10.7 inches (254 mm) longer than its predecessor, which explains why it comes with standard third-row seating for front-wheel-drive models (a $500 option on AWD models). The new Tiguan is roomy, offers a comfortable ride, and looks better than its predecessor.
Not to mention it offers great value for money: for $24,595, the base front-wheel-drive Tiguan S comes with an 184-hp 2.0-liter turbocharged gasoline engine hooked to an eight-speed automatic transmission. Upgrading to AWD costs $1,400.
Need more space than these SUVs can offer? Check out our list of the best minivans you can buy in the US.