VW Becomes World's Biggest Car Producer
Despite "dieselgate" crisis, VW overtakes Toyota for the first time in history
Volkswagen has taken the top spot in the car producer world in 2016. The latest figures show that sales grew by 3.8% to 10.3 million units, compared to 2015. In the meantime, Toyota's sales reached 10.2 million units, an increase of 1.3%.
Actually, the difference between Volkswagen and Toyota was less than 100.000 units. This does not mean that the German producer's performance is less newsworthy, as it comes amid the "dieselgate" scandal which has engulfed the automotive industry.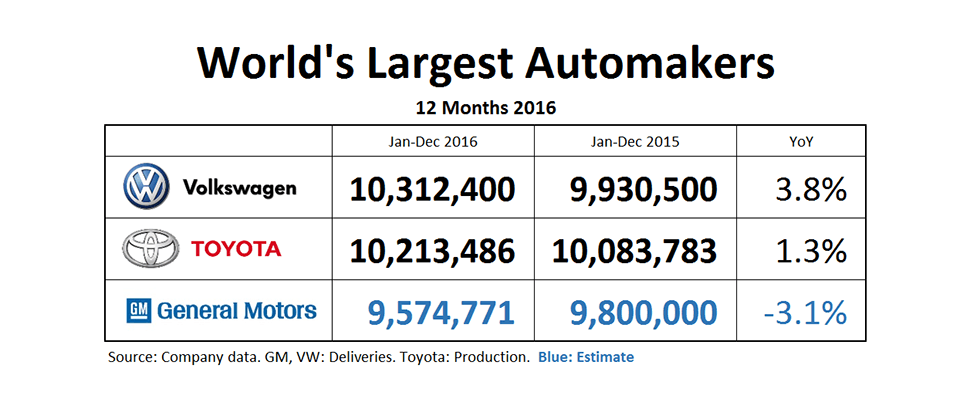 VW was propelled to the first spot fueled by strong demand in China and by strong demand for Audi and Porsche models worldwide. VW group deliveries last year rose 12.2% in China, where the scandal is not an issue because the automaker sells almost no diesel vehicles there. There was also a relatively strong performance in Europe, but VW's sales here were strong due to the Golf and Passat, that dominate segments under direct attack by a new generation of compact SUVs.
The Germans are planning to revamp and expand their SUV line-up. The new Tiguan is a strong contender in its segment, and the bigger Atlas is expected to reverse the downward trend in the US market.
On the other side of the fence, Toyota's performance was less than stellar in China and the US. The bestseller Camry has suffered on the American market, and overall sales in China increased at a smaller rate than the market's average.
VW executives have become tight-lipped about sales volume targets as the company's focus shifts toward safeguarding profits and preparing for a future where vehicle ownership becomes less relevant as ride-hailing and car-sharing gain in popularity, says Bloomberg. "Our new strategy through 2025 doesn't include any sales targets anymore," says Dietmar Voggenreiter, sales chief at VW's premium-car unit Audi said in an interview for Bloomberg.