Watch 2019 Corvette ZR1 unintentionally break VIR production car lap record
Take that, Ford GT!
Virginia International Raceway (VIR) is not the Nürburgring Nordschleife, but it's arguably America's most challenging road course, making it a significant proving ground for US-based automakers and their performance cars.
That's why Chevrolet took its all-new 2019 Corvette ZR1 coupe to the 4.1-mile (6.6-km) Grand Course West at VIR and let it run wild there. The result? The ZR1 stopped the clock at 2 minutes 37.25 seconds, which means it's almost 1.5 seconds quicker than the Ford GT. Unfortunately for the Blue Oval, the GT had posted a 2:38.72 lap time just days earlier.
Also unfortunately for Ford, the Corvette ZR1's record was not intentional. Chevy had taken its range-topping Corvette to VIR for routine validation testing, not as an attempt to set a new lap record. It's safe to say the ZR1 would have been even quicker if that was the ultimate goal of the track outing.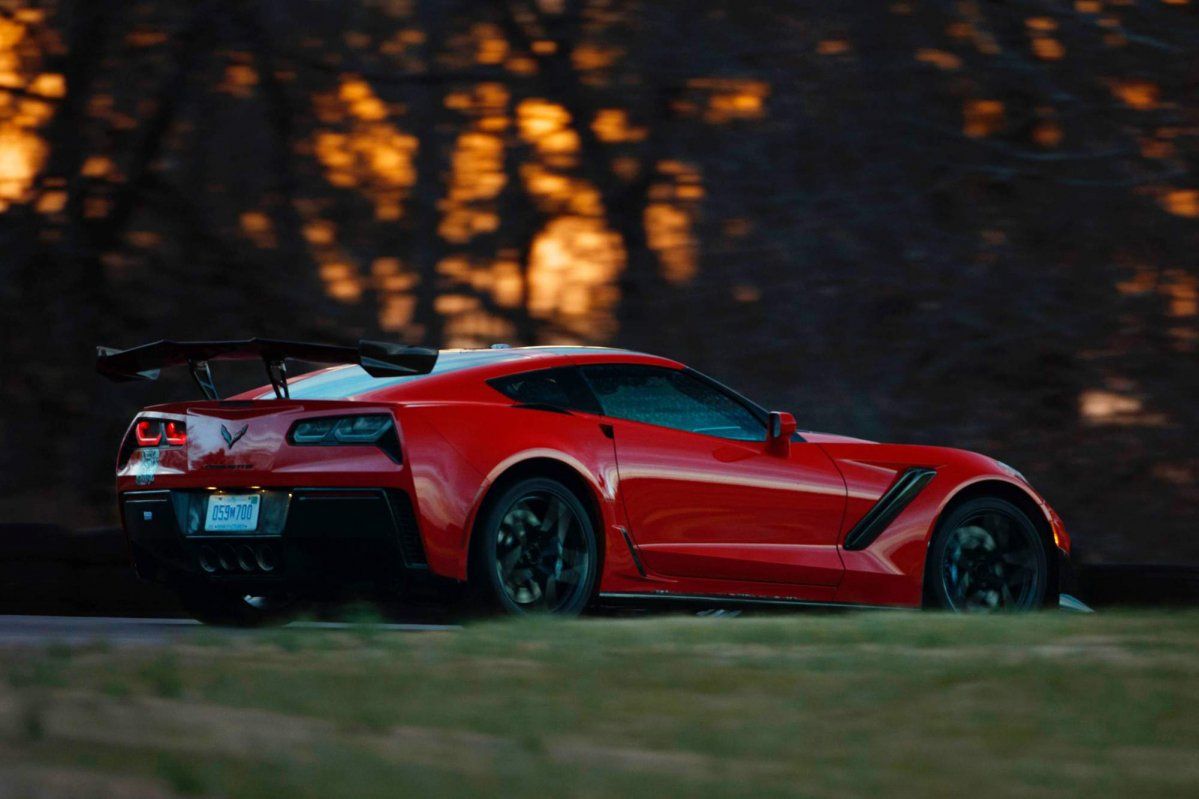 The car was driven by vehicle dynamics engineer Jim Mero and was set up according to the automaker's recommended track alignment and aerodynamic settings. As part of the validation, the ZR1 completed a total of 24 hours of at-limit track testing, with several GM Performance engineers logging laps.
Compared to the stock model, the record-setting ZR1 featured a harness bar and track seats with five-point harnesses for safety purposes. It was also fitted with the available paddle-shift eight-speed automatic and the ZTK Performance Package. A $2,995 option, the latter consists of an adjustable carbon fiber High Wing, a front splitter with carbon fiber end caps, Michelin Pilot Sport Cup 2 summer-only tires, as well as specific chassis and Magnetic Ride Control tuning.
"On the heels of announcing our Z06 time of 2:39.77, the ZR1 lap time is the icing on the cake. It's not too often you set a lap record during validation testing."
Alex MacDonald, manager, Vehicle Performance
As a reminder, the 2019 Corvette ZR1 coupe is powered by an LT5 6.2-liter supercharged V8 engine that makes 755 hp and 715 lb-ft (969 Nm) of torque. Linked to a standard seven-speed manual or optional eight-speed automatic, it allows the supercar to reach a top speed of 212 mph (341 km/h) and accelerate from 0 to 60 mph (0-96 km/h) in under 3 seconds.
The ZR1 goes on sale this spring with a starting price of $119,995, including destination.
You can also have the 2019 Corvette ZR1 as a convertible, but you'll have to pay $123,995.