Five superb and secret Italian alpine roads you should discover
Avoiding the Stelvio Pass with a BMW 430i convertible is quite an experience
What would you need to get your petrolhead fix once in the Italian Alps? Most would answer: take a trip on the Stelvio Pass. Well, there might be something much better than that.
Taking delivery of a brand-new BMW 430i Convertible in Munich, I did what every car journo does while in Germany: waited nervously for the unlimited-speed Autobahn to open, put everything in Sport and floored it as soon as the opportunity arose.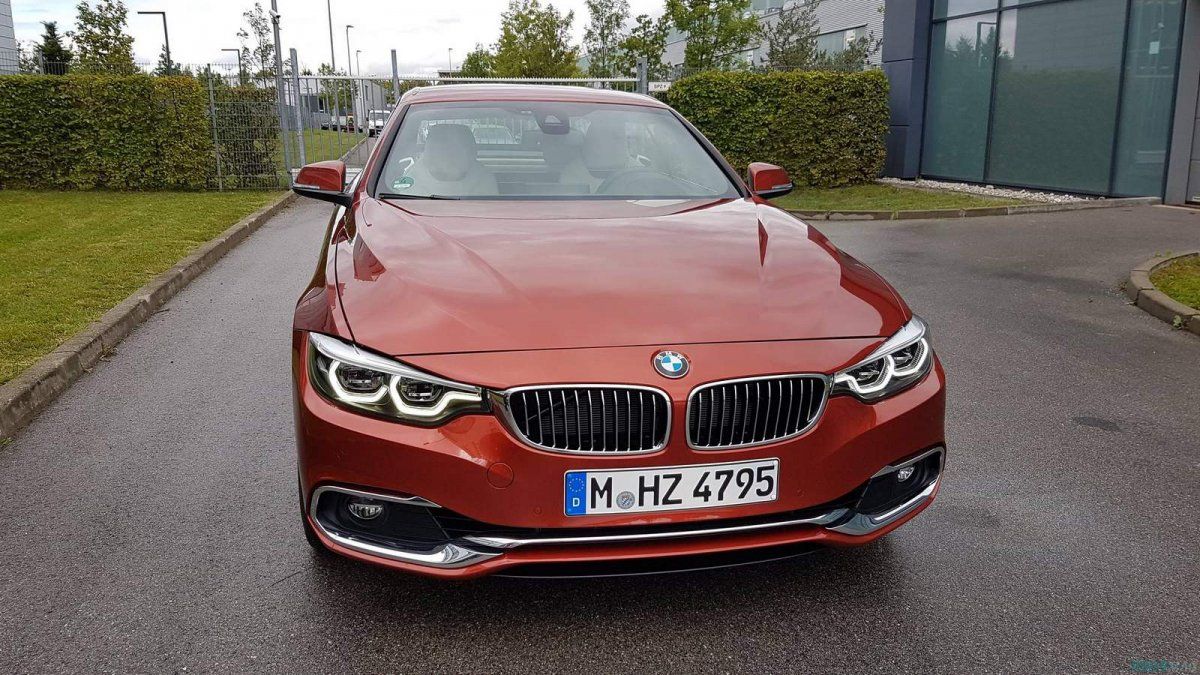 Looks like the perfect weapon for having fun
With 252 hp under the hood, the 430i didn't disappoint: it huffed, puffed and went straight up to speeds for which you'd end up in jail in other countries. And it continued doing so for miles, but this wasn't the highlight of our trip, not in a million years. Because we rushed towards the Alps, you know, and the Alps are the enchanted world for all petrolheads out there.
The Italian Alps in a convertible: Avoiding the Stelvio
Enchanted, yes, but also full of tourist traps to avoid. You see, the Stelvio Pass (2,757 m altitude) is a wonderful piece of road that's nice to check as a tourist attraction, but nothing more. The reason is simple: as is the case with most `best roads in the world`, the Stelvio is filled with cars and motorists and cyclists that want to enjoy the view.
So you'll most likely end up going slowly in a long queue looking annoyed at the back of a 1957 Porsche 356 and its millionaire driver with a 40-years younger blonde on his side while doing 15 mph and coughing from the exhaust smoke of tourist buses. You can do this in any Swiss city, you know? Instead, you could go here:
Yes, by all means, go and `do` the Stelvio Pass for the scenery, but then, if you really want to enjoy driving, stay a few more days in the area and search for the true driving roads. The ones you would enjoy for the skills they require, not only for their fame. With this in mind, we started exploring around.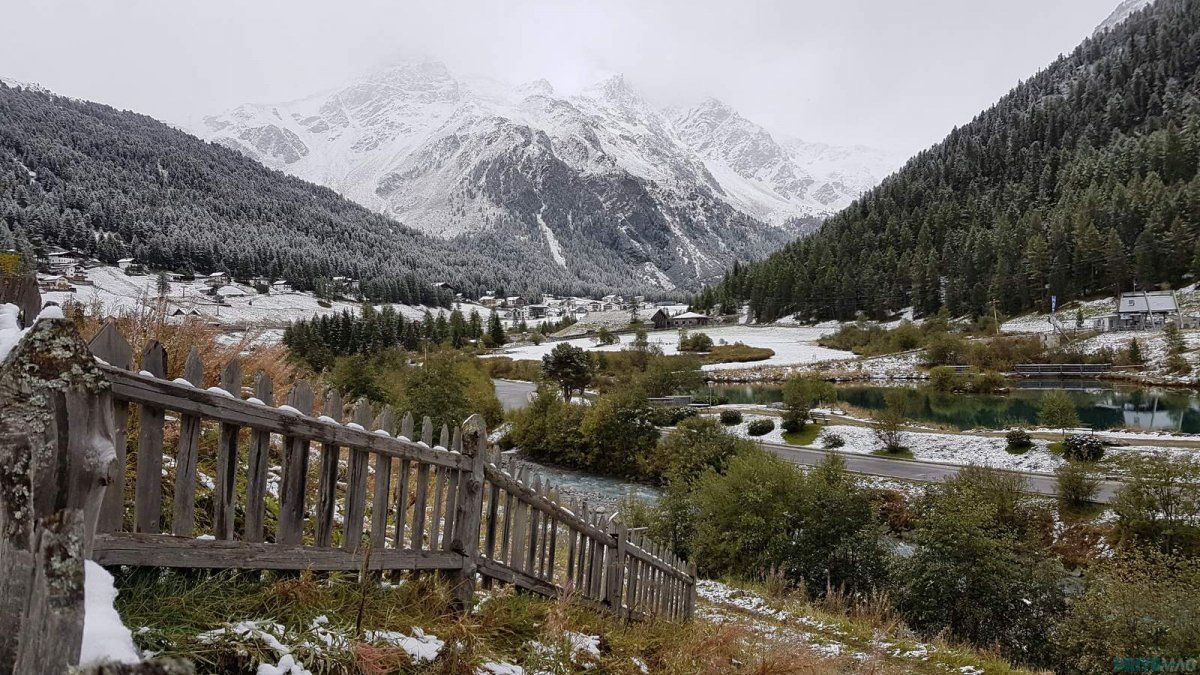 Not the best weather to go up to the Stelvio Pass...
And, boy, the Italian Alps didn't disappoint!
Day 1. Nauders - Prato allo Stelvio - Solden (SS40)
As an introduction to the whole area when coming from Austria, this is a valley road that goes up to 1,900 meters, with some beautiful lakes and castles sprinkled here and there, for good measure.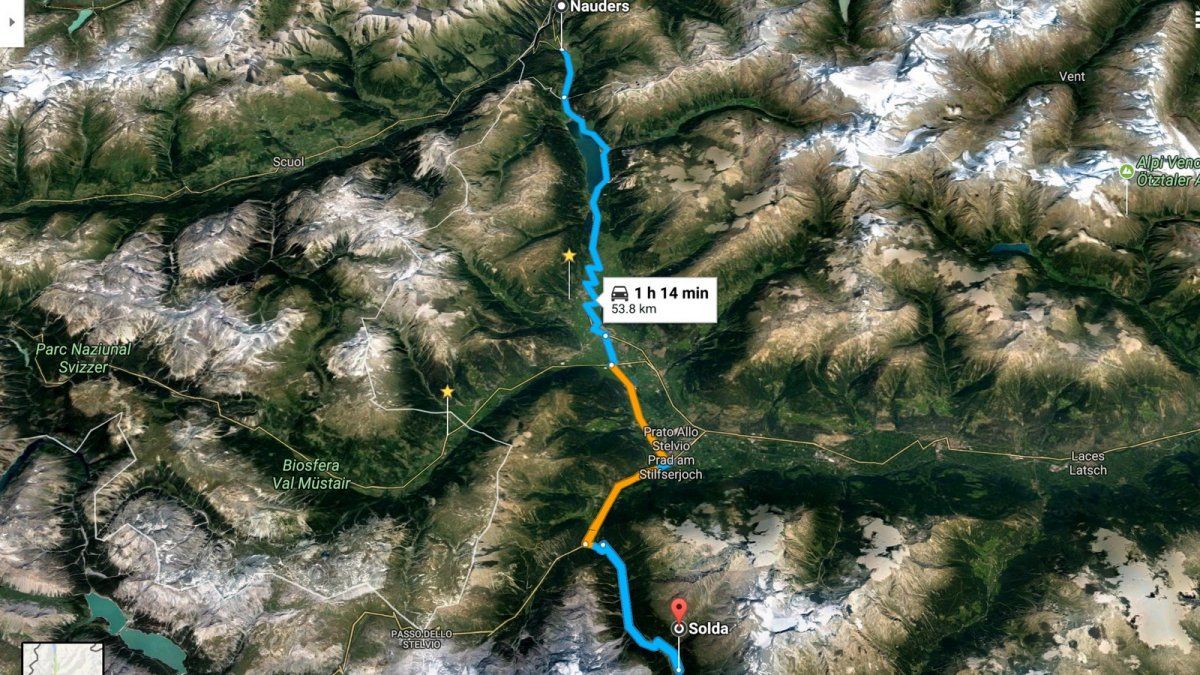 Nauders to Solda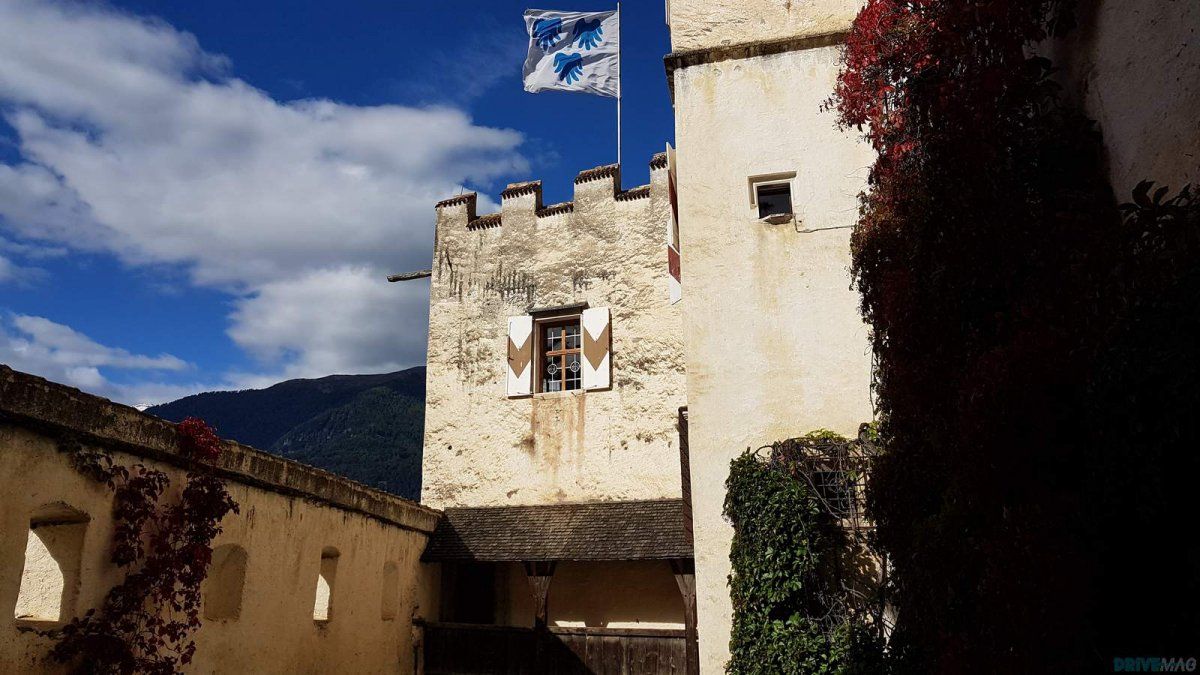 Be sure to visit the unbelievable Castle Coira (Churburg), and see its charming painted walls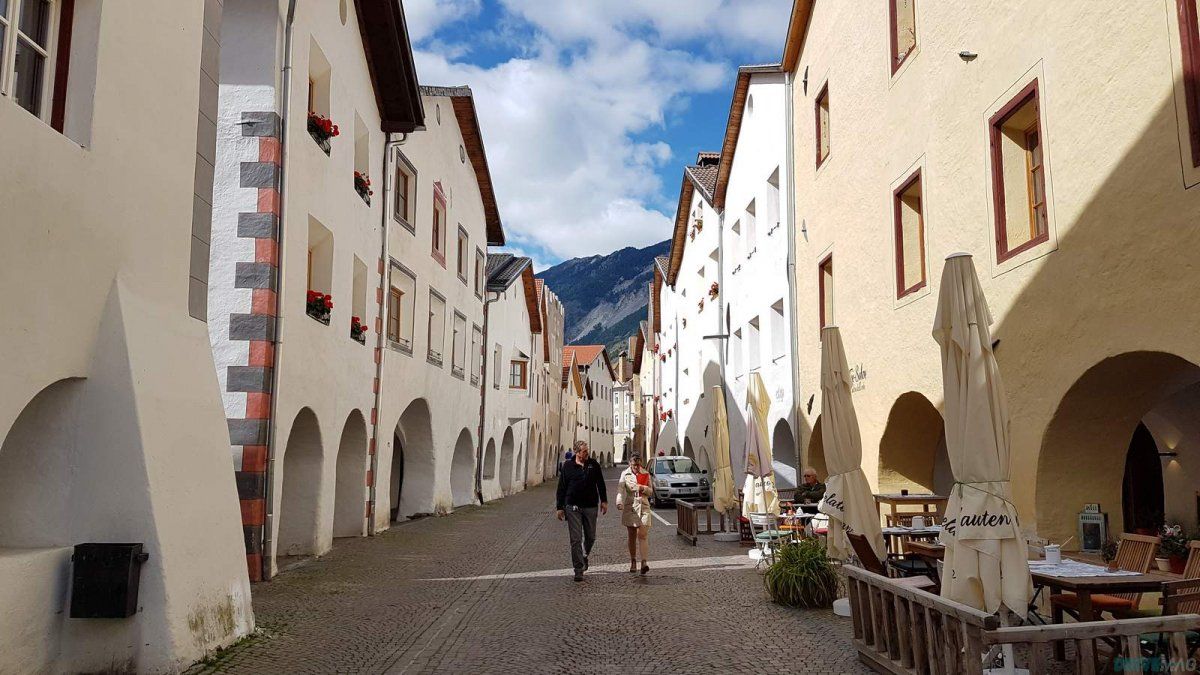 Take a short detour to Glorenza (Glurns), to see its medieval center pristinely preserved
It's also the only one where I left the car in Comfort mode, just cruising and enjoying the incredible low consumption of this 2-liter 4-cyl engine. So low, I looked embarrassed when we arrived in Solden, the end of our first trip day: 7.2 liters/100 km (39 mpg) from a 252-hp engine is not quite something to brag about as a petrolhead. When you want to destroy the planet, that is.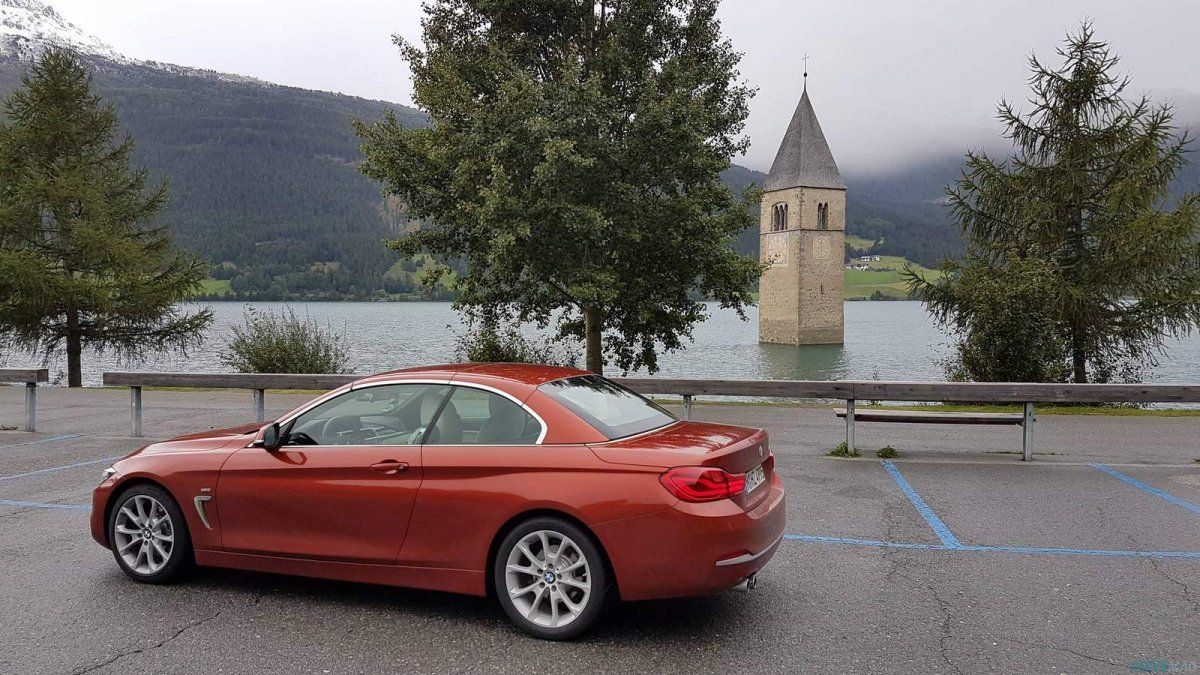 Take a look at the bell tower of Alt-Graun, submerged when the Reschensee lake formed in the sixties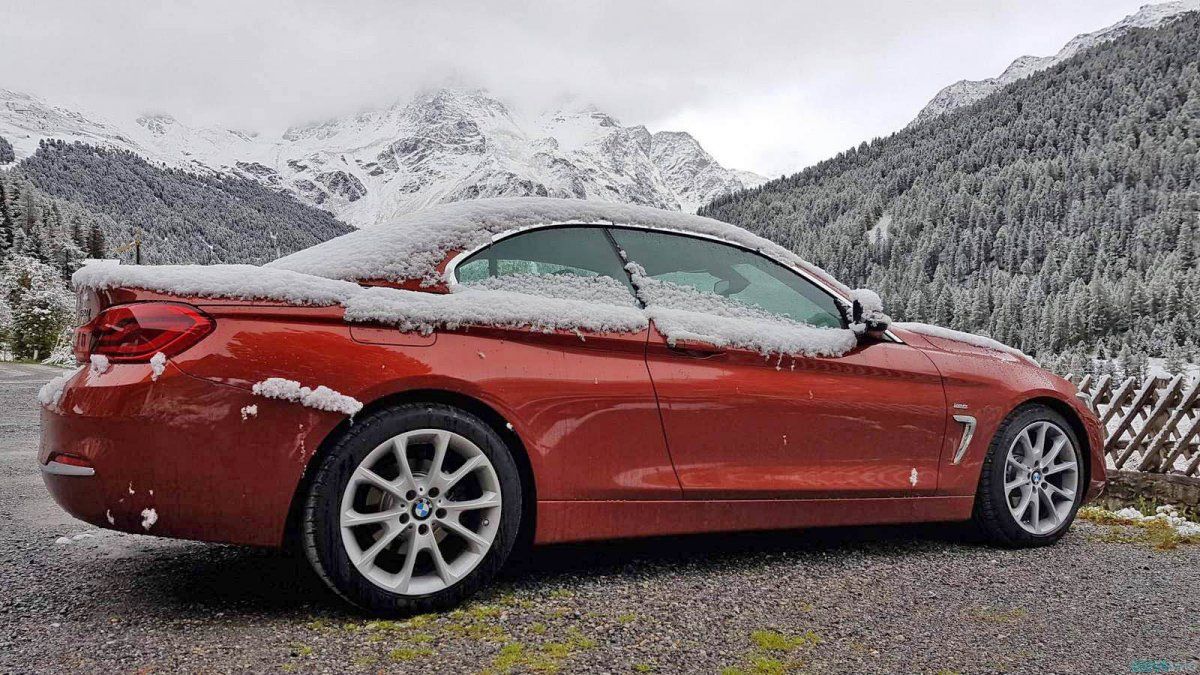 We would have taken the 430i to the Stelvio Pass just for fun, but it snowed. And we had summer tires. Bummer
Day 2. Merano - Fondo - Dimaro - Passo del Tonale - Edolo
Merano is, perhaps, one of the most underrated medieval cities in South Tyrol, and you should, by all means, visit it (and its beautiful gardens). But my main point of interest was the mountain road going straight up from Merano to Edolo, the SS238, continued by the SP9 towards San Pancrazio, up, in the mountains.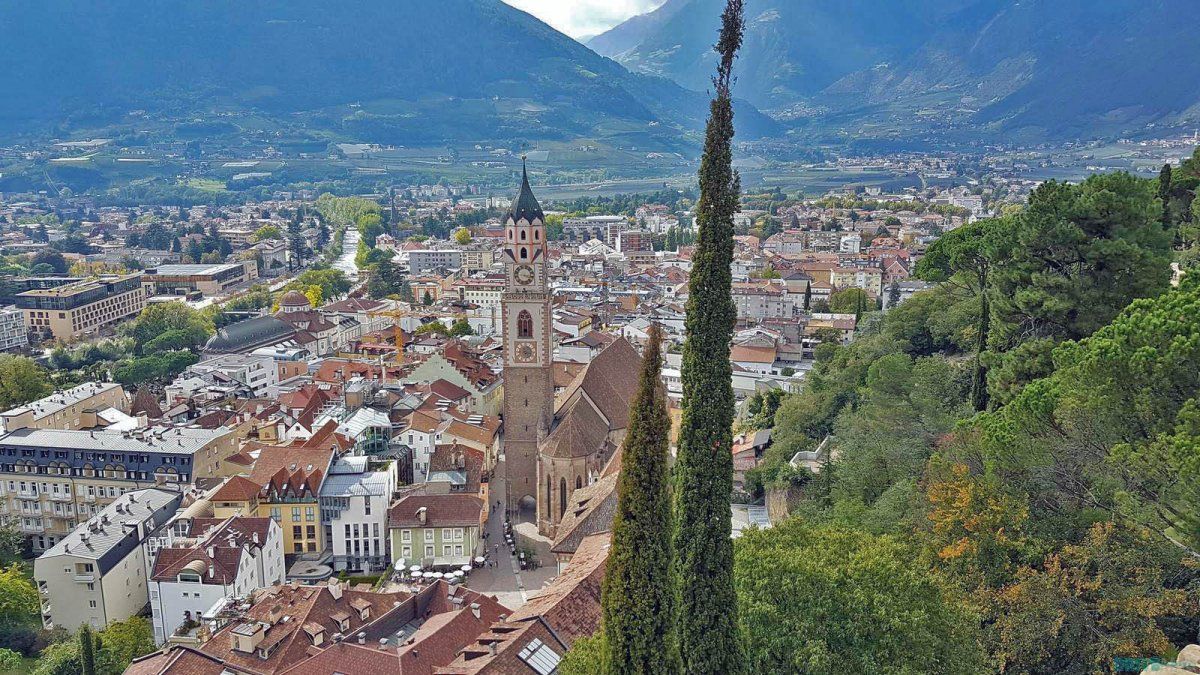 Don't miss this gem of a town
Setting the car in Sport and taking control of the gear changes with the paddles behind the wheel, I started to push the 430i through the hills that climb from 300 m to 750 m altitude in a couple of minutes. The steep climb gave way to a winding road that took a left turn to the SP86, towards Lauregno.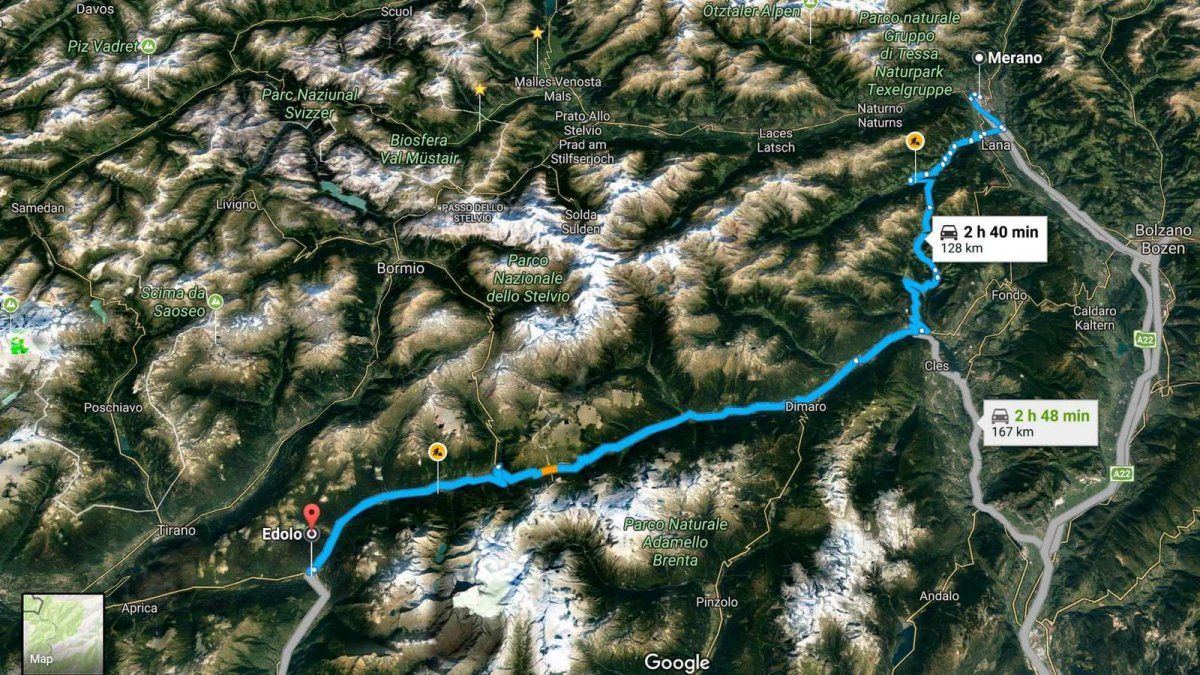 Merano to Edolo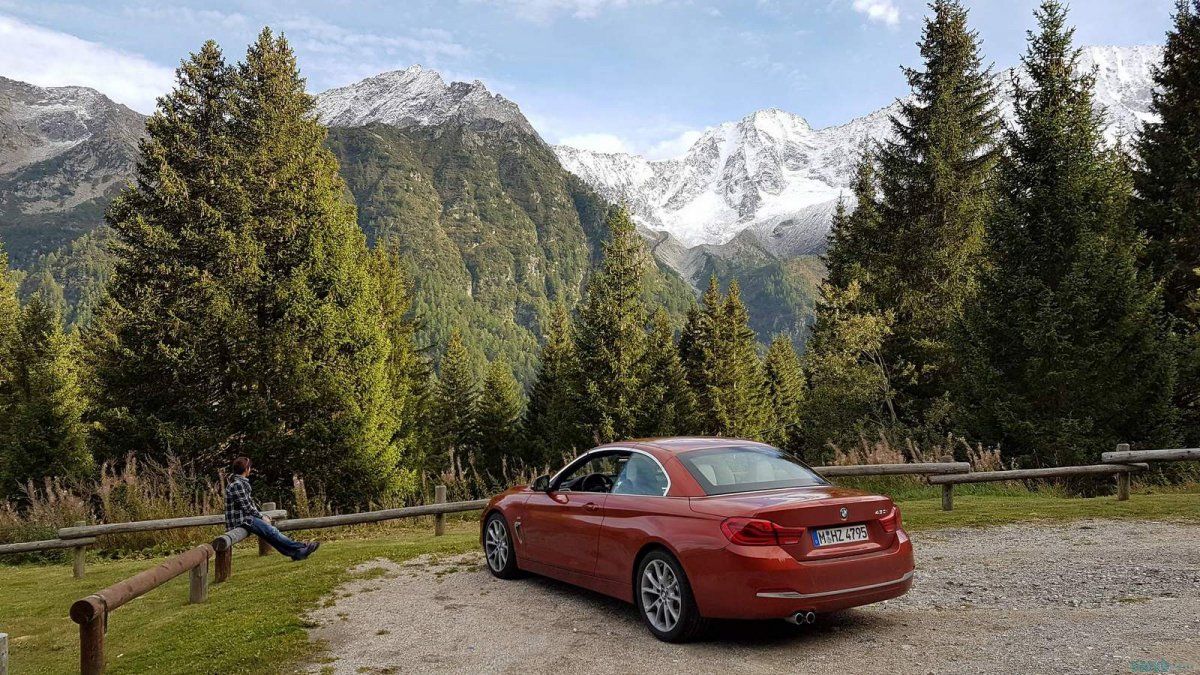 You'll be regaled to the views several peaks that go up to 3,173 meters (10,410 ft)!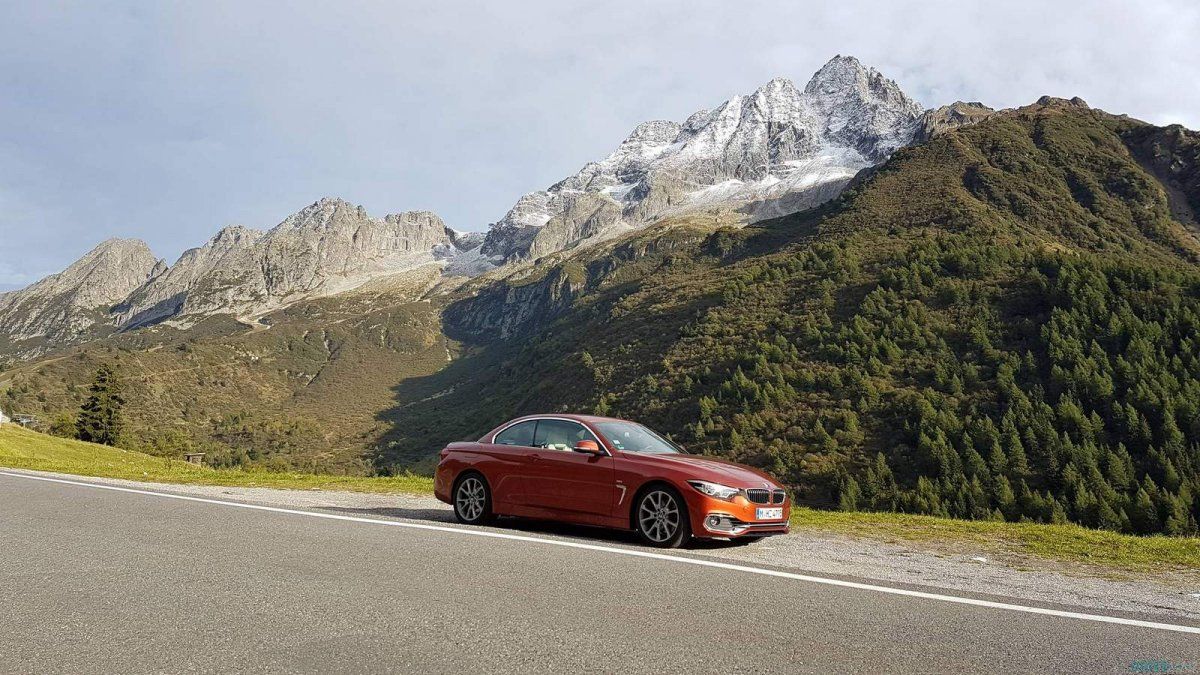 The Adamello mountains (3539 m) look like drawn by an ecstatic child
Growling like a madman, the 430i was finally in its element, reaching as high as 1883 m (Passo del Tonale), crisscrossing several forests and then exiting in a high-altitude valley, towards Edolo.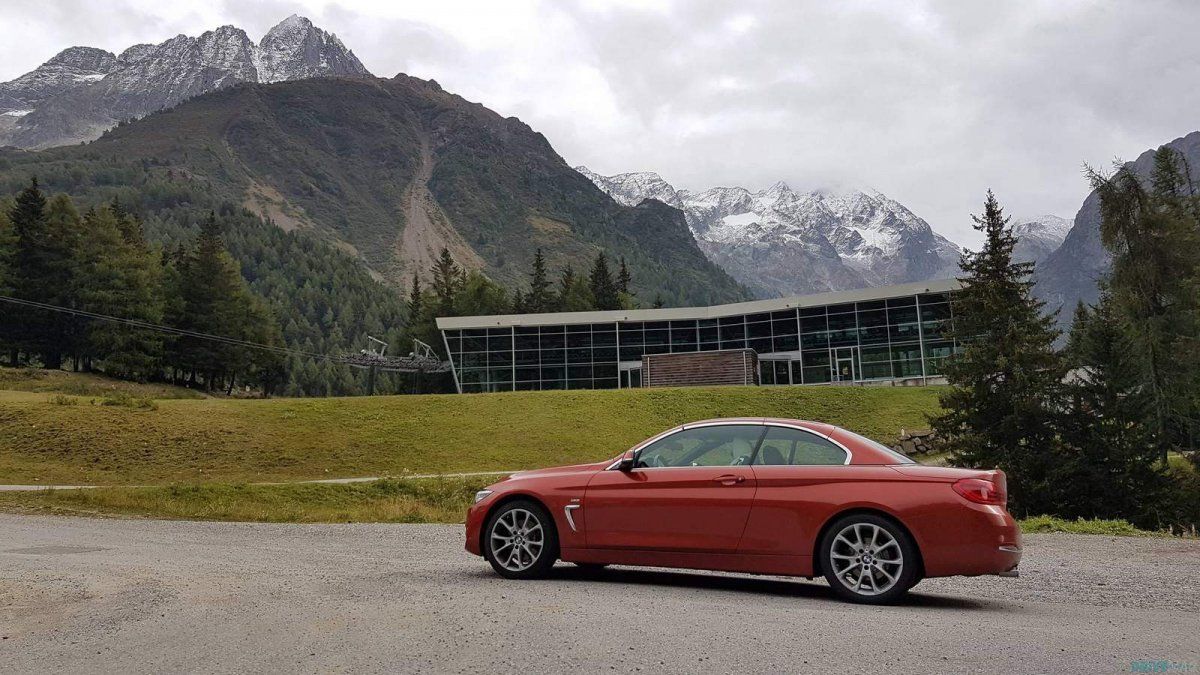 We stopped a lot on this road, and the 430i looked angry
A full hour of pure driving joy that ended much further, down near the Como Lake where we settled for a couple of days. The perfect Italian experience.
Day 3: Dimaro - Tione di Trento - Stenico - Tassulo - San Michele
Lake Como is to be experienced by slow boats, sipping an espresso or a glass of wine while looking at gorgeous villas and thinking only about where to eat some pizza. But before transforming ourselves into gelato-filled sloths, we came back to Dimaro and took the southern route towards Molveno for our adrenaline dose.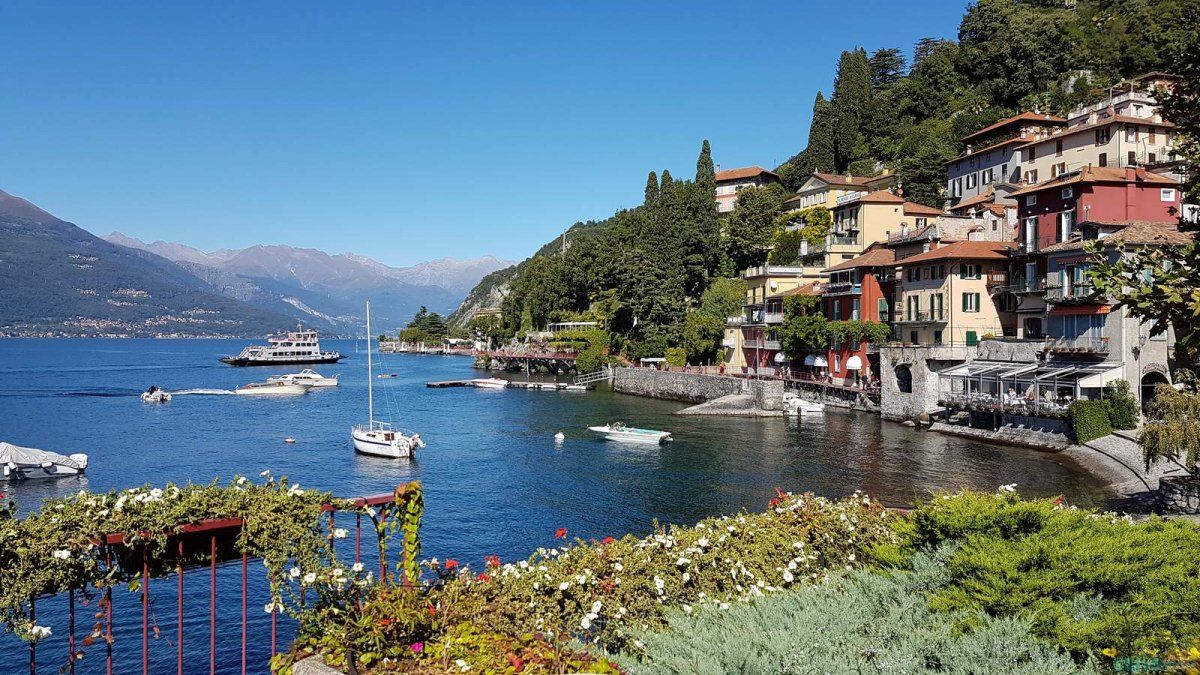 Don't miss Varenna, the perfect stop on the Como Lake
The 350 Nm delivered smoothly between 1.450-4.800 rpm were all that I needed to push the car through the series of abrupt bends while trying to convince the automatic gearbox that no, I didn't need to use the 5th while going up with 90 km/h (55 mph) from hairpin to hairpin. I let it stay in the third, just to hear the engine singing an ode to the mountains ahead. You should do it, too.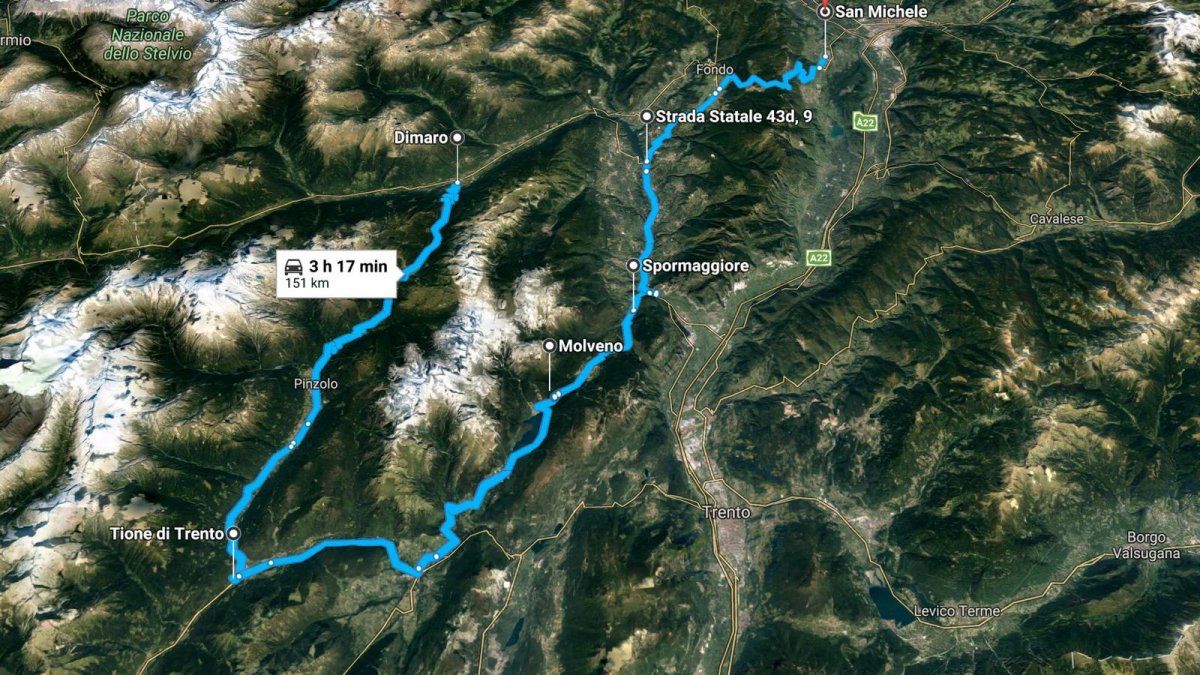 Dimaro to Molveno to San Michele
From Borzago, we took the road to the left (the SP53) that goes from 670 m to 1225 m in the blink of an eye (and several hairpins), then went down again towards Preore and continued on the SP34 road to Stenico and San Lorenzo Dorsino, dubbed as `Italy's most beautiful mountain villages`. Yes, they are.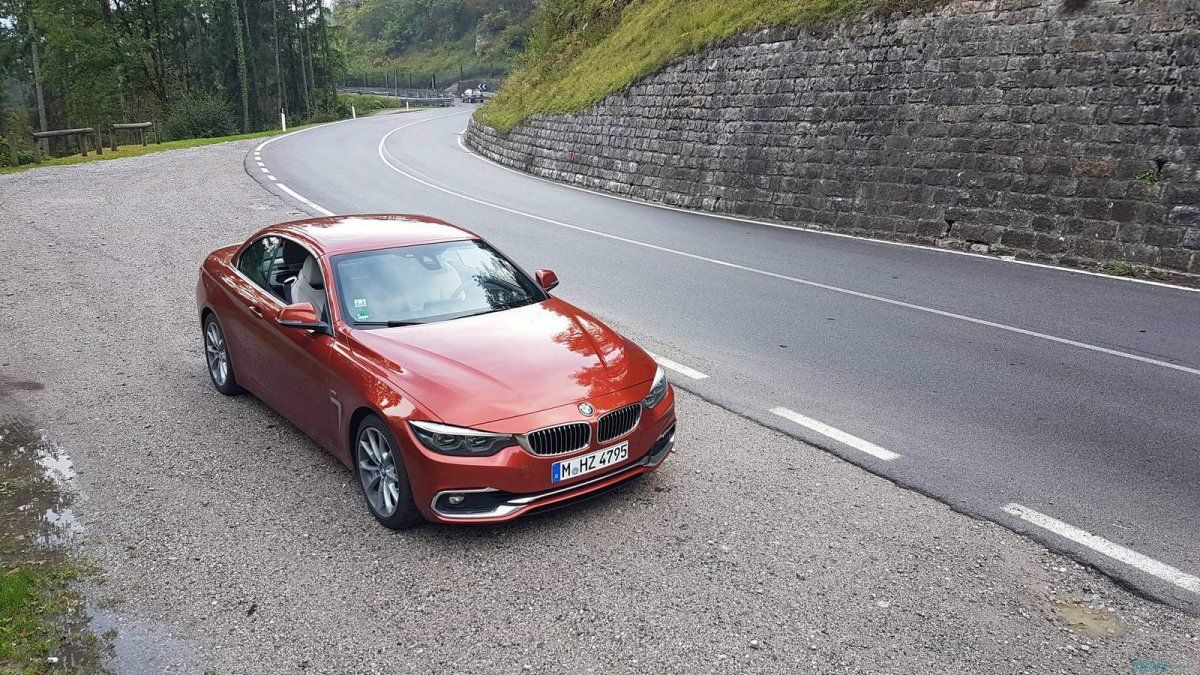 Empty roads, incredible landscape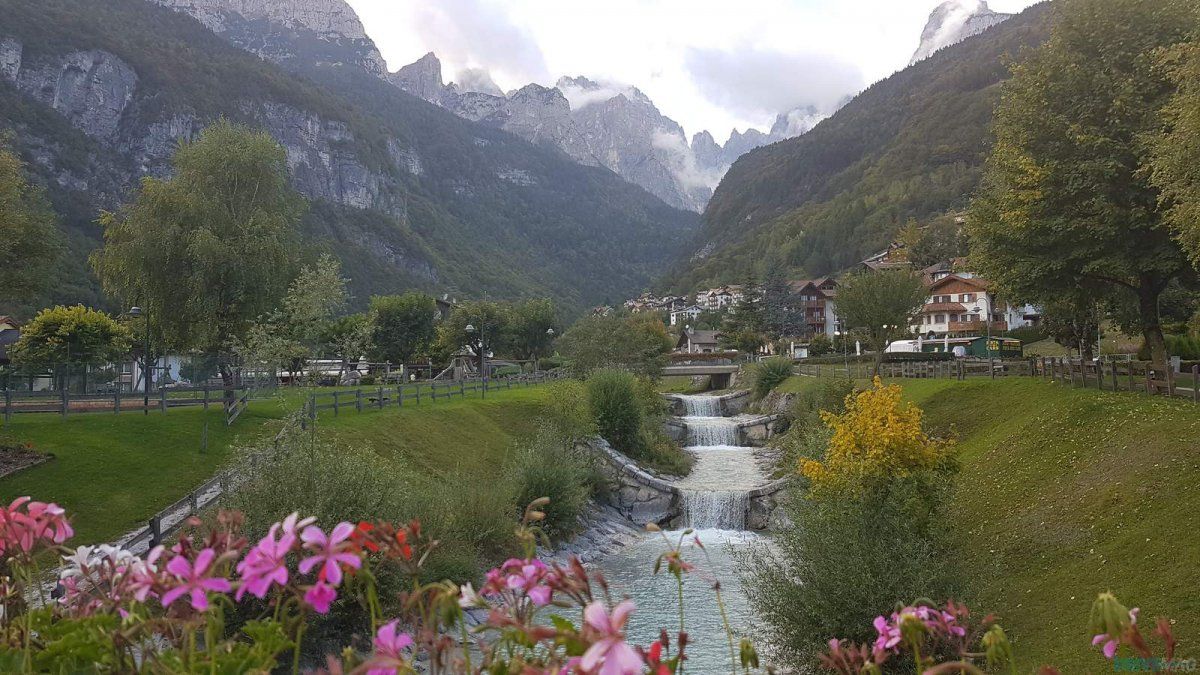 Molveno isn't bad either
The road goes down towards the pristine Molveno lake, then climbs back towards gems like Andalo and Spormaggiore, with ruined castles adorning huge panoramas as you focus on keeping the balance between speed and admiring the scenery.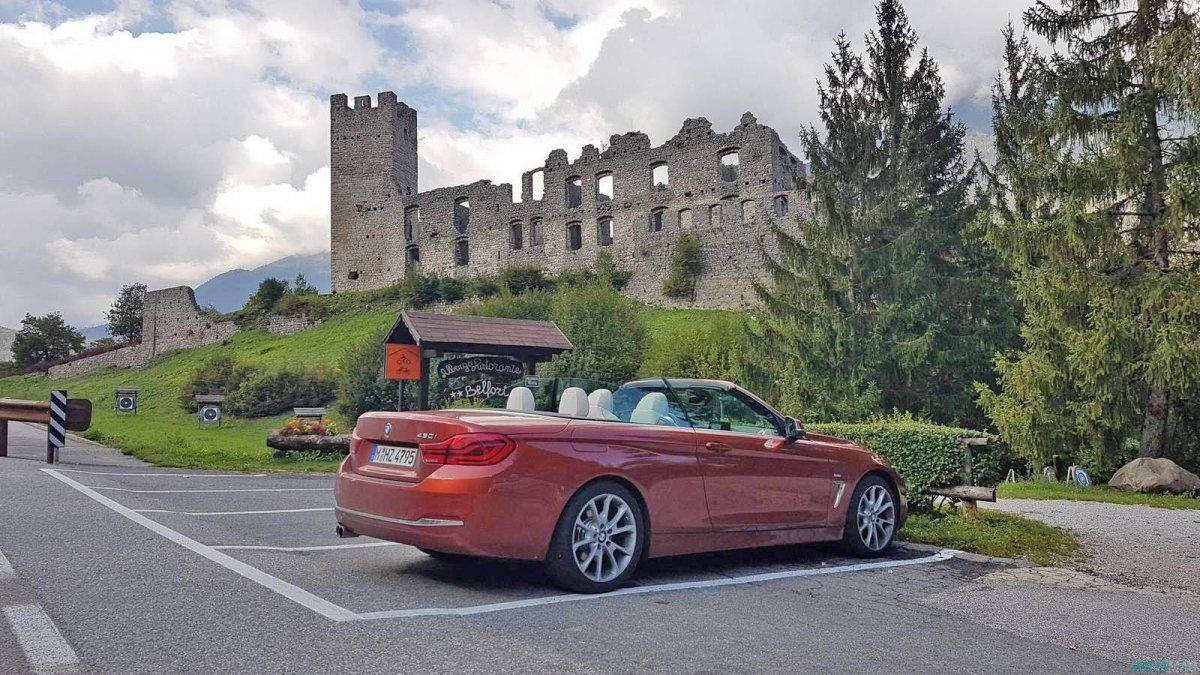 Belfort Castle is the perfect place to look over the entire valley
The sun was finally warming the high altitude roads, so we spent some 20 seconds to put the top down and then floored it again towards San Michele. This last stretch is of particular interest, as it climbs from 970 m to 1370 m and then goes down in a series of spectacular hairpins towards the Bolzano valley.
What a day!
Day 4: Bolzano - Sarentino - Pennes - Passo di Pennes - Vipiteno
There was a dilemma: how to go back to Germany - on the Italian highways, or avoiding them and returning to the mountains? Easy choice: we went from Bolzano and its plethora of medieval castles towards Vipiteno, passing through the Passo din Pennes (Penser Joch), at 2211 m altitude.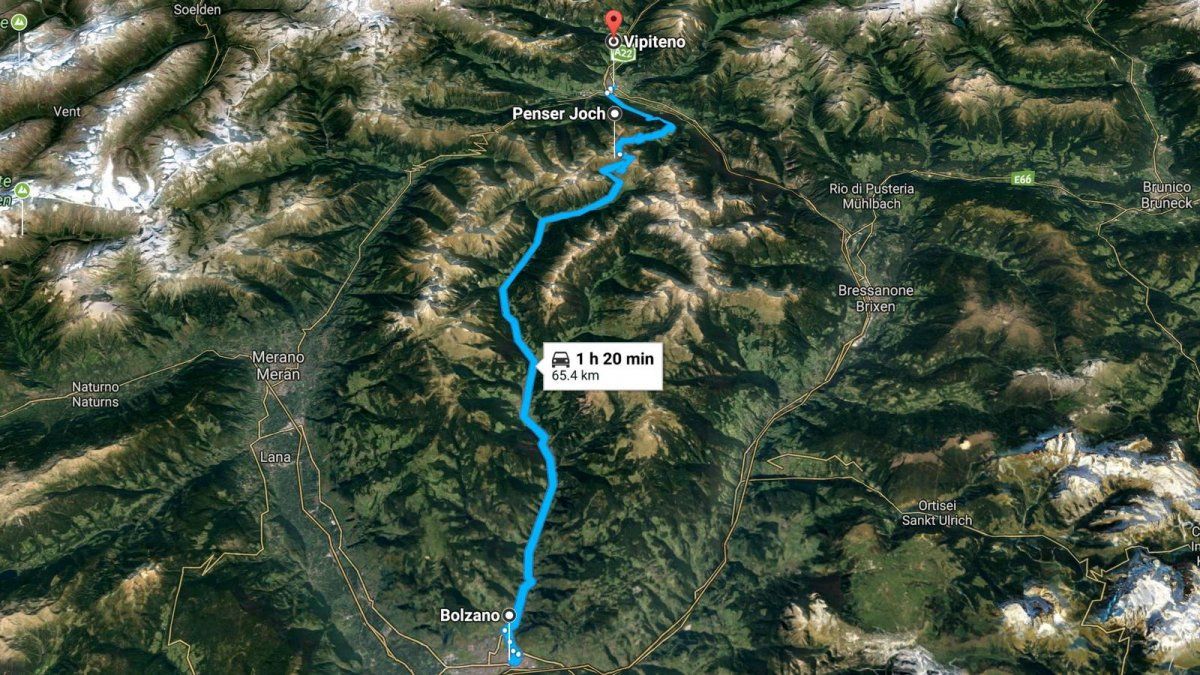 From Bolzano to Vipiteno through Penser Joch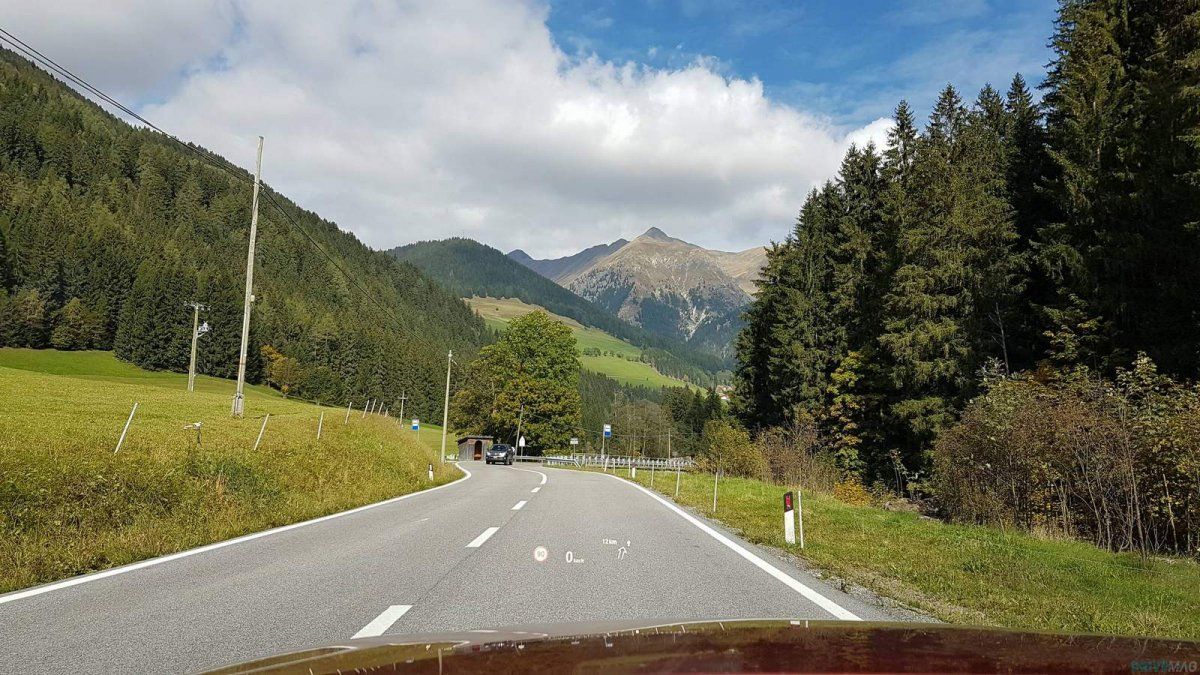 Yes, you'll climb up there, right to the top!
This road has the right amount of tunnels if you want to release your inner idiot and make the 430i roar like a blood-thirsty monster, with the top down. But then it ends up in a high-altitude valley and you start climbing through steep hairpins, followed by straight stretches of roads where you can floor it for a couple of seconds and then stump on the breaks again. Repeat this for some minutes and you'll reach automotive Nirvana on this empty twisted road as you'll never be able to do on the Stelvio.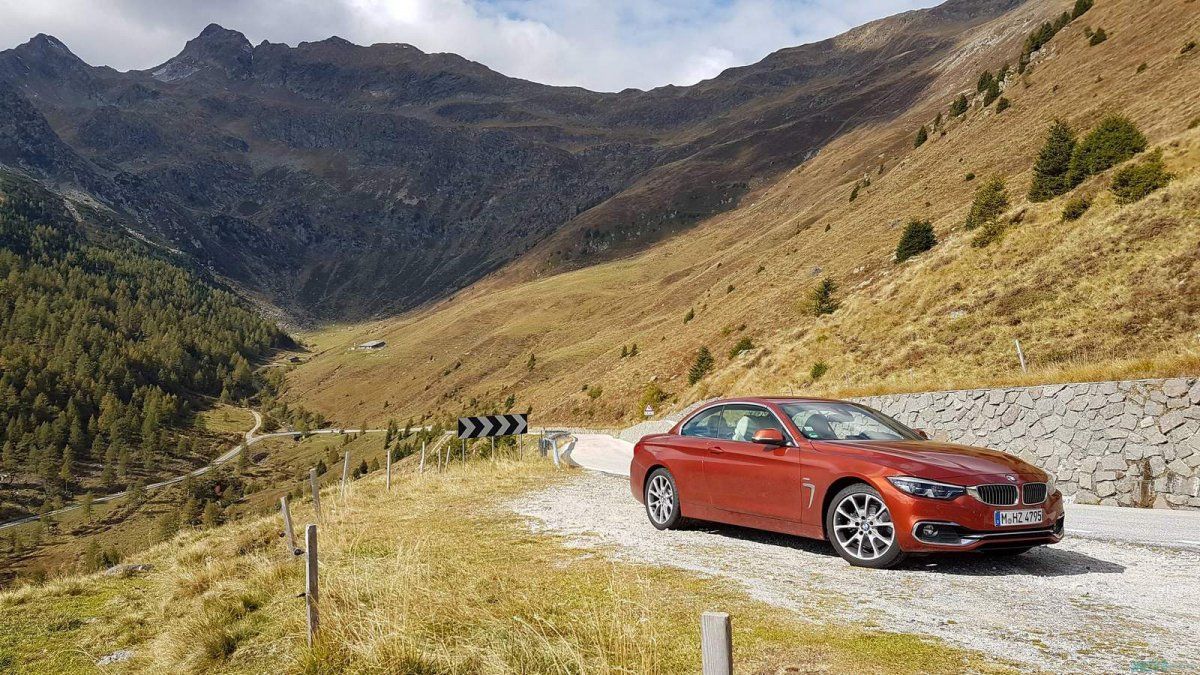 After a bout of driving madness, just let the car chill and take in the view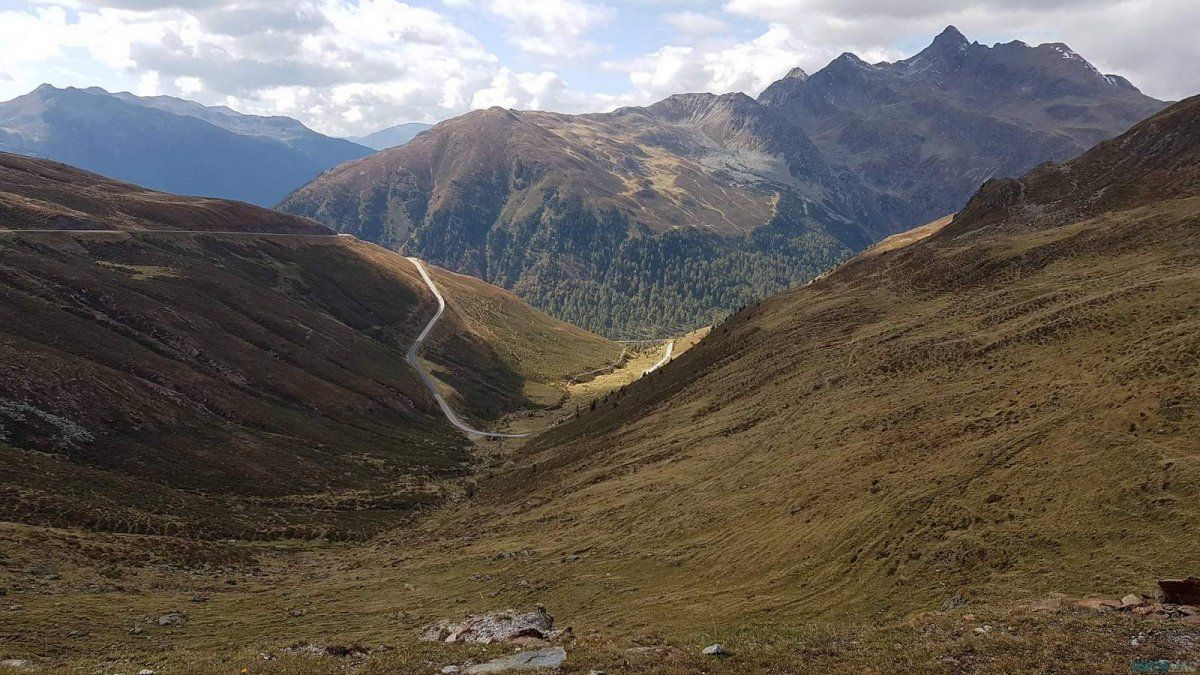 This is no Stelvio, but it's breathtaking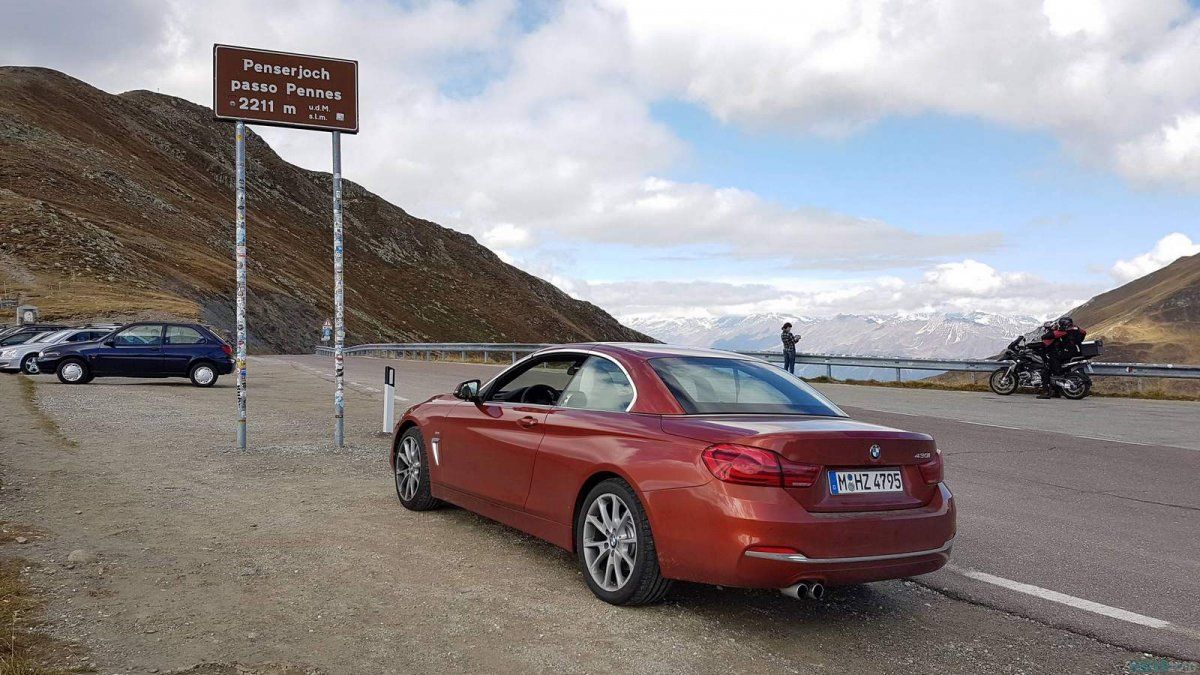 A little bit too cold for an open top in September, though
Once up, be sure to stop for a couple of hours, take your backpack and go for a stroll on the surrounding trails - they're accessible and very rewarding, as you have magnificent views towards all the neighboring 2400-2700 m high mountain peaks.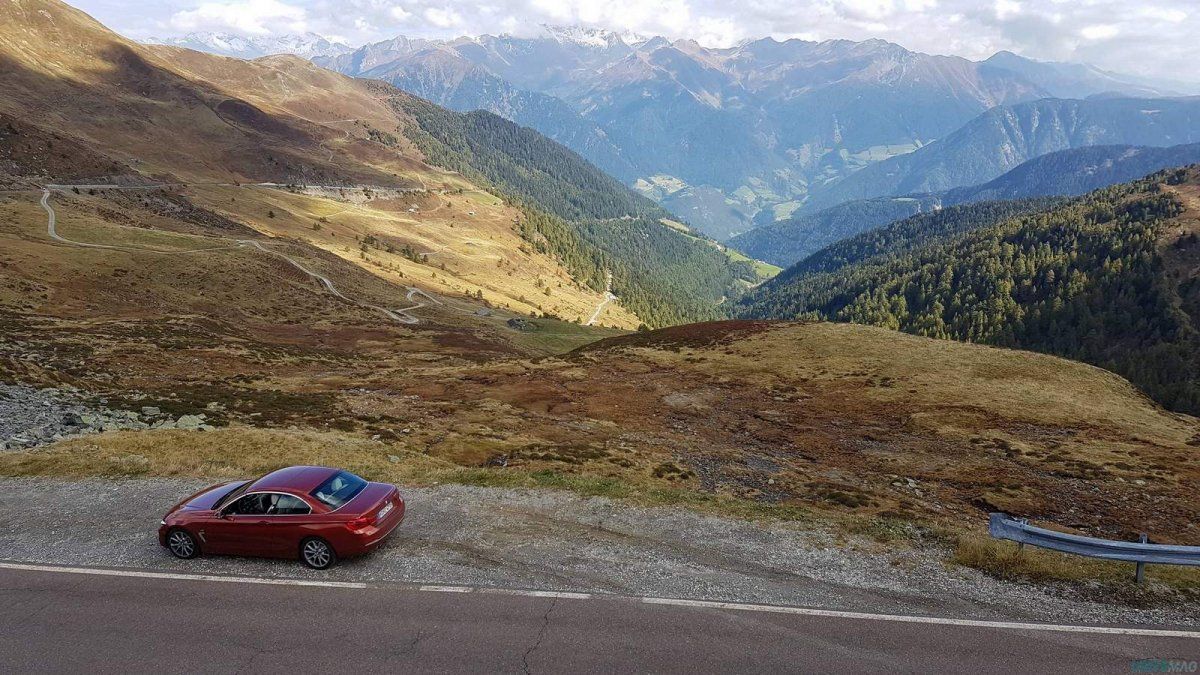 It's just a pity to whizz by, even in a convertible
Day 5: Vipiteno - Passo di Monte Jovo - San Leonardo in Passiria - Timmelsjoch - Ötztal
From Vipiteno, don't make the error to take Austria's most horrid highway, the A13. Not only that you're forced to go at an annoying 90-100 km/h, but the traffic is intense and bottlenecks are huge. And it costs you 9 euros for losing one hour of your life on it. Avoid it like hell.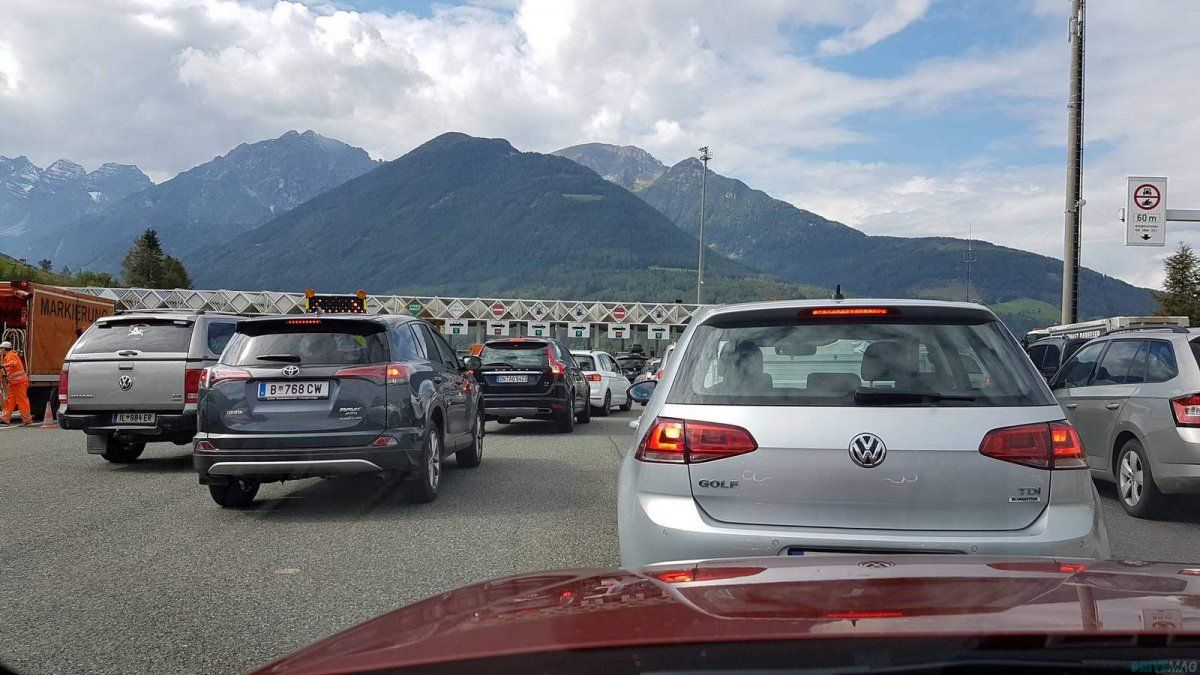 Austrian driving hell. Avoid if possible
There's another road that you should take towards Germany - go back towards Merano on the SS44 and start climbing from the 950 m of Vipiteno up to Jaufenpass (Passo di Monte Jovo, 2094 m), then hairpin your way down on the sunny slopes of San Leonardo in Passiria. You'll be treated with the same breathtaking views you saw from the Penser Joch.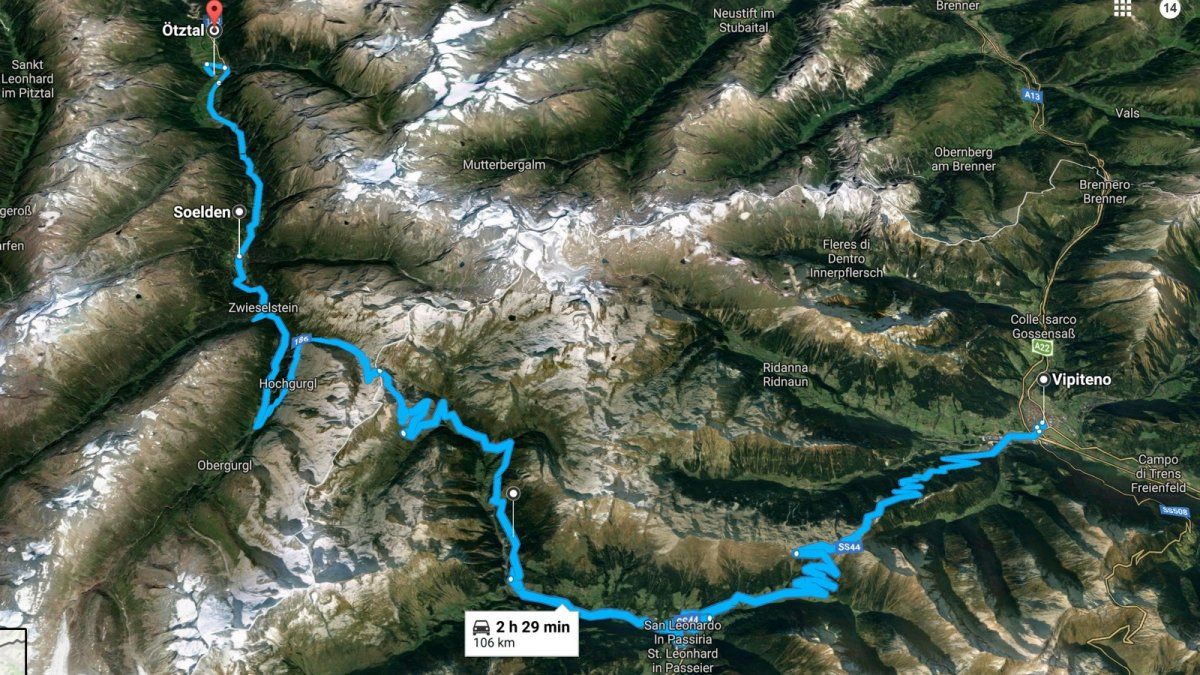 From Vipiteno to Otztal, through the Timmelsjoch Pass
Then climb back again towards Ötztal, on the Timmelsjoch high alpine road that will get you from 670 m to 2.509 m altitude. It's a spectacular piece of Italian and Austrian engineering that would be the perfect way to end your trip to Italy. Here, the rule is simple: you need winter tires even in September, as snow can come unexpectedly, just like in the Stelvio Pass. Unlike in the Stelvio Pass, however, there are fewer cars, and you'll be able to enjoy your driving. Or riding, if you're a biker.
And the most exhilarating thing is that from Timmelsjoch's rarefied atmosphere to Munich's International Airport you have only some three and a half hours of driving. So it's a must.
The BMW 430i experience: you should really try it
Our 430i then settled for the German Autobahns again, but I didn't feel the need to go flat-out anymore. Not after several days of slaloming on some of the most beautiful Italian alpine roads in what is, perhaps, one of the best cars to experience them.
German engineering, meet Italian Alps
You see, the 430i convertible is like the alternatives to the Stelvio Pass. Yes, there are more celebrated cars out there. Yes, I know you'd like to go in a classic that would make everybody turn their head and envy you; of course, you'd like to go in a supercar that, frankly, would be too much for most of these roads. But if you just want to enjoy them, then you'll be perfectly fine with the 430i. Especially with its top down.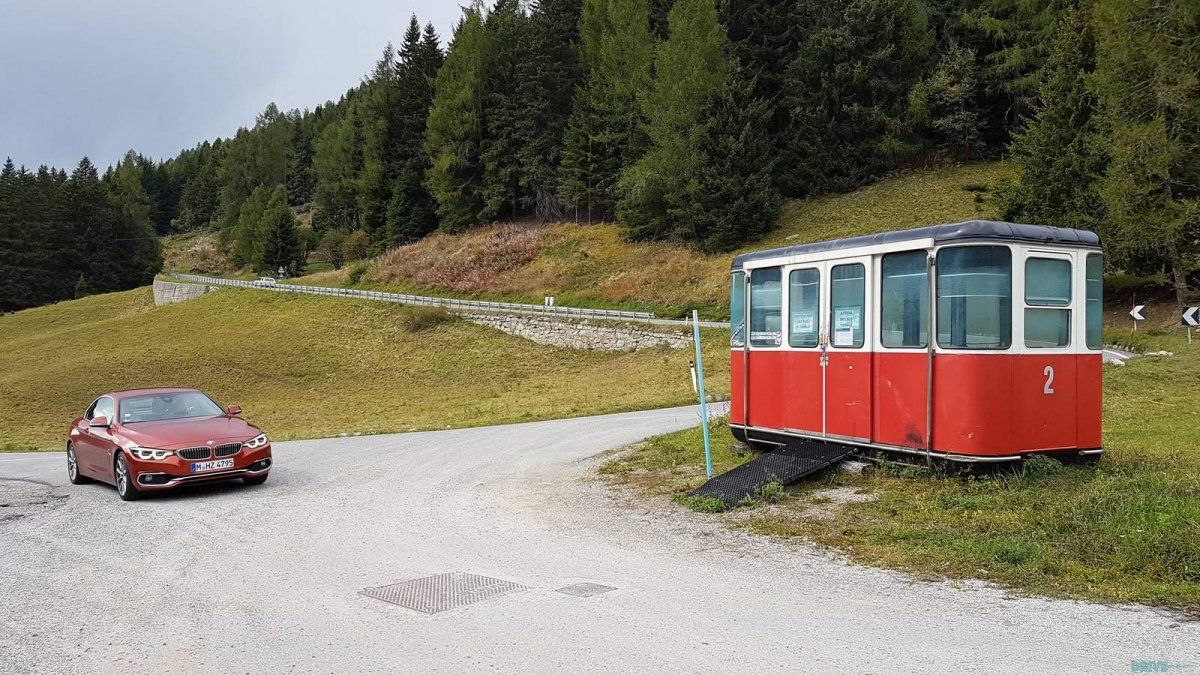 Almost the same color, almost the same feeling when climbing mountains
And at the end of the day, when all the exhilaration of the hundreds of bends and hairpins slowly passed away, you'll end up with much more than you thought you would. And you'll pat the car on its ugly back and smile at it: it has been a hell of a friend. Like the Italians say -Un amico è qualcuno che ti dà la libertà totale di essere te stesso.
Because this is what the 430i does: it lets you be whoever you want to be. Like Italy's less known mountain roads, it's the perfect combination of power, handling, comfort, and fun.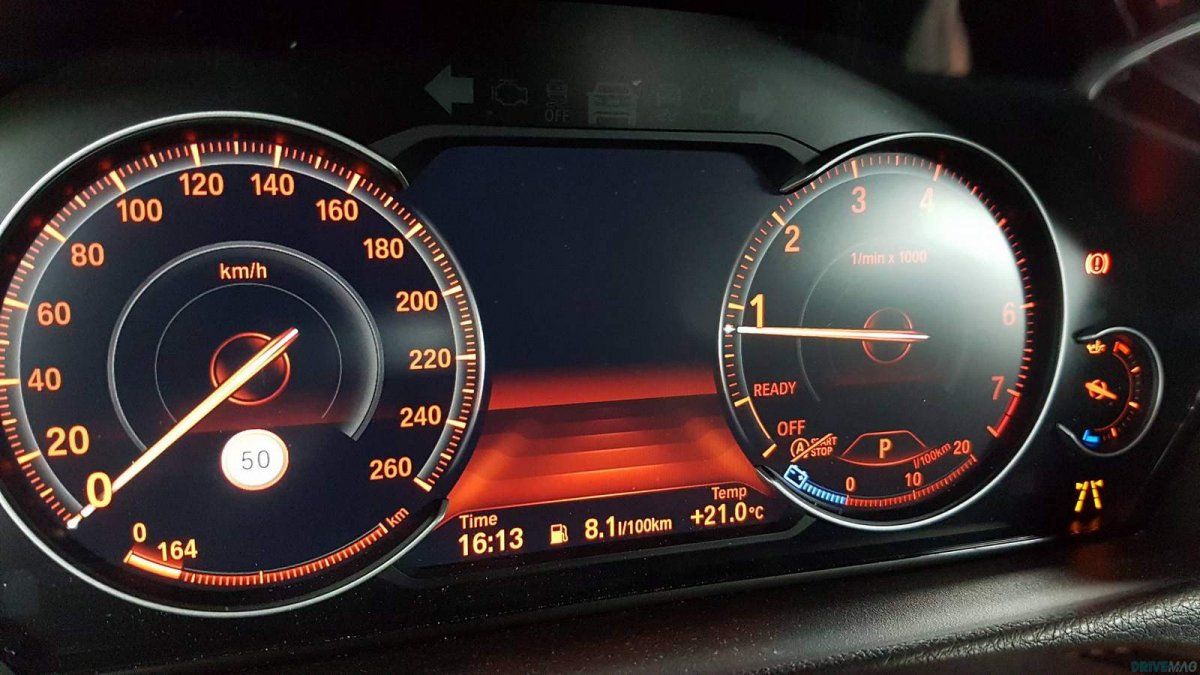 And even fuel economy (30 mpg)
Of course, Italy and the entire area also has other spectacular alpine roads, so we'll return here and discover them. If you have a tip, don't hesitate to share it here. We'll keep the secret, shhhh!