Any of these vehicles would scratch that 'go camping anywhere' itch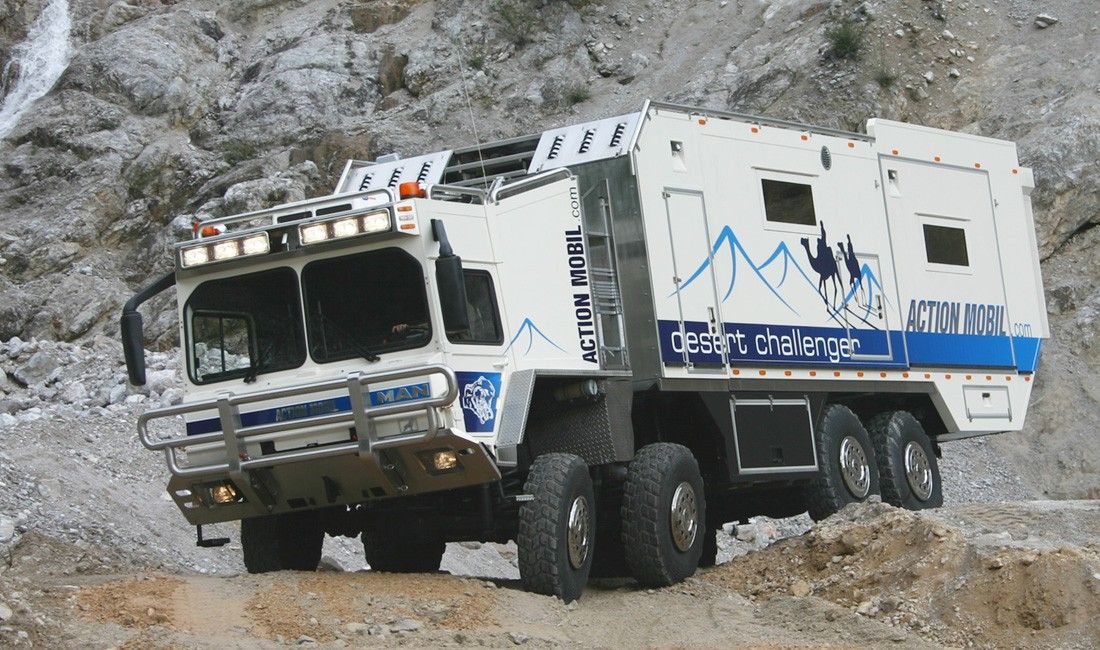 Recreational Vehicles (or just plain RVs), also known as motor homes in the rest of the world outside North America, are popular because they sound like a great idea – they promise the comfort of a house, but the freedom to roam wherever you want all rolled into one. However, some are greater than others, and it's often a case of private passion projects trumping big budget mass production, although one clear rule cannot be deduced here.
Picking from among the many alternatives out there can be daunting, so we've tried to gather our favorite RVs in one easy to digest list. Our aim was to find the ones which we'd not mind owning, ones that best blend style, functionality with at least some go-anywhere off-road ability – a bit of quirkiness doesn't hurt either, especially since a vehicle like this can allow you to express yourself.
Keep in mind this list doesn't include caravans, or any kind of trailer, not even the effortlessly pretty Airstream range – all these vehicles are self-propelled and have all-wheel drive too. The order in which vehicles are featured in the list is also not relevant – we're gathering them in one place, not rating them in any way.
Outside Van offers modified versions of all-wheel drive Mercedes-Benz Sprinters designed for moderate off-roading and some home-like comfort. A wide range of versions is offered, based on different length chassis, and the way they are set up and specced differs depending on customer specifications. Sprinter included, one of these will set you back from $89,000.
Sportsmobile does pretty much the same thing as Outside Van, with the difference being they also do other makes of vans, not just Mercedes ones. You can therefore have a go-anywhere van-based motor home based on Mercedes' Sprinter or Metris, as well as the Ford Transit, Dodge Promaster, as well as Chevy vans and Ford Econolines. They offer fully kitted out interiors and even pop-up roofs on some models too.
Earthroamer doesn's start off with a van as a base for the motor home, but uses a rugged pickup instead. In fact, their latest offerings are based on new Ford F-Series trucks – two versions are available: XV-LTS based on a Ford F-550 chassis and the XV-HD which uses an F-750 base and is much more expensive. The XV-LTS kicks off at $438,000 donor car included.
Global Expedition Vehicles offers a wide range of go-anywhere campers that can be underpinned by Ford or Mercedes chassis – you can even have a Unimog-based one, which is an appealing concept in and of itself. One of their more expensive truck-based models, the Pangea lifting roof model that's based on an Unimog will set you back some $600,000.
Sometimes you want to keep going when terra firma comes to an end, yet you still have the urge to push on. That's where the Terrawind amphibious vehicle comes in as it can, well, keep going when the going gets… wet. It's bigger than anything featured in this article, and doesn't have rough ground capability – it lacks all-wheel drive – but it more than makes up for that with its oodles of interior space and its wave riding party piece.
Unicat offers a wide array of different types of vehicles all based on truck chassis and cabs. They provide vehicles that aimed at the "lone traveller, twosome, family, class of driving licence, destination, infrastructure, terrain, duration of the journey." Heck, they'll even build you an off-road tour bus if you so fancy.
Mercedes is one of the few manufacturers that offers a globe trotting motor home as a factory mode. Based on the manufacturer's Zetros off-road truck for extreme operations, the Zetros RV can either be had in short- or long-wheelbase guises, with the latter offering 6×6 traction plenty of space inside. It's also been designed to fit inside a Hercules C-130 transport plane, should you need to move it anywhere with military help.
Tiger Adventure Vehicles' Siberian is an add-on motor all-aluminum home unit that can be had on either a Dodge Ram 5500 chassis or a Ford F-550 chassis. It is the company's biggest and most extreme offering and promises to remain comfortable even in extreme weather and temperature conditions. It has a king-sized bed, solar panels and auxiliary heating that runs on diesel taken straight from the tank – this is a 'diesel only platform,' as the company puts it.
Action Mobil makes the impressive Desert Challenger, a MAN chassis and cab-based 8×8 motor home that is not only massive and luxuriously appointed, but also promises to be massively capable off-road. It measures 12 meters in length (as much as a city bus), is 3 meters wide, 4 meters high and its chassis was initially designed to transport massive missiles. It also has two hydraulic side extensions which drastically increase interior space. Total weight is 30 tons and that includes 2,500 liters of fuel and 2,400 liters of drinking water.
Dobbertin Surface Orbiter, named after its creator Rick Dobbertin, is a one-off hand-built amphibious motorhome that is based around a milk tanker. Created in the 1990s, it was made to attempt to fulfill Ricks desire to cross the globe on both land and water – yes, that's right, it's another fully amphibious RV, with the sole difference that unlike the Terrawind amphi-motorhome, this one is able to cruise through waves nearly six meters tall. It uses a GM-sourced diesel engine for power.
Check out other listicles like The definitive collection of cool 1980s digital dashboards in Euro cars, 1980s dashboards that talked to you or The 10 Most Expensive Non-Ferrari Classics Ever