2014 BMW i8 Test Drive. Flying low and eco
It has four seats. And is mid-engined. And sprints faster than a Porsche 911, yet scores 94 mpg. If only you can get past the price tag...
If there's to choose the most representative car for BMW's actual philosophy, that would be the i8: a surgeon-accurate, non-dramatic sophisticated sports car that uses a three-cylinder engine as the conventional propeller and an electric motor, wrapped in lightweight materials.
Powertrain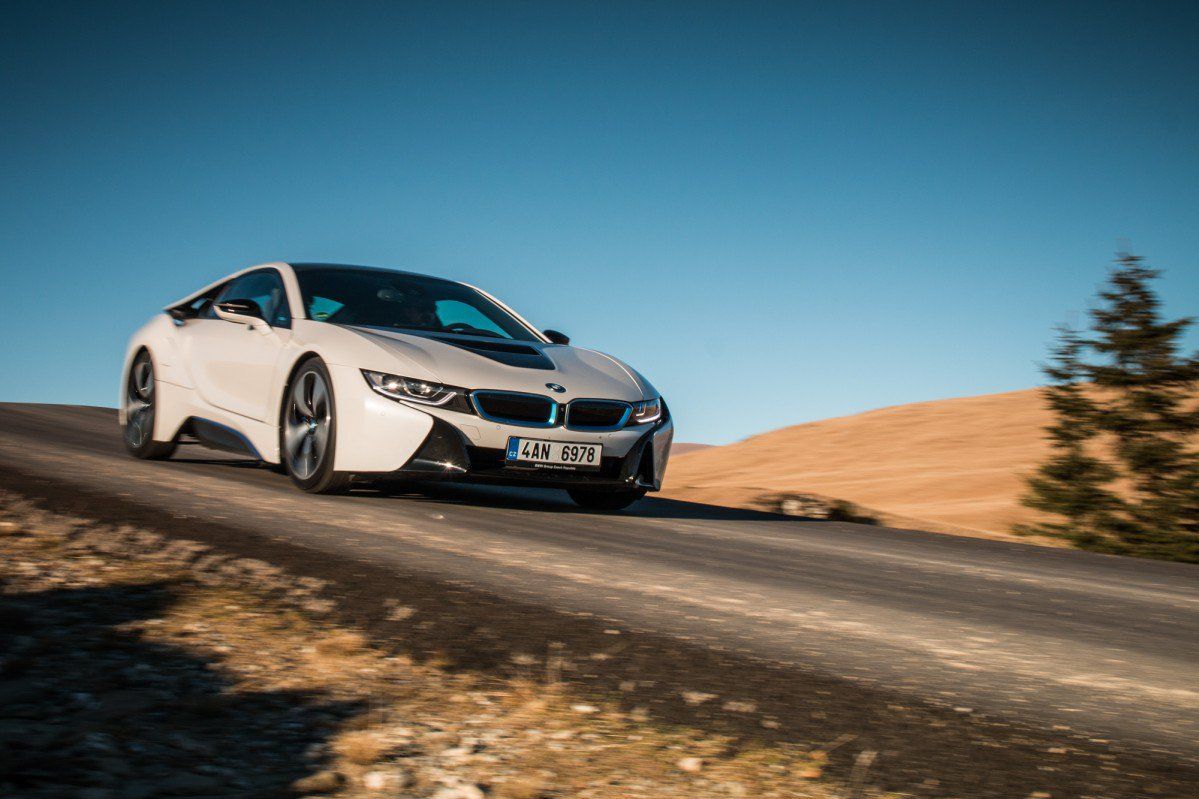 Despite its futuristic lines, the BMW i8's plug-in hybrid system is quite down-to-Earth: it has a three-cylinder combustion engine (the same used in MINIs, only more beefed here) mated with an electric motor. And although it's the same strategy used by modern hypercars (see the McLaren P1-Ferrari LaFerrari-Porsche 918 Spyder trio), BMW i8's take on hybrid sports technology is not par with the aforementioned.
So if it's not a modern successor of the M1 (the other mid-engined Munich product), what is it then? Well, it's an ultra-sophisticated sportscar rather than a drama-inducing type of supercar.
It has 357 hp and 420 lb-ft (362 PS / 570 Nm in metric) and can sprint from a standstill to 62 mph (100 km/h) in 4.4 seconds - that's faster than a Porsche 911 3.4 or a Ford Mustang GT. Otherwise, it can use the motor engine solely, for up to 21 emissions-free miles (35 km).
---
Handling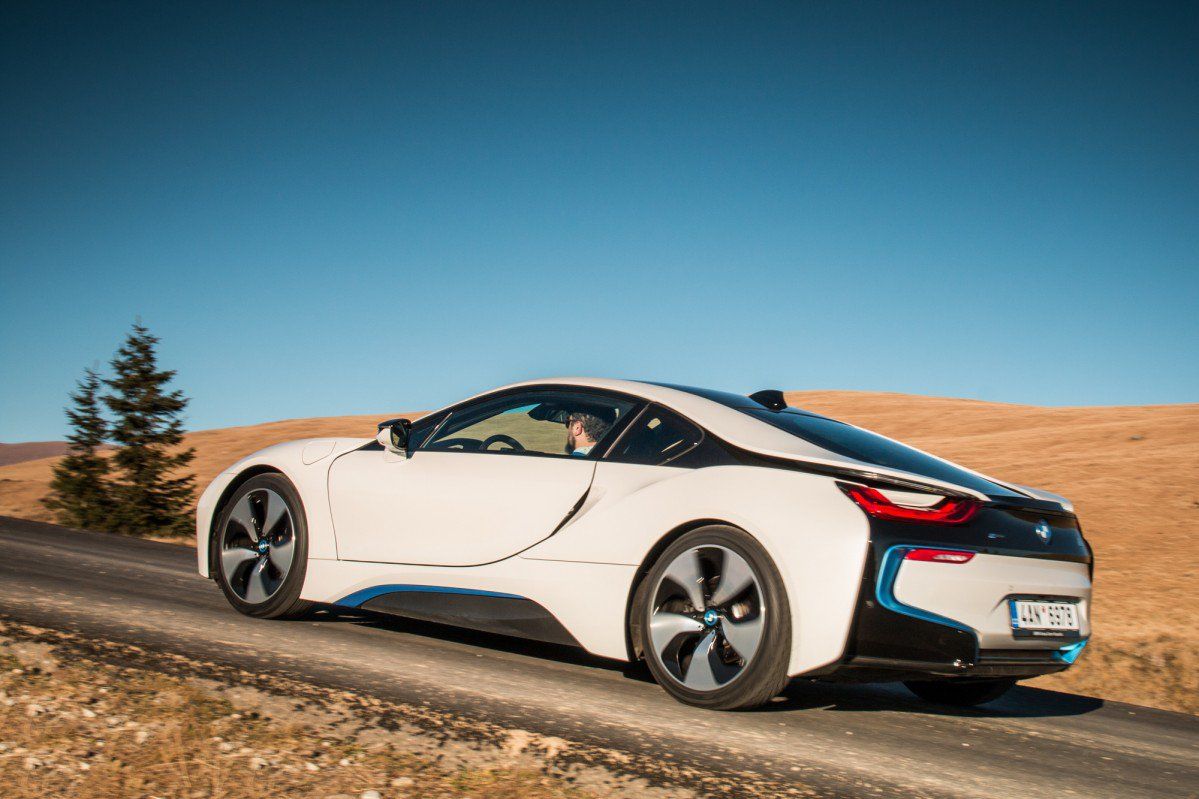 The impressions upon the i8's handling are strictly dependable of what you're expecting of it. The hybrid powetrain makes it a superb 94-mpg (2.5 l/100 km) cruiser, but weights (not necessary literally) when it comes to cornering. The 195mm front tires might lose grip a little bit sooner than you'd expect, but by the time that happens, the electronic stability control system promptly intervenes to restore order in motion. But that happens only after you push the lateral G over the 1.00 mark. And you can always trust the brakes.
From the inside, it feels almost like a surgically-accurate machine — although the steering could have been a little weightier — that makes the best of its hybrid specific all-wheel-drive. The electric engine animates the front axle, while the three-pot combustion engine pushes the back.
---
Safety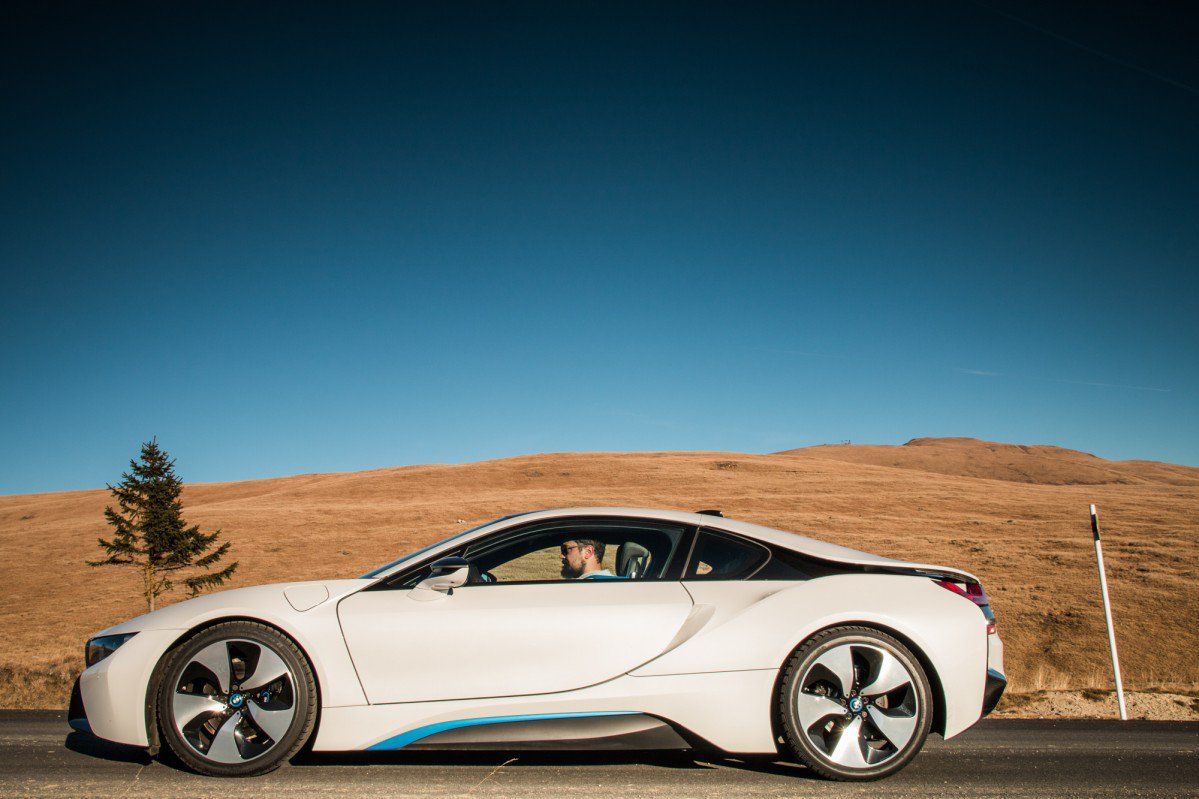 The LifeDrive architecture — carbon fiber bodywork tub and aluminum chassis — it's not only lightweight, but quite assuring when it comes to impacts. In that matter, BMW i8 comes as standard with plenty of airbags — six, to be more precise — and, in case of an impact, the battery automatically disconnects from the high-voltage system.
As for the active safety technology, BMW i8 can be fitted with everything Munich has to offer.
Comfort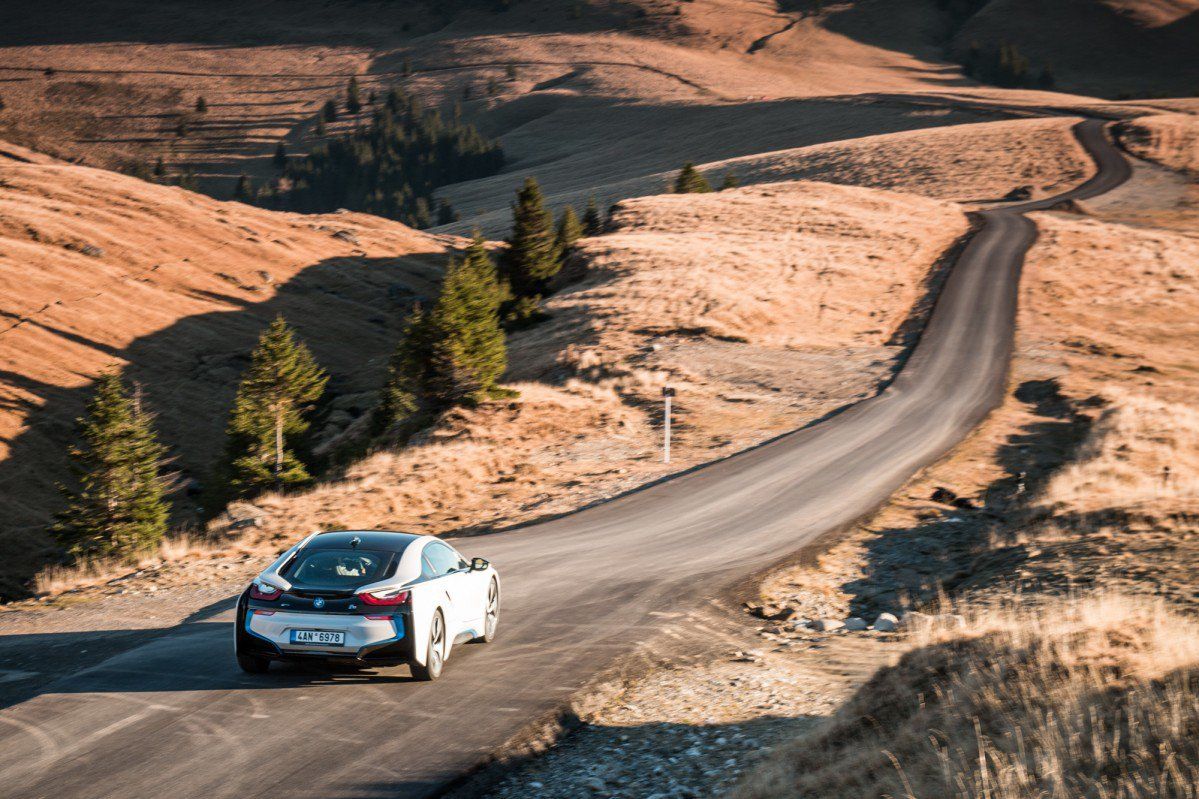 Despite its looks, BMW i8 can deliver Gran Tourer level of comfort. The adaptive dampers soften when the car is not engaged in Sport Mode, and the tire/wind nose is present mostly when the car runs fully-electric. Once the combustion engine awakes, you'll hear it through the cabin speakers — progressively as the rev counter moves toward the redline. Although its sound is entertaining, sometimes you'd like to minimize it — and that doesn't happen if you turn the stereo off.
In ECO PRO mode (with eDrive button pressed), everything is smooth — the steering softens, the throttle pedal's reaction is mild and the combustion engine's sound is off.
The seats — which come electrically adjustable as standard — provide a satisfying level of comfort, and can be relied on when cornering hard.
---
Quality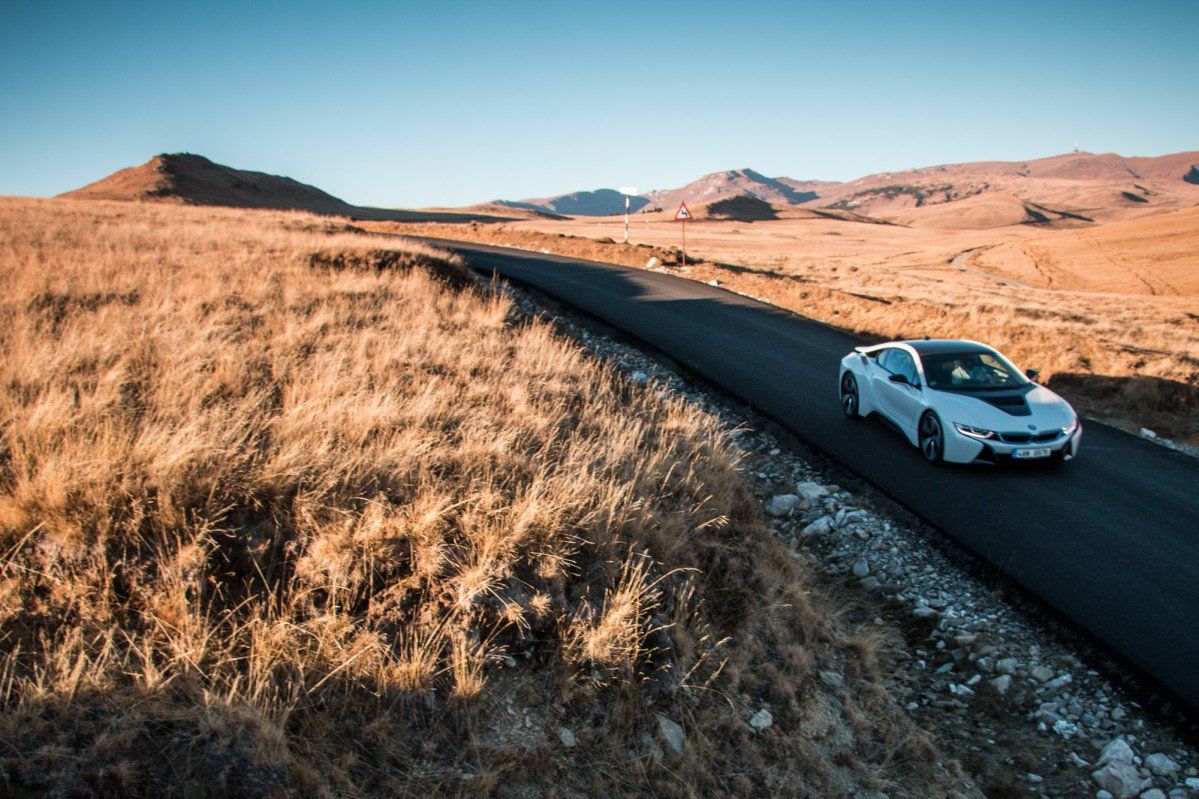 The butterfly doors grants you access to a futuristic-yet-so-common BMW interior. You'll get beautifully stitched leather, plastic and aluminum layered throughout the cabin, with blue-for-eco color touches — such as the blue seatbelt, for example.
The interior it's not as futuristic as in the i3 when comes to materials, but all you see and touch in the i8's cabin is high-grade.
---
Practicality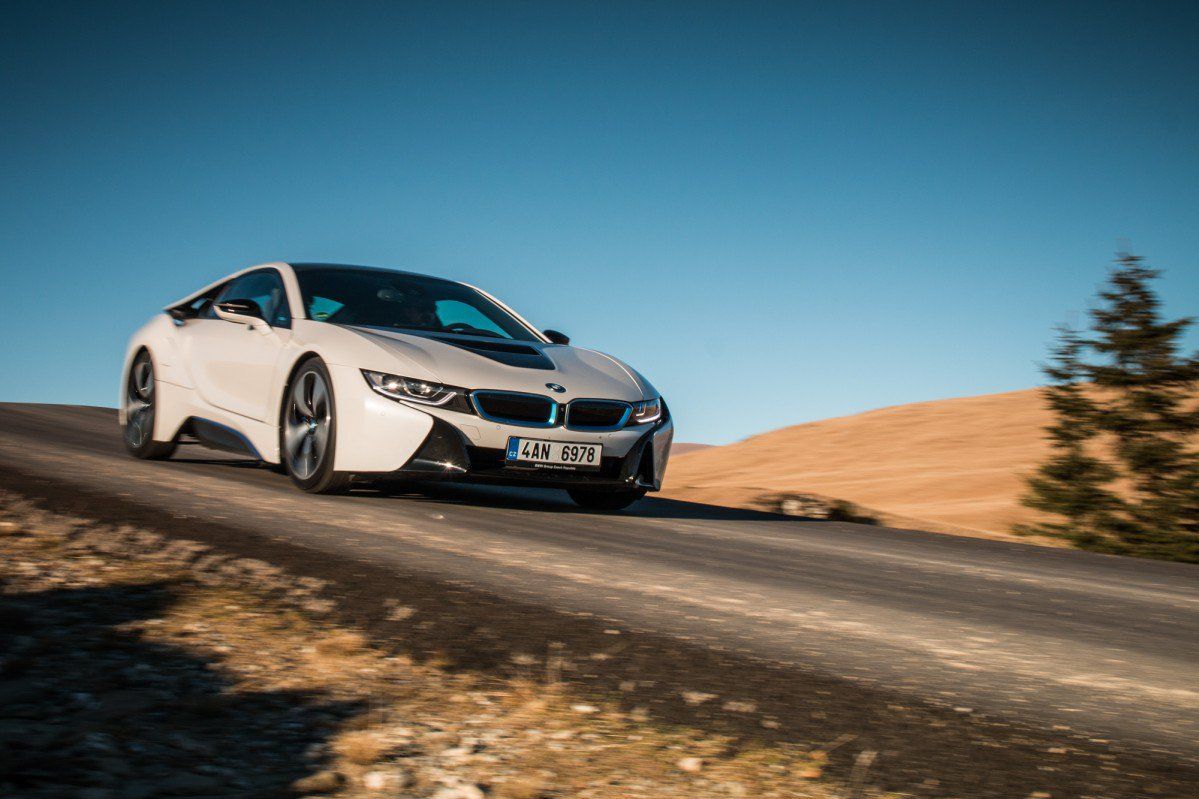 Well, yeah, you wouldn't expect for a hybrid supercar that looks like this to be practical, too. There's an armrest storage and the glove compartment inside, and in the back you have a 154-litre boot. The CFRP butterfly doors do not have pockets at all (lightweight-wise).
It's a mid-engined 2+2 (a quite rare sight, to be honest), but if the driver is taller than 5'7" (that would be 170 cm) the left backseat is unlikely to be occupied by an adult. So it's more of a three-seater car.
---
Infotainment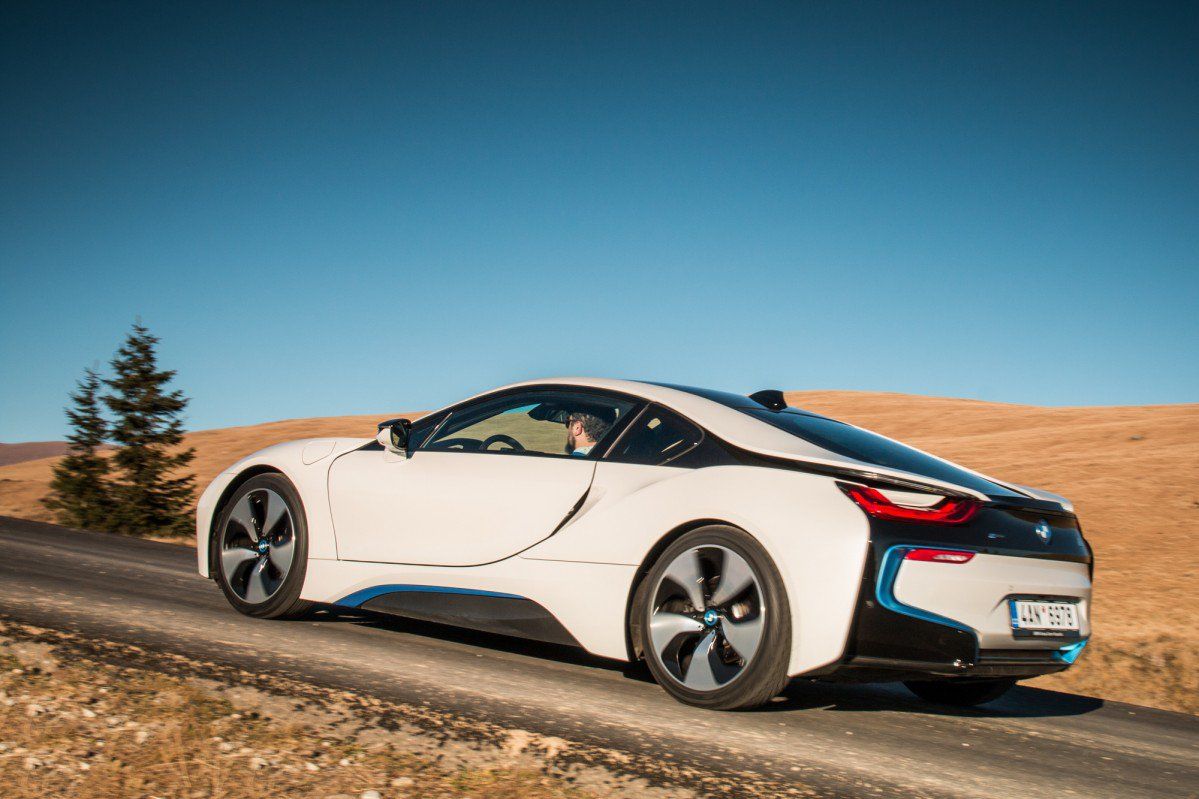 BMW i8 is equipped with the latest-generation iDrive, with some additional hybrid-specific features, such as the power management monitor that shows you the car's power flow.
Otherwise, the iDrive is as intuitive as ever — even if you are new to the brand, you won't need the handbook to get a sense of it. The infotainment is operated via an 8.8-inch display mounted on the center dash.
As for the connectivity part, you'll get Bluetooth and USB as standard.
Efficiency
It's unlikely to match the 94-mpg (2.5 l/100 km) fuel consumption rating declared by the manufacturer, but the i8 can be a hybrid efficient gem of a car. In our trip — that included all types of roads, from highways to mountain B-roads — it managed 27 mpg (8.8 l/100 km), quite a surprise given the way it was exploited.
BMW i8 has a theoretical range of 310 miles (500 km) and declared emissions of 59 g/km CO2.
---
Equipment
BMW i8's equipment is quite comprehensive and includes 2-zone climate control, adaptive cruise control, variable damper control, leather interior with electrically adjusted and heated front seats, head-up display, front and rear parking sensors, and tire pressure monitor among others.
---
Acquisition
If you're looking for power-to-money offers, the i8 might not make the top of your list. With a starting price of $140,000 in the US (and £104,500 in UK / €130,000 in Germany), is BMW's halo car, a tech show off with Bavarian badge.
So it all depends on how you perceive it. For that money, you can get in the States a muscle car and a Tesla, or you can opt in Europe for the more conventional Porsche 911 sportscar. But, on the other hand, buying a futuristic BMW that follows the hybrid pattern of $1.000.000 hypercars — such as LaFerrari and Porsche 918 — with only a fifth of the money can be a rewarding thought.