No more bloated bus jokes about this one
Overall Score 90/100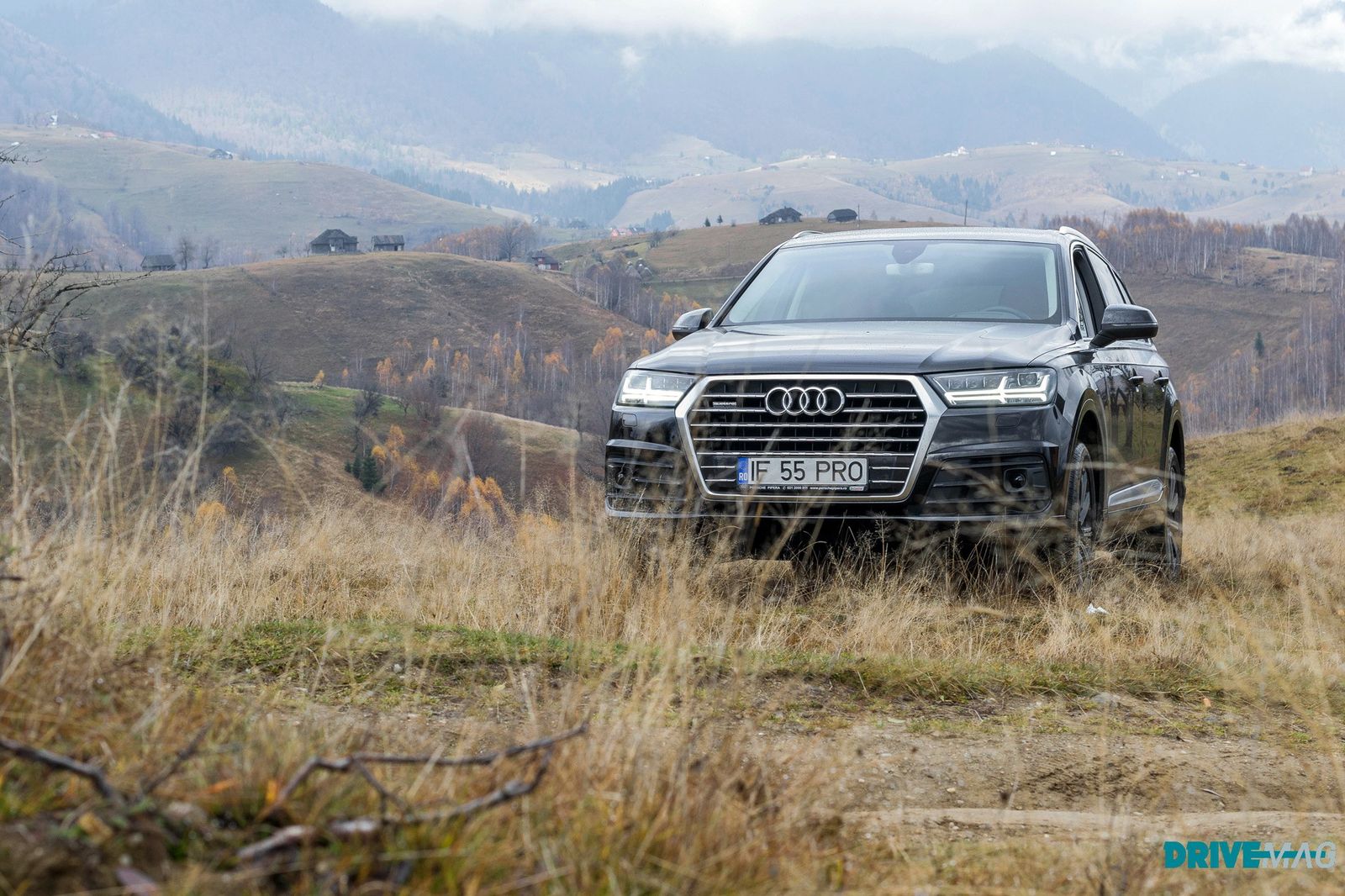 Audi's latest Q7 is a drastic departure from its predecessor. The new flagship SUV looks lower and more planted, appearing more as a big hatchback than an actual sports utility. It's also lighter, more powerful and more efficient and topped off with a fine interior that seems to have been designed by architects.
We tested the mid-range 3.0 TDI with 272 PS/268 hp hooked up to a creamy eight-speed automatic gearbox. The engine, we discovered, was very punchy and there were never moments when the vehicle felt like it needed more.
Its newfound punch is due in part to the drastic weight shedding that this new Q7 has undergone. While the older generation models tipped the scales at over 2.3 tons with a similar 3.0-liter diesel, the new one slips under 2 tons and also definitely feels like it has a lower center of gravity –- it's like a big sedan or estate through the bends and in this context, that's a compliment.
---
IN BRIEF
RECOMMENDED FOR:
Families, Managers, Seniors
CREATED FOR:
All Terrain, Highways
HATS OFF FOR:
Comfort, Engine Power, Passenger Space, Safety
---
DRIVE
Powertrain 9/10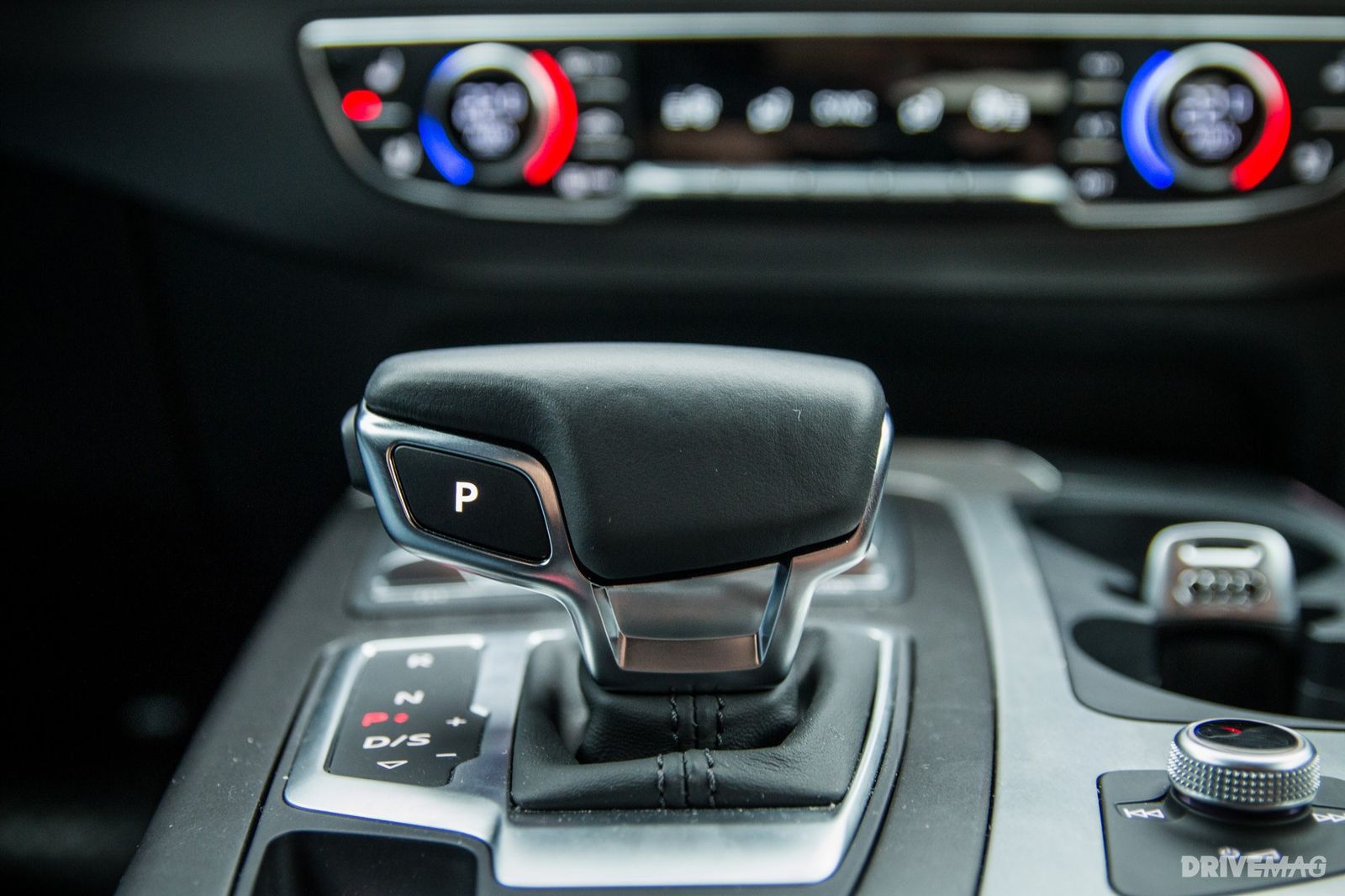 Our test Q7 featured the 3.0-liter TDI engine with 268 hp and 600 Nm of torque. The engine siis very responsive, it pulls strongly in any gear and is mostly hushed when driving normally.
This, coupled with the ultra smooth eight-speed gearbox, makes the Q7 a very pleasurable long distance companion. The combo is so good and so smooth and suited to the car that it's really hard to justify picking another engine option –- unless it's the V8 diesel that you get in the SQ7…
---
Handling 8/10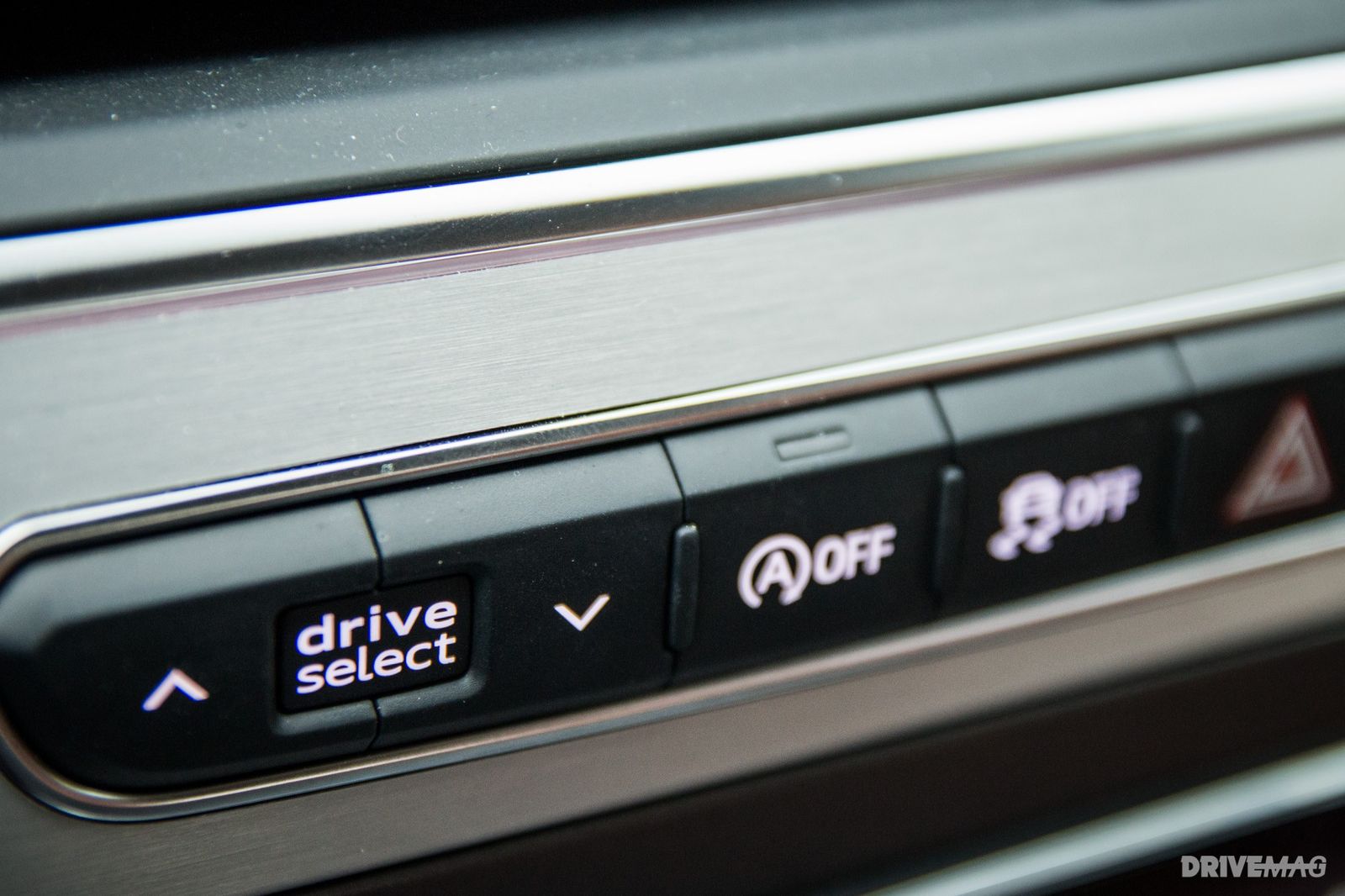 Now this is probably the area where the new Q7 is most improved over the previous incarnation. It has genuinely positive (although I'm not going to call it tactile) steering and nowhere nearly as much body roll as you'd expect.
The car we tested also had four-wheel steering, and while its intervention was subtle, it gave the Audi bus much more poise through the corners than it ought to have. Adaptive dampers ensured roll was kept to a minimum in their more aggressive setting.
After driving the Q7, I also had a quick blast down a mountain road in the X5 hybrid, and while the BMW feels that little bit sportier, I can assure you the gap is not a canyon anymore.
---
Safety 9/10
There are several reasons why the Q7 is an extremely safe car. Yes, it's big, bulky and fairly heavy, all while offering an interior that in a fraction of a second turns into a pyrotechnic pillow. But the old one had this feature as well, and most buyers seemed pleased by these facts.
However, the new car's much improved handling and road manners are just as important, because you'd always much rather avoid the accident than have to rely on airbags.
On top of this, its active safety aids are top notch, never feeling like they're run by some sort of paranoid robot riddled with viruses (like plenty of other manufacturers are offering these days).
During my quite lengthy four-day drive of the Q7, on everything from wide, congested city boulevards to mostly free twisty mountain roads, it only really intervened once and I was thankful for it.
---
INTERIOR
Comfort 10/10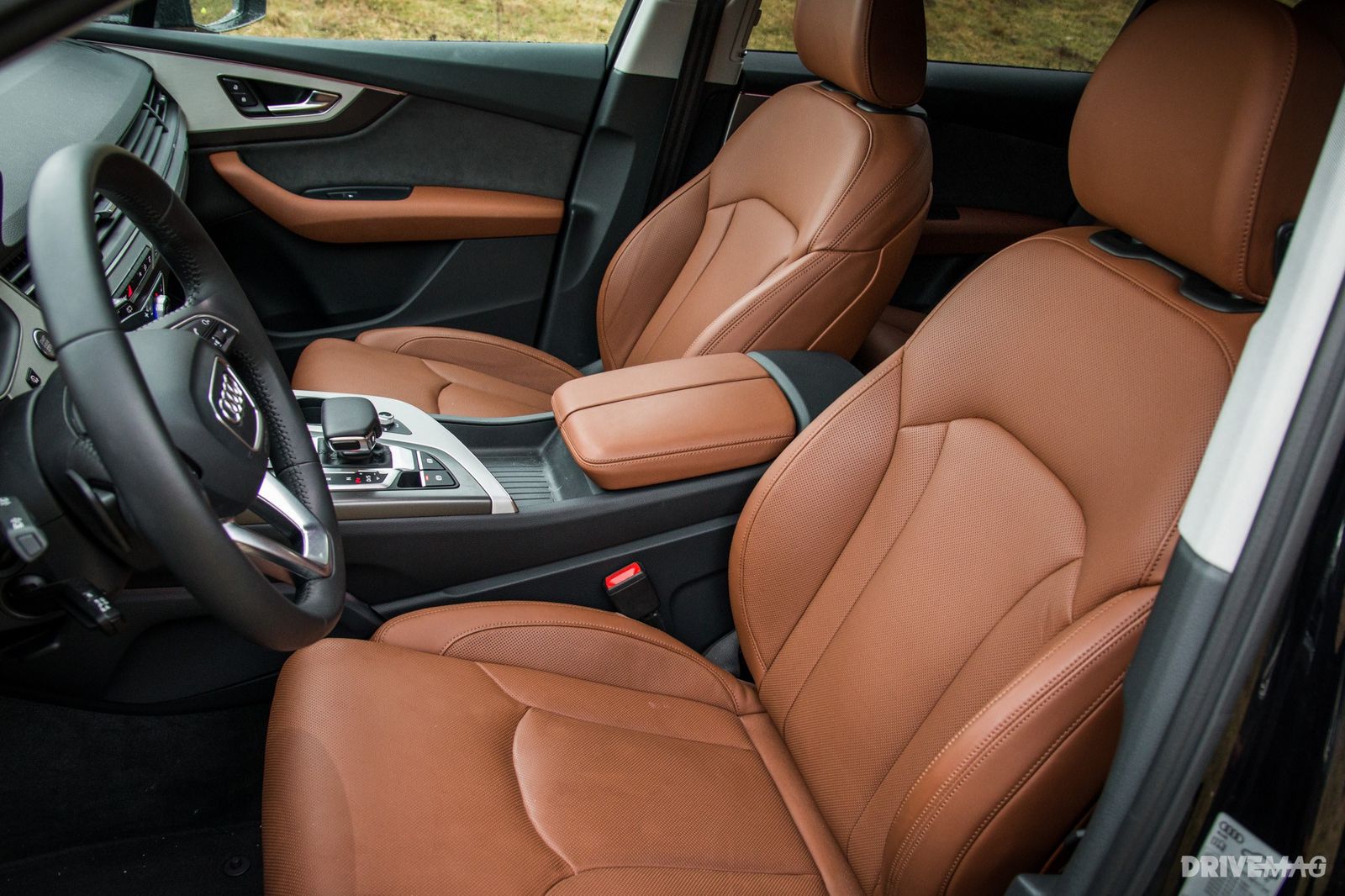 With height-adjustable suspension, the Q7 glides over any and all surfaces. It does this so well that we wonder what Bentley is going to do to make its Bentayga justify its substantially dearer price tag…
The buttery ride is excellently complimented by the seats which are very pleasant both to the touch and to sit on. Yes, they lack some lateral support, but it's not absent altogether, so you won't fall out (especially because of the limited roll it now exhibits thanks to the aforementioned adaptive dampers).
---
Quality 10/10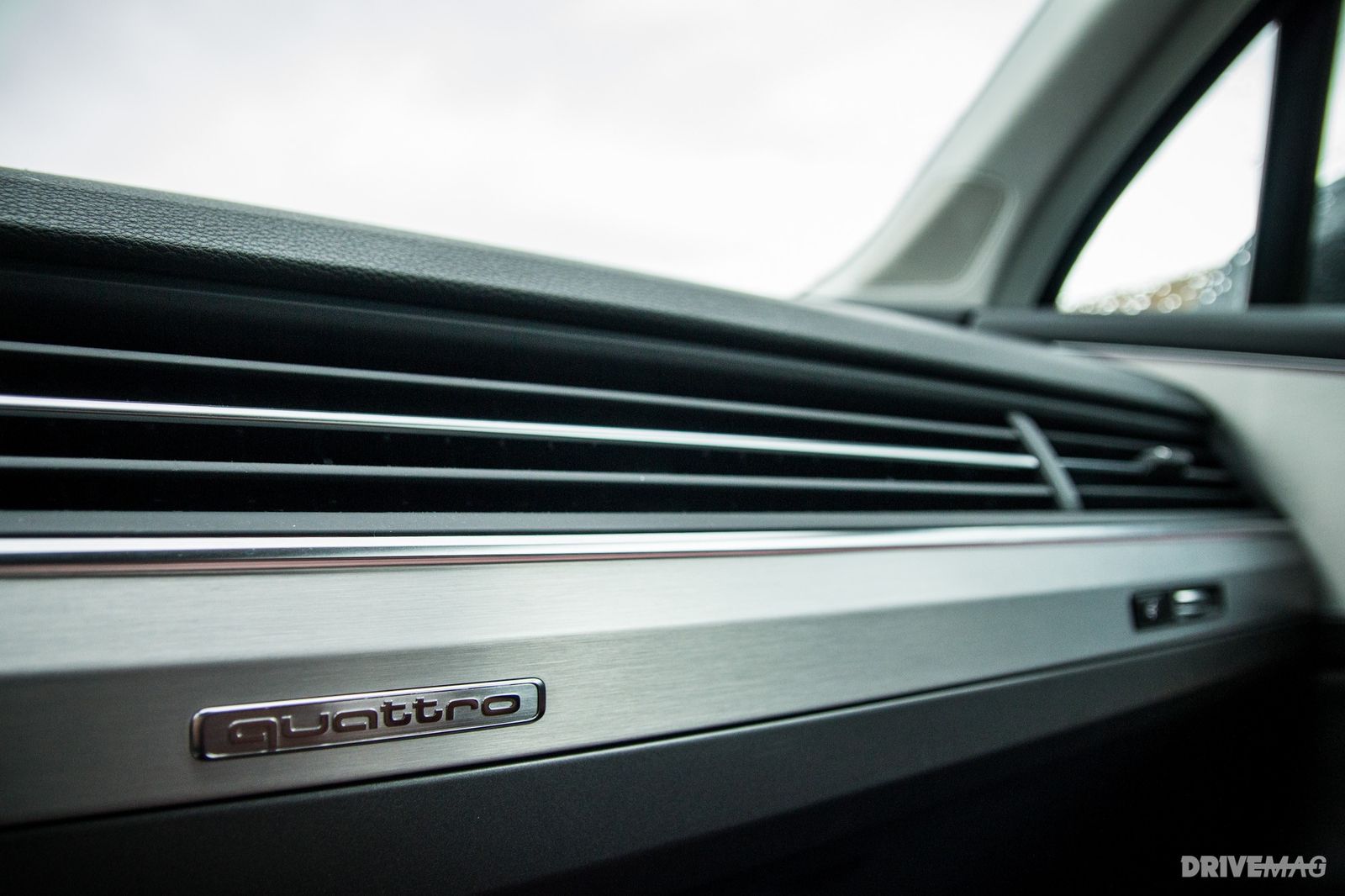 Prod anywhere in the new Q7's interior and you will be greeted by friendly surfaces all-around –- there are no scratchy plastics to speak of. It also feels built to within very small tolerances, as everything just feels sturdily assembled.
A neat quality touch is the infotainment screen retraction system. Not only is it very silent and smooth, but once retracted, the screen stows away flush –- a very neat touch.
There seems to be little to fault with the way it's screwed together, and overall it feels… well, like any other upper-range Audi.
---
Practicality 10/10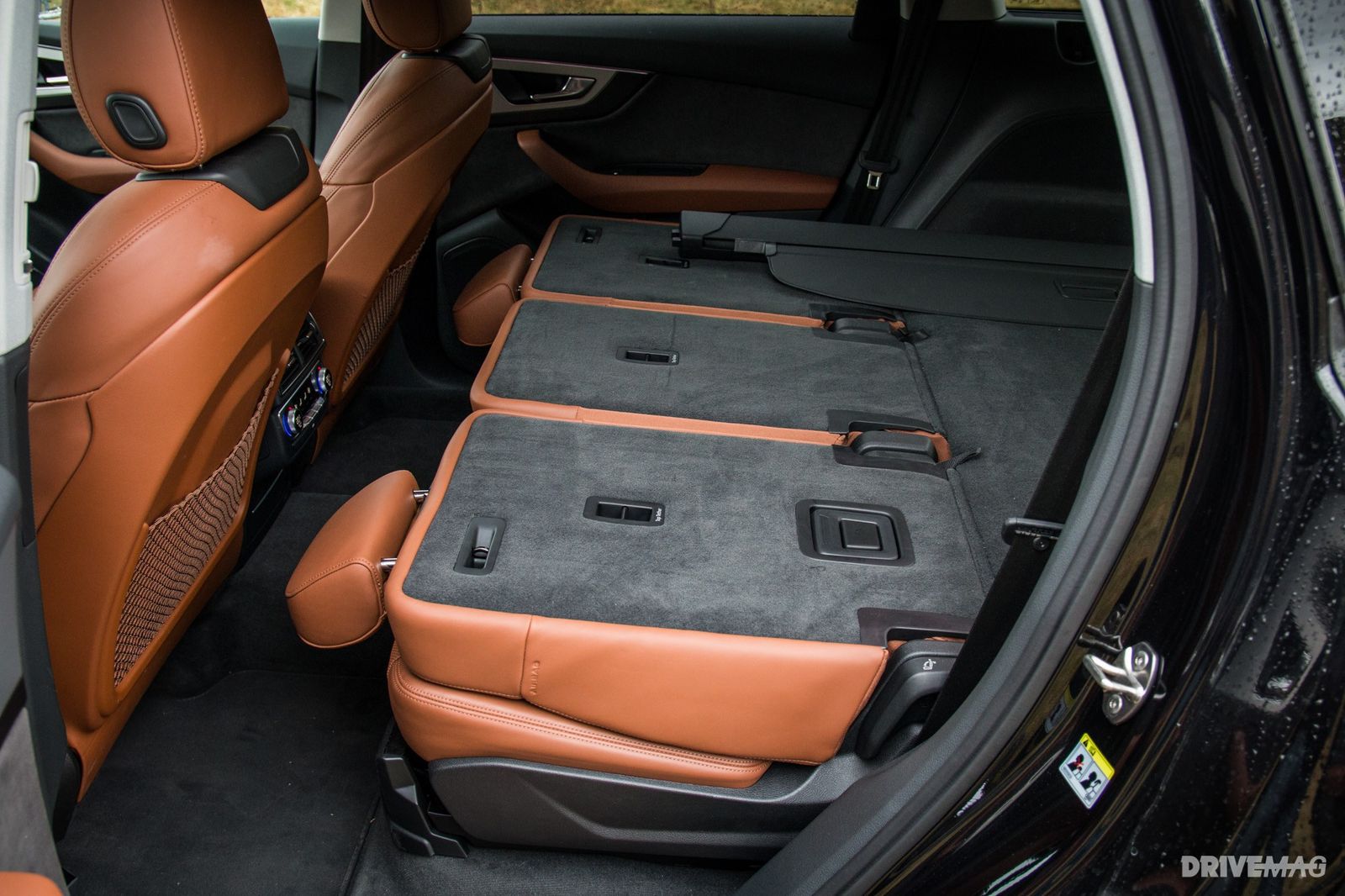 Judging by the number of storage spaces dotted throughout its cabin, the Q7 seems to have been thought out as a luxurious family carrier. Space for rear occupants its is excellent, headroom is mostly generous and as for the third-row passengers, well, they'll be fine on short journeys.
---
Infotainment 9/10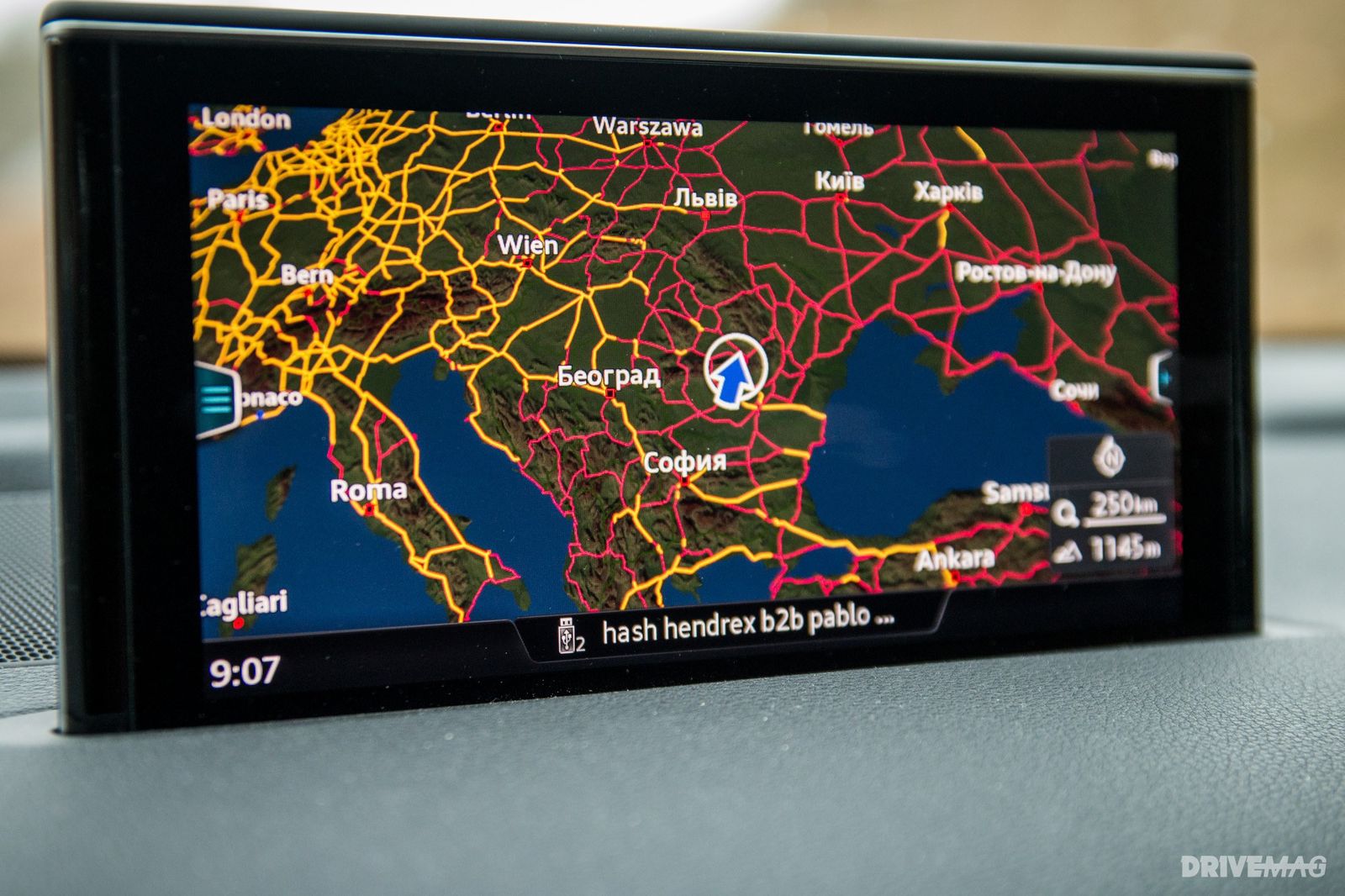 Audi's latest interpretation of the MMI interface is simple to use and has pretty graphics. There's no touchscreen here, but you won't mind it as the physical controls provided are easy to intuit; their existence will also mean less time spent looking at the screen and not at the road.
However, one thing I noticed was that pretty much all information shown on the central screen was also shown in the digital gauge cluster screen too. For this reason, throughout my drive I mostly kept it tucked away in the dash, only occasionally popping it up to mess with the suspension settings.
---
BUDGET
Efficiency 7/10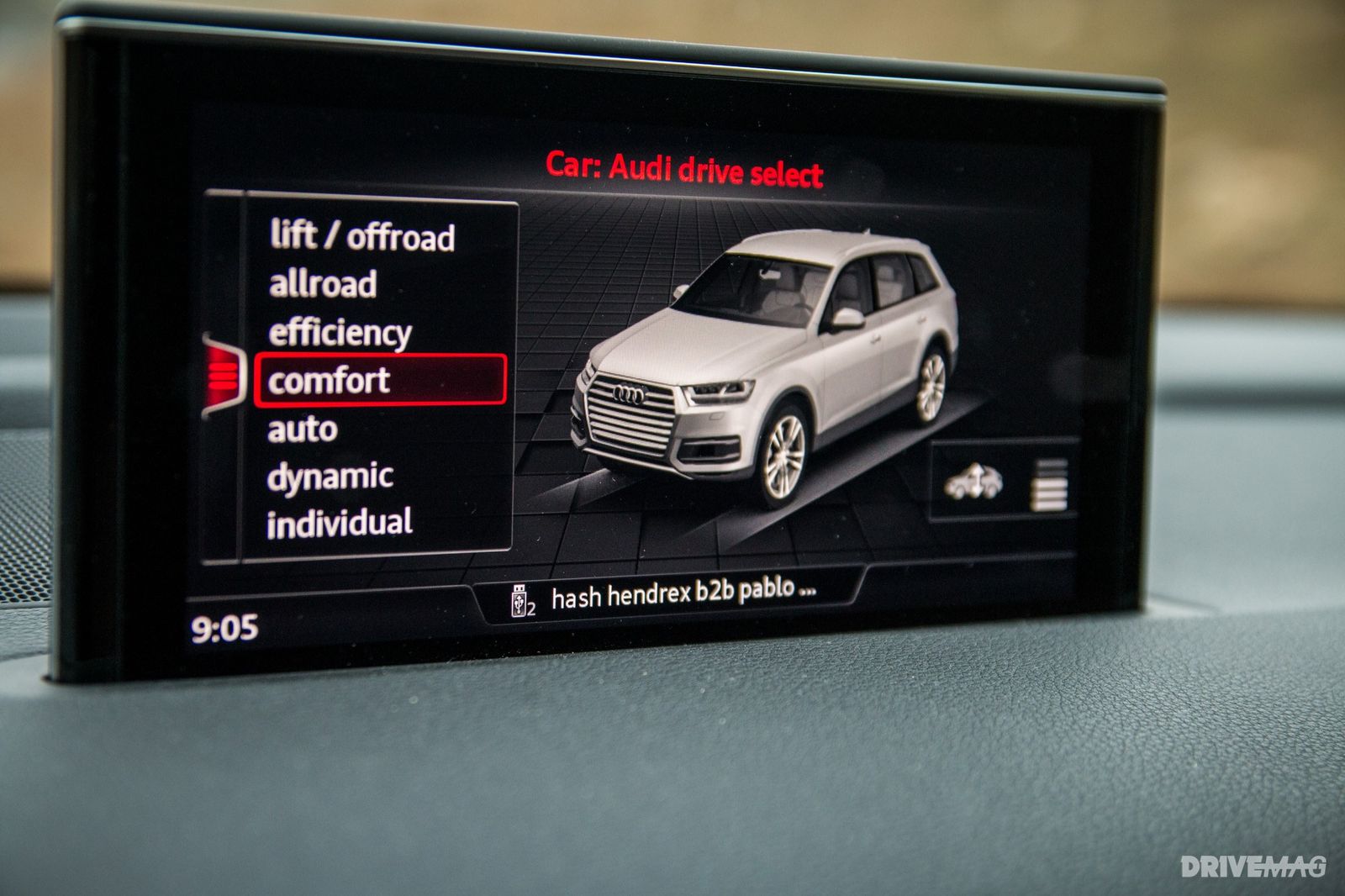 The new and improved V6 TDI from Audi is a star in its own right. Its 268 hp obviously don't tell the whole story, and it's the 600 Nm of torque that really gets things moving.
Having easy access to this much torque means you don't need to apply too much throttle, so while cruising, you will be whisked along at no more than 1,500 rpm.
This means you should see around 8 l/100km on the open road, and no more than 11 l/100km in the city. The automaker says it can do even better, but the numbers above give you an idea of what you can achieve without resorting to hypermiling techniques.
---
Equipment 10/10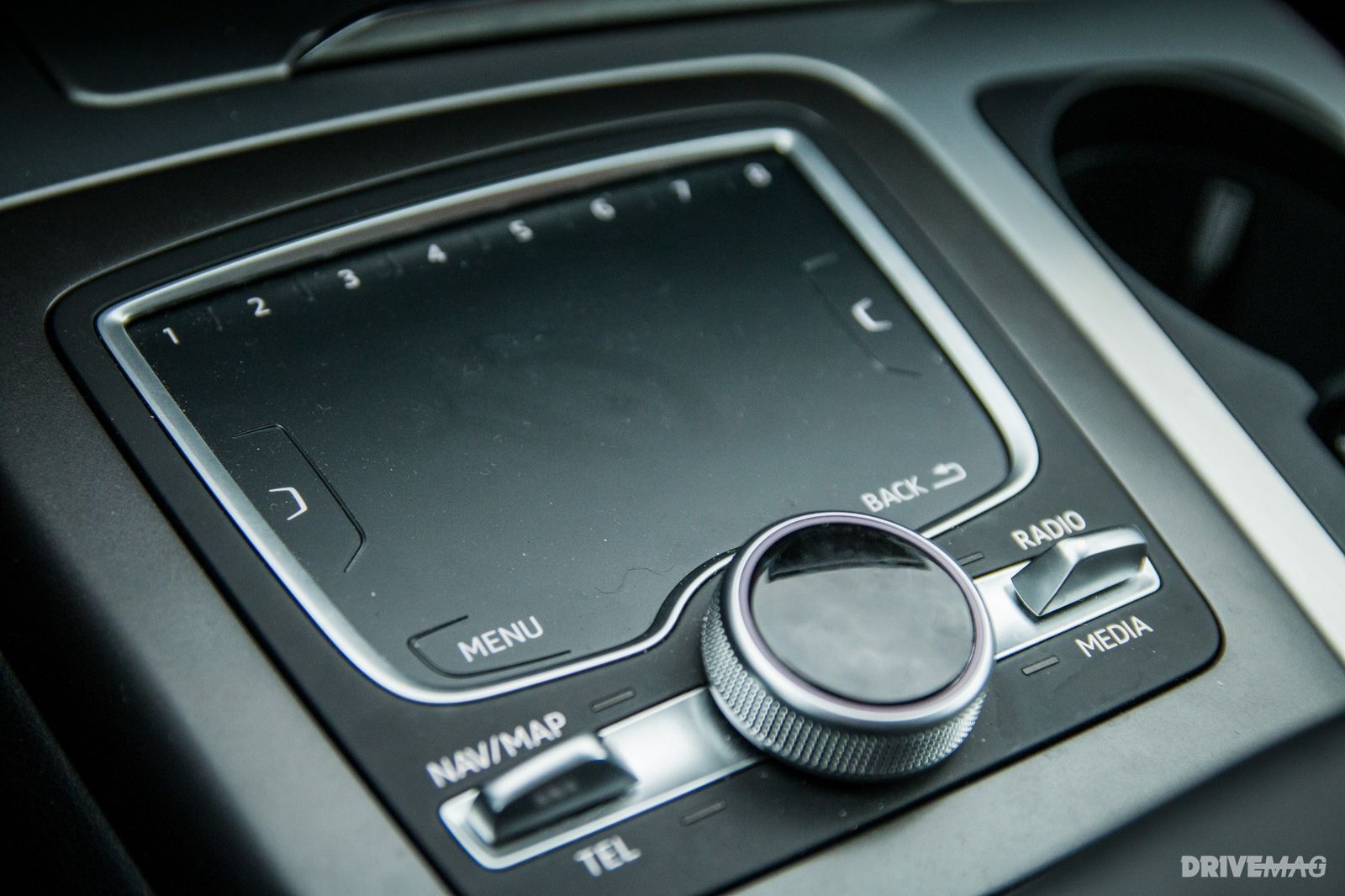 Our tester had pretty much all the bells and whistles you can specify on a Q7, including the full range of active safety aids which, incidentally, are some of the best I've ever used.
Points go out to the adaptive dampers which did their job well, regardless if that job was comfort or roll-reduction, and also to the all-wheel steering system.
The latter was really a highlight, and it not only enabled the Q7 to be more maneuverable at low speeds, but also made it more agile and predictable at higher speeds.
---
Acquisition 8/10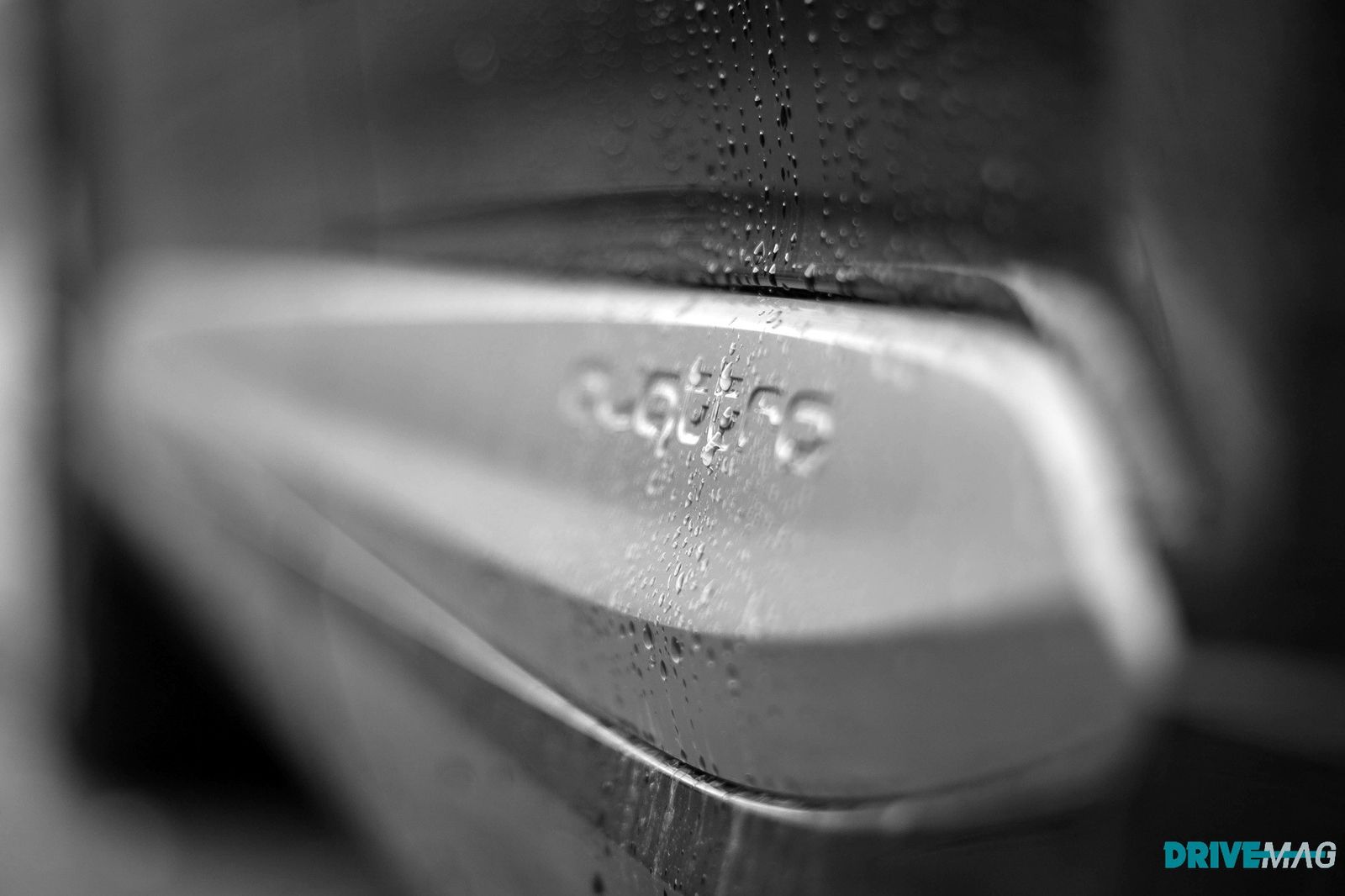 Audi only recently started to build SUVs –- not much more than ten years ago –- and the latest Q7 is proof that they've gotten better at making them in the meantime.
The previous one was popular because of what it was (an Audi SUV), and aside from its excellent interior, it wasn't really all that talented at anything in particular. With the latest model, though, you can actually derive some pleasure from being behind the wheel.
We wouldn't dare call it fun, but we can say it's among the better handling big SUVs nowadays. Its range of diesel and petrol gasoline engines is wider and better than ever, its interior is so much more modern than before, plus it can still seat seven adults inside.
As a package, it definitely feels more substantial and well thought out than before, so if you are in the market for something luxurious and big that can go off road, then do by all means consider the Q7 too.