2015 Jeep Renegade Limited 2.0 M-Jet Test Drive
Where other crossovers look frightened at the sight of a rutted road, the Jeep Renegade should be able to go on without a hitch. At least, that's what all the PR mumbo-jumbo is saying
The Renegade is Jeep's first attempt at building a car outside the United States, with the ultimate goal of getting a big piece of the pie that's split between well-known crossovers like the Nissan Juke, Mini Countryman and Kia Soul. But where the others look frightened at the sight of a rutted road, the Jeep Renegade should be able to go on without a hitch. At least, that's what all the PR mumbo-jumbo is saying.
https://cdn.drivemag.net/images/icons/inbrief-icons.svg
IN BRIEF
Recommended for:

Created for:

Hats off for:

Bang for the buck:
Powertrain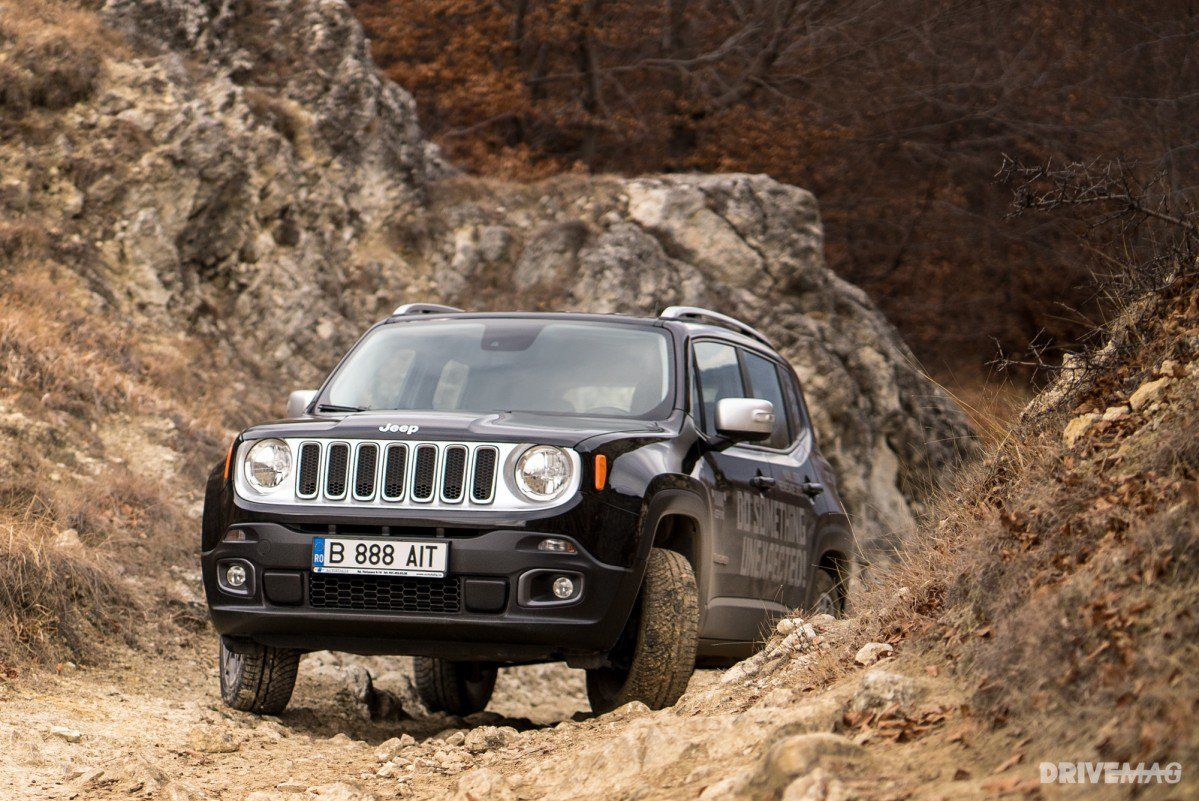 In the States, the Renegade is available with two petrol engines – a 1.4-liter with 160 hp and a 2.4-liter with 180 hp. On the other side of the pond, Jeep's smallest crossover can be powered by a broader selection of gasoline units, as well as three diesel options – a 1.6-liter with 120 hp and a 2.0-liter with two power tunes (140 hp and 170 hp).
I drove a European Renegade Limited with a 140 hp 2.0-liter diesel lump under the hood linked to a 6-speed manual transmission.
After a cold start, the engine sounds a bit agricultural when idling, but after it warms up it settles down and becomes much more likeable. Power is delivered without drama, especially at low and mid revs, which makes it a good runabout for city driving.
Overtaking was never an issue, and I have to say that overall, this little Jeep makes you feel like it will work its cute little face off if needed.
The 6-speed manual transmission is well sorted, but the clutch pedal felt a bit spongy and I would've liked a shorter throw gear lever for faster changes.
A 9-speed automatic is also available if you want more comfort during your daily driving routine, but be aware that it's a bit rough around the edges.
---
Handling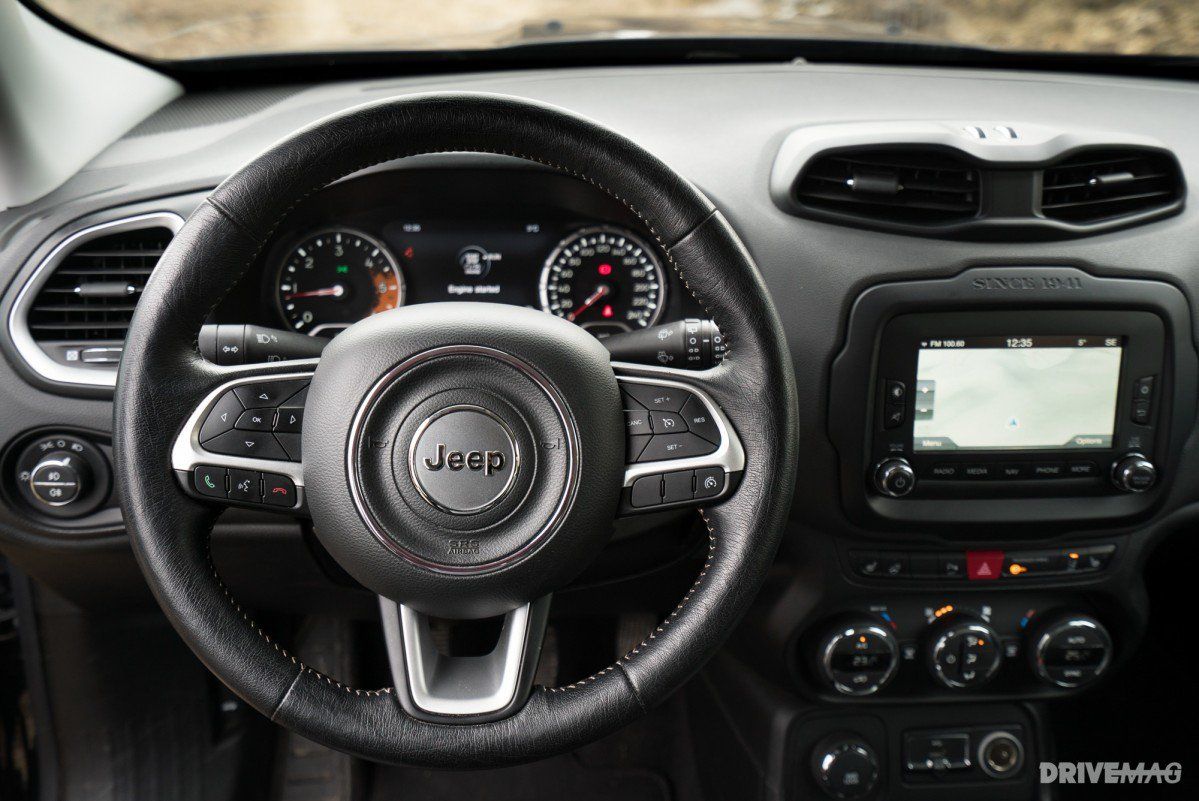 Before driving the Renegade, my previous Jeep encounter was with the Grand Cherokee, and as much as I loved it for the relaxed ride, it handled like a boat on the twisty Romanian roads. So I expected a similar behavior from the Renegade, but the little Italian-made Jeep put me in my place (and I think it would've slapped me if it could).
In short, it drives like a European hatchback, with a touch of well-controlled body roll in fast corners, but nothing to worry about. The ride is just fine, and the independent suspension manages to absorb just about every rut you lay your eyes on. Furthermore, there's something you could describe as feedback coming through the steering wheel.
Overall, the little Jeep Renegade offers a fairly engaging drive, although not as taught as the Nissan Juke or the Mazda CX-5, but enjoyable nonetheless.
On the muddy bits, the car feels confident, even in the without the extra ground clearance and underbody protection. The all-wheel drive system keeps you going even when you think you'll get stuck.
The only problem I had was the rather long gearing in first (with the manual box), which meant I had to ride the clutch a bit when trying to maneuver the car up a rocky hill.
If you're thinking of getting the Trailhawk trim, keep in mind that it doesn't have a low-range gearbox, or even a single low-range gear, although there's a button that says 'Low' on the Selec-Terrain knob. Instead, the 'Low' mode alters some software parameters for the throttle sensibility and stability control and forces the car to start in 1st gear in all the driving modes when using the automatic transmission.
The Trailhawk does however have a transmission with lower gearing than the other variants, so first can be used as a sort of low-range gear. Also, the Trailhawk comes with 30 mm of extra ground clearance and skid plates, among others.
Even with this marketing mumbo-jumbo, this crossover actually does stuff off-road, and I think it's worthy of the Jeep badge, even if it's made in Italy.
---
Safety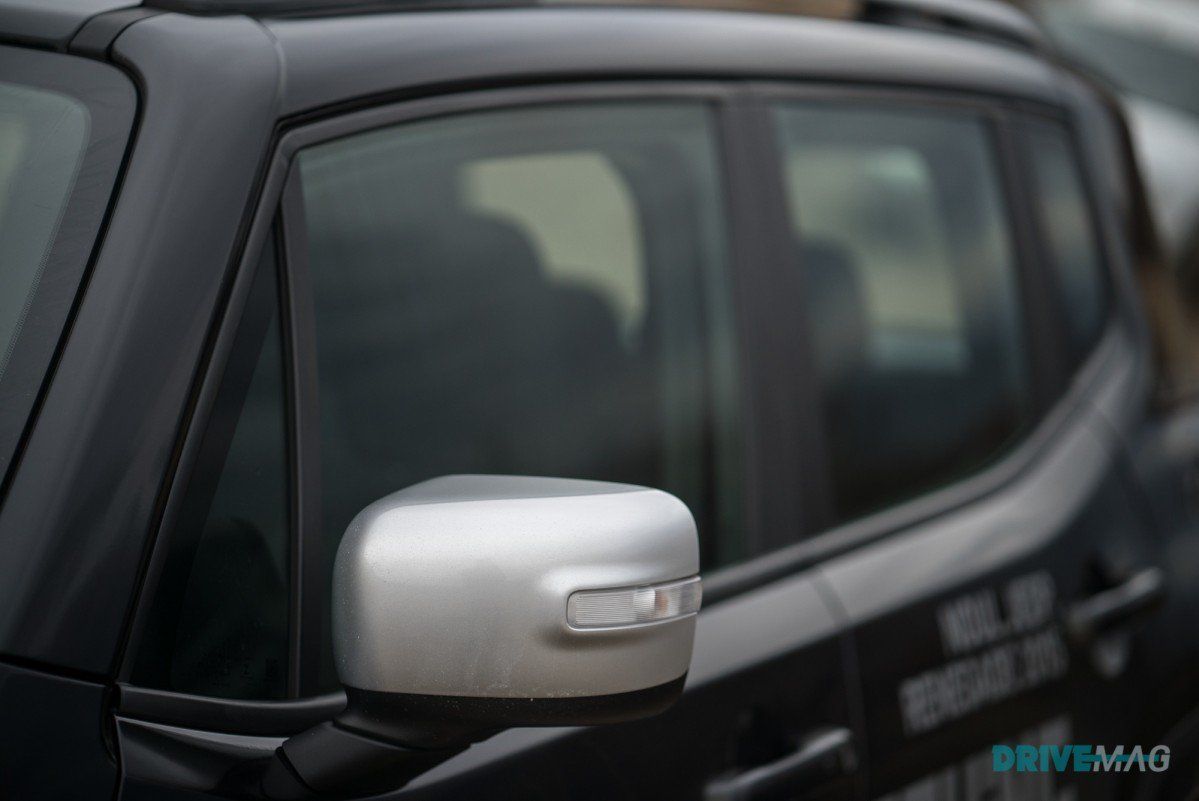 In Europe, the Renegade got the maximum 5-star rating for safety from Euro NCAP in 2014, but the NHTSA didn't test it yet in the United States.
As for safety equipment, the base Sport trim comes with front and side airbags, a knee airbag for the driver side, electronic roll mitigation and electronic stability control. Also, you get Panic Brake Assist, which brakes for you if a crash is imminent.
Comfort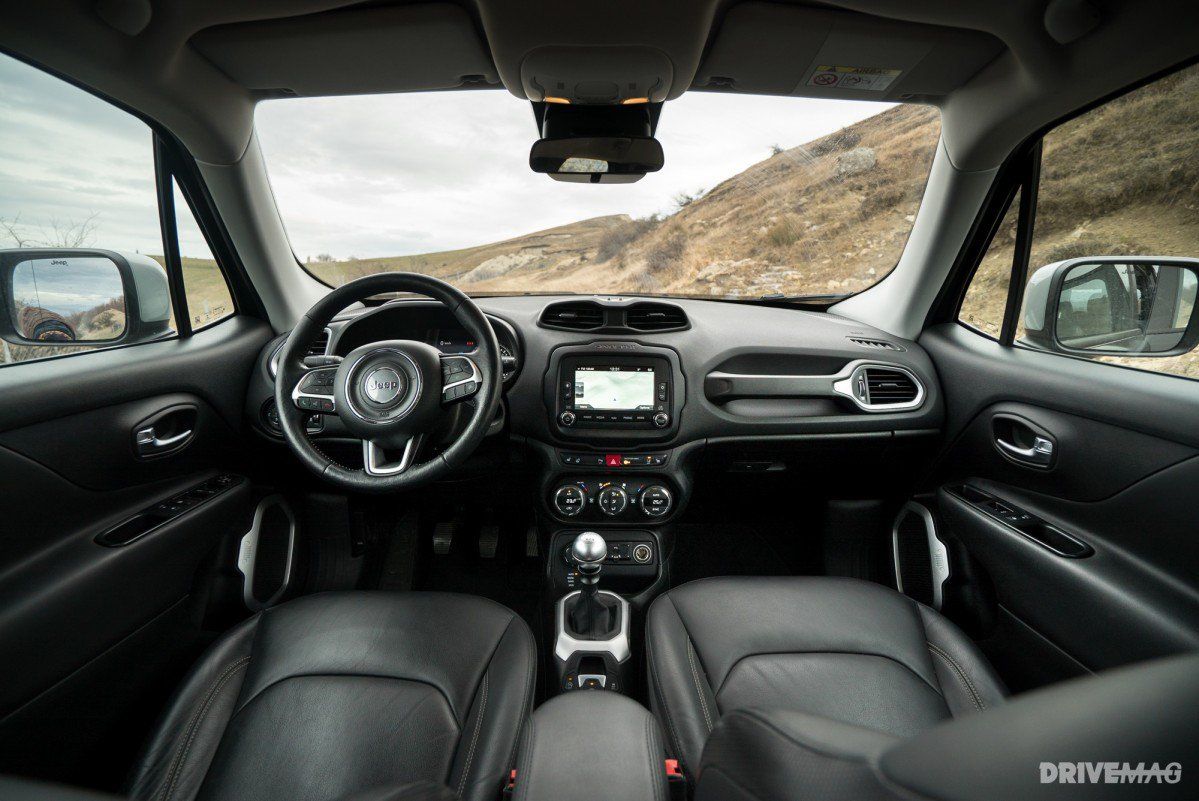 There's loads of head room, up front and in the back, and space is plenty even for bigger folks on the front seats, but comfort is moderate and lateral support is passable. In the back, the high transmission tunnel makes the bench seat a 2-people affair only, and the limited leg room means that it's suitable for teens or small adults only.
The high driving position gives you a commanding view of the road ahead, and visibility is good all around, except in the back, where the thick pillars obscure the view outside and the window is a few inches short of perfect.
Outside noise is barely noticeable when driving around town, and on motorways there's only a bit of wind noise coming from the large side mirrors, but nothing to worry about.
---
Quality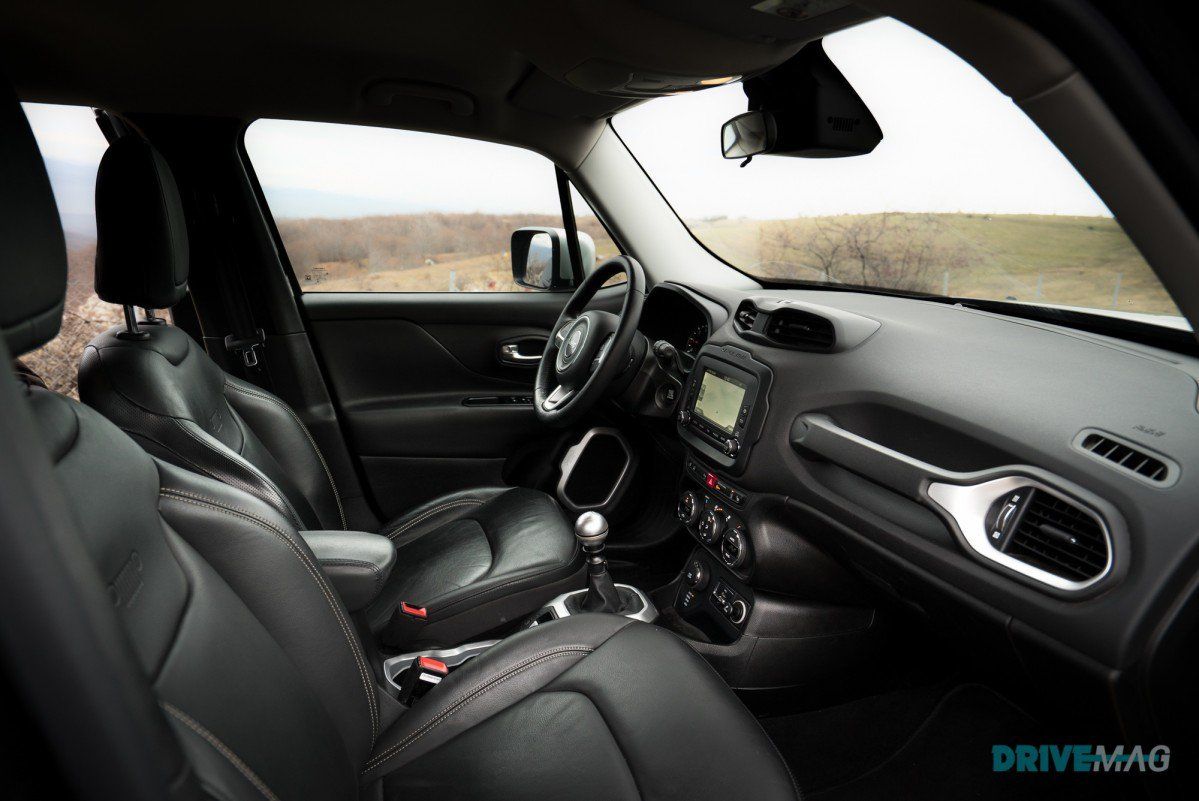 The Renegade's cabin is a mixed bag of materials, ranging from the excellent mushy plastic found on top of the dash to the dodgy (and quite fragile) climate control knobs.
The leather seats are made from genuine leather, but they lack texture and refinement, and the door cards are a bit too tough to the touch.
With all this said, there isn't really anything that would annoy you on the long run, but keep in mind that there are better built cars out there.
---
Practicality
If you compare the Renegade with the Kia Soul and the Mini Countryman, the little Jeep is on par with both of them when it comes to practicality, with a decent sized boot and sufficient storage spaces inside the cabin. It's when you put it against the bigger crossovers, like the Mazda CX-5, when the Renegade tends to look underequipped for the family car task.
---
Infotainment
The base Renegade comes with an AM/FM radio and four speakers, which has 1997 written all over it, but find a couple more dollars and you can upgrade to a Uconnect system with a 5.0-inch touchscreen display and Bluetooth. The top of the line infotainment system comes with a 6.5-inch touchscreen and nine speakers that sound pretty good especially when listening to hip-hop.
The Uconnect system works well, without major shortcomings, but the graphics aren't very refined and the color touchscreens could benefit from a resolution boost.
Efficiency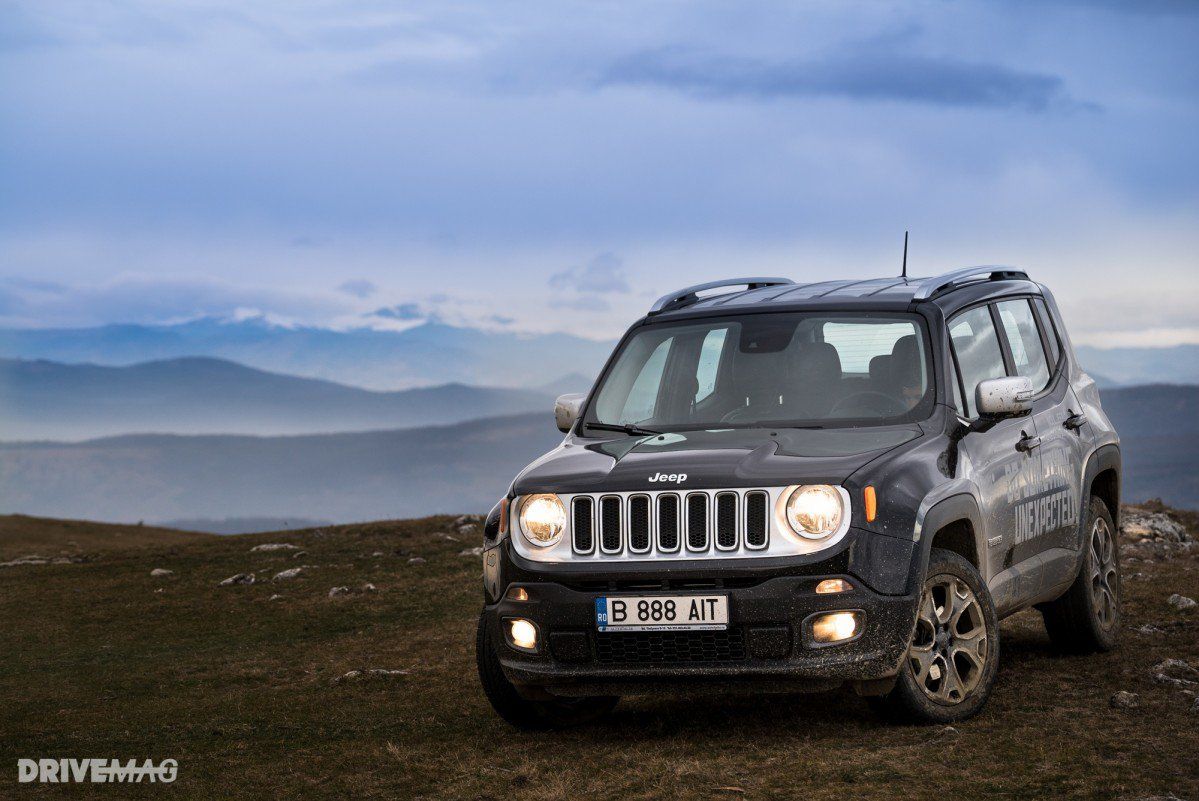 The official figures show a combined fuel consumption of about 40 mpg (5.8 l/100 km), and that's about right in normal traffic conditions as well, although you should be prepared for about 25 mpg (9.4 l/100 km) if you do a lot of off-roading and city driving.
---
Equipment
The cheapest Renegade available in the United States is a pretty basic car, with a 1.6-liter gasoline engine that makes 160 hp, front-wheel drive, a six-speed manual, cloth seats, steel wheels and AM/FM radio. You don't even get Bluetooth, even though it's 2016.
Higher trim levels get a 6.5-inch touchscreen display for the infotainment system, GPS navigation, leather heated seats, all-wheel drive, a nine-speed automatic transmission, cruise control, dual-zone automatic air conditioning and 18-inch wheels, among others.
All in all, if you're willing to pay the price, you can spec a pretty sweet Renegade because you have a pretty big options list to choose from.
---
Acquisition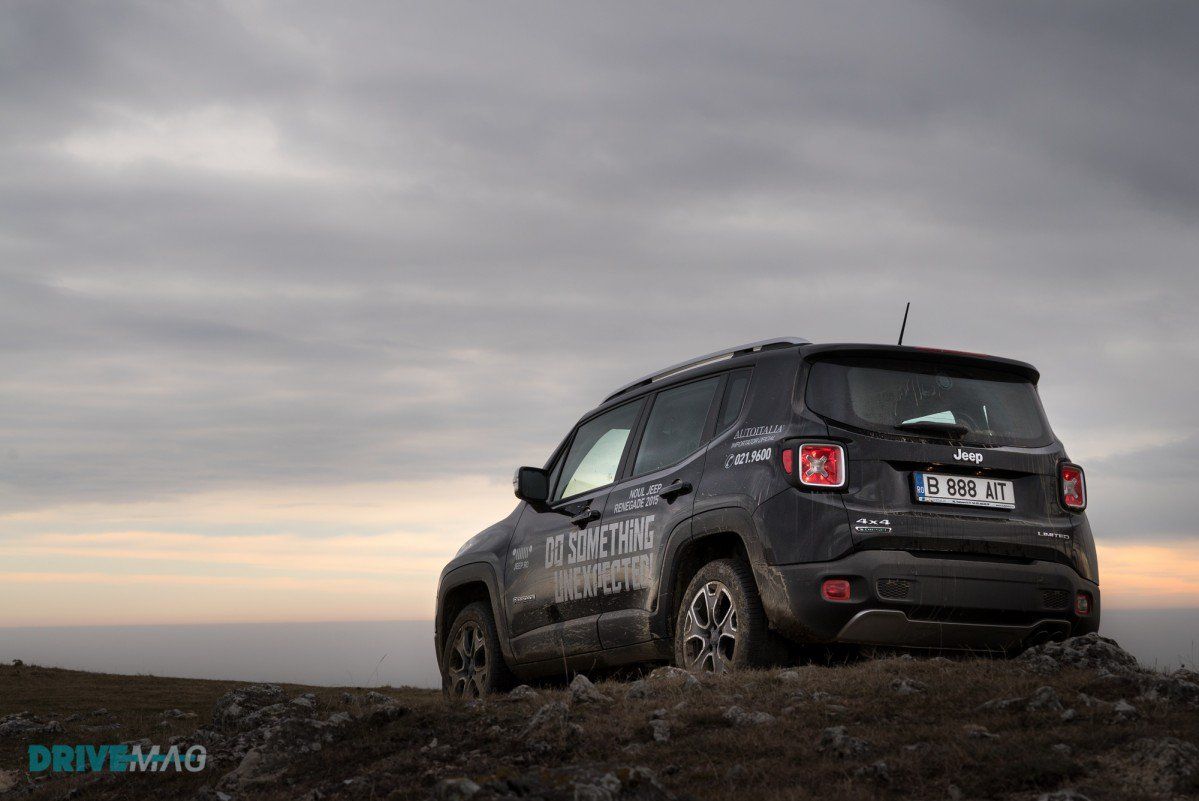 The Jeep Renegade is a fun to drive little SUV with serious off-road credibility, but it falls short in the build quality department and is overpriced compared to similar rivals, keeping in mind that not everybody who buys a crossover will want to go off the beaten track.

Photo credit: Iulian Dnistran, Ionuț Ivana