2015 Mazda MX-5 Test Drive - Epitome of Purity
It's Mazda's best and most advanced effort yet at creating a topless pleasure-inducing toy...
You really have to overtly appreciate Mazda for putting as much effort as it did into creating the new MX-5, even if it's by no means the largest or most financially apt automaker out there. It is doing fairly well as a company (and is on the upswing in terms of global sales and image), although its cars don't seem to be flying out of showrooms as quickly as the oh-so positive reviews they receive suggest.
A new MX-5 is a big deal for the brand, as the little roadster is a kind of people's halo model in its range. But don't worry, they've not messed it up one bit – in fact, it's probably the best MX-5 to date.
I mean the fact that Mazda managed to make this, a 2015 model year car, with all manner of extra safety bracing, gadgets and airbags as light as the 1990 original is definitely worth noting. It's also some 100 kg lighter than its predecessor, as well as shorter and with a lower center of gravity – Mazda said it used a "gram strategy" to keep the overall mass low, which in turn helped balance the weight bias at 50 / 50 front-rear.
https://cdn.drivemag.net/images/icons/inbrief-icons.svg
IN BRIEF
Recommended for:

Created for:

Hats off for:

Bang for the buck:
Powertrain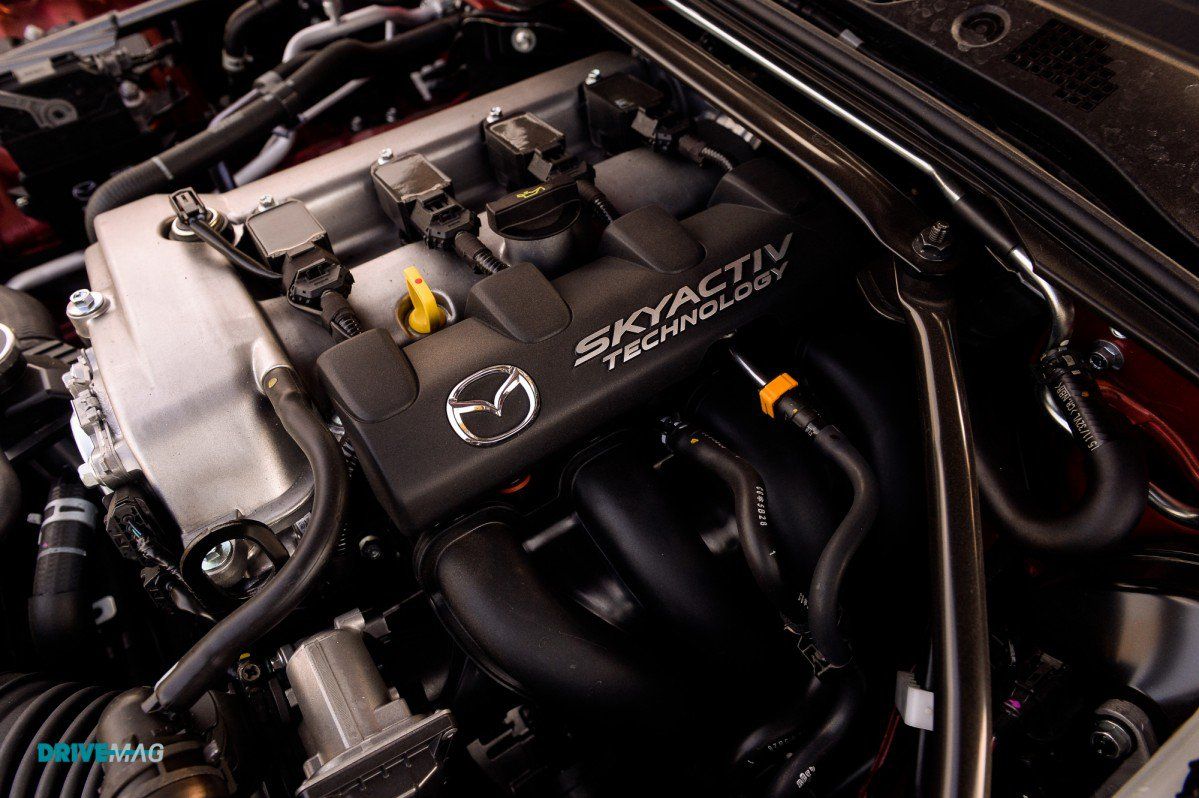 The new MX-5 comes with two power plant options from launch: a 2.0-liter SKYACTIV naturally-aspirated petrol engine and a smaller 1.5-liter unit which is what we had to test. The unit makes a rather weedy-sounding 129 hp, but it shaves exactly 49 kg off the car's total mass compared to the 2.0-liter, so what you lose in outright acceleration, you gain in weight distribution, control and nimbleness.
Keen drivers who've experienced both engines can confirm the 2.0-liter cars' increased propensity towards understeer, as well as the ever so slightly less fidgety and more planted feel brought about by the extra inertia.
But you really should not avoid the base 1.5-liter as it's a peach. It revs very cleanly up to the 7,500 rpm redline, with no perceptible dips in the power delivery. Granted, you really have to keep the revs up to make the most of what it has to offer, but it certainly doesn't feel strained while at it (in fact it thrives when you use it in that manner) – that could be down to its fairly high 13.0:1 compression ratio.
---
Handling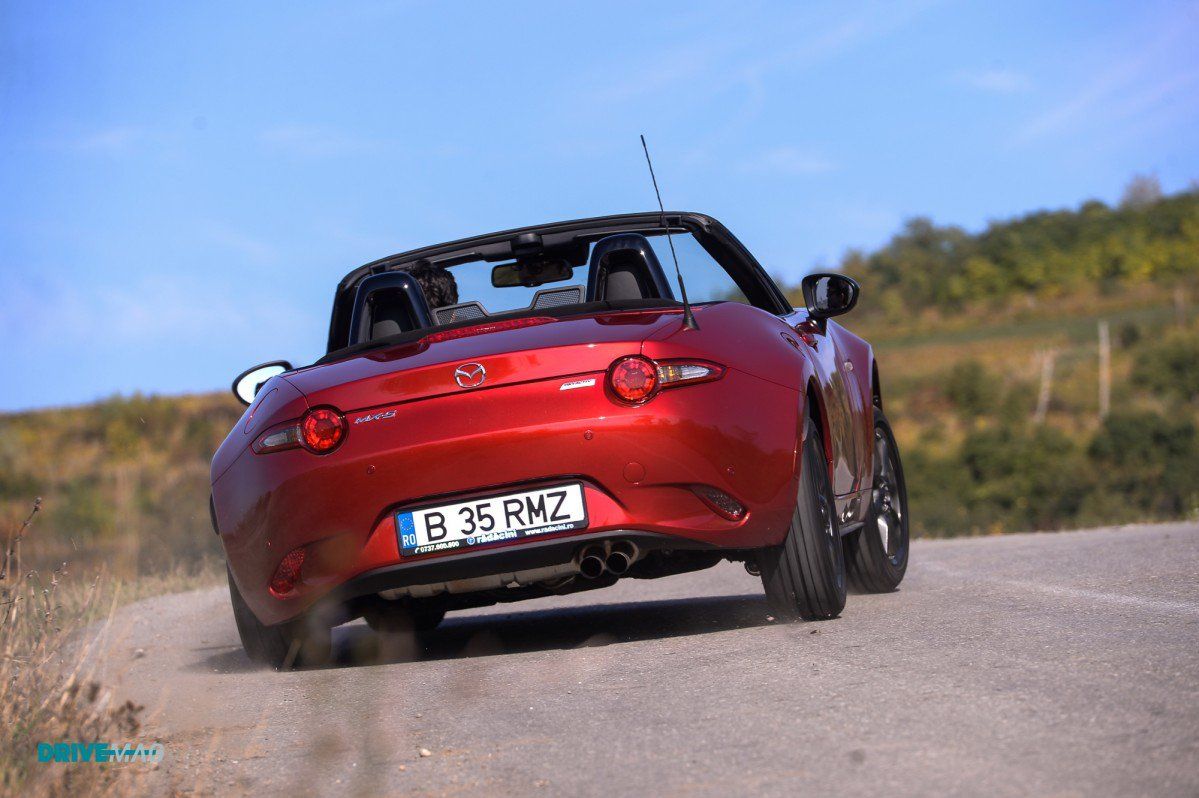 The lightness of the MX-5 1.5 is evident in the way it handles. Even the most minute steering, braking or throttle input has some kind of noticeable effect. Yes, the 1.5 variant loses the stiffness enhancing front tower brace, but it's still very accurate and controllable during cornering regardless of it being of the high- or low-speed variety.
There is noticeable body roll, and unless you're deliberately brutal with your inputs it will prefer to understeer and not swing its tail out. That behavior can undoubtedly be easily eliminated with aftermarket suspension and tires upgrades, but for those who do not like sudden oversteer, the factory setup strikes a good balance between safety and rear-wheel drive fun.
---
Safety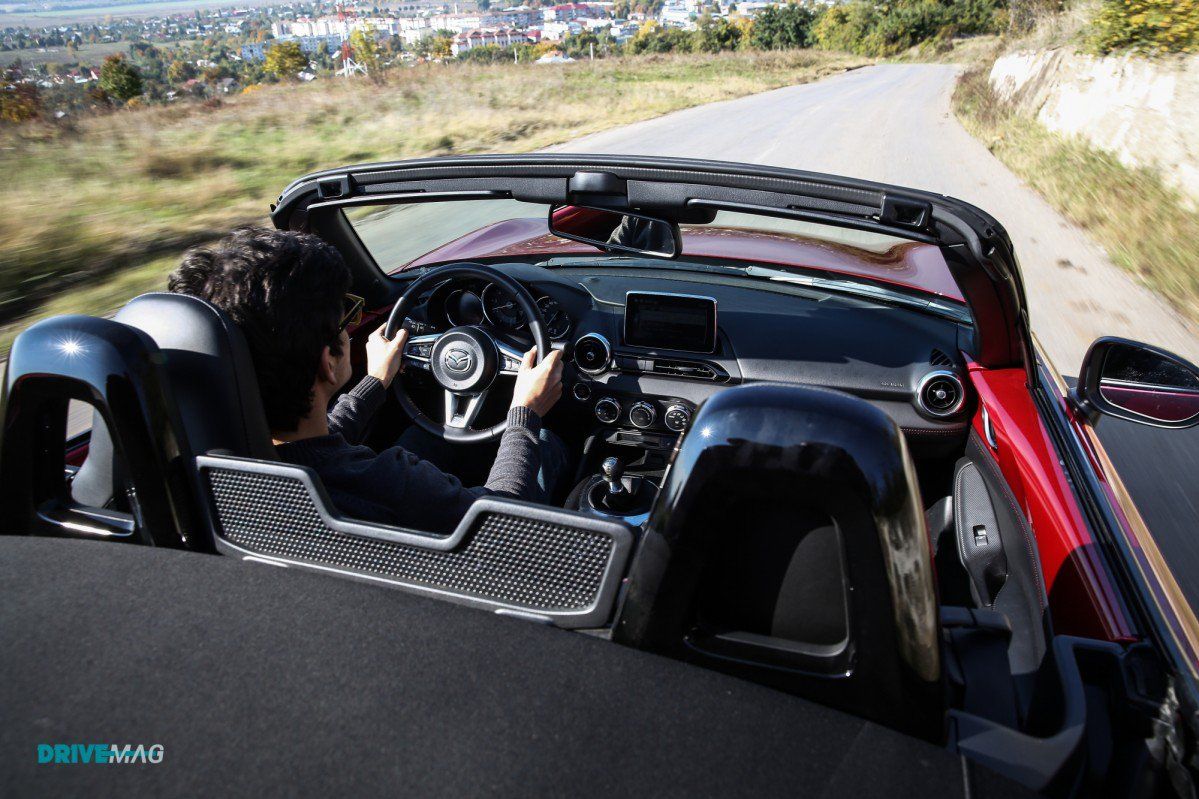 The MX-5 achieved a four-star Euro NCAP rating when tested. But don't worry, it's still has airbags to cushion most of your body in a crash – the only type of airbag that doesn't seem to be offered is one for your knees.
Structurally, the MX5 performed well in both front and side impacts, but what actually kept it from being awarded the maximum five-star rating was the lack of autonomous emergency braking (AEB) – it does, however, offer lane-keep assist.
Comfort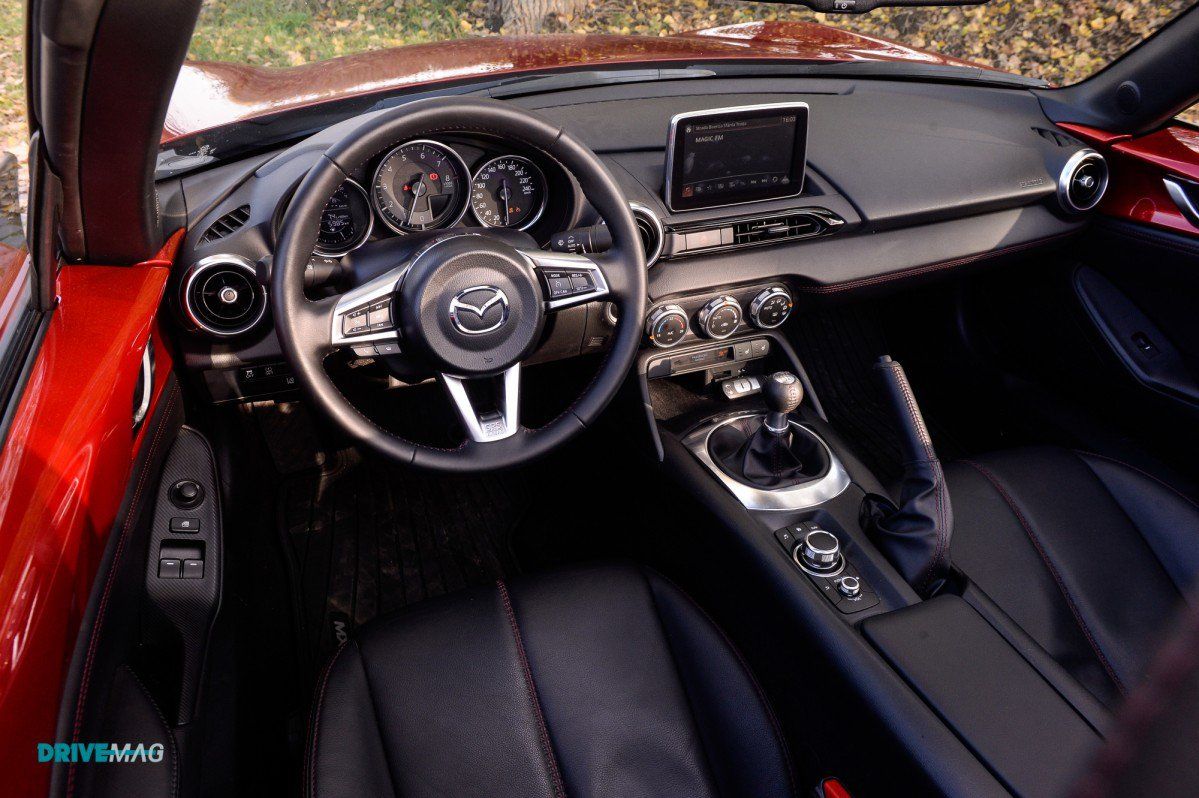 Mazda has worked hard to make the car as roomy inside as it could. It won't fit basketball players loftier than 200 cm, but tall adults of under 190 cm will find a comfy position fairly easily.
You really don't feel 'trapped inside' like you do with some other small sports cars, and that's not entirely due to it having a roadster configuration with no headroom limit.
The suspension is by no means harsh, and while the body is kept in check, the general softness of the setup is highlighted by the sometimes alarming amount of roll that the car exhibits. The tradeoff towards comfort is clear here, but then again this is the very bottom of the MX-5 range, and it's in this configuration that it's meant to be the best all-rounder it can.
---
Quality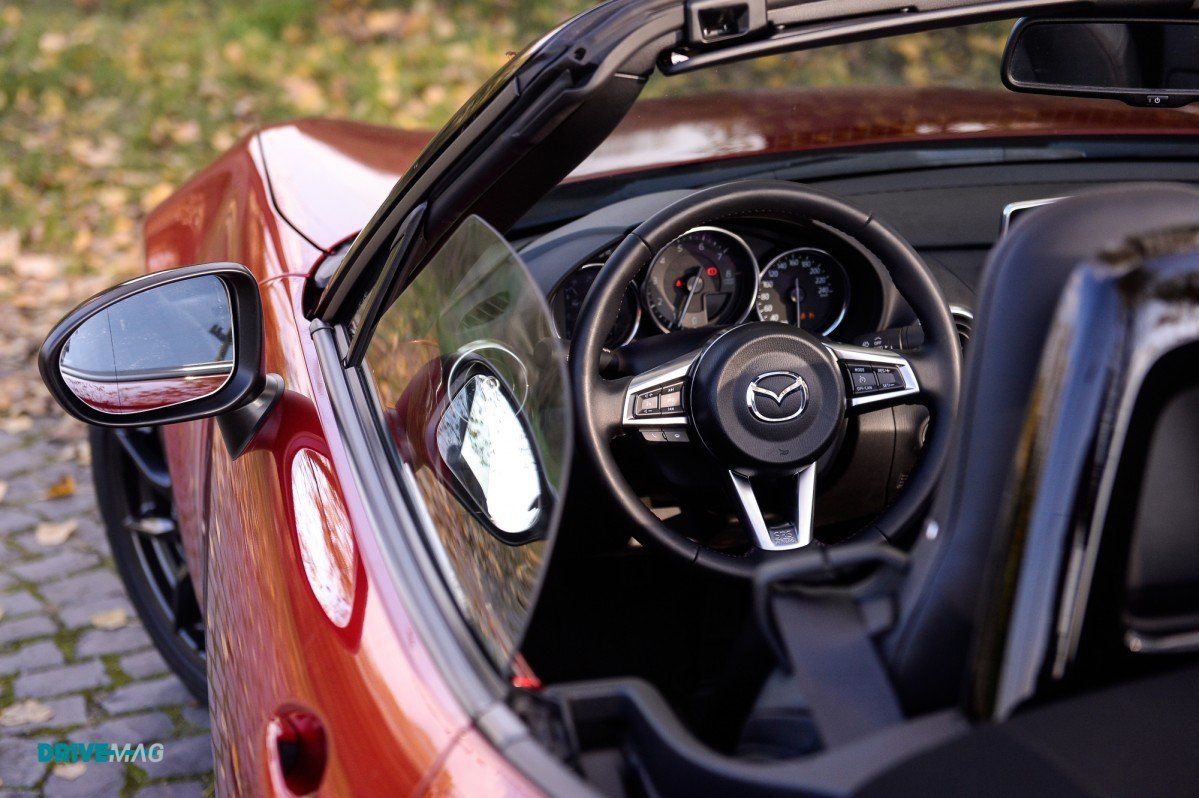 All recent Mazdas give a sense of solid build quality, coupled with minimalistic design and good ergonomics. The MX-5 continues the on the same path and it really feels like a luxury car compared to its spartan predecessor.
The interior is actually one of the car's surprising strong points, and after a fair bit of prodding around it can definitely be called premium-esque; it's a nice place to sit where badge snobs will only find one thing to complain about - the badge…
---
Practicality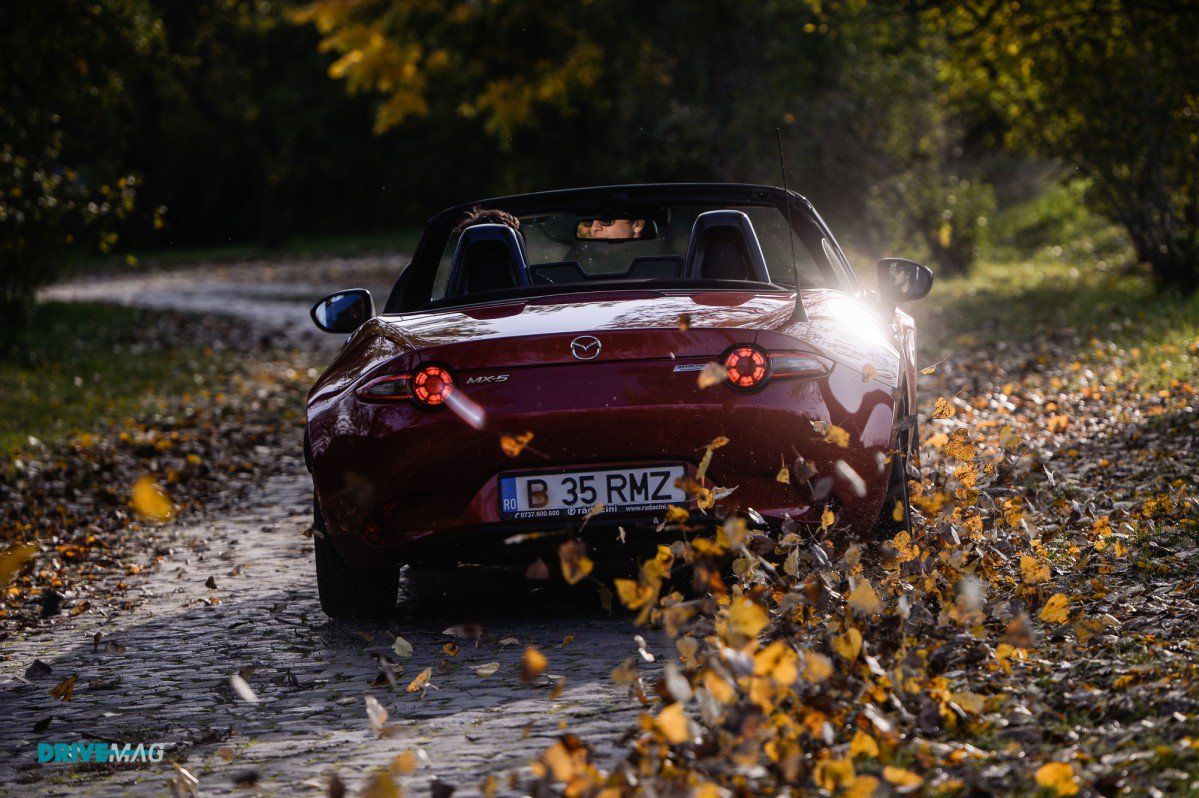 You don't buy the MX-5 if you intend to carry heavy loads or take it on cross-continent trips (although the latter is definitely achievable). Don't forget this new model is both smaller and lighter than the one it replaces, and this seems to have a negative effect on carrying capacity…
According to the manufacturer, the load volume of this latest MX-5 is actually 20 liters down on the old car, down to 110 liters from 130.
Pack lightly when traveling in it, and don't forget your tall late in either of the cupholders. These are located in between the seats and judging by their unfortunate placement, they seem like an afterthought - it looks really easy to knock your drinks over whens shifting into 2nd, 4th and 6th…
---
Infotainment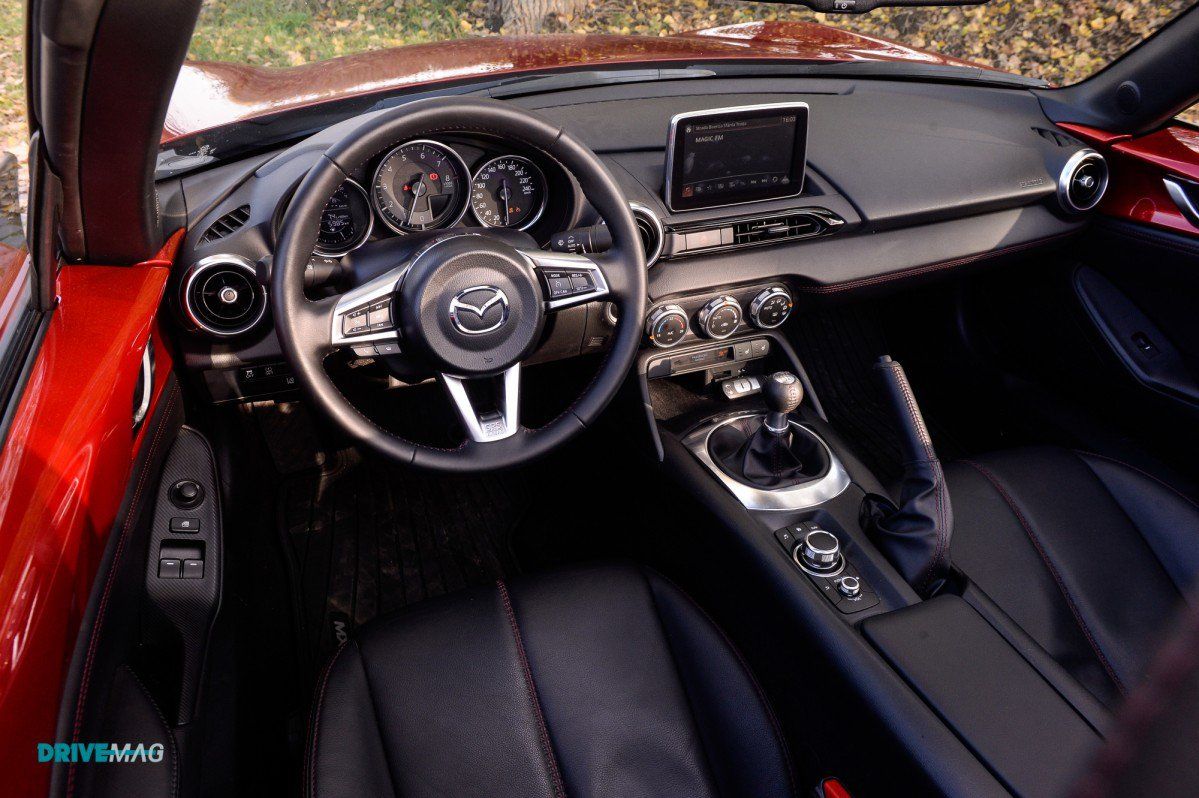 The MX-5 uses Mazda's latest infotainment system, simply called MZD Connect. It offers app support, digital radio capability and three distinct control methods: touchscreen support when the car is stationary, an industry standard rotary knob with buttons for when you're moving or dedicated controls on the steering wheel for the phone and other key functions.
Efficiency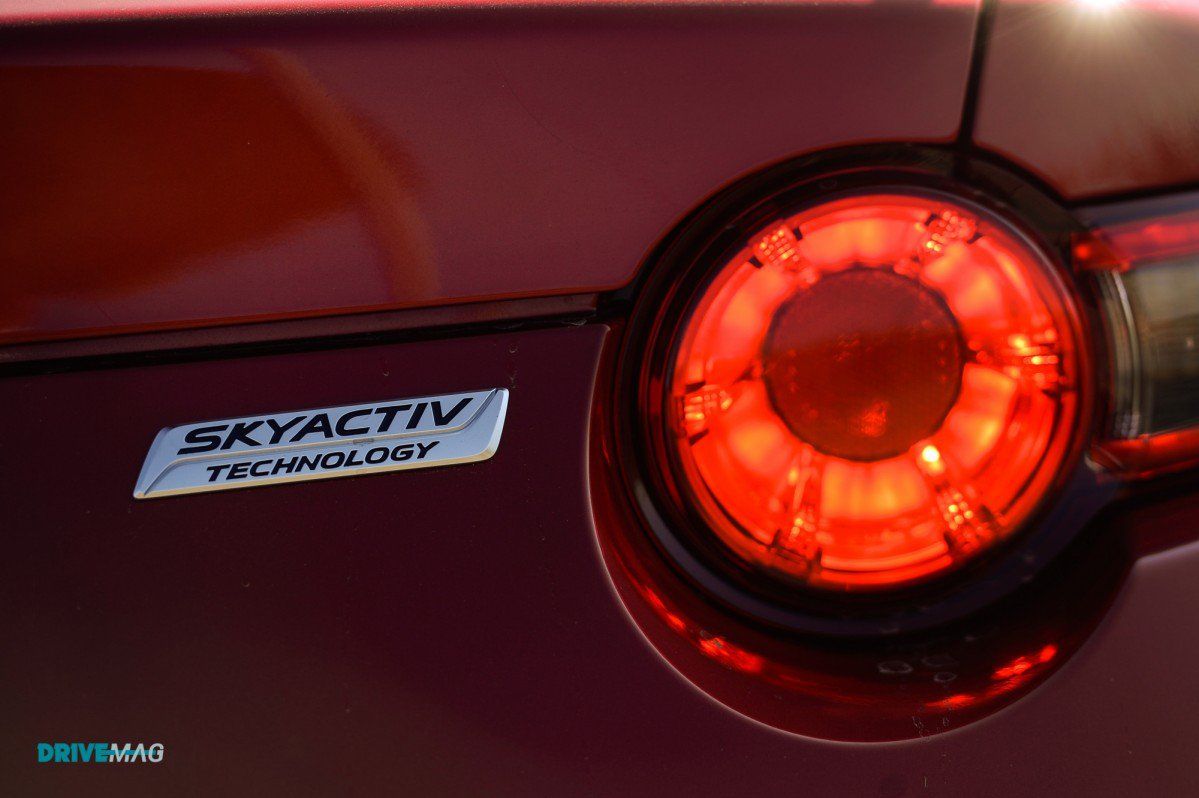 The 1.5-liter MX-5 is definitely a frugal car compared to genre standards. The manufacturer claims it averages 6 l/100 km on the combined cycle, and driving it on just such a cycle we averaged 6.6 l/100 km, in mixed open and twisty road conditions.
You may even be able to beat the manufacturer's claims if you drive it in a deliberately eco-minded fashion on roads not riddled with traffic.
---
Equipment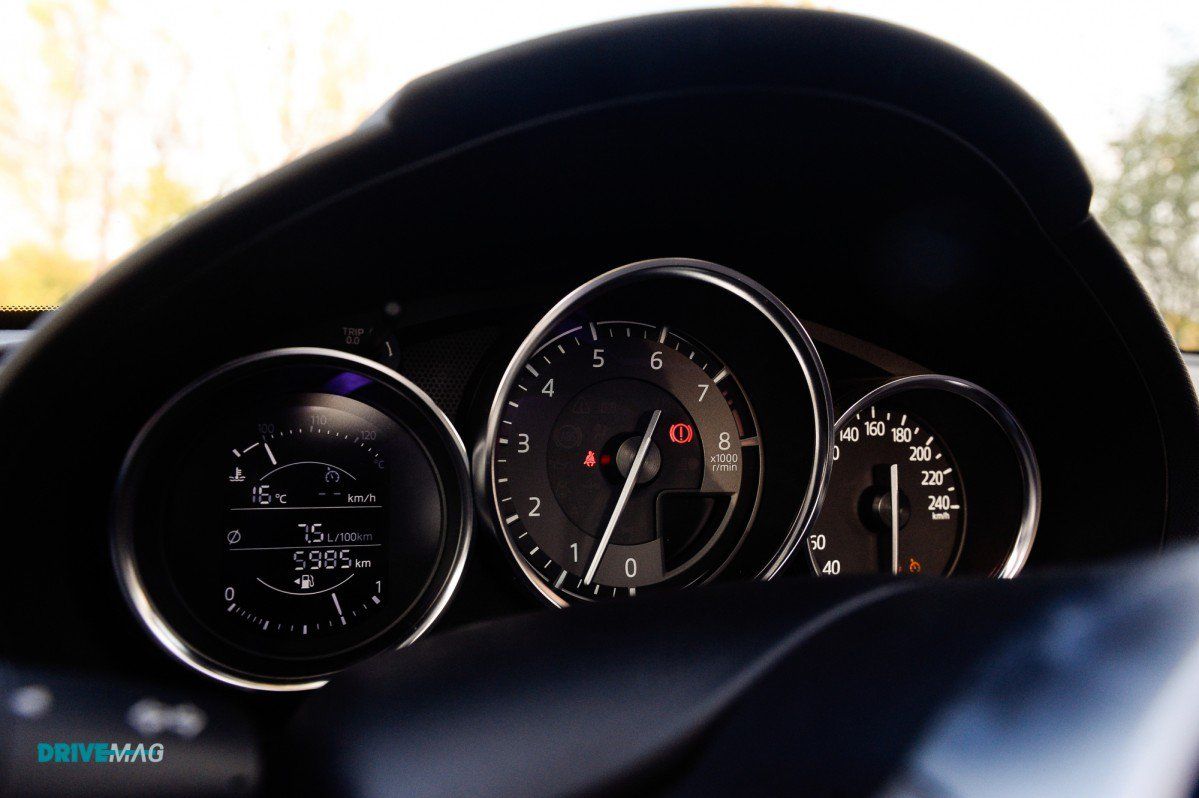 The latest generation MX-5 features visibly more tech than its predecessor. It gets a tablet-like infotainment system for the first time (operated through a snappy seven-inch screen). Another highlight was the optional Bose sound system our test car came fitted with.
It has excellent quality and much of the wind buffeting that can distort the sound (in a drop-top such as this) is drowned out by the headrest-mounted Ultra-Nearfield speakers, as well as a set of tweeters in the A-pillar.
---
Acquisition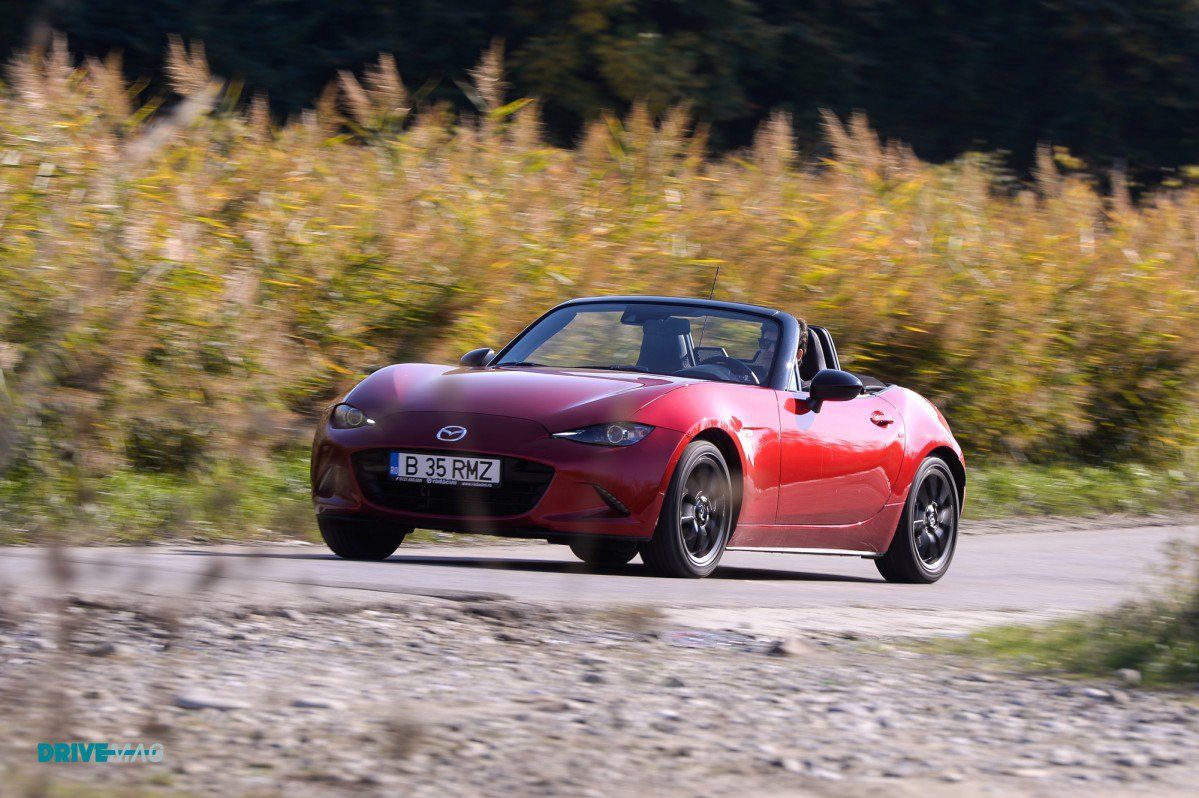 The MX-5 doesn't really have a direct rival that matches it for fun, tradition or acquisition price. Our test car cost around €25,300, but US buyers can't opt for the same 1.5-liter engine - the cheapest version they can get is $24,915, but that comes with the larger 2-liter engine, currently the only power plant for Stateside buyers.
It is a thoroughly recommendable buy for many different categories of drivers: it can be used as an entry level rear-wheel drive car in which to learn the basics of controlling such a vehicle, as well as in the role of a beachside cruiser.
It's a sports car at heart, but you can also commute in it if you really have to, as we found the seats to be quite comfortable even on 100+ km stints.
We wouldn't go so far as to call it an all-rounder, but it is much more versatile than you'd expect it to. It's not afraid of potholes, and you can even park it on high curbs in the city, if you really have to.