2015 Opel Astra K Test Drive: Making Headway
How can you turn the odds in your favor in a segment where rivals are adapted and ready to jump at your throat whenever the opportunity arises? The answer is a no-brainer, really: you improve.
The all-new Opel/Vauxhall Astra is here and besides being built on British soil, the compact model received a considerable technology infusion. It is also lighter, shorter and more spacious, so let us paint the details in the following lines.
https://cdn.drivemag.net/images/icons/inbrief-icons.svg
IN BRIEF
Recommended for:

Created for:

Hats off for:

Bang for the buck:
Powertrain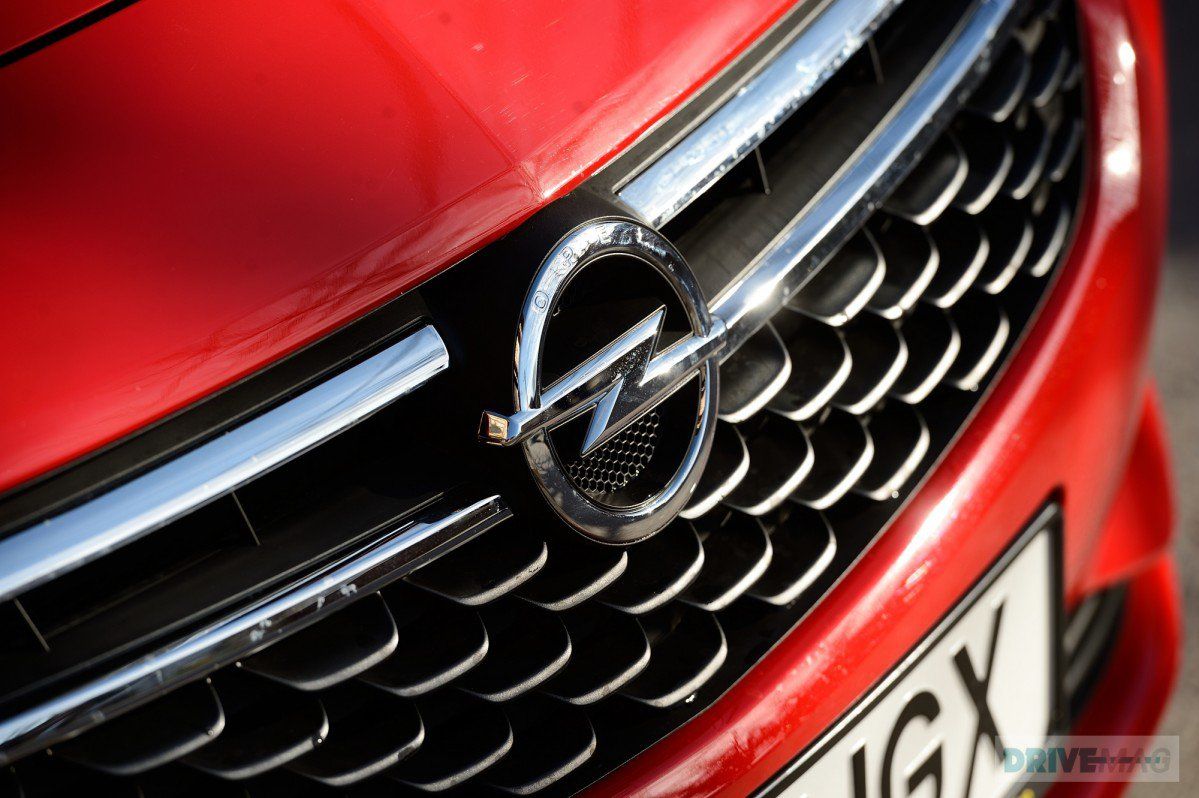 Opel came up with a wholly new engine portfolio for the 2015 Opel Astra K – gas and diesel mills that offer power outputs between 95 and 200 HP – but we shall focus on the 1.4-liter ECOTEC direct injection turbo unit working its magic under our tester's hood.
On paper, its credentials look like a good compromise: 150 HP and 245 Nm of torque at the price of a hypothetical fuel consumption average of 4.9 l/100 km (57.6 mpg). As far as fuel economy is concerned, reality contradicts the spec sheet: after driving on various types of roads (motorways, A-roads, B-roads and city streets), Astra's onboard computer was telling us the car drank on an average 7.2 l/100 km (39.2 mpg).
The four-cylinder engine is incredibly smooth and refined, plus there's a reserve of pulling power in every gear. In fact, it's hard to decide which one is better: the 1.4-liter mill or the crisp and easy-to-use six-speed manual gearbox. Opel invested a lot in refining transmissions over the past years and improvements did not take long to show up at the party. As a result, you get a more comfortable driving experience especially around town, where constant gear changing is a big deal.
---
Handling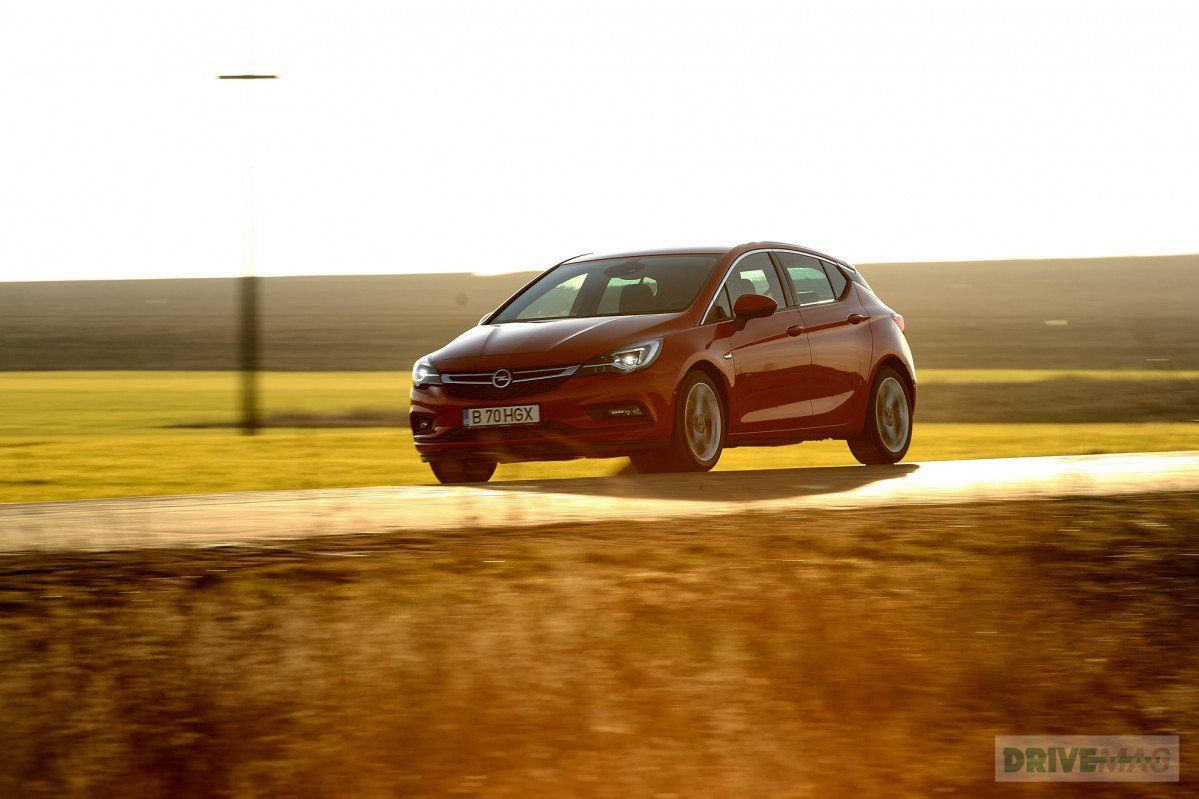 It all starts with weight reduction. The workout routine Opel engineers have chosen for the new Astra helped the car with losing between 120 and 200 kg (264-441 lbs) of metal – depending on what version we're considering. Slimming down the Astra translates into a more agile behavior on the road while we also felt that the suspension setup provides an almost perfect balance between comfort and firmness.
However, harsh B-roads with rough asphalt patches and plenty of potholes will trigger the suspension's noisy side, but nothing too intrusive. Like we said, most shocks coming from bumps and irregularities are properly absorbed, yet the new Astra always remembers to keep body roll at bay even when your driving mojo gets a boost of enthusiasm.
We would have appreciated a tad more feedback from the steering, but it offers a good amount of precision instead and also hardens a bit at higher speeds. So take our word for it when we say the new Opel Astra is wandering in a direction where it allows the driver to rush into corners and even get a dose of fun out of it. And yes, that's Ford Focus and Mazda3 territory.
---
Safety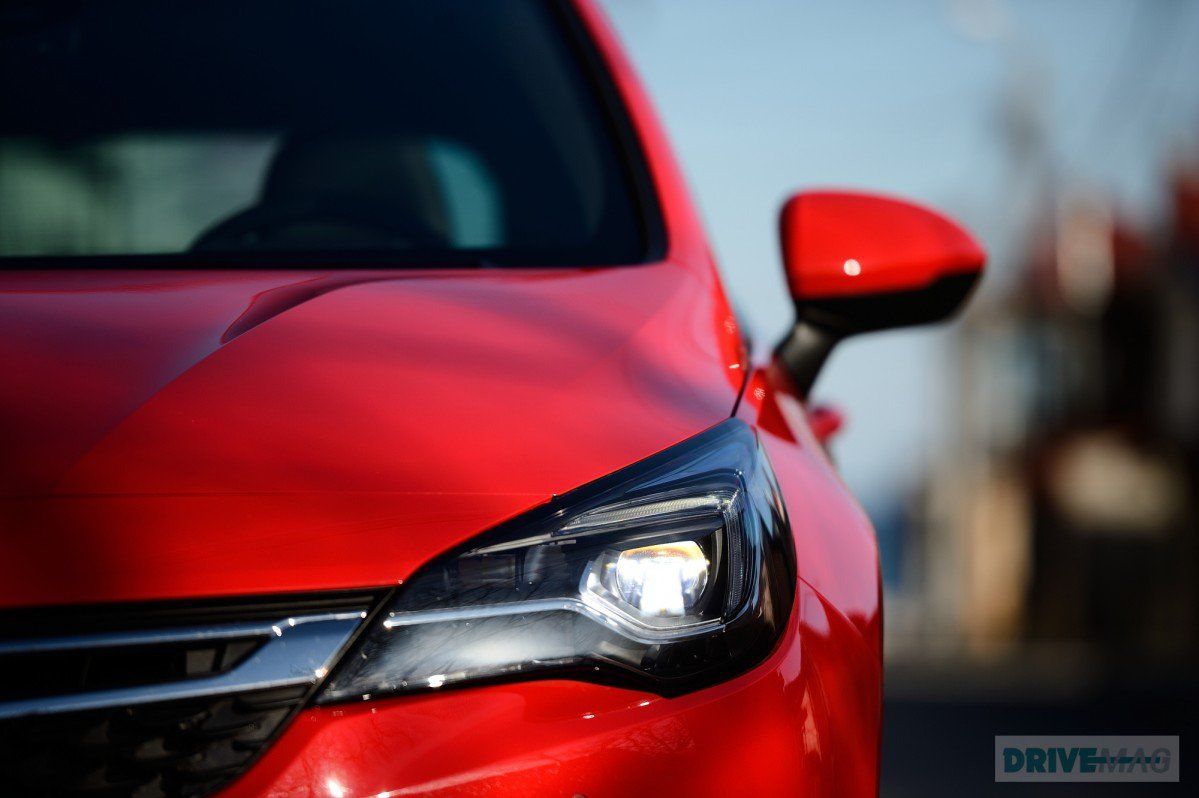 The new Opel Astra put on a performance worthy of five stars out of five at the Euro NCAP crash test sessions it underwent back in 2015. Adult occupant protection stands at 86% while child occupant safety and pedestrian protection were rated at 84% and 83%, respectively.
Opel's decision to fit the new Astra with the best tech bundle available – including safety features – brought a safety assist rating of 75% for the hatchback.
Opel was always good with safety systems on their models, so it only comes as a second nature for the new Astra to pack the manufacturer's best available features. The main novelty is represented by the IntelliLux LED matrix lights which, in a nutshell, automatically adjust the high beam during night driving with two goals: better visibility for the driver and zero glaring for those on the opposite side of the road as well as for the drivers in the cars ahead.
Engineers installed a front camera called Opel Eyes on top of the new Astra's windshield. What this does is essentially provide further assistance for the driver with features like traffic sign assist, lane keeping assist, automatic steering correction and front collision alert with autonomous braking.
Comfort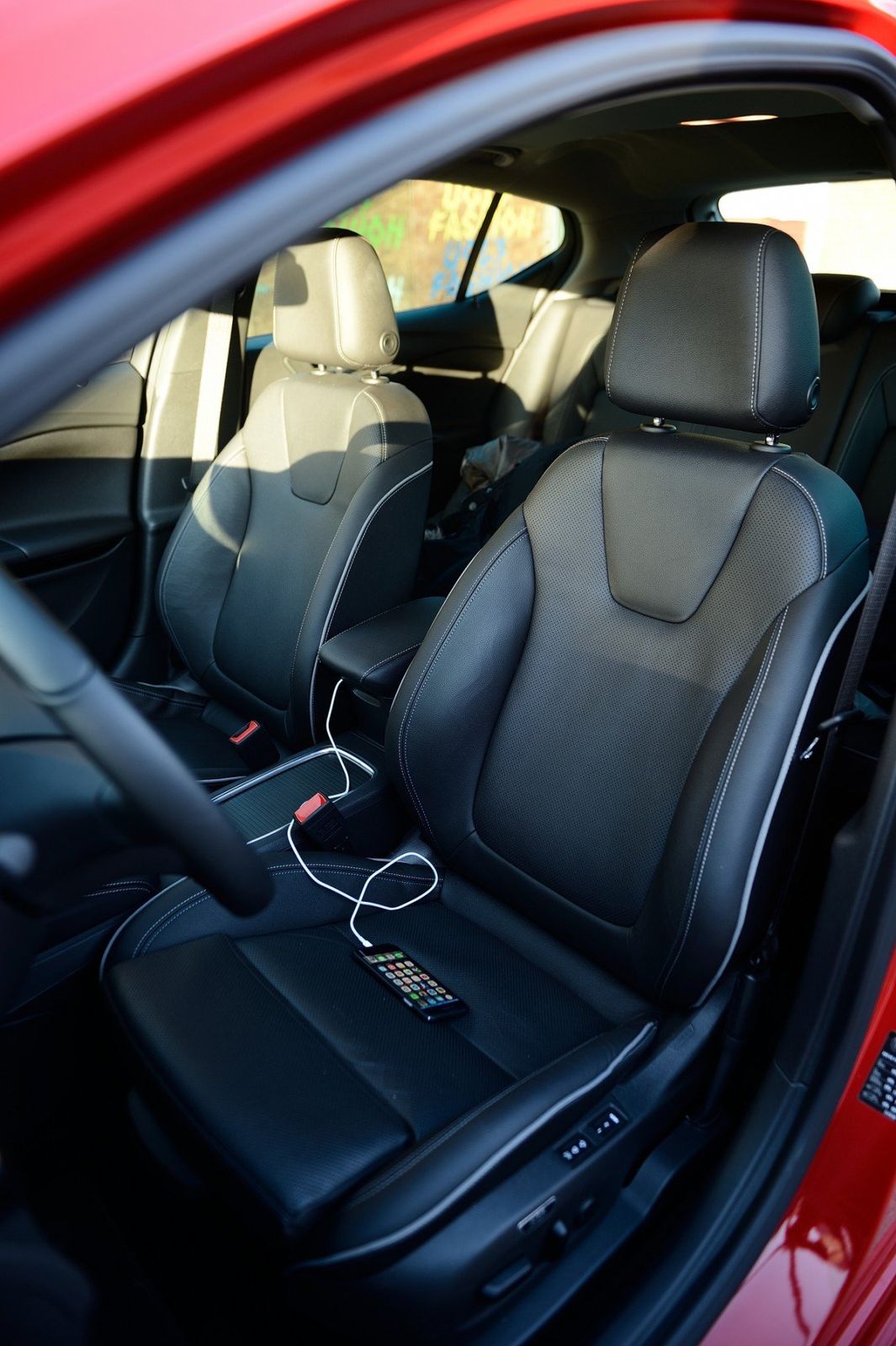 Ever since the Astra F started the small family car saga for Opel, the focus was on comfort rather than spirited performances. That's why the changes introduced by the new Astra count mostly inside the cabin.
So, where should we begin? Quality-wise, materials improved considerably, every inch of the dashboard looks fresh, and the texture won't disappoint your tactile sense, but there's one detail that brings an enormous load of fresh air inside the cabin. Just like the facelifted Opel Insignia, the new Astra finally sheds the annoying and confusing center console decorated with a gazillion buttons and adopts a more modern 8-inch IntelliLink R 4.0 media system display along with flashy piano black inserts.
The tactile screen is positioned right on top of the chic center console so your eyes won't have to stray away from the road ahead for too long during driving. Speaking of which, the ergonomic interior went up once Opel adopted for a set of AGR-certified front seats which on higher-trim models offer heating, ventilation, massage and electric adjustment with memory settings.
The instrument cluster lights up in a soft white hue – very easy on the eyes especially during night time while the small display between the speedometer and tachometer has been (finally) upgraded from 2000 and late to more contemporary times.
Back support is top-shelf, and you can add a lot of miles under your belt without feeling fatigued or any other type of discomfort. The steering column is height- and depth-adjustable, so you can quickly find a comfortable driving position. You also get good visibility, except maybe for the rear window, but a set of parking sensors and the rearview camera adjust this issue.
According to Opel, the Astra K is around 5 cm shorter than the model it replaces, and the wheelbase also lost 2 cm, but somehow the cabin fails to illustrate that. Those sitting in the back seats have plenty of headroom and knee room at their disposal. However, fitting three grown-ups in the backseat will prove problematic even for shorter trips.
---
Quality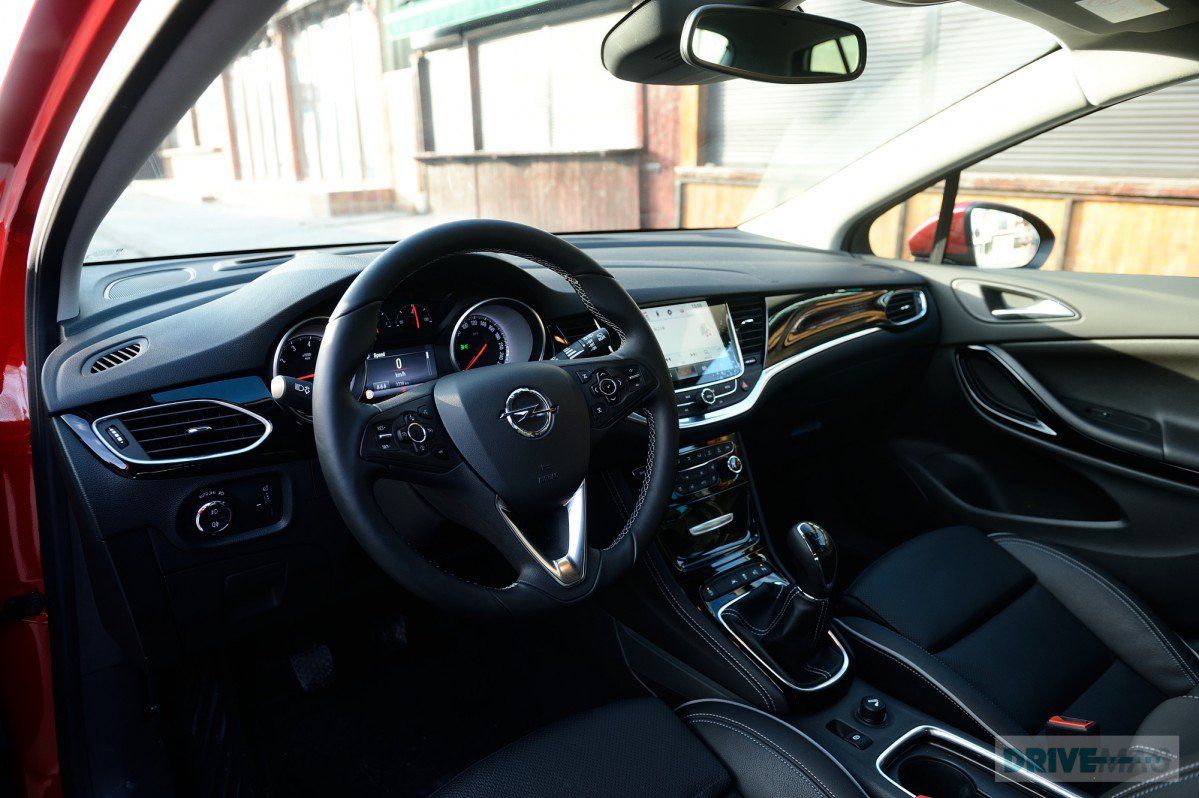 Both inside and outside, the new Opel Astra K proposes a more attractive approach, visually speaking. But inside is where all the changes matter. Besides the brisk cues, quality was also boosted if we are to draw a comparison between the previous generation.
By quality, we also mean a better use of space inside and the decision to drop the confusing buttons will be a welcomed one for both previous Astra owners and new clients. We'll just have to see how reliable the new Astra K will be, so time will tell us more.
---
Practicality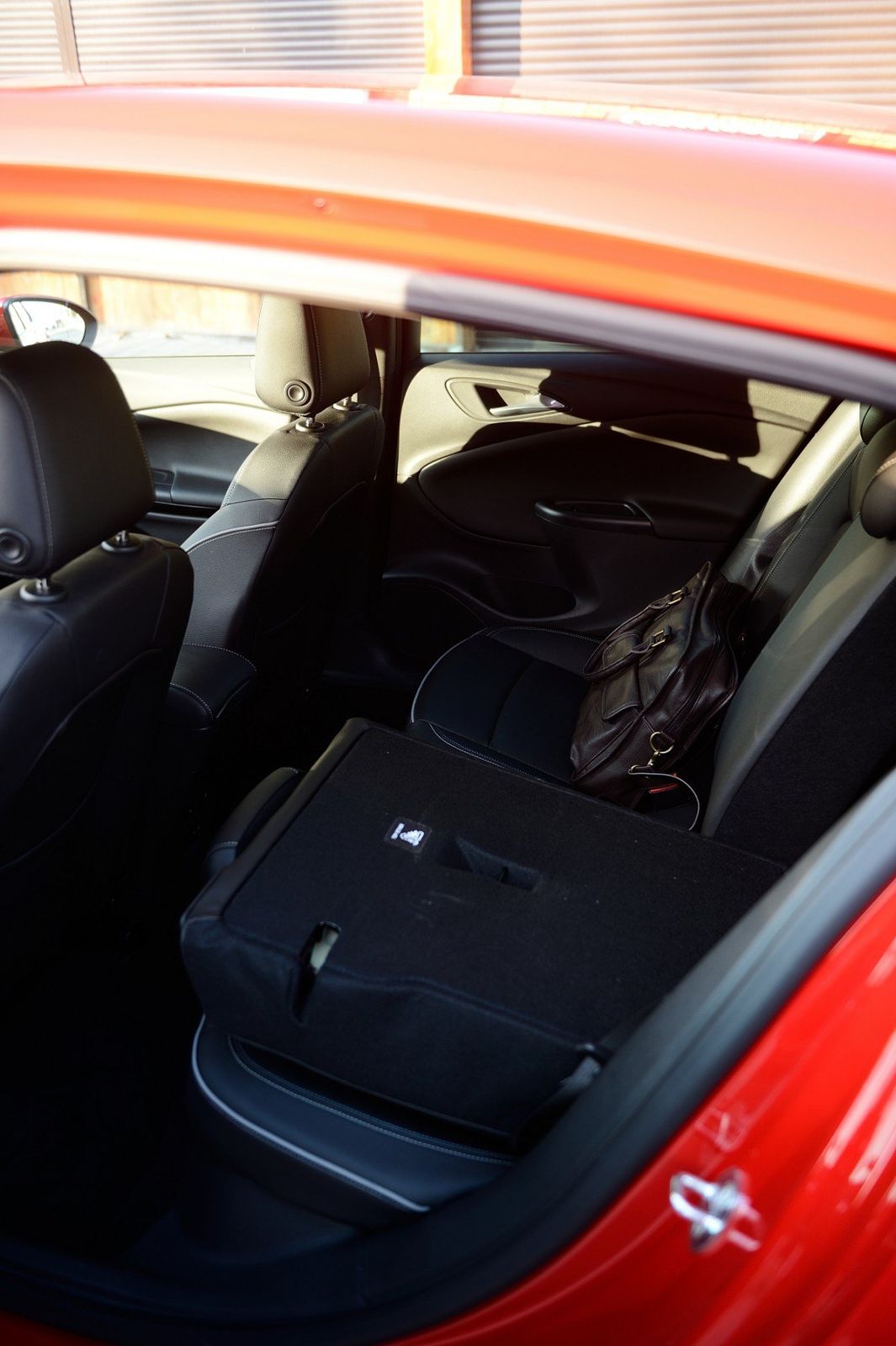 Cargo space for the new Opel Astra K offers 371 liters, a figure that places the hatchback behind the VW Golf (379 liters) and ahead of competitors like the Ford Focus (362 liters) and Mazda3 (351 liters).

A low loading lip makes sure both loading and unloading can be carried out without a fuss, and if your organizing skills are sharp enough, you can fit enough luggage pieces for a short family roadtrip.

As you move inside the cockpit, you'll notice cubby holes are limited, but the medium-sized glovebox, the two cupholders, and the wide, boxy armrest make up for this to some extent.
Also, if you're in need of carrying larger items, the split-foldable back seats offer an almost-flat platform at the pull of a handle. The system doesn't come close to the Magic Seats setup provided by the Honda Civic, but it gets the job done nonetheless.
---
Infotainment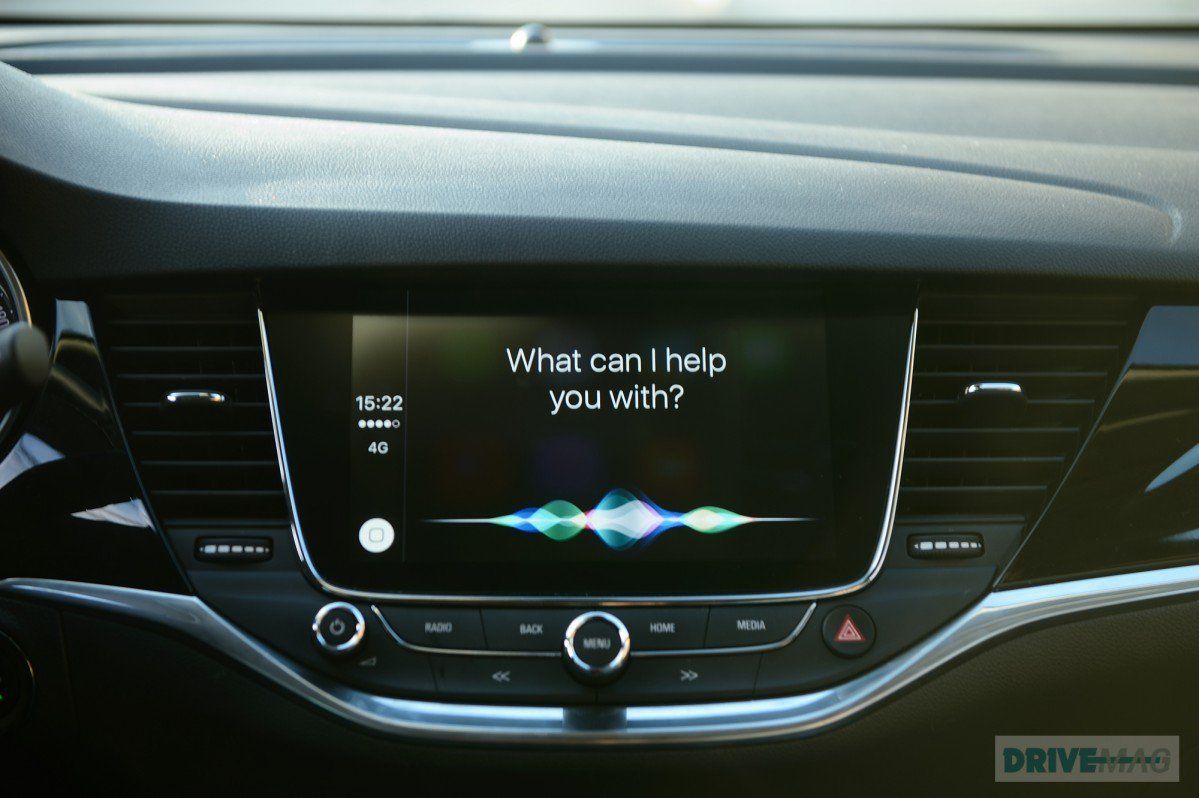 Opel adapted the new Astra K to the market's demands and the 8-inch infotainment system we mentioned earlier offers Android Auto and Apple CarPlay compatibility. There's also an USB port positioned inside the central armrest which I think would have been a lot more useful if it sat somewhere on the center console or maybe on the median tunnel.
Nevertheless, the graphics are smooth and glitch-free, and you'll spot plenty of logic in how the menus are set up.
Efficiency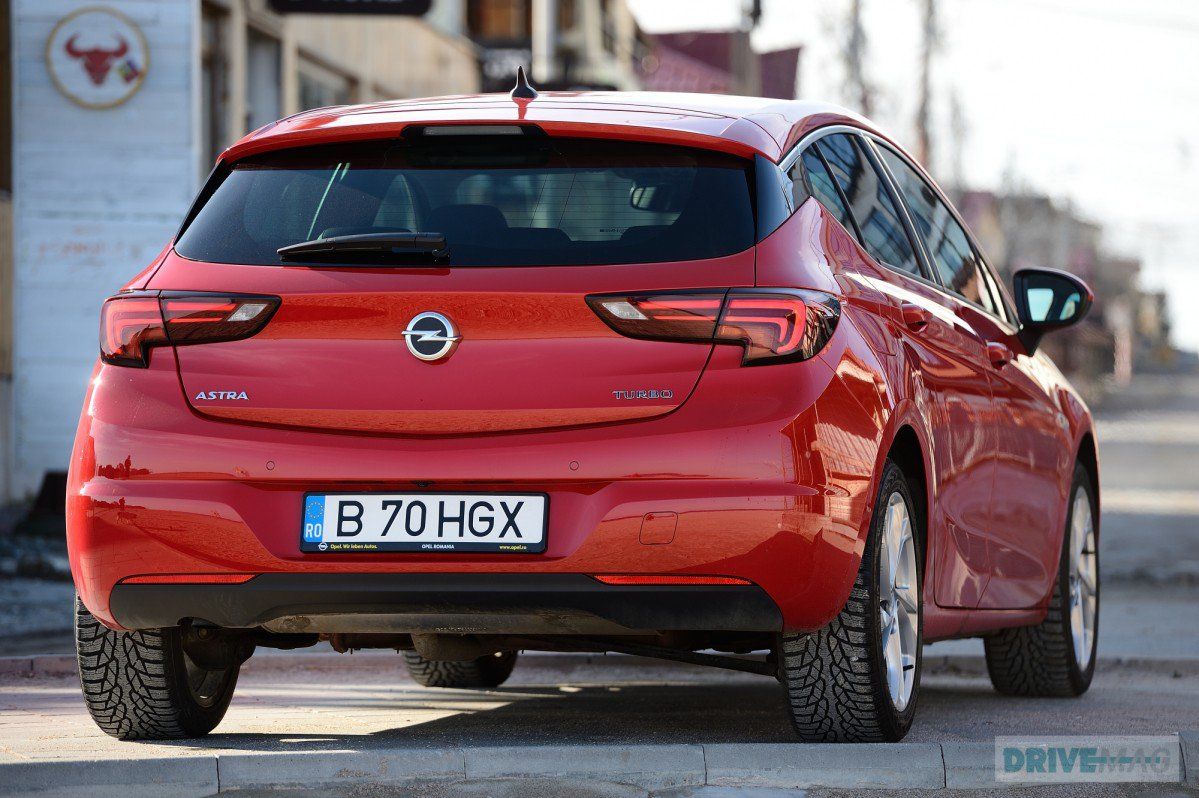 Our tester was fitted with a 1.4-liter ECOTEC engine offering 150 HP manageable through a six-speed manual. It also came with an automatic Start/Stop function which contributed to the average fuel consumption of 7.2 l/100 km (39.2 mpg) we managed to obtain.
That's a bit far off from what Opel advertises (4.9 l/100 km or 57.6 mpg) but still a decent value considering we took the new Astra K on motorways, A-roads, B-roads and around the city.
---
Equipment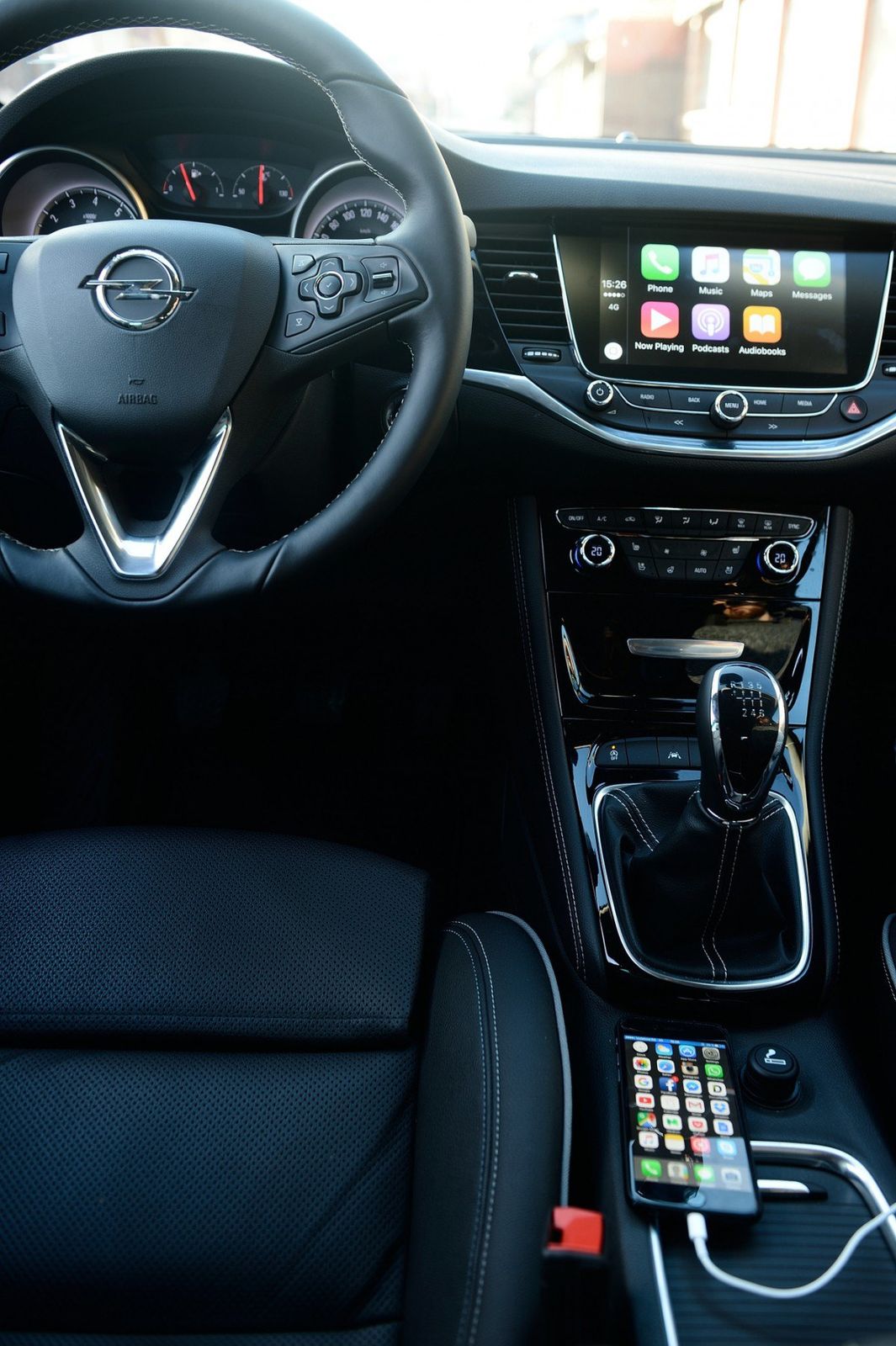 In the UK, the new Astra is available with no less than seven trim levels: Design, Tech Line, Energy, SRi, SRi Nav, Elite, Elite Nav. Every new Opel Astra K offers standard features like front driver and passenger airbags, curtain airbags, ESP and ABS, hill start assist, 16-inch alloys, a trip computer, cruise control, air conditioning, LED DRLs as well as the IntelliLink touchscreen infotainment system.
Option list includes heated and ventilated seats with massage function and a 16-way electric adjustable feature, 17-inch wheels and dual-zone climate control.
---
Acquisition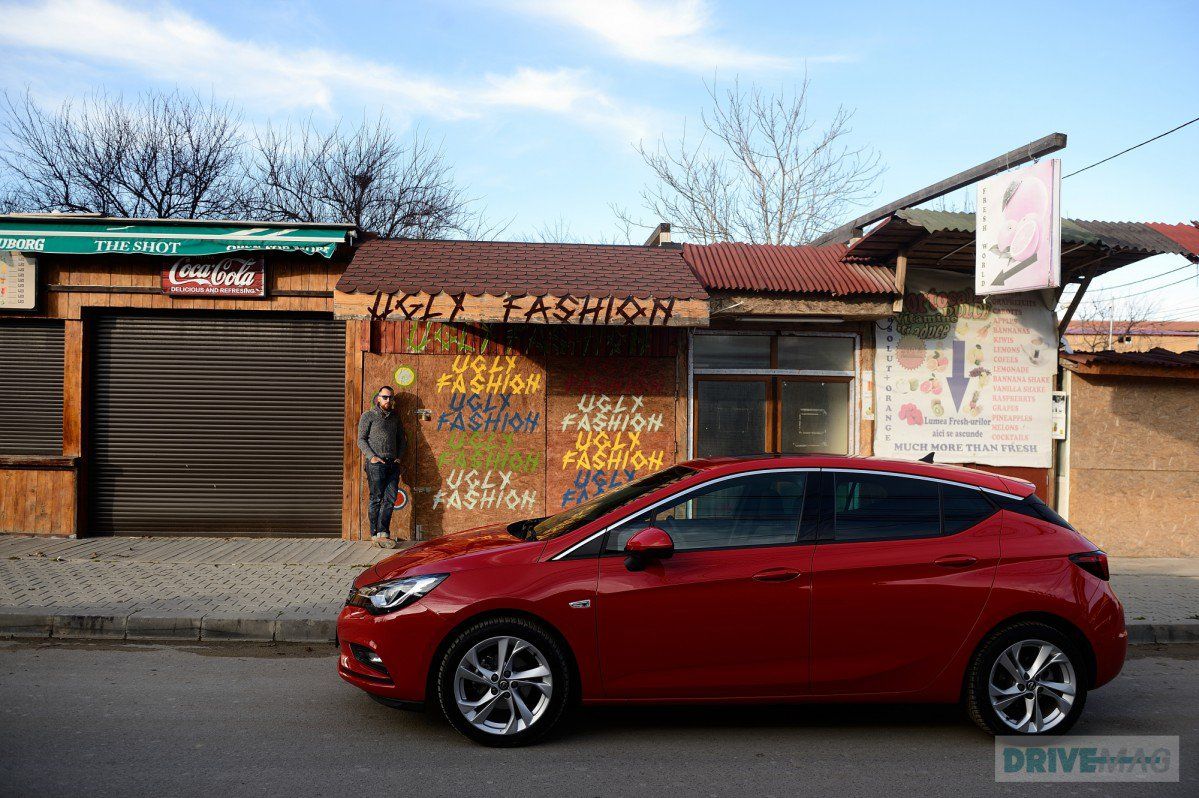 UK prices for the new Vauxhall Astra K start at £15,295 but for this sticker, you'll get the 1.0-liter gas unit good for 105 HP mated to a five-speed manual, all wrapped up in the entry-level Design trim. However, a well-equipped Astra K powered by the 1.6-liter CDTi BiTurbo unit with 160 HP, Start/Stop system and six-speed manual will quickly withdraw at least £22,800 from your pockets.
In Germany, the cheapest Opel Astra K you can buy starts at €17,260. However, keep in mind that a well-equipped Astra can wear a starting price tag of over €21,000.
In essence, the new Astra is still biased towards comfort and most customers will appreciate that. Apart from the obvious visual changes, the compact hatchback also improved as far as quality and ergonomics are concerned – in a nutshell, Opel worked on the car's weaknesses and apparently turned them into strengths, which means the Astra can successfully compete against rivals like the VW Golf, Ford Focus and Mazda3.