Jaguar may not say it overtly, but the XE is its replacement for the average Ford Mondeo-based X-Type
Overall Score 80/100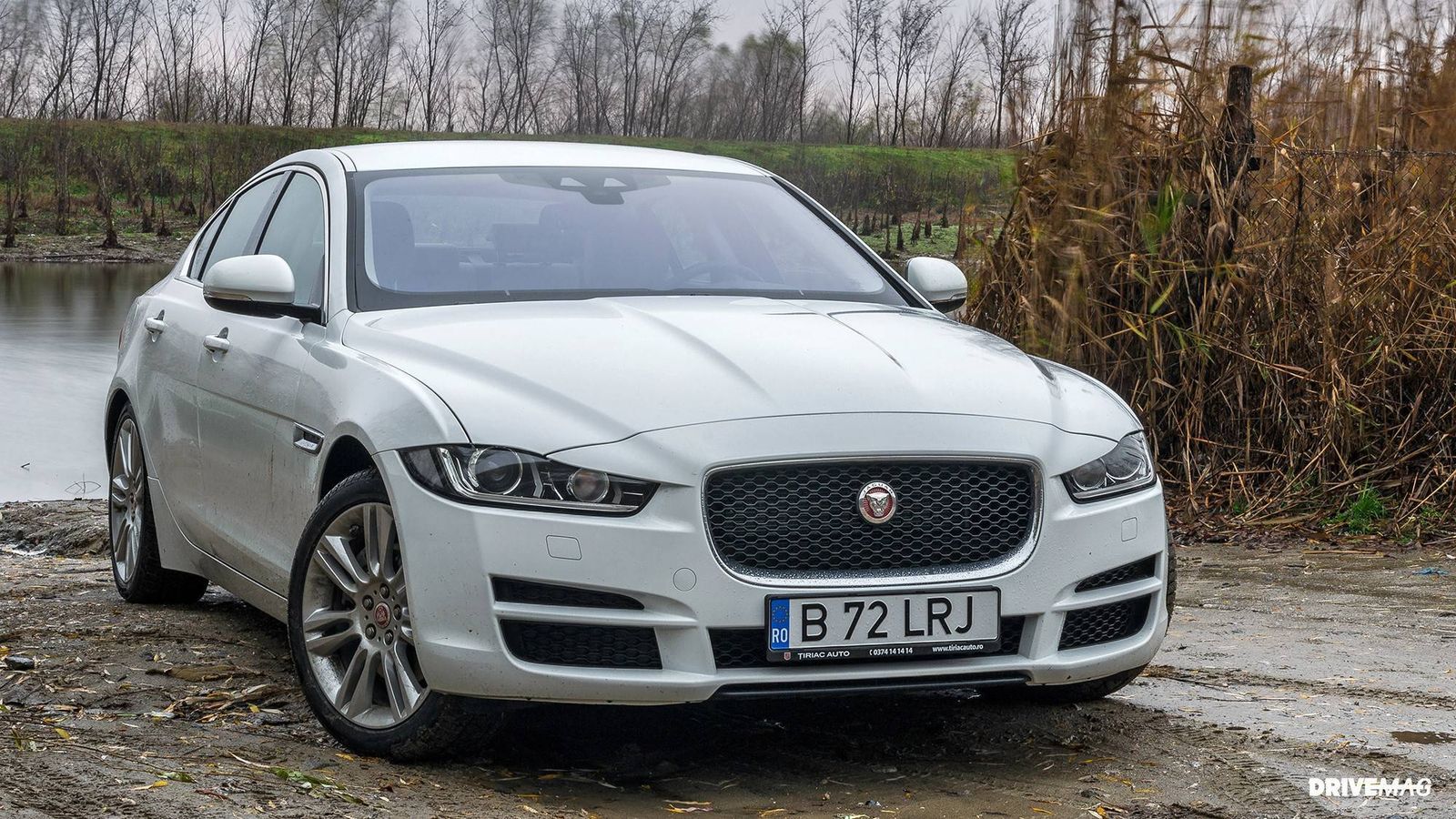 Jaguar's last attempt at rivaling the Audi A4, Lexus IS and BMW 3-Series resulted in a rebodied Ford Mondeo called the X-Type. It was, as the car it was based on, not bad at all, but now the UK-based automaker wants us to forget all about it and its 'common' roots with its new XE. In fact, the XE is not even mentioned as being a successor to the X-Type, even thought it fills the exact same spot in the range.
It's a completely new model, featuring what the manufacturer calls an "aluminum-intensive" construction, and it really shows when you get behind the wheel and try throwing it into a corner – yes, it's that kind of car, even if the one we had was the 180 hp diesel hooked up to an eight-speed automatic gearbox; not the most exciting combo, but a surprisingly satisfying one nonetheless.
---
IN BRIEF
RECOMMENDED FOR:
Driving Nuts, Families, Sales Agents, Young And Single
CREATED FOR:
Highways, Urban Driving, Winding Roads
HATS OFF FOR:
Comfort, Road Handling
---
DRIVE
Powertrain 8/10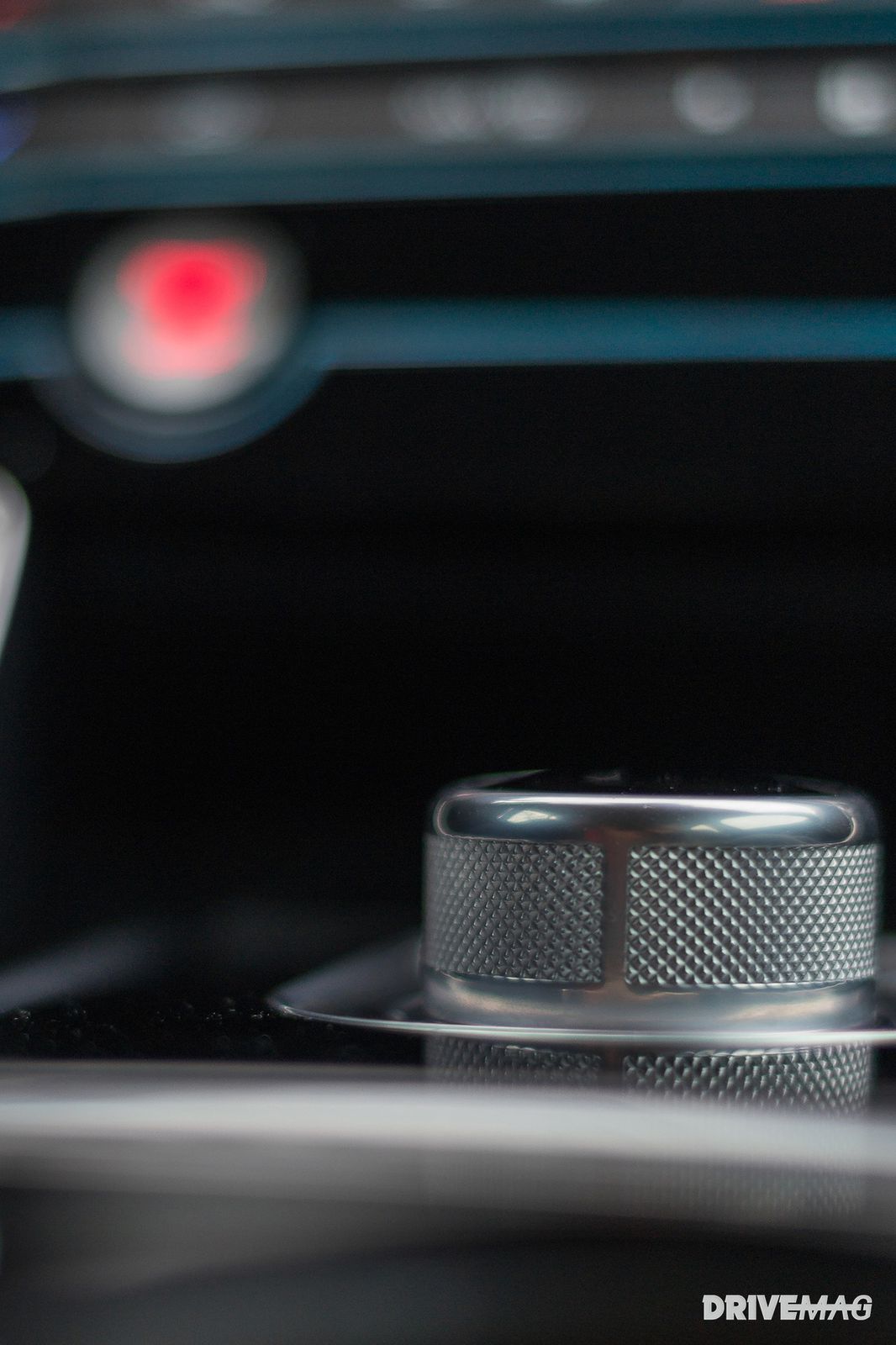 What really strikes you when trying out the 180 hp 2.0-liter diesel engine, belonging to the new Ingenium family of downsized Jaguar engines, is the torque output and its delivery. For this higher-powered variant (the base diesel puts out 163 hp), the torque figure is 430 Nm / 317 lb-ft and it results in an effortless drive with plenty of get-up-and-go when you need it.
The eight-speed automatic gearbox, sourced from ZF, is a wonderful piece of technology. It has steering wheel-mounted paddles which you really want to use, especially when you select the transmission's sportiest settings. You really do feel the difference and each high rpm upshift sends a pleasant jolt through the entire car – this is not present in the more sedate driving modes, but that's just fine for smooth day-to-day driving offering supreme smoothness; it's a great setup.
---
Handling 9/10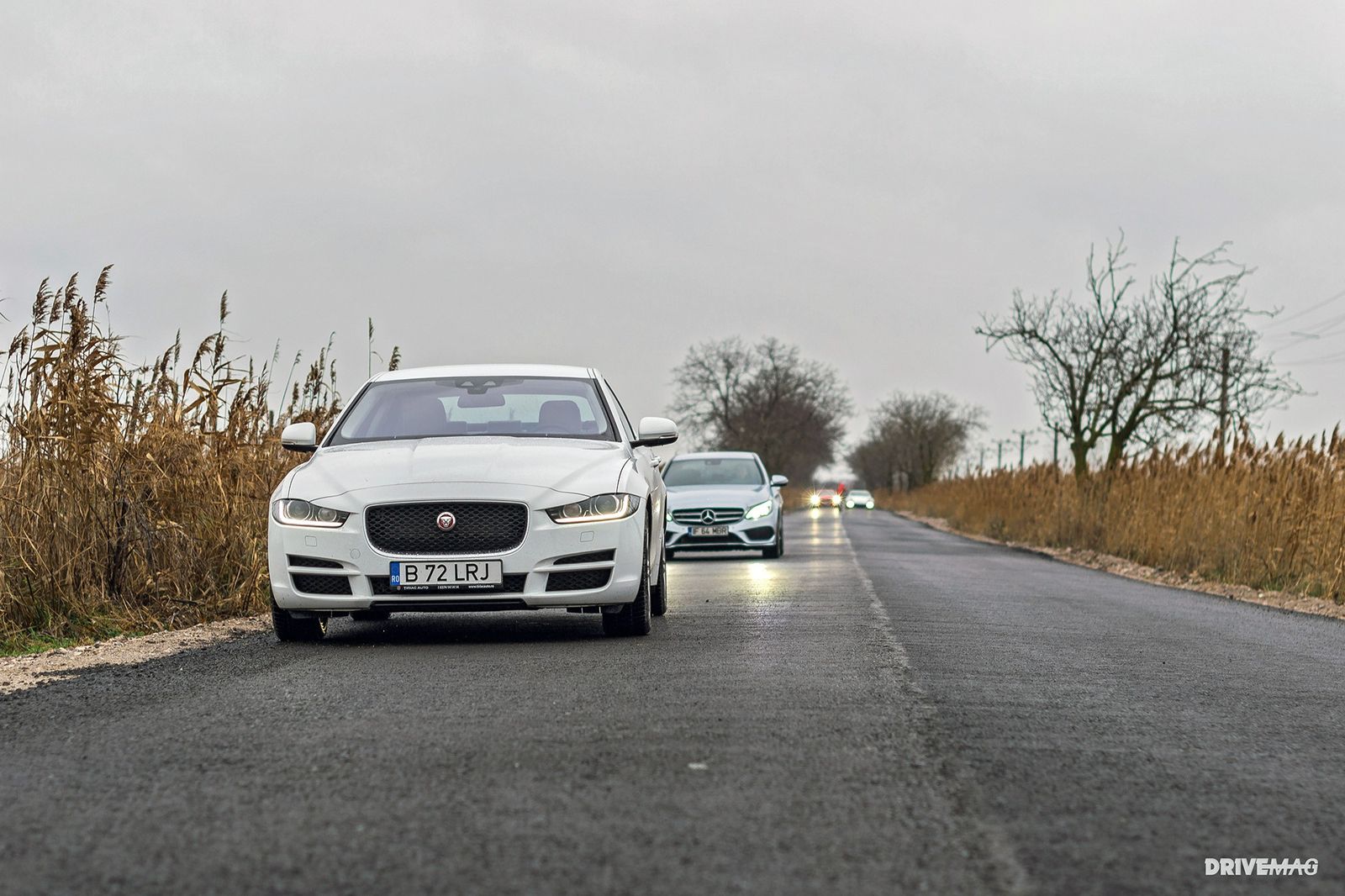 As tested, our diesel XE weighs around 1,600 kg (the more basic petrol-powered versions dip below 1,500 kg). This means it feels fairly nimble through the corners, and for a rear-wheel drive sedan, it strikes what seems to be a perfect balance between having a playful rear and not feeling like you're going to crash nose into the apex of every tight corner…
It is, coupled with the excellent steering, probably the XE's most interesting and praise worthy point, an area where it beats the overly-stiff Germans whose offerings give you the feeling that they are more suitable for highway cruising rather than blasting down country roads.
The XE is probably the closest you'll come to getting a sports car feeling in this size and price bracket.
---
Safety 9/10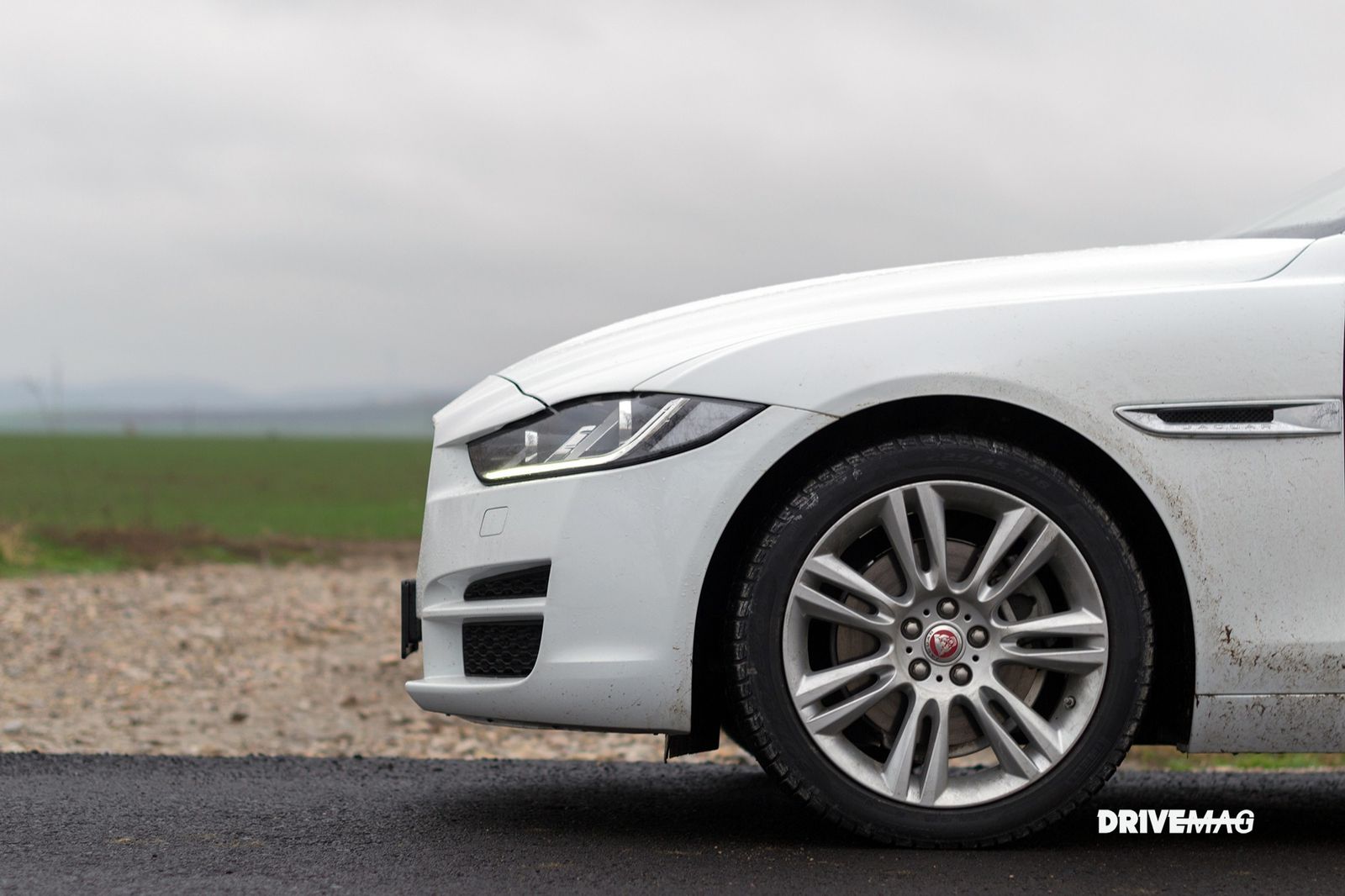 The XE has achieved the maximum Euro NCAP rating. It can be equipped with all the latest active and passive safety gadgets, like lane departure warning, automatic emergency braking or adaptive cruise control that follows the car in front on the motorway.
However, its most important safety feature is the excellent behavior on road, at any speed – it seems like it's a very hard car to crash. The tail will slide out, but only if you want it to, and if you're not into that sort of thing and just want a cosseting small exec sedan to get back from the office then it does that just as well.
It still misses some of the most advanced safety systems already present on its competitors, though.
---
INTERIOR
Comfort 8/10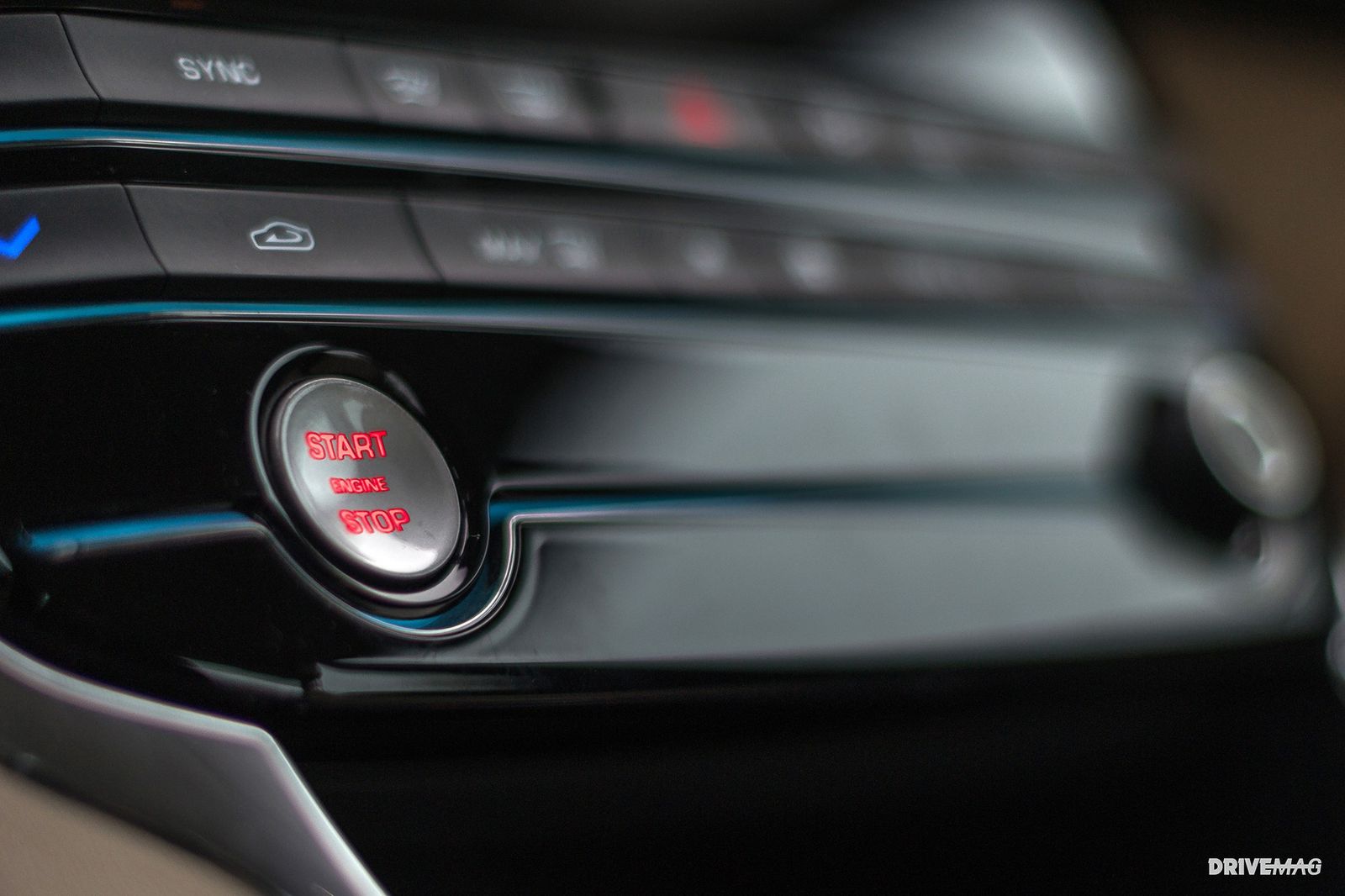 The two fronts seats in the XE are excellent, offering a near-perfect driving position for a six-foot driver. Two can travel in relative comfort in the back too, but a third passenger would have to straddle the tall transmission tunnel and that can't but detract from the overall rating here.
The suspension (which features a lot of aluminum too, in order to reduce unsprung weight) is another positive highlight. We had the car with the regular setup, not the stiffened up sport option, but if you don't live opposite an autobahn, then you'd best avoid that option, as it will not be anywhere near as kind to your spine as the standard setup.
---
Quality 7/10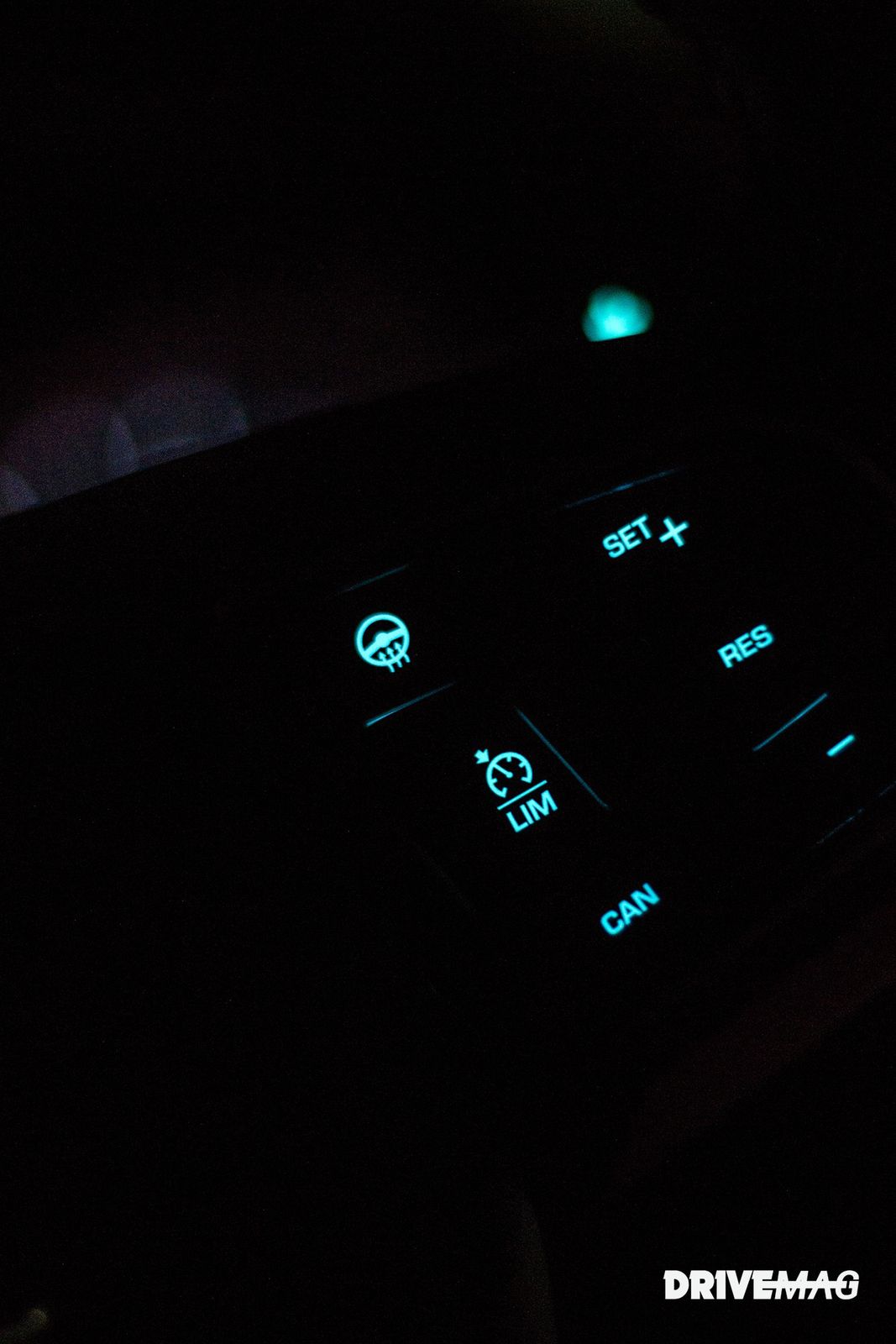 The XE generally feels well made and out of high quality materials. Most surfaces easily accessible to the touch are well finished, although the elbow rests on the door cards could do with a bit more padding.
It doesn't exude the same air of supreme perceived quality like a Mercedes C-Class does, nor does it feel as well screwed together as Lexus IS, yet it's by no means an overstatement to call it premium – it's good, just not the best out there.
---
Practicality 8/10
Aside from the slightly awkward placement of the two cupholders (behind the gearbox selection knob, which could see you spilling your drinks in cars equipped with a manual shifter), practicality was definitely a key concern when designing the interior. There are generous side door bins front and rear, the armrest cubby space is sufficiently cavernous and key controls are easy to operate.
Visibility from the driver's seat is not the XE's strong suit. It has thick A-pillars that are also very steeply raked and take up large part of the field of view, plus you get a sense of being cocooned inside – it doesn't really feel all that airy and spacious inside, although actual room is plentiful.
---
Infotainment 7/10
The XE features Jaguar's latest infotainment system known as InControl is operated through a touch-sensitive screen whose diagonal measures 8 inches. Our test car lacked a sat-nav function, so the home screen greets you with three large tiles that then let you explore all system functionality.
It's okay, but touch response is ever so slightly delayed and not on par with the best systems out there – sometimes screen prods will have delayed response, or in other words, it does't always react with consistency.
---
BUDGET
Efficiency 8/10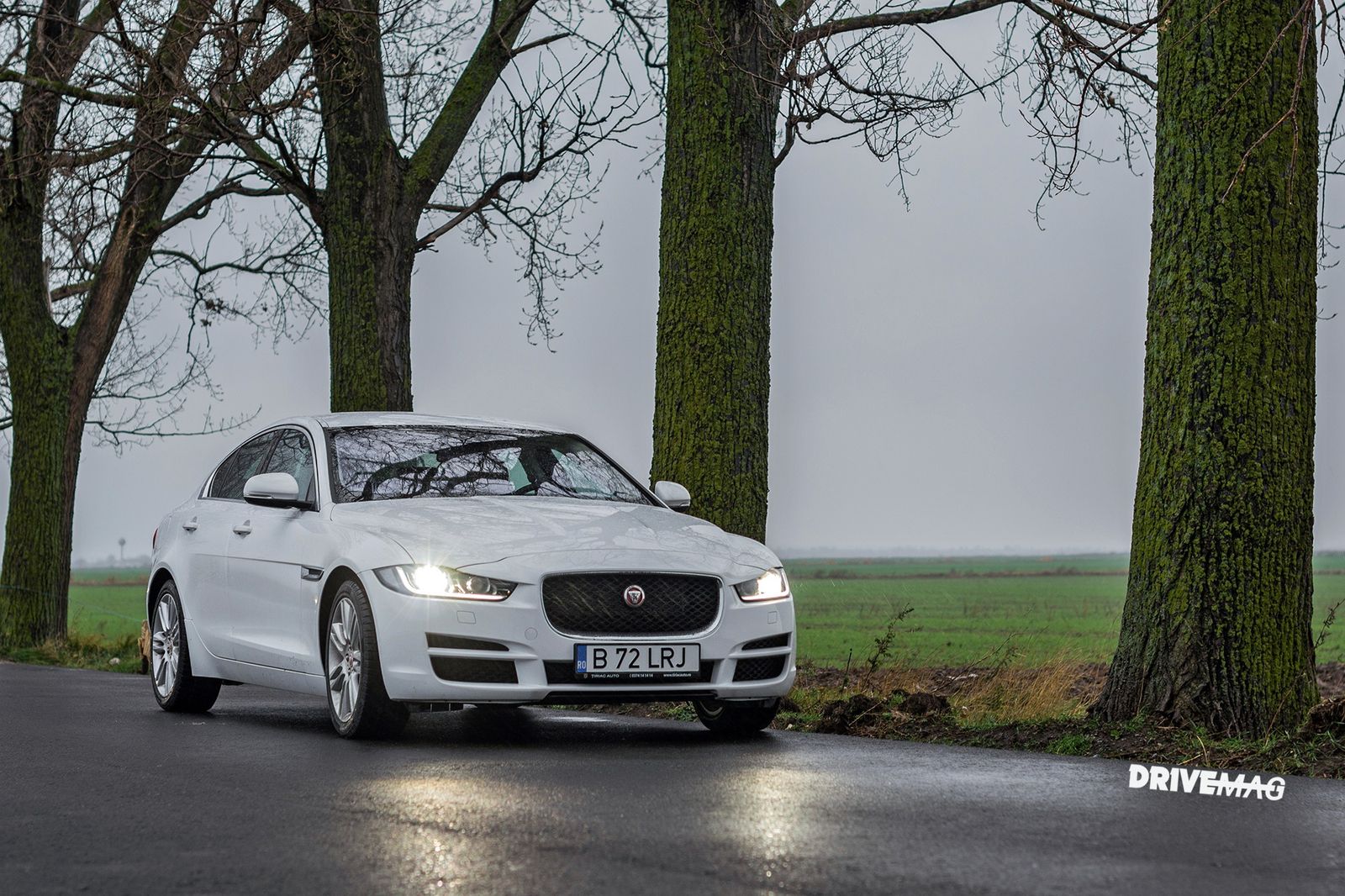 The version of the XE we tested had a claimed combined economy figure of 4.2 l/100km, but in mixed conditions we were very far off that mark. In the real world, without trying to drive economically, it averages closer to 8 l/100km, which is what we achieved (8.3 l/100km) in mixed highway and country road driving.
You can certainly drop that number down if you use the car's eco mode and just generally lay off the throttle, but if you prefer spirited driving our figure is closer to reality.
---
Equipment 9/10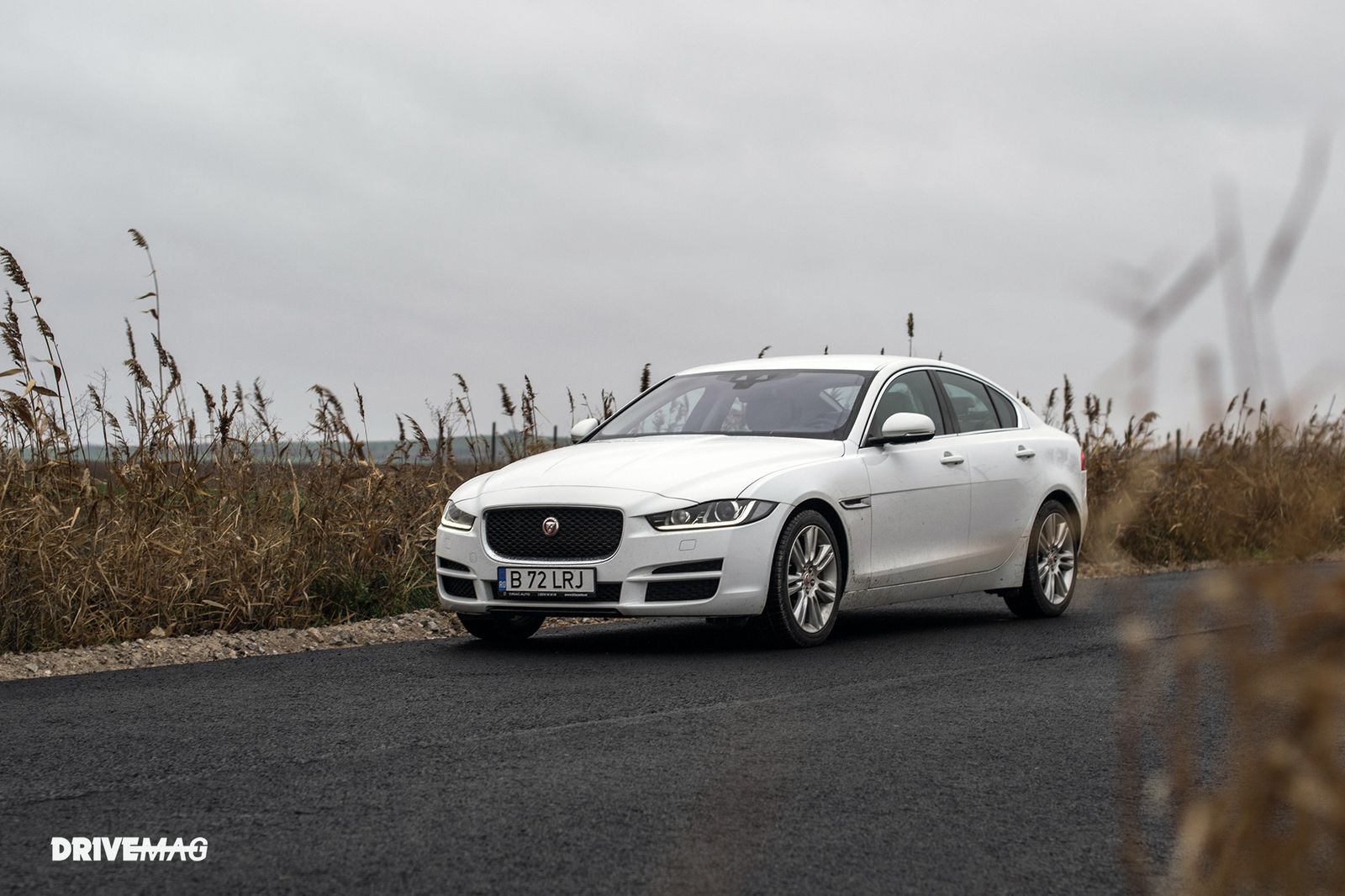 In as tested spec (a Prestige trim level car with some extras boxes ticked), the XE came pretty much fully loaded, with features like electrically adjustable leather seats, a heated steering wheel that you could literally can't stop fondling, Phosphor Blue mood lighting, a head-up display (HUD) and Meridian premium audio.
Standard cars get cloth seats that only offer manual adjustment, a multifunction steering wheel and simple piano black trim inside, instead of the different variations of brushed aluminum you get higher in the range.
---
Acquisition 7/10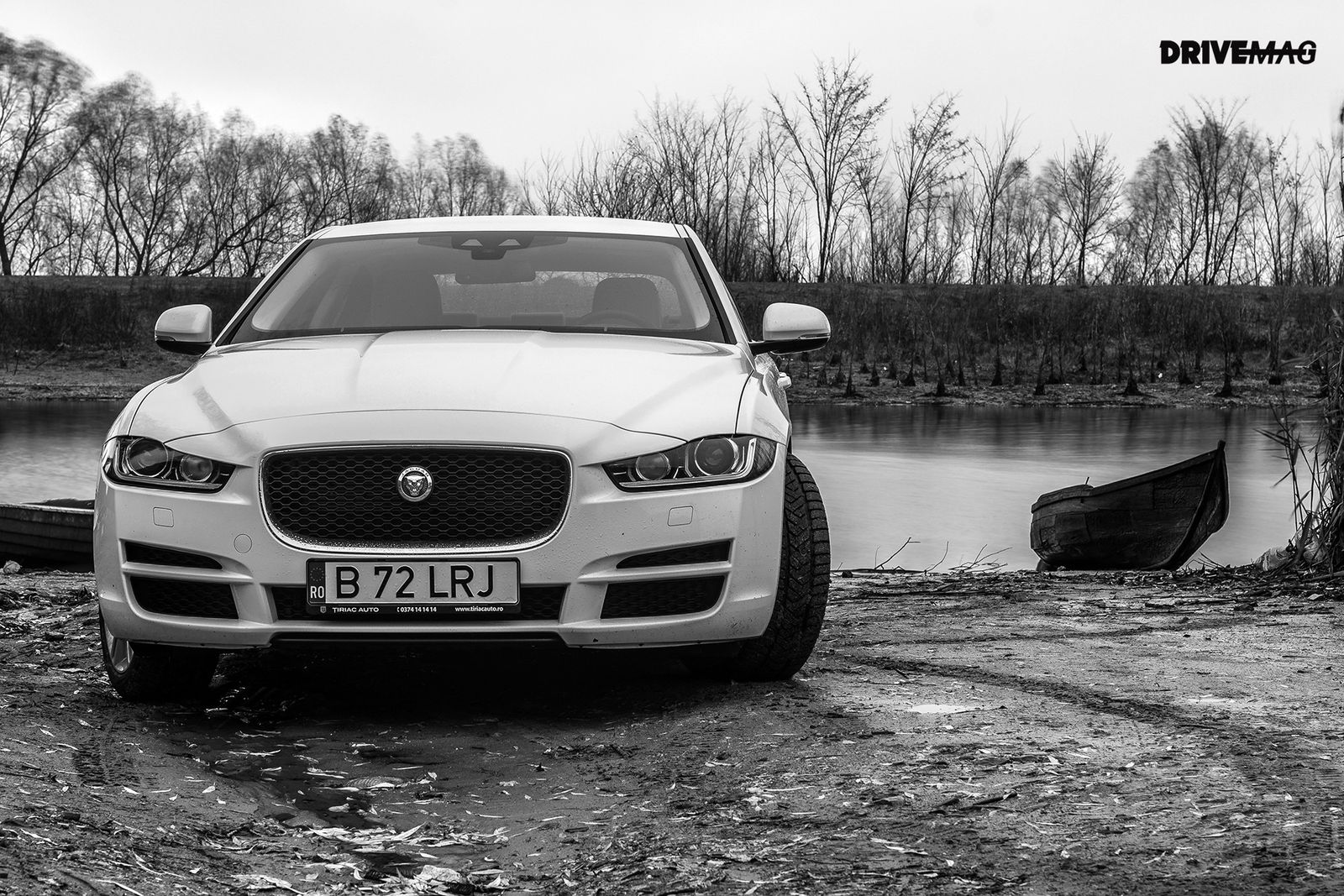 Jaguar offers this engine variant in Europe, as well as the US. The German reference price for a Prestige 180 hp diesel is €41,500 and around $45,400 in the States, with a $2,500 premium for the optional all-wheel drive.
Worthwhile options include the full heated and cooled leather seats pack, the heated steering wheel, the HUD (which is very handy for keeping your eyes on the road as much as possible – an often overlooked safety feature).
A comparable BMW 3-Series, with a similar 2.0-liter diesel engine, kicks off at just under €40,000 in Germany (and around $43,000 in the US), but its price will surpass that of a comparably equipped Jag, as BMW's options boxes are known for promptly piling on the price.
Bottom line: it's not quite up there with the best luxury class contenders in terms of build, materials and simply exuding luxury, but it feels very well engineered, offers a rewarding and sporty drive which is surprising (in a positive way) given its ability to also soak up bumps (with the regular non-sport suspension). It should also be slightly cheaper than its established rivals and a much more unique proposition and one that should not be overlooked.