2016 Peugeot 308 GTI 270 test drive - manic turbo tire torturer
It's a car best enjoyed on the track
Visually speaking, the 308 GTI is distinguishable from lesser models thanks to bespoke body treatment, rims and badging, but it doesn't immediately hit you as a hot hatch, especially from the front or the side. From the rear, the two cavernous exhaust pipes inform you of this car's sporty ambitions, though.
If you lay eyes upon a fully-specced 308 GTI, like the one we tested, then you may also notice the huge front brake rotors (380 mm in diameter) and the equally huge 19-inch "Carbone" lightweight wheels.
On the move, the 308 GTI feels light and agile, with sharp steering and a willingness to change direction that I think is currently unmatched in the hot hatch segment. This is a characteristic most likely linked to a combination of factors: its low mass (1,205 kg base weight), sticky Michelin SuperSport tires and the small steering wheel all come together to define its character.
However, not all is perfect: on the road, its suspension feels overly stiff and insufficiently well damped, and you'll often find yourself bounced around a bit more than you'd like - yes, this is a sporty car, but using shocks made out of what feels like granite only makes it fast around a track, and in fact may make it slower and trickier to drive on the road.
https://cdn.drivemag.net/images/icons/inbrief-icons.svg
IN BRIEF
Recommended for:

Created for:

Hats off for:

Bang for the buck:
Powertrain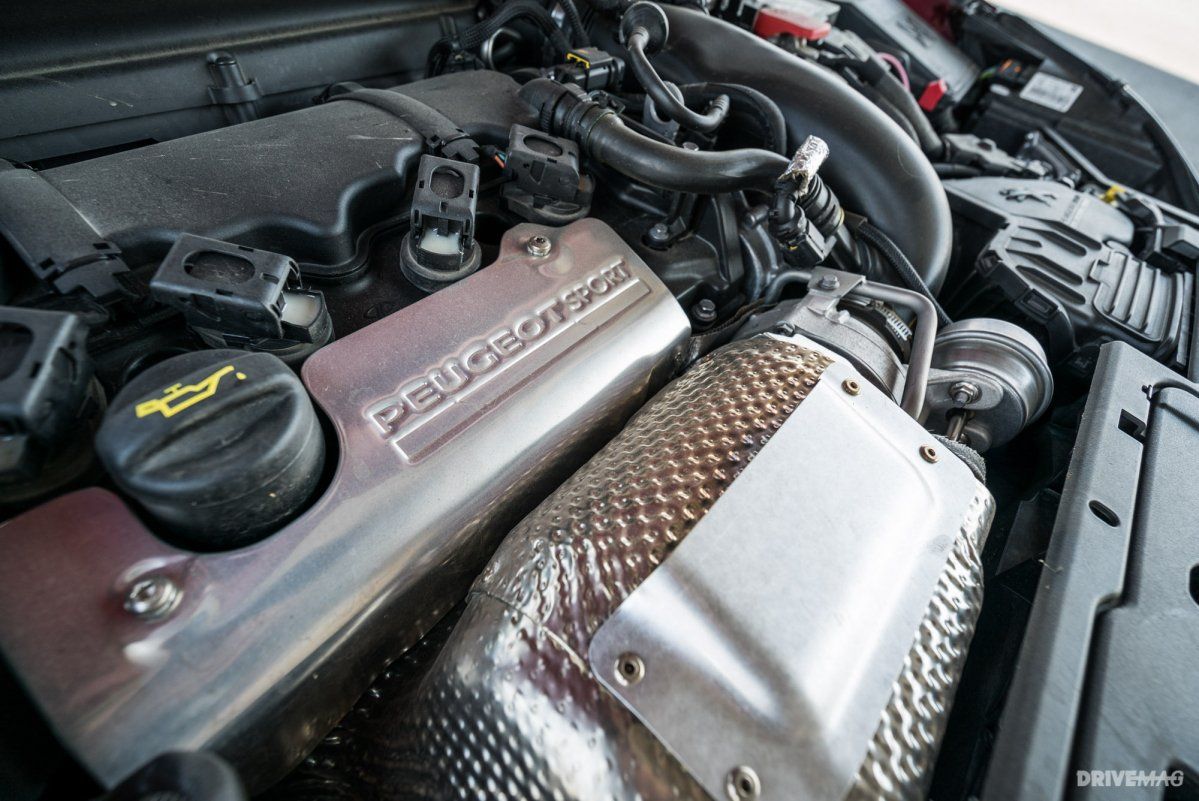 The engine is by far the biggest star of the 308 GTI 270 package. It's a gem of a unit, displacing just 1.6 liter yet pumping out 270 hp and 330 Nm torque. These figures, in conjunction with its low weight and parpy exhaust make each prod of the gas a moment of pure joy - you'll find yourself flooring it when you don't need to just to feel its intoxicating surge.

It's a wonderful engine that almost on its own justifies buying this car… almost.

Unlike the engine which is a peach, the gearbox isn't up to the same standard. It's all down to the gear lever which is too long, its throws are too long, it's really vague and I found it unpleasant to use. It also seems as if the car has a very heavy flywheel because revs drop very slowly after you've lifted off the gas - I had to detract from the score for both these things, sadly.
---
Handling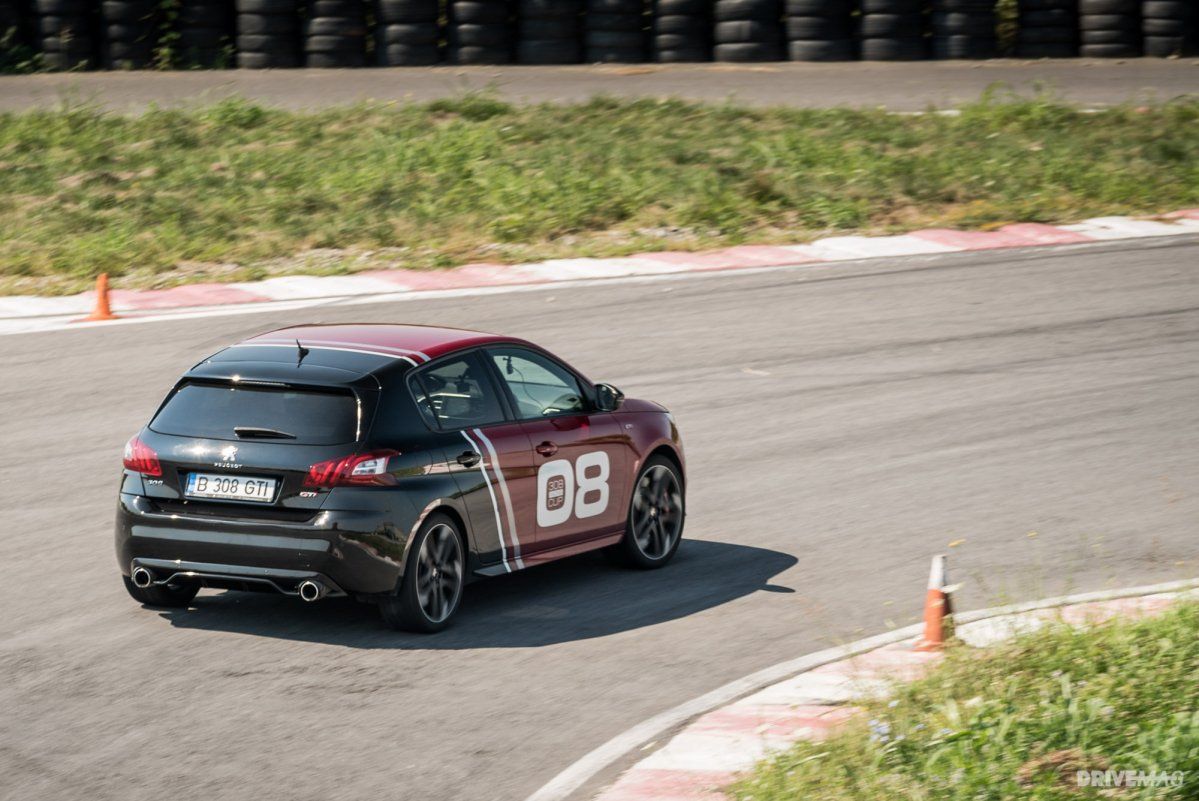 The 308 GTI is a very agile, nippy car that if driven smoothly is immensely fast and surefooted. On a track, it's about as stiff and grippy as hot hatches come these days, and with its quick steering it makes brisk work of any kind of corner.

It's not one of those wild handling hot hatches, like, say, the Ford Focus ST - the 308 drives more along the lines of the Honda Civic Type R (the FK2) meaning the tail will rarely if ever step out. During my time on the track, I tried to make it liftoff oversteer and failed, and it was only after a few dozen laps that it did do it, but not when I intentionally provoked it…

On the track it's generally very well balanced and, in a word, superb. On the road, though, you need to tone down your driving style a bit, as road imperfections will either alter your trajectory, bounce you around and require you make additional corrections to your trajectory. I think it would have been faster on the road had they fitted it with a slightly softer suspension setup, but then it would have had more body roll on the track, and would have looked less impressive there.
---
Safety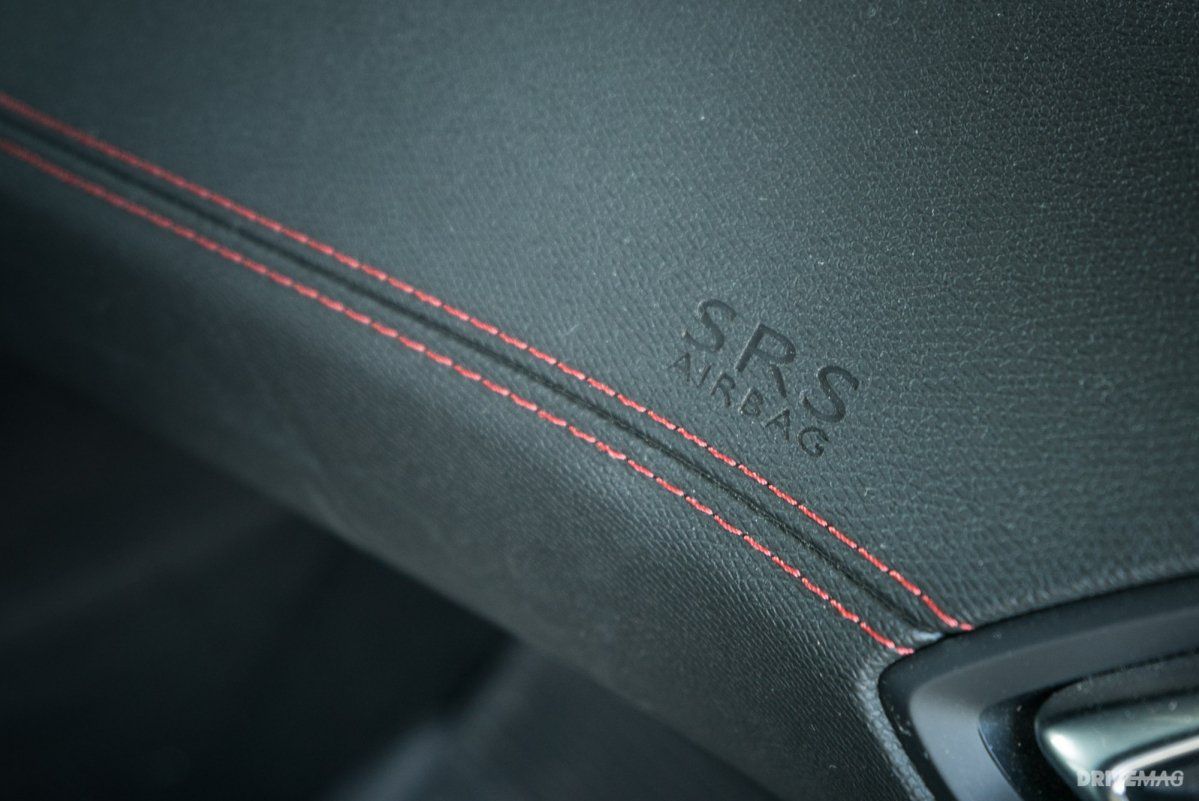 Like the regular 308 on which it's based, the GTI is a very safe car. Back when Euro NCAP tested it in 2013, it scored the maximum five-star rating, with an adult occupant rating of 91 percent. However, it lacks some of the newer active safety systems, so it doesn't get our maximum points score.
Comfort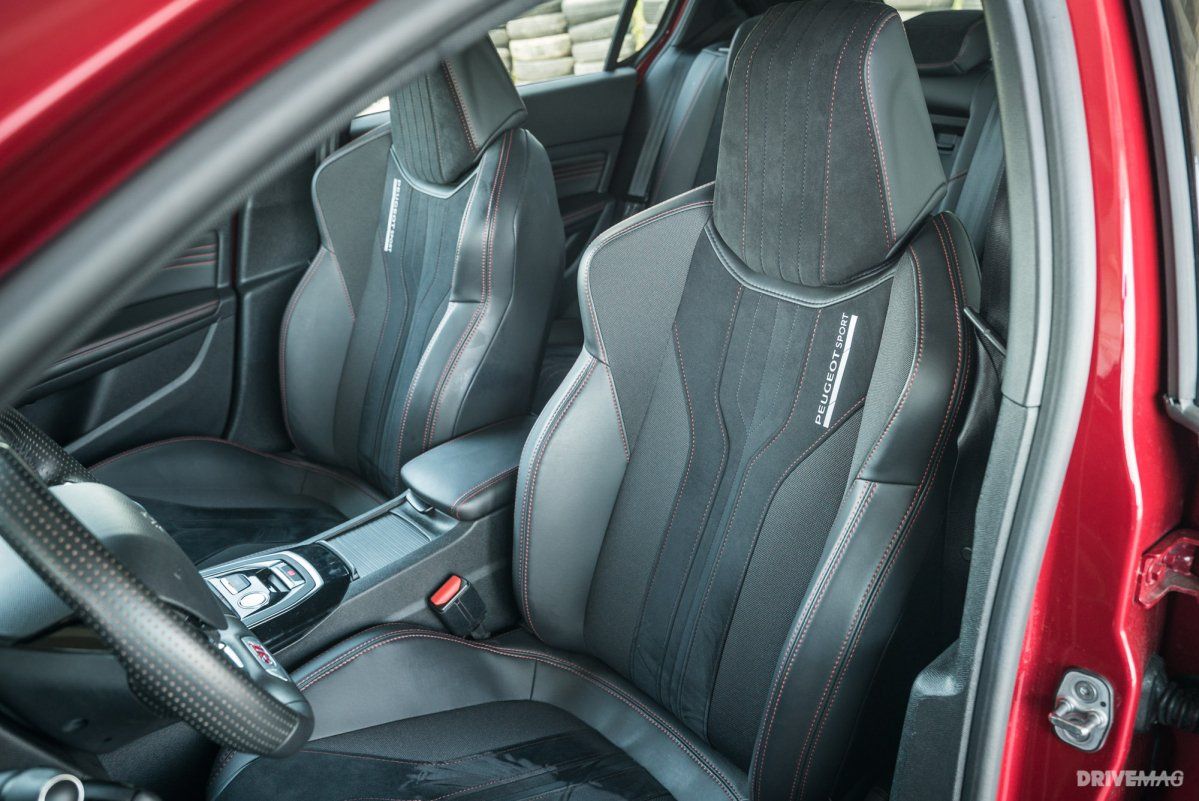 The regular Peugeot 308 is quite a comfortable car that strikes a great balance between holding the road not bouncing its passengers around in the quest for low body roll cornering. The GTI isn't like that, though, as it's primarily set up to be driven on a track, it seems, as on the road it is most certainly not comfy.

Some points are clawed back in this respect thanks to the excellent sports seats (the higher spec ones fitted to the 270 model, that is) which I couldn't fault in any way. In fact, they and the small GTI-branded steering wheel are a defining visual cue for this car.

Oh, and the rear seats are quite cramped even by class standards, but this is a 308 issue, not a GTI issue, although the beefier seats featured by the latter reduce knee room even further.
---
Quality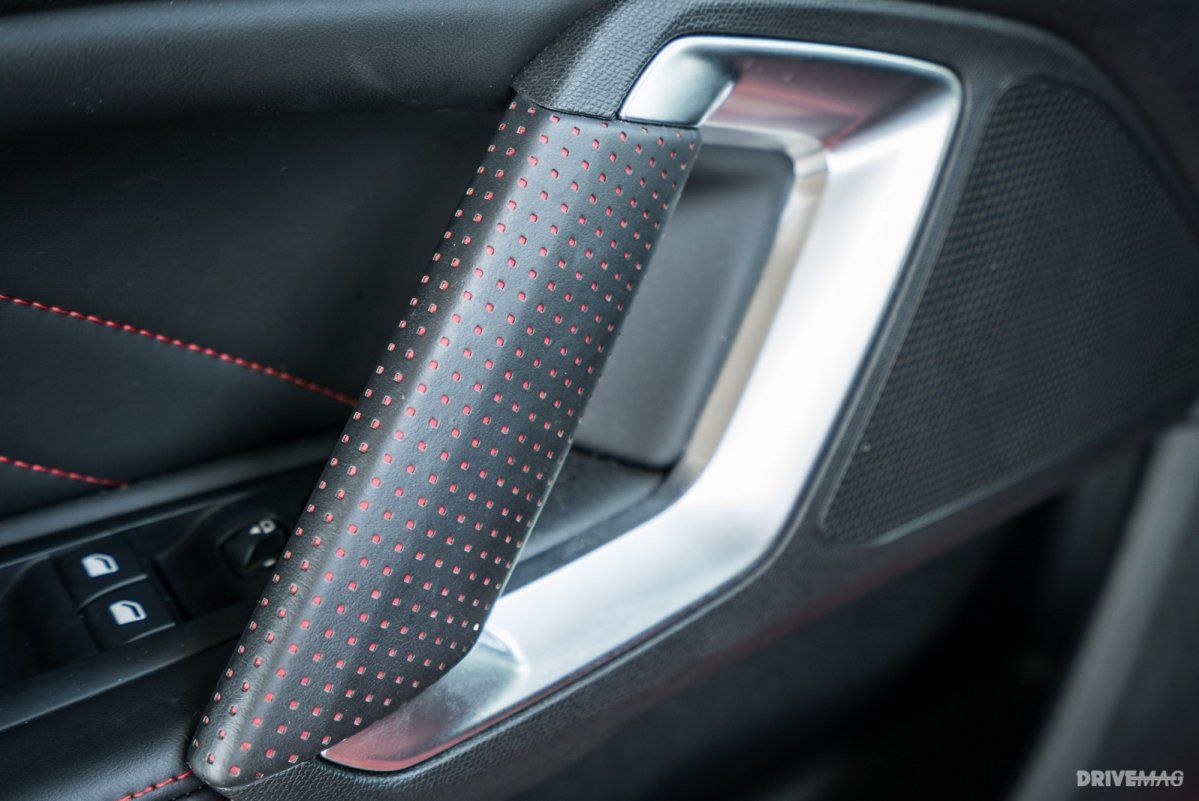 Cabin fit and finish are pretty good overall, with nice materials on most surfaces. The button-free dash is also a quality touch, I think, and gives the interior a premium ambiance, helped in this case by the red stitching, perforated leather bits with red accents (on the door handles and steering wheel).

The 308's interior was already rather nice and unique in the segment, and with these sporty red bits added it just looks even better - it's definitely a pleasant place to spend time and you won't feel shortchanged in terms of overall quality.
---
Practicality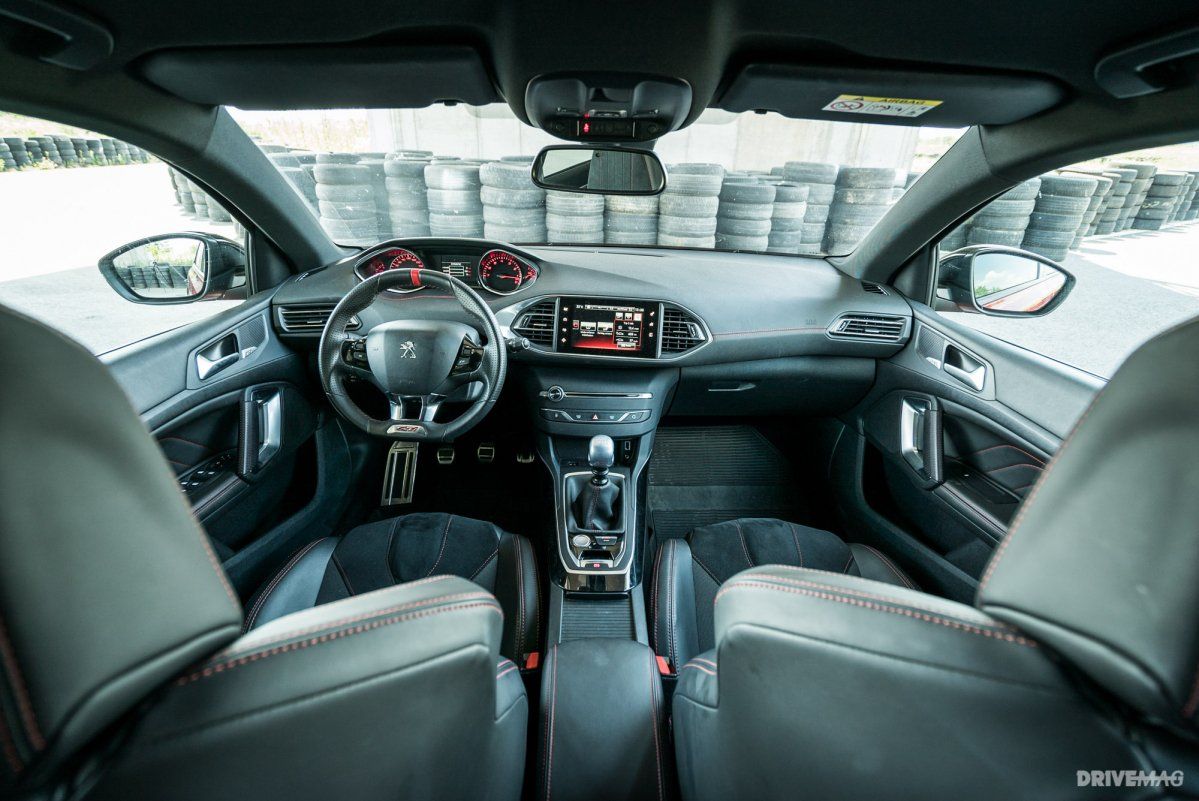 Turning the 308 into the GTI doesn't incur any practicality penalties, so you're left with the same big 470-liter boot that has a low loading lip and a decent smattering of cubbies inside the car. It's really not lacking for in-car storage at all, but what it is missing completely are cup holders - no more than two would do…
---
Infotainment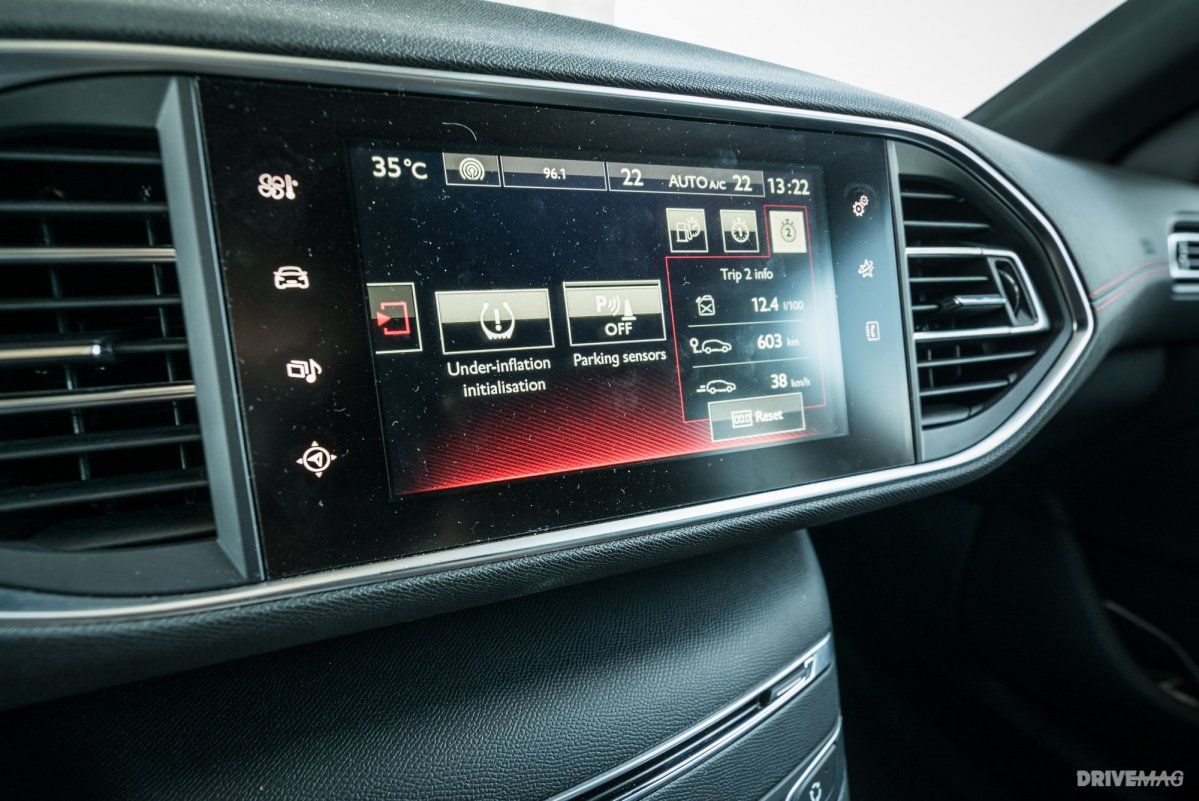 The 308's button-free dash means most functions are only accessible through the 9.7-inch touchscreen. The system works alright and is not ill-conceived - quite the contrary, as it's actually has an easy menu structure and shortcuts for essential functions.

What's not so great about it is the time it takes to boot up when starting the car - felt like the better part of 30 seconds and on a super hot day when you immediately want to crank up the AC, you're left waiting a sweaty, sorry mess.

Once it does boot up, though, it s a decent system and even if not having physical buttons for climate control is not ideal, you do get used to operating it via the prod display.
Efficiency
You'll be shocked to learn that despite being a 270 hp performance-oriented vehicle, the 308 GTI is quoted as being able to return 6 l/100km on the combined cycle. That's obviously a laboratory-only figure that could not be achieved in real driving conditions, but even on the road and driven with a heavy right foot, it won't shoot up much higher than 10 l/100km (unless you're stuck exclusively in stop-start traffic).
---
Equipment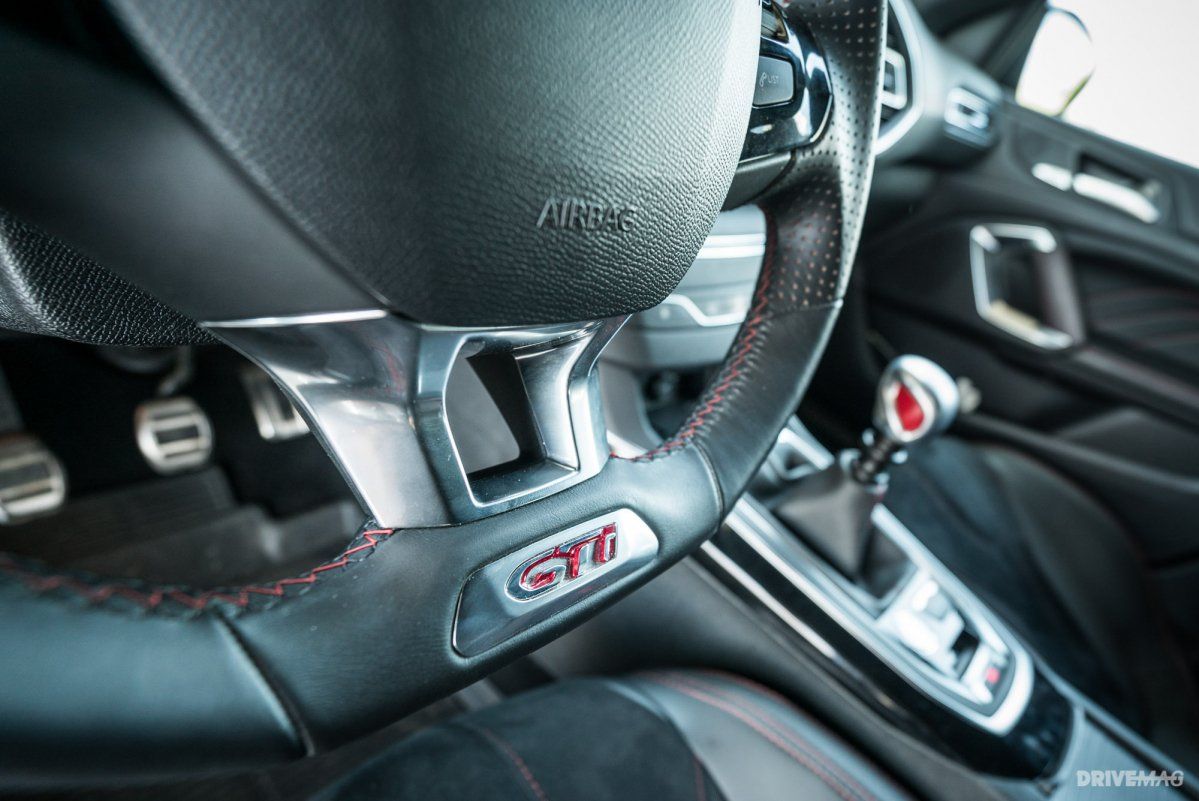 Our tester literally came with all the bells and whistles bar the panoramic sunroof option which we'd avoid anyway as it adds weight and raises the center of gravity and it kind of defeats the purpose of a performance car - by speccing it, you're negating engineers' hard work of keeping its weight down.

The optional sports seats featured by our 270 model tester were truly excellent - they not only looked high quality, sporty and inviting, but they actually proved extremely supportive and easy on the ol' spine.
---
Acquisition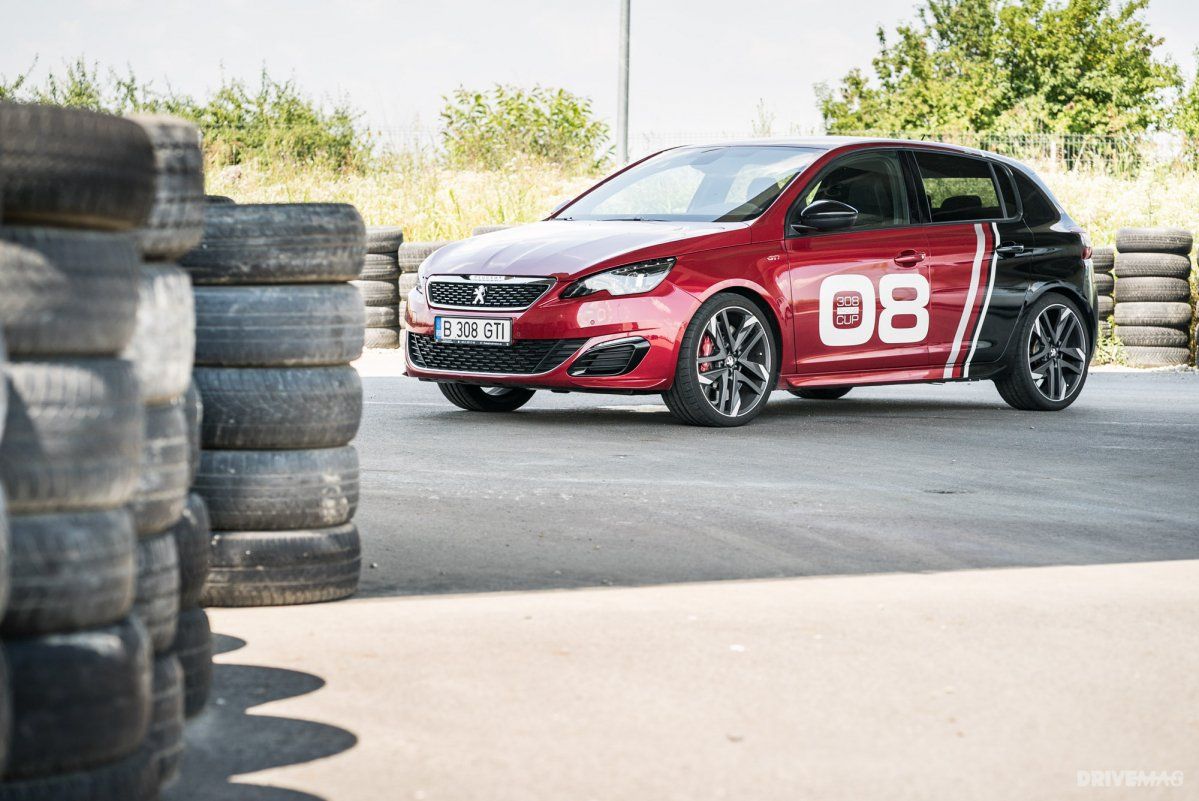 While the Peugeot 308 GTI is a fun, great-driving car that's fast and has one of the coolest engines of any current production car, plus it looks great and has an awesome interior, it's not fully convincing as a package.

Sure, it's grippy and great around a track, but it bounces you around on the road more so than any rival I've tried, and you can't make it more comfortable for when you just want to cruise - it will constantly send shocks through your skeleton over bumps, tram lines or a penny you may happen to be driving over.

It's by no means a bad car and its level of performance is more than fair for what you're paying, but to me it just felt a bit fragile in terms of its mechanicals. The car we'd been given to test drive had done just over 14,000 km and already felt a bit tired.

So while it's definitely a step in the right direction for Peugeot, and an additional signal of them getting back on the performance train, it failed didn't make me want to not return it to Peugeot after I was done with it, make a break for the border and then figure out what to do next.

Yes, it's very exciting for something front-wheel drive and provides some of the longest screeches changing into second gear that I've heard in any car, and the interior is great and it looks sexy and grown up from the outside - but for me it lacked an air of dependability which I think is essential for one of these cars which you do buy to beat on and drive briskly as often as you can.