2017 Audi A4 2.0 TDI quattro Test Drive - Annoyingly Competent
The all-new Audi A4 is a jack of all trades, but it doesn't quite ooze excitement
You may not realize by looking at it, but the 2017 Audi A4 (codenamed B9) is an all-new model. Riding on an evolution of the MLB platform for longitudinally-mounted engines (MLB Evo), it packs new mechanical and technology features, a redesigned, slightly roomier interior, and Audi's "signature" bland exterior design.
To say the new A4 has a conservative approach to design would be a major understatement; yet to say it is ugly would be unfair as well. The fifth-generation A4 looks better than its predecessor, featuring more chiseled surfaces, sharper-looking light units, and more harmonious overall proportions. But you'll have to take a close look to notice all that because the new A4 can easily be mistaken for its predecessor. Or an A6, for that matter, as it's 25 mm longer than the outgoing car, which itself was the longest of the German trio of midsize luxury sedans.
The model we tested featured the 2.0-liter turbodiesel engine that should have arrived in the United States as well but was postponed for an indefinite period because of VW Group's "Dieselgate" scandal.
https://cdn.drivemag.net/images/icons/inbrief-icons.svg
IN BRIEF
Recommended for:

Created for:

Hats off for:

Bang for the buck:
Powertrain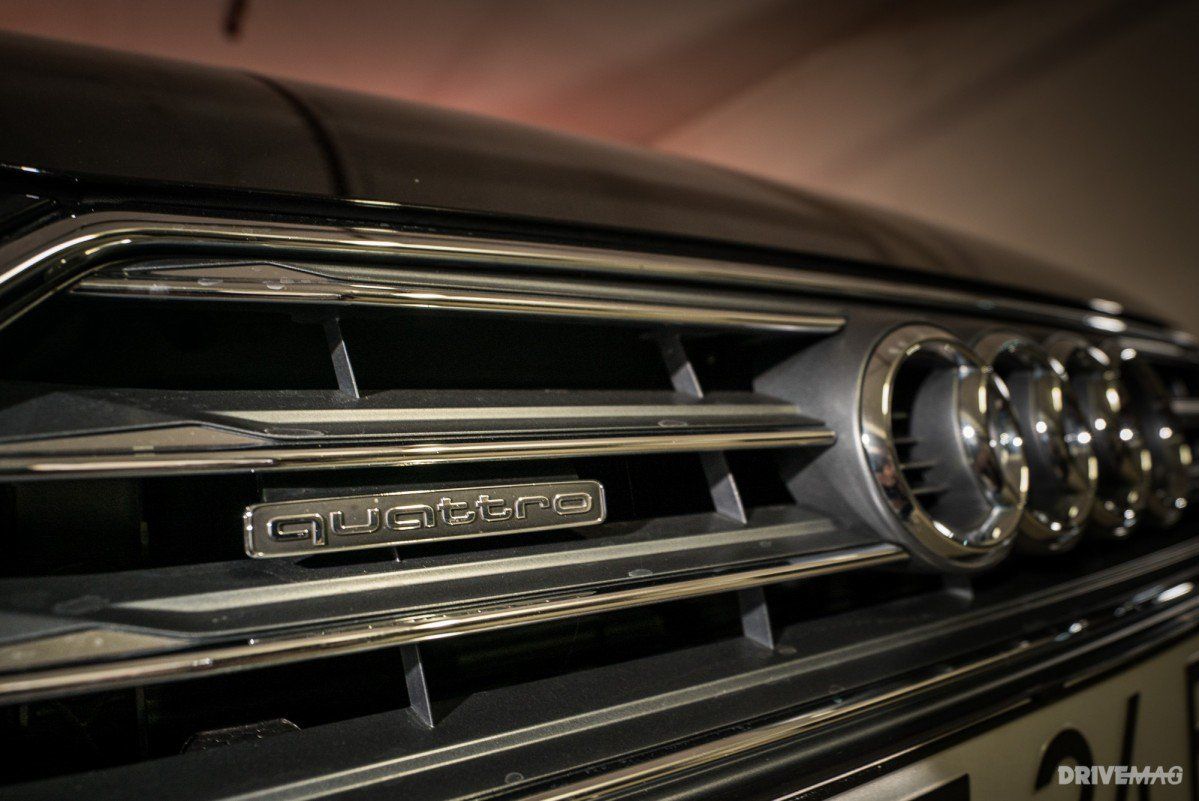 We're talking about the most powerful version available for this engine, which in Europe puts out 190 PS (187 hp) from 3,800-4,200 rpm and 400 Nm (295 lb-ft) of torque from 1,750-3,000 rpm. Mated to a seven-speed S tronic dual-clutch transmission and Audi's excellent quattro all-wheel drive system, the engine helps the A4 achieve startling acceleration from the get-go.

7.2 seconds from 0 to 100 km/h may not sound impressive by today's standards, but the way the A4 covers the first half of this sprint is dumbfounding, thanks to the combination of low-end grunt, fast dual-clutch gearbox, and efficient quattro system.
---
Handling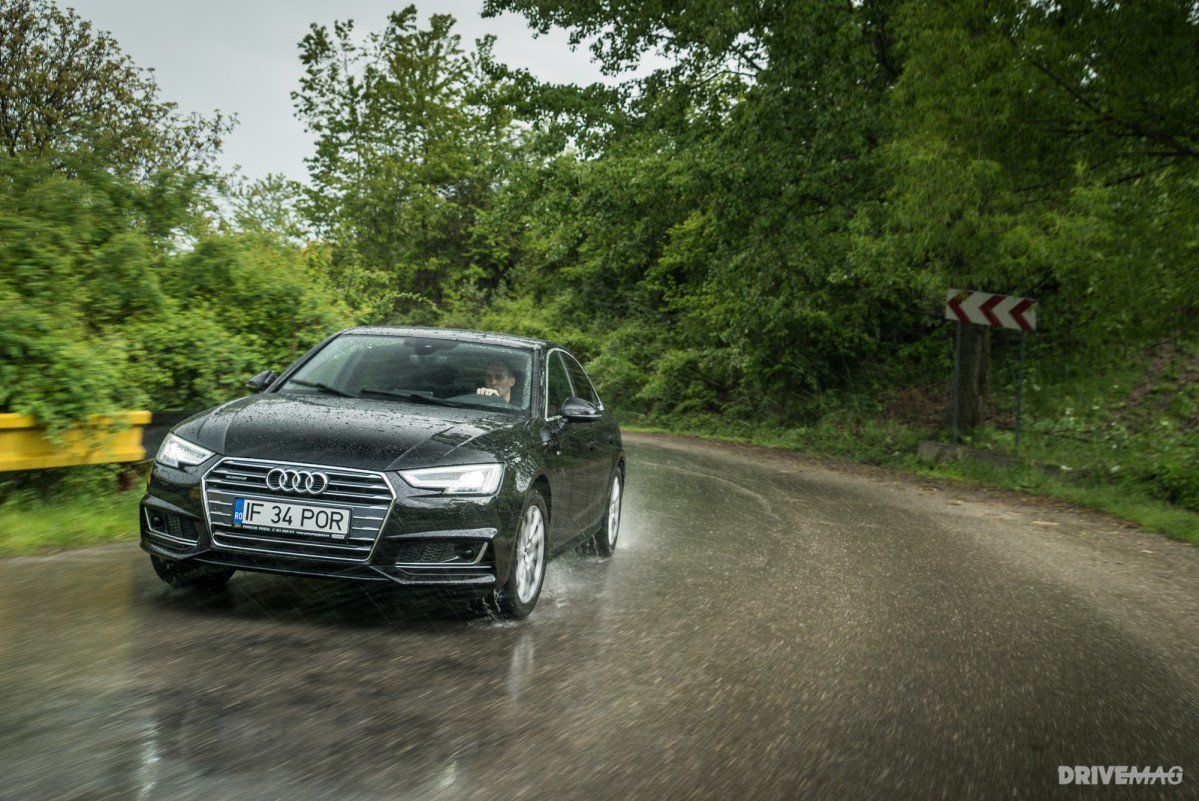 If you drove Audis before, the new A4 will not surprise you. While the car steers, rides, and handles better than its predecessor (it weighs up to 120 kg less, after all), it's still prone to understeer, penalizing your every attempt of having fun on a twisty road. However, the A4 quattro is a very effective weapon: you have to be very committed (or crazy!) to make it lose grip, even with the ESC switched off.

The car goes through turns without drama, like a locomotive on rails, leaving you with an impression of effortlessness. Body roll is there, but it's less obvious than before. The car we drove featured a standard spring/damper suspension without selective damping that offered a decent balance between comfort and handling. It's definitely not a car to take to the track.
---
Safety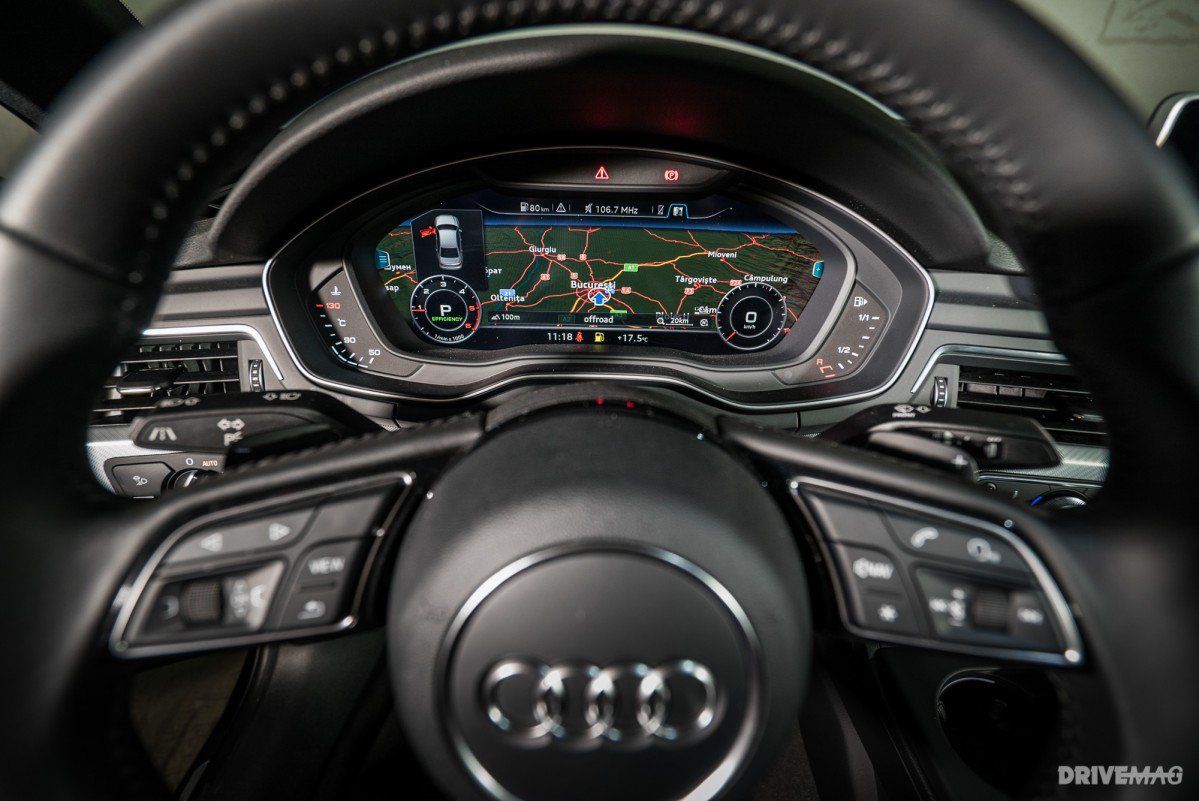 While the all-new Audi A4 was not assessed in North America by neither the NHTSA nor the IIHS, it received the maximum five-star overall rating from Euro NCAP, scoring 90 percent for adult occupant protection, 87 percent for child occupant, 75 percent for pedestrian, and 75 percent for safety assist systems. It's not best in class, but it's up there.

Standard safety features include eight airbags, ABS, Electronic Stability Control (ESC), autonomous emergency braking, and an active engine hood, among other things. The car we drove packed an array of (mostly optional) driving assistance features such as Adaptive Cruise Control with Stop&Go, Traffic Jam Assistant, Audi Pre Sense City, Audi Active Lane Assist, an auto parking brake, among many other things.
Comfort
The fifth-generation Audi A4 offers a more balanced ride than its predecessor, but the standard suspension is not as comfortable as the Mercedes-Benz C-Class'. The suspension doesn't enjoy soaking up the nastiest road irregularities, but most of the time comfort levels are good. There's little noise perceived inside, except at low revs when you're reminded there's a diesel unit under the hood, but at normal and high revs even the most sensitive ears will not be bothered.

The visibility is surprisingly good for a modern car thanks to the thin pillars and normally-sized windows, and the controls are as ergonomic as you'd expect from an Audi. The standard seats provide enough comfort but could use extra lateral support.
---
Quality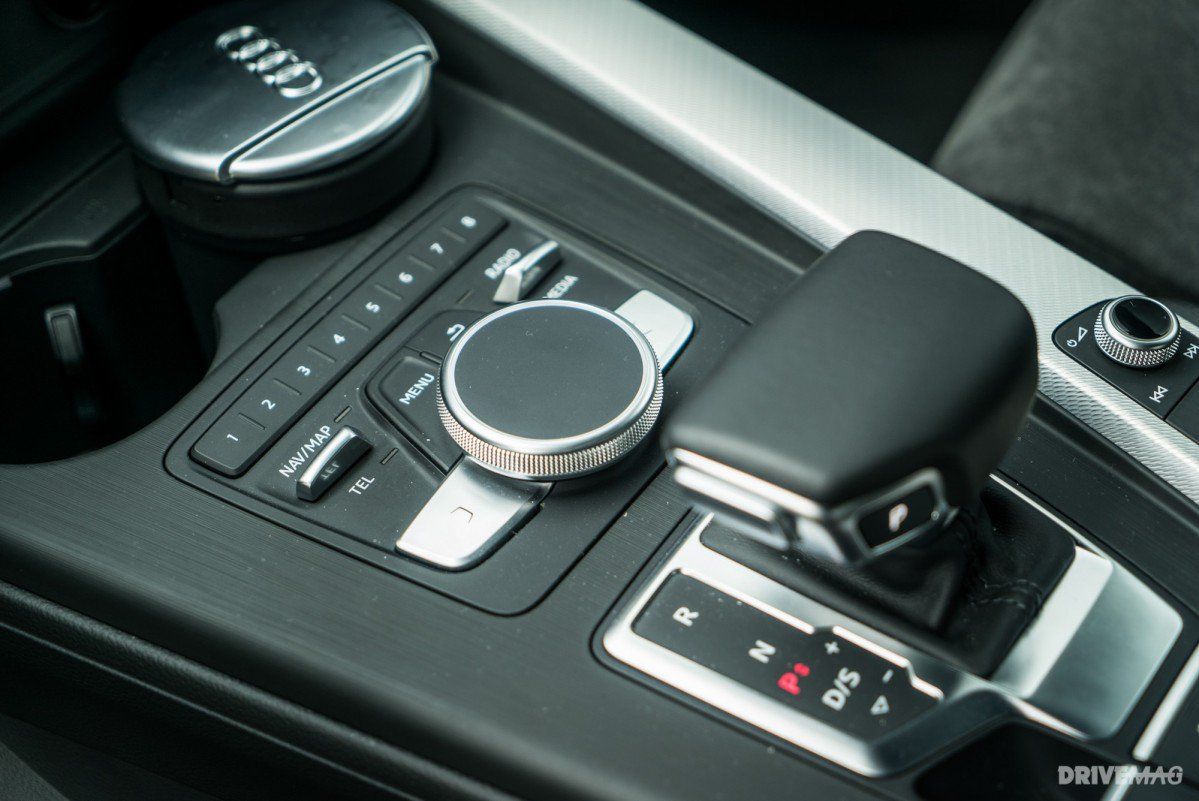 The 2017 Audi A4's interior is arguably the best-built in this class. The fit-and-finish is superb, the materials are top-notch (at least on the model we tested), and the design of the dashboard combines functionality with style in a way that's hard to imitate. Everything passengers touch feels upscale, from the short, bulky transmission lever and the rotary controller of the Audi MMI Plus system, to the aluminum shift paddles and switches of the climate control system.

The model we tested featured stylish aluminum trim, as well as a combination of Alcantara and leather upholstery. However, many of these features are optional.
---
Practicality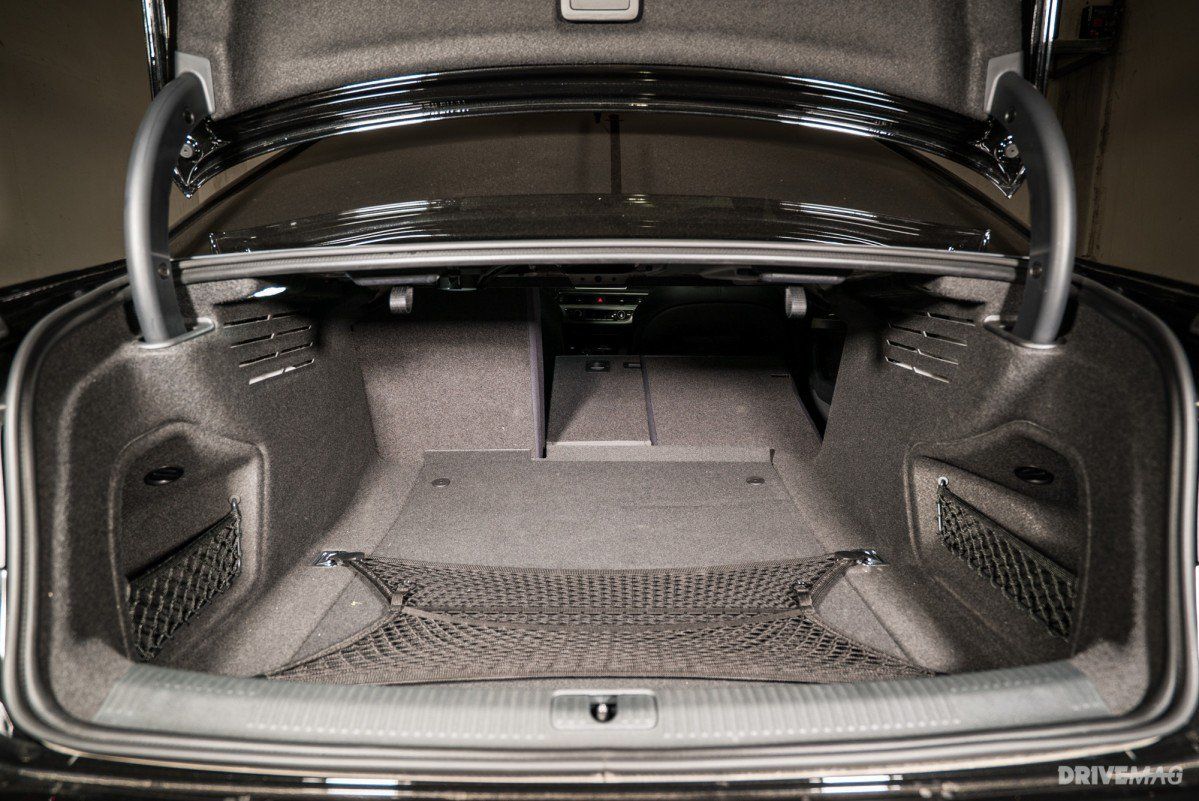 At 4,726 mm (186 in), the Audi A4 B9 sedan is slightly longer (+23 mm/0.9 in) and wider than its predecessor, but what matters more is that it's 102 mm (4 in) longer than the BMW 3-Series sedan. Much of the length increase is due to the wheelbase, which measures 2,820 mm (111 in), resulting in slightly increased (but barely noticeable in real life) legroom for rear seat passengers.

Headroom and legroom are good on all seats while access to the rear seats is made easy by the large doors. As for cargo capacity, the A4 Sedan bests its rivals with a 500-liter boot (EU standard) or 13 cu-ft (US standard). Storage places satisfy the needs of most people and include two decent-sized cupholders at the front located in the center tunnel.
---
Infotainment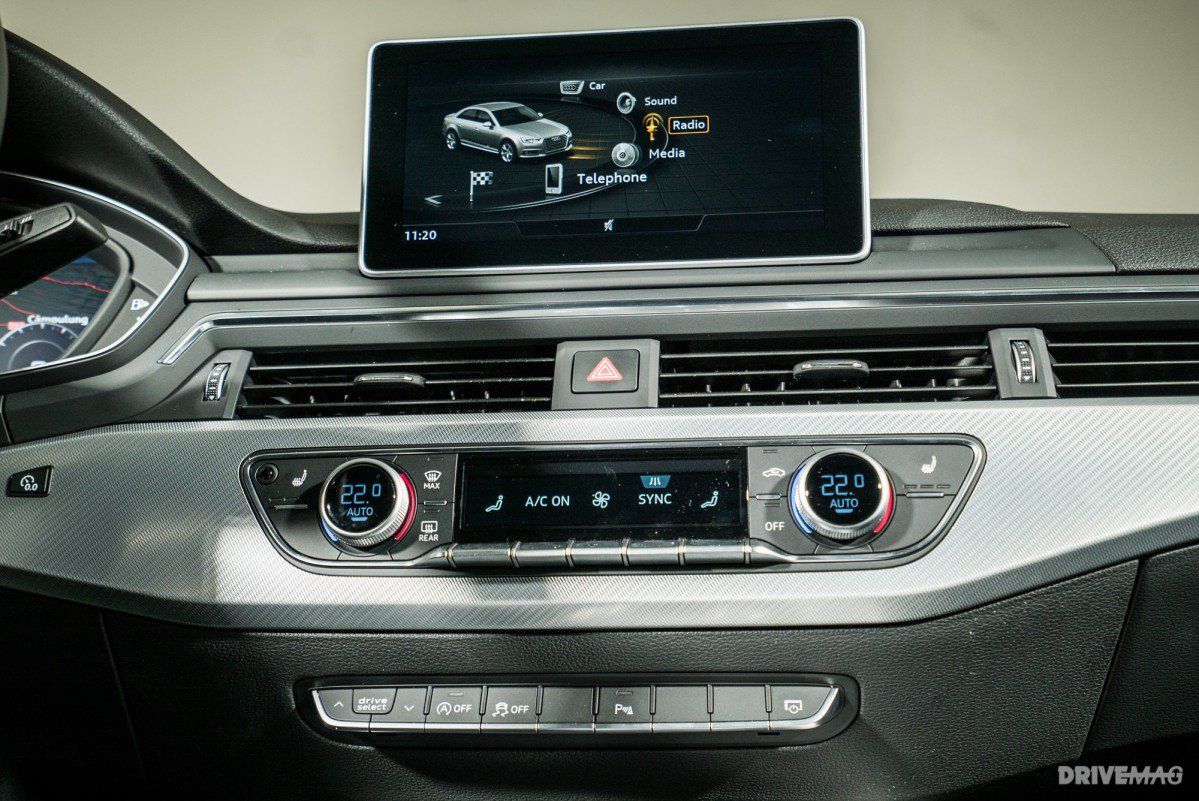 The car we drove was a technological tour de force, featuring many optional features including the MMI Navigation plus with MMI touch infotainment system that includes Google Maps navigation, a rotary controller with a touch pad, and an 8.3-inch high-resolution display on top of the center console.

The car also had Audi's Virtual Cockpit, which replaces the instrument panel with a 12.3-inch adaptive display that offers more information than the average driver needs in a format that is pleasing to the eye. The infotainment system is intuitive to use, but it can be quite complicated if you're born before the 1980s.
Efficiency
While Audi communicates an average fuel consumption as low as 4.4 l/100 km according to the NEDC standard (equivalent to 53.4 mpg US) for the A4 2.0 TDI quattro S tronic, in real life the results are not that spectacular. Our A4 had covered about 6,000 kilometers from new, and its board computer displayed an all-time combined fuel consumption of 7 l/100 km (33.6 mpg US).

That is a good result nevertheless, considering that we're talking about a test drive car. During our time with the A4, we managed to get as low as 5.5 l/100 km (42.7 mpg US) in a relaxed, extra-urban trip.
---
Equipment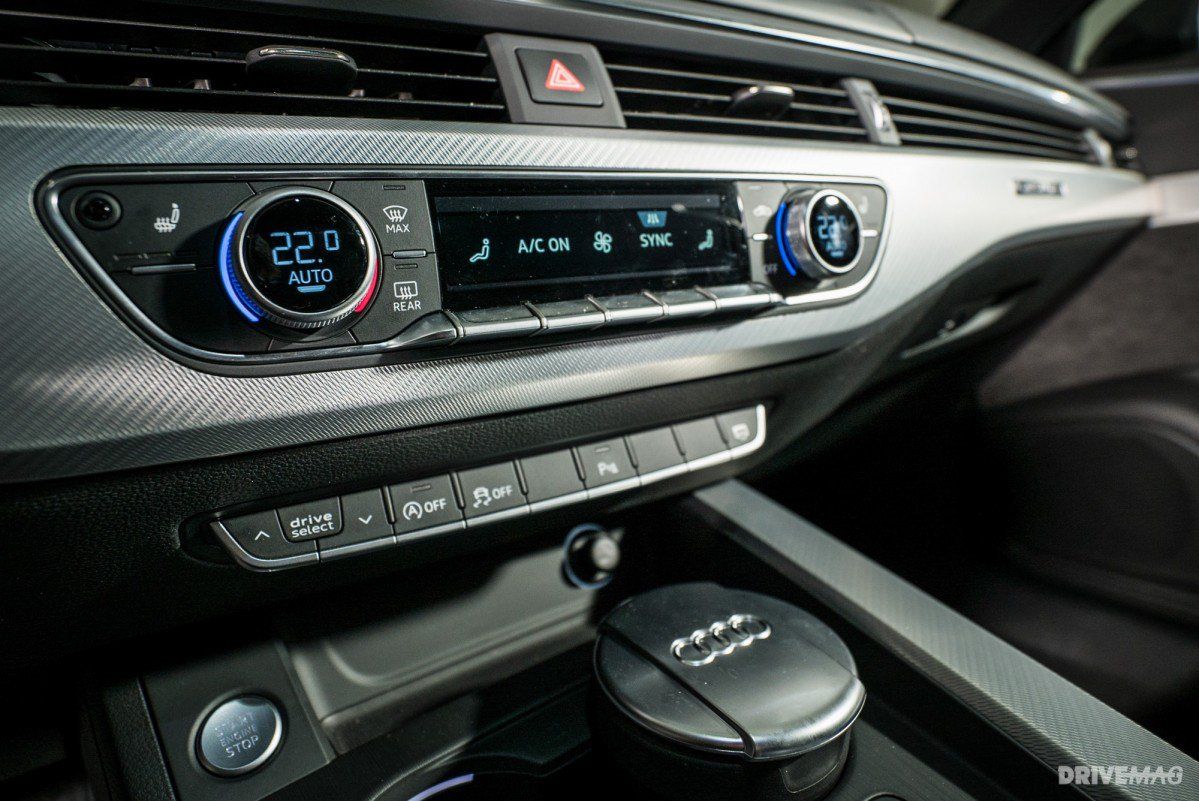 Standard equipment for the Audi A4 2.0 TDI quattro S tronic includes all the necessary features expected on a premium mid-size sedan. There's Audi drive select driving modes (for steering, engine, and transmission), three-zone automatic climate control, an 8-speaker MMI Radio plus audio system, multifunctional steering wheel, fabric upholstery, 17-inch alloy wheels, xenon headlights, LED DRLs and taillights, Start-Stop, and more.

Browsing the list of options is like getting into Pandora's box, however. The car we drove packed €15,000-worth of options, including Adaptive Cruise Control with Stop&Go, LED headlights, rearview camera, Audi Virtual Cockpit, MMI Navigation plus, heated front seats, leather/Alcantara upholstery and much more.
---
Acquisition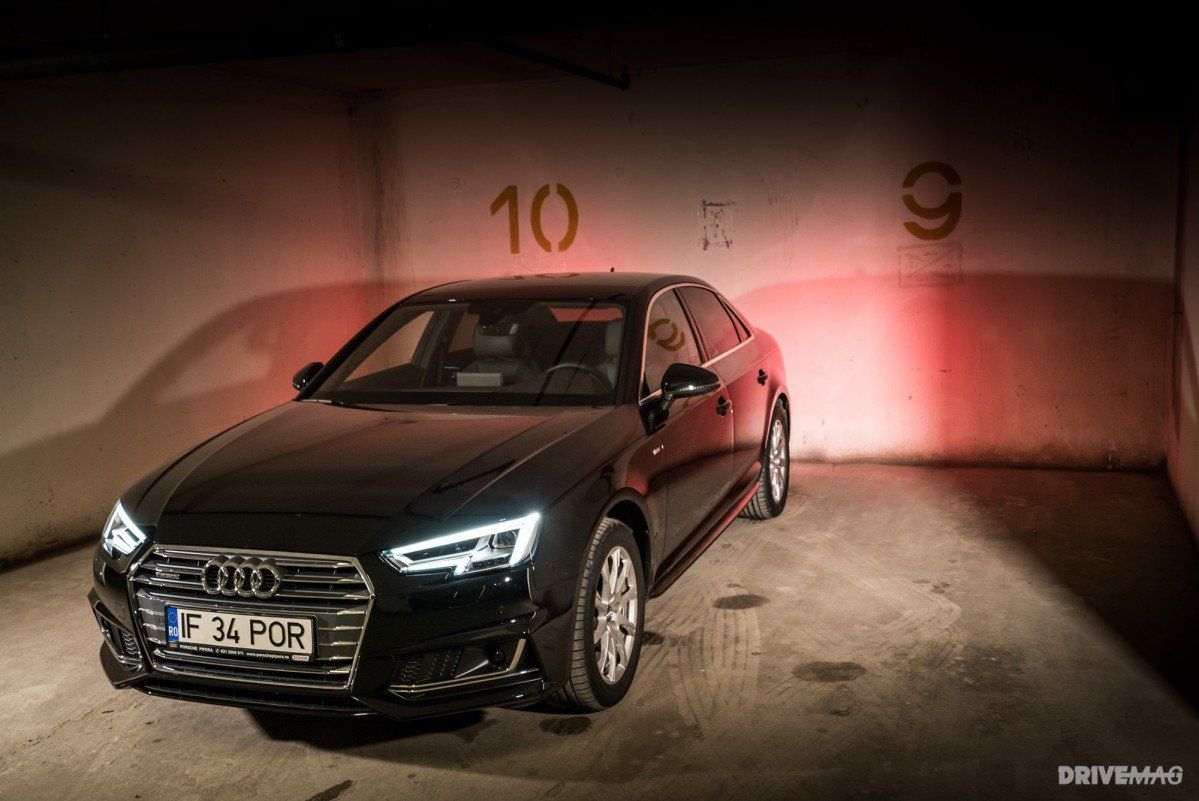 The Audi A4 2.0 TDI quattro S tronic in Sport trim starts at €44,500, which is equivalent to about $50,400 at the current exchange rates. That's about €700 more than the 168 hp Mercedes-Benz C 220 d 4MATIC with 9G-Tronic transmission and €2,300 more than the 187 hp BMW 320d xDrive with Steptronic.

While the Audi A4 has a better interior and comes with more sophisticated technologies than those two, it lags behind them when it comes to the driving experience and the exterior design – both are quite boring in Audi's case. Still, not everyone who is in the market for a premium midsize sedan is a racing driver-wannabe, making it hard to argue with the all-round brilliance of the new A4.