Having driven the excellent BMW 530d xDrive, I was understandably excited at the prospect of getting behind the wheel of another six-cylinder 5 Series — this time, the 540i xDrive.
Overall Score 84/100
BMWs and inline six-cylinder gasoline engines are a match made in heaven, and the 540i addresses a rather different crowd than the 530d. While the 3.0-liter oil-burner is arguably the engine that covers all bases, its gasoline counterpart is more specialized — or at least it should be.
It is the powerplant for customers who love both a silent idle and a high redline, who enjoy working for their torque, and who cherish the visceral sound that only a straight-six gasoline unit can produce.
As you can see, I had extremely high expectations from the 540i xDrive. Did Munich's luxury sports sedan meet them? Read on to find out. And check out our video in which we pit the 540i xDrive against its archrival, the Mercedes-Benz E 400 4MATIC.
Photos: Radu Chindriș
---
IN BRIEF
RECOMMENDED FOR:
Driving Nuts, Families, Managers
CREATED FOR:
Highways, Winding Roads
HATS OFF FOR:
Comfort, Engine Power, Ergonomics, Gadgets, Passenger Space, Road Handling, Safety
---
DRIVE
Powertrain 9/10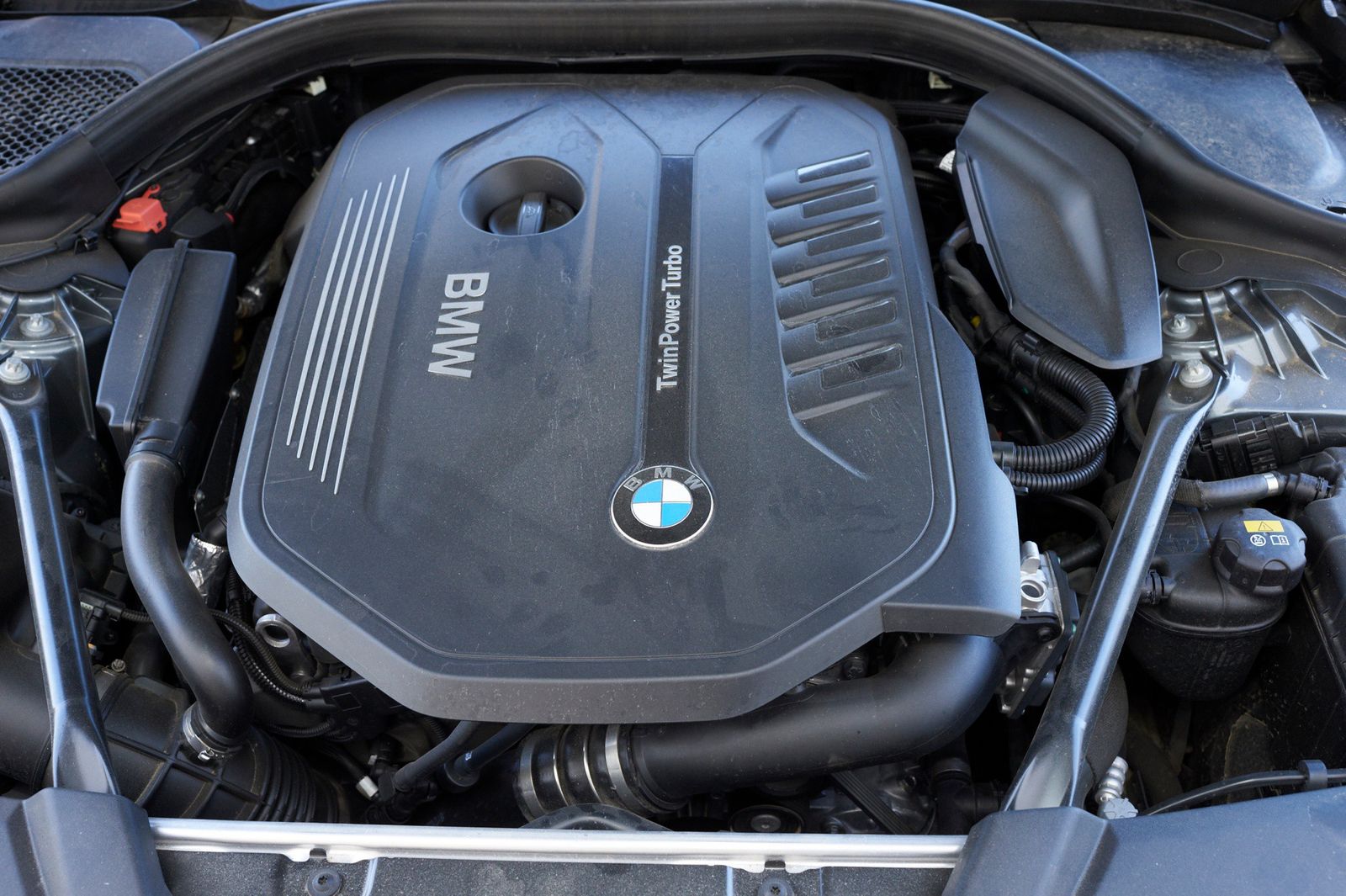 The 3.0-liter inline six-cylinder turbocharged gasoline engine is even more refined than its diesel counterpart: you hear nothing at idle, and it revs so progressively and freely up to 6,500 rpm that you'll become frustrated you can't fully use the rev band on public roads.
It packs a heavy punch, unleashing 335 hp (340 PS) between 5,500 rpm and 6,500 rpm, as well as a peak torque of 450 Nm (332 lb-ft) from as low as 1,380 rpm — constantly available until 5,200 rpm. It can't match the 530d's 620 Nm (457 lb-ft) of torque, but the fact that it's available over a much wider rev band totally makes up for that.
The 540i xDrive is damn fast too, thanks in part to the AWD system and the quick-shifting ZF eight-speed automatic transmission. It dismisses the 0-100 km/h sprint in 4.8 seconds before reaching an electronically limited top speed of 250 km/h (155 mph).
There's one thing missing, though. The engine sounds terrific from the outside (at startup it's like hell has suddenly broken loose), but the excellent soundproofing works against the 540i. From the inside, you don't hear the engine as much as you should (not even in Sport+ mode), and that's a shame.
---
Handling 9/10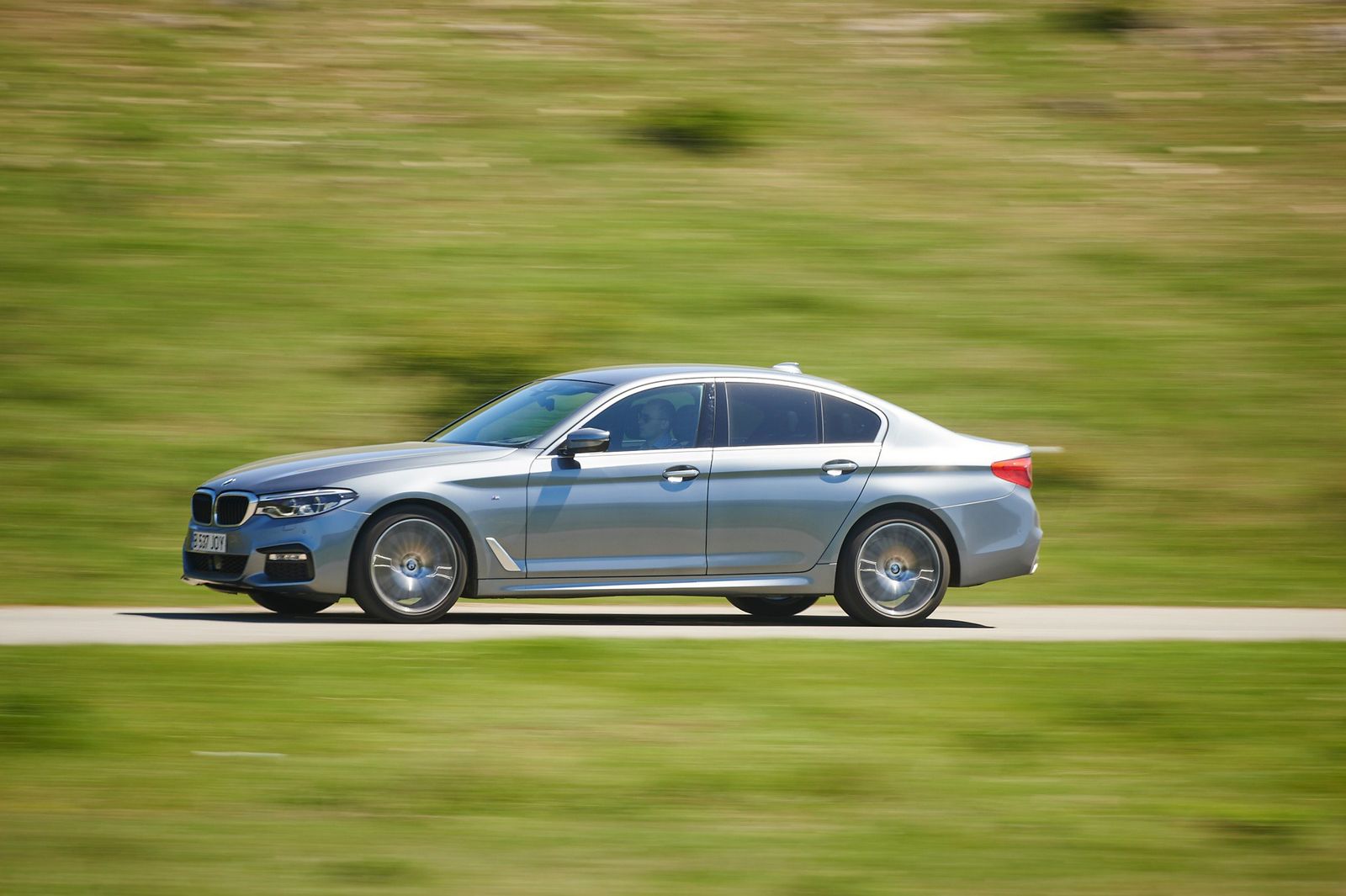 Driving the 530d xDrive, I enjoyed the standard suspension's sweet compromise between comfort and handling. The 540i xDrive, however, came with the optional Adaptive Drive system which consists of adaptive dampers and active anti-roll bars that make the driving experience sharper than with the standard suspension — but not at the expense of comfort.
The adaptive suspension is worth the extra three grand BMW asks for it simply because it keeps the 5 Series glued to the road, reducing body roll to a minimum, and challenging you to increase entry speed with every corner. Do note that Adaptive Drive is not compatible with Integral Active Steering (rear-wheel steering), which is only available with the standard suspension. Still, for me, the benefits of the adaptive suspension outweigh those of the rear-wheel steering system.
---
Safety 10/10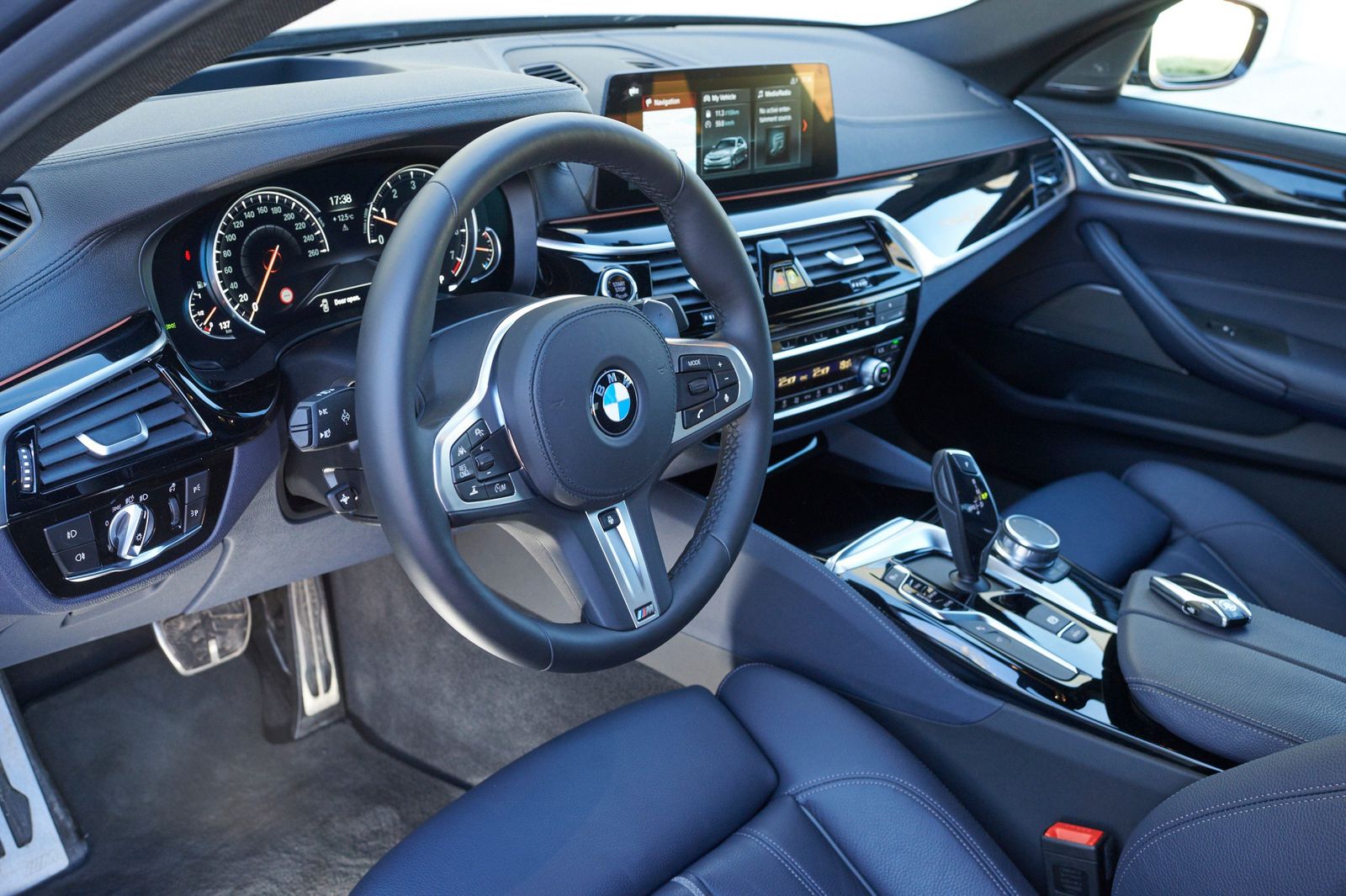 The all-new BMW 5 Series was crash tested by EuroNCAP, which gave it the highest five-star overall rating. The executive sedan received a 91-percent rating for adult occupant protection, 85 percent for child occupant, 81 percent for pedestrian, and 59 percent for safety assist systems. In the frontal full-width crash test, protection for the driver's neck and rear passenger's chest was only rated as marginal.
The sedan comes fitted as standard with ABS, traction and stability control, front and side airbags for front passengers, side curtain airbags, front and rear parking sensors, and a rearview camera, among other features.
The list of available safety features is overwhelming. Our model had the Driving Assistant Plus package, which allows the car to take over some driving and parking tasks. The 5 Series can drive itself in traffic jams, slow-moving traffic, or during long motorway journeys. It's a shame most cool safety features are optional, though — you'll have to spend big money to turn a 5 Series into an ultimate self-driving machine.
---
INTERIOR
Comfort 9/10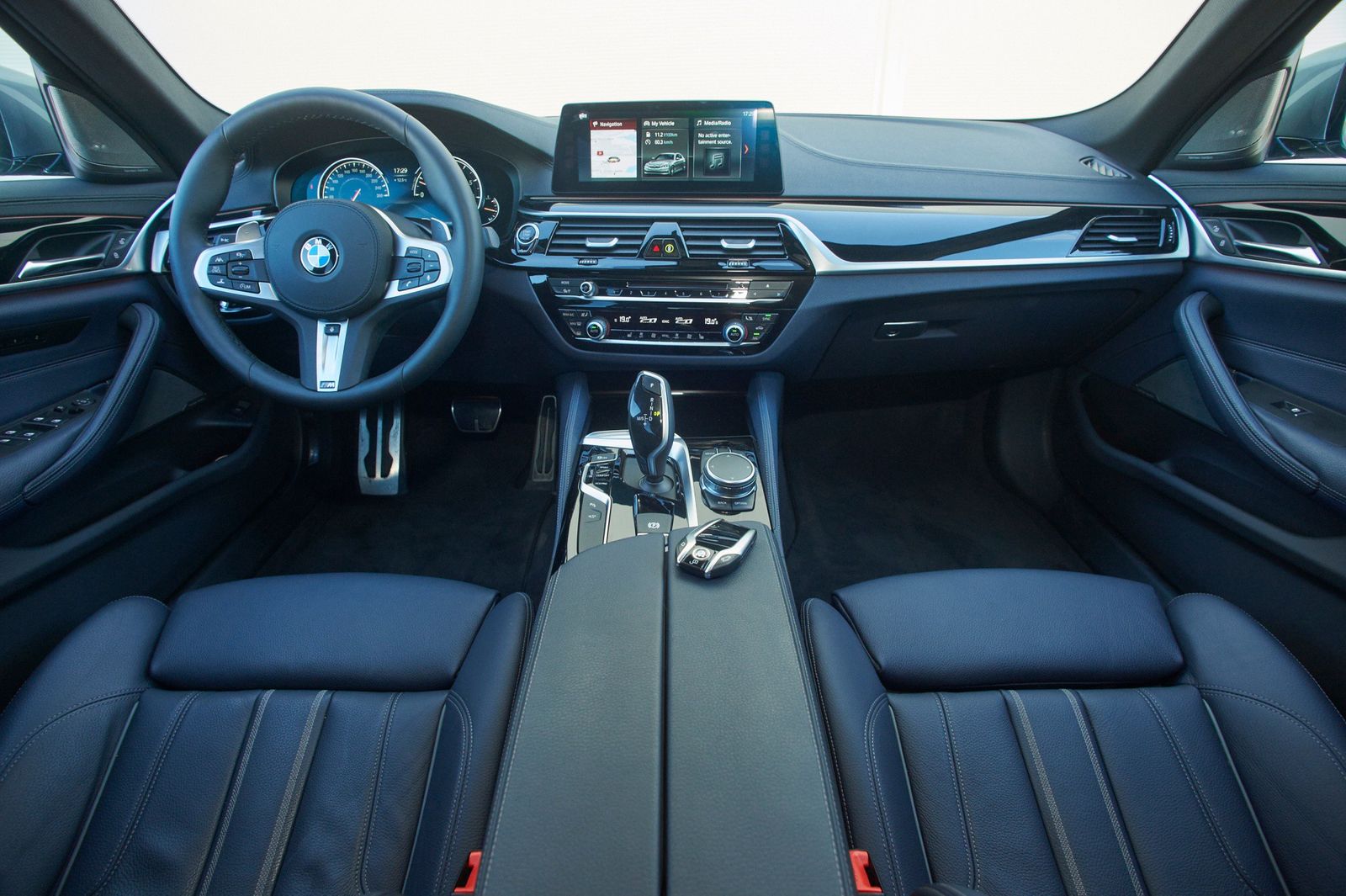 The optional Adaptive Drive suspension is the one to have if you want your executive sedan to deliver sharp handling and a cushy ride quality. At no point the ride seems excessively harsh, not even when driving over rough pavement. That makes the adaptive suspension even more comfortable than the standard one, taking the compromise between handling and ride quality to a superior level. Comfort mode clearly offers the biggest amount of damping, but the ride is sufficiently compliant even in Sport+ mode.
The optional comfort seats are very welcoming and good for the back on long trips, and the calmness of the cabin is impressive even at highway speeds. Comfort-wise, there's hardly anything to complain. If you're very picky, you could say the suspension is a bit noisy over rough surfaces.
---
Quality 9/10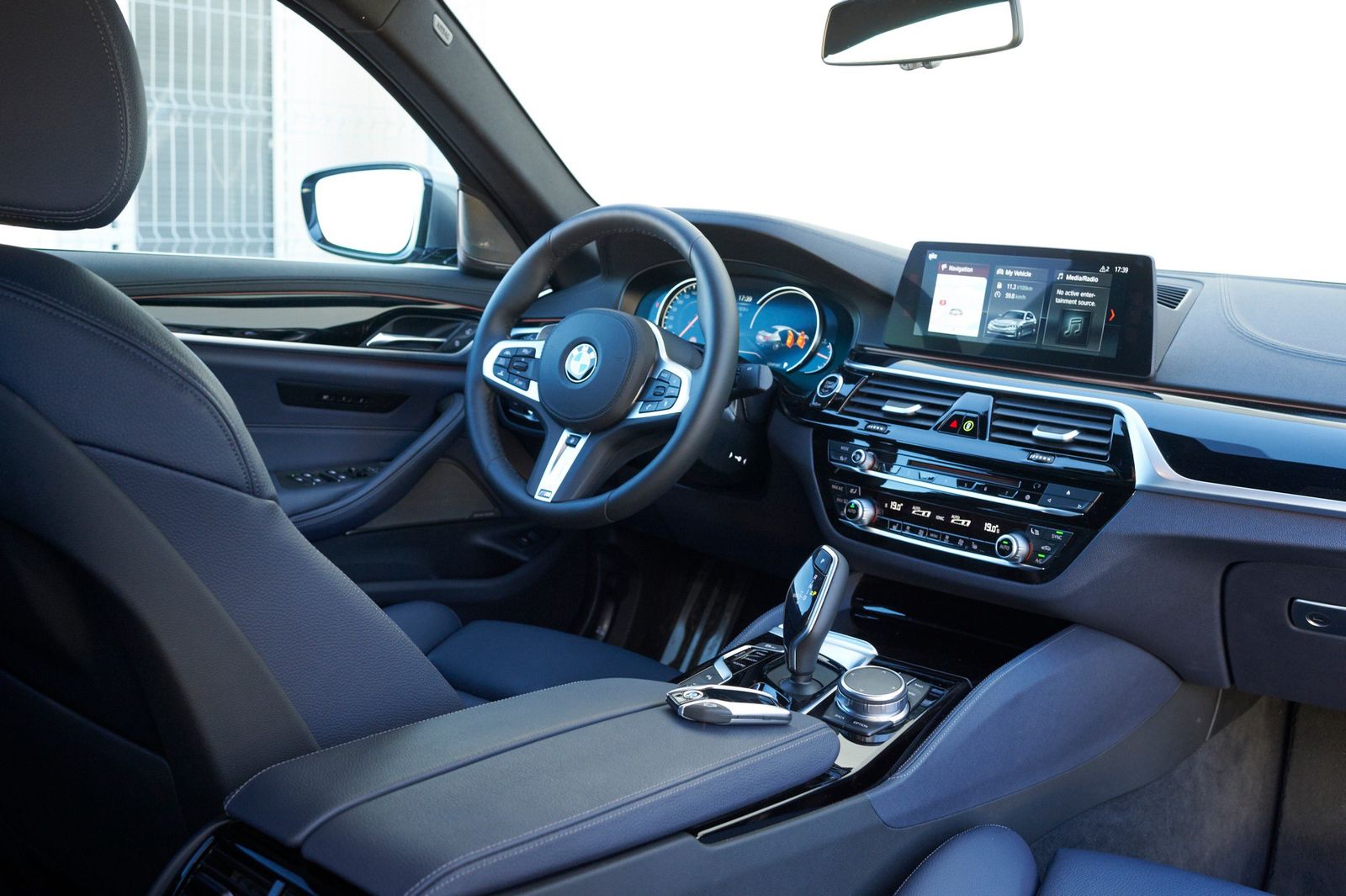 There's little to object about the interior of the 540i xDrive M Sport. Everything you touch in the cabin feels upscale, and everything inside tells you this is an exquisite sedan. All surfaces delight your fingertips, the wood trim looks spectacular (although prone to scratches), and the Sensatec artificial leather on the dash may fool you into thinking it was once part of a cow's body.
The materials have an upscale vibe taken separately, but the interior as a whole isn't as special as the one in the E-Class, for example. Styling-wise, it's just an evolution of the previous model, and that means you'll need no time to adjust if you're a BMW regular.
---
Practicality 8/10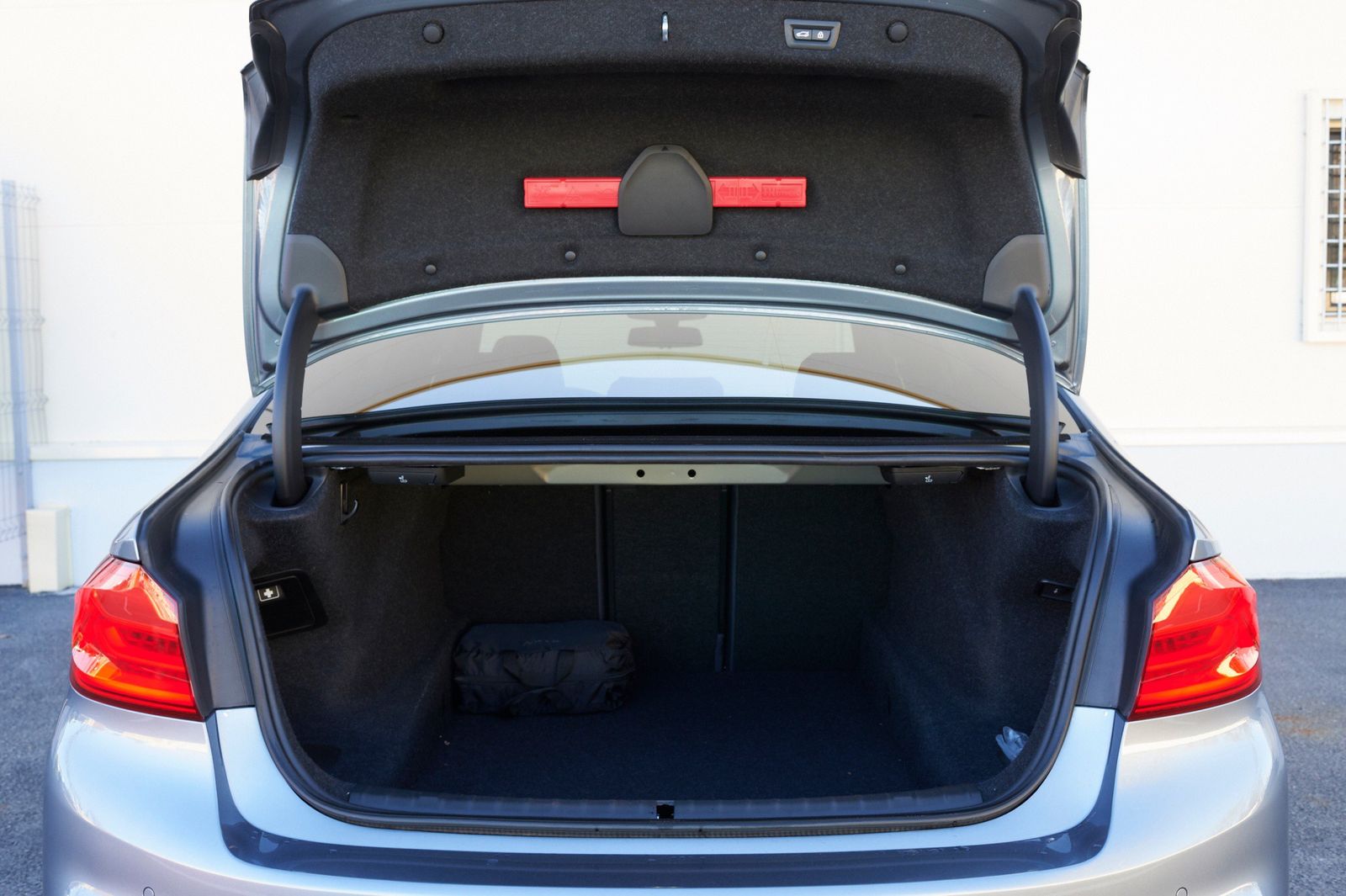 The new 5 Series is slightly roomier than its predecessor where it counts — in the back, that is. It offers more room for legs and knees than before, and rear passengers won't bang their heads against the ceiling even if they're slightly over six feet tall (1.83 meters). Just don't distribute them to the middle rear seat, because their heads will graze the ceiling and their feet will need to avoid the hump in the floor.
At 530 liters, cargo capacity is 10 liters bigger that in the previous 5 Series, matching what the Audi A6 offers but falling short of the E-Class' capacity by 10 liters. The releases for the folding rear seats come in handy when there are bulky items to load, as does the lower boot sill. However, you wouldn't expect to find exposed metal on the boot ceiling of an executive sedan.
---
Infotainment 9/10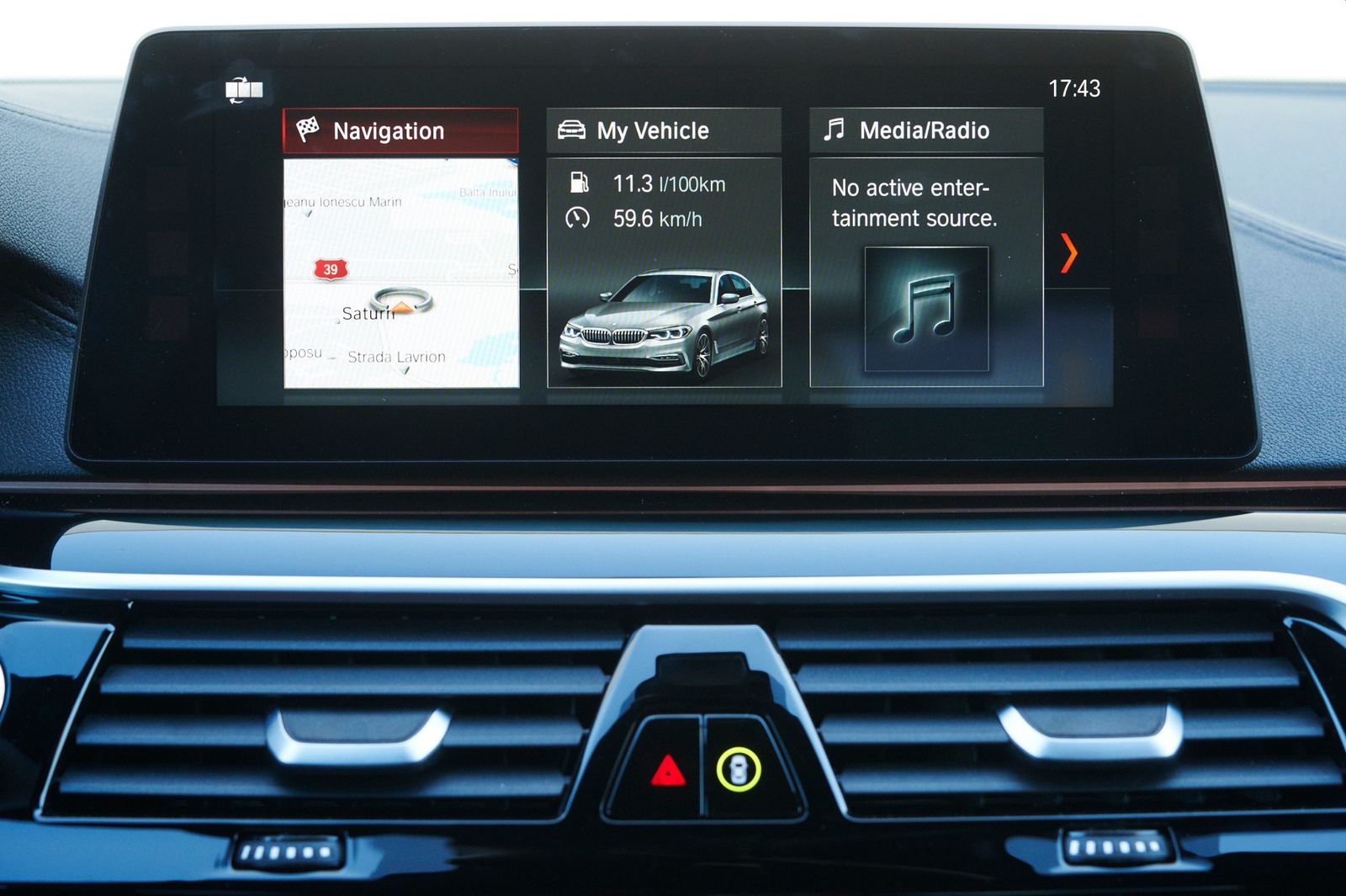 The sixth-generation iDrive infotainment system sets the bar even higher for BMW's rivals. It retains the functionality and intuitiveness of its predecessor and adds new functions such as a touchscreen, customizable home screen, and significantly improved voice control functions — the system understands what you want much better than before.
The 10.25-inch screen offers a crystal-clear resolution, and the optional gesture controls are a sure way to impress your passengers — although you'll look like a fool from the outside while doing it. A much more useful optional extra is the Head-Up Display, which minimizes distraction and makes the driving experience much safer. Another extra the 540i xDrive had is the Navigation Plus system, which offers improved maps and traffic information.
---
BUDGET
Efficiency 7/10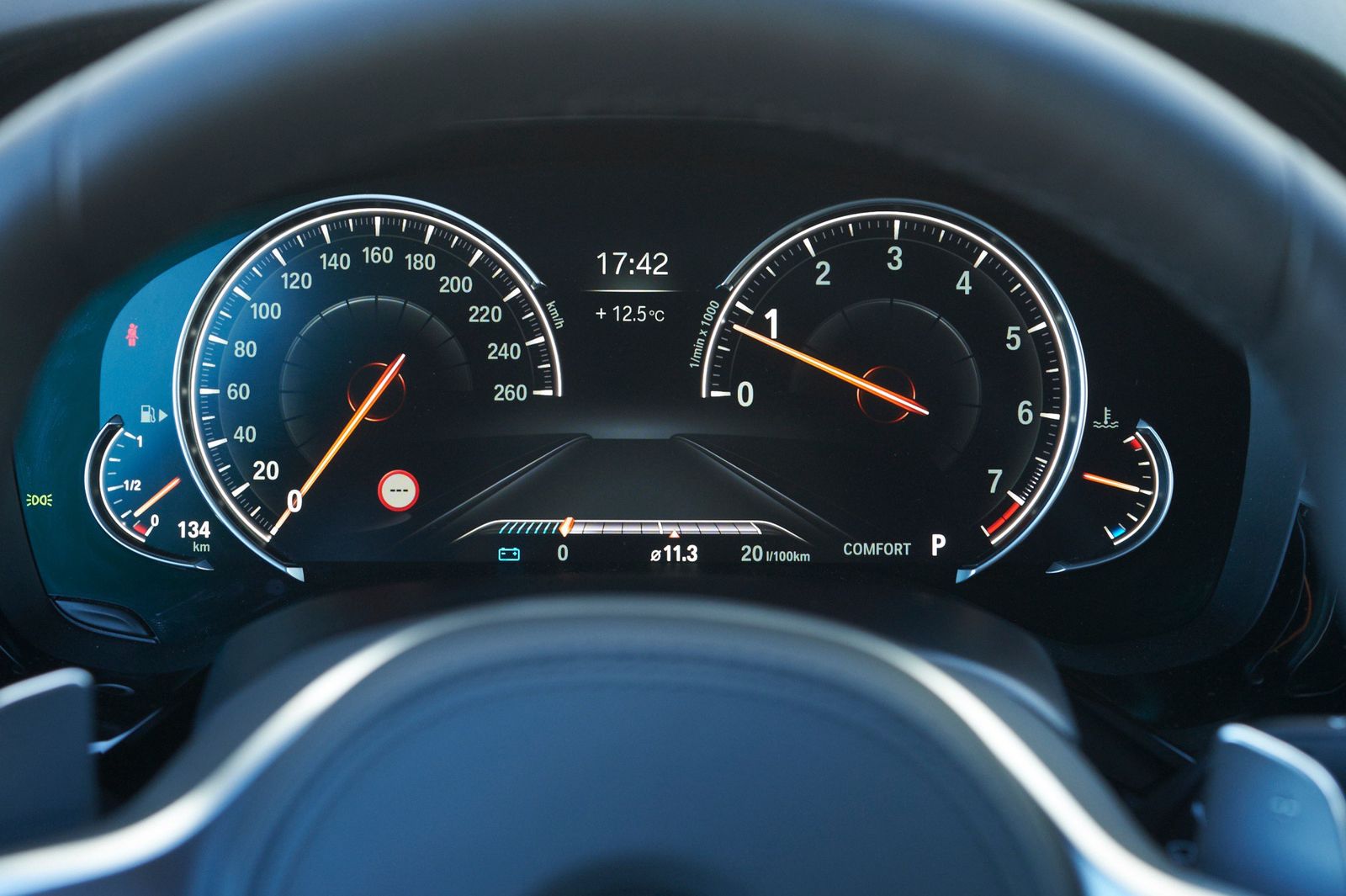 Unless you typically drive in a lab-controlled environment, there's no way you'll get anywhere near BMW's claimed average fuel consumption of 6.9 liters per 100 km. During our test, the average fuel consumption settled at around 10.9 liters per 100 km — not surprising for a sporty luxury sedan of this size fitted with a 3.0-liter six-cylinder turbo engine.
We reckon lower figures are possible in real life if the driver is gentle enough with the accelerator pedal and if he or she likes to use the Eco Pro mode. But who would do that in a 335 hp BMW with a straight-six turbocharged gasoline engine?
---
Equipment 7/10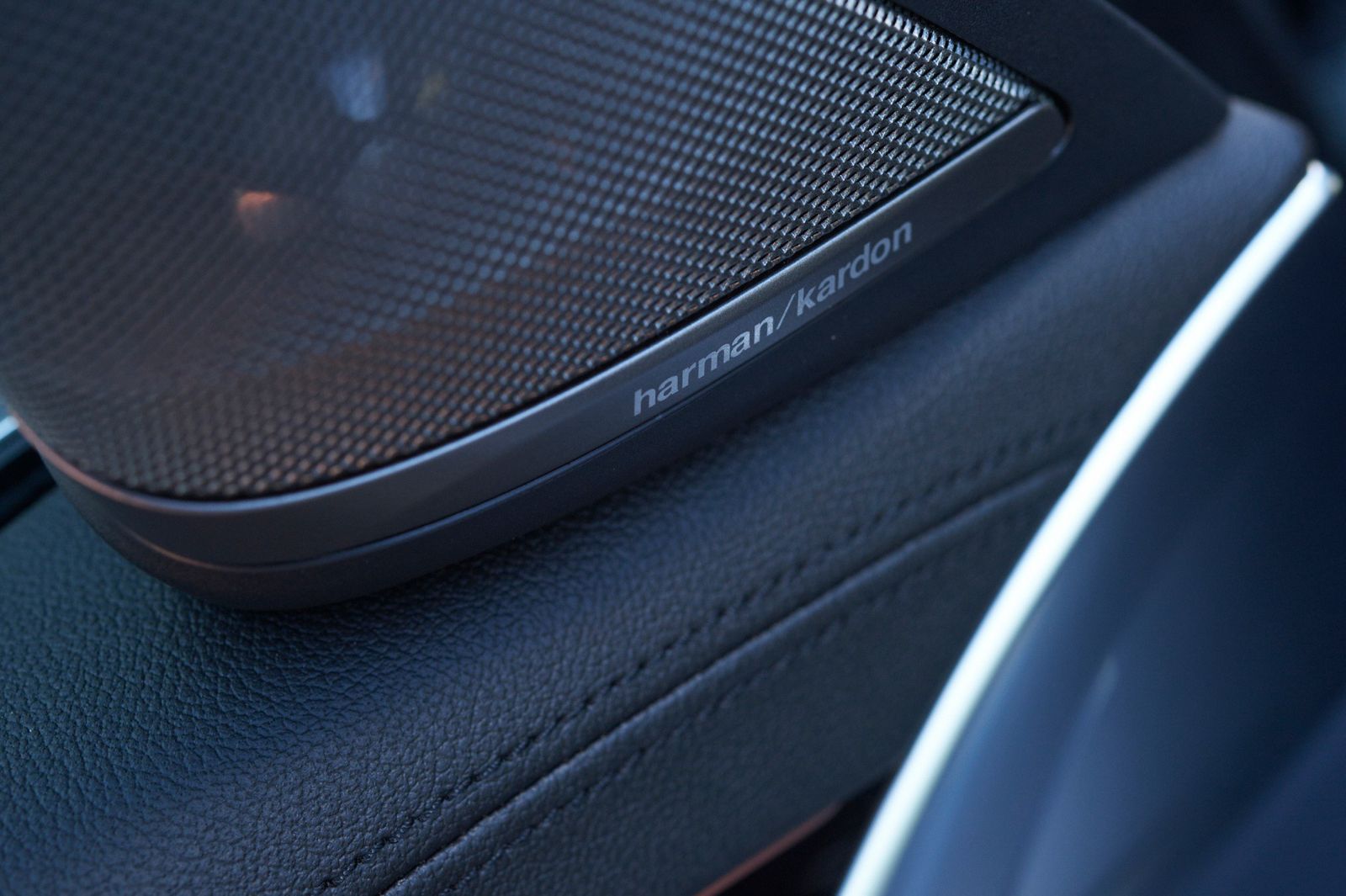 When you get to the equipment side of things, chances are BMW's approach to optional extras will annoy some buyers. None of the cool features and gadgets is offered as standard, so you'll have to fork out many thousands of euros extra to configure a well-equipped 5 Series. The car we drove had the M Sport package (€5,525), which gives the car a BMW M flavor via more aggressive bumpers, M alloy wheels, lower M Sport suspension, as well as exclusive aluminum trim and BMW Individual anthracite roof lining inside.
As expected from a BMW press car, the list of optional extras was much longer than that, totaling more than €28,000. We'd keep things like the Adaptive Drive (€3,161), BMW display key (€252), Adaptive LED Headlights (€1,505), Parking Assistant Plus (€570), and Driving Assistant Plus (€2,828), to name only a few.
---
Acquisition 7/10
A base BMW 540i xDrive is priced from €60,300 in Germany — a lot more than the entry-level 520d with the six-speed manual transmission, priced from €45,200. With all the optional features, our test car nears 7 Series territory — it costs a whopping €90,106. A BMW 740i starts from €90,600 in Germany and certainly comes with many more standard features that the 540i.
As always, you should configure your car wisely, so think seriously about which optional extras you actually need. For example, you can save €2,600 by not opting for xDrive and choose the more playful rear-wheel-drive 540i — unless you live in an area where winter means more than rain. Overall, as the 530d I tested before, the 540i is a very accomplished sedan that gives the new 5 Series lineup more depth. I just wish the superb engine made its presence felt more in the cabin.