Is this the French Revolution in the crossover segment?
Overall Score 77/100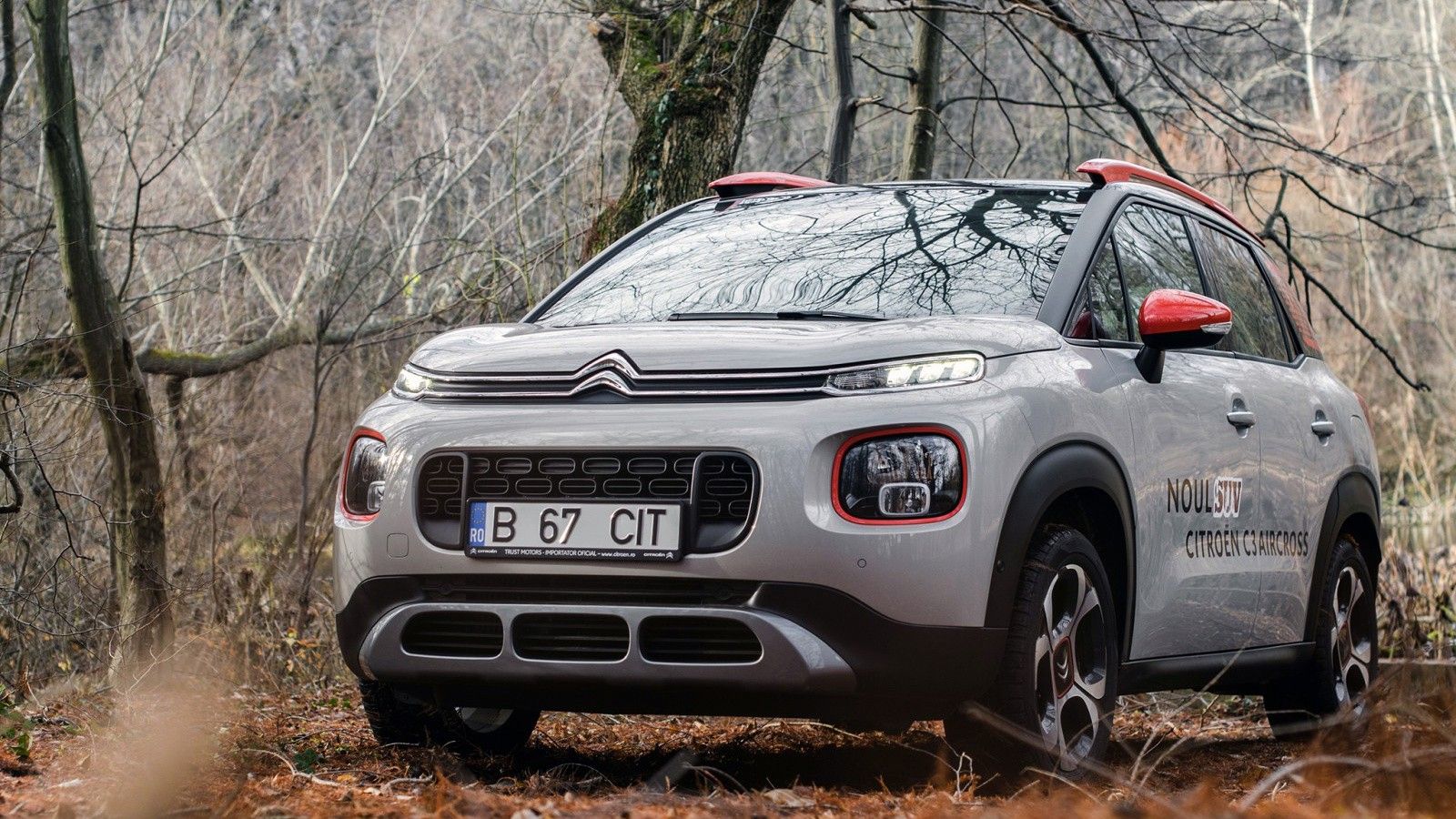 PSA throws in another player in the ever-increasing compact crossover segment: the new Citroën C3 Aircross. Surprised? Well, you shouldn't be, because right about every carmaker has secured a chunk of the pie by now.
Although Citroën's press blurbs are stubbornly calling it an SUV, the C3 Aircross is simply a crossover. It comes to do battle against the likes of Opel Mokka X, Hyundai Kona, Kia Stonic, Peugeot 2008, Seat Arona, Mazda CX-3 and VW T-Roc.
If you're having a déjà vu, then you've probably seen Citroën's C-Aircross Concept shown earlier this year in Geneva, which passed over a lot of styling cues to its production iteration, namely the C3 Aircross in question here.
Highly customizable according to its makers, the C3 Aircross sits on PSA's PF1 platform shared with Opel's Crossland X, which further hints to a high-riding hatchback rather than a full-blown SUV.
It's also a permanent 4×2 but a few mechanical and electronical gimmicks allow it to leave the beaten path every now and then, but nothing close to what you'd call off-roading. Here's how it performed in our company.
---
IN BRIEF
RECOMMENDED FOR:
Families, Seniors
CREATED FOR:
Highways, Urban Driving
HATS OFF FOR:
Modularity, Passenger Space, Safety
---
DRIVE
Powertrain 7/10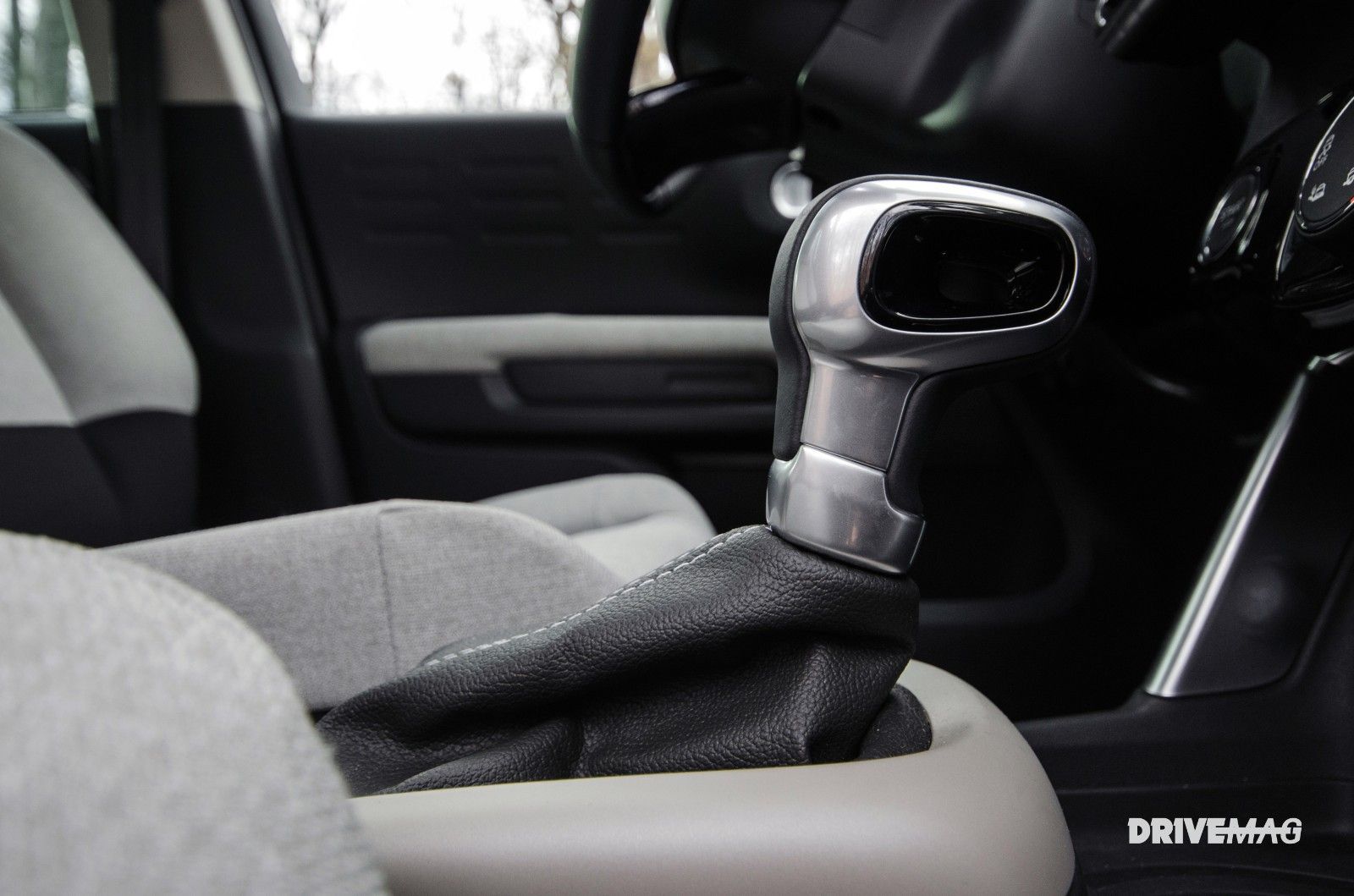 You can have the C3 Aircross in an appropriate array of engine-gearbox combos, but our tester used a 1.2-liter, 3-cylinder, 110 PS PureTech-branded powerplant, coupled to a six-speed automatic gearbox that usually got right the soft spot between gears and did its job obediently.
It's when you start searching for more performance that the transmission becomes jolty and lacks the confidence to handle the engine. However, it's a big evolution to better from the automated manual Citroën fitted inside the C4 Cactus.
Which, by the way, we expected to behave more sonorously – being a three-cylinder and all, which it didn't, turning out a rather silent. But you know what else is jolty? The Start & Stop system, which sends shakes through the car's body when leaving at a green traffic light.
---
Handling 7/10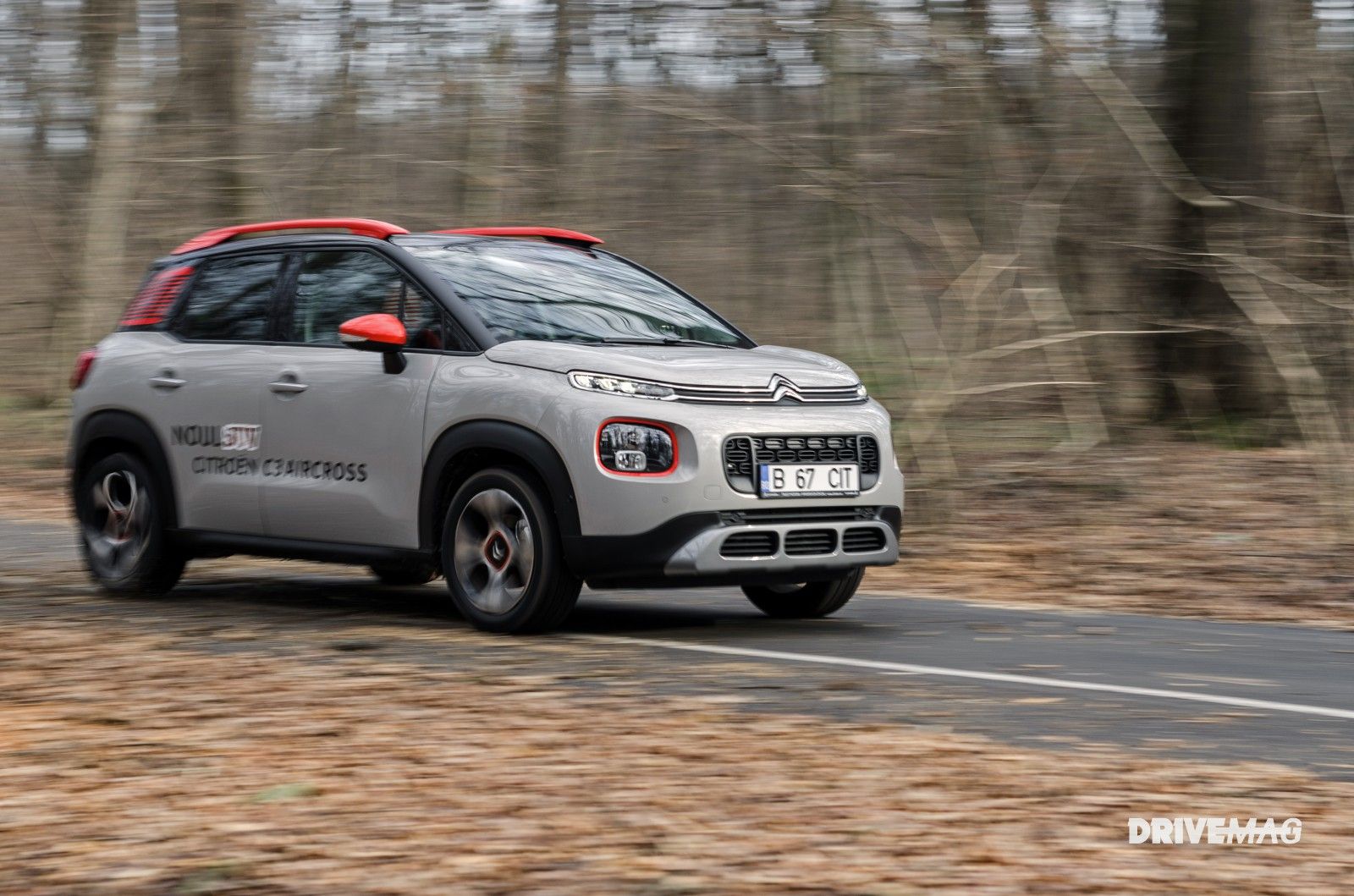 Do not expect effervescent displays from the C3 Aircross, but then again, its competitors aren't much better at it either. The steering behaves like it's on an anesthetic overdose but at least it's easy to steer the car through the majority of narrow spaces every city usually throws at you.
And while on the soft side, the suspension is a tad stiffer than in the C3 hatchback and tends to get noisy very easily on bad asphalt or over road bumps. Also, it's far for exigent when it comes to saying no to body roll, but steering the C3 Aircross to wavy bends happens smoothly as long as you're not in a hurry or late to work.
Moreover, there's no option of 4WD whatsoever, but you can opt for the gimmick going by the name of Grip Control, which adapts the front axle's behavior depending on the desired setting and driving conditions quite similar, if identical, to the Peugeot 2008.
---
Safety 9/10
Five stars were awarded by Euro NCAP to Citroën's C3 Aircross, after scoring 85% and 82% in the adult occupant and child occupant departments, respectively, which allows it to occupy a mid-table position among its main rivals.
Both the front passenger and the driver get front, side head and side chest airbags, while other safety systems include active safety brake, lane departure warning, bling spot monitoring and hill descent assist – as part of the Grip Control setup. It doesn't offer, however, side pelvis airbags or side chest airbags for rear passengers, like some of its competitors.
---
INTERIOR
Comfort 7/10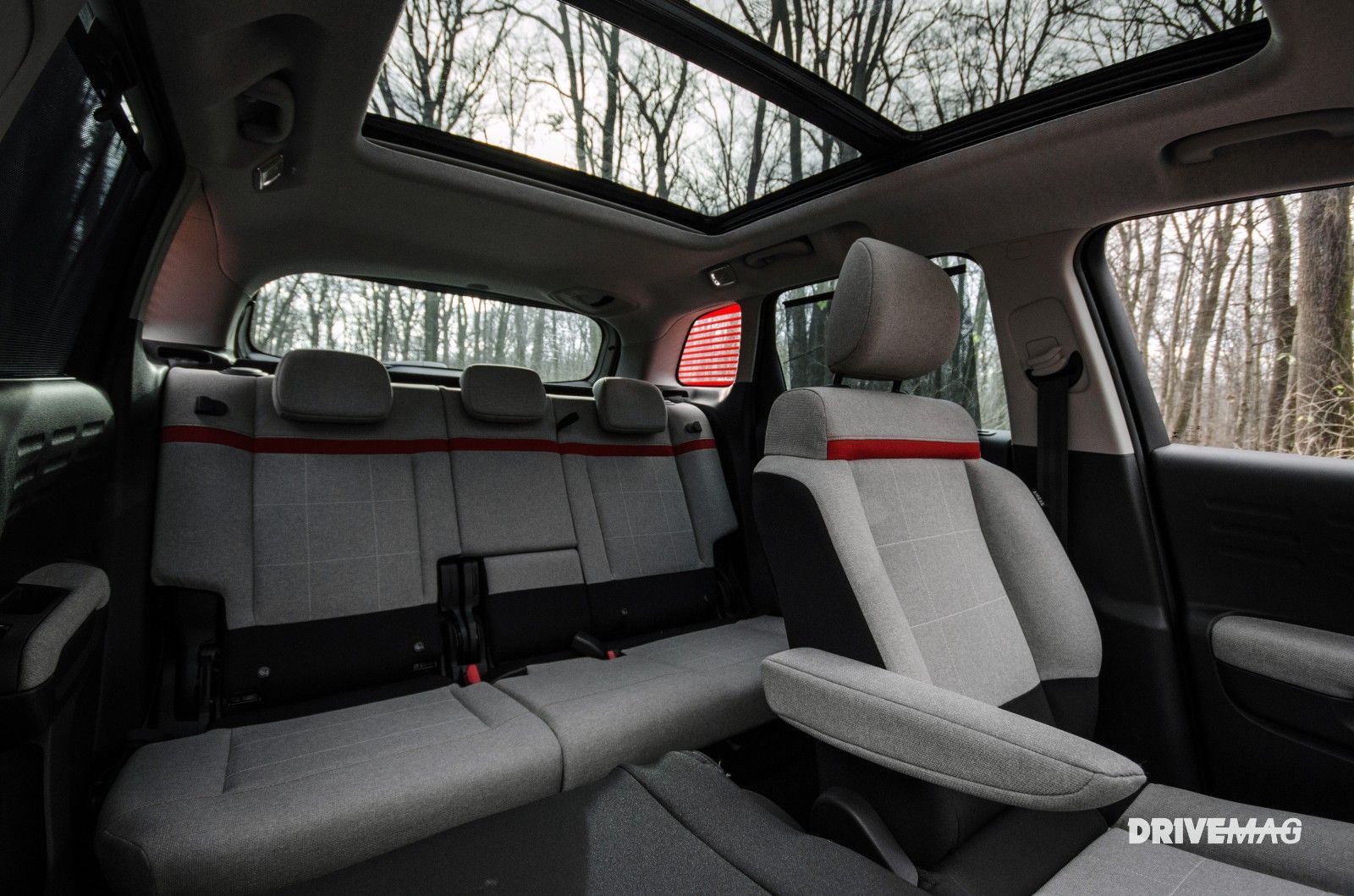 Apart from suspension noise, the C3 Aircross' cabin is a nuisance-free environment most of the time, acoustically speaking. High speeds will send some flutter inside, though, but otherwise you can have a conversation with being buzzed. Visibility is also a plus almost all-around, except for the rear window – also, keep an open eye when entering roundabouts and tight corners, as the A-pillars kind of block the bulk of your view.
Oh, yeah, the seats: they might look like couches or sofas, but they do a proper job in keeping your posture straight and away from the chiropractor's office, but lack the lateral support. Nonetheless, it's the funky design and color combination that raised our eyebrows, but we guess those who say yay to the C3 Aircross' exterior will appreciate the continuity on the inside. Keep the number of rear passengers to just two, as three are a crowd.
---
Quality 7/10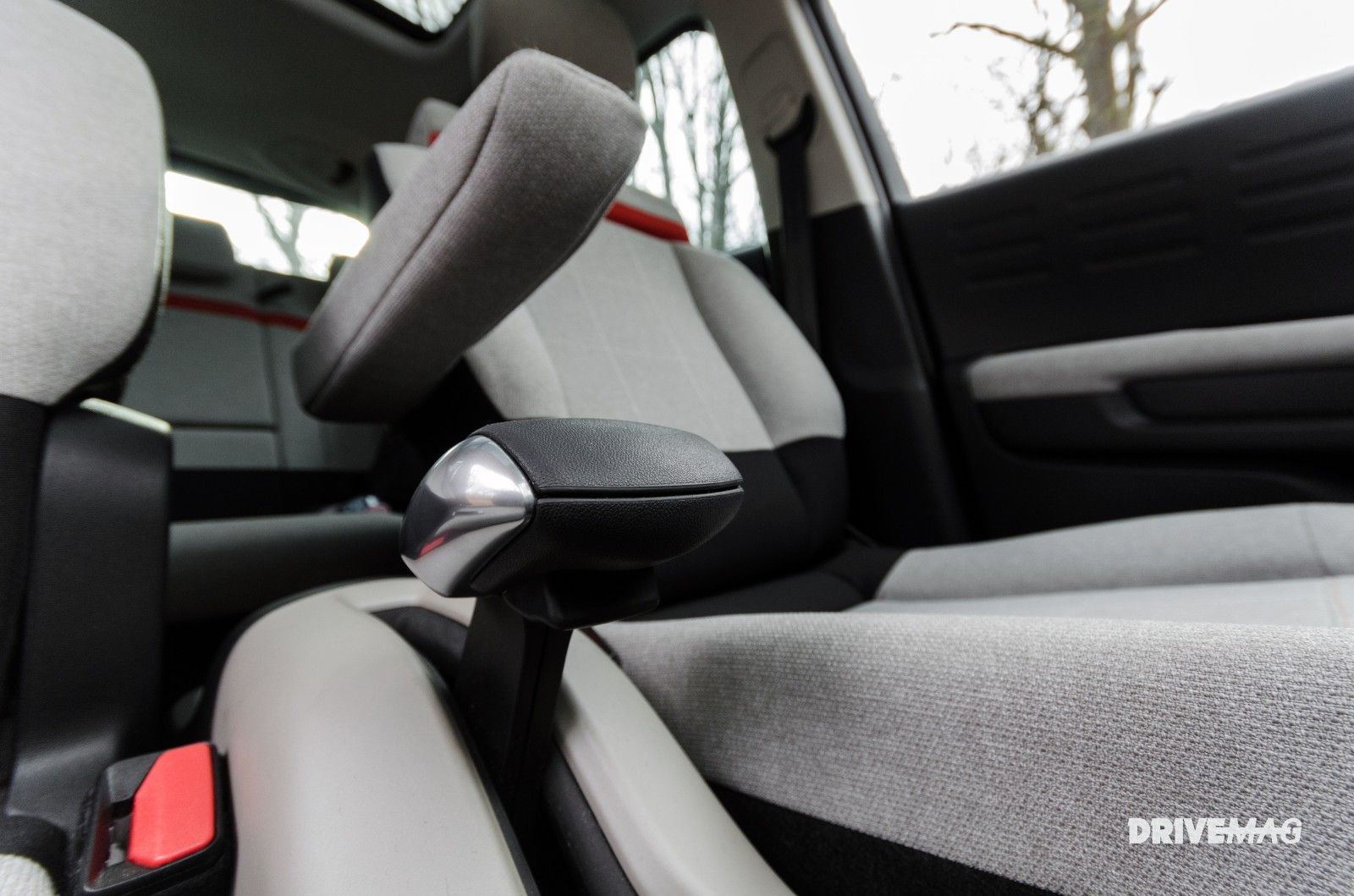 Hard, cheap-ish plastic is a common sight, but those accustomed to Citroën's ways of cladding a cabin should know the drill. Otherwise, there are trim levels that add textile padding on the door panels and dashboard, and these ones feel and look better.
---
Practicality 9/10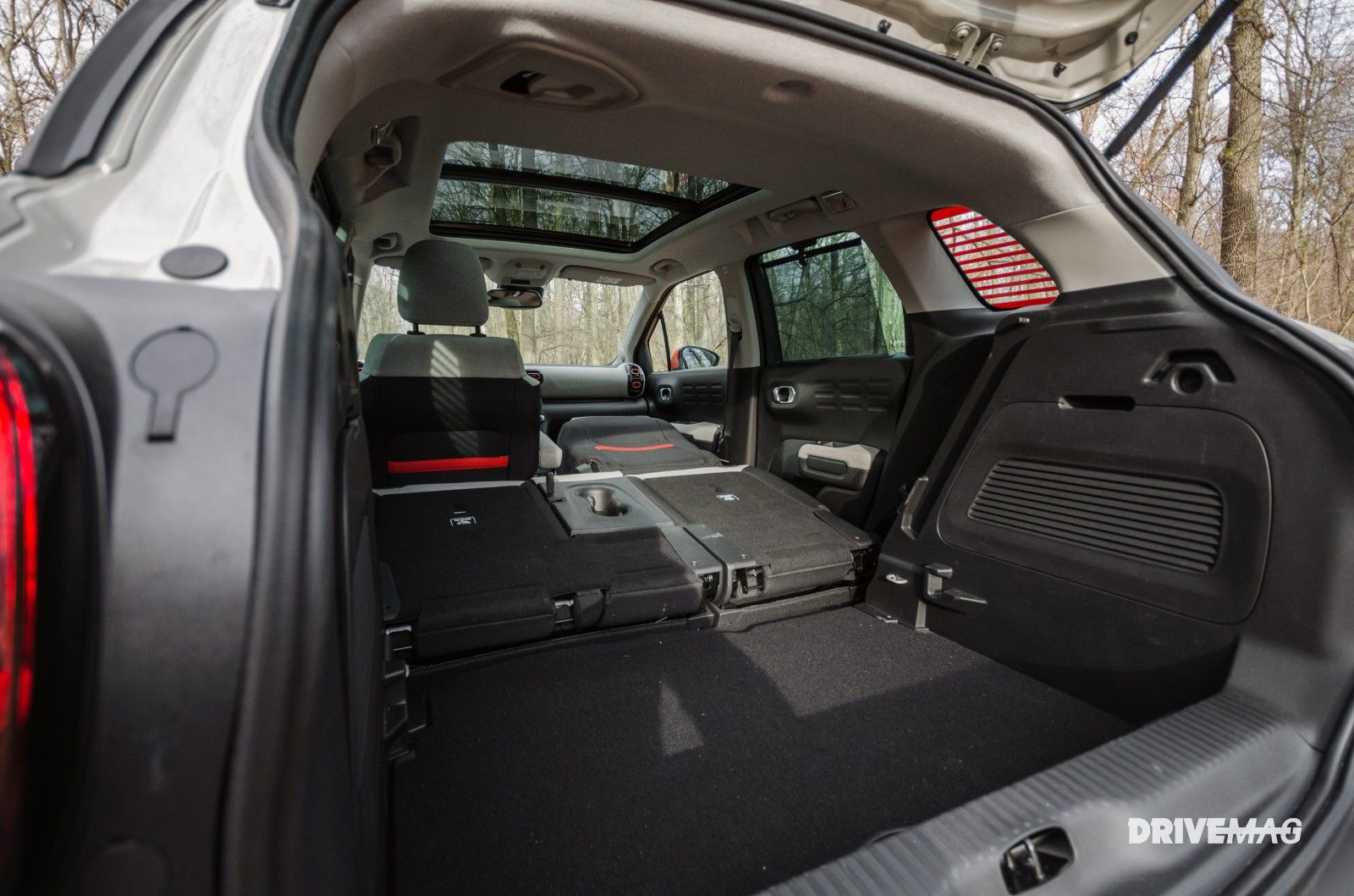 Right, this one's an ace up the C3 Aircross' sleeve because a) the boot offers 410 liters (extendable to 520 liters with the rear bench set in its most forward position or to 1,289 liters with the rear bench folded flat on the floor), b) the rear bench is 60/40 split folding and has independent sections that can slide through 150 mm and, c) there's a double-height floor beneath the booth, plus a handful of storage spaces scattered around the interior.
---
Infotainment 8/10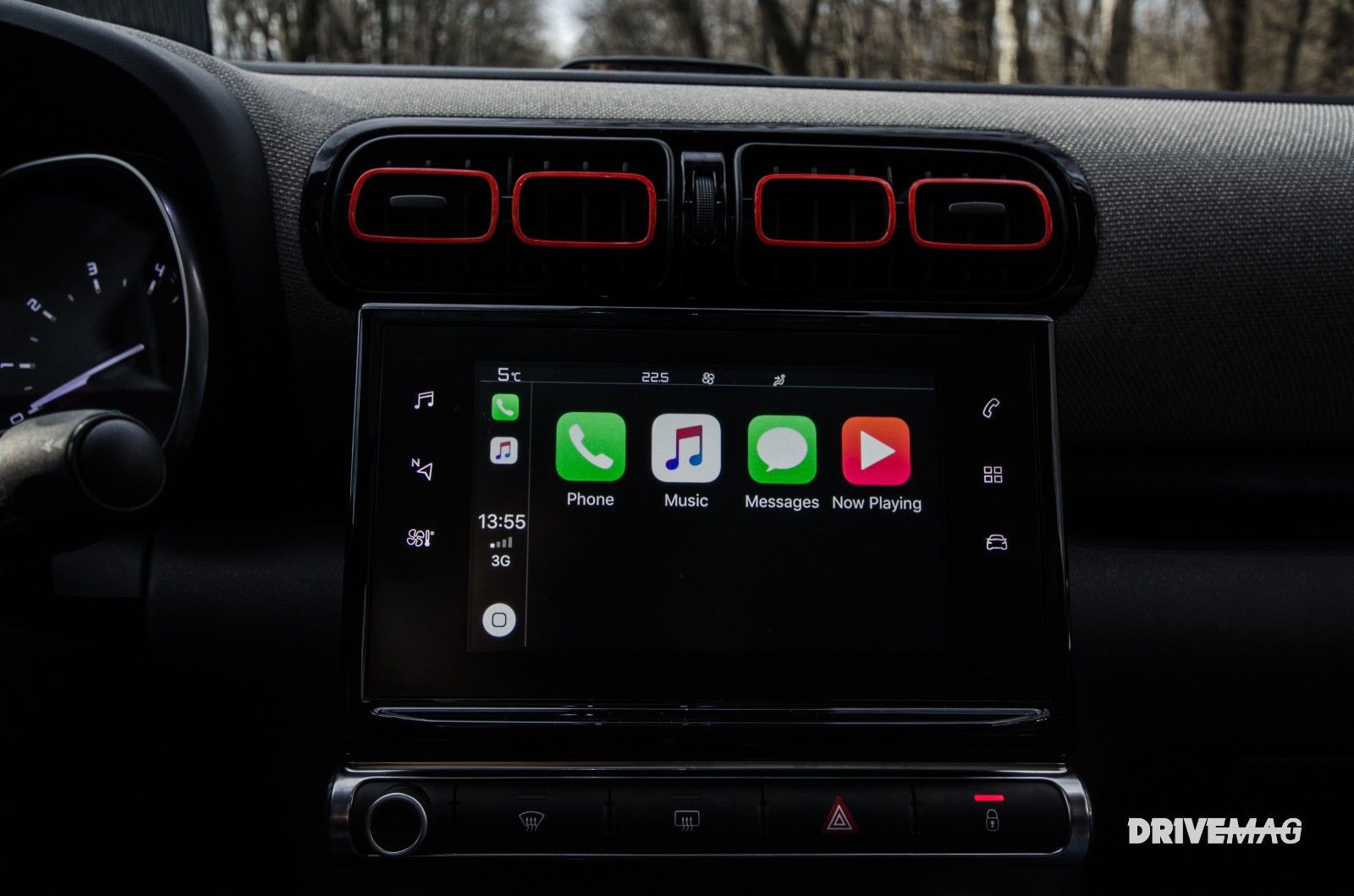 Nothing fancy, but the graphics are nice and easy on the eye. You can also add (as an option) a color HUD, wireless smartphone charging, Apple CarPlay and Android Auto and Tom-Tom navigation. The 7-inch infotainment system control's the car's connectivity and other functions, like the air-con system, sat nav, radio and the lot. Not the smoothest choice out there when it comes to browsing the menus, but it gets our OK overall.
---
BUDGET
Efficiency 7/10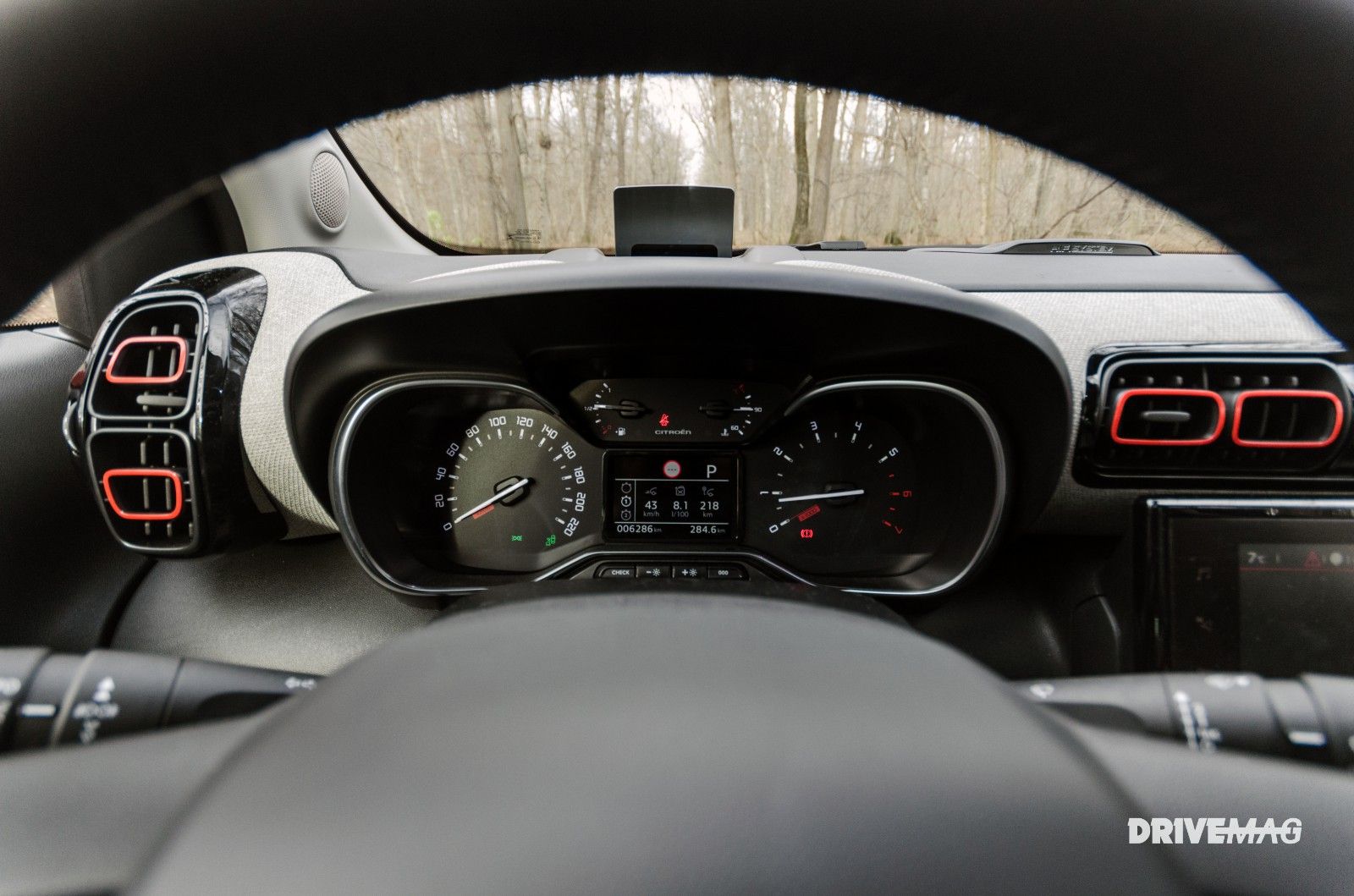 Citroën says the C3 Aircross – in the flavor we tested – drinks on an average 5.6 l of fuel every 100 km (that's roughly 50.4 mpg UK), however, reality saw the fuel consumption go up to 8-8.2 l/100 km, which is more or less 35.3-34.4 mpg UK.
---
Equipment 9/10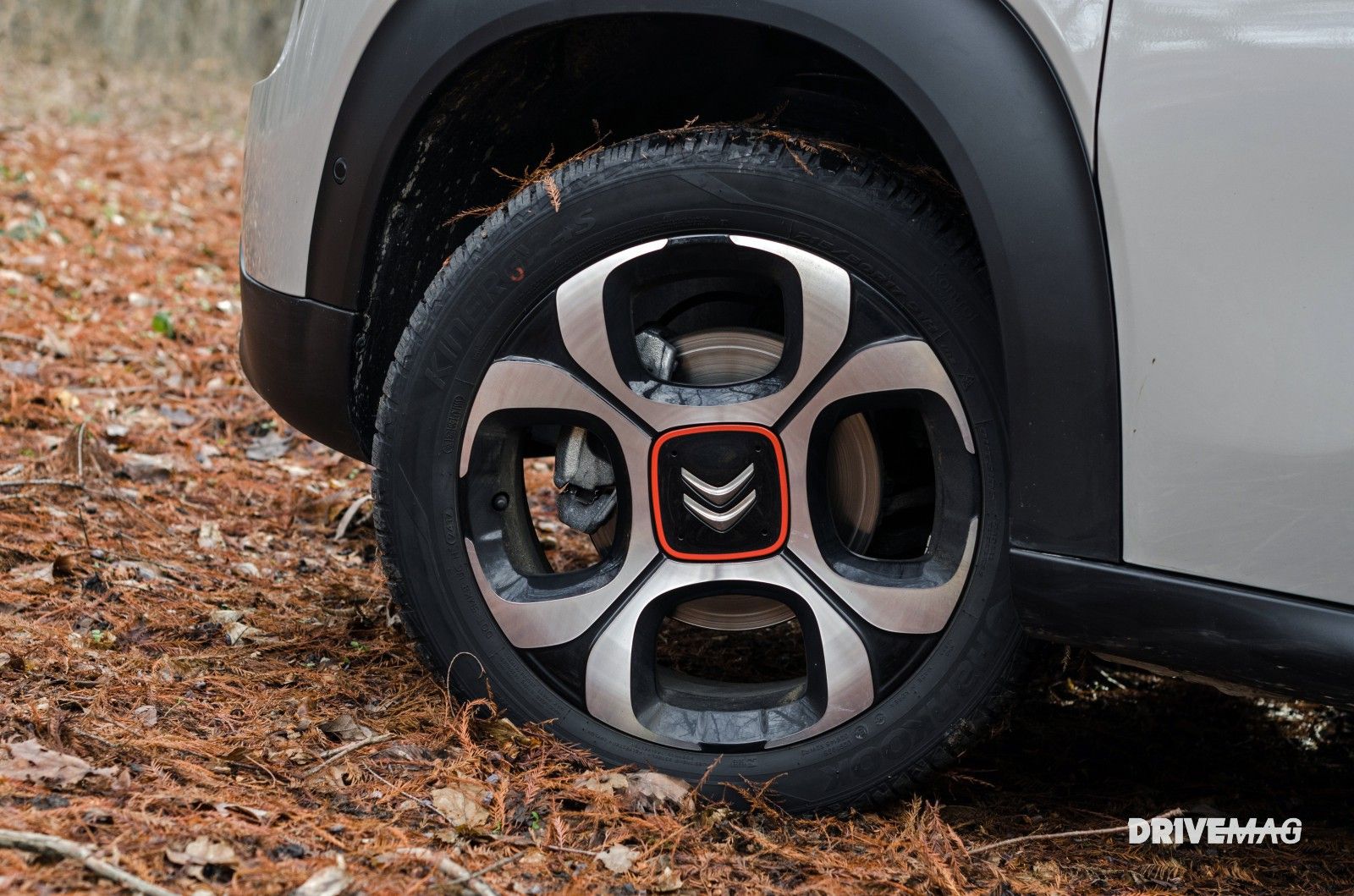 A base-spec Citroën C3 Aircross offers plenty of features, including 16-inch steel wheels, automatic lights, cruise control with speed limiter, front electric windows and manual air conditioning. On the safety side, you get driver, front passenger, front lateral and curtain airbags, lane departure warning, DAB digital radio plus four speakers and grey cloth seat upholstery.
Climb up the trim pyramid and you'll unlock 16-inch or 17-inch alloys, a leather-wrapped steering wheel, LED DRLs, cornering fog lights, 7-inch infotainment system, Android Auto, Apple CarPlay, navigation, rear parking sensors and keyless entry and start, among others.
---
Acquisition 7/10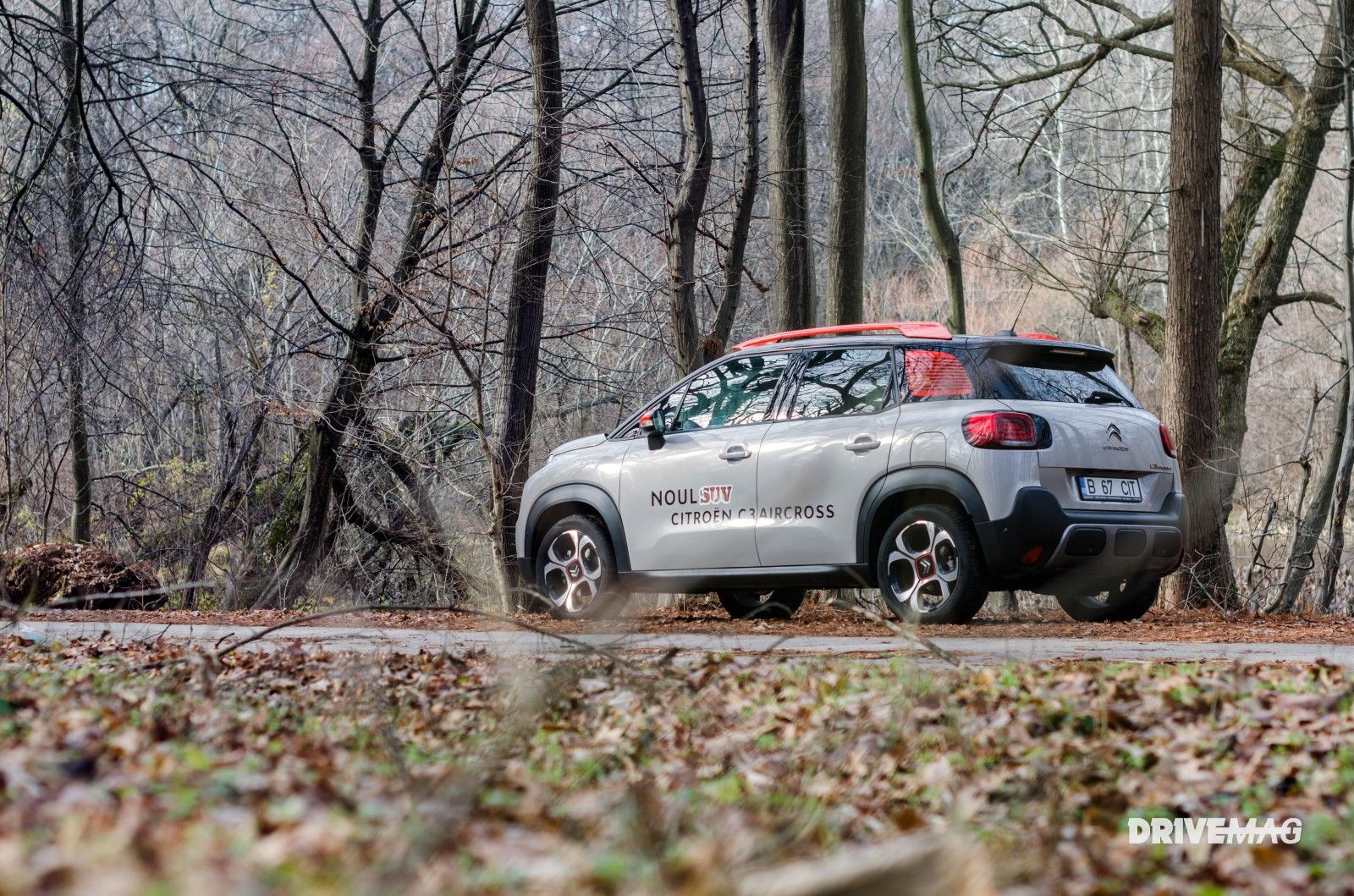 UK residents can have the Citroën C3 Aircross for a starting price of £13,995, while in Germany, the crossover starts at €15,290. Choosing it has a lot to do with the customer's preference for funky looks in and out, but those who look for above-average practicality credentials should consider the C3 Aircross.
As for driving dynamics, there's not much you can ask for it – both the gearbox and engine aren't made for enthusiastic driving session, just like the lax suspension won't control body roll with an iron hand. However, you're looking at a crossover that's easy to maneuver around the city and can serve as a reliable companion on longer trips with the family. Go for high-spec models if you're the gadget-and-safety-system-loving type, but be ready to make a compromise on material quality and sometimes, even comfort.