2017 Hyundai Ioniq Hybrid review: Smooth Operator
We test the hybrid, non-plug-in version of Hyundai's Toyota Prius fighter
At the time of writing, Hyundai is the only carmaker that offers three electrified versions of the same model. Enter the Ioniq, a car you can buy in hybrid, plug-in hybrid and fully electric flavors, which made its debut at the 2016 Geneva and New York auto shows. It also shares underpinning with the Kia Niro.
Whereas the electric Ioniq is after the likes of Nissan Leaf, Kia Soul EV, VW e-Golf and BMW i3, the hybrid variant has two notable adversaries. One is the car that actually gave birth to this niche and has been ruling it ever since - the Toyota Prius while the other goes by the name of Chevrolet Volt.
Bringing the Ioniq hybrid to the market is nothing short of bold on Hyundai's behalf – especially since sales are yet to gain momentum in the segment, but can it really disrupt the Prius order? We set out to find out just that together with our tester, the Ioniq hybrid (non-plug-in).
Hyundai opted for a dual-clutch transmission instead of a CVT unit, multilink rear suspension for the Hybrid and Plug-In Hybrid and aluminium-crafted hood and tailgate plus a high-strength steel chassis.
But before the ownership experience, we were interested to see how the new Ioniq drives, so below you can read everything we've found out during our test drive with the Euro-spec Ioniq Hybrid.
https://cdn.drivemag.net/images/icons/inbrief-icons.svg
IN BRIEF
Recommended for:

Created for:

Hats off for:

Bang for the buck:
Powertrain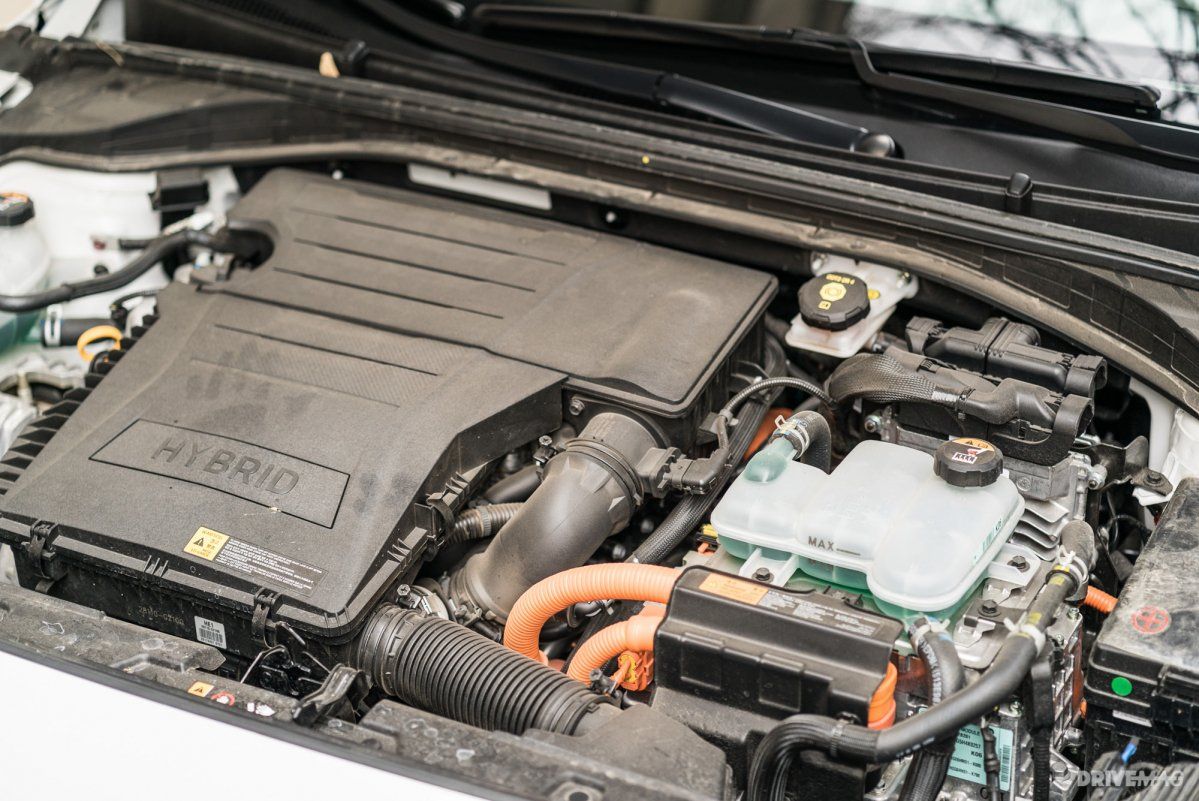 Inside the Ioniq Hybrid works a 1.6-liter Kappa GDI Atkinson petrol engine assisted by a (permanent magnet synchronous) electric motor juiced up by a Li-ion polymer 1.56 kWh battery which sits under the rear bench. The internal combustion engine delivers 105 PS (77.2 kW) and 147 Nm of torque while the electric motor makes 32 kW (44 PS) and 170 Nm. Overall system power output is 104 kW (141 PS) and 265 Nm of twist handled by a six-speed dual-clutch transmission and routed towards the front wheels.

Surprisingly smooth during gear shifts, the transmission discretely handles the hybrid core's resources during normal use – by normal, we understand a driving style that's free of performance-craving shenanigans like kickdowns or an overly-sporty approach.

Also smooth is the transition between driving modes: the automatic switch from fully electric to hybrid propulsion is imperceptible and glitch-free; the only thing betraying it is the petrol engine's hum as it powers up and intervenes.
---
Handling
Hyundai doesn't want and doesn't expect handling awards – with the sole exception being their i30 N hot hatch – so the Ioniq happily adheres to that creed. However, there's a certain steering precision and ride firmness that might make your heart add up a few bpm. Just a few, like two or three, tops.

Nevertheless, we've felt less body roll than expected and while the steering is indeed as talkative as a cactus, it's easy to (silently) point the car around in city traffic. The Ioniq is also nicely tweaked for highways and A-roads, where its cruising abilities do impress. Just don't expect to hear a lot from the electric motor during such getaways because it's really the petrol engine doing all the work.

Go for the gearbox's Eco mode and you'll need a cup of coffee to enjoy what's happening around you but in Sport, well, that's where the tables turn and the Ioniq comes to life. Again, with its limitations, somewhere just below the more agile Golf GTE plug-in hybrid, but it's a big jump from Eco – even though acoustically-speaking, the gearbox starts to yell a bit, as if your eardrums should know you've engaged Sport mode. It's not that annoying, but we'd rather it didn't happen.
---
Safety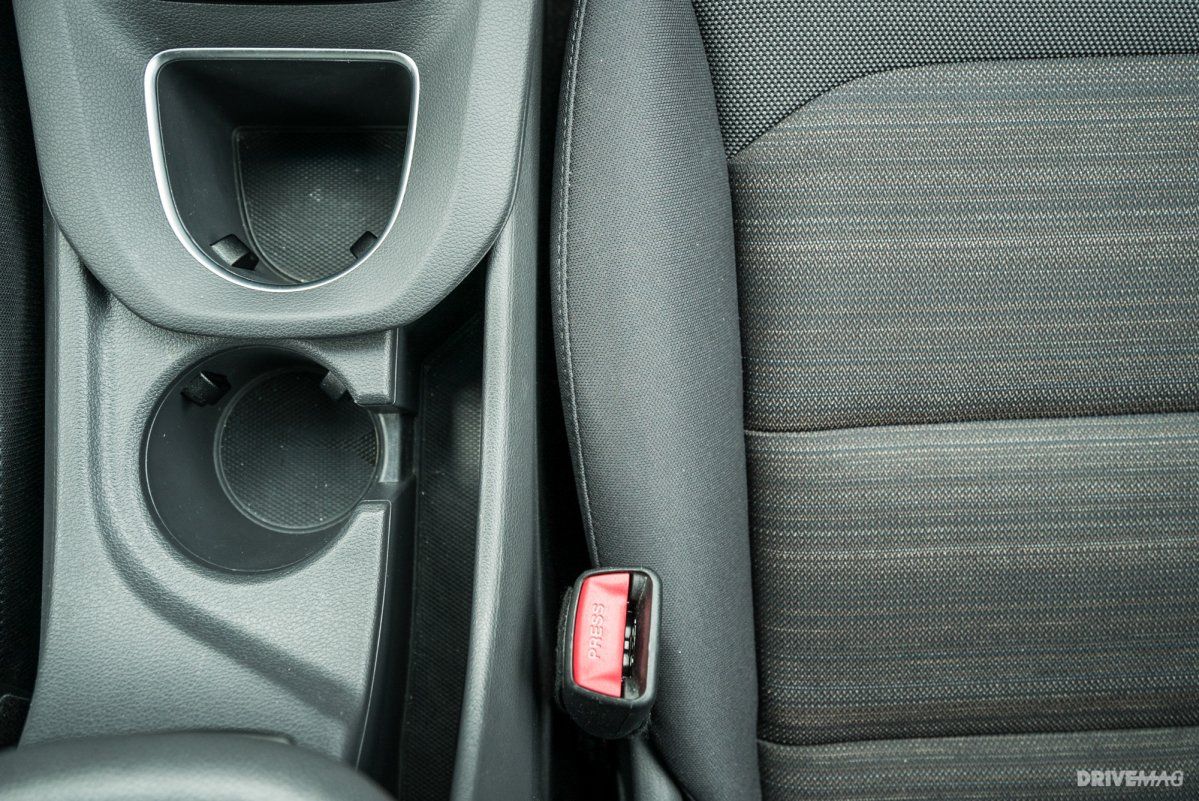 Hyundai's Ioniq passed Euro NCAP's crash tests with flying colors, that is five stars for its safety levels. Additionally, every Ioniq comes with seven airbags – including one looking out for the driver's knees.

Working in the background but equally efficient is Hyundai's SmartSense safety suite which brings the likes of blind spot collision warning, lane change assist, lane departure warning, forward collision assist, and adaptive cruise control.
Comfort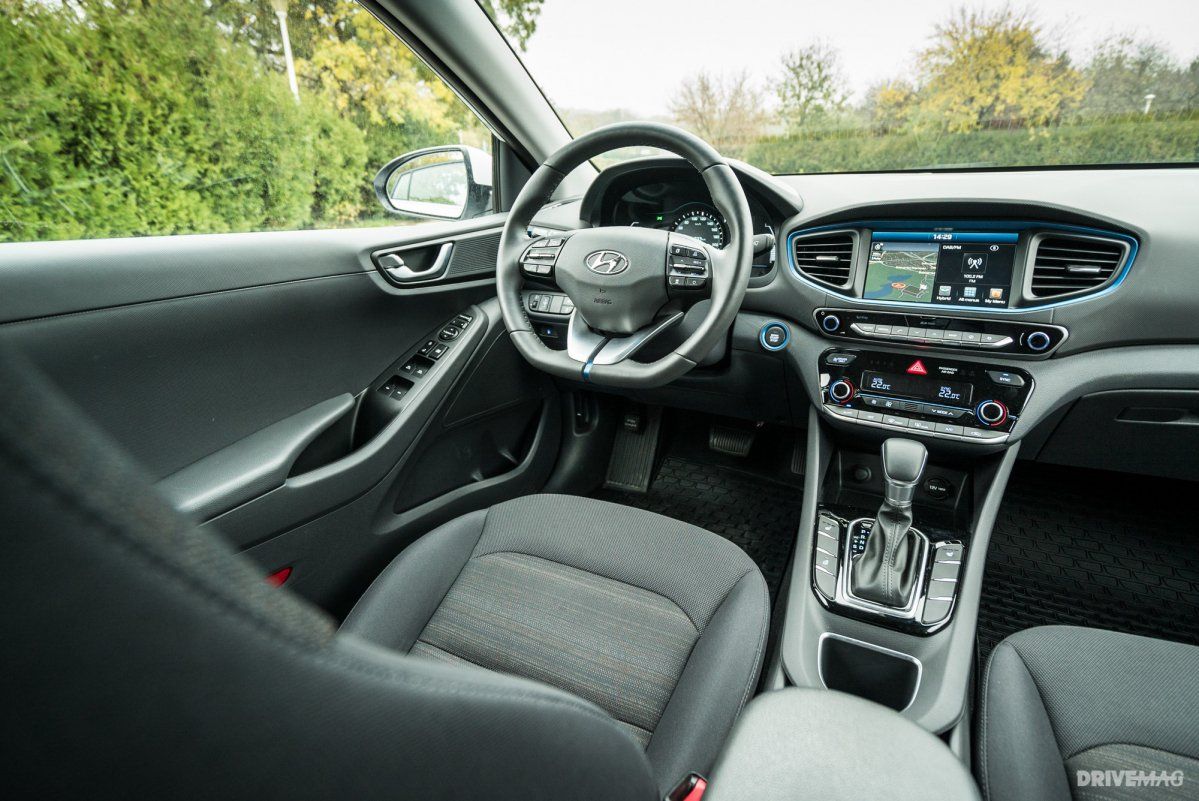 Sit up front in the new Ioniq and you'll know comfort's many faces. For example, the seats are nicely profiled and block fatigue even on longer trips while the body's aero shape (Hyundai molded the Ioniq's outer shell design so it's aerodynamic coefficient rests at just 0.24 – for the sake of the bigger image, the Mercedes-Benz CLA has a drag coefficient of 0.23) translates into low cabin noise even when the speedometer shows three-figure numbers.

Even when it works hard, the petrol engine is well-mannered. Likewise, the suspension won't rattle the car too much as it soaks up bumps with minimum audio drama.

In the back, the comfort equation is complicated by the car's sloping roof which doesn't like tall people (and vice versa) but, otherwise, there's plenty of legroom and hip room for two adults and maybe a child sitting in the middle.

The most annoying aspect, however, is the very limited line of sight you get through the rear window, which is caused by the sloped shape and the addition of a spoiler supposed to help the Ioniq's aerodynamic cause.
---
Quality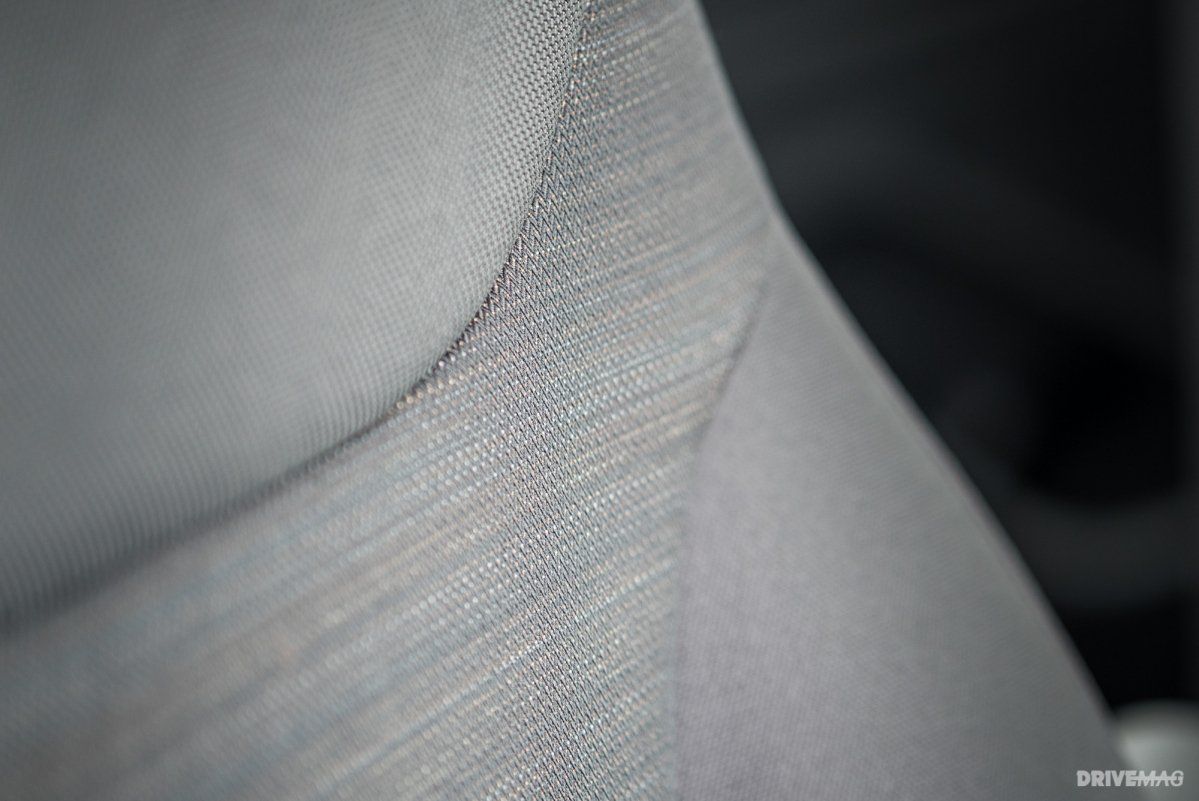 As it's the case with every modern-day model in Hyundai's lineup, the Ioniq doesn't feel like a Hyundai. Sure, some plastics are still rugged for both eyes and fingers but otherwise, the car, as a whole, feels very well put together.

Then there's the Audi-like steering wheel which is a pleasure to hold despite the hybrid's shyness towards sportiness and all in all, you're looking at a no-nonsense cabin that's decorated with more taste than the Prius' and can compete with the Germans at any time quality-wise, should you ask for our two cents.
---
Practicality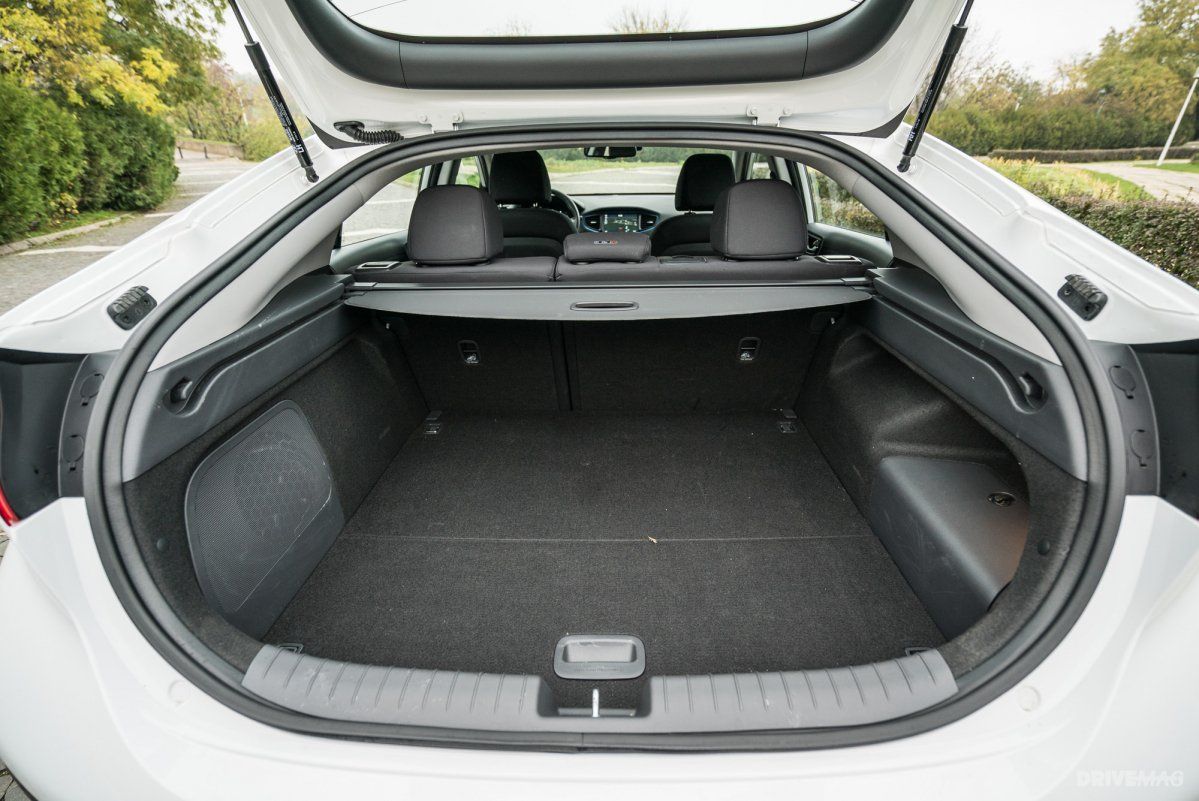 Hyundai decided to fit the Ioniq's battery under the rear seats but that hasn't affected the way you're greeted inside. Sure, the sloping roof might tax taller physiques when it comes to headroom, but access in and out the vehicle shouldn't upset anyone and it's rather easy to find a comfortable posture whether you're sitting behind the wheel or not.

Although not as deep as we'd have liked, the boot is still good for 456 liters stretchable to 1,518 liters by folding the rear seats. It also beats the Prius' offer of 360 liters (1,204 liters with the rear seats folded flat).
---
Infotainment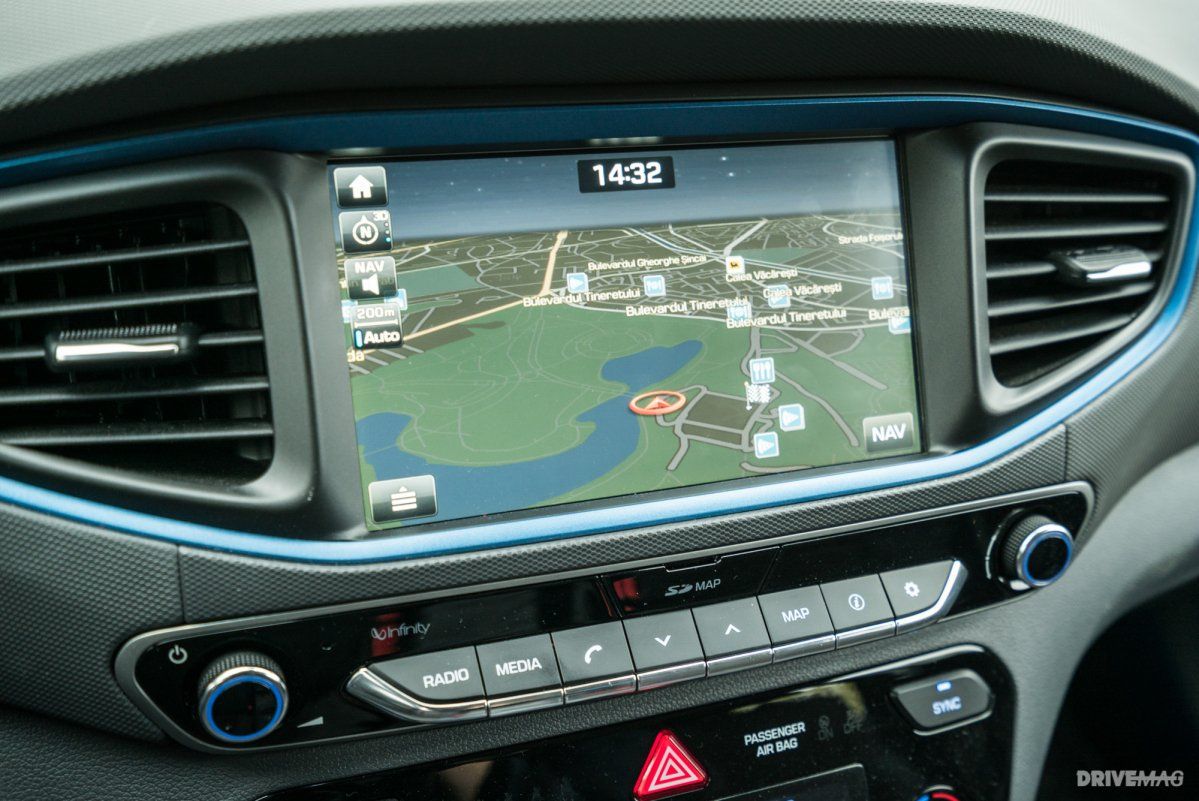 Without being flashy and oozing too many features and apps, the infotainment system available inside Hyundai's Ioniq is one of the crispest we've seen: everything is clearly visible and browsing will see it swiftly switching between menus, although it took a while until we were fully accustomed to its modus operandi – not the most logical offering on the market but still very far from being a bad choice.

Customers get two options in this department: the standard five-inch setup based on an LCD touchscreen (this one integrates a rear-view camera and Bluetooth) or the optional eight-inch infotainment system developed around a capacitive high-res display controlling Hyundai's Infinity sound system, Apple CarPlay, Android Auto and sat-nat.
Efficiency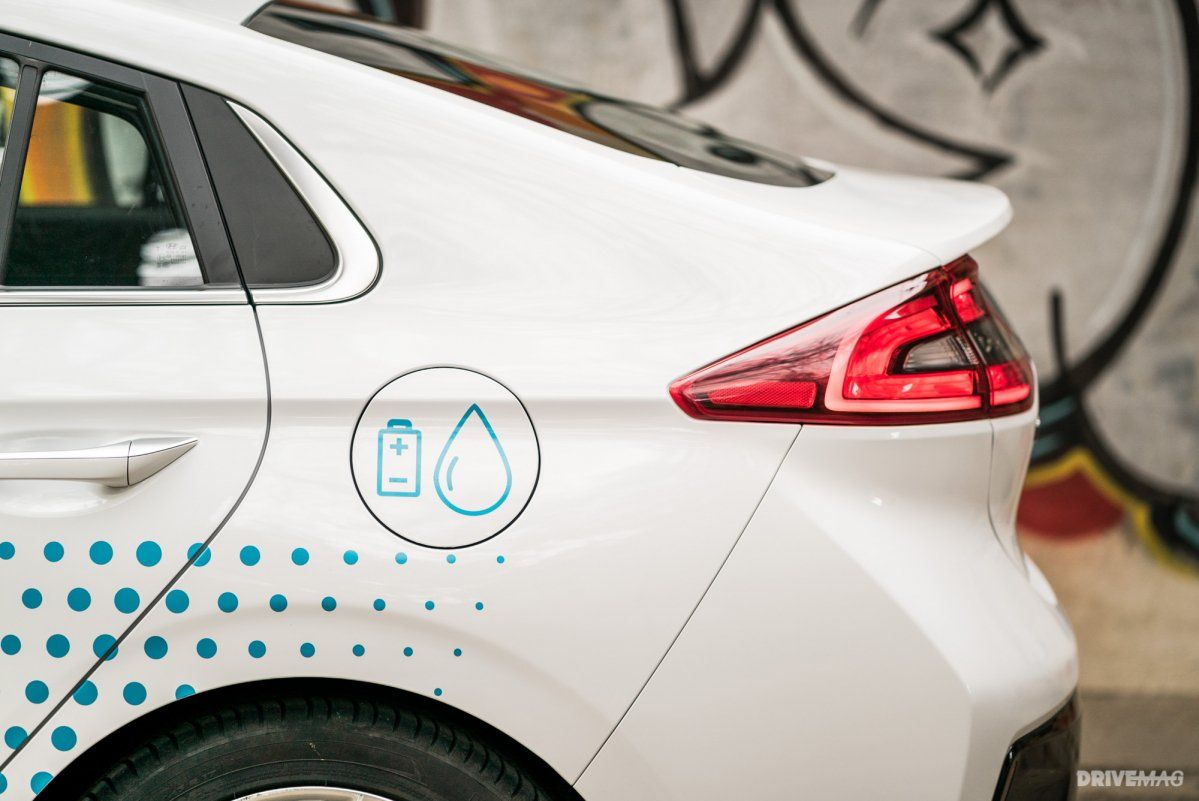 Hyundai claims the Ioniq Hybrid (non-plug-in) returns between 3.4 and 3.9 l/100 km, but that's easier said than done. With enough anticipation, patience and a feather-light foot, you'll be able to lower fuel consumption somewhere around 5 l/100 km, but also keep in mind that the ICE unit is eager to kick in at the slightest pinch of the accelerator. This, in turn, means that in very heavy traffic your fuel consumption average can quickly climb to 7 l/100 km.
---
Equipment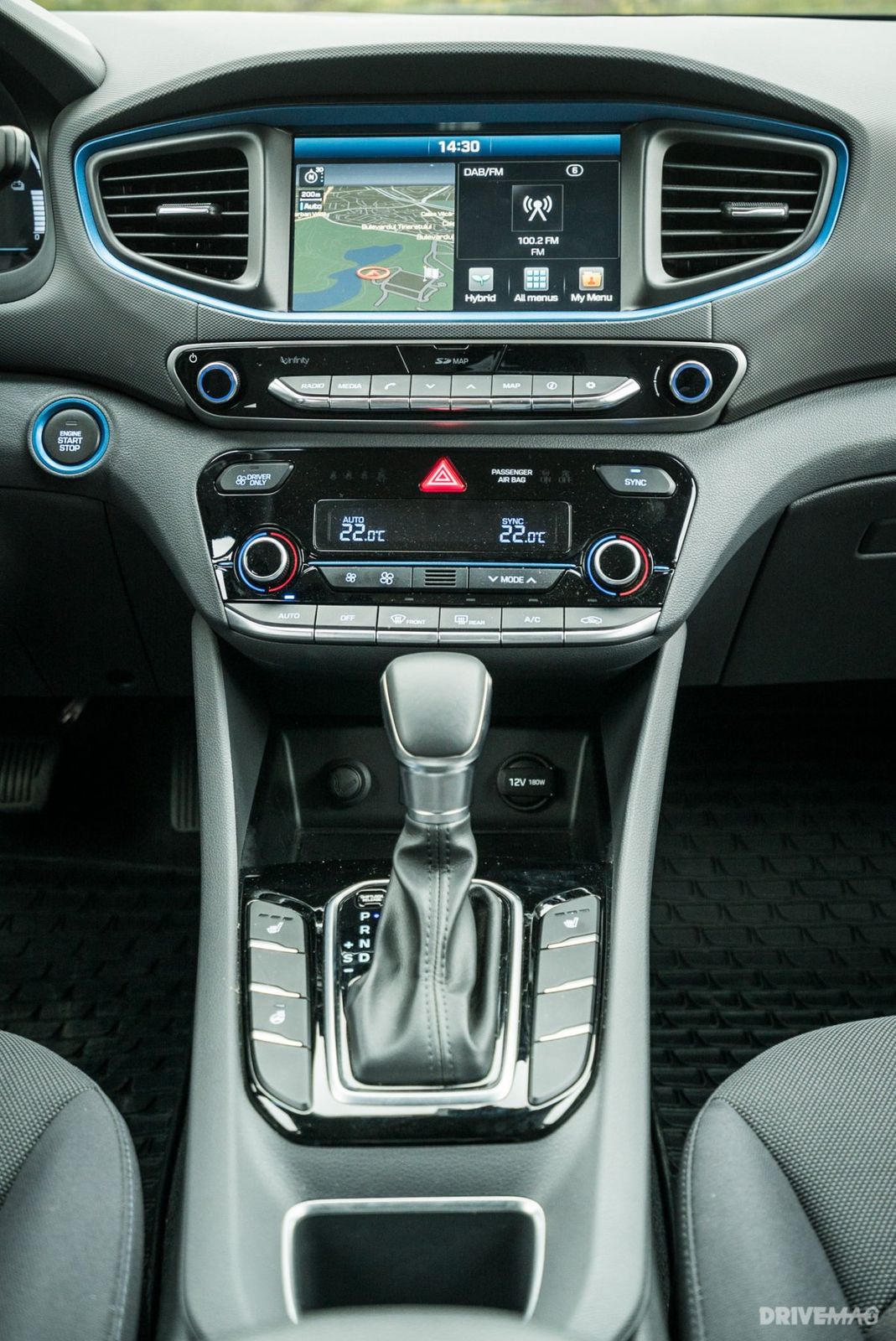 Every Ioniq Hybrid comes with a split-foldable rear bench (60/40), rearview camera, all-around electric windows, adaptive cruise control, heated steering wheel, ABS, EBD, autonomous emergency braking, seven airbags, 15-inch steel wheels, LED daytime running lights and the five-inch infotainment system with Bluetooth. As you can see, even a base model is well kitted.

Optionals include the eight-inch infotainment screen with TomTom live navigation, Apple CarPlay, Android Auto but also an extra USB port, larger 17-inch alloy wheels, LED taillights, electrically foldable mirrors and bi-xenon headlights just to name the most important ones.
---
Acquisition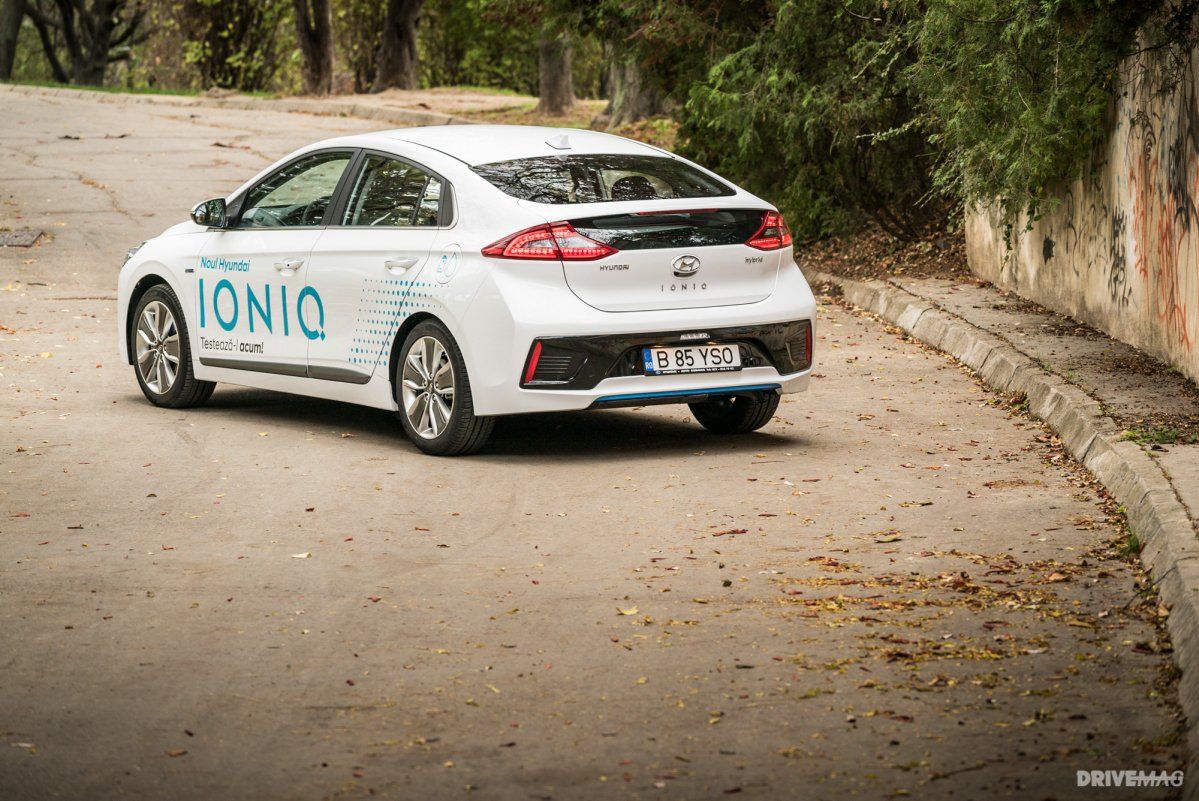 In Germany, the Ioniq Hybrid starts at €23,900, but that will only get you the entry-level Trend trim. Go one step higher to Style and your investment requires at least €27,250, while the range-topping Premium model will ask a starting price of €30,270.

So, is the Ioniq a worthy adversary for the Toyota Prius? Well, if we refer strictly to the non-plug-in hybrid, I'd say not quite. However, if you're keen on diesel-like fuel consumption without owning a diesel, then the Ioniq Hybrid is the one for you.

Those looking for better fuel efficiency and longer distances covered in full-electric mode should turn their attention towards the Ioniq Plug-In Hybrid and its Ioniq Electric peer. Electrification-aside, the Ioniq proves once again the effort Hyundai put in to change the public's perception of the brand.

Inside you'll find a cabin that's both up to modern standards and in line with the brand's direct rivals when it comes to comfort. Sure, there's still some work to be done in the material quality department but if you look at the major player in the segment - namely, Toyota's Prius – you'll see a similar if not less attention to quality and details.